Robotic vacuum cleaners and mops
It is circular, flat and moves quietly through living spaces. The robot systematically follows its movement patterns with real purpose, avoiding obstacles as it goes. And the occupants of the house have one less chore on their to-do list. The robotic vacuum cleaners and mops from Kärcher take care of cleaning the floor for you. Hard floors and short-pile carpets are cleaned automatically. Not only can the devices vacuum their way around, but they can mop the floor too. They clean brilliantly along edges, can work more intensively on heavily dirty areas and overcome low thresholds and rug edges with ease. Using the app, you can even set your robotic vacuum cleaner and mop to work exactly how you need it to.
Less housework. More WOW.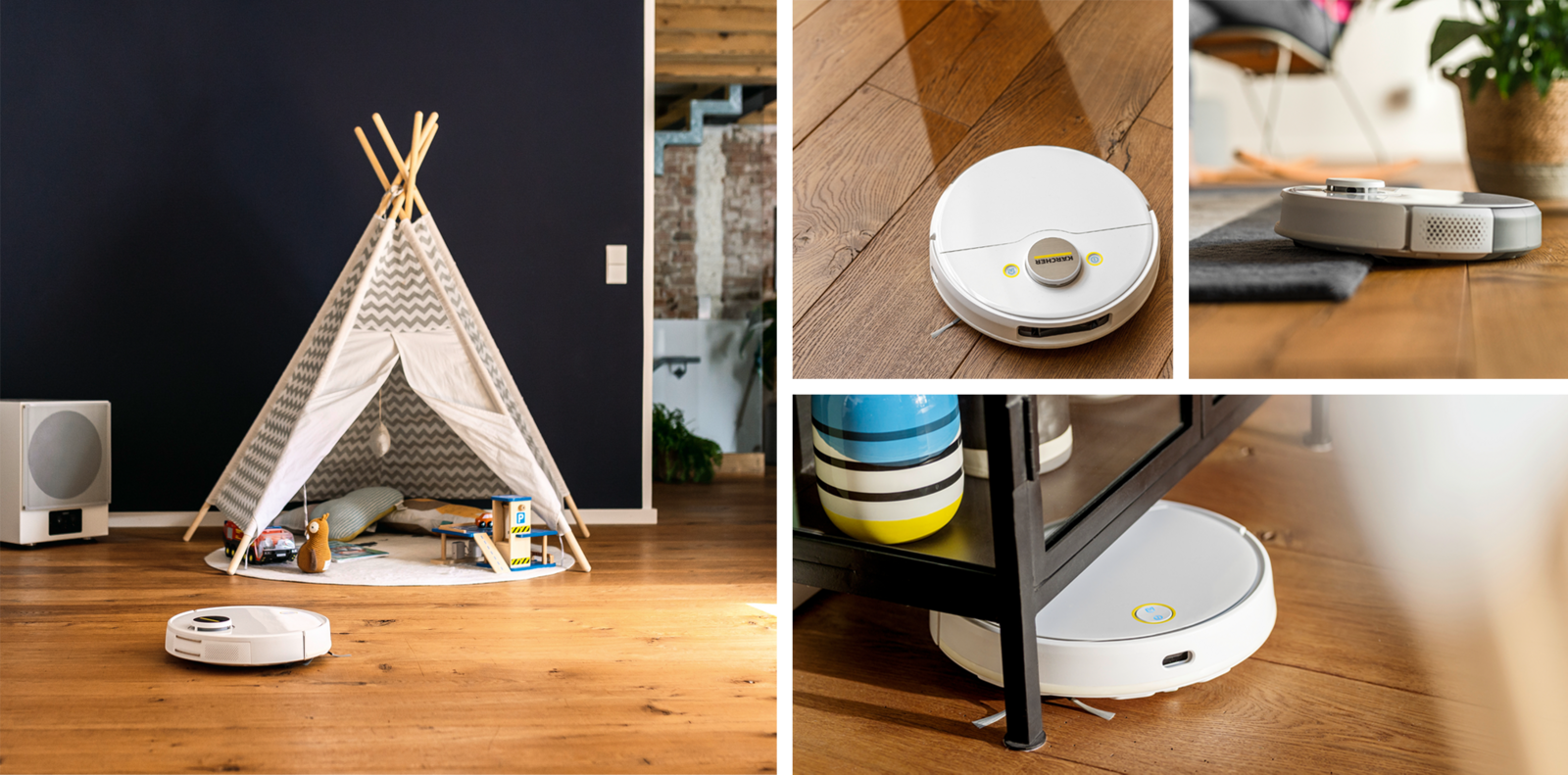 Robot, cloud and app – 3 elements, one cohesive system
The Kärcher robotic vacuum cleaners offer a wide range of functions and configuration options – while also being really simple to use. The combination of robot, cloud and control via smartphone app forms the perfect basis for the best cleaning results. Use the timer functions and configure the cleaning programmes to suit your individual needs. And if a security update or new functions are available for the robot, you'll be automatically notified by the app. Discover our autonomous cleaning solutions for your everyday chores and gain time for the finer things in life.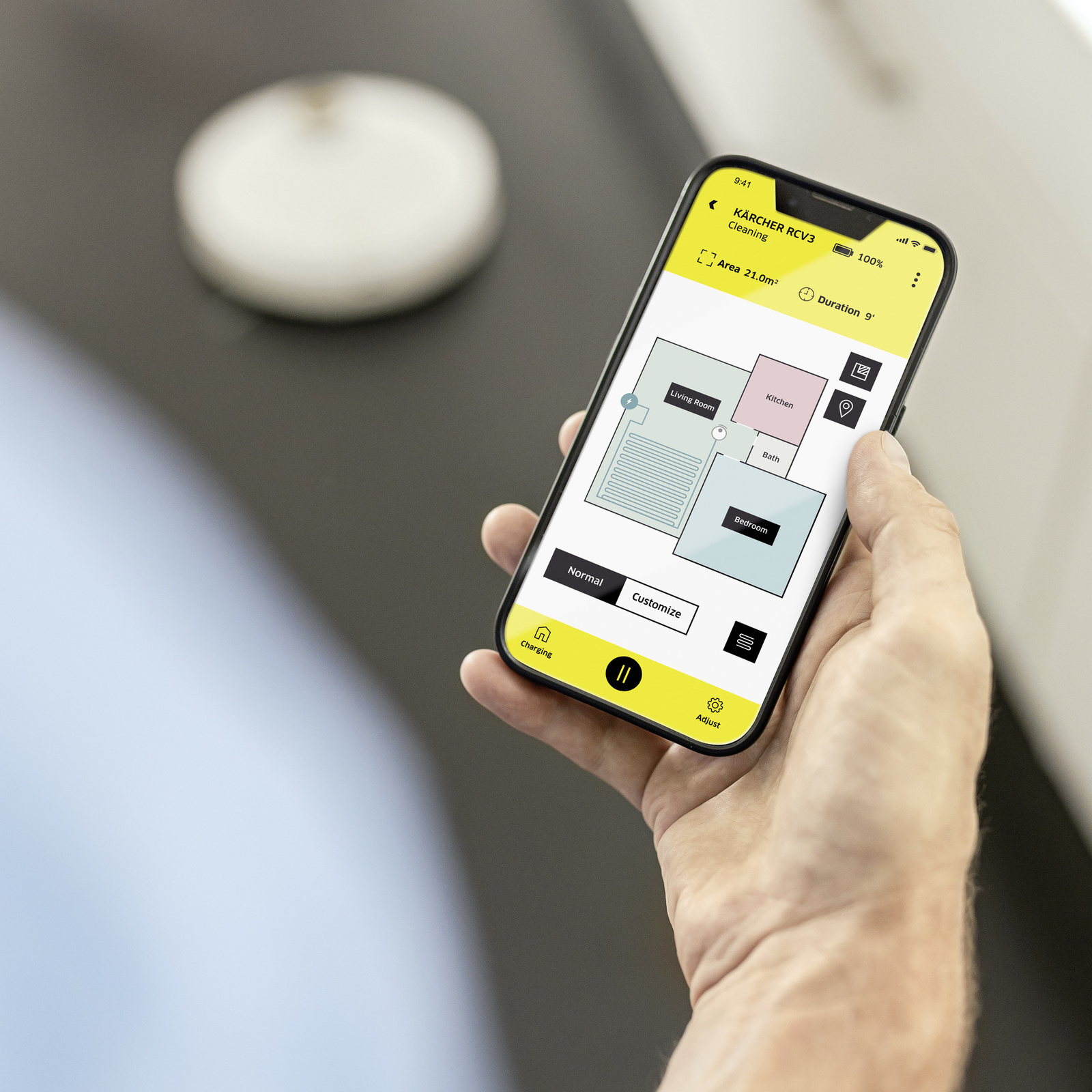 The future is now: autonomous cleaning
Starting your robotic vacuum cleaner remotely is so simple using the smartphone app, so you can get back to a clean house. Our robotic vacuum cleaners and mops do the job for you. The robot uses high-tech LiDAR laser navigation to initially establish a floorplan of your home. When it sets out on its cleaning run, its precise sensors ensure it always knows exactly where it is, how to get around obstacles in the room or where it needs to turn at steps or stairs. The robot vacuums and mops fully autonomously and guides itself back to its charging station. The live mapping function means you can check the cleaning progress at any time. The top-spec model, the RCV 5, also features AI object detection so it can automatically drive around or go around even low objects such as shoes or cables. It even detects carpets and delivers an extra thorough clean when in vacuum mode or avoids them altogether while in mop mode.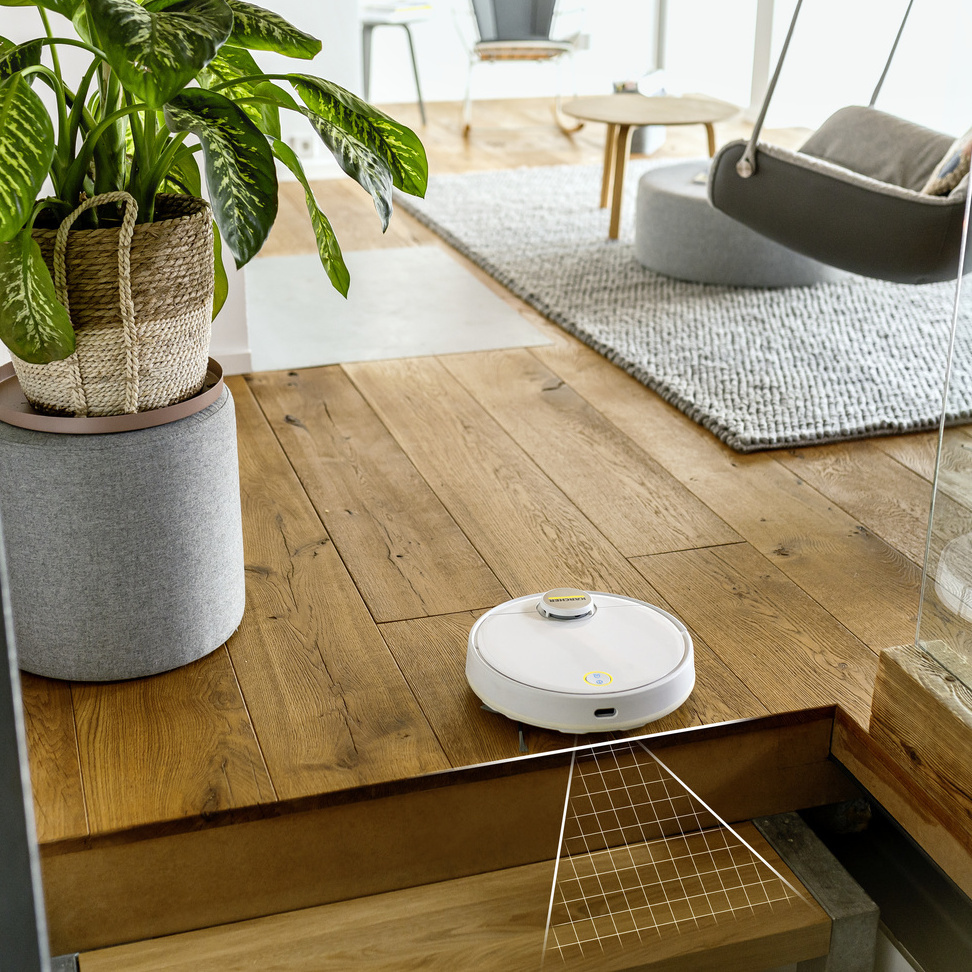 The choice is yours: tailor the cleaning level and choose from various cleaning methods
The Kärcher robotic vacuum cleaners and mops are real all-rounders. Whether it's simple dry cleaning with the suction fan and brush or combined with the extra wiping function from the microfibre cloth and fresh water tank, anything is possible. And, thanks to convenient app control feature, everything is always in hand. Cleaning settings, such as the suction power or the water volume for mopping, can be adjusted to suit individual requirements. Areas of heavier soiling can be passed over multiple times for a more thorough clean.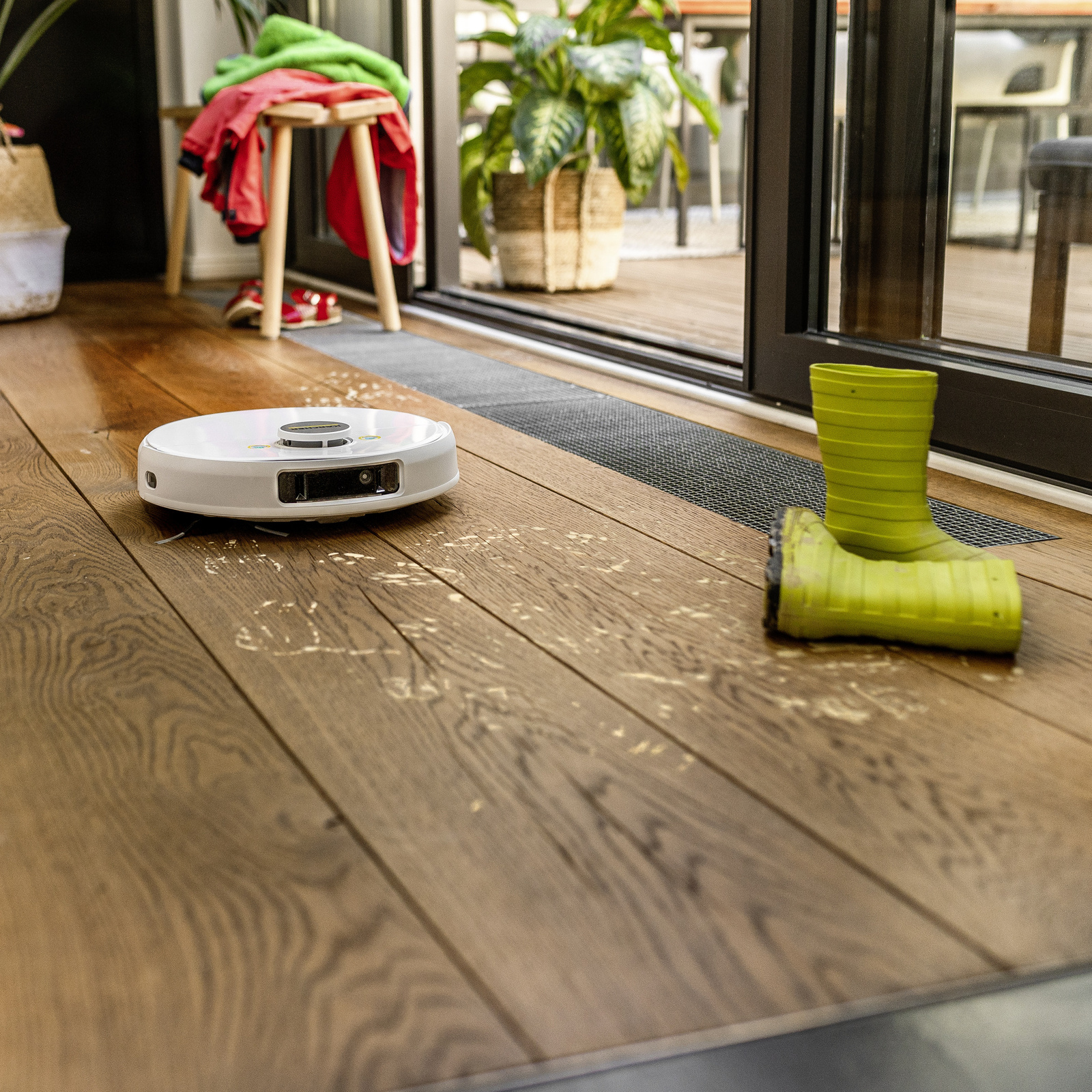 RCV 3 – the entry-level model
Vacuuming or mopping – our entry-level model can do both
Win back time for the finer things in life, while our cleaning robots take care of the vacuuming and mopping. Our entry-level model, the RCV 3, cleans all the usual domestic hard floors and low-pile carpet coverings autonomously, systematically and completely reliably – even when you're not home, of course. Using the app, you can adjust the cleaning to suit your particular requirements and your home. You decide what gets cleaned when. Set specific cleaning programmes for each individual room. Define no-go zones, if there are certain areas the robotic vacuum cleaner should not enter. Or use the spot cleaning function to direct it to points that need extra attention. All rooms are mapped with precision LiDAR navigation and ultra-sensitive sensors that detect steps and high drops for safety during cleaning runs.

Technical data
Suction power: 2500 Pa
Run time: 120 min
2-in-1 waste container (330 ml) incl. fresh water tank (170 ml)
Dry waste container: 500 ml
Autonomous cleaning – the Home Robots app makes it a reality
The Kärcher Home Robots app gives you access to all the important functions of your robotic vacuum cleaner and mop. The autonomous cleaning provides lots of new features, such as setting cleaning times and creating cleaning maps – no matter where you are. If you're still out the house and want to start a clean before you get home, you can! Simply activate the robot from the app on your smartphone and you can look forward to returning to a clean house. The Kärcher Home Robots app is available free of charge from the Apple Store or the Google Play Store. Simply download it and start your first autonomous clean straight away.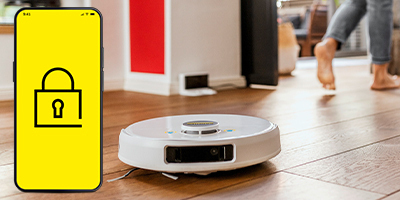 Data protection
The entire data transfer between the Home Robots app on your smartphone and your robotic vacuum cleaner and mop runs via a cloud to servers located in Germany only. As a manufacturer based in Germany, Kärcher places great importance on data protection and takes extreme care to ensure all the applicable legal requirements in this regard are met. Regular software and security updates are provided to ensure your app is always up to date and your data is always secure.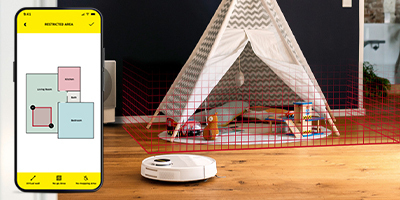 Setting up cleaning areas
The robotic vacuum cleaners and mops from Kärcher clean autonomously and systematically. "No-go zones" can be set via the app to ensure the robot doesn't clean specific areas. If, however, there are some areas that need to be vacuumed but not mopped, then there is also the option of setting "no-mopping zones". And if entire rooms should be skipped, the robot can be prevented from travelling through them by setting so-called "virtual walls". All this is easy and intuitive to configure using the app.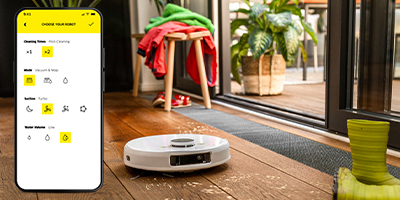 Variety of cleaning modes
Our Home Robots app offers much more functionality than the basic program for autonomous cleaning. Vacuuming, mopping or a combination of both cleaning programs – with the app, you have it all at your fingertips, allowing you to easily define the cleaning mode for specific rooms or areas. You can also configure numerous parameters to your individual requirements – from the suction power when vacuuming to the water flow rate when mopping.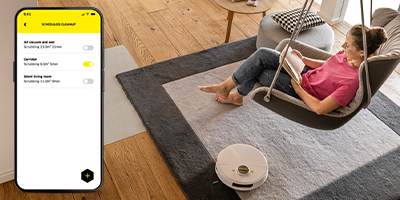 Cleaning schedule 2.0
With the timer function on the Home Robots app, you can create your very own cleaning schedule for your Kärcher robotic vacuum cleaner and mop. This allows you to specify not only the days and times you want the robot to work, but also which areas it should clean with which cleaning program during this time. Since all rooms are mapped, you can adjust the cleaning settings for each separate room.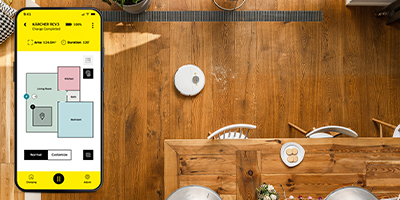 Spot cleaning and area cleaning
When crumbs are dropped on the floor or other dirt appears, there are two flexible solutions. For soiling in a very specific point, you can use the app to set a particular location for targeted spot cleaning. And for larger areas of soiling, you can even use the app to set the size of the surface to be cleaned for quick but targeted intermediate cleaning.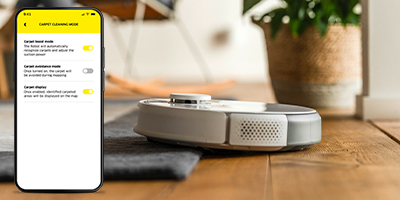 Activating and deactivating functions
A wide range of functions, such as Auto Boost, carpet detection or AI functionality can be activated or deactivated one by one to suit the user's needs or preferences. For instance, the Auto Boost can be deactivated on rugs and carpets to keep cleaning at just a low suction power when soiling is only light. This saves energy and extends the cleaning time before the robot has to return to its charging station.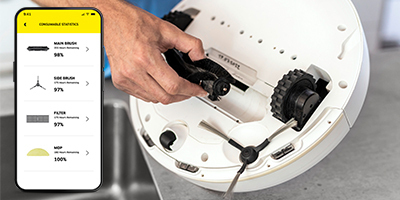 Accessory statistics
The demands placed on a robotic vacuum cleaner and mop varies from one household to the next, depending on factors such as the size of the area to be cleaned, the level of soiling and the frequency of the cleaning runs. As such, the rate at which accessories wear out varies greatly. This is why the Home Robots app shows you the extent of wear, such as the brushes, and indicates when accessories should be replaced. This ensures that the robot is always perfectly equipped to perform at its best and the cleaning results leave nothing to be desired.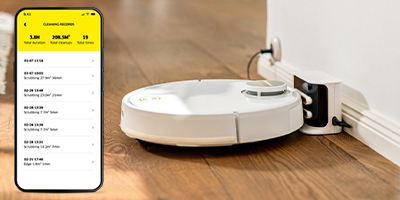 Cleaning history
Every cleaning run is recorded in real time in the Home Robots app and then saved. This provides interesting insights into the life of your cleaning robot. When was the device in which room, what distances did it cover and how many square metres of flooring were vacuumed or mopped? That way you can keep a close eye on what your robotic vacuum cleaner and mop has been up to – even when you're out the house.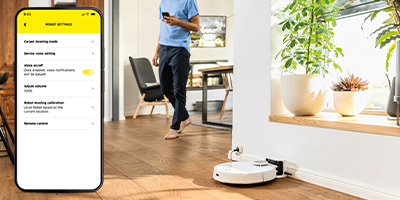 Other functions
The Home Robots app gives you access to all the important functions of your cleaning robot. This includes lots of extra functions that may prove useful in one situation or another. For instance, the app can be used as a remote control for your robot, say if you needed to steer it to a particularly tricky position. The smartphone can also be used to set the language and volume of the speech output or provide answers to frequently asked questions.
Initial startup and maintenance
FAQs – questions and answers about the robotic vacuum cleaner and mop range
Questions about the robot:
Questions about the cleaning performance:
Questions about product maintenance: