Municipal equipment
Our sweepers and municipal implement carriers with 26 to 156 HP (18.9 to 115 kW) offer outstanding performance for every purpose. And they impress with perfect results, robustness and virtually unlimited possibilities for use. In order to exploit the full potential of these implement carriers, special attachments are available. Optimum solutions for the most diverse applications. Developed in collaboration with renowned implement manufacturers. Leading expertise in technology and application are combined for exemplary cost-efficiency thanks to optimum capacity utilisation of the machines.

Multifunctional implement carriers and sweepers from Kärcher and Holder
The newly founded Kärcher Municipal GmbH brings together the complete range of municipal equipment. Under this new organisation, the Holder and Kärcher brands perfectly complement each other and are driving forward with their respective underlying competences. For you as the customer, this means even more solutions for even more applications in year-round use. With first-class quality, from a single, competent source, and at more locations across the world. Climb aboard and put your faith in municipal equipment with a future.
Kärcher municipal sweepers deliver exceptional performance everywhere. On large areas, as well as difficult surfaces, roads, paths, car parks, turfed areas and sports facilities. From spring cleaning, maintenance of green areas in summer and leaf season, right through to the winter service. With the different implements, each of these robust machines offers an application-optimised solution in terms of performance, operation and economy. And thus an investment which retains its value over many years.
The right vehicle for every application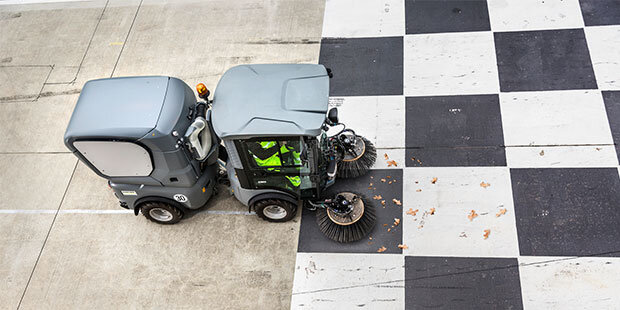 For professional continuous use on large cars parks, exhibition grounds and industrial areas. Advanced and efficient Kärcher technology ensures reliable results.
The best of everything on board – the MC 250
Our MC 250 showcases the best in sweeping performance, comfort and environmental protection. The compact, robust sweeper has a powerful drive that complies with the highest standards for environmental protection. The logical operating concept is intuitive. The spacious, clearly arranged and comfortable large cab offers maximum comfort all through the year. With a driving speed of 60 km/h, hydropneumatic suspension and fast access to all service components, you can complete your work more quickly and efficiently than ever before.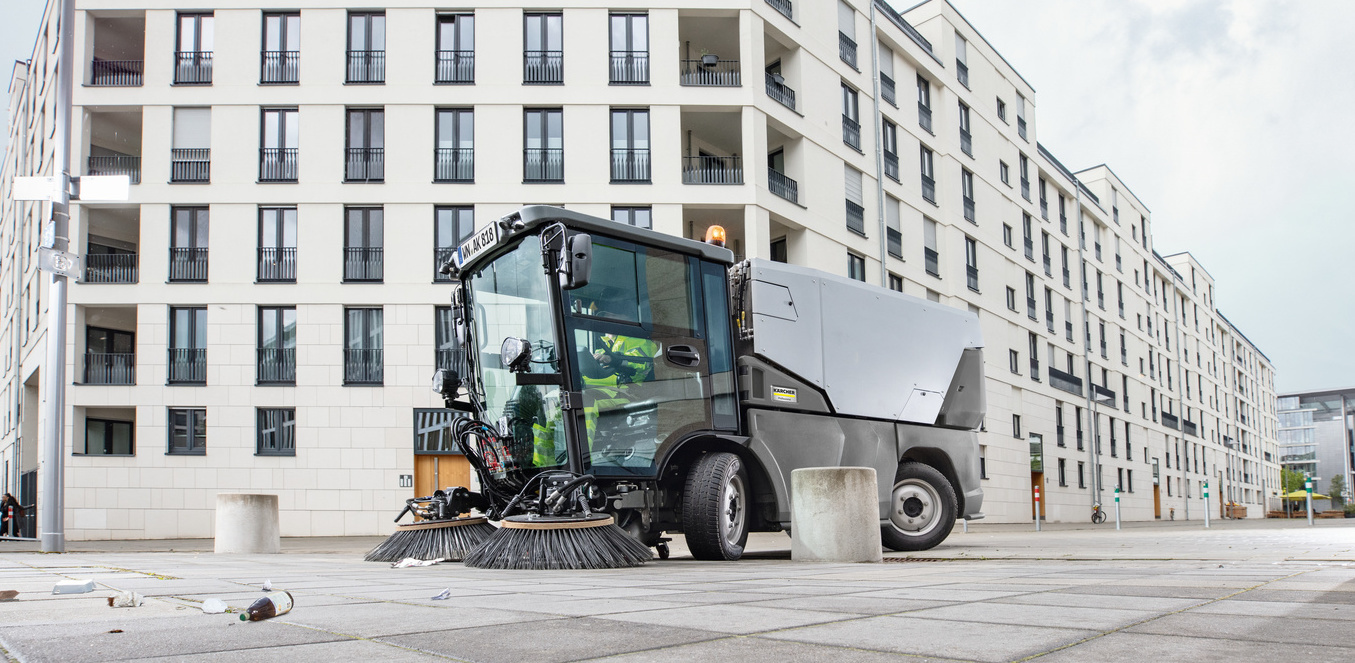 Powerhouses in use – application videos
MC 250 – when you want the best!
Well-thought-out functions – perfectly adapted to meet your needs
The workstation on Kärcher and Holder municipal machines can be designed with various accessories, both functional and convenient. Options such as a rear view camera, radio with CD player, MP3, Bluetooth and hands-free system, comfort seat and heated rear mirror serve to enhance the driver's safety and make things easier for them. The finely tuned system, comprising implement carriers, implements and accessories, offers a high degree of functionality and performance. The guaranteed high spare parts availability with minimal delivery times and long-term stocking ensure operational readiness and long-term economic efficiency.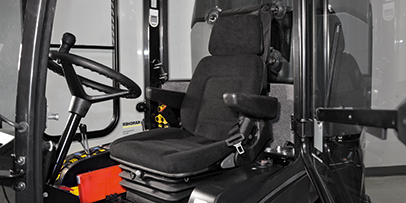 Convenient and comfortable equipment
From the drinks holder to the document pouch, from the air-sprung comfort seat to the radio with CD player – practical and clever equipment details make work particularly pleasant for the driver.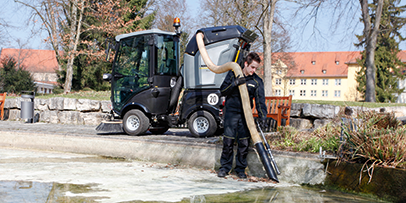 Configured for your requirements
Individual extras such as wander hose, water circulation system, traction drive and hydraulic system expand the range of applications and increase the efficiency.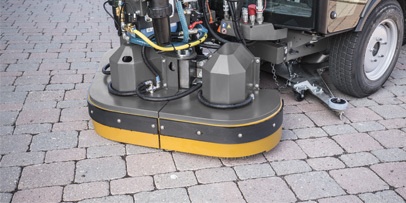 Your flexibility thanks to countless implements
Kärcher offers the right implement for every task: front roller brushes, brush systems with and without side brushes, and suction system for outdoor cleaning. Mowers, weed brush and hydraulic watering arm for green area maintenance. Snow throwers, snowploughs and top-mounted spreaders for winter service. High-pressure cleaners and washer systems for wet cleaning.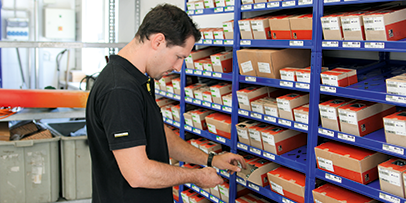 Reliability that you can count on
Only Kärcher original parts have the proverbial Kärcher quality. This applies to the side brushes and the engine oil and hydraulic fluid – and also of course to all other wear parts, spare parts, lubricants and operating materials. Nothing is better and more reliable than the original.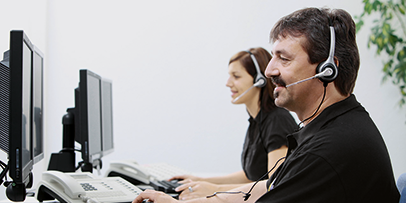 Your helpers on the phone
Friendly. Competent. Solution-oriented. Kärcher hotline employees are very familiar with all machines, accessory components and cleaning agents in order to provide you with competent advice on the telephone.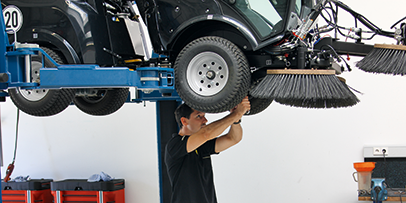 Maintain performance and value
Always peak performance: with our service agreements, your Kärcher cleaning machines are always ready for use – thanks to regular inspections, maintenance or the complete full-service package.
Advice, service and sales
Your satisfaction is our goal. You therefore obtain Kärcher municipal equipment exclusively from your specialist Kärcher retailer for municipal equipment.
Contact Kärcher: email us at sales-sg@karcher.com or call us directly on +65 6897 1811.