WOMA
Hydropower as an instrument. The power of water has been used by mankind since the time of the ancient world. Hydropower has powered mills and lifted heavy loads. Hydropower is an important regenerative energy source. But water can be much more. The revolutionary idea of using the mechanical effects of running water to clean with a huge pressure formed the foundation of Woma in 1962. Since then, this idea has become the driving force behind the company.
Woma is one of the leading manufacturers of high-pressure pumps, high pressure systems and accessories. By consistently delivers research and development Woma today's systems can deliver up to 4000 bar - which is the quadruple pressures found at the deepest point of the ocean.
As part of the Kärcher group Woma by representing the world accompanied by an extensive dealer and service network.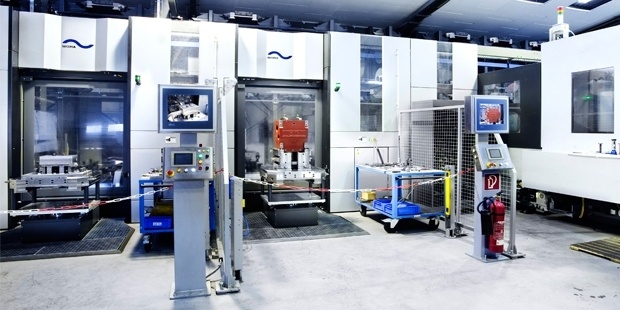 WOMA
Belonging to the Kärcher Group since 2011, we develop and manufacture customized solutions for all sectors of industry and commerce.
For over 50 years, WOMA has always been deeply engrossed in the fascinating possibilities of hydropower. This has made us a leading manufacturer of high-pressure water jet technology.
That is why we are able to provide you with a range of products that excel in terms of quality, reliability and economic efficiency. Our service ensures that you always have a contact person at any time and anywhere in the world at its disposal.
Learn more about WOMA? Download our corporate brochure!
ECOMaster MK3
The Ecomaster MK3 is a compact powerhouse for the maintenance of large buildings and industrial plants but also for many other applications in industry , construction and municipal services. Ultra - high pressure water jet unit comes as a mobile trailer with diesel drive.

The advantages :
Particularly suitable for the removal of coatings and concrete renovation , as well as for the separation and cutting of various materials
Available in three variants with a pressure of 2,500 to 3,000 bar
The easy to operate WOMATIC 4 Control operational status monitoring , pressure control and pressure circulation increase reliability and provide low wear and long service life and low fuel consumption.
Highest environmental standards : Potential leaks of operational liquids can be prevented by a safety standard supplied trough.
Talk to our salespeople for unique configurations. Find out more here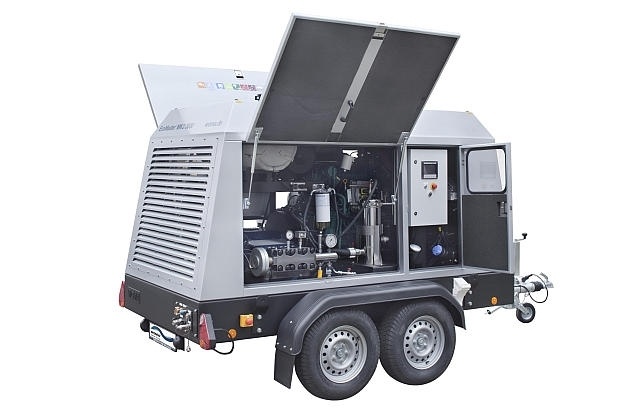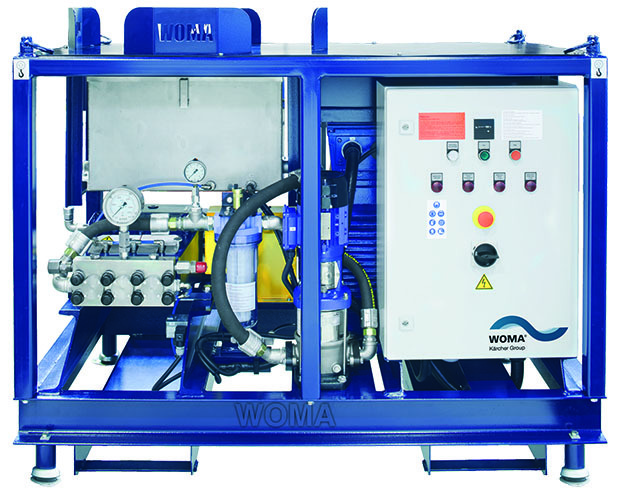 Customised Units
Designed to serve its application objective of using higher pressure and a lower flow rate, this translates into generating better work efficiency. The system can be easily converted to different pressure configurations and this enables the same pump unit to be used in another application if the need arises.
With low energy consumption and high performance output, the system creates less reaction force and enables the jetters to work for longer period. With these standard units in place, there will be ease of operation and service maintenance. Why should a machine just be easy to operate, when it could be even easier, as well as safer and more convenient in many ways? With Kärcher Intelligent Key and the advanced EASY Operation concept, the B 40 C family offers a hitherto unknown level of safety and protection for the operator, machine and work area.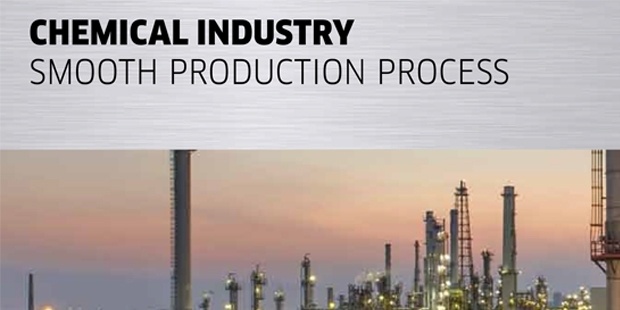 WOMA offers many solutions within the chemical industry.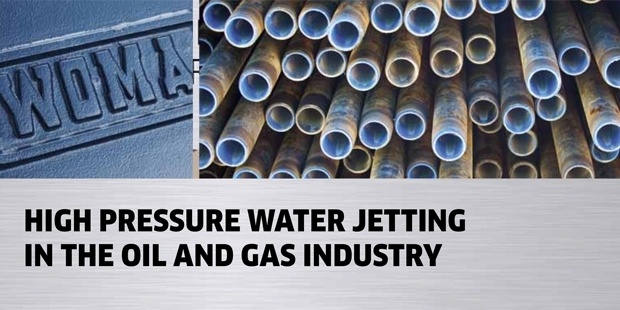 WOMA offers many solutions within the oil and gas industry.