Floor cleaner
Bring back the WOW to your stage
Do you wish there was a quicker and easier way to clean your floor? Or that you could get the whole floor cleaning procedure over and done with in one go, preferably without having to vacuum beforehand? We have a powerful solution for every task – and the choice is yours. Anyone looking for long-lasting non-stop battery run time should opt for the FC 7 Cordless, which effortlessly picks up even coarse dirt in a single step.
The FC 7 Cordless – our highlight
The FC 7 Cordless eliminates the old rule "vacuum first, then mop" just as easily as it eliminates all types of dry and wet everyday dirt. Its two counter-rotating roller pairs get straight down to business and restore the shine to your floor in half the time. One press of a button on the handle is enough to adapt the water flow and roller speed to the floor or remove stubborn stains using the boost mode. This means that everyone can complete two things at once, without getting their hands wet!
Advantages that make the difference
20% better cleaning results than with a mop*
Your floor is your stage, and our floor cleaners leave it shining – cleaning approx. 20 % more thoroughly and requiring far less effort than any mop.* Instead of wiping dirt back and forth, the automatically driven rollers with self-cleaning function simply pick it up and move the dirty water into a separate tank. There is very little residual moisture left on the floor, meaning the show can go on after just 2 minutes!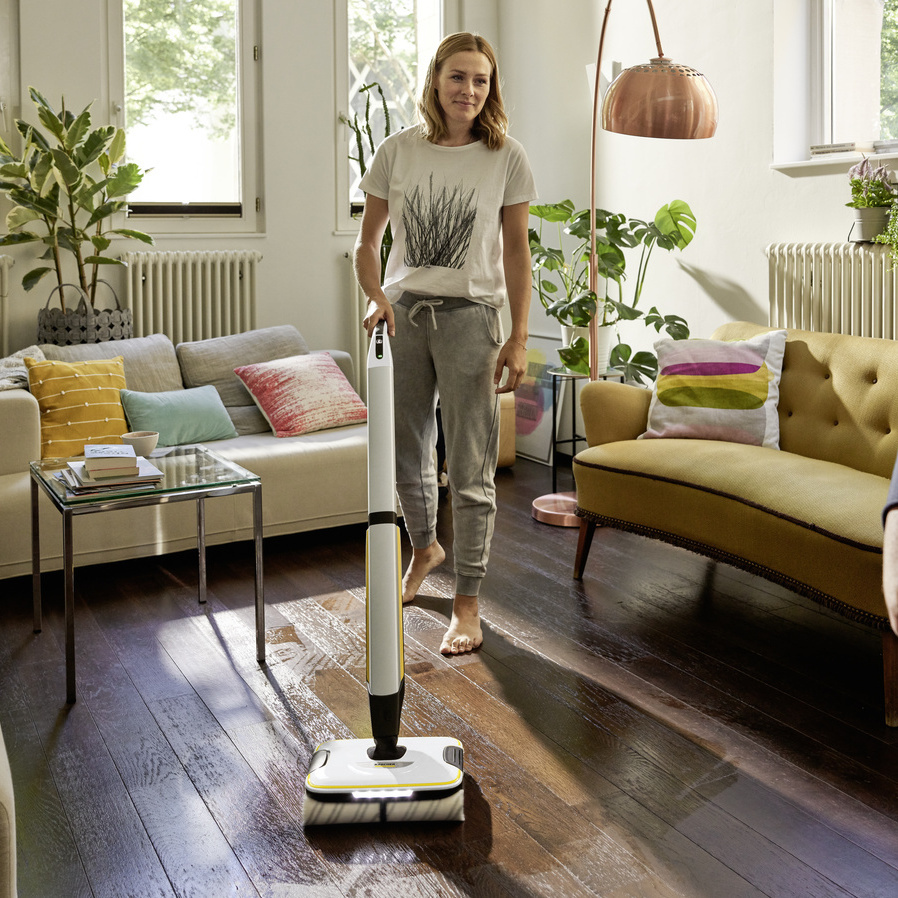 Automatic moistening
Clean water makes floors cleaner. This is why one side of the Kärcher floor cleaners' rotating rollers is continuously wetted with fresh water while on the other side the dirty water is scraped off and collected in a tank. Unlike cleaning with a mop, the dirt is actually picked up rather than being spread around.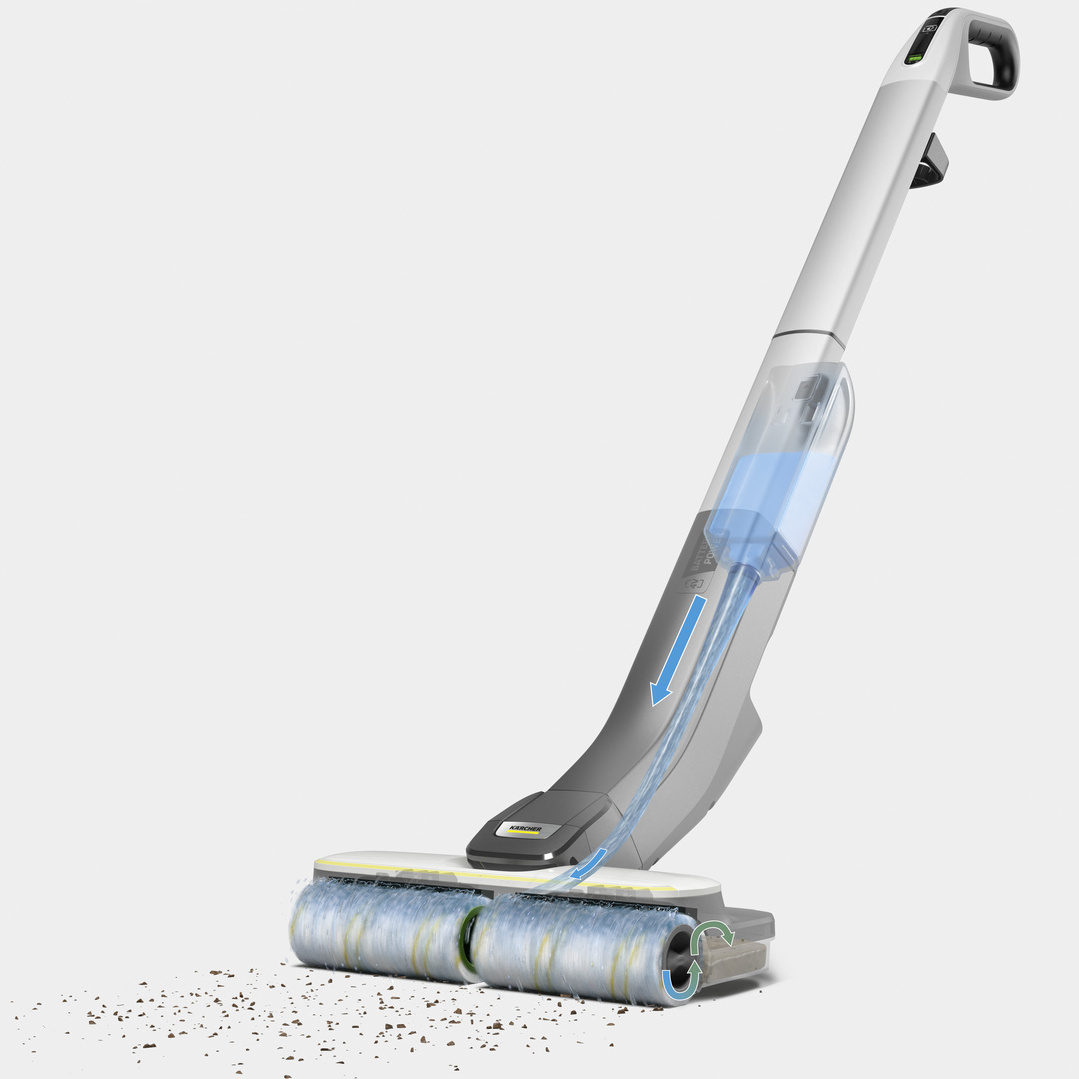 Floors cleaned 50% faster**
Achieve flawless results with our all-in-one floor cleaners. At the same time as mopping, you are pick up all types of dry and wet everyday dirt in a single step. Even in corners and along edges. Hairs are also picked up easily by the integrated hair combs.
Adjustable cleaning levels for different types of floors and dirt
On the FC 7 Cordless, you can adjust the roller rotation and the water flow to suit the type of dirt and floor (e.g. level 1 for wooden floors, level 2 for stone floors). Stubborn stains can also be tackled using the boost mode.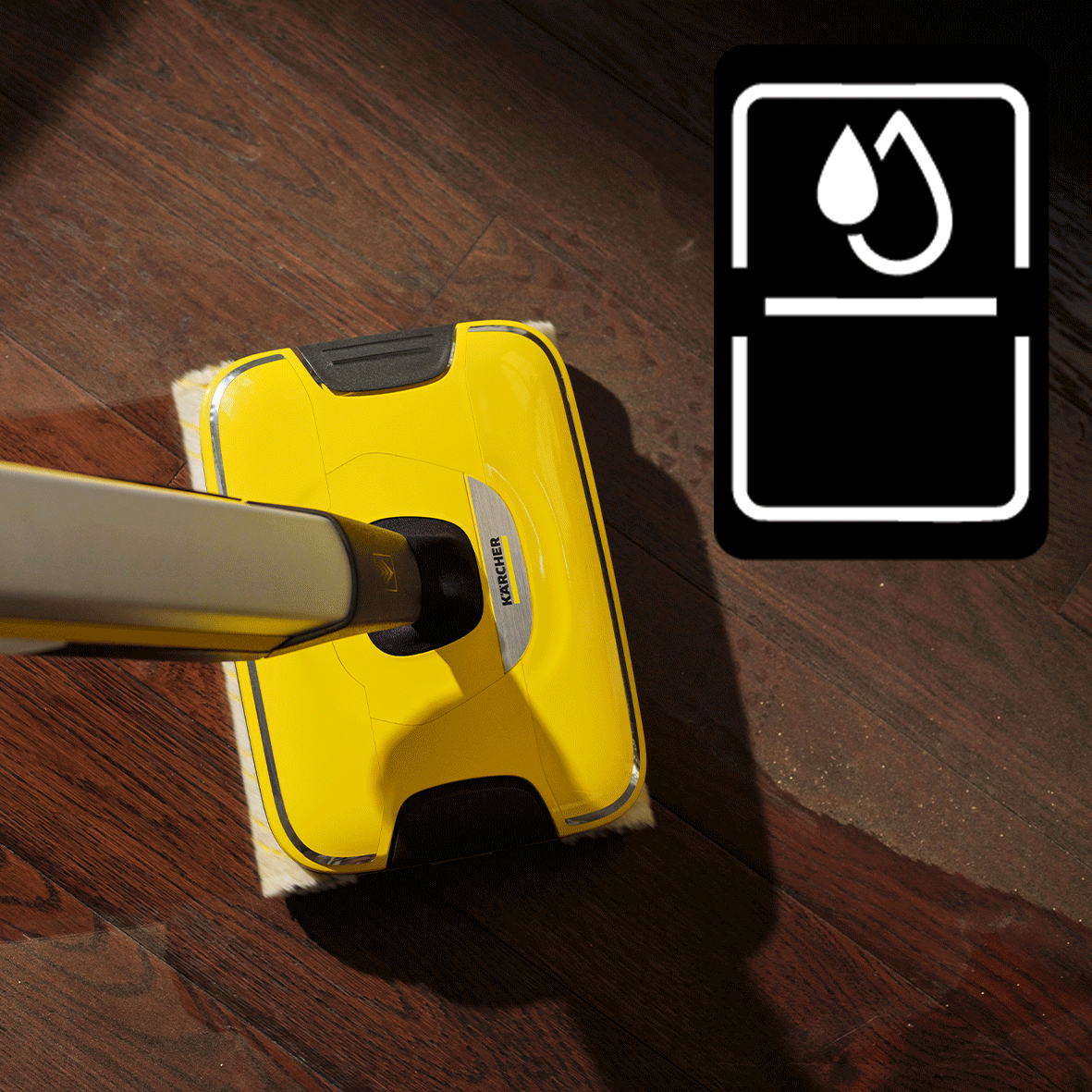 Effortless floor cleaning
No more scrubbing by hand. No more tedious wringing out of floor cleaning cloths since the dirt is continuously removed from the rollers by the self-cleaning function. No more dragging a bucket around thanks to the separately integrated and easily removable fresh and dirty water tanks.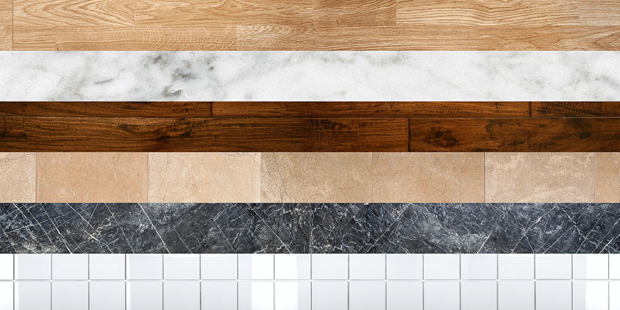 Suitable for all hard floors
Low residual moisture means it is suitable for all hard floors (stone, tiles, parquet, laminate, vinyl). The floors can be walked on again in no time at all. Perfect floor care combined with Kärcher detergents and care agents.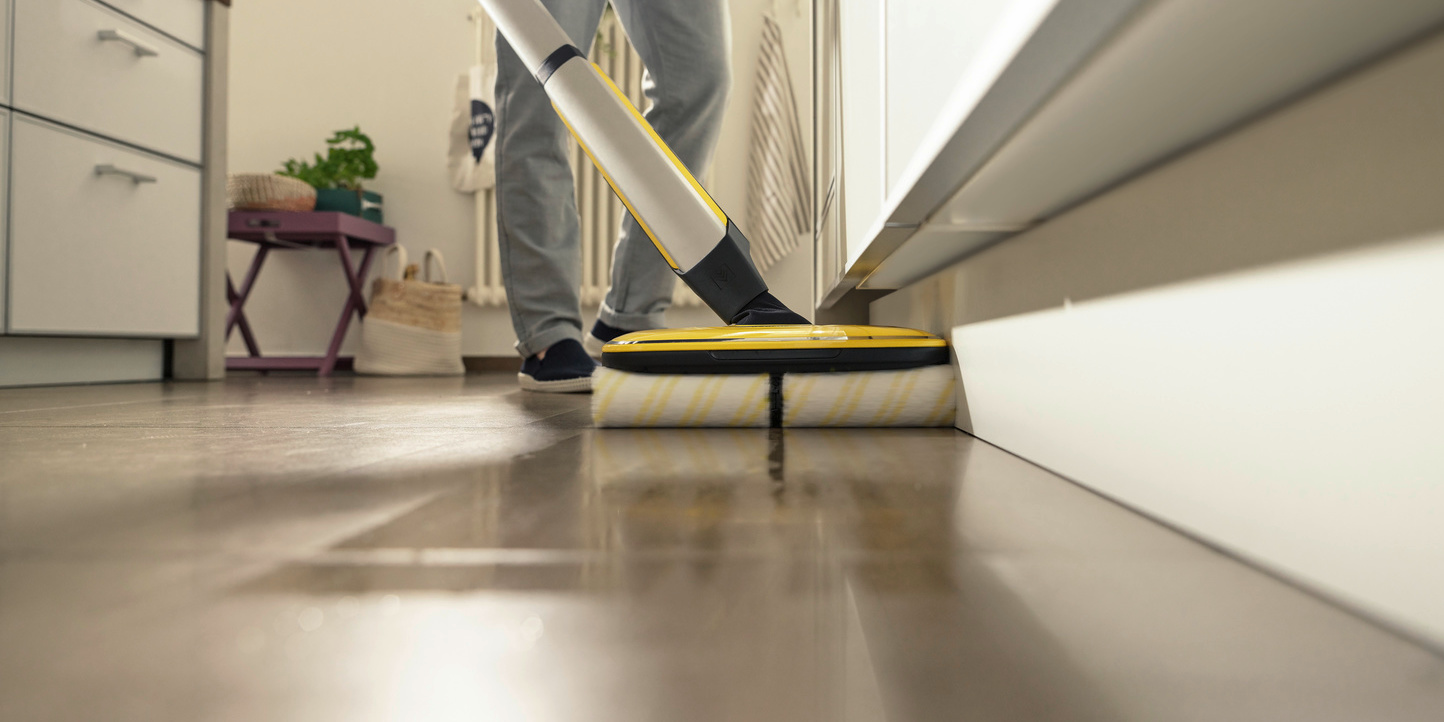 Perfect edge cleaning
The central roller drive on the FC 7 Cordless and FC 4-4 Battery ensures excellent cleaning results in corners and along edges.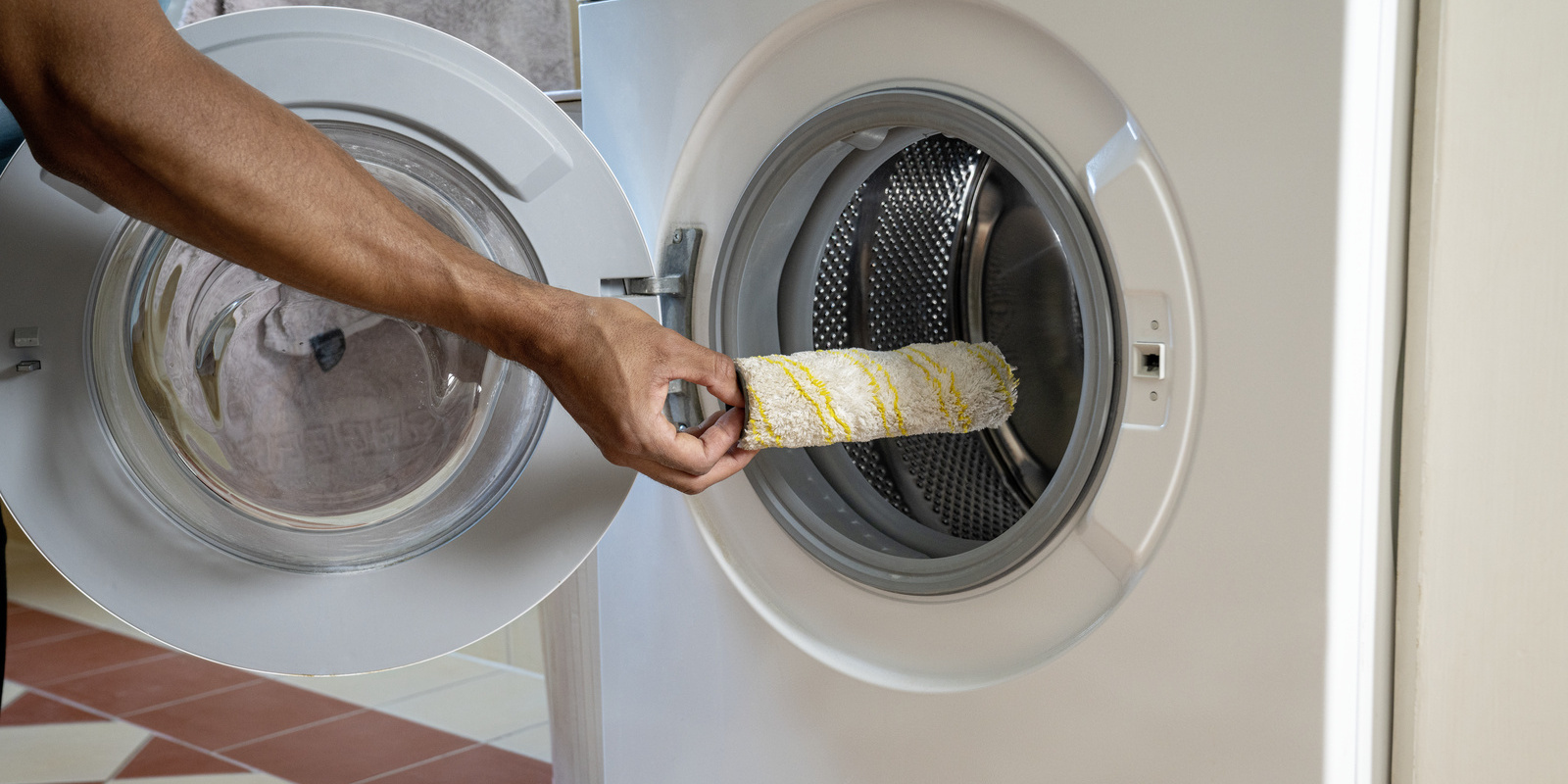 Washable rollers
Attaching and removing the microfibre rollers is quick and easy. The rollers are also machine washable at up to 60°C.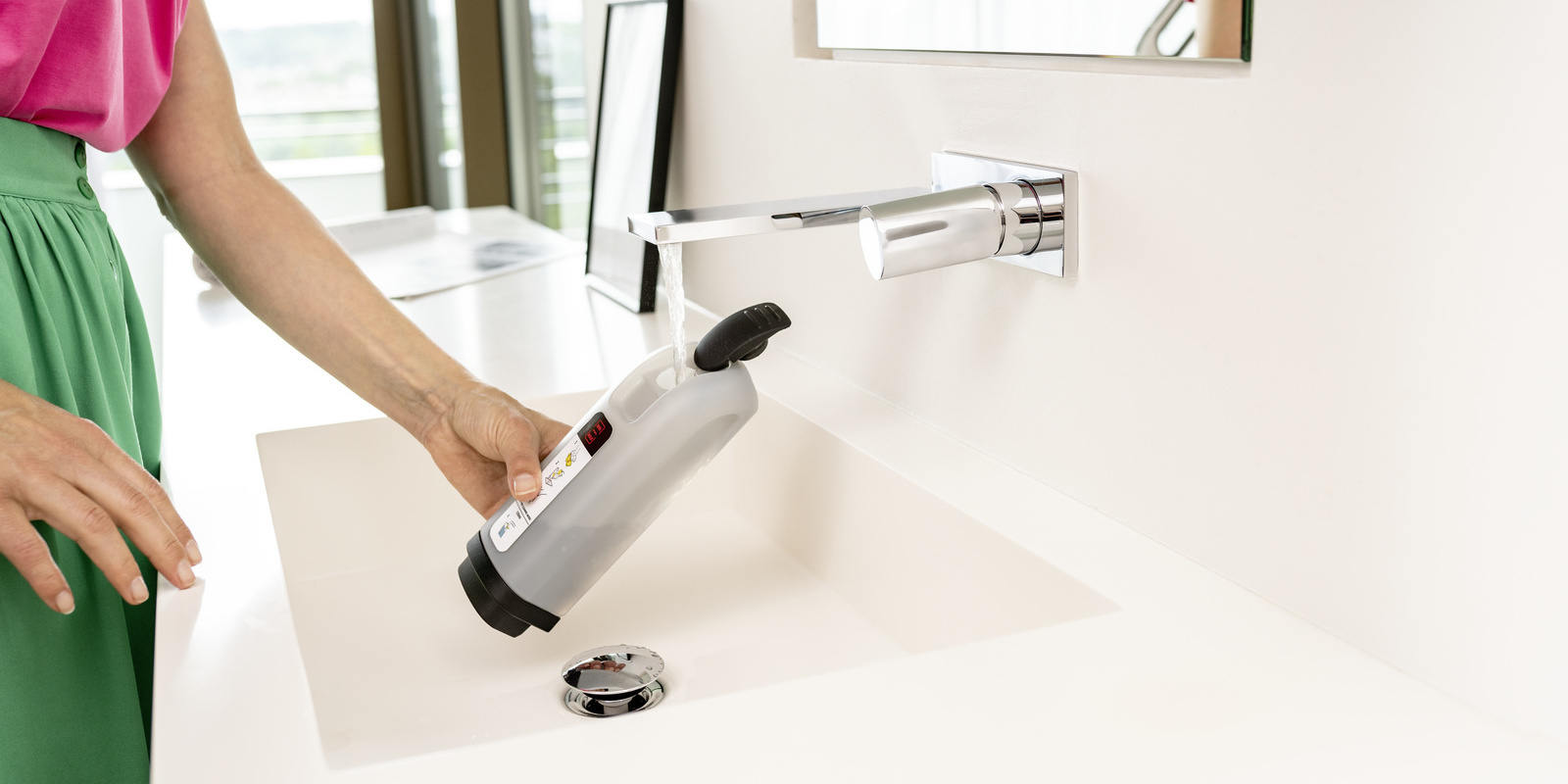 Uses up to 90% less water***
Compared to cleaning with a traditional mop and bucket.***
Bring back the WOW to your stage
The floor may be hard, but that doesn't mean cleaning it has to be. It's much easier to clean using one of our floor cleaners. These come as convenient all-in-one devices or battery-powered lightweight models.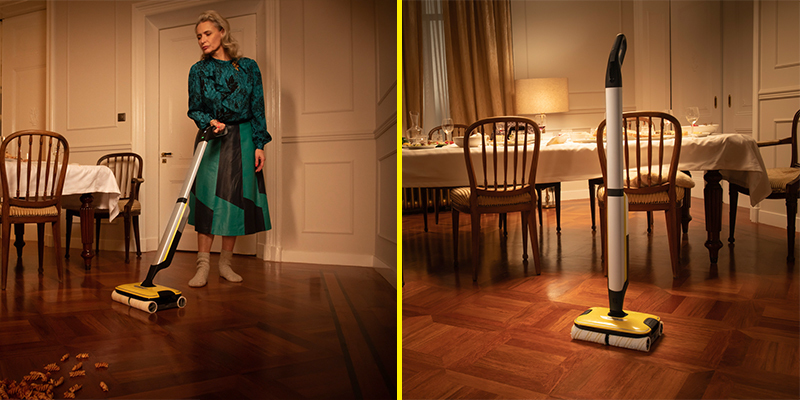 FC 7 CORDLESS
Area performance approx. 135 m² per battery charge
Removes all types of dry and wet everyday dirt
Mopping + dust pick-up + coarse dirt pick-up
Approx. 45 min battery run time
Suitable for all hard floors + 2 cleaning levels + boost mode
Perfect cleaning in corners and along edges
Includes 4 rollers + 1 universal floor cleaner
Very smooth-running thanks to counter-rotating rollers
4-roller drive technology
Detergents and accessories
With the range of accessories available for Kärcher floor cleaners, cleaning and care can be perfectly matched to your floor. The universal floor cleaner, for example, is suitable for any hard floor, while special detergents for wood and stone provide extra care and protection for these types of flooring.
* The Kärcher floor cleaners achieve up to 20% better cleaning performance compared to a conventional mop with wiping cloth cover in the "Wiping" test category. Refers to average test results for cleaning efficiency, dirt pick-up and edge cleaning.
** The FC 7 Cordless halves your cleaning time, since common household dirt can be removed from hard floors in a single step, doing away with the need to vacuum before mopping.
*** When cleaning a floor area of 60 m², the FC 7 Cordless (consumption: 0.4 l) uses up to 90% less water compared to a conventional mop and bucket filled with 5 litres of water (consumption: 5.0 l).