Health sector

Perfect hygiene with high efficiency. The successful day-to-day running of busy hospitals and clinics is inextricably linked with modern hygiene and efficiency. The vital importance of maintaining hygiene, in particular the avoidance of nosocomial infections and transmission of germs, must be ensured in any event through optimal care and cleanliness. The various areas in hospitals each require their own specific cleaning solutions - from small to large areas, from kitchens to operating theatres. In busy hospitals and clinics, efficient maintenance cleaning is crucial as there is rarely enough time for time-consuming deep cleaning. More stringent hygiene standards, increasing cost pressures and competition make things more difficult. Kärcher offers products that are ideally suited to meeting these high demands: professional, efficient cleaning systems. And individual services ranging from mobile to intensive cleaning.

Traffic routes – clean and safe.
The constant traffic in public areas such as entrances, corridors and ward corridors leaves little time for cleaning. Decisive here is the balance between maintenance, interim and deep cleaning. For thorough cleanliness, value retention, dust suppression and safety – for all kinds of floors, hard surfaces and carpets. Kärcher puts hygiene first.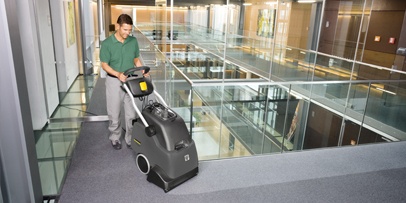 Carpets quickly cleaned
When there is not enough time for drying or deep cleaning of carpets: the Kärcher system consisting of BRC 45/45 C carpet cleaning machine and iCapsol RM 768 detergent featuring 2-roller technology provides superb results and leaves floors dry enough to be reused after only 20 minutes.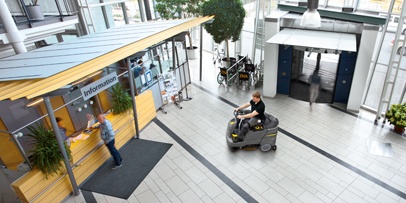 Ideal for entrances
The B 90 scrubber drier is designed for cleaning large areas. It features a pre-sweeping function for removing coarse, loose dirt. The diamond pad leaves stone floors looking shiny for longer. Thanks to the whisper function, the B 90 is also ideal for use in patient areas.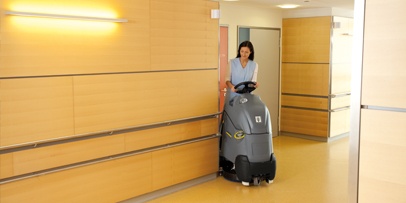 Manoeuvrable and quick in corridors
The BD 50/40 RS is the most manoeuvrable in its class. Allows a clear view along ward corridors. Easy to get on and off for more space. The efficient solution for daily maintenance cleaning of hard surfaces.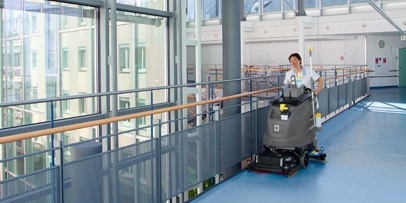 Efficiency is a matter of adjustment
The B 60 with KIK system is fully configurable and with its tank interior cleaning system ensures hygiene not only on floors. In the eco!efficiency mode, the brush speed and suction power can be reduced for light soiling.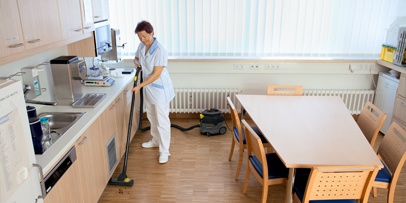 The quietest vacuum cleaner in its class
The T 12/1 eco!efficiency with HEPA filter is designed to meet hygiene requirements on wards. The reduction in the operating noise level by 5 dB(A) compared to the basic model is equivalent to a noise level reduction of about 70%.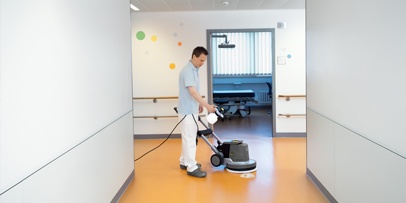 Simply polish marks away
The BDP 43/450 C Adv and spray cleaner are a time-saving solution for removing marks and films. Ideal for use in busy areas where thorough cleaning is not possible.
Our products for public areas
Sanitary areas – cleans deep into joints and crevices.
Manual cleaning reaches its limits in sanitary areas with anti-slip floors, especially when it comes to removing limescale, skin oils or cosmetic residues. In baths, showers and changing rooms – anywhere with textured floors, limited space and rigorous hygiene requirements: the prevention of germ transmission in these areas is crucial. The regular use of compact, efficient Kärcher cleaning machines ensures that floors are hygienically clean deep into joints and crevices.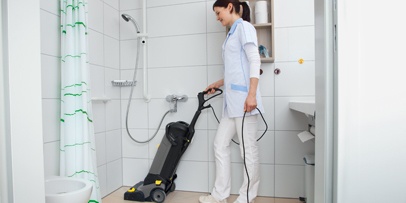 Optimal intermediate cleaning
The BR 30/4 C cleans right into corners, around bends and under low fittings. Featuring a microfibre roller, it is ideal for removing fluff and hairs on fine stone tiles. Ideal for use in sanitary areas or wet zones, e.g. water delivery suites.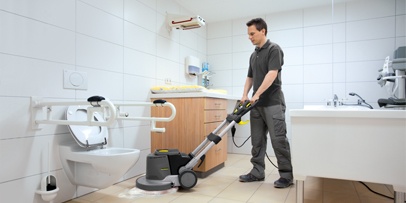 Optimal deep cleaning in sanitary areas
The BDS 43/180 C Adv is ideal for uninterrupted use: height adjustable handle for ergonomic operation and two-column handle for easy manoeuvrability even at maximum power. Folds down for space-saving storage.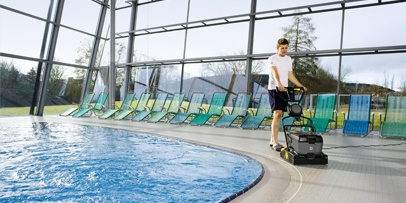 Ideal for textured flooring
The BR 40/10 with roller technology cleans deep into joints and crevices and scrubs and vacuums in one pass. Keeps sanitary areas and exercise baths hygienically clean.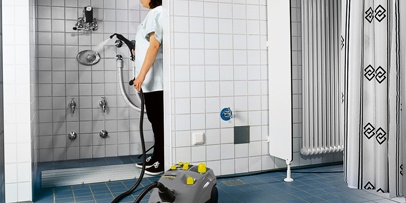 Clean joints and crevices – no chance for dirt
The DE 4002 steam cleaner is the answer to stubborn soap residues in showers, particularly in areas that are hard to reach with a mop. Joint and crevice kit – kind to surfaces and the environment.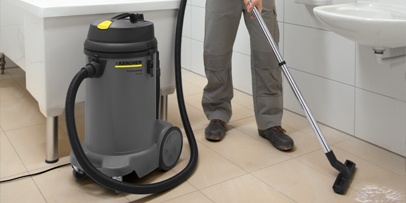 Powerful suction, tried and tested
Small or large spills are part of everyday life in hospitals. Wet and dry vacuum cleaners such as the NT 48/1 are ideal for removing large amounts of water and when cleaning with the single-disc machine.
Our products for sanitary areas
Treatment areas – maximum hygiene.
Cleaning in sterile areas such as operating theatres and laboratories places high demands on the cleaning systems used. The aim is to achieve and maintain a maximum level of hygiene to avoid nosocomial infections. Cleaning machines used in these areas must comply with rigorous hygiene standards. What's more, the often busy environments, limited time to thoroughly clean floors subject to high traffic and cramped conditions make floor cleaning even more difficult.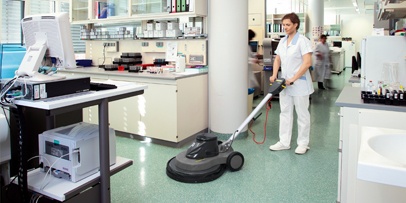 Faster is better
Perfectly polished floors are extremely important where surfaces are subject to high mechanical stress and exposure to aggressive media like disinfectants. The BDP 50/1500 ultra-high speed polishing machine is ideal for floors which are subject to heavy traffic and features floating pad drive boards for uneven floors.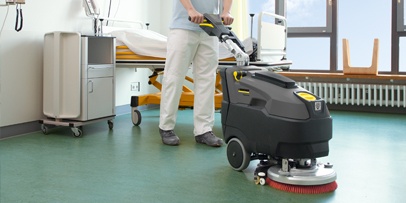 Quickly on-site and quickly finished
The BD 40/12 is the intelligent alternative to a mop thanks to its fast set-up, excellent cleaning performance and quick drying. This compact battery-powered machine is versatile and manoeuvrable and ideal for maintenance cleaning, especially in small spaces.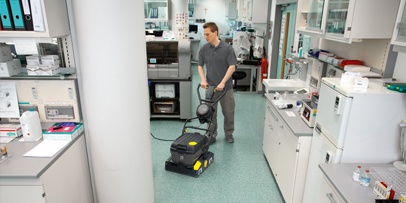 For growing demands
In histological laboratories, where large amounts of wax are used, floor cleaning is very time-consuming, but essential for work safety. In order to effectively remove stubborn dirt like wax, a specially adapted system consisting of machine and cleaning agent is essential, for example the BR 40/10 with contra-rotating, self-cleaning pad rollers and RM 750 intensive deep cleaner for cleaner floors and increased safety.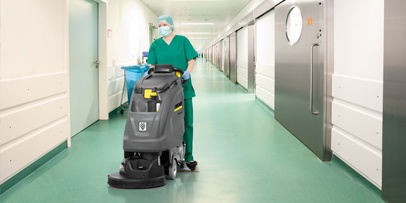 Ideal for operating theatres
B 40 W meets the highest requirements: easy to use and so quiet that it can be used at any time. The tank rinsing system protects against contamination. Maintenance-free batteries ensure trouble-free operation. Thanks to its compact construction style and manoeuvrability, the B 40 is also ideal for use in operating theatre environments.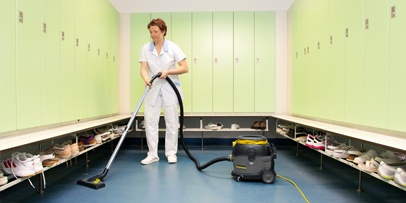 Silent, but tough on dust
Frequent changes of clothing produce a large amount of dust. With only 56 dB (A), the T 15/1 is the quietest in its class and can be used at any time. Standard HEPA filter.
Our products for treatment areas
Kitchen areas – appetisingly clean.
Preparing food for a large number of patients and staff places the highest demands on hygiene. Kärcher offers a complete system which follows the HACCP concept and complies with all cleaning standards using special equipment. In all preparation, storage and distribution areas. For various cleaning applications, from working areas and implements to serving trolleys. For removing stubborn and coarse dirt. Also effective on highly textured floors.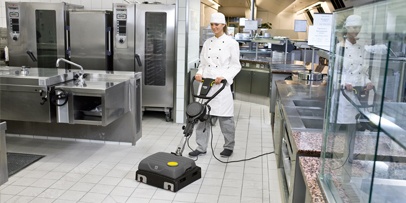 On rollers – deeper into joints and crevices
Being flat and compact, the BRS 40/100 scrubber easily reaches under kitchen cupboards. Featuring roller technology, this machine is the alternative to single-disc machines for use on non-slip tiles.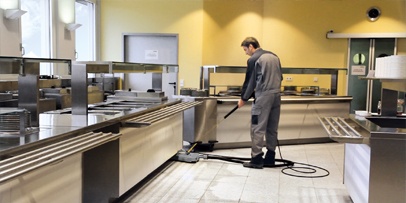 High pressure in the kitchen
High-pressure cleaning with integrated suction is ideal for kitchens. The FRV 30 surface cleaner can clean and vacuum in one pass. Used together with RM 731 grease and protein remover, it is tough on protein, grease and oil – but kind to surfaces.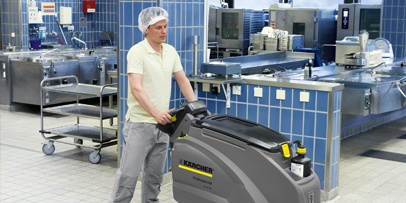 High and low
The B 40 W was developed on the basis of the HACCP principle and ensures optimal cleaning results on large areas. Featuring a roller brush head and high/low bristles, it also cleans non-slip tiles effortlessly. With DOSE system for optimal cleaning agent dosing.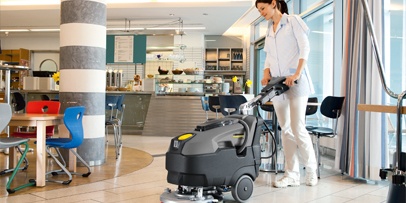 Specialist for canteens
Canteens are subject to heavy soiling such as coffee stains, grease and protein residues. The BD 40/12 C quickly and thoroughly removes stubborn dirt on fine stone tiles in canteens. It also reaches areas inaccessible to large machines.
Our products for kitchen areas
Offices and conference rooms – cleaned deep into the fibres.
Offices and conference rooms in hospitals are often carpeted or have parquet flooring to create a pleasant atmosphere. To retain the value of these high-quality materials, specific cleaning systems are necessary. Not least, also to maintain a constant level of hygiene and prevent the transmission of germs – because dirt and germs make no distinction between clinical and office areas.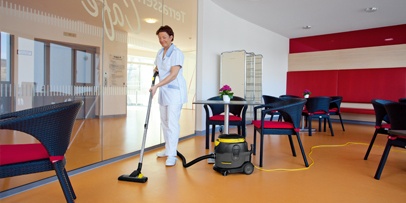 Whisper-quiet and universal
Dry vacuum cleaners such as the T 15/1 are perfect for daily maintenance cleaning – with or without filter bag: they thoroughly remove dirt and soiling on carpets, laminate or PVC floors effortlessly.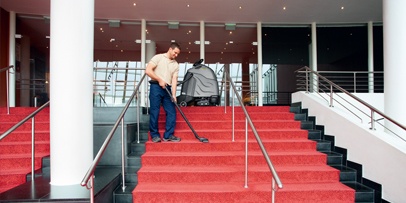 All-rounder for all surfaces
The CV 60/2 vacuum brush automatically adjusts itself to any floor covering. From hard floors to carpets and back – without having to change accessories. Ease of use meets extreme manoeuvrability. Performance also meets versatility: features include contra-rotating rollers, side brush, suction pipe and optional HEPA filter. Plus accessory kit for hard-to-reach areas. With practical on-board storage for accessories and charger.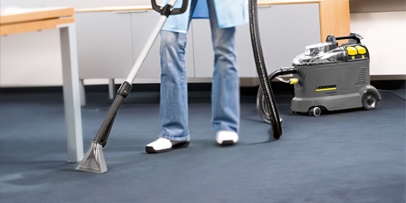 Thoroughly clean
Carpets are subject to heavy traffic everyday. That is why cleaning professionals prefer Kärcher carpet cleaners. These robust, powerful and versatile machines are designed for cleaning carpets deep into the pile and are ideal for intermediate cleaning and removing stains from textiles. Our machines can also be used for fibre-deep cleaning of vertical louvre blinds and upholstery. With the appropriate accessories, they can also be used for cleaning tiles and windows.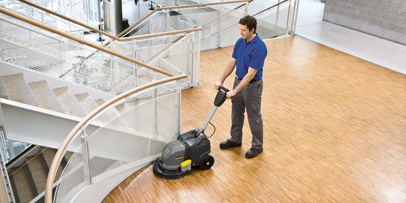 Torque conquers dirt
Kärcher battery-powered polishing machines such as the compact BDP 43/1500 C generate high torque for extra shine. The dust suction makes the work easier. This technology also scores top marks for wear and servicing.
Our products for administrative areas
High performance in all areas.
It is not only important that areas outside hospitals give a good impression: all-year-round maintenance of the infrastructure is indispensable for ensuring that daily routines can be carried out smoothly and safely. This applies in particular to access for ambulances, entrances and footpaths for patients and staff. Also important are the cleaning of multi-storey car parks and maintenance of grassed areas. Kärcher sweepers have the power and versatility to do the job: sweep, dry or wet. Mow grass. Collect leaves. And provide a complete winter service.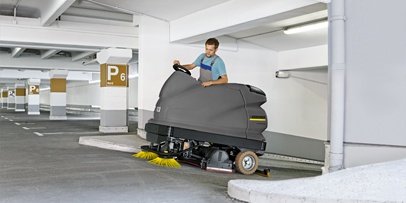 Right on track
Multistorey car parks often place high demands on scrubber driers: large areas, coarse and stubborn dirt and steep ramps. The Kärcher BR 100/250 R is the right machine for this job: with robust steel frame for heavy-duty use on areas with inclines up to 15%. With large water tank and powerful battery for long work intervals.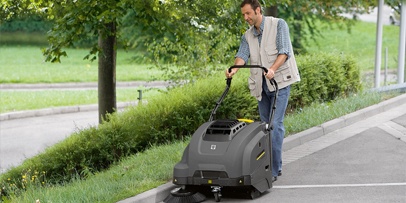 Could it get any easier?
The compact and extremely manoeuvrable KM 75/40 W thoroughly cleans small to medium-sized areas effortlessly. The traction drive replaces physical strength, while powerful dust suction ensures cleanliness without dust clouds. Available with a choice of powerful petrol engine or whisper-quiet battery version for indoor use – with optional antistatic carpet sweeper set.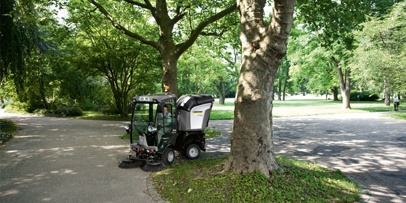 The standard for efficiency
The MC 50 demonstrates on a daily basis that economy and ecology go hand in hand. A highly efficient compact sweeper that is eco-friendly in every respect. The innovative vacuuming system with large vacuum blower reaches maximum suction power at 75% motor speed. The result: quieter, lower consumption, lower emissions and less wear. The MC 50 even falls below the values specified in the stringent exhaust emissions standard STAGE IIIa.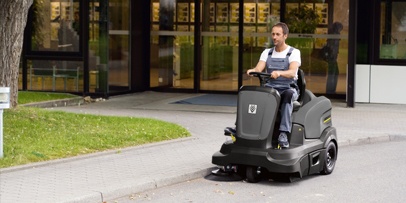 Progress made easy
The Kärcher KM 90/60 R is a compact ride-on sweeper vacuum that combines a high level of operating comfort with high area performance and effective automatic filter cleaning. Features include an adjustable seat, tilting steering wheel and oversized wheels for ease of use.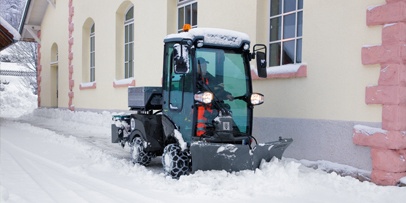 For year-round use.
The MC 50 Advanced delivers optimal sweeping results and is suitable for year-round use. The quick changeover system enables attachments such as mower or snow blade and spreader to be changed within minutes.
Our products for outside areas and underground car parks