Agricultural warehouse cleaning
Biosecurity, employee health and maintaining value: Many tons of dust are generated from arable land during potato and onion harvesting, especially during storage and transfer, bagging and packing. Dust is also unavoidable in grain farming during every step of processing. The crop's quality, employees' health and the machine's value can only be maintained if agricultural stores are regularly cleaned and the fine particles and associated pests are thoroughly removed from duck and feed stores.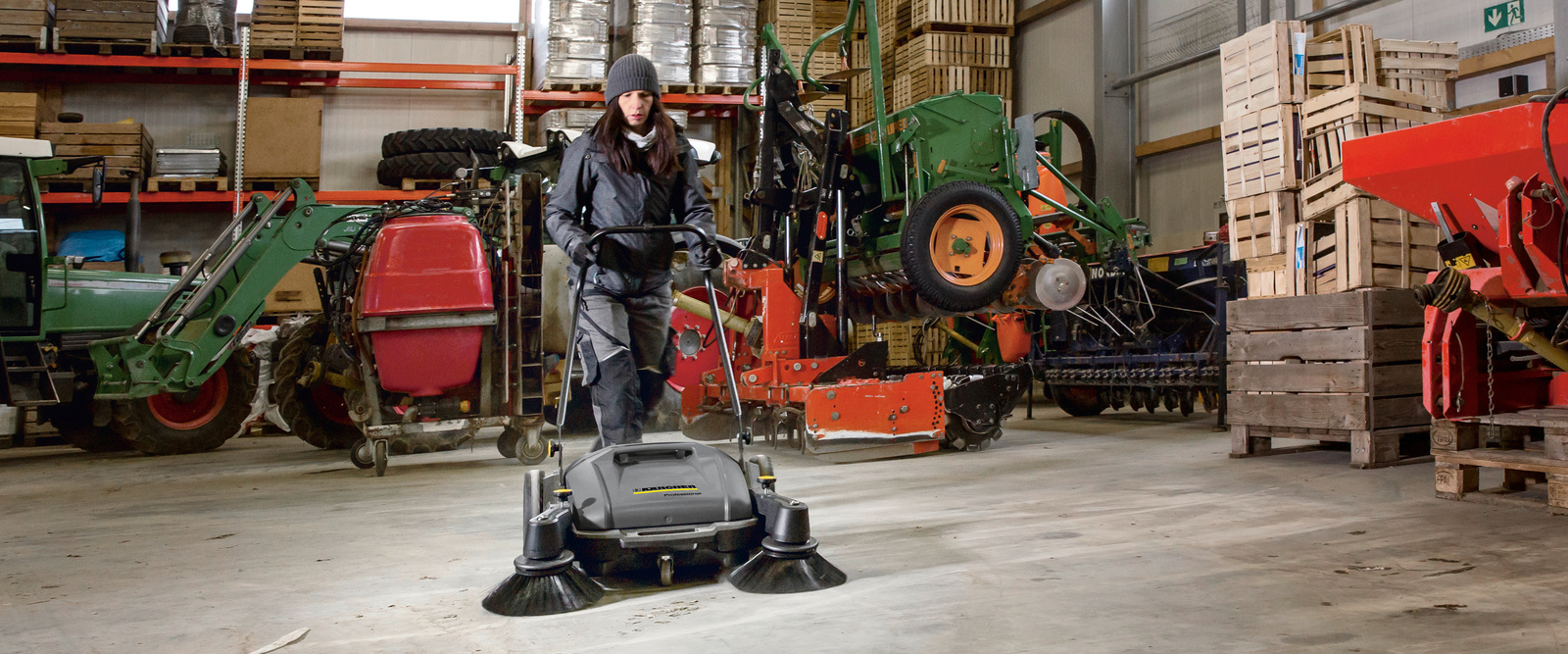 Removing dust from the warehouse left by stored vegetables
There are tonnes of dust kicked up by the post-harvest process for potatoes or onions, consisting of ground-up arable soil that is spread everywhere by moving produce and farm vehicle traffic. While some dust can be removed with a broom, most of it is stirred up. This is how the fine particles end up on work tables, conveyor belts, shelves, higher beams and in the roof trusses of warehouses. However, this is where the dust becomes a source of danger.
Farm warehouse cleaning: removing mould and more
Under the influence of air humidity, mould or mycotoxins, the toxic metabolic products of mould fungi, can develop in hard-to-see places. Pests and pathogens can also settle in, which leads to a reduction in the value of the stored goods and a loss of income. If you don't remove contaminants, they can be introduced into the livestock via animal feed or, in the worst case, reach the consumer. You need efficient and high-performance cleaning technology for warehouse cleaning to avoid economic damage as well as hygiene and health risks.

Regular floor cleaning in agricultural warehouses
Regular sweeping
If you clean soil daily during the harvest after storage, fine dust particles can be collected quickly and returned to the field or disposed of. Powerful sweepers provide important support in achieving this quickly and efficiently.
When choosing the right machine, its ability to handle large amounts of fine dust is crucial. A suitable filter with appropriate cleaning has a bit impact on this. You should choose the size of the container to match the volume of dust you want to collect, and the working width should match the size of the area. Depending on the space available, you should also decide whether a handheld machine makes sense or a ride-on machine.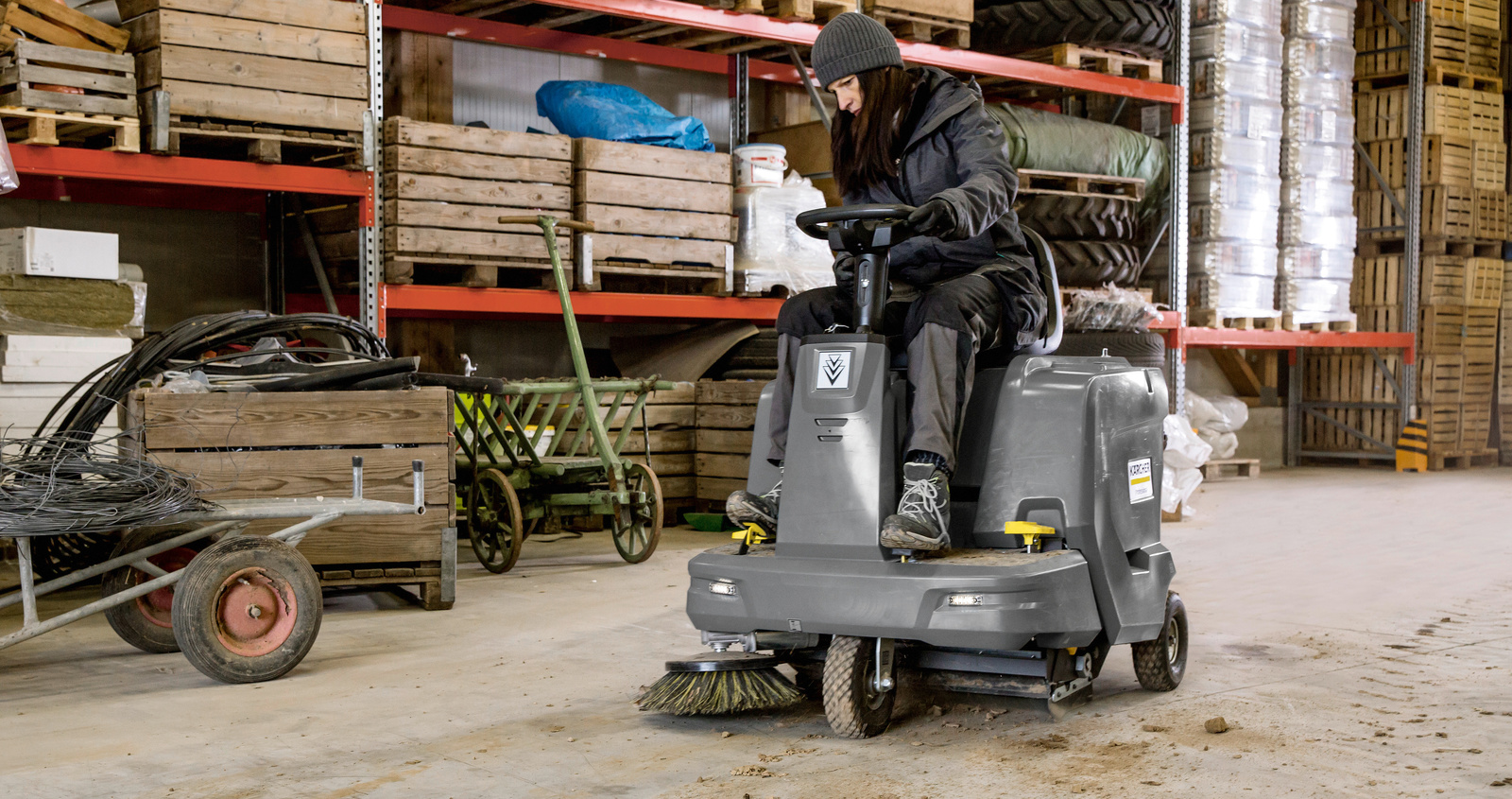 Tip 1 – side brushes:
It's recommended that you sweep only corners and edges with the side broom. When cleaning surfaces, it can be raised to stir up less dust.
Tip 2 – coarse debris flap:
It's best that the sweeper has a coarse debris flap to pick up larger debris, such as stones or crops that have fallen to the ground.
Wet and dry vacuum cleaners for special uses
Wet and dry vacuums remove large amounts of dust effectively and without interruption. A squeegee nozzle makes them suitable for cleaning larger areas. They are also the right solution for obstructed or hard-to-reach areas where a sweeper cannot be used.
The right filter takes the dust out of the exhaust air, which is important for user safety. Automatic filter cleaning and, in the case of very large amounts of dust, a pre-separator to protect the main filter can increase the longevity of the device.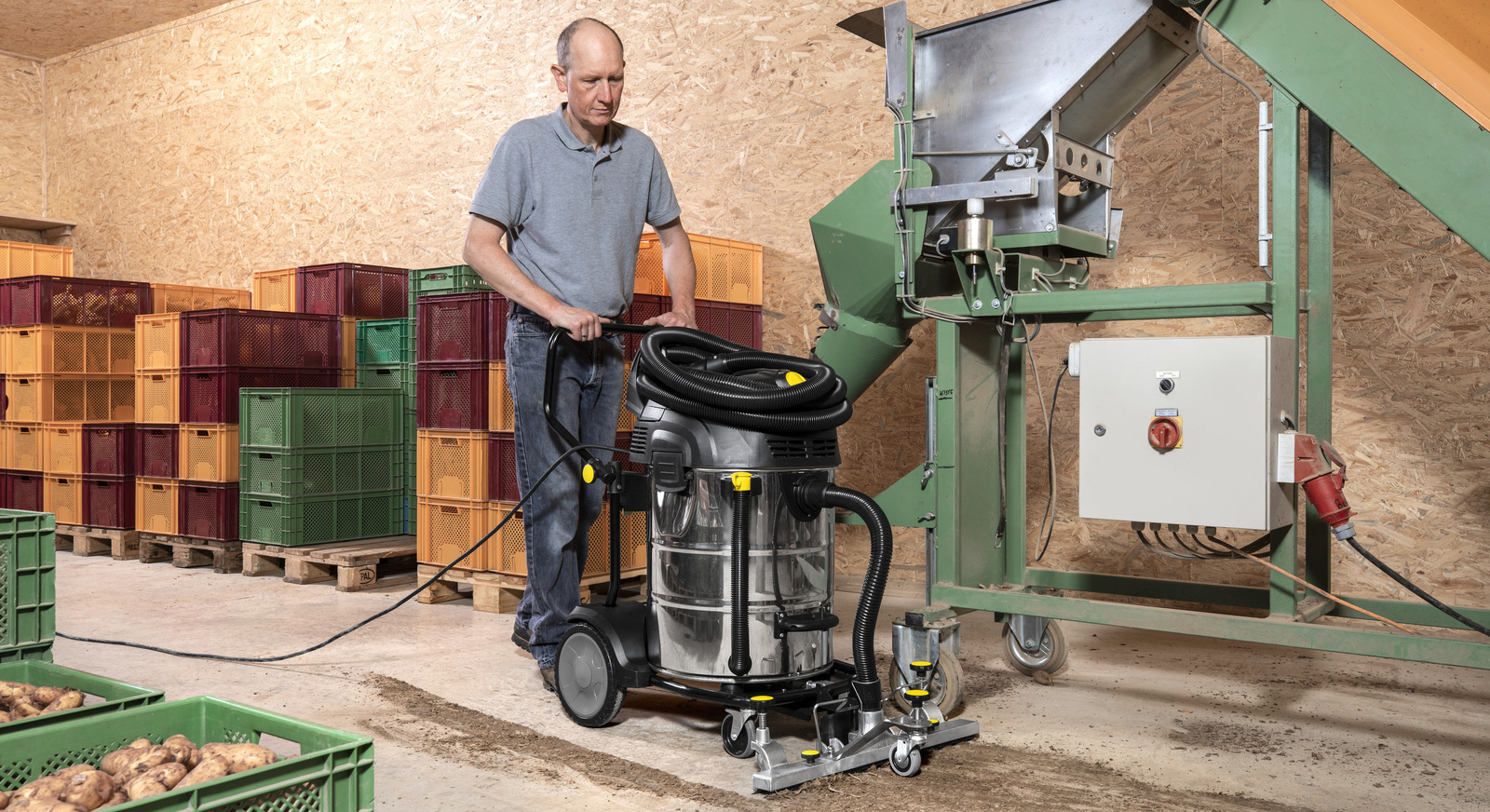 Tip – the filter:
Suitable filter performance depends on the dust class. According to DIN EN 60335-2-69, the AGW (occupational exposure limit) for dust class L is greater than 1 mg/m3. There are no special requirements for filtration and disposal. For dust class M (AGW between 0.1 and 1 mg/m3), the filter must have a permeability of less than 0.1 percent. Dust class H (AGW below 0.1 mg/m3) requires a permeability of the filter of 0.005 percent and loss-free disposal.
Thorough surface cleaning before storing the new crop
Before storing the new harvest, you should thoroughly clean all surfaces and floors in the warehouse. The multifunctional wet and dry vacuums can suck in dry and damp dirt so that shelves, beams and other objects can be effortlessly freed from dust or damp dirt.
If the task is to clean beams and pipes further up in the warehouse or on the building ceiling, you can connect several suction pipes or use a cherry picker. Brushes with or without radial adapters ensure that even hard-to-reach areas can be easily reached. For stubborn dirt, mechanical aids such as brushes or scrapers can boost the vacuum cleaner's performance.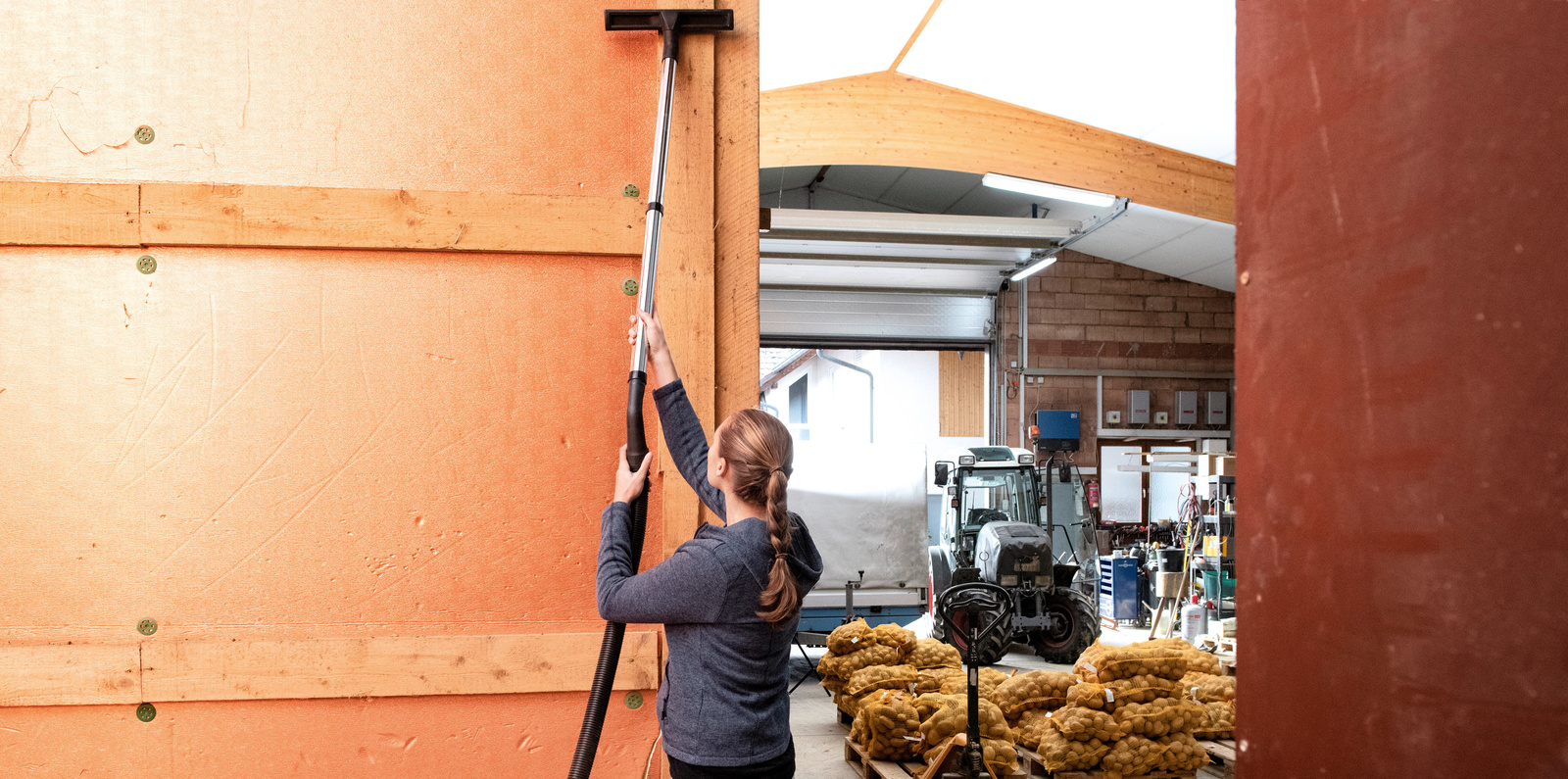 Tip 1 – transport boxes:
Don't forget the transport boxes in the warehouse. Their complex rhombic structure is best cleaned of dust and soil residues at the washing station with a high-pressure cleaner. Allow them to dry completely before being stored again.
Tip 2 – remove chlorpropham:
The potato sprout inhibitor chlorpropham (CIPC) is no longer approved throughout Europe. Either way, potato storage facilities should be thoroughly cleaned before each storage operation – from the overhead and underfloor channels to the storage equipment and machinery. Sweeping alone is not enough to comply with CIPC limits, and you need to carry out regular and thorough cleaning.

Removing chlorpropham from potato storage
The use of chlorpropham (CIPC) is no longer approved within Europe to inhibit potatoes from sprouting. Potato storage spaces need to be thoroughly cleaned before storing each new crop. This includes the overhead and underfloor channels, as well as the storage equipment and machinery. Sweeping storage rooms is not enough to comply with CIPC cleaning requirements, and thorough cleaning needs to be regular occurrence.
Dust from grain processing in agriculture: clean up storage, maintaining health and safety
Dust is omnipresent in grain cultivation, from harvesting to transport and storage to delivery to the mill. The consistent removal of fine particles throughout all production steps is vital in helping to protect the health of employees from lung diseases. It is also the only way to maintain the high quality of the harvested crop. Thoroughly cleaning agricultural storage facilities before and during storage prevents pests from being carried over from the old crop to the new one. It is also possible to remove nests of outgrowth and mould.

Compressed air compressors are often used for cleaning grain stores. Although the compressed air reliably removes dust from surfaces, the particles are dispersed within the environment and cause high exposure for the operator. A wet and dry vacuum ensures that dust is not stirred up but removed from walls and surfaces. An extension hose allows for efficient work. For floors, sweepers or wet and dry vacuum cleaners with squeegee nozzle is a suitable solution for removing dust quickly and effectively.
Tip – Sweepers:
To minimise the risk of contamination by migrating pests such as mice or rats, sweepers should be used for cleaning in the vicinity of the warehouses.
Retain value and avoid damage: cleaning machines before winter preparations
Machinery is a large part of investment in agriculture and often runs for long periods without interruption. Regular cleaning ensures that you prevent any damage or discover damage hidden under dust and dirt at an early stage. You should also clean and service all machines before they are stored for the winter.
Depending on the size of the machinery and the operation, it may be worth investing in a stationary high-pressure unit as an alternative to the mobile high-pressure cleaner. The unit with high-pressure pump is permanently installed and housed frost-proof in the building. It is connected to several tapping points via piping.

The user can activate the system by remote control at the push of a button, so that cleaning work can be started without extensive setup. The stationary unit can be used for cleaning at cleaning stations, in the stalls, in the milking area and other areas. As each tapping point is equipped with its own accessories, dirt and germs are not carried inside the farm, which means that high hygiene standards can be maintained.
Cleaning photovoltaic panels:
Photovoltaic systems are often located on agricultural warehouses. If you have already invested in a high-pressure cleaner for the cleaning work on the farm, you can also clean the photovoltaic systems efficiently with the right accessories. If they are not regularly cleaned of the traces left by weather and air pollution, the electricity yield can drop by up to 30 percent.

Cleaning solar and photovoltaic panels
It was originally said that cleaning and maintenance of photovoltaic systems was not necessary. But now it has become apparent that weather and air pollution do leave their mark. In order to use solar power as efficiently as possible and to keep the electricity yield at the highest possible level, regular professional cleaning with the right equipment is necessary.
Hygienic cleaning for feed stores
Hygienic feed is more than ever the basis of successful animal husbandry. Cleanliness ensures that animal health is not endangered by rodents, other pests, and mould or mycotoxins. Therefore, you should remove contaminants such as dust from silos on a regular basis. In the case of outdoor silos, you should take special care to ensure that their contents are exposed to daily temperature fluctuations and to the formation of condensation. You should carry out at least one inspection before filling and one annual basic cleaning.

Silo cleaning
Flat or mobile silos, high silos, silo bags made of trevira – there are various ways to store fermented and dried feed, other feed components and slurry. If there is a lack of hygiene on the farm, contamination will cause performance losses and health problems for the animals. To prevent this, you should thoroughly clean each silo after each storage period.
Suitable products for your area of application