Digitisation in agriculture: cleaning high-tech products properly
Digitalisation is more established in agriculture, than in almost any other sector, especially on large farms. This applies to animal husbandry as well as to farming, where there are hardly any limits to the use of robotics, sensor technology & more. The technology of digital farming is expensive and sensitive, which makes proper cleaning all the more important.
Multiple uses: Digitisation in agriculture
In the field of animal husbandry, there are now many technical systems that support the farmer. The larger the farm, the more important the digitisation of one's agriculture becomes. The range extends from automated feeding and milking robots to monitoring the activity, health status and cycle of the animals. The farmer receives real-time alerts via smartphone, when values don't match and problems arise with an animal.

Opportunities for digitalisation and sustainability in agriculture
But the opportunities of high-tech and digitalisation in agriculture are also being used extensively in arable farming, including farming more sustainably. Self-driving, satellite-controlled machines and field robots are now part of everyday digital farming and make work easier. Combine harvesters create yield maps during field work that provide information on the necessary amount of fertilisation. Drones often replace helicopters, especially in viticulture, to detect the condition of plants and any pest infestations at an early stage. Crop protection can even be applied selectively per plant affected by pests, depending on the design of the machine.

Cleanliness for sensitive technology
It's clear that digital farming is precise, but it also needs a high level of cleanliness and hygiene. All machines and systems must function 100% to prevent downtime. In addition, high investments require continuous value retention. It is also important to be able to sell old equipment at a profit if necessary.
Protecting investments: exterior cleaning - but be careful!
The more advanced digital farming becomes and the more technically sophisticated the machines and systems in digital farming are, the more care need to be taken when cleaning. Still, any amount of coarse and stubborn dirt should be removed.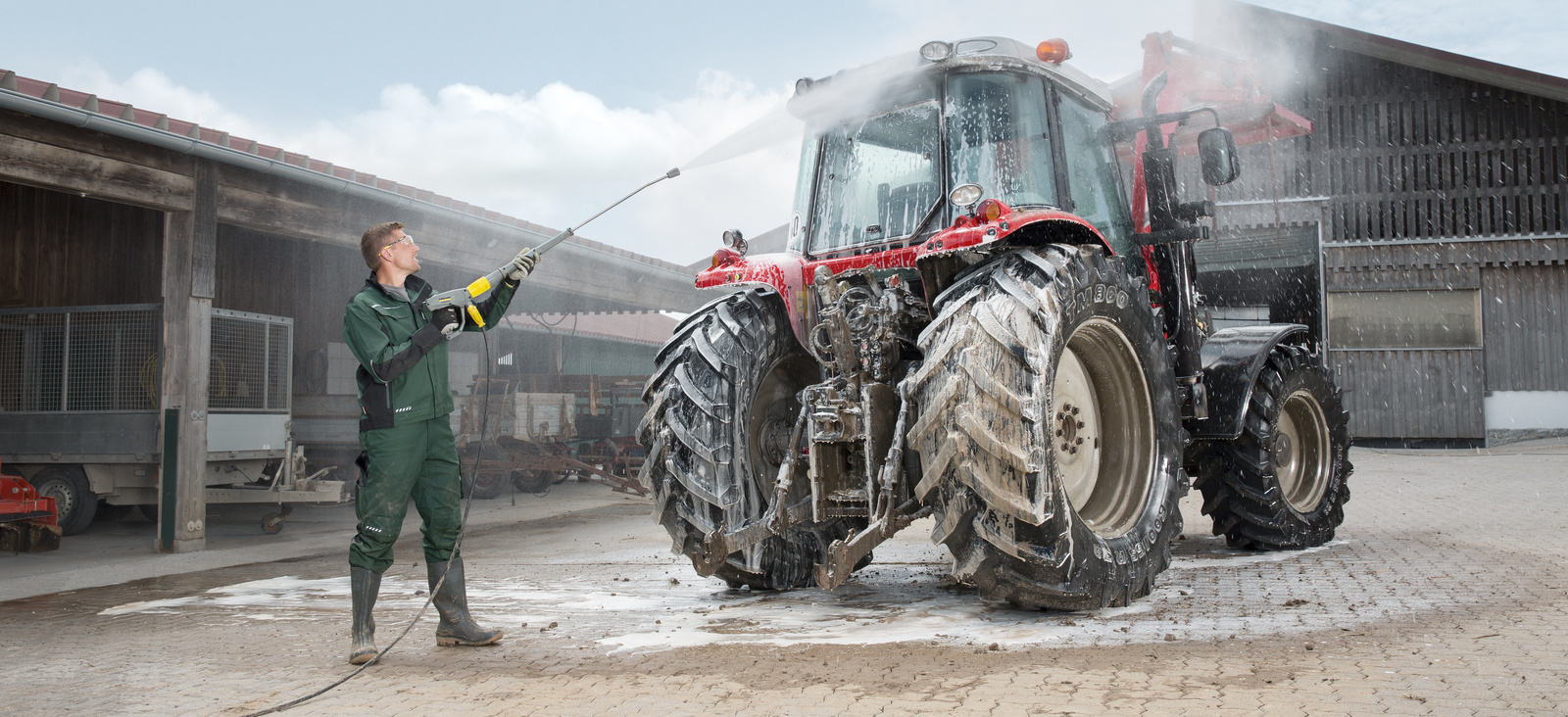 Using a pressure washer properly
A standard piece of cleaning equipment on any farm includes a high-pressure washer. It plays a major role in cleaning tractors and other equipment, as it efficiently removes coarse dirt using appropriate pressure. However, the amount of water and pressure should be greatly reduced when cleaning around hydraulics or electronics. The use of a hot water high-pressure cleaner is also helpful, as hot water dissolves dirt more quickly and thereby requiring less pressure. Suitable cleaning agents can assist in achieving the desired result quickly and gently.
Where extra care is needed
Sensitive areas in digital farming include the electronic boxes on tractors or the ISOBUS interfaces that enable data transmission between the trailed machine and the tractor. For example, a high pressure baler sets the working speed based on the crop volume recorded via sensors – which supports the farmer, a reason why damage must be avoided at all cost.
Tip 1 – sensitive parts:
Do not use the rotary nozzle around delicate parts to avoid damage.
Tip 2 – remove loose dirt:
To slow down soiling and protect delicate parts, a powerful wet/dry vacuum cleaner can be used selectively to remove loose debris on a regular basis, making wet cleaning less necessary.
Digitisation in the workplace: Importance of cleaning in the cab
During the busy season cleaning the cab of a tractor or harvester often is forgotten. However, there are many advantages to cleaning the inside of the cab on a regular basis. Use a vacuum cleaner to thoroughly remove small particles of dirt. This will prevent damage to electrics, electronics and hydraulics, as well as costly repairs caused by dust, dirt and moisture.


Monitors, smartphones and tablets
When it comes to cleaning monitors or smartphone/tablet screens in digital agriculture, both in the cab and in control rooms, care must be taken to avoid scratches and damage. A dry, clean microfibre cloth works well and can be used for intermediate cleaning. Stubborn stains can be removed with a damp microfibre cloth that has been soaked in lukewarm water. However, the cloth should not be too wet to prevent moisture from penetrating the electronics. For stubborn stains use a cleaning agent. It should be free of acetone, alcohol, benzene, scouring agents, thinner and acid. The detergent should not be sprayed directly on the surface, apply it to a damp cloth and then wipe the surfaces clean.
Tip 1 – 16-fold folding:
In commercial cleaning, there is a specific method used to fold microfibre cloths, that has proven to remove dirt and not carry it further. In this process, the microfibre cloth is folded in half 3 times each (Once down and 2 times to the side), resulting in a total of 16 sides. Soak the exposed side of the folded cloth in detergent, then you can wipe each surface with a fresh side of the cloth. Once the cloth is used up replace it with a new one.
Tip 2 – suction brush:
For particularly delicate surfaces, the vacuum can be fitted with a suction brush that has extra soft bristles. This accessory also helps to remove dust from keyboards. However, the suction power should be reduced, when doing so.
Tip 3 – hard to reach places:
Vents, microphones or sockets can be carefully cleaned with a fine brush or toothbrush.
Highly sensitive, highly technical: the milking parlour
An example of an often highly digitalised, highly sensitive part of the farm is the milking parlour. Since all dairy cows, whether sick or healthy, pass through this area several times a day, hygiene is very importance. The animals bring dirt with them and defecate, which is why the area is generally confronted with a lot of dirt. To prevent germs from being passed from animal to animal, the milking parlour should be cleaned using a high-pressure washer after each milking session. To clean the digital farming equipment, hot water, detergents and brushes can be used to prevent damage.

Tip 1 – don't forget windows:
Cleaning window panes and plexiglass surfaces of the milking robot should not be forgotten.
Tip 2 – clean camera manually:
Digital farming is changing cleaning behaviour. The milking system is controlled via a robotic arm and camera. Even though an automatic cleaning programme is used, cleaning the camera and protective glass manually with a microfibre cloth is a good idea.
Fully automated, highly sensitive: Feeding systems for poultry and pigs
Hygiene in animal feeding is just as important as it is in the milking parlour. Digitalised agriculture has a lot of sensitive technology especially when it comes to feeding systems. Which is why using the right cleaning method is essential.
Dry feed and dust removal
When it comes to dry feeding, dust is the biggest problem in digital farming. It accumulates everywhere, binds moisture and can affect all electronics. On the one hand, a powerful wet/dry vacuum cleaner helps against this, on the other hand, surfaces can be cleaned manually. A microfibre cloth is suitable for this, as it picks up dust and leaves no residue behind.
Tip – removing large amounts of dust:
For large amounts of dust, a powerful filter should be installed in the wet/dry vacuum cleaner. A cartridge filter, for example, increases the filter area tremendously and ups the performance.
Liquid feed and high pressure cleaning
When it comes to liquid feeding the use of a high pressure cleaner is ideal. Individual components such as the mixing tanks or the auger can be easily cleaned with appropriate pressure. The areas surrounding the control panel and other sensitive elements of digital farming should be cleaned accordingly. Preferably with only a small amount of pressure or completely manually.
Tip – clean sensors regularly:
In barns with digitally controlled ventilation systems, the sensors are usually located on the ducts. For the sensors to correctly detect temperature, humidity and other values, they need to be cleaned regularly. Cleaning them manually or with very little pressure is best.
Suitable products for your area of application