Best Bathroom Cleaner Without Bleach | Steam Clean
Nobody likes a wet or dirty bathroom. A dirty bathroom is not only inconvenient for daily use, but it may also invite unwanted bacteria or insects to your home. Things can only get worse when there is a mold situation in your bathroom. Besides mold, it is also easy to have water stains, grime and soap scum buildup if you do not have time to regularly deep clean your bathroom.
Lucky for you, here at Kärcher, we have the best bathroom cleaner for busy professionals!

Best Bathroom Cleaner Without Bleach and Chemicals
The best way to remove stubborn stains, limescale and soap residue from the bathroom surface without chemicals is to expose them to high pressure hot water steam. Yes, you heard it right. No chemicals needed, no extensive scrubbing needed.
The powerful combination of steam pressure, speed and temperature alone is enough to break up built up of bathroom dirt. Microscopically small steam particles force their way into even the hardest to reach crevices and tiniest recesses to thoroughly loosen dirt particles.
In addition, steam kills 99.99%* of all common household bacteria, ensuring the highest standard of hygiene and a healthy living environment
This powerful cleaning tool obviates the needs of using harsh cleaning agents. Not only that you can save cost on not having to buy any additional cleaning supply, but it is also super environmentally friendly and relieves you from inhaling toxic chemical substances altogether.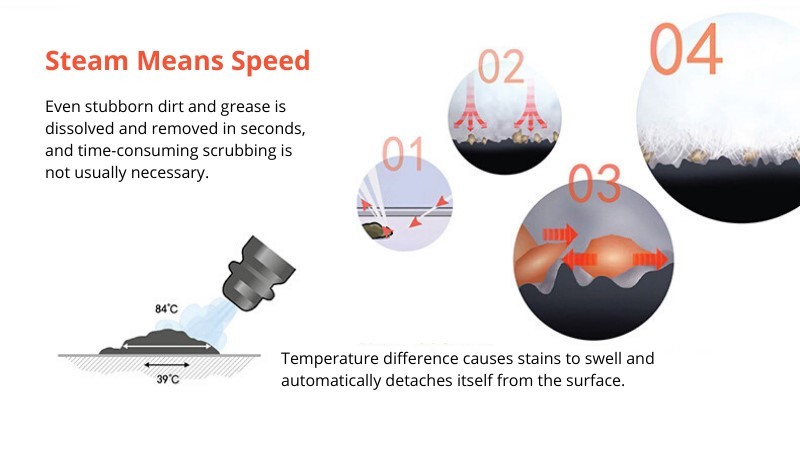 Bathroom Steam Cleaner Effortlessly Removes Stubborn Grime and Dirt
Using the right tool for the job will save you a considerable amount of time and effort without a doubt. And Karcher Steam Cleaner with its microfibre cloth set for bathrooms is just the most powerful weapon you can have to combat the most stubborn bathroom dirt and grime.
Steam rapidly heats up stains, making its temperature significantly higher than the actual surface itself. As a result, thermal tension is formed between dirt and the surface, which makes it easy to remove dirt from the surface. This temperature difference causes stains to swell and automatically detaches itself from the surface.
Our steam cleaner produces steam at a pressure of at least 3 bar. That is the equivalent to the pressure released when a champagne cork is launched from a bottle. The result is a high level of cleaning force which powerfully loosen stubborn dirt.
Our microfibre cloth set specifically made for bathroom cleaning are made up of abrasive fibres for optimal removal of limescale. The soft texture of the microfibre cloths, on the other hand, is capable of taking in dirt optimally.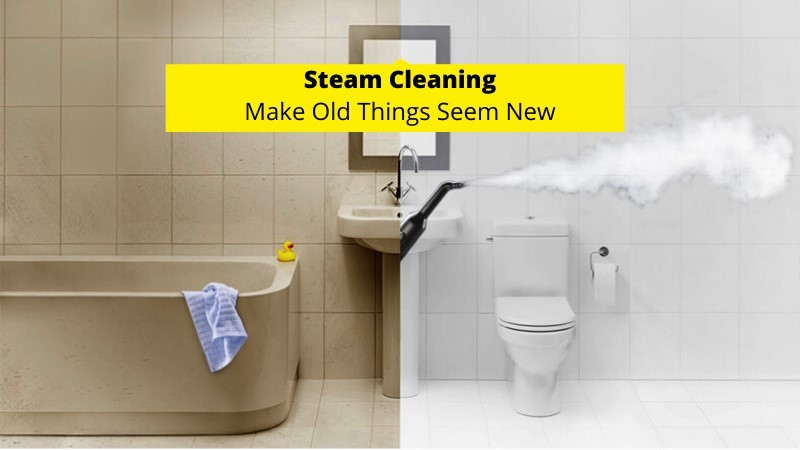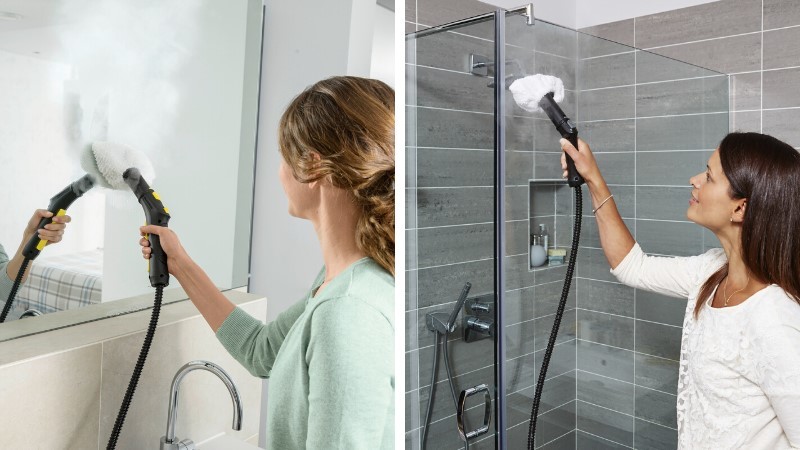 How to Use a Steam Cleaner in the Bathroom?
1. Steam Clean Shower Glass
One of the best features of Kärcher Steam Cleaner is that it is highly customisable with various accessories available for sale at Kärcher store. By attaching Kärcher Steam Cleaner with its special window nozzle, you can clean glass surfaces thoroughly.
The steam opening in the built-in nozzle vaporises the glass pane in order to remove dirt effectively. Its high-quality squeegee blade removes any molds, soap residue and stains from windows and glass surface thoroughly.
Furthermore, its small and lightweight design allows you to reach surfaces at any height by extending your arms to the area you intend to clean easily, without fuss!
This powerful combination (steam vacuum + window nozzle) obviates the need to apply traditional mirror cleaning remedy (use of newspaper, vinegar-water solution) which is not necessarily as effective as it is claimed to be.
2. Clean Bathroom Toilet Floor Tiles With Steam Cleaner
Karcher steam cleaners ensure maximum cleanliness and hygiene on hard surfaces like stone, tiles, PVC, laminate or sealed parquet flooring without leaving chemical residues – for a healthy living environment.
The Karcher floor nozzle with lamella technology is designed to ensure that the steam remains concentrated on the floor for a long time and cleans with maximum effect.
Thanks to their high cleaning performance and intensive cleaning impact, Karcher steam cleaners kill 99.99 %* of common household bacteria on all hard surfaces and are therefore considerably more hygienic than a conventional mop.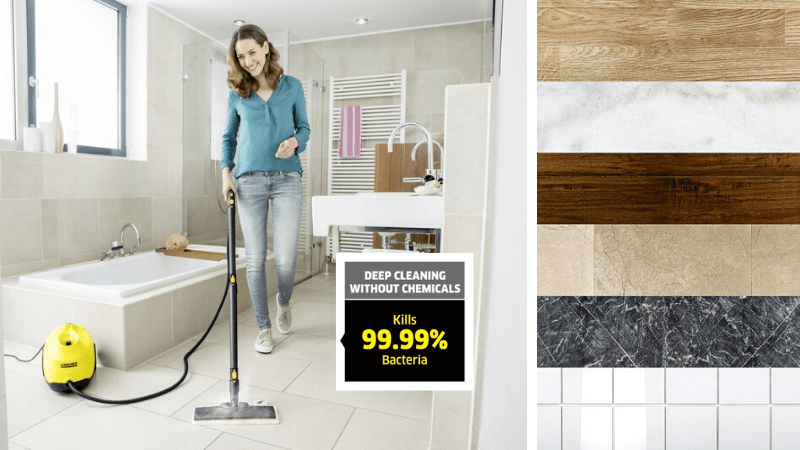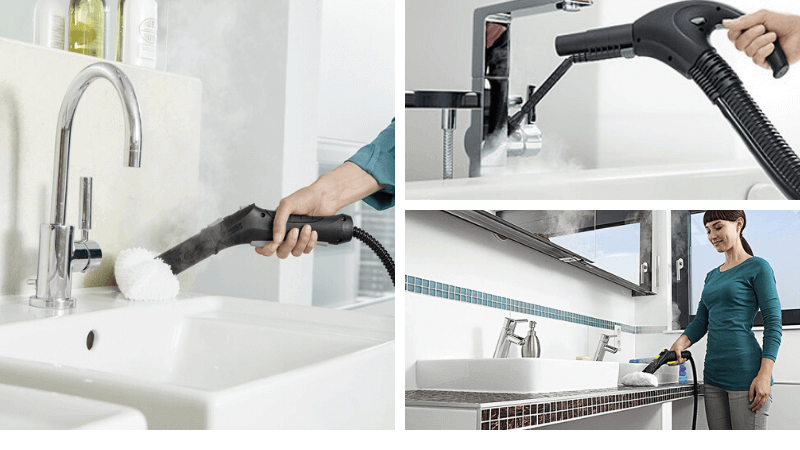 3. Clean Bathroom Sink with Steam Cleaner
To avoid scratching chrome or stainless steel fittings, use the detail nozzle and hold it close to the object being cleaned and wait until the lime breaks down under powerful blasts of steam.
If it's still not going to budge or is in an awkward spot, a brush can be added to the nozzle.
4. Remove Bathroom Soap Scum with Steam Cleaner
You can usually remove the usual bathroom stains, like limescale and soap residue easily with hot water steam generated by steam cleaner and vigorous scrubbing.

You can also choose to remove stubborn soap residue with the abrasive cloth included in our microfibre bathroom cloth kit.

In cases in which limescale layer gets too thick, you can just pour some citric acid-based cleaner (vinegar or lemon juice) to the area, then clean it with the nozzle after leaving it for 15-30 minutes.
Once the soap scum is removed, regular steam cleaning will prevent lime deposits from forming in the future.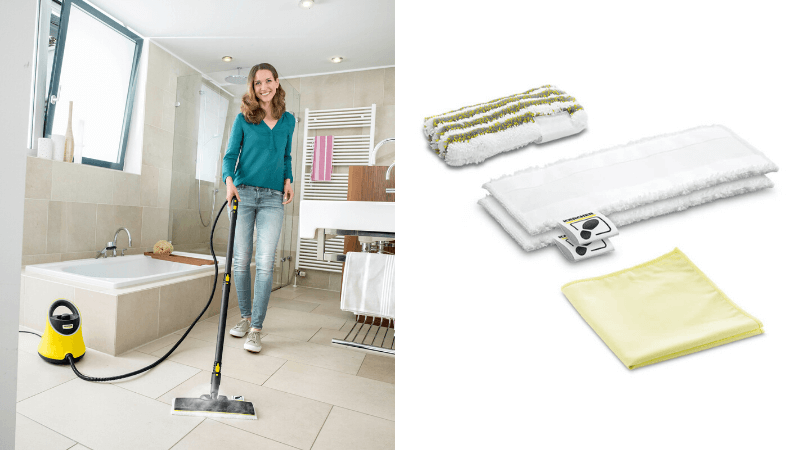 How to Keep Mold Out of Bathroom?
By using our combination of steam cleaner and wet and dry vacuum cleaner or just the multipurpose steam vacuum cleaner, you can easily keep your bathroom dry, squeaky clean, free of stains and clear of bathroom mold in no time. What's more? It is easy and super effective to use.
1. Keep Bathroom Dry After Every Shower With Wet and Dry Vacuum Cleaner
Keeping the bathroom dry after every shower is the first step in preventing mold problems. Simply just wipe down the water droplets after each and every time you shower. This step would only take you a few seconds to execute but it could save your hours of cleaning time in the long run.
Karcher's best wet and dry vacuum cleaner for home can dry out water puddles and also clean up strands of hair on the bathroom floor in one pass. We empower you to quickly and easily clean up two of the biggest common mess in the bathroom.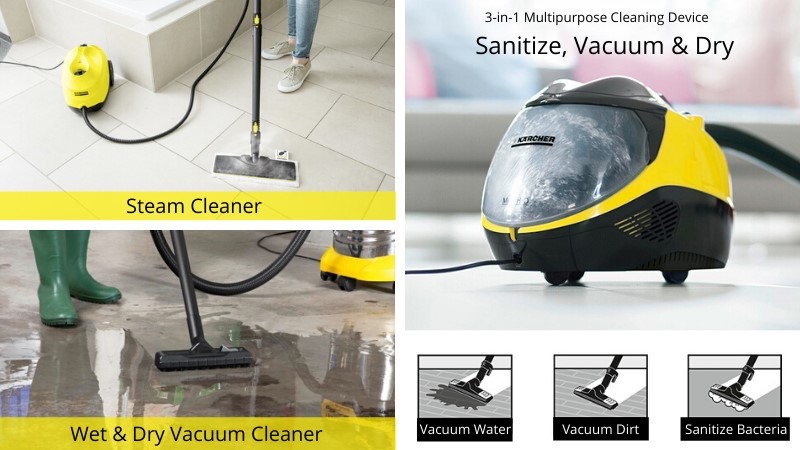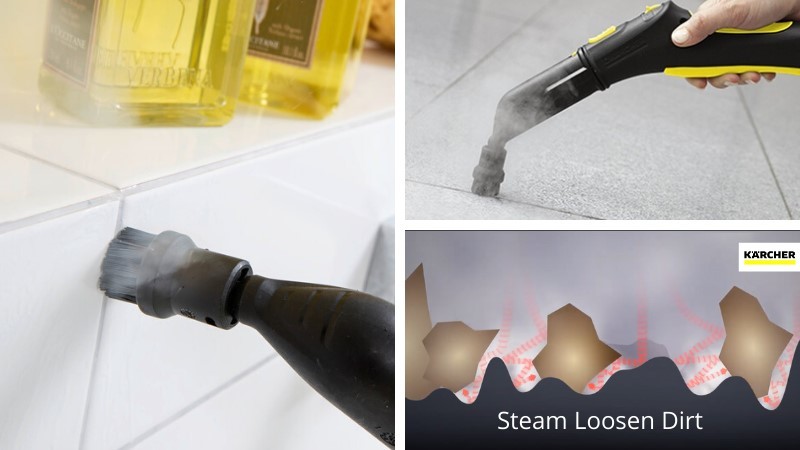 Remove Mold From Bathroom Tile Grout
Kärcher's Steam Cleaner allows you to sanitize your bathroom and kill mold via high temperature. As pressured steam penetrates deep into the pores of the cleaned surface, it is effective in eradicating bathroom mold that is stuck in the gaps between ceramic or stone tiles, which is a common floor and wall furnish for most bathrooms.
Besides killing mold, you can also attach a detail nozzle accessory to our steam cleaner to easily remove mold from crevices, corners, edges and other difficult to reach areas.
Some people use bleach to "remove" mold. What they do not realize is that bleach doesn't actually kill the mold. It only bleaches it white and keeps the growing problem invisible to the human eye.
Regular steam cleaning using Karcher's best floor steamer is the best way to resolve mold problems.
Keep Bathroom Well Ventilated
Unventilated bathrooms are prime candidates for mold growth. Please bear in mind that only 10% of the mold is visible, while the other 90% of mold is microscopic (not visible to the human eye).
While steam cleaning and scrubbing can remove visible mold, we still need to find out the reason that causes high humidity in the bathroom and get it fixed in order to keep mold out of your bathroom once and for all!
You may want to consider Installing a bathroom exhaust fan to help increase air circulation and control humidity.
Conclusion
Visit the nearest Karcher Malaysia store to test and try our best multipurpose vacuum cleaner and steam cleaner. Bathroom cleaning is not as time-consuming and stressful with the right equipment, and Kärcher has just what you need!
* Thorough cleaning with the Kärcher steam cleaner removes 99.99% of all common household bacteria from common household hard surfaces.