Vacuum cleaners
Vacuum cleaners from Kärcher combine high suction power with manoeuvrability and flexibility. For allergy sufferers, single people, families and pet owners alike, Kärcher has the right vacuum cleaner for every situation.
Why Karcher Vacuum Cleaners is perfect for my home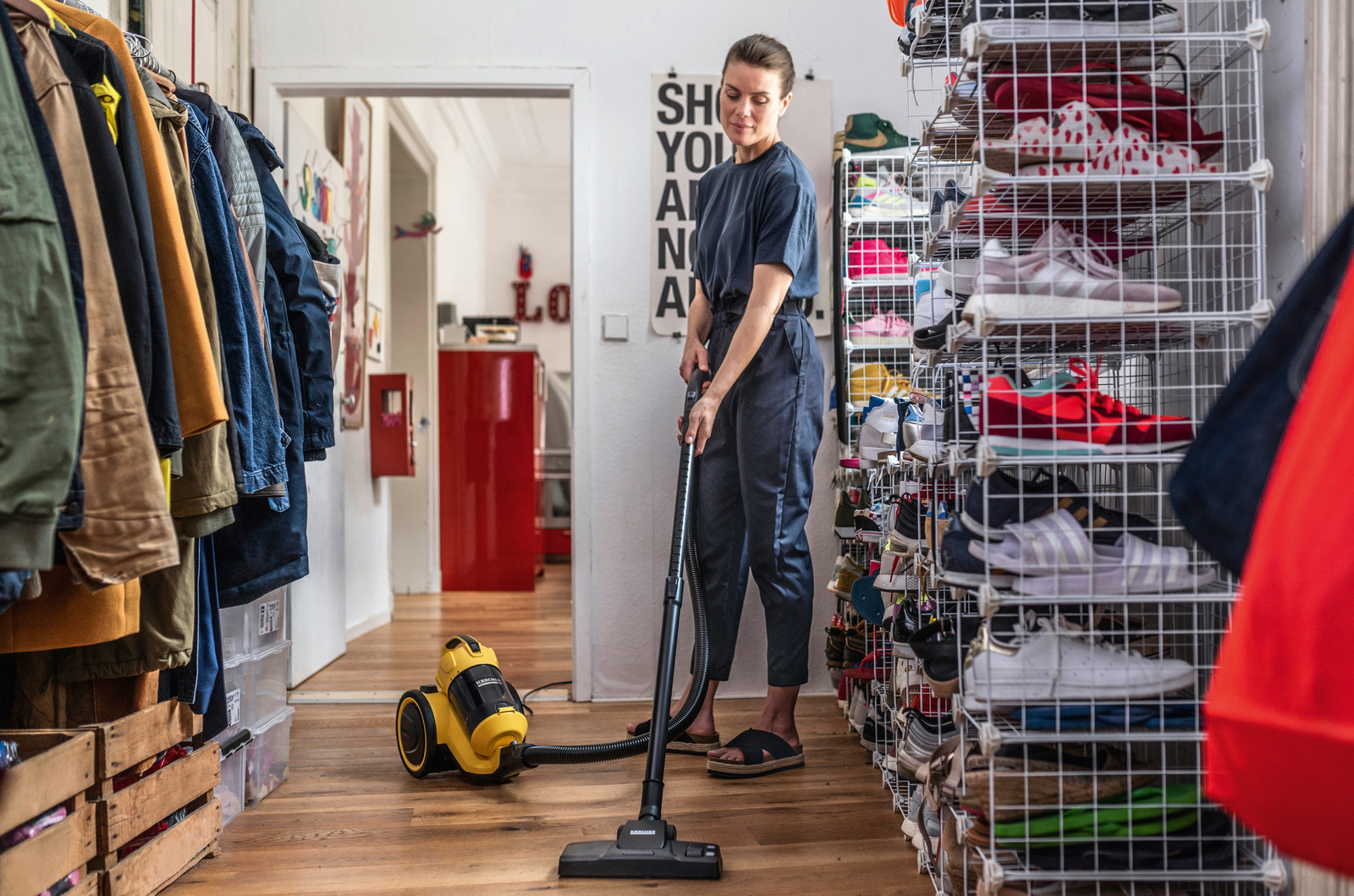 VC 3
The new VC 3 multi-cyclone vacuum cleaner from Kärcher is perfect for flats and smaller homes due to its compact size. Not only does it get hard floors and carpets clean, but thanks to the crevice nozzle and soft dusting brush, it produces great results even in narrow gaps and on delicate surfaces.
Other benefits include its HEPA hygiene filter, which reliably filters the finest dirt such as pollen or other allergy-triggering particles, and the practical parking position. The Premium model also includes a parquet nozzle in the scope of supply for the gentle cleaning of parquet and hard floors.
Multi-cyclone technology
The Kärcher vacuum cleaners with multi-cyclone technology do not collect the dirt in filter bags but in a transparent waste container. This not only saves on the inconvenience of buying and fitting expensive replacement filters but also shows at a glance when the container needs emptying.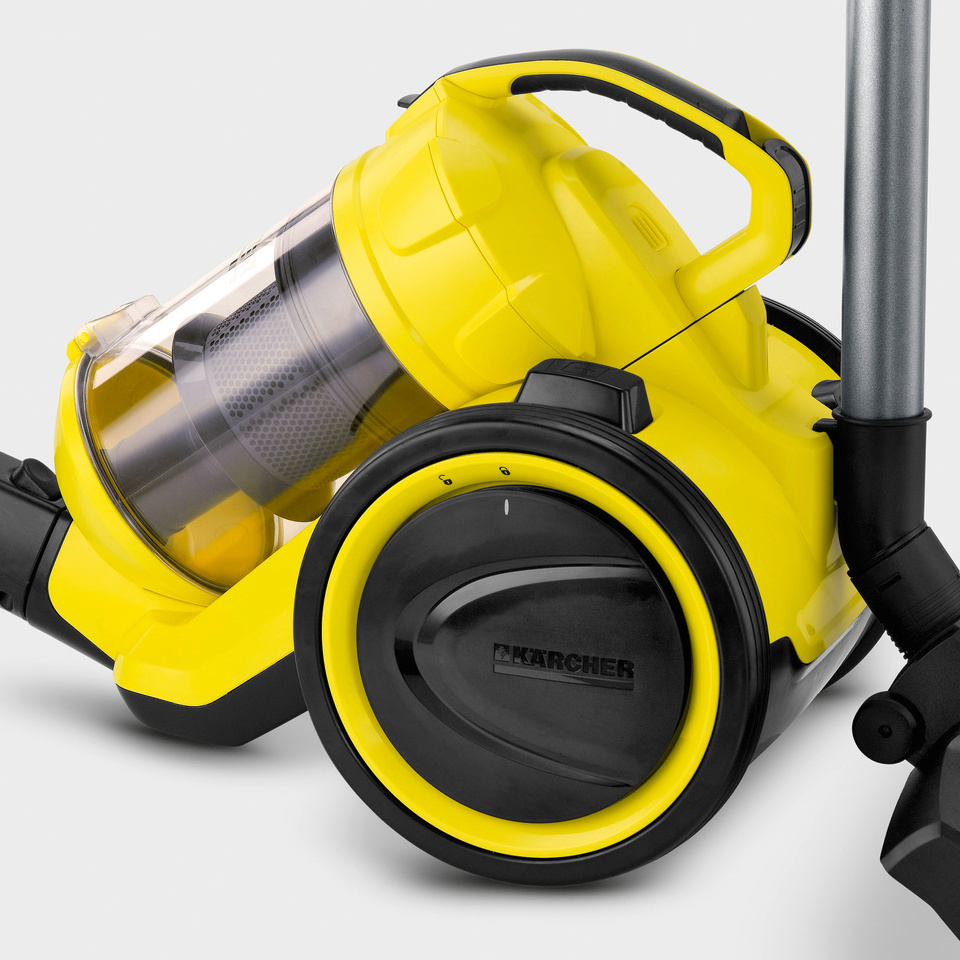 Parking position
The handy parking position feature allows you to park the device quickly and securely during work interruptions.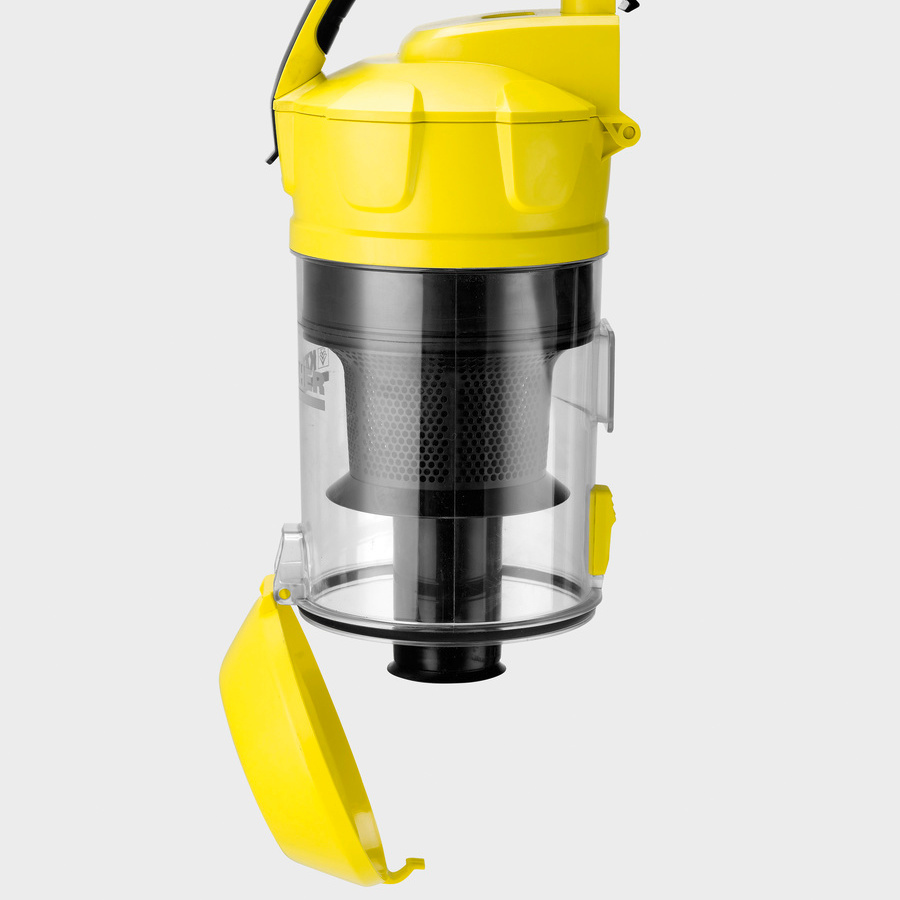 Transparent waste container
Not only does the waste container show when it needs emptying, its contents can be disposed of in next to no time.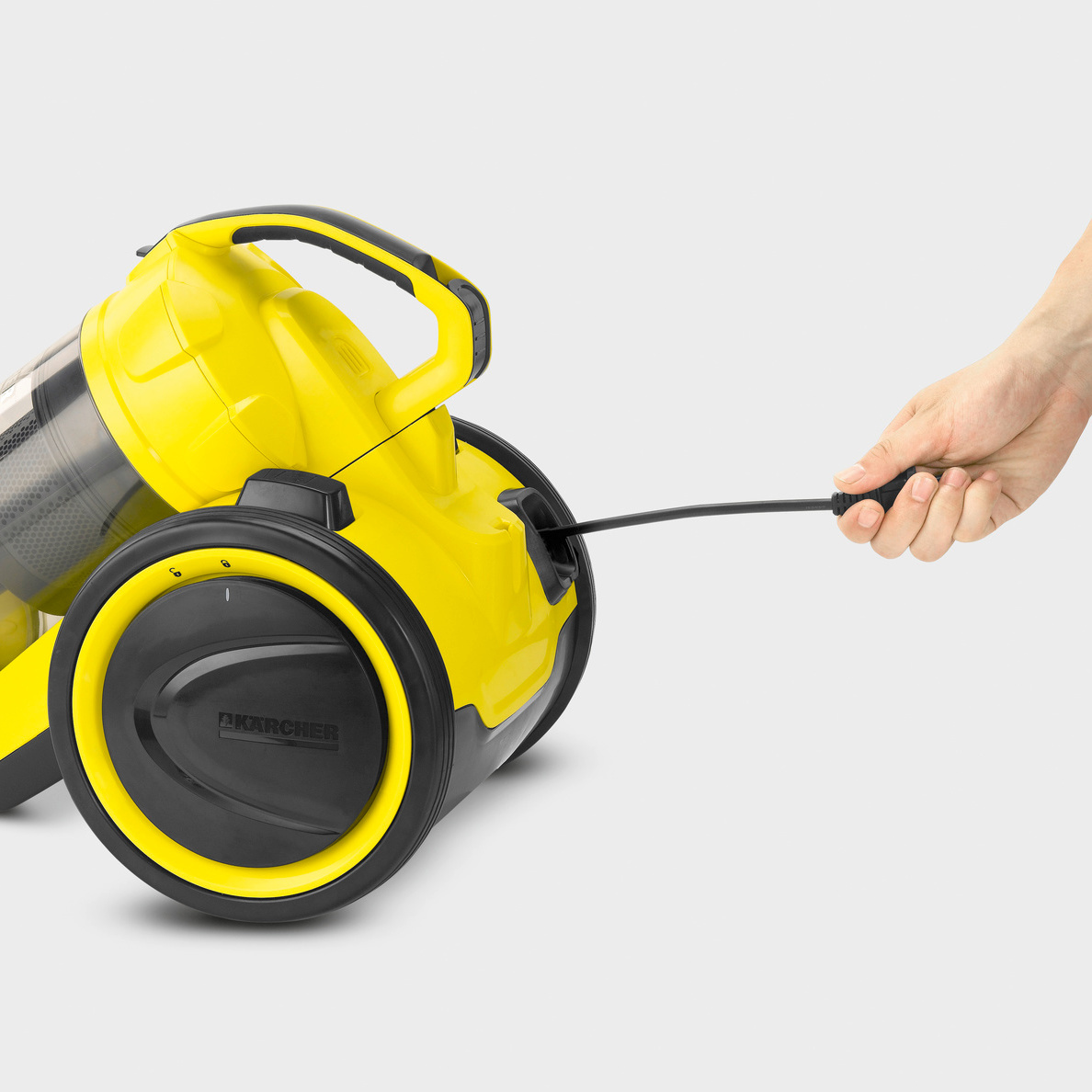 Automatic cable rewind
After use, the cord can be rewound quickly and easily.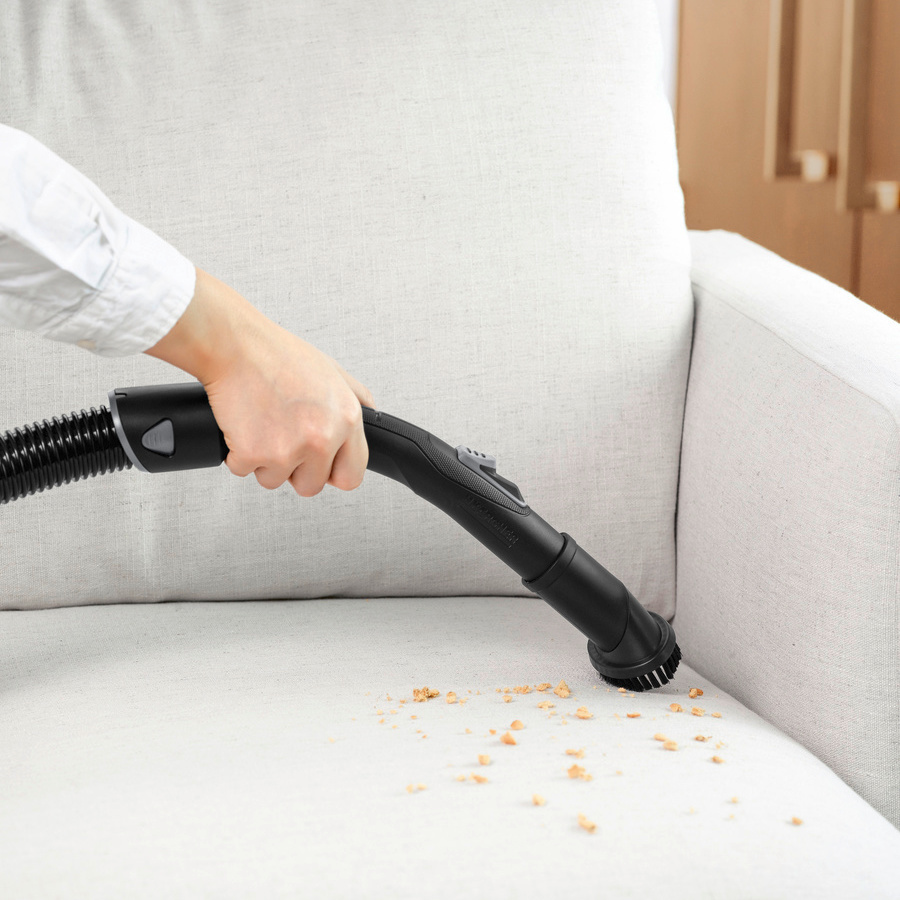 Detachable floor nozzle
Option to attach additional accessories for optimum cleaning in every area of the home.
Why do I need Kaercher Water Filter Vacuum Cleaners?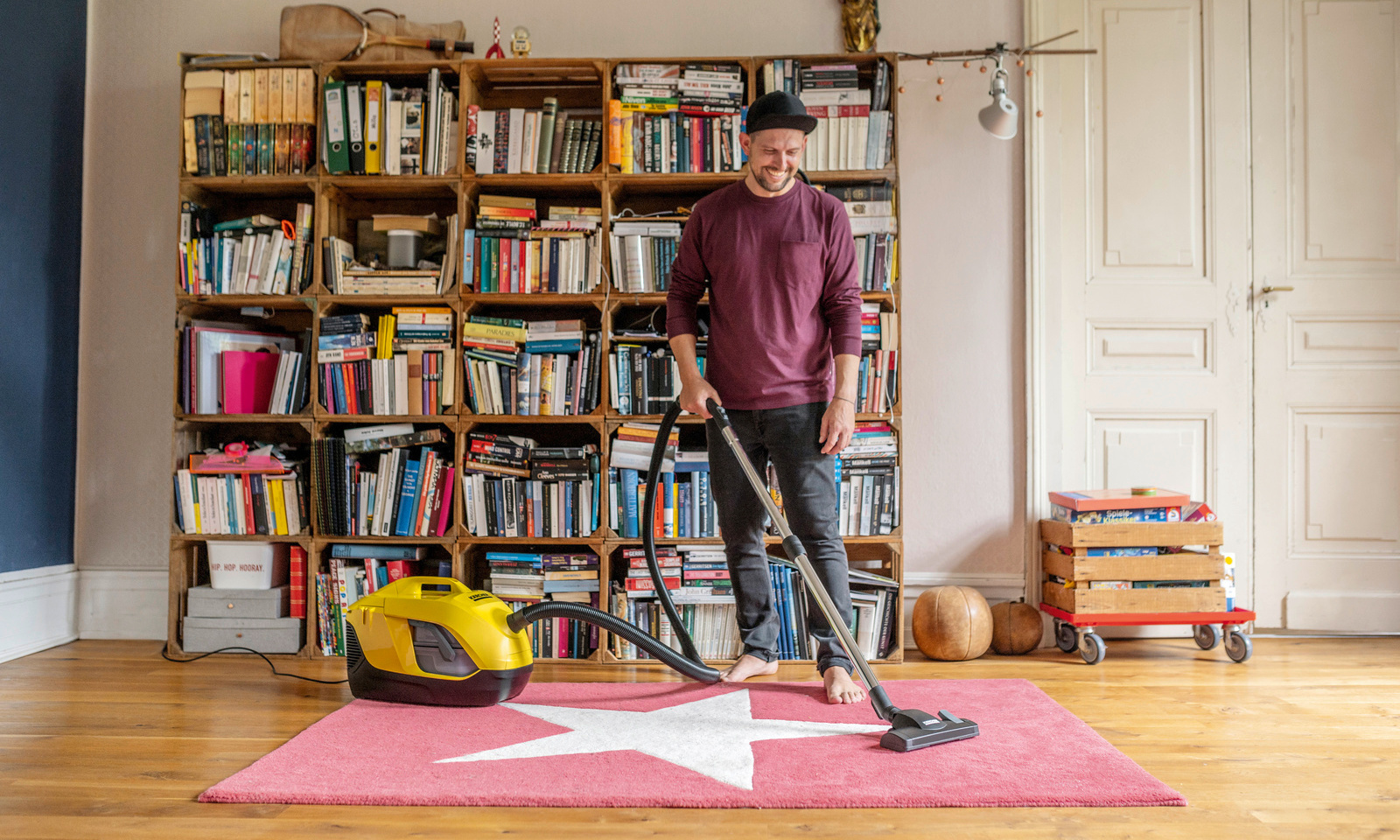 DS 6
The DS 6 vacuum cleaner with water filter not only guarantees clean floors but also ensures fresher exhaust air that is up to 99.5% dust-free. This noticeably improves the air and, with that, the indoor climate. Good for everyone – not just for allergy sufferers.
How the vacuum cleaner with water filter works
Unlike standard filter bag vacuum cleaners, the DS 6 Waterfilter works using the natural power of water. The water in the filter is swirled at high speed by the strong suction power. The vacuumed dirt is very effectively filtered from the air by this swirling water and immediately bound to the water bath. The result is extremely fresh exhaust air, clean enough even for allergy sufferers. Because there are no more filter bags in which allergens can multiply, even dust-mite excretions are washed away with the water after use. Another benefit for allergy sufferers is that dust is no longer generated when the vacuum is emptied.
Effective main filtration in the transparent water filter. All coarse dirt is safely trapped in here. No more dust can be generated and the suction power is retained.
The intermediate filter is washable and therefore long-lasting. It filters the tiny airborne particles from the condensed moist air.
The special HEPA 12 filter traps 99.5% of pollen, fungal spores, bacteria and the dust-mite excretions.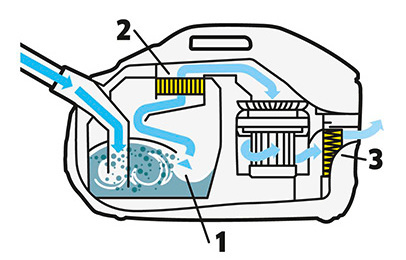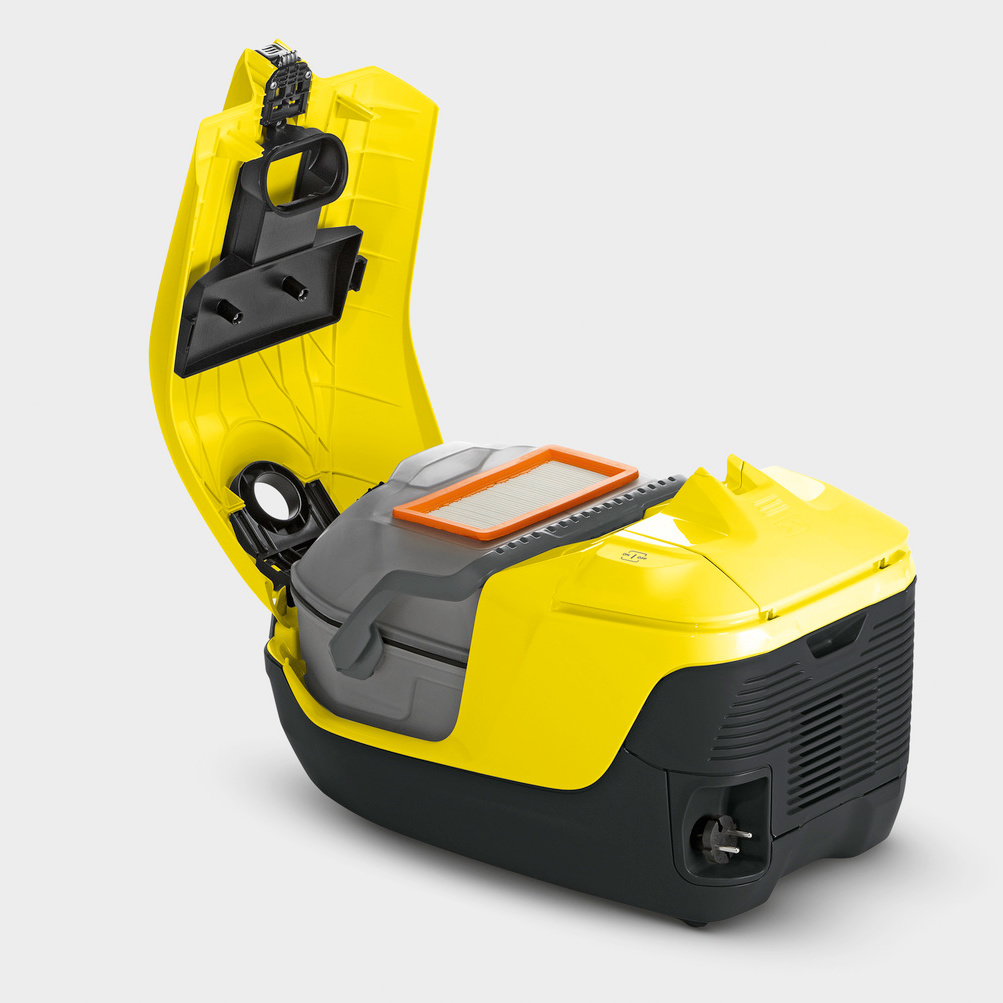 Powerful water filter
The water filter not only ensures the expelled air is especially clean but is also easy to empty and keep clean thanks to its practical design.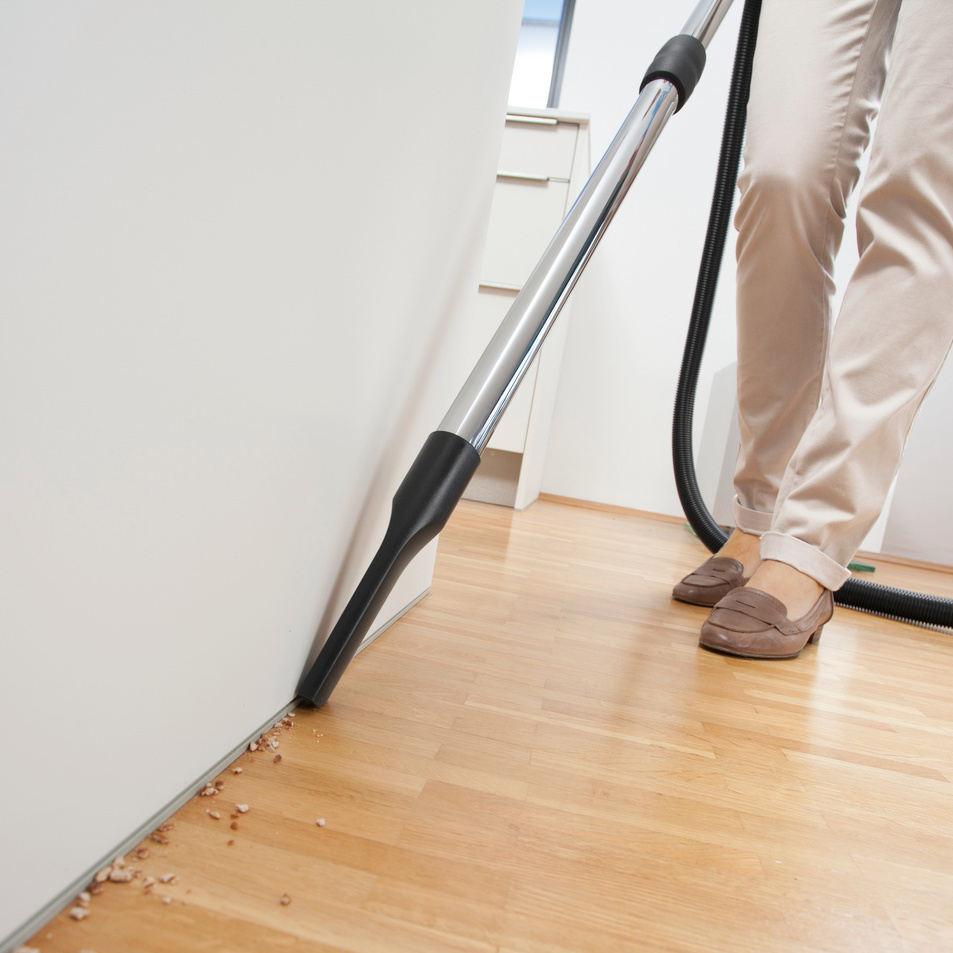 Variable telescopic suction tube
The variable telescopic suction tube can be adjusted to suit the user's height, for extra comfort while vacuuming.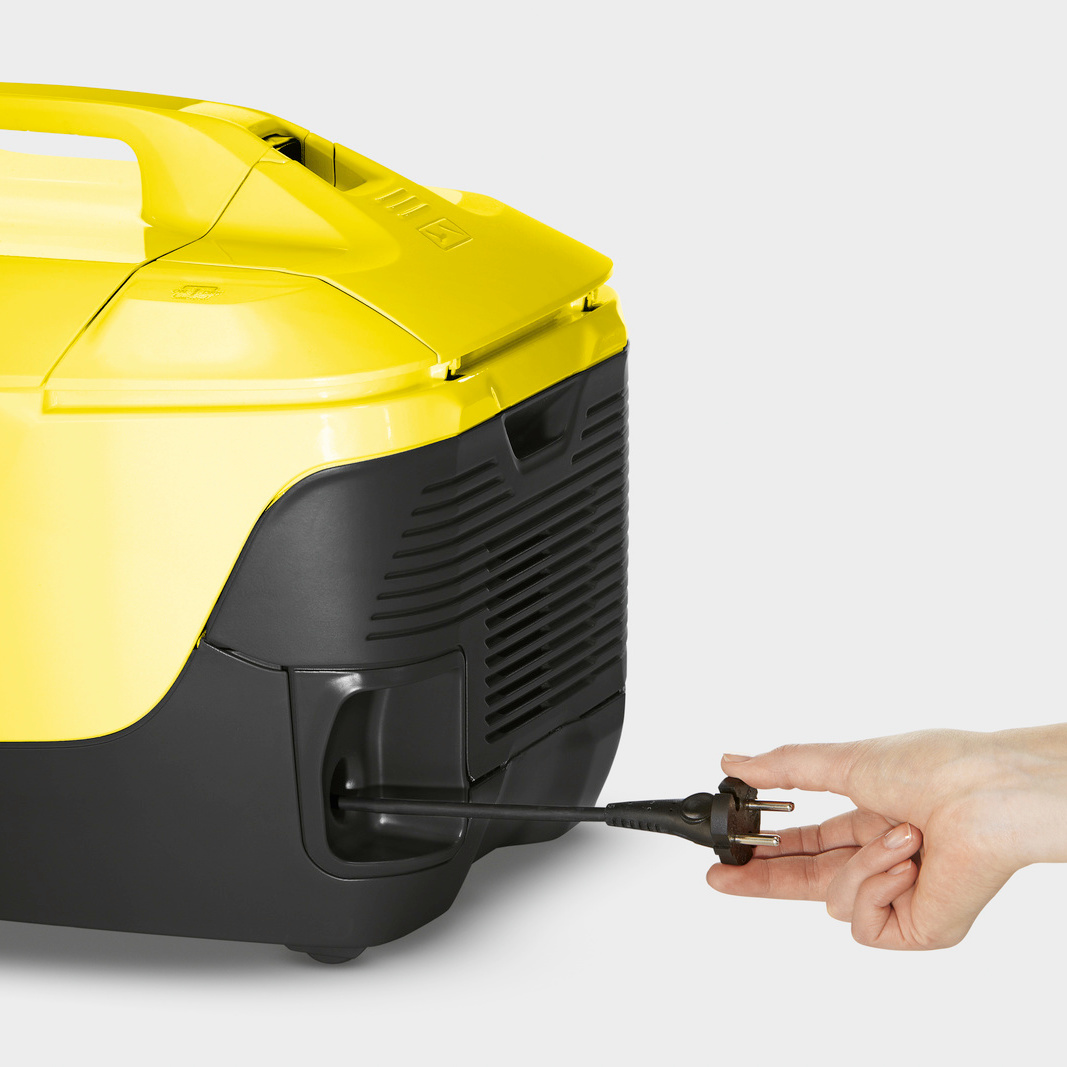 Automatic cable rewind
After use, the cord can be rewound quickly and easily.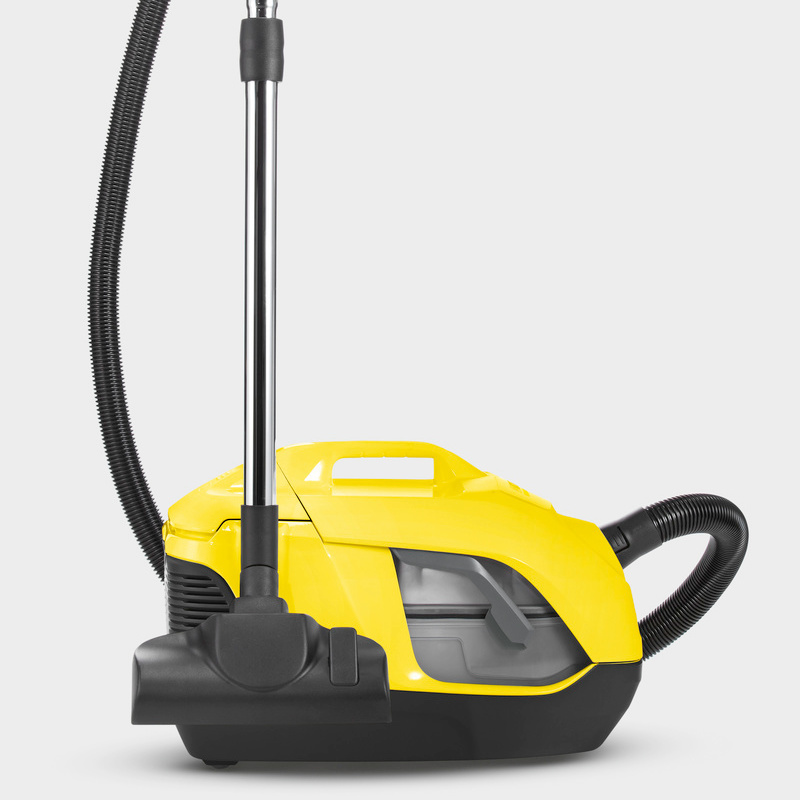 Practical parking position
The device can be parked quickly and easily when taking a break from work.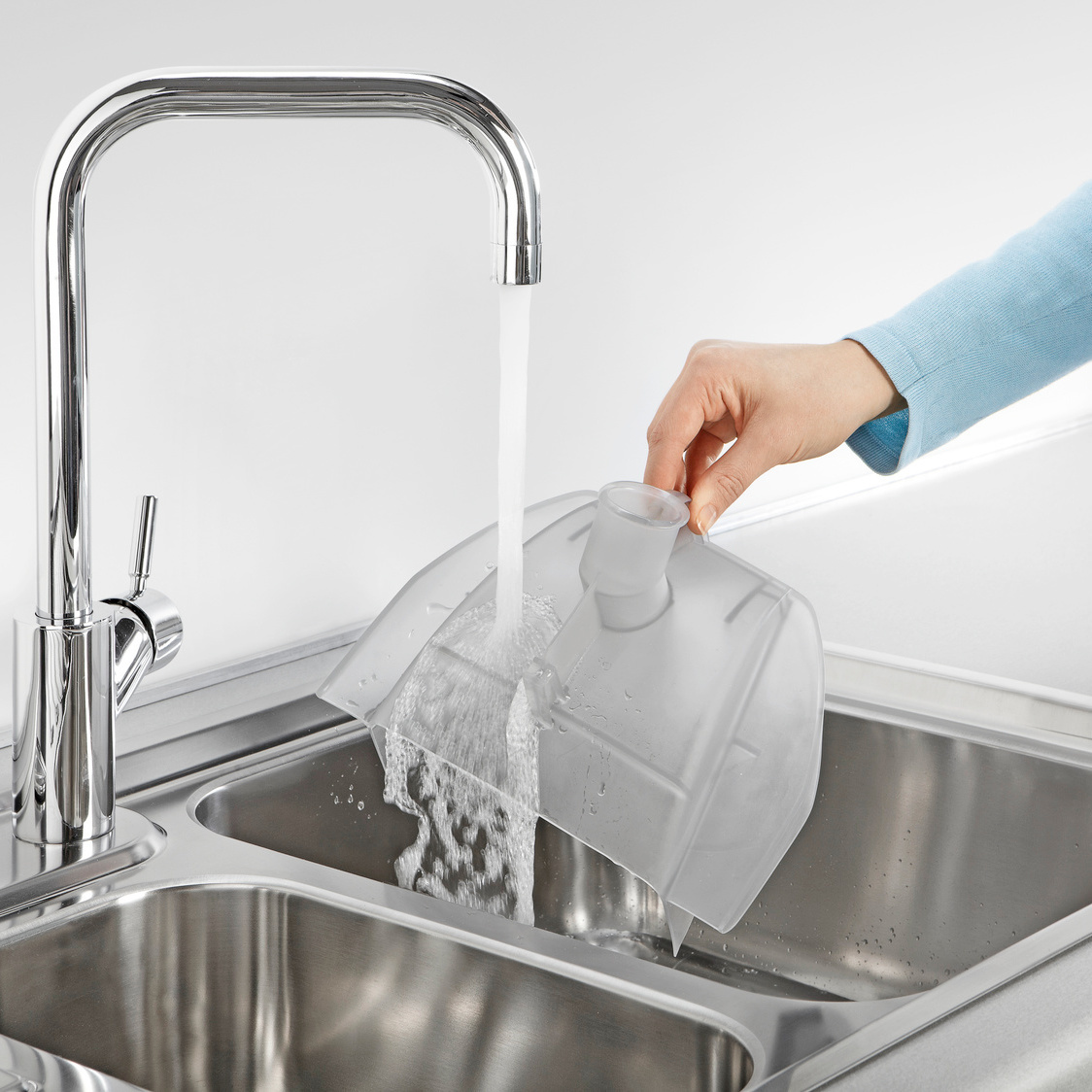 Simple cleaning
The removable water filter is simple to fill and clean.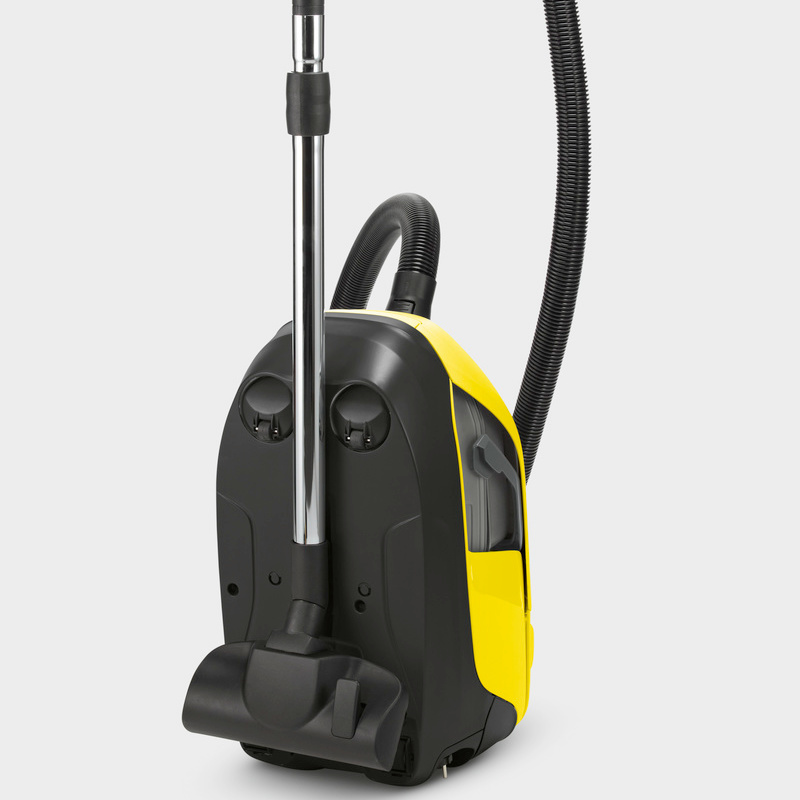 Parking position for vertical storage
The DS 6 can also be stored vertically to save space.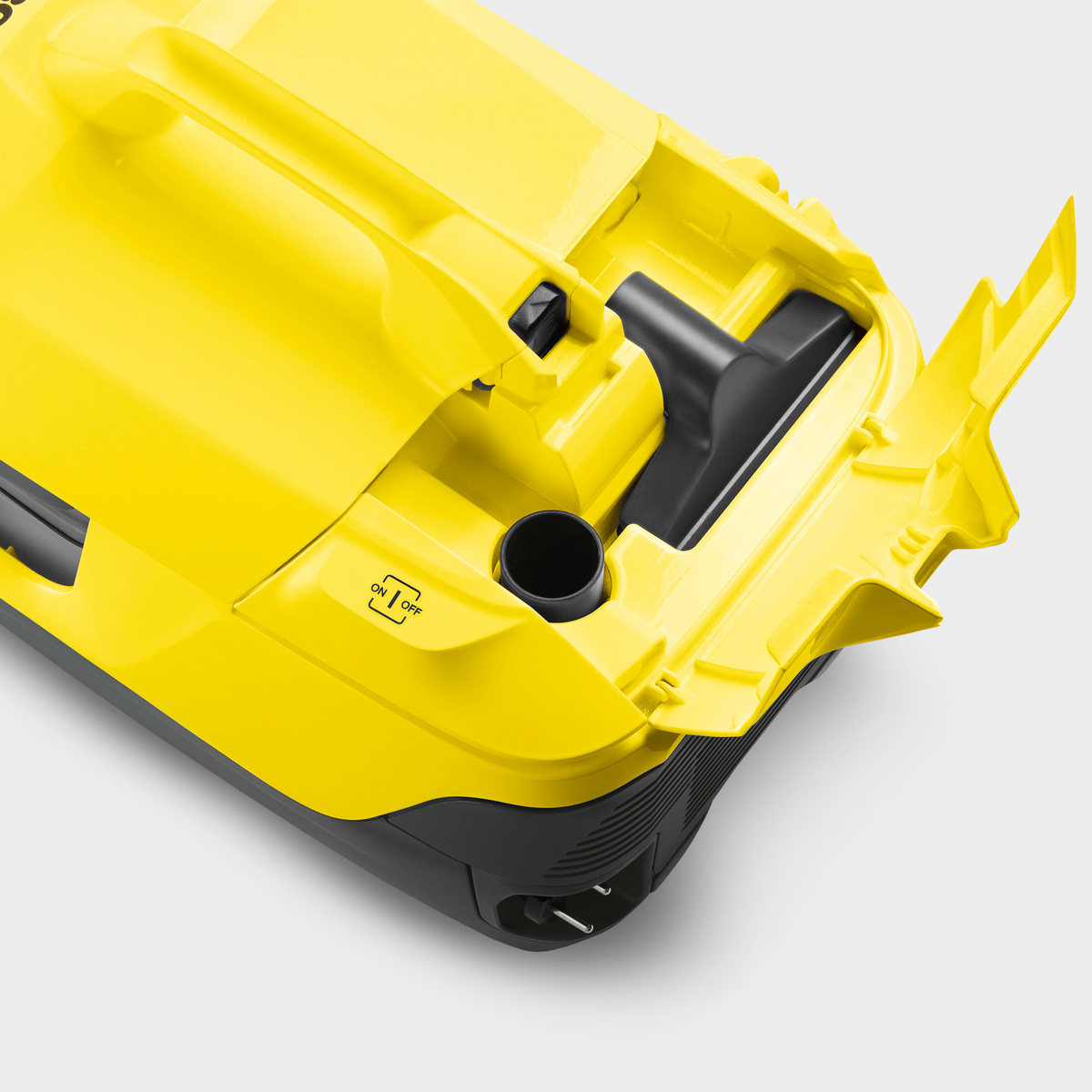 Practical accessory storage
All accessories can be neatly stored within easy reach in the accessory compartment.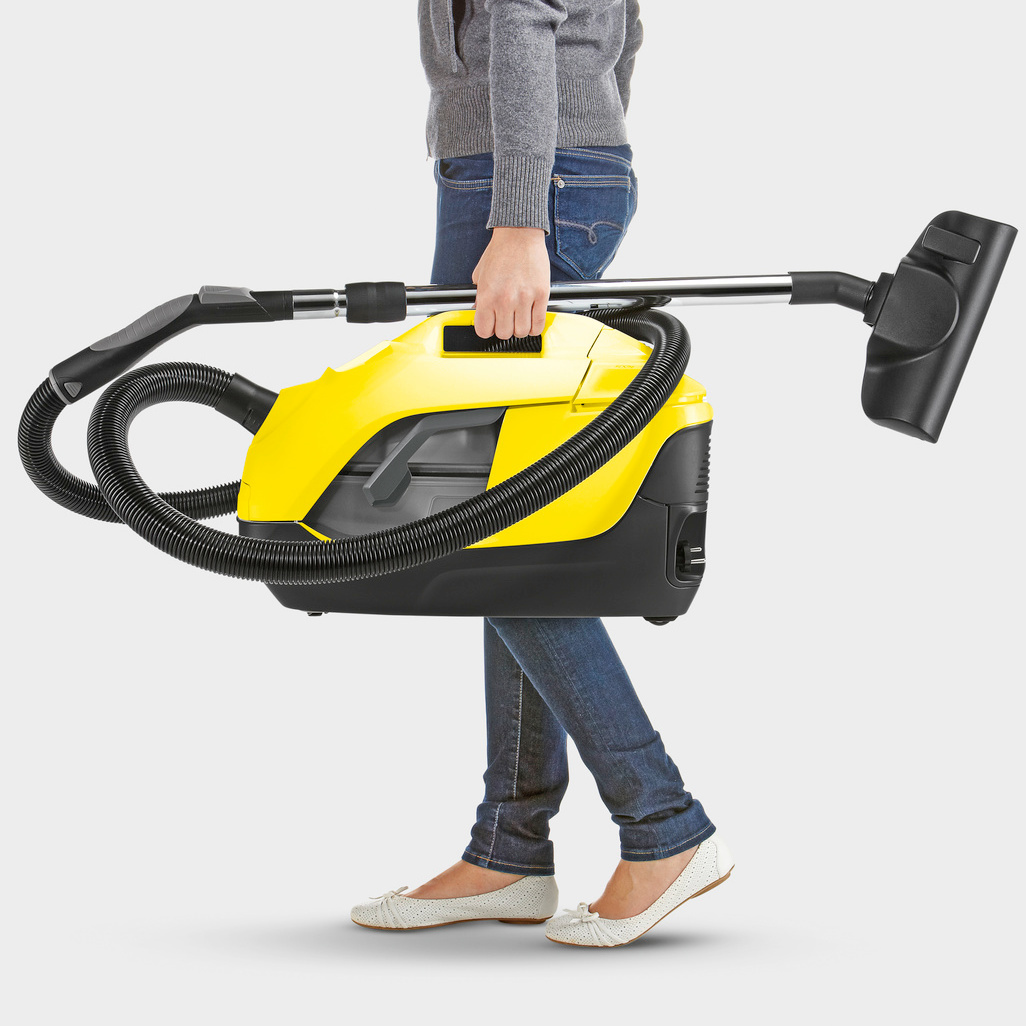 Ergonomic carrying handle
The ergonomic carrying handle on the DS 6 makes it easy to transport from one place to another.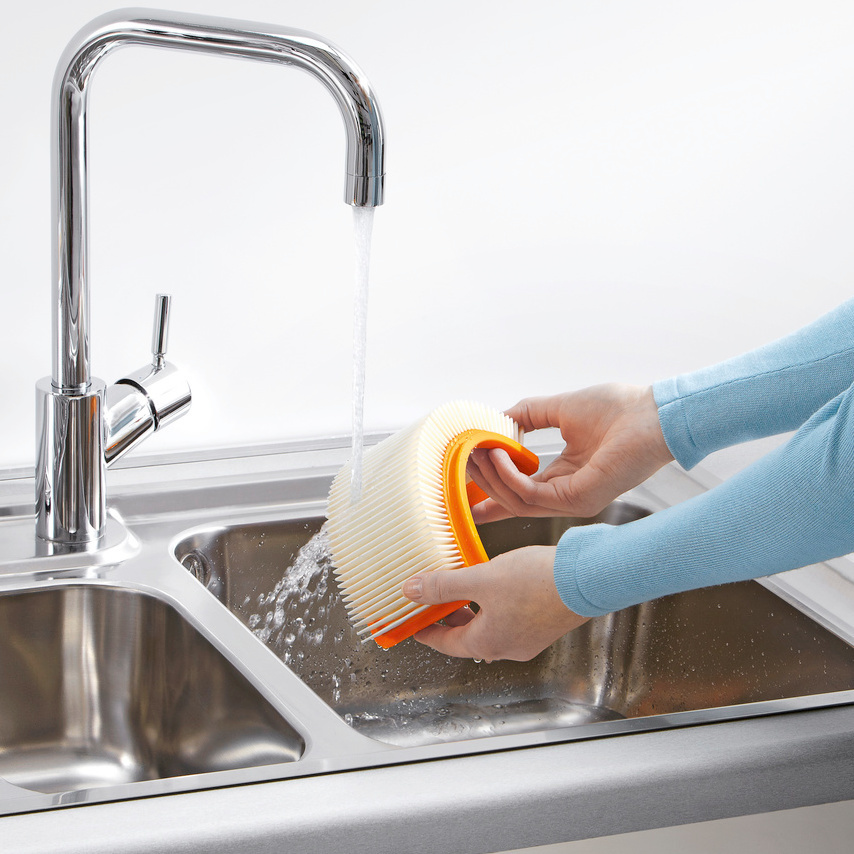 Washable intermediate filter
Washable intermediate filter for long operating life and optimum cleaning results.
Dust and animal hair? We've got just what you need!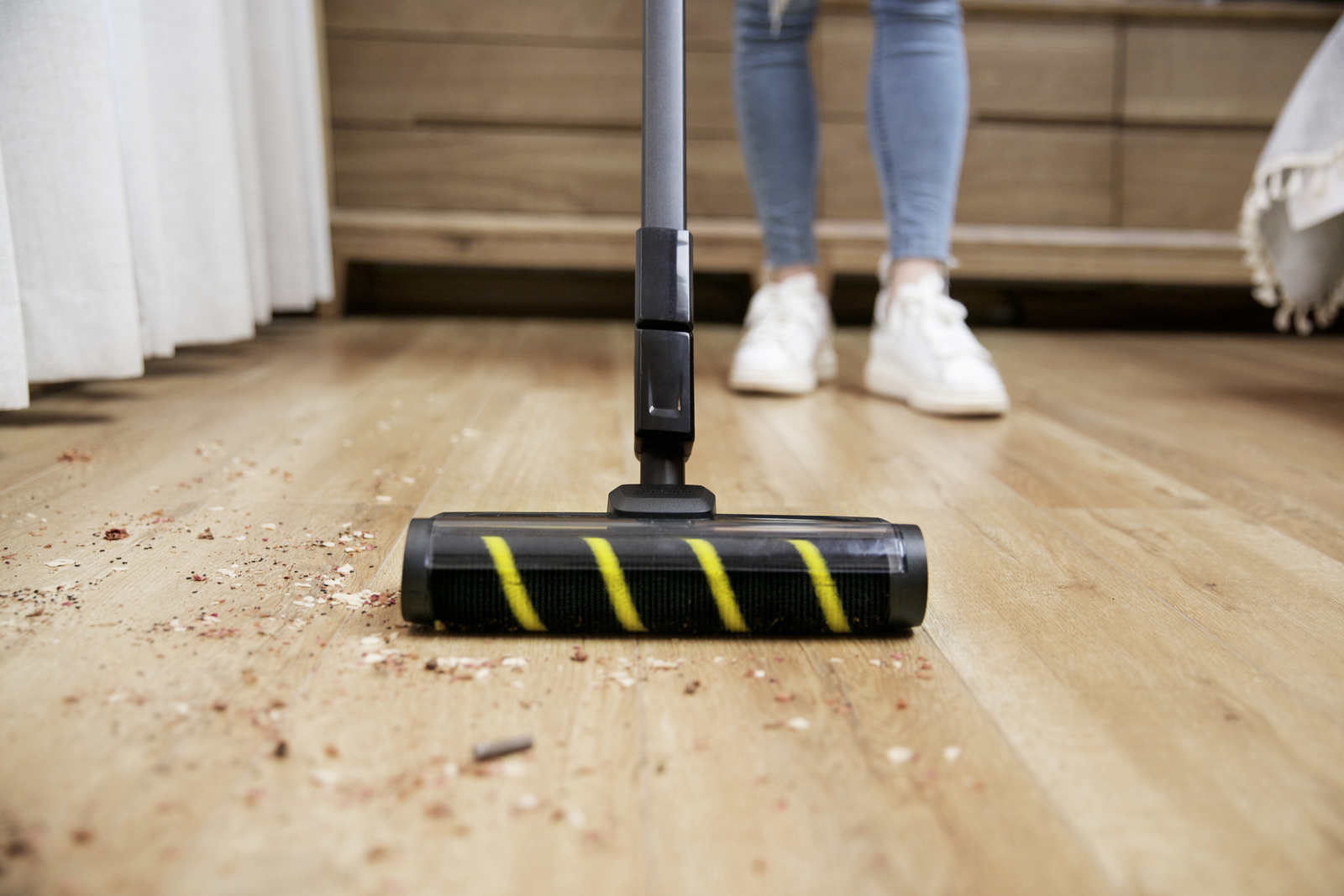 Covered in dust
Where does all this dust keep coming from? There's no one who hasn't asked themselves that very question while gazing around at their home. The house is freshly cleaned – and yet, after no time at all, a thin layer of dust settles on furniture, house plants, books and the floor. The fact is that dust constantly stirred up in living spaces and is spread across a large area. That can't be helped – but at least it can be quickly rectified. With the new cordless vacuum cleaner models, you can effortlessly eliminate unpleasant house dust on the go, with maximum manoeuvrability.
What is dust actually made of?
From dead skin cells and carpet fibres to pollen and pet hair, dust is a whole mix of differently sized particles, which mingle and combine with each other. Depending on the size and weight of the particles, the dust will either be carried into every corner by the circulating air or swirl around constantly without settling anywhere.
We carry the majority of dirt into our homes on our shoes. It is therefore worthwhile having open mesh, coconut or textile mats or rubber sections to act as dirt traps, which trap the majority of dirt.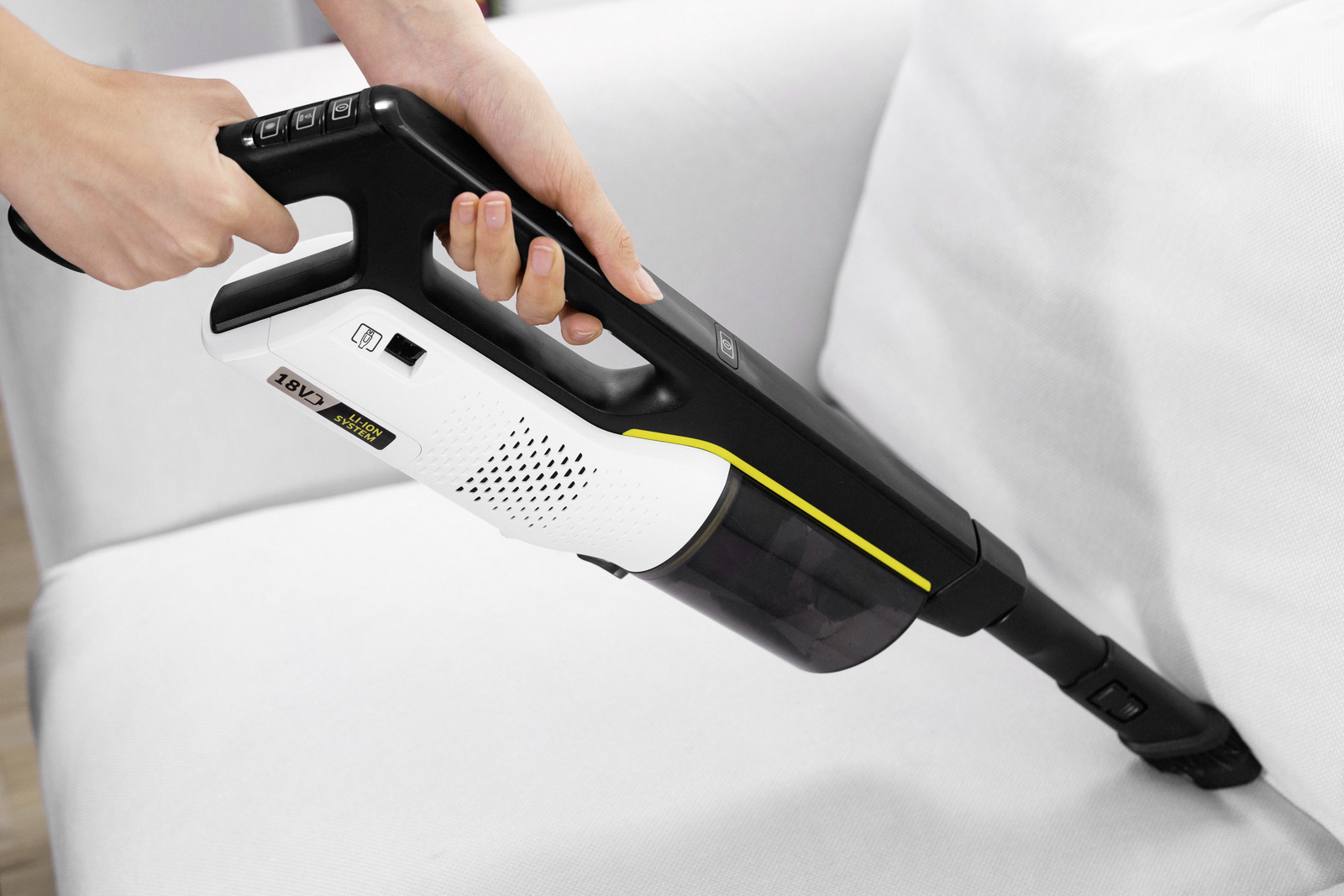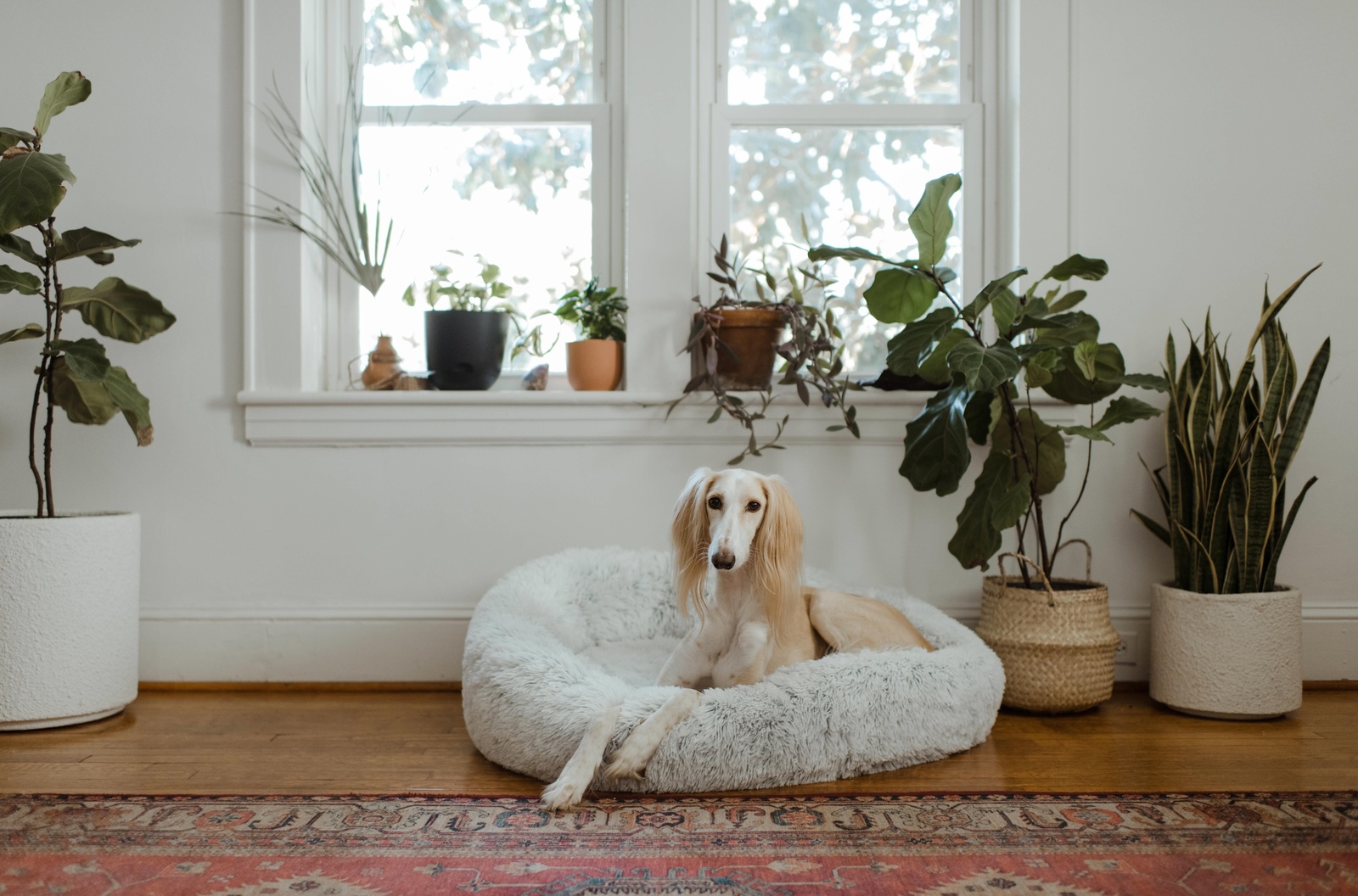 Clean more often with pets
When living with dogs, cats, guinea pigs or rabbits, one big clean of the house per week isn't enough: muddy paw prints on the floor, food around the food bowl and unpleasant pet hairs find their way all over the house. Your cleaning device needs to come out regularly, as well as quickly for intermediate cleaning, to keep the house shipshape. Our cordless vacuum cleaners are always on hand and ready to overcome any cleaning challenge, even in areas that are difficult to reach, helping you clean your home in a quick and flexible way to suit your needs.

Pet hair, begone!
If you have a pet, you'll be familiar with the problem: hair from your four-legged friend quickly spreads around the whole house – even when you've just finished sweeping and cleaning. Pet hairs are particularly stubborn in carpets and door mats. A conventional broom is no help here, since it doesn't reliably remove fine hairs. What can come to your rescue? The new Kärcher cordless vacuum cleaners. The active floor nozzle is very effective at removing pet hairs from fabric floor coverings.

Cat litter everywhere? No problem!
Cats bury their business, but that means cat litter often ends up generously spread around outside the litter box. That's a cleaning task that our vacuum cleaner can do in no time. The small granules can be vacuumed quickly and easily. This is highly recommended because the granulate can scratch floor coverings if trodden on by accident.