Floor scrubbers / scrubber driers
For shiny floors With Kärcher scrubber driers, floors are hygienically clean and spotless. Sparkling performance guaranteed. Our all-rounders and specialists complete all kinds of home cleaning tasks quickly and economically.
Developed for the fast and flexible cleaning of small to medium-sized areas like in restaurants, shops, kitchens, hotels and other highly frequented areas heavily-furnished: our push scrubber driers.
The ideal choice for cleaning large, sparsely furnished areas, such as in warehouses and production halls, shopping centres, car parks or airports. Here you also find our combined sweeper/scrubber drier machines.
Whether it's single-disc and polishing machines for hard surface maintenance or solutions for very demanding cleaning tasks, like on stairs or escalators: our other cleaning solutions.
What is a scrubber dryer?
Kärcher scrubber dryers thoroughly remove dirt, dust and residues from hard floors in a single pass leaving surfaces instantly dry, clean and safe. From maintenance cleaning to deep cleaning, polishing and even stripping, a Kärcher scrubber dryer delivers outstanding cleaning performance, every time, improving health and safety in your business while increasing cleaning productivity.
Achieve outstanding cleaning results with innovative technology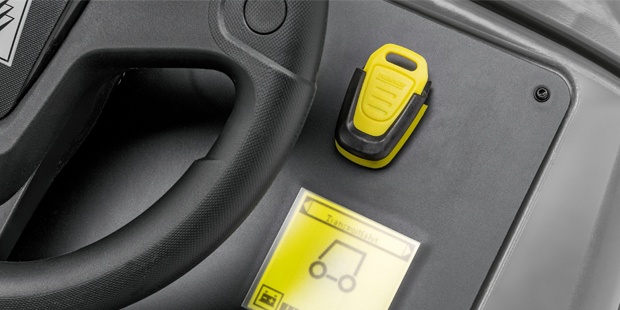 Protection against incorrect use
Prevent machine misuse, keep familiarisation time for the user to a minimum and ensure optimum cleaning efficiency with Kärcher's Intelligent Key system (KIK) which enables machine speed, brush pressure, water and detergent dosing to be pre-set to each operator.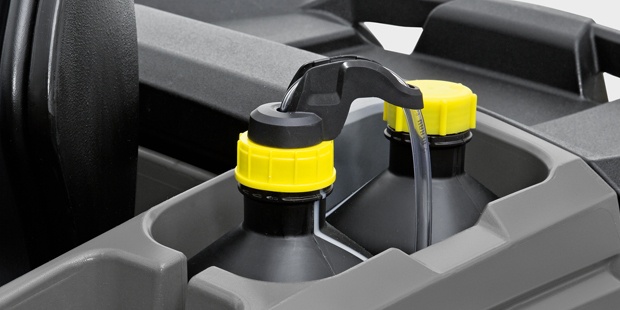 Save money and be more environmentally friendly*
Manual calculations of how much detergent to use are no longer necessary with our Dose system which automatically and precisely meters the correct detergent quantity from the on-board bottle into the clean water.
*Option for Advance model only.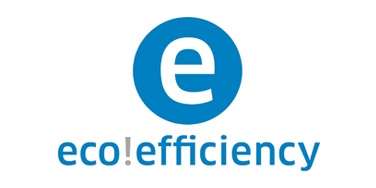 Reduce water and detergent usage
Achieve more for less with Kärcher's eco!efficiency mode which reduces energy, water and detergent consumption, minimises wear and tear on the machine and lowers noise levels, all at the turn of a button.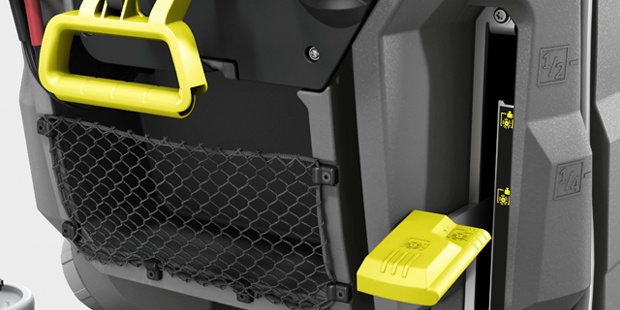 Every touch point colour-coded for ease
Users can quickly see what is relevant to them thanks to the colour-coded access elements on the machine - this makes using and maintaining the machine simple… yellow for the operator, grey for the service technicians.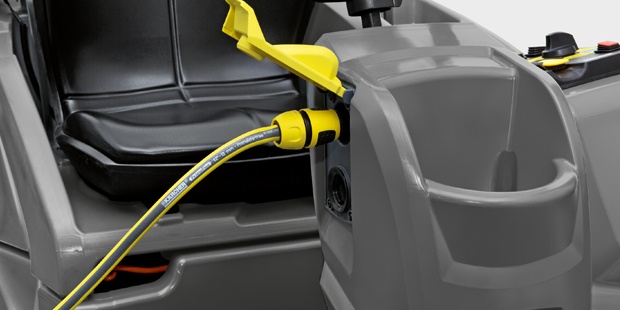 Increasing productivity through innovation*
Auto-fill means you can simply connect the machine to the water supply and let it automatically stop when the tank is full, freeing up your operators time. While tank-rinsing ensures that the machine is quickly and effectively cleaned after use with the operator having no contact with dirty water.
*Optional for Advance model only.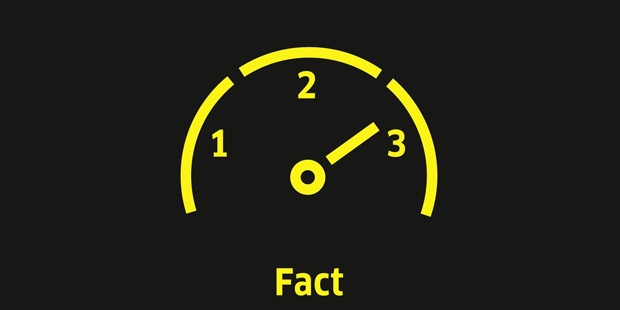 Quickly adjust to different cleaning requirements
Whether it's a fine clean, whisper clean or power clean, the brush speed is easily controlled* and adjusted to suit your requirements with FACT technology. In fine cleaning mode noise level is reduced as well as energy consumption lowered by 30%.
*On roller brush models.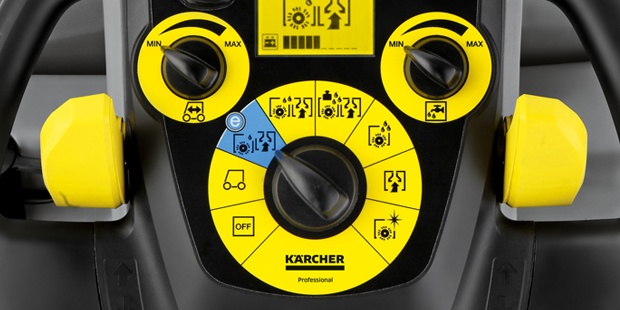 Simple and safe operation
Choosing the right cleaning programme is simple thanks to the EASY!Operation panel. The clear, at-a-glance view via pictograms makes it easy for anyone to use the machine, reducing the need for training and removing any language barriers.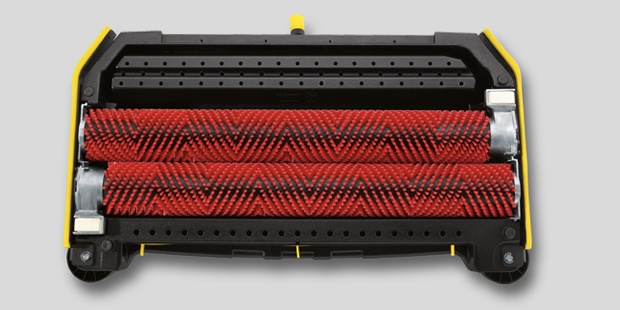 Disc or roller brush heads to suit your cleaning application
Whether you're removing multiple scuff marks or want to eliminate dirt from grout, Kärcher scrubber dryers are available with two different brush heads. Discs work best on smooth floors, whereas roller brushes create up to 10 times more down pressure to provide a deeper clean.
Accessories and detergents for your scrubber dryer
The right brush type for enhanced cleanliness
Our brush colour system makes it easy to choose the right solution. From roller or disc brush types, to diamond pads or microfibre, we have a complete range to clean virtually any floor type, whether structured or smooth, to achieve the required finish.
Maximising the performance of your machine
Specially formulated and perfectly matched to your machine to achieve optimum cleaning results in less time, Kärcher detergents lower energy consumption, are environmentally friendly and quickly cut through dirt and grease on your floors.