5 Best Pressure Washer To Usher Into Year 2020
When it comes to house cleaning, a long list of tasks rolls up but only a few tend to be remembered and executed. The common ones include sweeping the floor, wiping the windows, dusting the furniture and vacuuming the carpet.

Unfortunately, outdoor cleaning is always forgotten, skipped or delayed. One of the possible reasons could be the merely bearable hot and humid weather in Malaysia that makes cleaning the outdoor spaces demotivating. But, these areas of your home have been neglected for way too long! It is now a glorious time of the year to roll up your sleeves and have your tools ready.

Karcher's High Pressure Washer is Your Best Outdoor Helper
Specialising in thorough cleaning of places like car porch, garden, patio, balcony and walls, Karcher's high-pressure washer is here to rock the blues away. Pressure washing is undoubtedly the perfect way to clean hard surfaces. Ranging from the basic K1 to K5 Premium Full Control, our pressure washers are equipped with different technical features built for a specific task.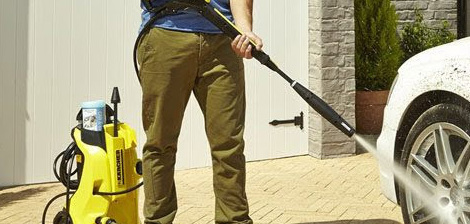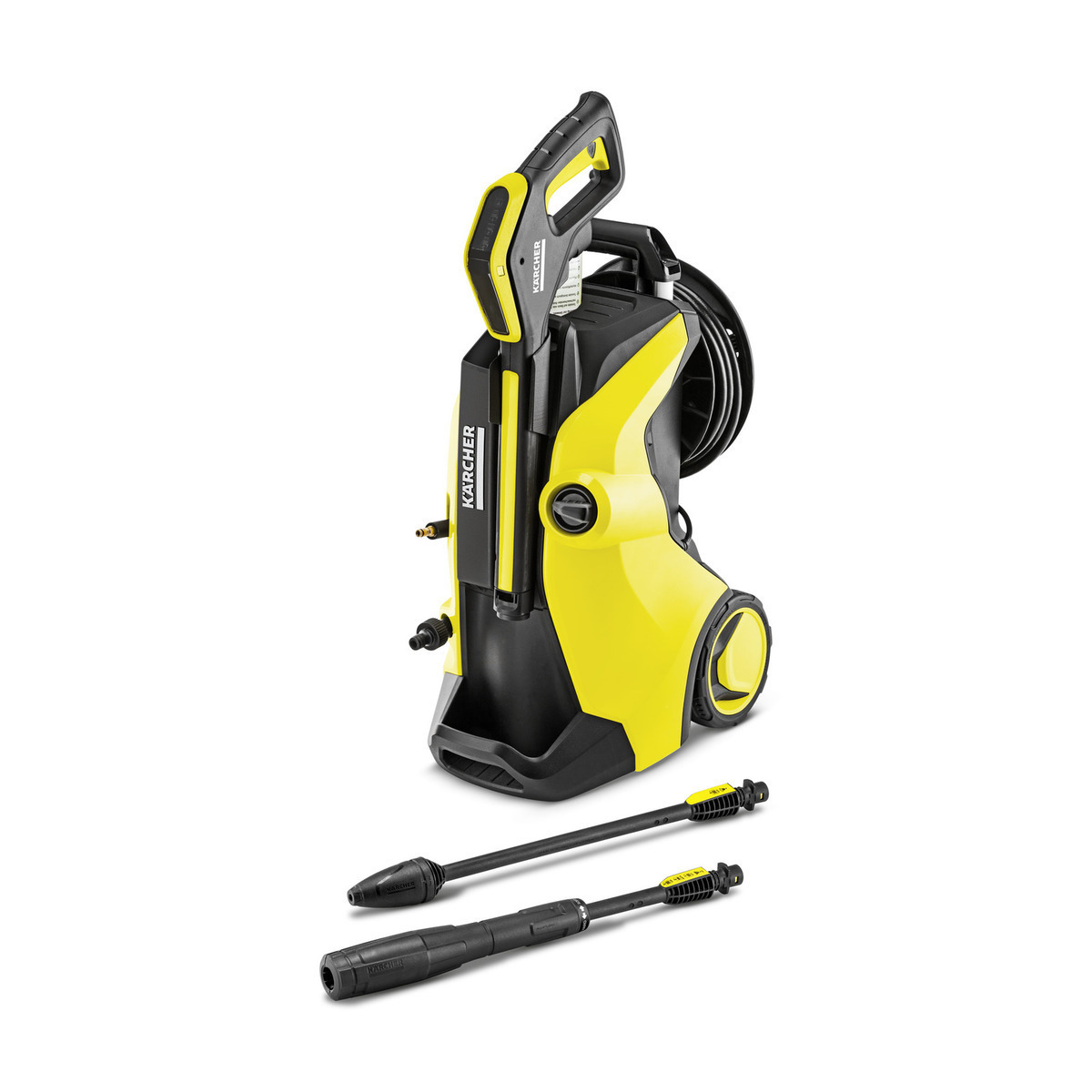 1. K5 Premium Full Control - The Best Pressure Washer 
Pressure (bar/MPa) : 20 - max. 145
Water Flow Rate (l/h) : Max. 500
Connection Load (W) : 2100
Dimensions (LxWxH) (mm) : 411 x 305 x 584
Weight (kg) : 13.1
Hose length (m) : 8

Specifically built to cater for large scale domestic cleaning jobs, K5 Premium Full Control is of the highest-performance pressure washer available in the market. Its robust and strong capability in performing efficient deep cleaning is unanimous.

It has a maximum flow rate of 500l/hr, at a pressure of 145 bars, offering an area performance of 40m²/h - in other words, it's hard to beat in terms of the cleaning power.

Generating 50 times the pressure of a standard garden hose, this Karcher model enables you to breeze through the outdoor cleaning. From blasting the mud off the patio to removing the grease from your driveway, its smooth and consistent water flow is beyond that of many other pressure washer models.

With the Full Control pressure washer, you will find the right pressure for any surface. The pressure level is adjusted on the spray lance and can be viewed on the LED display on the trigger gun – for maximum control. Switching from high pressure to the detergent mode can be done without changing the spray lance.

If spending a little more on a pressure washer is fine with you, this is definitely the most impressive model you can get in Malaysia. Moreover, its water-cooled induction motor provides longer lifespan than most other motors is a bonus.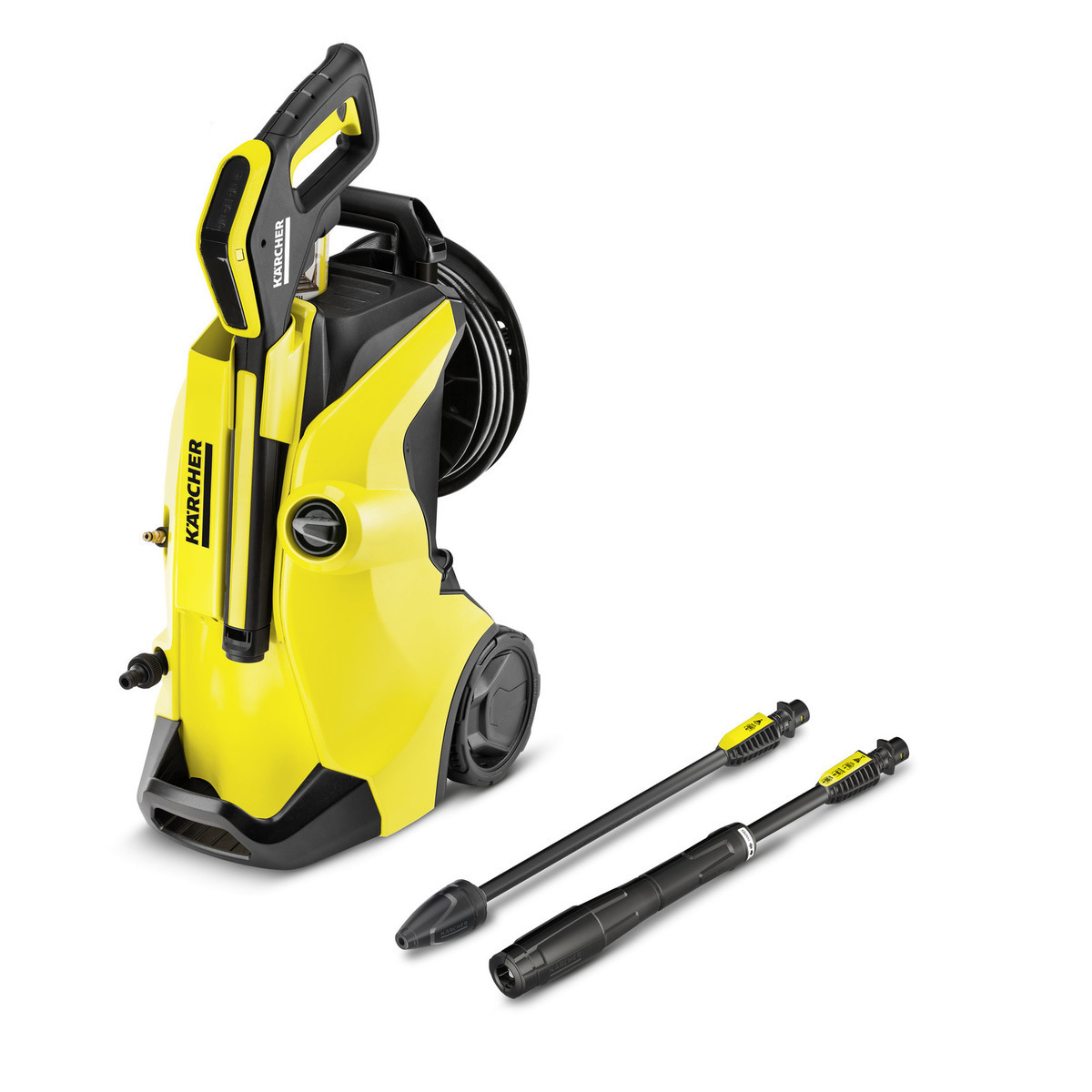 2. K4 Premium Full Control - The Best All-rounder Home Pressure Washer 
Pressure (bar/MPa) : 20 - max. 130
Water Flow Rate (l/h) : Max. 420
Connection Load (W) : 1800
Dimensions (LxWxH) (mm) : 411 x 305 x 584
Weight (kg) : 11.9
Hose length (m) : 6

While the all-singing K5 Premium Full Control is the best choice for wide-scale blasting, the lighter and cheaper K4 is an excellent performer for occasional use at home. With a moderately lower 130 bar pressure and 420l/hr flow rate, it offers an area performance of 30m²/h.

This is a fantastic water jet cleaner for its plug 'n' clean functionality, and innovative design. With an onboard detergent tank, K4 allows the application of Karcher cleaning agent to increase cleaning efficiency and at the same time protect the surface you're cleaning.

If you're looking for a substantial high pressure piece of kit, K4 Full Control is the Karcher pressure washer for you. Equipped with a powerful water-cooled induction motor, K4 offers superior performance and promises long service life as the circulation of cold water around the motor effectively keep the operating temperature at a relatively low level.

Made of high-quality aluminum, K4's telescopic handle is designed with a convenient pulling height. Adjust the handle to suit your height for a comfortable cleaning process, without having to bend your back and suffer a backache later. Though your cleaning might be restricted by the built-in 6m hose, K4's acceptance to multiple accessories can make up for the rather short hose.

If the premium model is out of your price range, check out the K4 basic that shares similar features. K4 definitely makes cleaning a cinch!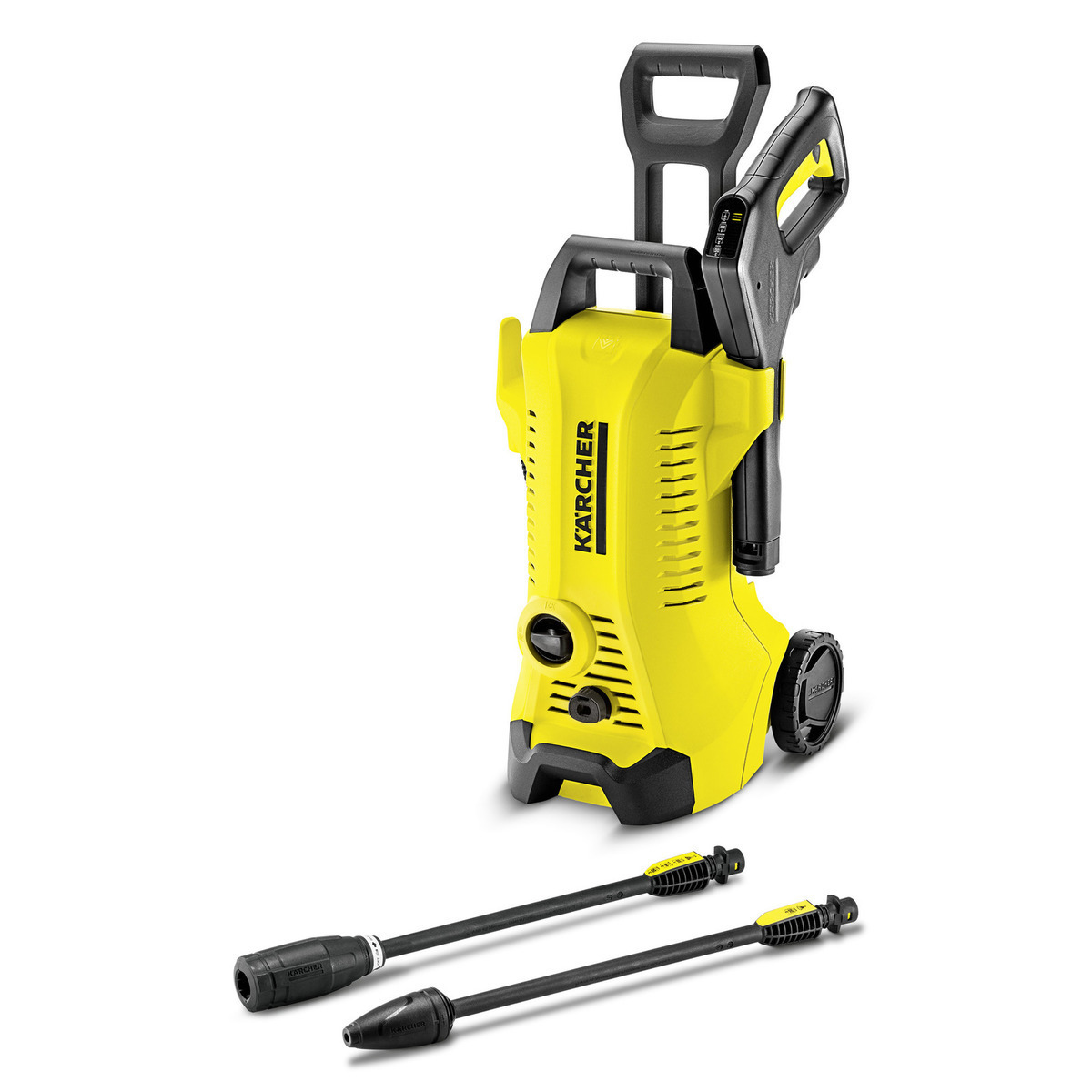 3. K3 Full Control - The Perfect Pressure Washer For Light Dirt Cleaning
Pressure (bar/MPa) : 20 - max. 120
Water Flow Rate (l/h) : Max. 380
Connection Load (W) : 1600
Dimensions (LxWxH) (mm) : 307 x 280 x 677
Weight (kg) : 4.3
Hose length (m) : 6

Highly robust and versatile, K3 Full Control is an ideal pressure washer in removing light dirt. Thanks to the innovative Quick Connect system, the process of changing hose, accessories or trigger gun becomes extremely simple and convenient.

Suitable for anyone, including the elderly, this model is easy to operate. With the push of a button, the operation of motor purrs to life. Possibly the quietest of all Karcher products, K3 Full Control actually delivers the promised flow rate of 380l/hr and pressure rate of 120 bars at maximum.

Despite its lightweight nature, this model is a feisty water jet cleaner that can blast dirt away easily. With minimal effort, this piece of cleaning equipment can make a major difference to the cleanliness of your outdoor areas.

From cleaning bikes to fences and patio furniture, the full control trigger gun has you covered. Switch among the three pressure settings and a detergent setting to reach the optimal setting that measures up to your cleaning needs. On top of that, the manual display on the handle simply enables you to monitor the pressure level to avoid overpressuring and destroying the surface you're cleaning.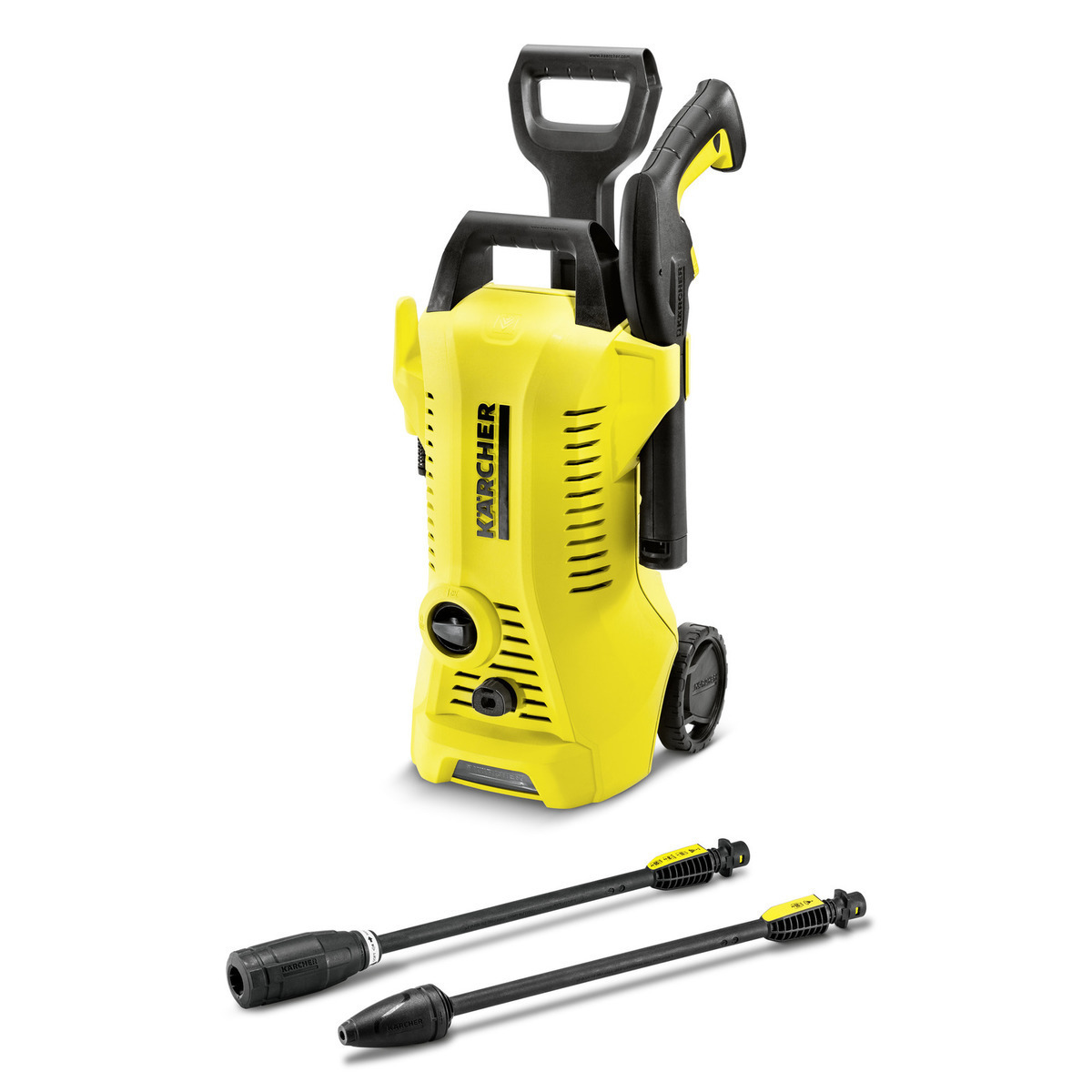 4. K2 Premium Full Control - The Best Entry Level Option
Pressure (bar/MPa) : 20 - max. 110
Water Flow Rate (l/h) : Max. 360
Connection Load (W) : 1400
Dimensions (LxWxH) (mm) : 246 x 280 x 586
Weight (kg) : 4.6
Hose length (m) : 6

If you are new to pressure washers, K2 Premium Full Control is a good entry model water jet cleaner. With an air-cooled universal motor, K2 Premium Full Control is the most powerful budget pressure water jet.

This cleaning machine packs a powerful punch with its 1400W motor and 360l/hr flow rate, ideal for smaller tasks such as washing down your gardening tools, balcony furniture and bike. Besides, its compact design is perfect, especially for people staying in a flat or an apartment, as you can carry it down from your unit at ease.

Moreover, all Karcher water jets come with a range of reassuring safety features: auto-stop function, trigger gun lock and appliance switch. Its water inlet with pre-filter also prevents dirt particles from damaging the pressure washer pumps.

Other impressive features include the ergonomic carry handle and an onboard storage for attachments as well as a place to store and hold the trigger gun. With all this extra weight added, this model is equipped with two smooth large wheels that allow easy maneuverability.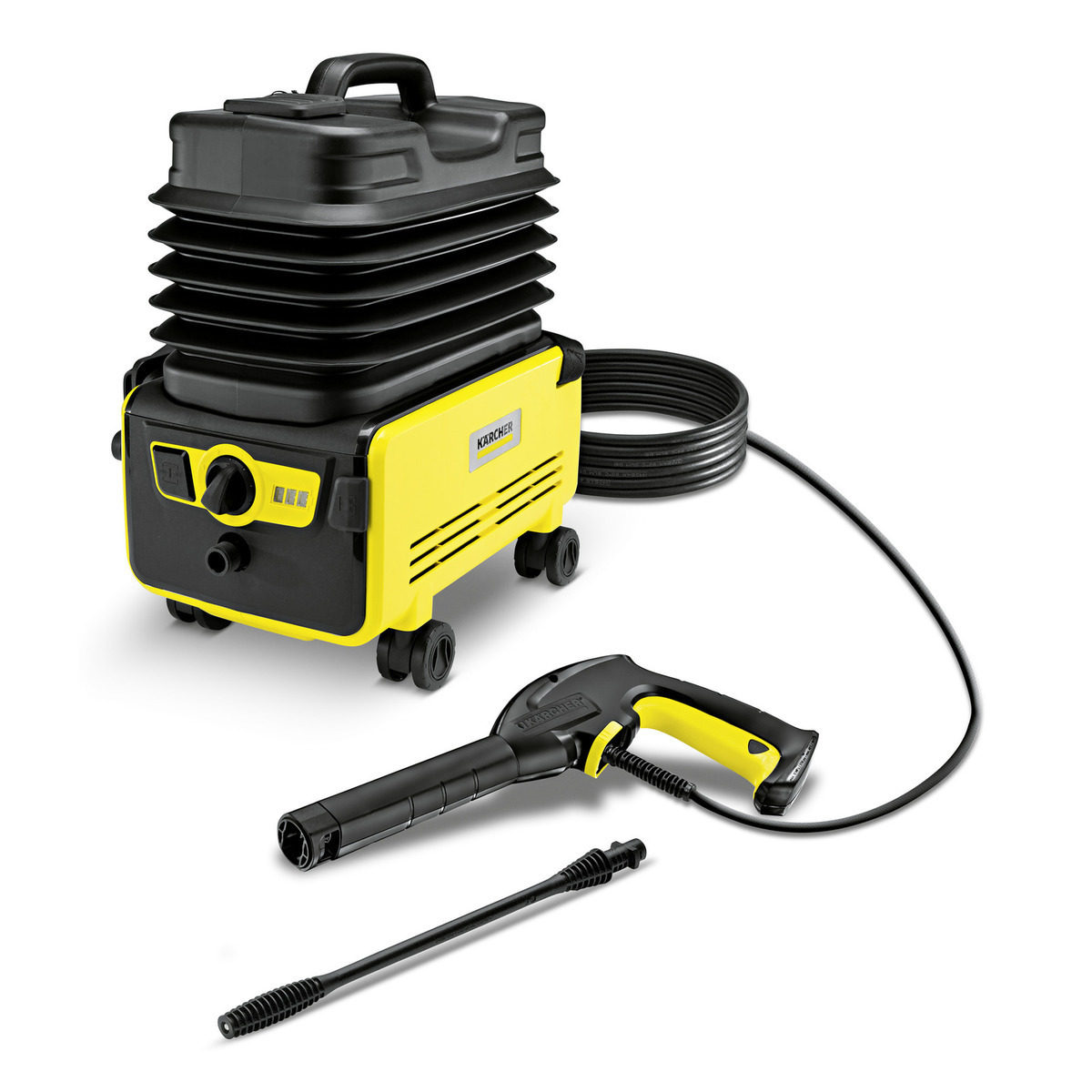 5. K2 Follow Me Cordless - New Favourite: The Best Cordless Pressure Washer 
Pressure (bar/MPa) : 13 – Max. 60
Water Flow Rate (l/h) : Max. 250
Dimensions (LxWxH) (mm) : 408 x 326 x 360
Weight (kg) : 7
Hose length (m) : 3

Are you still worrying about the availability of power connection for your electrical pressure washer? With an integrated 36 V Li-Ion battery, short charging duration at 2 hours and operation hour up to 40 minutes, K2 Follow Me Cordless is ever ready to solve all your cleaning needs. Independent from power and water supply, this model offers you with a powerful mobile cleaning efficiency.

The working pressure 40 bar max and 250l/hr will see you clean everything from windows to veranda quicker and more efficiently. For some extra peace of mind, the model literally follows you around without being restricted or interrupted by any cords or cables.

Talking about the water source, the collapsible water tank can hold up to 12 litre of water. When not in use, the water tank can be folded for easy storage. Hence, if you have more delicate cleaning projects, this is the best pressure washer for you!
Conclusion
Perfect for all outdoor cleaning tasks, Karcher's pressure washer is your best outdoor cleaning choice in Malaysia! Best of all, Karcher Malaysia is hosting a Reward Bonanza now. So act right now to be rewarded with free gifts that can assist you in your cleaning work. Visit Karcher Malaysia today for more info!