Best Machine to Breeze Through Floor Mopping in Malaysia
Karcher is your expert in home cleaning technology. If you are looking for some of the best floor cleaning machines or electric mops in Malaysia, then check out Karcher's range of products.
Floor cleaning is a dull task. You can spend ages vacuuming, mopping and drying the floor. Worse part is, it can sometimes take up to half an hour for the floor to dry. This means that any pets or people walking over the surface will ruin it. Which means you have to do it all over again!
If you are a hardworking professional, you don't have time to clean your floor at home. But there is nothing better than a sparkling clean floor to come home to after a hard day at the office. Maybe you're having guests over for dinner? You will want to impress them with a floor so fresh so clean. Investing in an electric mop for your home means you can do just that in absolutely no time.
How to Choose the Best Electric Mop For Your Home
It's important to find the best floor cleaning machine for the job. Luckily, Kärcher has some of the best electric mops in Malaysia to choose from. They also have the best steam cleaners that will leave your soft surfaces smelling fresh. Let's take a look at some of the products provided by Kärcher. We will examine how you can use them to improve your home.
Best Mopping Machine For Hard Surfaces
Karcher Hard floor cleaners are perfect for tiles, wooden floors or concrete. These cleaners are designed to wet mop and also dry up the excess water. This means that you won't have wet floors that can easily pick up dirt. You can also easily dispose of any dirty water without coming into contact with the dirt.
The Karcher hard floor cleaner FC 5 is an excellent machine that will make floor cleaning quick and easy. It's light and easy to store, and it will give you spare time to do the things you love. Let's take a look at why this is the best mopping machine in Malaysia.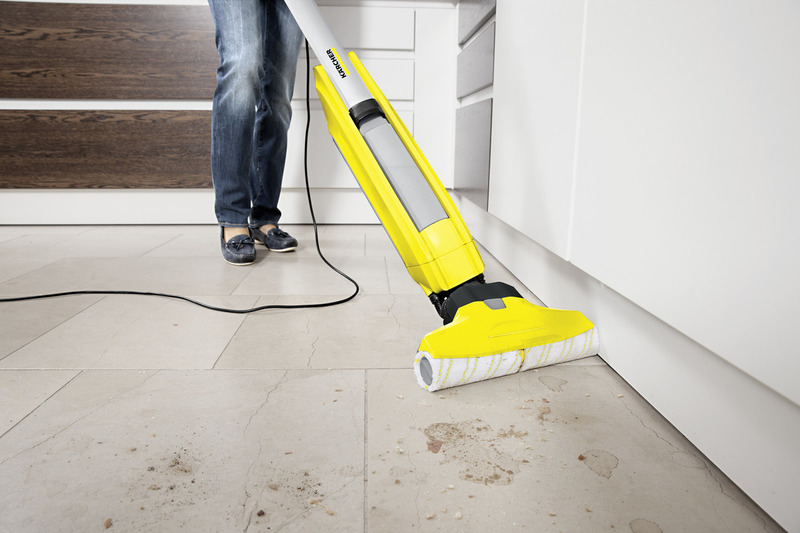 1. Mop & Suck Up Dirt At the Same time
The FC5 has a built-in two-in-one function which means you can dry as you clean. There is no need to vacuum before you start using the FC5 on your floor. You can simply start mopping the floor, and dry it as you go. There are rotating microfibers built into the FC5 that will pick up dirt. Once the dirt is picked up, the water and dirt mixture is automatically suctioned off. It's quick, easy and effective. Your floor will be dry in less than two minutes.
2. Cleaning Right Up to the Edge
The FC5 flexible cleaning head means you can navigate your way around furniture and cleaning right up to the edge – for excellent results in corners and on edges. It also has an innovative drive concept that uses forward rotating rollers to allow easy movement along the floor.
3. Reduced Water Consumption
In comparison with conventional mops, FC5 uses 85% less water. That means you can save on water as you clean, which is better for the environment and for your monthly water bill.
4. Hassle Free After Use Cleaning
The FC5 two-tank system means you can easily empty your dirty water tank without coming into contact with the liquid. You can also refill the clean water tank quickly and easily by running it under the tap.
Besides, the FC5 cleans itself! This machine continuously cleans the rollers as you work, which saves you time in the long run.
5. Quality Microfiber Rollers
There is no need to buy new microfiber rollers after every clean for Karcher Floor Cleaner 5. Simply remove them from the rollers and place them in the washing machine. Once they're nice and fresh, you can refit them.
Best Floor Cleaning Machine For Soft & Hard Surfaces
Karcher provides an excellent selection of steam cleaners to clean soft surfaces. These cleaners will give you the ability to refresh surfaces that are normally difficult to deep clean. A steam cleaner can freshen up furniture, carpets and curtains. That being said, steam cleaners can also be used for hard surfaces such as tiling, wooden floors and bathrooms.
Below we will discuss some of the features to look for when selecting the best floor steamer for you.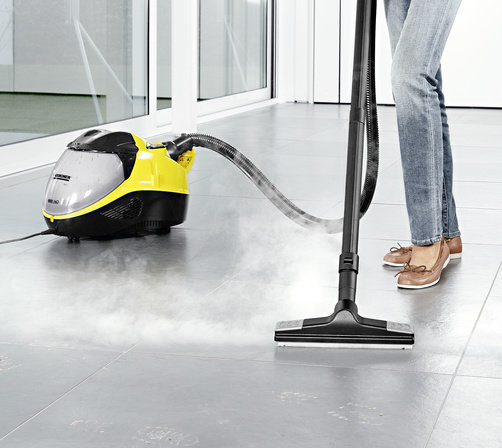 1. Fast Heat-up Time
When choosing a steam cleaner, its heat-up time should be in your checklist. Purchase the one that heats up quickly so that you do not have to spend a long time waiting for the device to be ready for use. Among the Kärcher range of steam cleaners, SC 3 EasyFix stands out for its 30-second heat-up time.
2. Good Area Performance Per Tank Filling
A decent-sized water tank is vital for continuous cleaning. The bigger the tank, the better the area performance per tank filling.
Fitted with a water tank that can store up to 1 litre at max, you don't have to stop, refill and heat the water which interrupts your cleaning task.
Besides SC 2 Deluxe EasyFix, consider SC 4 EasyFix for its 2-tank system that allows you to refill when heating.
3. Child Safe Feature
Since hot steam can be quite hazardous, steam cleaners with child safe feature stick out among the others. This is extremely useful especially if you have small children at home, who love to explore anything due to curiosity.
Having your concern in mind, Karcher steam cleaner is specially built to be child-safe. The child safety lock system featured on the steam gun provides reliable protection against improper use by playful kids.
Conclusion
Floor cleaning is easy with the Karcher's range of home cleaning products. For hard floor cleaning, the Karcher FC5 is the best electric mop in Malaysia. You can also invest in some excellent steam cleaners to get rid of germs, dirt and grime. The SC4 EasyFix and SC3 EasyFix are top of the range steam cleaners. The SC2 Deluxe EasyFix steam cleaner is compact, light and extremely effective.
Invest in a Karcher cleaner today and you won't be disappointed. These really are some of the best floor cleaning machine in Malaysia.