If you think about it, we spend a lot of quality time in the kitchen. It could be spending a Sunday afternoon baking and chit chatting with few of our best friends over rounds of cakes, or simply just us cooking a storm in the kitchen in order to serve three meals on the dining table for our loved ones. No matter what is the reason that makes you spend hours in the kitchen, it is important to keep the space clean and tidy.
A clean kitchen not only guarantees a hygienic cooking environment that is free of dirt and bacteria, it is also able to put your soul at peace while you are spending time in the kitchen. A clean kitchen ensures your alone time in the kitchen to be 100% therapeutic and enjoyable. At Kärcher, we provide the best way to clean your kitchen fast and easy, no fuss, no muss!
Steam Cleaning is the Best Kitchen Degreaser (Grease Remover)

Kitchen grease is the gross, sticky substance, which is a natural byproduct of cooking. It lingers and clings to everything in close proximity to the stove top. There is simply no way to avoid kitchen grease unless you don't cook with oil.
If you've ever tried wiping kitchen grease, you know that it is dirty and tough work. Besides being sticky, grease buildup can also happen at tight spaces and small crevices, making it tough to access and difficult to clean.
Lucky for us, hot steam can break down grease and oil! By cleaning with steam, it can easily penetrate fine cracks between greasy dirt and surface to loosen and dislodge stubborn dirt particles.
Steam cleaner makes deep cleaning greasy kitchen a simple task to achieve!
Besides that, the beauty of using a steam cleaner is that it is capable of cleaning stubborn grease buildup using just vapor. You don't need to worry about contaminating food with chemicals or leaving behind any chemical residue after each cleaning routine!
Steam cleaning is therefore effective, safe, natural and eco friendly.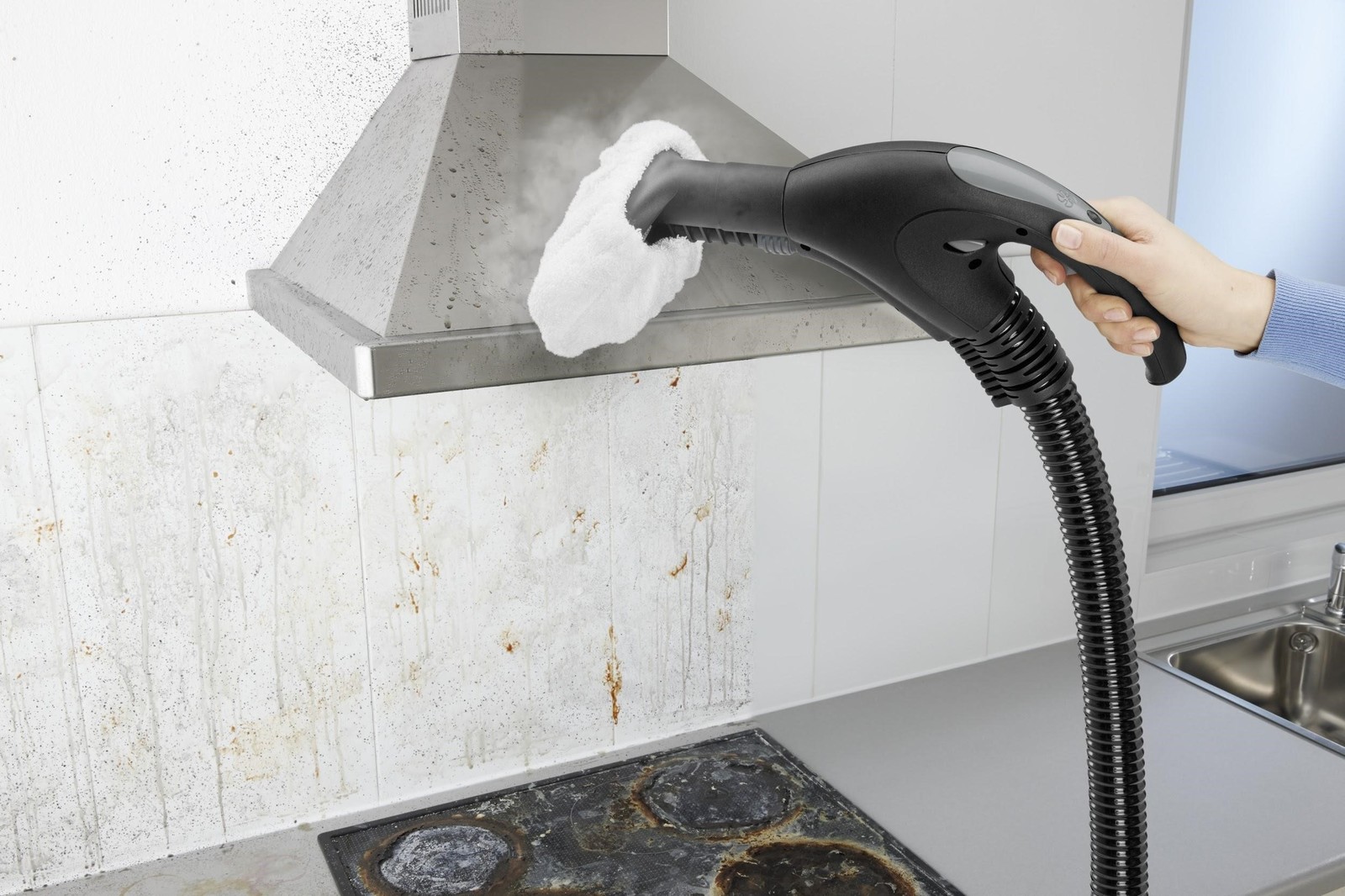 Cleaning Kitchen Hood Grease with Steam Cleaner
Kitchen hood is likely to be the least cleaned and therefore one of the dirtiest items in the kitchen. As the ventilation system removes hot air and odours from your kitchen, it is frequently exposed to vaporized grease.
As grease starts to build up in the kitchen hood, its sticky surface can easily collect dust, and bacteria. In time, the stubborn dirt and grease buildup can make this a challenging area to clean.
Fortunately, with steam cleaner, its high temperature can easily remove stubborn grease, leaving behind a clean and sanitised surface.
Keep Kitchen Wall Clean from Dirt and Grease
Kitchen walls can get dirty and greasy easily especially for areas near the cooking stove. If your kitchen wall is not regularly wiped after cooking, chances are, there will be grease build up overtime. In addition, food residue and grease splattered on walls attract dust and dirt, making the wall look rather intimidating to clean.
While some people may choose to wrap aluminium foils against kitchen walls for easy grease buildup cleaning, steam cleaning offers a better way to keep kitchen walls clean without having to sacrifice your kitchen design.
Deep Clean Greasy Stove Top with Steam Cleaner
Does the mere thought of cleaning a greasy kitchen stove top put a frown on your face?
Don't worry, Kärcher has got you covered! Steam cleaning is one of the best ways to clean a greasy stove top. You do not have to do the scrubbing or purchase strong chemicals to remove burnt grease off your gas stove top. The steamer will do it for you as steam can dissolve grease and dirt just by itself!
In addition, Karcher's steam cleaner has an optional Steam Turbo Brush accessory. This oscillating brush increases the cleaning power of the steam, which allows you to clean 50% faster than usual.
Deep Clean Kitchen Floor Tiles with Steam Cleaner
After sweeping the floor of any dirt and food scraps, you might want to mop the floor as well to get rid of any sticky stains that a broom is unable to get rid of.
As opposed to the traditional way of mopping with an abrasive chemical cleaning agent, Karcher Steam Cleaner provides you an environmentally friendly way of thorough cleaning with high speed hot water, 100% chemical free!
With Karcher the best floor steamer, you will be able to steam clean any hard floor surfaces including tiles, marble, PVC, granite and more!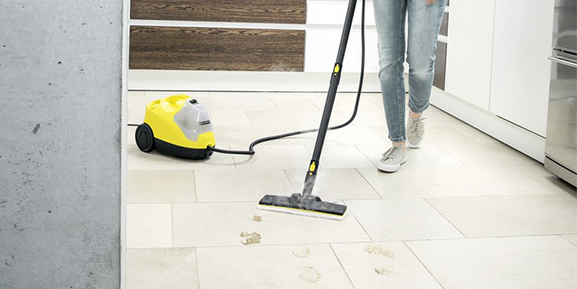 Deep Clean Stainless Steel Sink with Steam Cleaner
Kitchen sink may be the scariest nightmare for most people. With the plug holes being the filter for food waste and the basin that is constantly in contact with wastewater, you will need a very powerful tool to help you get rid of bacteria, kitchen grease and stains.
Karcher Steam Cleaner is just what you need! The powerful ejection of steam, the high temperature of the steam, powerful nozzles and heated cleaning cloths ensure that Kärcher steam cleaners kill 99.99 %* of all common household bacteria, without using any chemicals!
In addition to effectively killing bacteria, steam cleaning also allows you to deep clean stainless steel surfaces without leaving behind any scratch marks from intense scrubbing.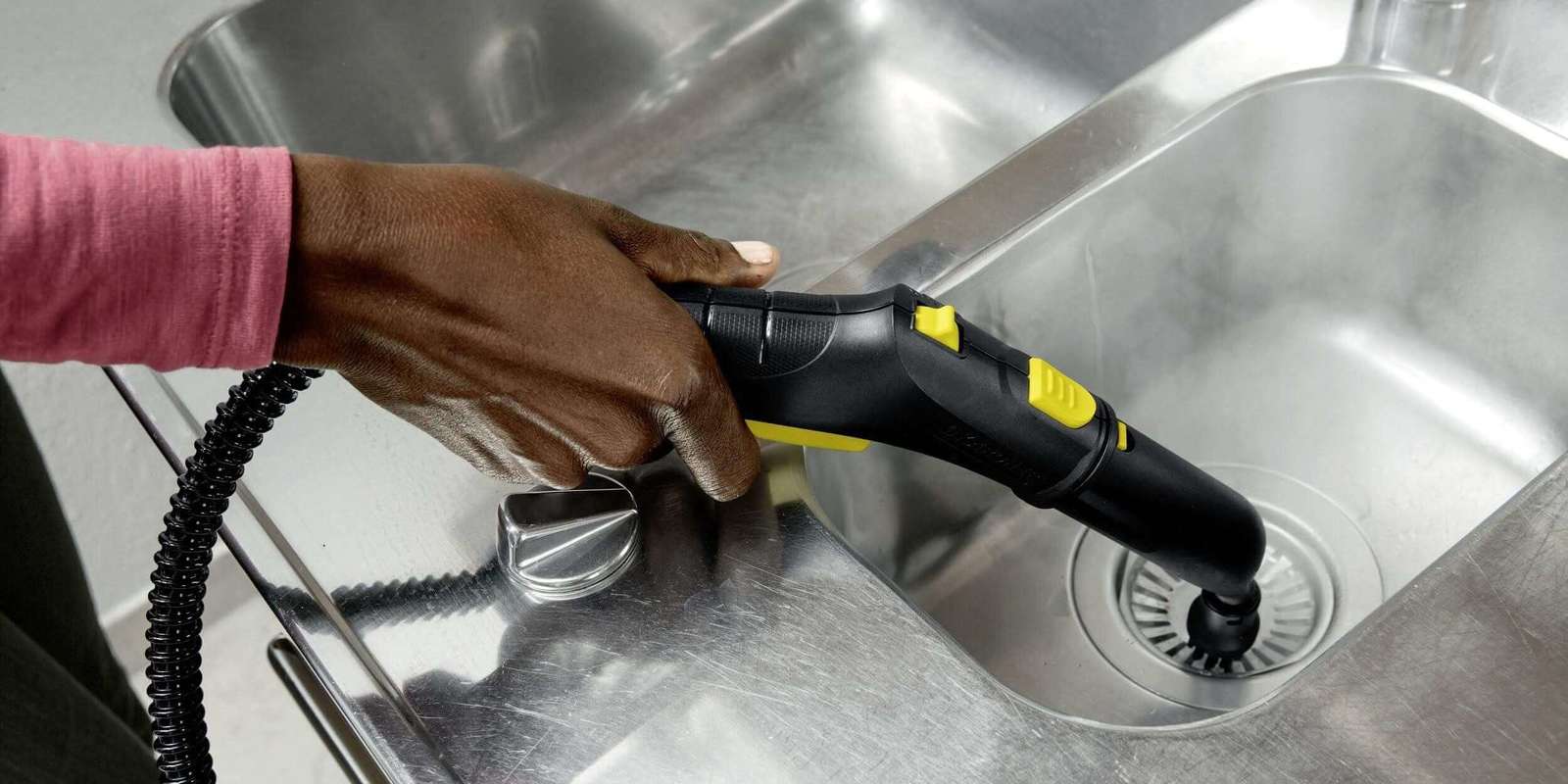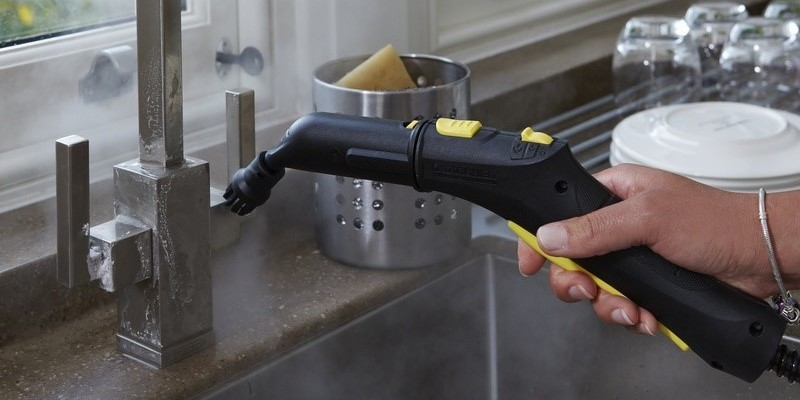 Steam Clean Kitchen Window with Window Nozzle
You will never have to spend hours wiping the grease off your kitchen window anymore with the powerful combo of Kärcher Steam Cleaner with its optional accessory - window nozzle. The steam opening in the nozzle vaporises the glass pane in order to remove dirt effectively.
Its high-quality squeegee blade removes grease, dirt and stains from windows and glass surfaces thoroughly. Furthermore, its small and lightweight design allows you to reach surfaces at any height without putting too much pressure on your arms.
Conclusion
Kitchen cleaning is never an easy task. Lucky for you, Karcher launches the best floor steamer to relieve you from spending valuable time in the kitchen scrubbing stubborn grease and dirt.
Visit the nearest Karcher store to test out the best floor steamer and the best cordless electric broom for your kitchen today!
*Thorough cleaning with the Kärcher steam cleaner removes 99.99% of all common household bacteria from common household hard surfaces.