Post Renovation Cleaning Checklist For Home Owners
Post renovation cleaning can be tedious and troublesome even after a thorough cleanup by your contractor. This is especially a huge concern for homeowners who are allergic to dust. However, this task can be managed with proper cleaning equipment and procedure. Therefore, using the right tools from Karcher can turn your cleaning after renovation into an enjoyable experience instead.
How to Get Rid of Dust After Renovation
Cleaning after renovation can be tiring. Thus, when carrying out post renovation cleaning, it is always good to follow a plan/flow. This will allow you to have a guide and also cover all areas as well as prioritise what or which areas need to be cleaned first.
One way is to clean from top to bottom, inside to outside, big to small and others. You can always start with the obvious.
Post Renovation Cleaning Checklist
Typical Cleanup
Clean interior and exterior walls
Dust fans and ceiling
Wipe all windows, window frames, doors and trims
Vacuum carpet
Vacuum and mop floors (buff where possible)
Wipe all light fixtures and bulbs
Remove and dispose of all trash
Entrance and Exits
Clean the driveway and walkways
Wipe exterior lights and clear any debris
Clean the gate, fence and its surroundings
Kitchen and Bathroom
Vacuum, dust, and clean shelves
Clean cabinet doors and tops of cabinets
Scour and cleanse countertops and any backsplashes
Clear unwanted debris around sinks and faucets
Clean all appliances inside and out
Clean toilets and mirrors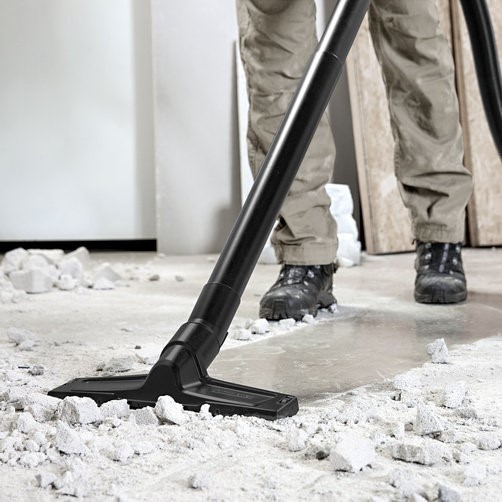 1. Use Vacuum Cleaner with Great Suction Power

Vacuuming and dusting comes first before other types of cleaning because of the amount of dust and debris that is lying around. Start at the top and work your way down. Clean the ceilings and then work your way down to the walls and finally the floor and carpets.
Remember to vacuum and dust the upholstery, curtains, furniture, frames, beneath the frames and other hidden areas including closets, cabinets and shelves. Doors, windows and sills included.
Ducts, grates, vents, blinds, ceiling fans, lighting fixtures and even decorations should be dusted.
Best Choice: Wet and Dry Vacuum Cleaner
A good and versatile vacuum cleaner can ease a lot of trouble getting rid of dust and debris. The Karcher Multipurpose Wet & Dry Vacuum Cleaner is the best machine to get the job well done. It can vacuum both wet and dry dirt and has enough suction power to pick up large dirt particles, including large volumes of water. Not to mention, it is capable of blowing dirt from hard and reach areas.
Ideally, one should get the WD 5 Premium Model with corrosion-resistant stainless steel container. At 25 litres, its capacity is enormous and once the filter is full, it can be easily cleaned at the push of a button so that suction power is quickly restored.
As Karcher's multipurpose vacuum cleaner comes in a wide range of models and prices, you can easily find one that is well within your spending budget.

Allergies and Complications
For those allergic to dust or have certain respiratory complications, it is advisable to use the proper tool for this i.e. you may consider using the Karcher - Water Filter Vacuum Cleaner as the dust will be bound with the water. It is also good for families with babies and young toddlers
Those with dust allergies need not worry as it comes with 3 filters: Water Filter [1], Washable intermedia filter [2] and HEPA 12 filter [3]. As a result, it is capable of filtering out 99.5% of dust particles (over 0.3 µm in size) in the air and there is no longer a cloud of dust when emptying the vacuum cleaner as the dust is bound with water.
Cleaning Fiber and Upholstery Surfaces
You can couple all the above products with the Turbo Nozzle (optional) to increase cleaning efficiency as the rotating brush stirs up dirt seated deep in the fibres before it vacuums.
2. Wiping and Mopping
Once you have completed the 'dry' cleaning, now comes the 'wet' part. Again, you start from the top and work your way down.
Wipe the ceiling fans, ceiling fan blades, light fixtures, walls. When wiping walls especially, do check whether the wall or paint is dry before wiping with a wet cloth.
Then, work your way down to the shelves, windows, doors, door knobs, decorations and furniture. Even the kitchen needs to be properly scrubbed.
Remember to clean the air-conditioning units too as these items collect a lot of dust. You will need to mop the floor once all the wiping is done.
3. Replacing and Reinstalling
Replace any worn out filters or non-functional items that cannot be reused. This is important as some of these items may have exceeded their life span or are unable to function at an optimum level.
Reinstall whatever items that have been dismantled or taken apart. Do take precaution that when installing, it is important that during the installation process, it does not make the surrounding dirty or dusty again.
Pressure Washer to Power Wash Driveway, Porch and The Exterior

Once you have completed cleaning the interior of the house, now comes the easier part - the exterior.
Clear all debris, both big and small, from the compound before the cleaning begins. Collect these debris properly and store them in proper bags for disposal.
Once done, clean the exterior walls with a good and powerful pressure cleaner such as the Karcher Pressure Washer for a thorough and cleaner effect.
When the walls are cleaned, proceed with cleaning the porch and driveway. Then proceed to clean the fence and gate.
Karcher's patented nozzle technology gives you an outstanding cleaning performance. Besides consuming less water compared to a garden hose, it also gets more cleaned within a shorter time frame. With an adjustable pressure setting, you can use our pressure washer to clean both sensitive areas such as a dusty wall and also efficiently remove stubborn dirt.
Conclusion
Cleaning after renovation can be rather messy when done without proper planning or tools. The guide above is to serve and assist you in making the best decision and especially in choosing the right tools for the job. As a matter of fact, you can't go wrong with Karcher!