Advantages of hot water high-pressure cleaners
Cleaning with hot water: High-pressure cleaners clean even better at a constant pressure. Alongside improved results and faster cleaning and drying times, hot water high-pressure cleaners also have a measurable germ-reducing effect. When the steam stage is used, even delicate surfaces can be gently cleaned with temperatures of up to 155 °C. Furthermore, the machines allow for a reduction in the working pressure, the time required and the volume of cleaning agent that is used. This means that cleaning with hot water offers a number of advantages and various possibilities for optimising the cleaning process.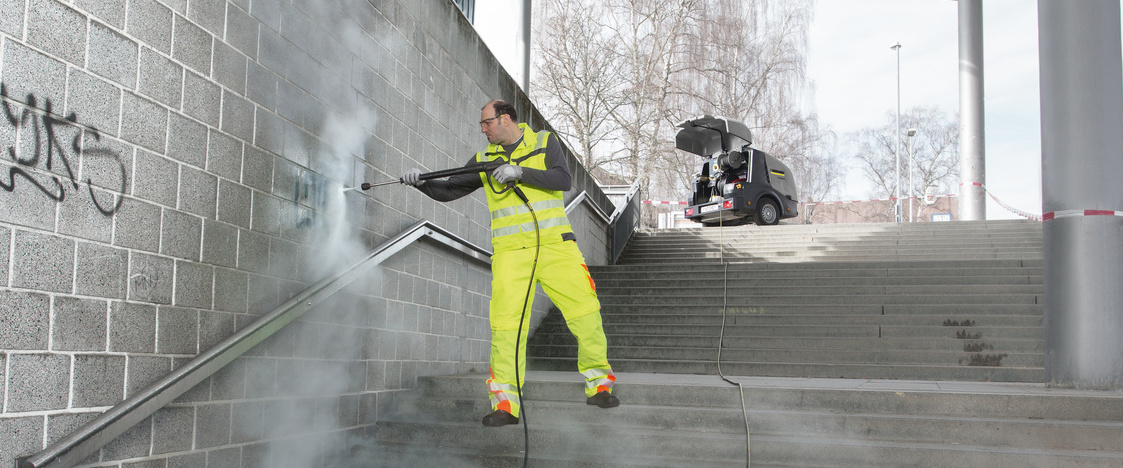 Even more efficient with hot water
High-pressure cleaners are a staple when it comes to efficient cleaning and cleanliness. Compared with methods without pressure, they are characterised by low water consumption and high cleaning power. Heated high-pressure cleaners offer even more benefits, as they generate hot water up to 80 °C and tackle stubborn dirt even faster and more effectively. For commercial users, the combination of hot water and high pressure offers greater cost-effectiveness, in addition to clear advantages such as shorter drying times and a reduced need – or even no need at all – for cleaning agents.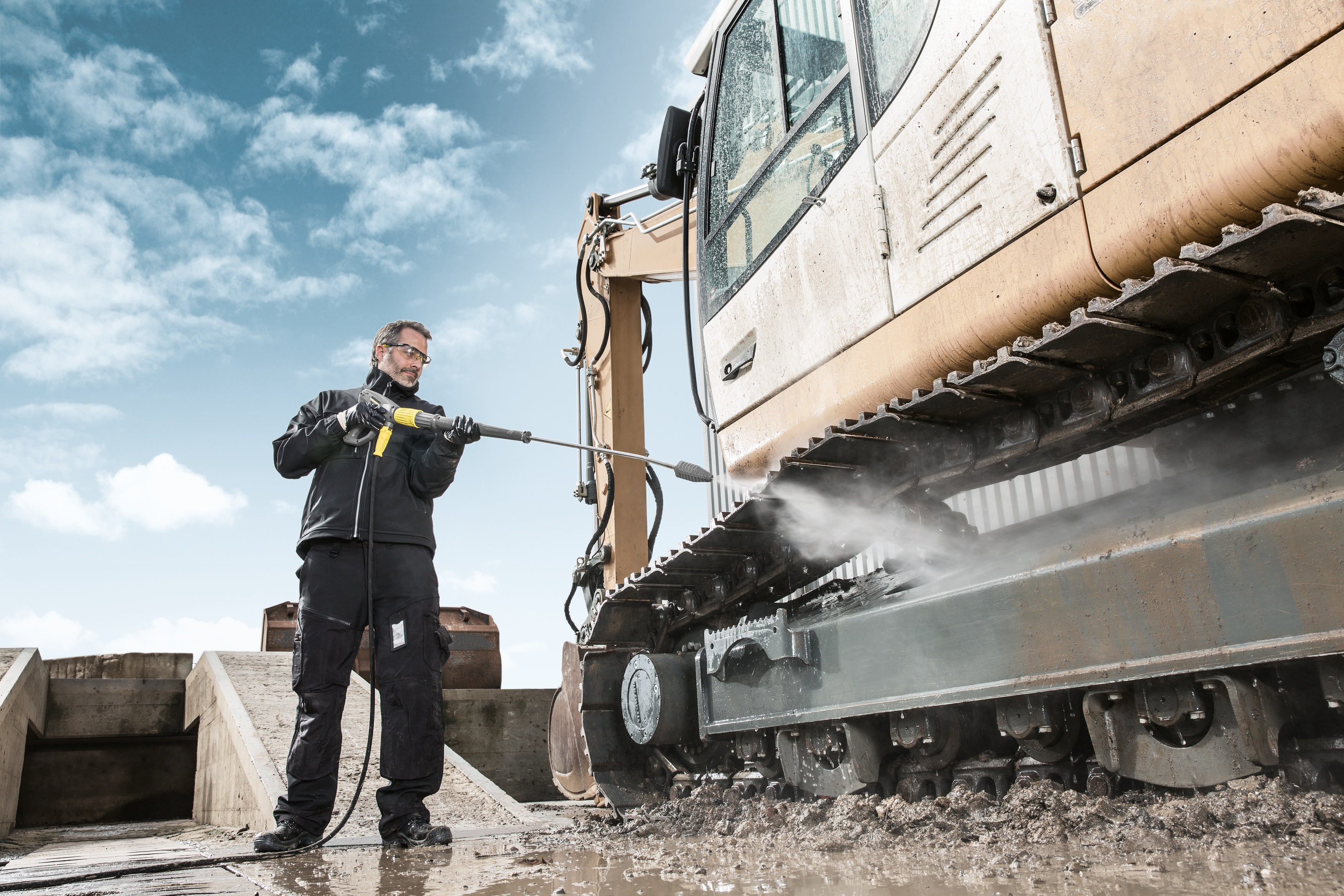 Overview of advantages of hot water high-pressure cleaning


More effective breaking up of lubricant residues
Shorter cleaning times and labour cost savings
Germ-reducing effect and virus inactivation
Shorter drying time
Significantly reduced use of cleaning agents
Protection of delicate surfaces and the same cleaning effect at a lower working pressure
Numerous advantages: Faster and more efficient cleaning with hot water high-pressure cleaners

How hot water high-pressure cleaners work
Hot water high-pressure cleaners can increase the water temperature from approx. 12 °C to up to 155 °C in the steam stage. The water in heated high-pressure cleaners is brought up to temperature in a burner boiler with a double-helix heating coil, which features a compact design and high heating output. The low-emission burner can be operated using regular biodiesel. Optionally, there are also machines with an electric boiler. These are used where the space must be completely free from exhaust fumes – for example in large kitchens, swimming pools or other enclosed spaces. At full capacity and maximum working pressure, the pressurised water is heated to max. 85 °C.
By reducing the water volume, hot steam can be generated in the heating coil at temperatures up to 155 °C; this activates the steam stage, which is particularly intensive and gentle on surfaces.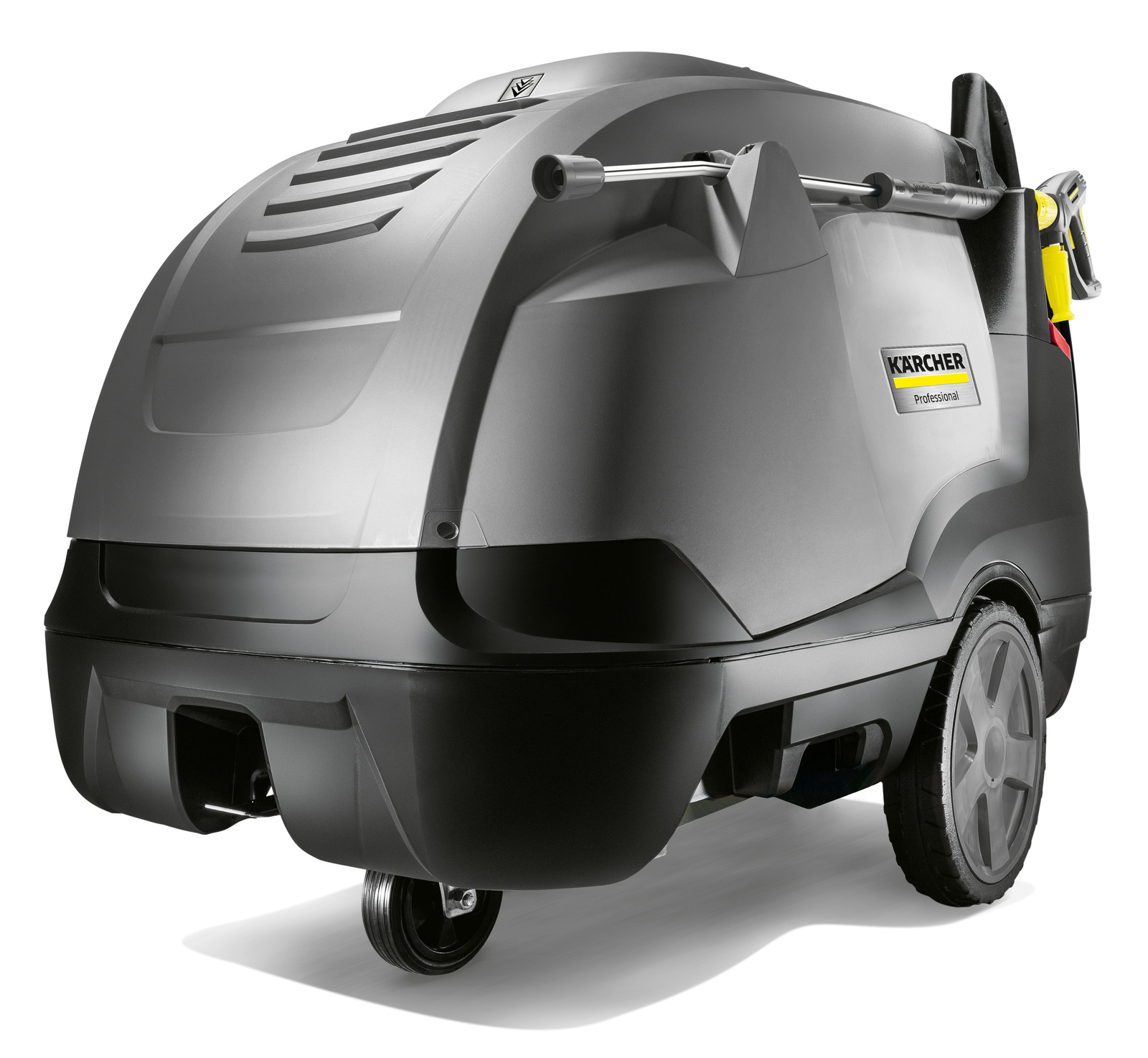 Hot water high-pressure cleaners for cleaning and disinfecting large areas
Intensive and meticulous cleaning with high-pressure cleaners makes it possible to achieve high standards of hygiene. They can not only be used to reach places that are difficult to access manually, such as crevices and cracks. They are also particularly useful for cleaning and disinfecting large areas such as ceilings, walls and floors, and are effective at combating germs, bacteria and viruses.

The use of cleaning agents and disinfectants plays an important role in cleaning processes. But what many people do not know is that hot water also makes a significant contribution to fighting disease-carrying germs. When using high-pressure cleaners, the water temperature has a significant effect on the reduction of germs, as well as viral and bacterial colonies. Thanks to the combination of high pressure and the hot water at a temperature of up to 85 °C, a substantial reduction of contamination is achieved. This germ reduction is often sufficient without the use of disinfectants in order to satisfy hygiene requirements. In order to support the effect of hot water, the addition of disinfectant by the high-pressure cleaner is recommended.

Suitable products for your area of application