Home & Garden Machines
Register now for your home & garden machines warranty!
Where to find product information?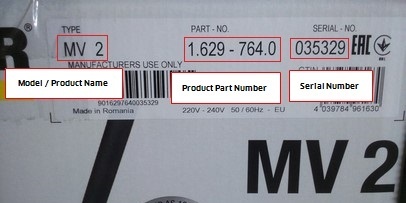 Searching product info from product packaging
---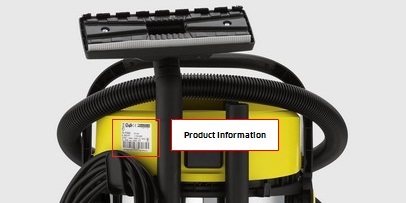 Locating product info from machine
---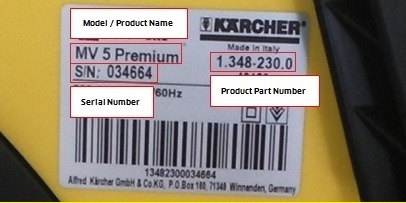 Searching product info from machine
Please complete the following form to register. Please register your warranty online within 7 days of purchase.
*
e.g. K2.120, SC1.020, MV3 premium, SE4001, K55 Plus, etc
*
This should be 8 digits long. Seen as 1.XXX-XXX.X
By submitting this form, you are indicating your consent to receive information about special offers and promotions from Kärcher.
Please tick No in the above blank dot if you DO NOT wish to receive these messages.
(All details registered with Kärcher Cleaning System Sdn Bhd (443599-P) are strictly confidential and will NOT be divulged to third parties)
Fields marked with an asterisk (*) are mandatory.
The warranty granted by Kärcher does not affect your statutory rights as a consumer (particularly your guarantee). Please see the 2015 warranty conditions for further information regarding the content of the warranty, the duration and geographical scope of the warranty cover and the name and address of the warrantor.
Home & Garden warranty conditions 2015
Your Kärcher product is manufactured to be free of faulty materials and workmanship for the following period:
HOME & GARDEN PRODUCTS
| Headline | Text |
| --- | --- |
| High Pressure Washers | 1 Year Warranty |
| Multi-Purpose Vacuum | 1 Year Warranty |
| Vacuum Cleaners | 1 Year Warranty |
| Steam Cleaners | 1 Year Warranty |
| Carpet & Upholstery Cleaners | 1 Year Warranty |
| Cordless Electric Broom | 1 Year Warranty |
| Cordless Window Vacs | 1 Year Warranty |
HOME & GARDEN ACCESSORIES
Consumable items such as filters, brushes, hoses, o-rings, batteries, cloth sets, accessories and other normal wear and tear parts are excluded under this warranty.
Note: Home & garden products or accessories used for commercial, industrial or rental purposes, is reduced to 30 days warranty.
For complete range of professional products, please Visit or call Kärcher commercial & industrial sales division on 03-55650399.
** IMPORTANT:
Please retain copy of invoice / sales receipt / proof of purchase along with the warranty registration confirmation for any future warranty claims. If you are not able to furnish proof of purchase, you will be obliged to pay for any repairs.
Additional information please refer to our Home & Garden Warranty Conditions.