High Pressure Car Washer Machine Cleaning Tips
Want to save all the trouble for having to send your car to car wash service every other week to avoid the inconvenience of having to wait for hours till it is cleaned, and unable to use your car at the time being? By investing in the right high-pressure car washer machine, you can do the cleaning yourself fast and without frills, saving cost on car wash service in the long run!
A durable high-pressure car washer machine usually comes with a hefty price tag, you have to take a couple of things into consideration before purchasing it to deliver impeccable car wash from home. Lucky for you, we have written down 10 important things to take note of when looking for a car washer machine:

Tip #1 - Portable Car Washer Machine
A portable car washer makes home car washing sessions much easier to manage. Most of our pressure washer are either lightweight or have wheels attached.
This way you can easily haul your machine across your household for a variety of applications from car washing to porch washing and even window cleaning without straining your back.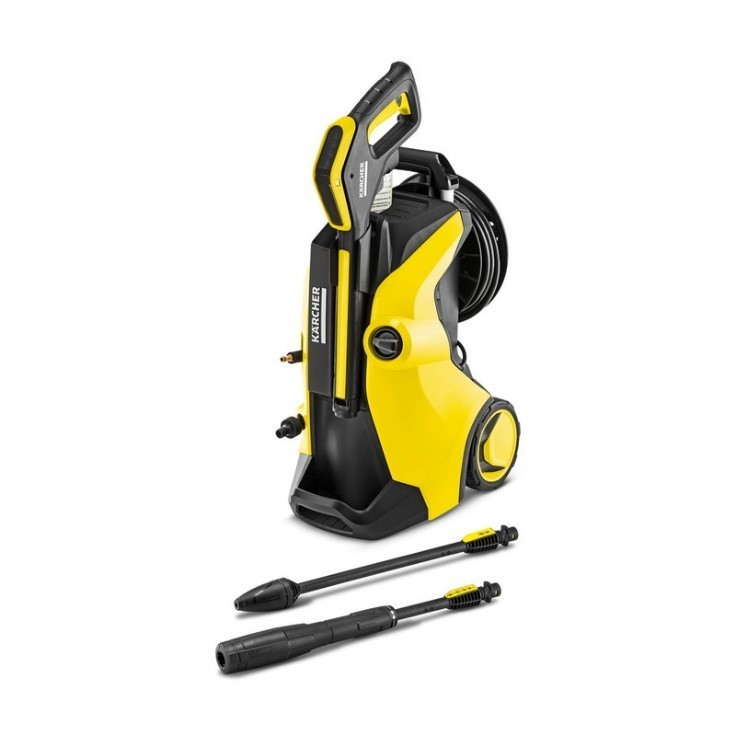 Tip #2 – Cordless Car Washer Machine
You can take this one step further by having a cordless portable car washer.
With Karcher K2 Follow Me, you don't have to worry about finding an electric outlet or a water pipe. You can simply just wash your parked car on the spot, even if it is parked on the street.
With its detachable 12L water tank, and powerful 36 V Li-Ion battery, you can now clean your car anywhere, anytime, whether at home or away.
Wash Your Car Anytime, Anywhere with K2 Follow Me!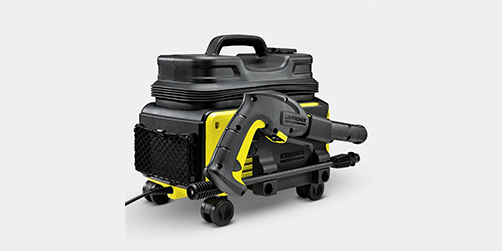 Our K2 Follow me pressure washer is designed to be compact, mobile and easily stored.
Tip #3 - Car Foam Washer
The right tool for the job saves you half the work. By attaching a foam nozzle to your car washer machine, you can transform it into an effective car foam washer instantly!
A Karcher Car Foam Washer is extremely user-friendly, its 0.6-litre tank capacity enables it to last long without refilling. All you have to do is to pour Kärcher detergent directly into the foam nozzle, attach the nozzle to the gun and apply the foam to the car surface, as easy as that!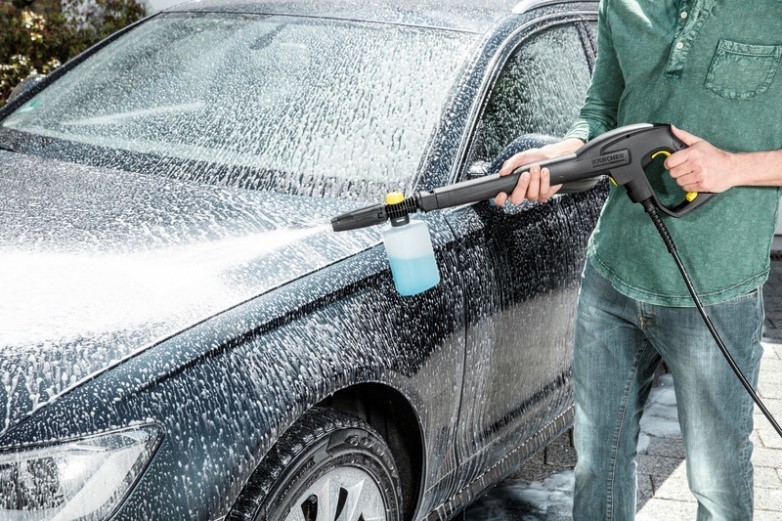 Tip #4 – Pressure Washer with Adjustable Working Pressure
A car washer machine with an adjustable pressure setting comes in handy to clean every part of your car. A slightly less powerful setting is recommended for the more fragile parts of the car including the windows, lights and mirrors. On the other hand, a more powerful water pressure setting is suitable for spray cleaning stubborn dirt that is adhering to car tyres, such as mud, animal faeces and more.
It is recommended to use medium pressure for car washing.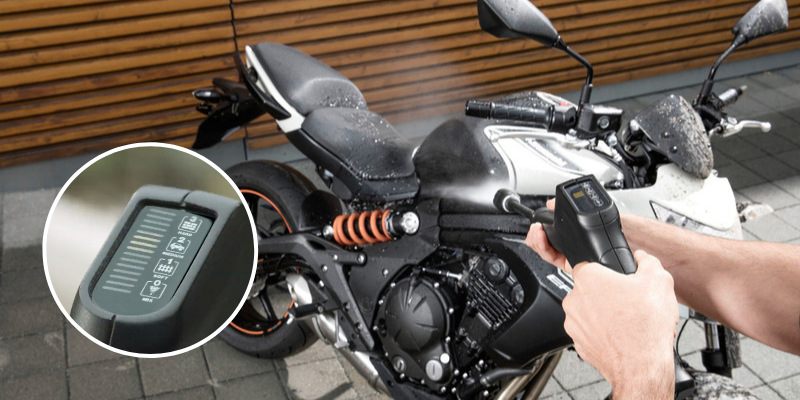 K3 Full Control Trigger Gun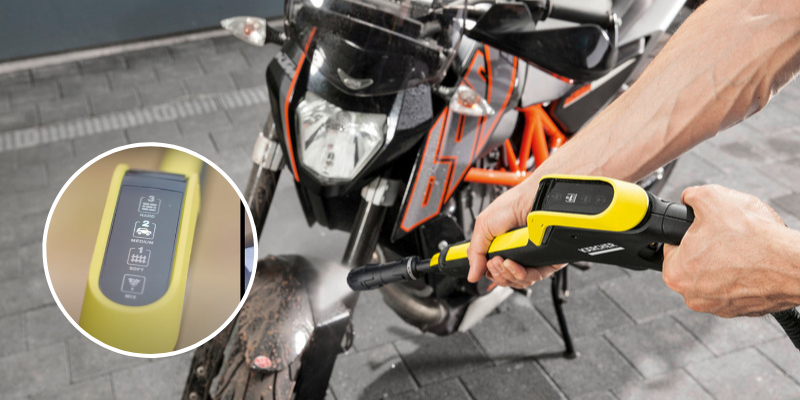 K4-K5 Premium Full Control
Tip #5 - Good to start Pressure Washing Your Car 4 to 5 Feet Away

Before going into beast mode cleaning with your new high-pressure car washer machine, make sure to test the water pressure on your car 4 to 5 feet away to avoid ending up damaging your car in case the water pressure is too strong. It's better to be safe than sorry!
Tip # 6 - Use Attachable Car Brush to Clean Stubborn Stains
For stubborn stains that do not come off with the initial wash, you can use an attachable car brush to scrub it clean. Detergent can be applied via the pressure washer if required.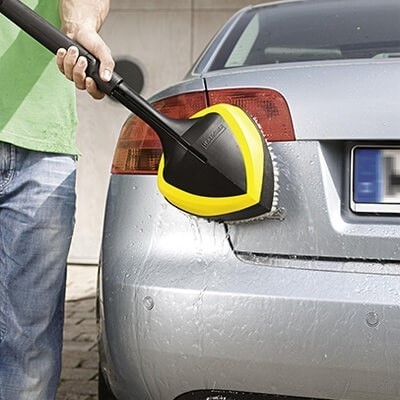 Tip #7 – Use the Right Car Washing nozzle attachment
You should also be careful to not use turbo dirt blaster nozzle because this kind of nozzle might remove paintwork on the car.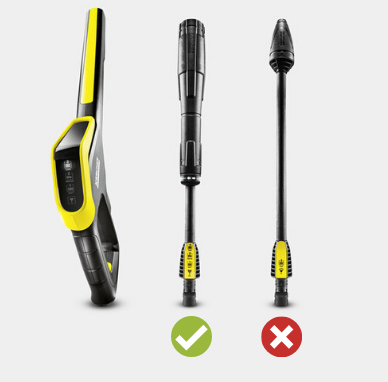 Tip #8 - Avoid Using Strong Spray Setting on Areas with Chipped Paint
As an extension from tip #7, you should also avoid using strong water pressure settings on surface areas with chipped paint in order to avoid making it worse than it already is by scraping off more paint from the chipped part.
Tip #9 - Pressure Wash Your Car on A Good Spot
You should also be mindful of where you choose to use your high-pressure car washer machine. You would want to make sure that you have ample space to move around together with the car washer machine around your car. You also want to make sure that you choose a flat ground surface with not many stones, tree branches or other sharp objects lying around so that the pressure washer won't scratch the car by accidentally hitting on stones from the floor.

Tip # 10 - What MBAR is safe for washing cars?

Know the suitable water pressure level to do the cleaning effectively without posing any threats to your car that requires more effort to recover. As a rule of thumb, 100mbar to 110mbar is suitable for light duties, small household cleaning jobs and car cleaning. On the other hand, 145mbar is required for heavy-duty household applications, decks and pavements and also tough stains on frequently used household surfaces.
When using a high pressure washer with Vario power nozzle, you may start with low pressure and increase the pressure as needed when washing your car.
Conclusion
With the right car washer machine along with the appropriate car washing nozzle, you can do the cleaning yourself at the comfort of your home at your leisure time. Visit the nearest Kärcher store near you to test out the best high-pressure car washer machine for ultimate car cleaning!