Office cleaning
Office cleaning takes place in a challenging environment where several different priorities come into conflict: Time and cost factors, cleaning results, hygiene and sustainability are all interconnected and must be taken into account. Accordingly, it is important to select suitable cleaning methods for the challenge in question. Particularly with a view to ensuring hygiene and sustainability, static cleaning will increasingly be replaced by dynamic cleaning in the future.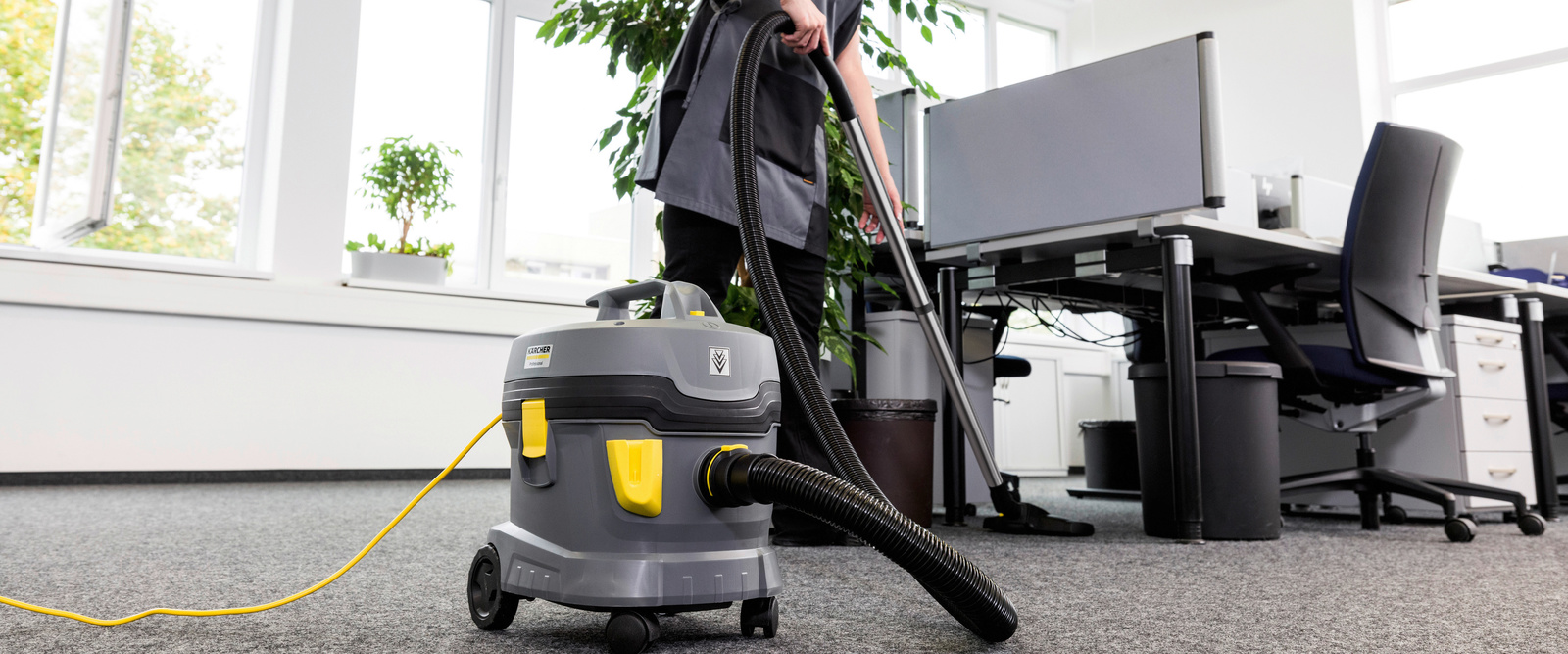 Steps towards a clean office
Offices are places where many people congregate for hours every day. The equipment, nature and use of office spaces therefore present a range of specific challenges for cleaning service providers. Factors such as time and cost must be taken into account, while ensuring cleanliness, hygiene and, increasingly, sustainability are guaranteed. Here, it is worth having an overview of common applications and suitable solutions, including having a sensible structure for cleaning sequences, as well as being aware of current developments in cleaning technology.
The right preparation
Preparation and follow-up are essential parts of the cleaning sequence for a room – in addition to the cleaning task itself.
In all cases, this includes personal protective gear, knowledge of safety instructions and hygiene rules, and the provision of materials and equipment. Provision of materials is important because it is only the cleaning task in the room with the respective defined method variants that is the deciding factor in which equipment is required. In offices, coarse dirt should be collected and waste disposed of first.
Principles of cleaning
Clean from top to bottom
Clean from back to front
Clean from dry to wet
Clean from clean to dirty
Treating critical points of contact
Frequently used surfaces are treated in what is known as critical touchpoint treatment, i.e. cleaning or disinfecting critical points of contact. If contaminated surfaces are to be chemically disinfected, disinfectant cleaners and disinfectants are available, which, depending on the version, can have a virucidal effect against enveloped viruses.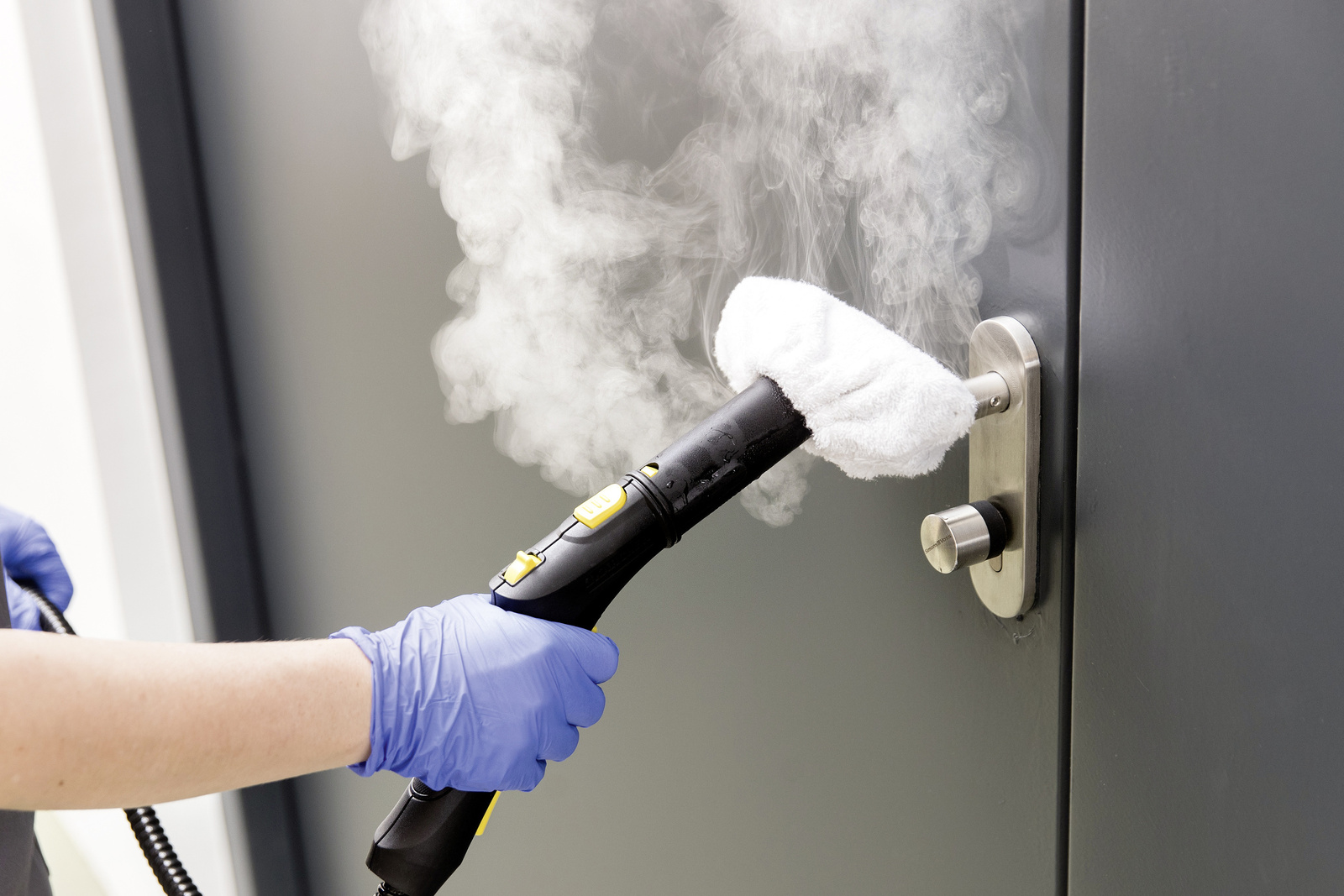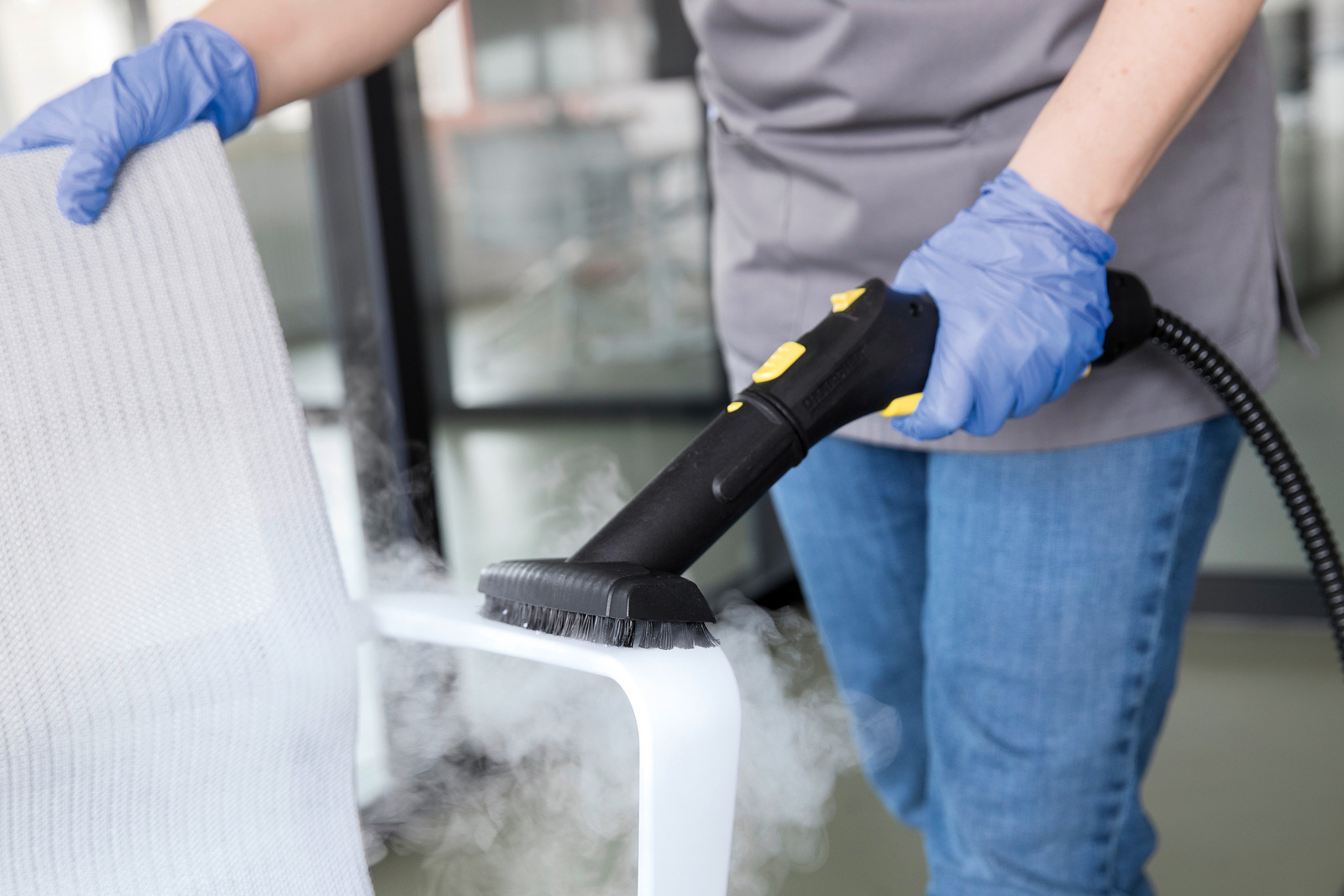 Depending on the type of dirt and nature of the material, and thanks to their high cleaning temperature, steam cleaners and steam vacuum cleaners are an effective and time-saving solution in ensuring an appropriate level of hygiene and combating germs and viruses. The steam emerges in very fine drops and, depending on the machine type, at a temperature of around 100 °C and a pressure of up to 8 bar. It is possible to clean steam-resistant walls, floors and furniture effectively, since the steam also reaches areas that are difficult to access.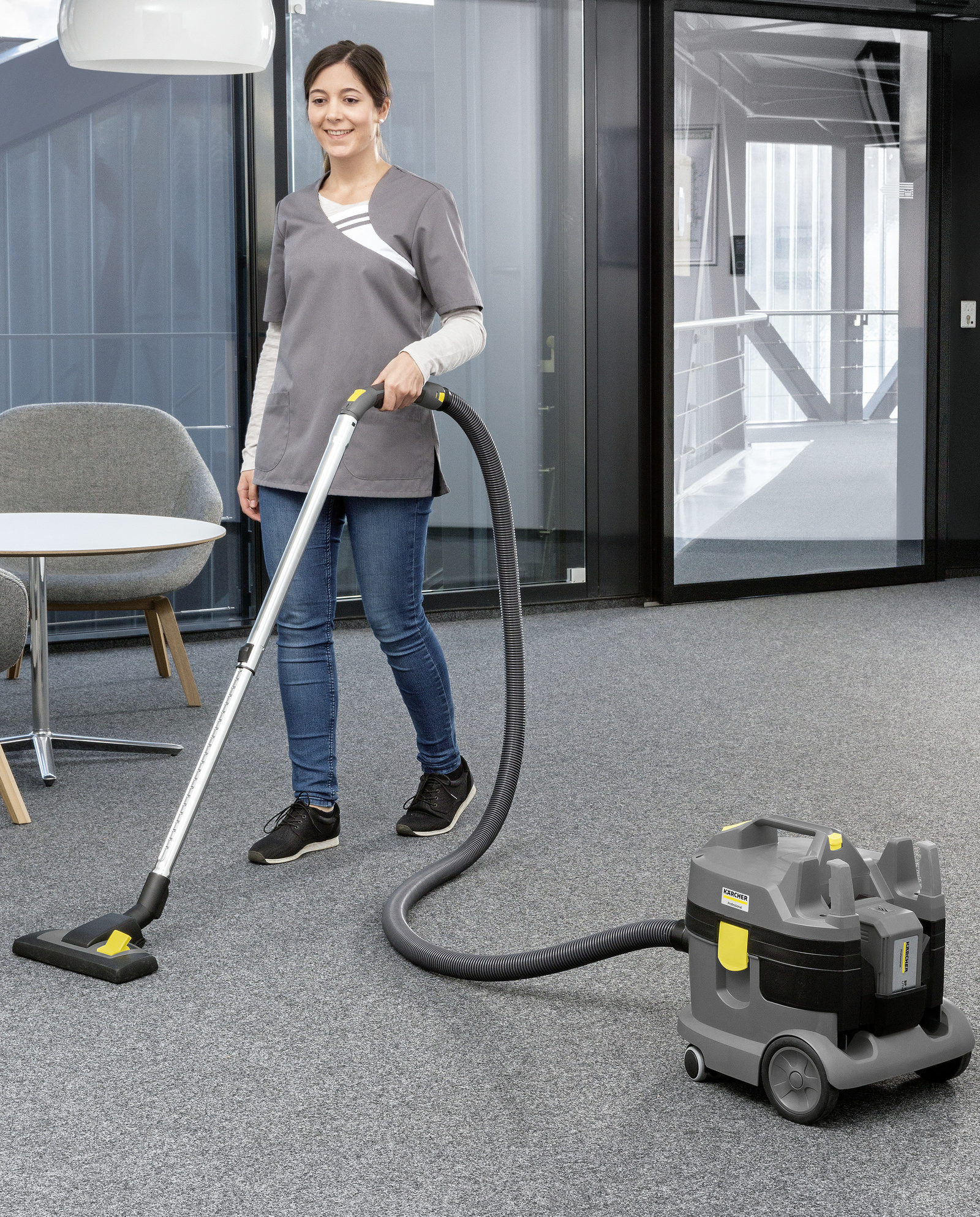 Textile floor coverings
Offices usually have textile floor coverings. For a good cleaning result, it is recommended to vacuum rooms from the entrance, starting from the edge and always moving the nozzle backwards and forwards diagonally in a V-pattern over areas that are yet to be cleaned. Using a crevice nozzle is recommended for narrow sections.
As there are lots of people present during the day, the use of battery-powered vacuum cleaners has proven to be appropriate. You benefit from several advantages over classic models: There are no tripping hazards caused by cords which have to be signposted, and repair costs for damaged cords are completely eliminated. As work can be carried out completely freely and without having to look for a suitable power socket, around 20 per cent of the work time can be saved. Uncomplicated battery replacement for various machines is possible if a uniform platform with the same battery and charging technology is used. Corded or battery-powered vacuum cleaners with an eco function make a contribution towards sustainable cleaning, since they provide good suction power despite reduced energy requirements, thanks to efficient motors and optimised flow technology.
While handheld cordless vacuum cleaners and electric sweeping brushes make spot cleaning tasks easier, upright brush-type vacuum cleaners or battery-powered push vacuum sweepers are recommended for cleaning large hallways with textile floor coverings. It is important to be aware of optimal vacuuming paths, which differ from the procedure with a vacuum cleaner: First, all edge areas are cleaned, then the remaining area is cleaned in squares with straight, parallel strokes. It is important that the machines are equipped with a carpet sweeping kit. This includes an adjustable, antistatic main sweeper roller and a fluff filter for the filter.
Stains in the carpet are removed in the course of maintenance cleaning with a suitable stain-removing detergent. If pathways in the carpet can be seen, it's time for intermediate carpet cleaning.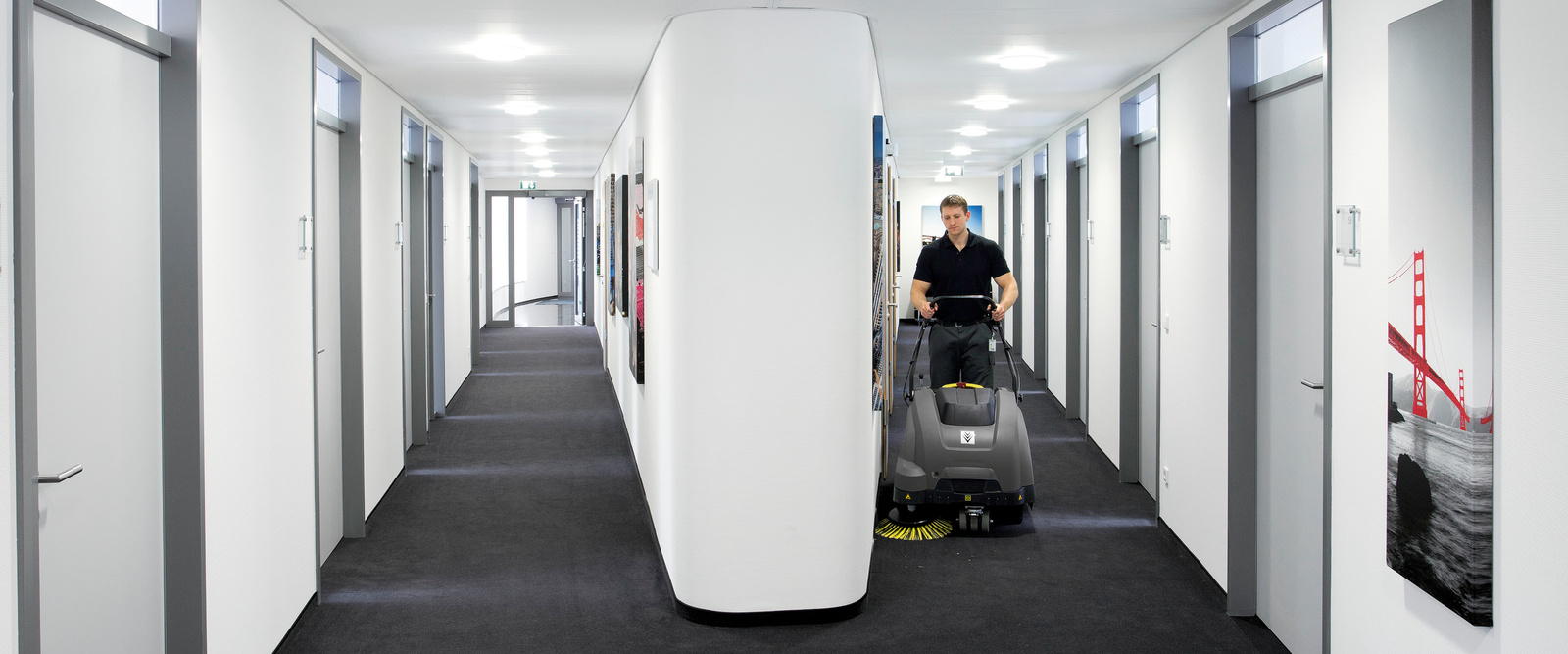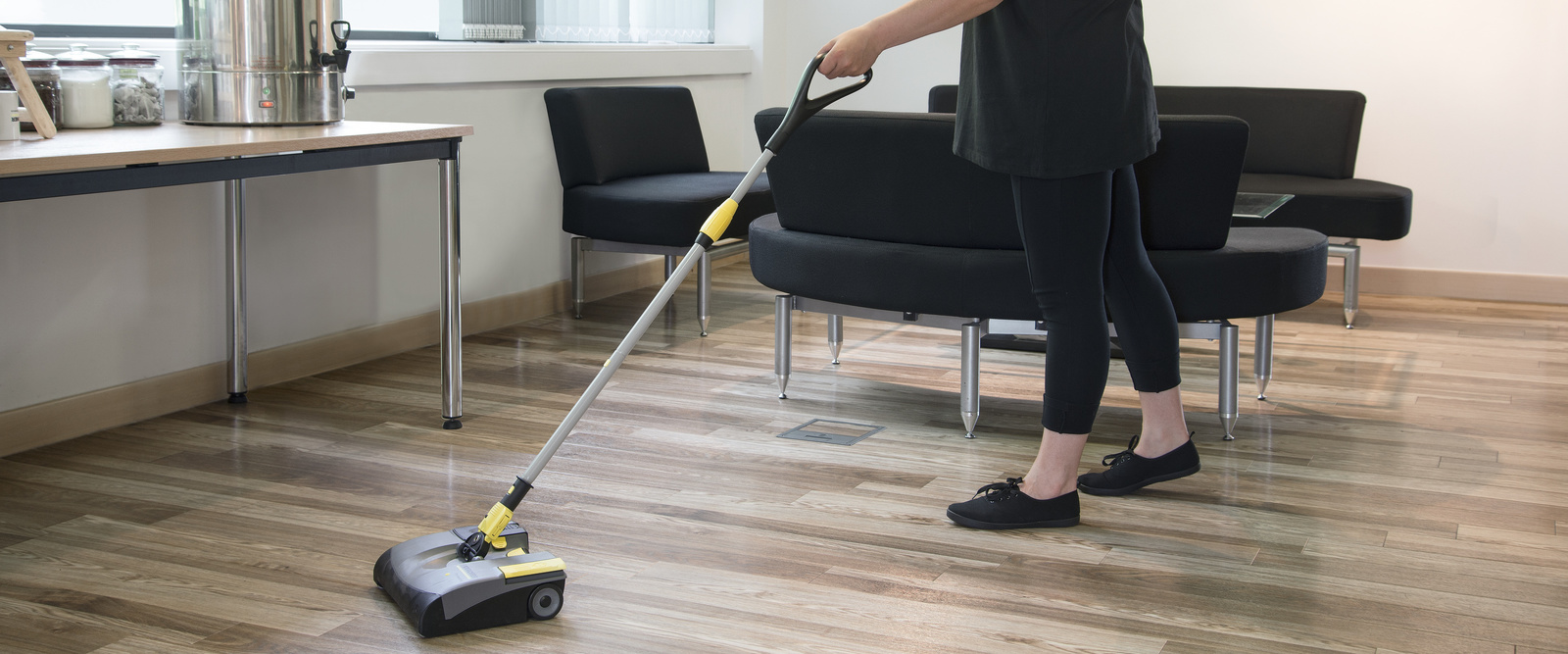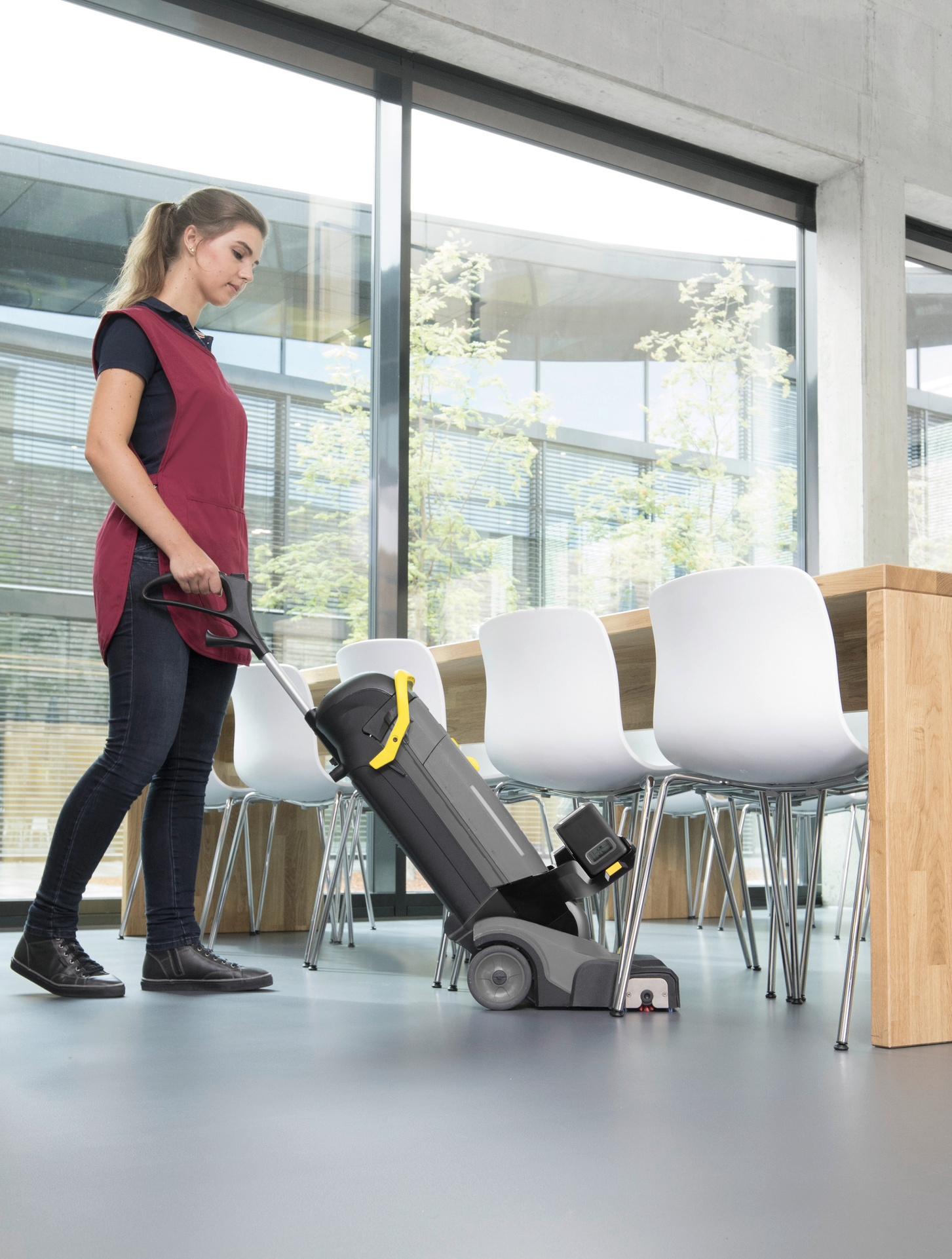 Cleaning hard floors in the office
Where there are hard floors, such as in corridors or tea kitchens, scrubber driers are the right choice, as they can be used more efficiently and hygienically than traditional wet wiping. The improved cleaning performance is complemented by the immediate pick-up of dirty water, which significantly reduces the risk of slipping. If the machine has a rotatable and steerable scrubber head, it is easy to manoeuvre, so the user can navigate around any obstacles without problem. If hard flooring is laid in an office, a compact scrubber dryer that can also clean under desks is ideal.
When using scrubber driers, parameters such as suction power or water volume should be adjustable to suit the respective use and degree of dirt in order to clean whilst ensuring economical use of resources. Incidentally, battery-powered machines reduce the effort required, because when the machine performance is adjusted to the application, a larger surface area can be cleaned without interruptions to charge or change the battery. The best possible way to clean the area is in straight strokes from outside inwards. For hard-to-reach areas and corners, preparatory manual cleaning with some wet wiping is recommended.
Deep cleaning and restoring protective coatings on hard floors
Often, resilient floor coverings are laid that have a polymer dispersion coating. These coverings wear out over time, showing scratches in which dirt can collect. Cleaning becomes more difficult and time-consuming. Restoring protective coatings is therefore sensible at certain intervals. There are two ways of doing this: Restoring protective coatings and deep cleaning.

Restoring a protective coating is an intermediate cleaning stage, using dry scrubbing and cleaning (spray method).
In this way, signs of light use and scratches are sanded and the slightly worn protective coating is replaced in these areas that are subjected to particularly heavy stress. Towards the edge, the protective coating is realigned with the existing coating.
The following cleaning system is used for deep cleaning:
The methods of wet scrubbing, wet vacuum cleaning and wet wiping, as well as coating.
In contrast to restoring protective coatings, deep cleaning removes all old protective coatings/other coatings from the floor, so that at the end the bare floor is retreated with two to three coatings.
Restoring a protective coating is no replacement for classic deep cleaning – however, it does delay deep cleaning, which itself can be very costly. In the past, for example, deep cleaning was usually carried out in a building once a year. In order to reduce expenditure, protective coatings were restored – a less costly procedure – twice a year instead, which roughly corresponds to the cost of one deep clean. As a result, deep cleaning no longer needs to occur annually – every two years is sufficient.
Disinfection of hard floors
Scrubber driers can generally also be used to disinfect floors. For this application, both the correct dosage of chemicals and the exact contact time in line with manufacturer specifications must be observed. Sucking up the dirty water also permanently removes germs. The risk of contamination is therefore minimised. The risk for the cleaning team of becoming infected via pathogens on their hands is reduced thanks to the contactless floor cleaning. Appropriate protection during preparatory and follow-up work nevertheless remains essential, as these themselves pose a risk.
A sufficient amount of the active ingredient has to reach the floor surface to successfully disinfect it. To achieve this, the flow volume should be selected in relation to the floor covering such that even wetting can be ensured. Microfibre textiles or pad materials are a helpful tool – brushes are less suitable. In order to comply with the required contact time, work must be performed without suction. The disinfectant solution is only applied to the floor with the scrubber drier. The area is then allowed to dry.

Interesting facts about stairwell cleaning
Stairs can be true design elements, made from shot-peened steel or precious wood. They can be central escape routes or merely neglected pathways between the floors. In each case, cleaning jobs on a stairwell become a challenge because the spatial conditions make the work tedious. Why is cleanliness still important? What must be kept in mind for various floor coverings? What are the most common operator errors? Here is an overview.
Suitable products for your area of application