CRUMBS AND STAINS DON'T STAND A CHANCE: CLEANING UPHOLSTERY AND CARPETS
A cosy evening on the couch with snacks and drinks, children or pets romping around the living room – before you know it, crumbs and stains have found their way onto upholstery and carpets. But not to worry: It takes just a few simple tools to do away with these little mishaps. Using these tips and devices, your living areas and carpets will remain beautiful for years to come.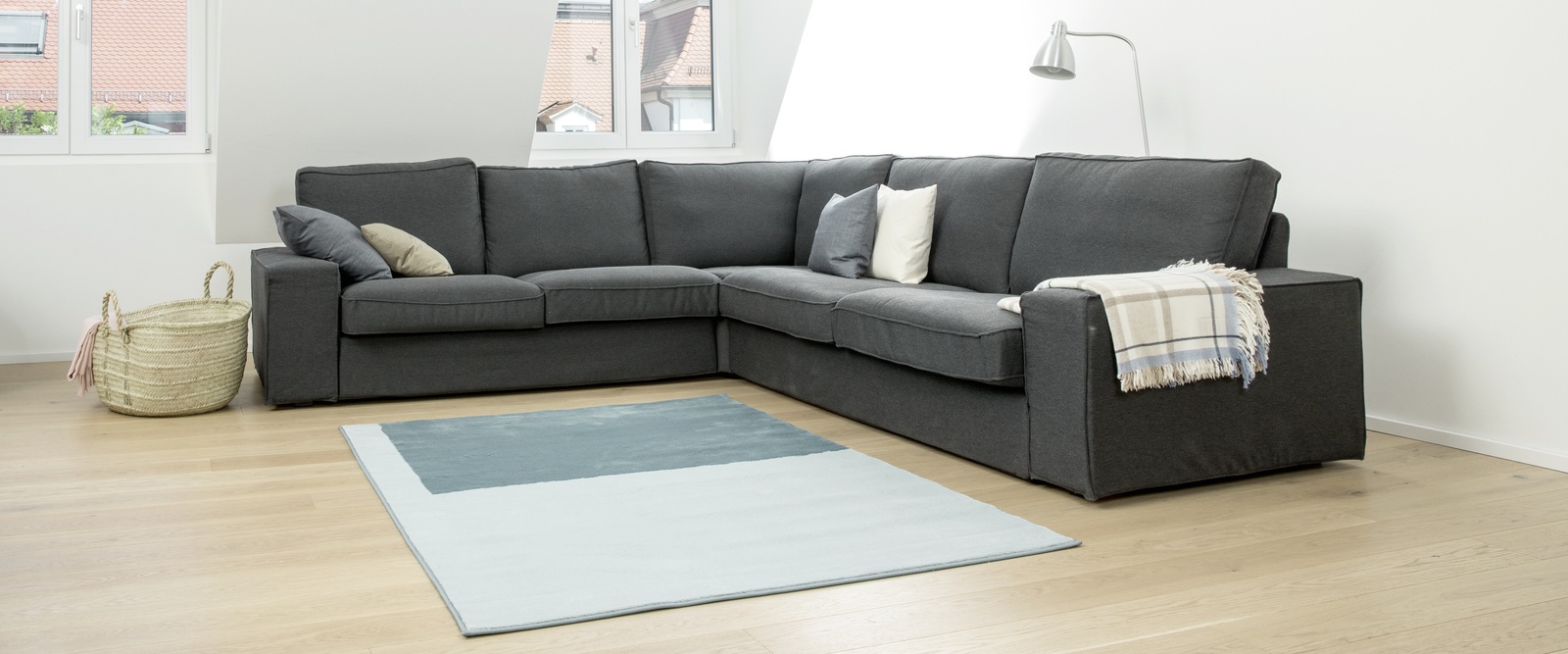 Why should you clean carpets and upholstered furniture regularly?
Sofas and armchairs are what make living rooms so comfortable and cosy – and therefore experience the highest use. The same goes for beautiful rugs and carpets, which add comfort and accentuate your design but are also very susceptible to stains. To make sure you can enjoy these features for years to come, regular carpet and upholstery cleaning is required. There are several reasons for this:
More stubborn dirt is loosened
Unsightly stains disappear
Pet hair and harmful mites are removed
Upholstered furniture and carpets continue to look good, their lifetime is extended
The same goes for mattresses and car seats, by the way, which should also be cleaned regularly.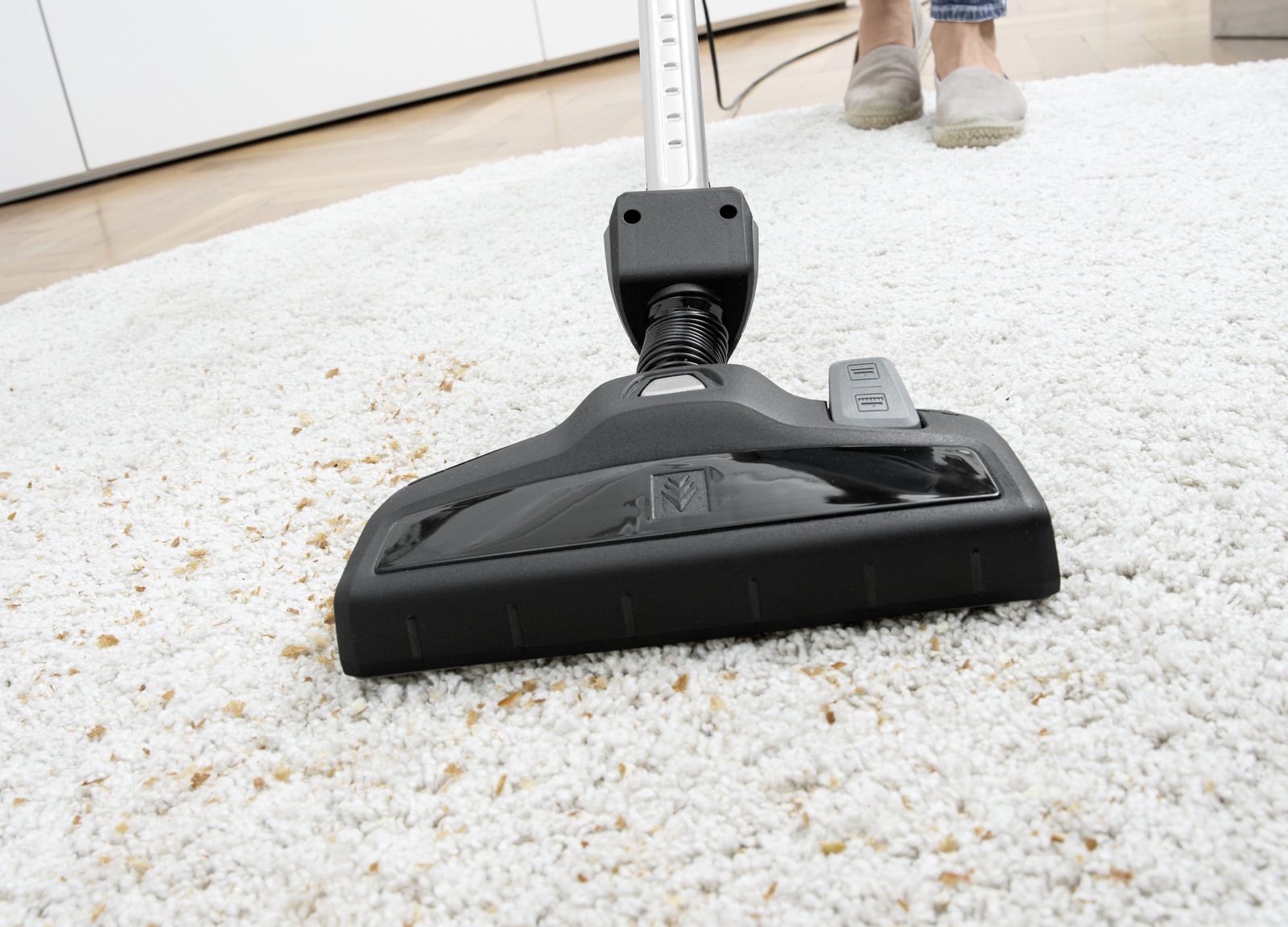 For surface dirt: Vacuuming
Surface dirt on carpets and upholstery, for example loose dirt or crumbs, can be easily removed with a vacuum cleaner. But it's important to choose the right accessories.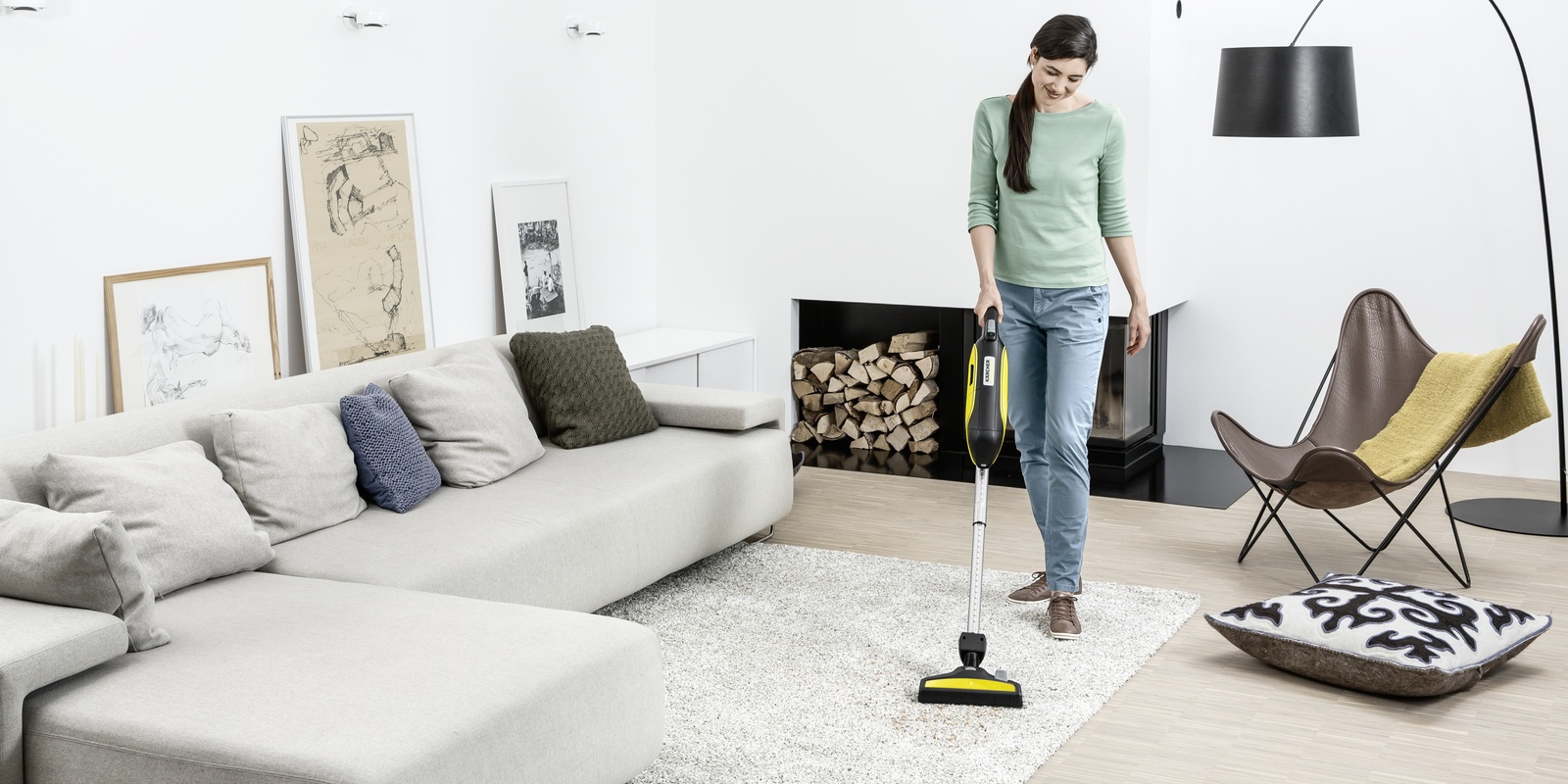 Carpet cleaning
Rugs and carpets should be thoroughly vacuumed at least once a week. Vacuum cleaners generally have a switchable floor nozzle to choose between a setting for hard floors and a setting for carpets and rugs. If you have high-pile carpets or rugs, you should use a turbo suction nozzle for thorough cleaning. A cordless electric broom is recommended for quick cleaning in between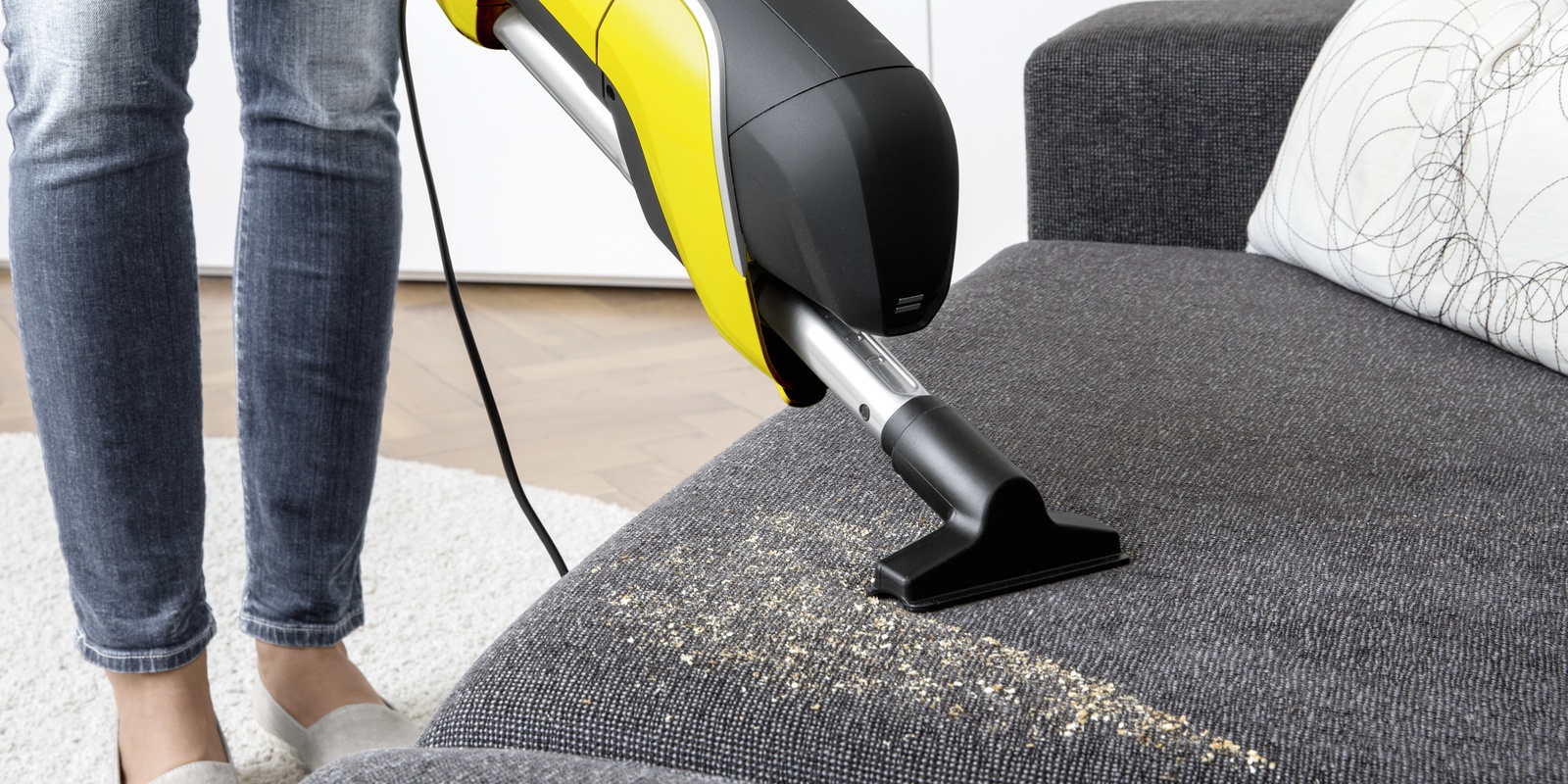 Upholstery cleaning
Vacuum cleaners are also suitable for cleaning the surface of cushions, mattresses or car seats. Use an air-powered turbo upholstery nozzle for particularly thorough cleaning. It reliably removes stubborn dirt, pet hair and even harmful mites, which can accumulate in mattresses but also upholstered furniture.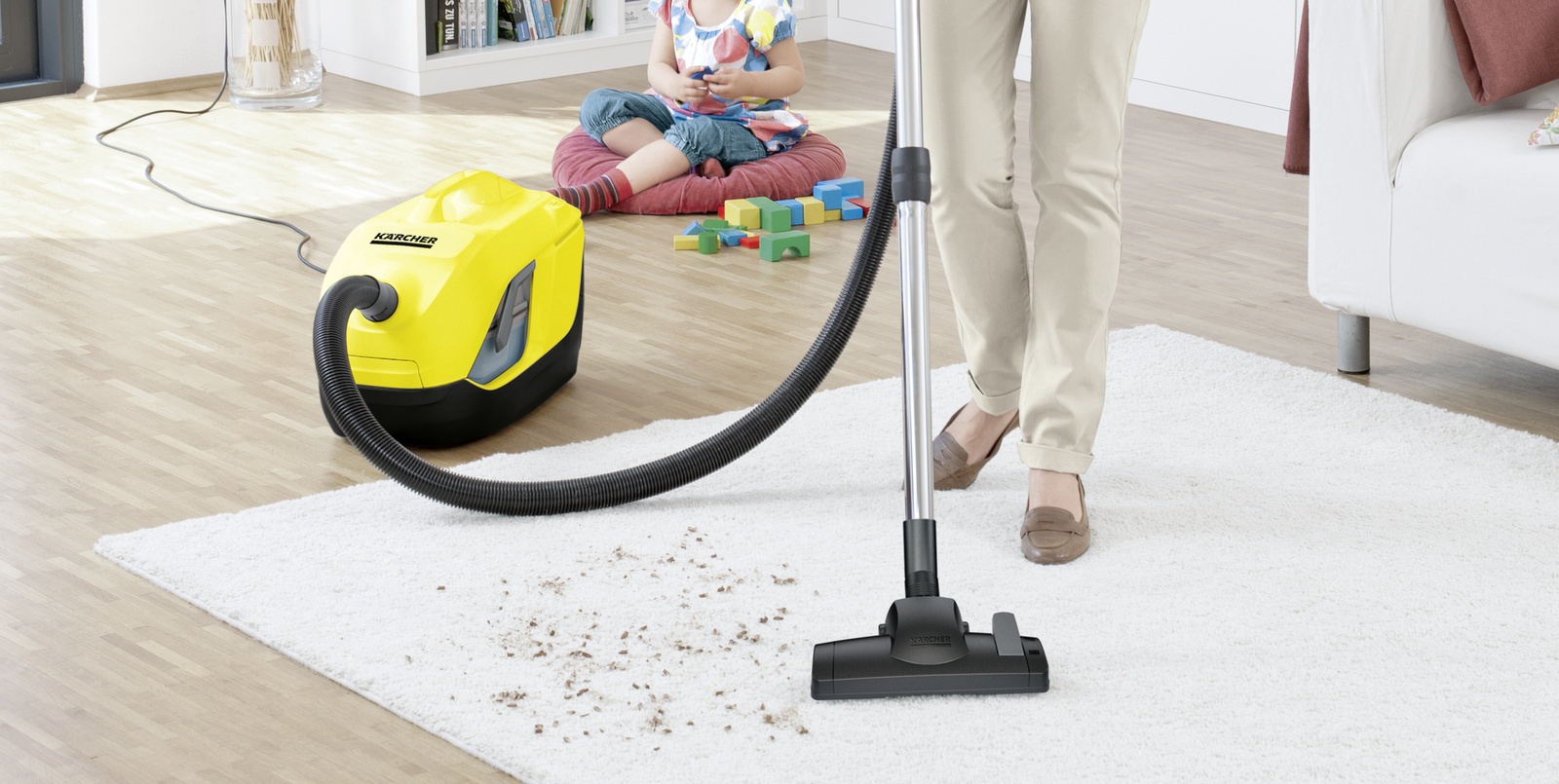 For allergy sufferers: Vacuum cleaners with water filter
The DS 6 vacuum cleaner with water filter not only ensures crumb-free carpets and upholstery, but also clean and fresh air. It cleans without a filter bag, simply using the natural power of water. In doing so, it filters 99.5% of all particles from the air, binds them in water and thereby ensures a more enjoyable indoor climate. A breath of fresh air for allergy sufferers. An added advantage: Vacuuming also reduces unpleasant odours in the house.
Cleaning tips for the device: Simply hold the individual parts of the water filter under running water after vacuuming – this ensures they're quickly ready for use again.
For stubborn stains: Spray extraction cleaning
Carpets, rugs, cushions, car seats and mattresses can be cleaned deep into the fibres with a spray extraction cleaner. The principle behind these devices is very simple: Water and detergent are sprayed on with the spray extraction cleaner and then vacuumed out of the fibres again together with the dirt. This method is particularly thorough and the drying time is much shorter compared to dirt removal without a spray extraction cleaner.
Tip: If possible, remove stains while they are wet.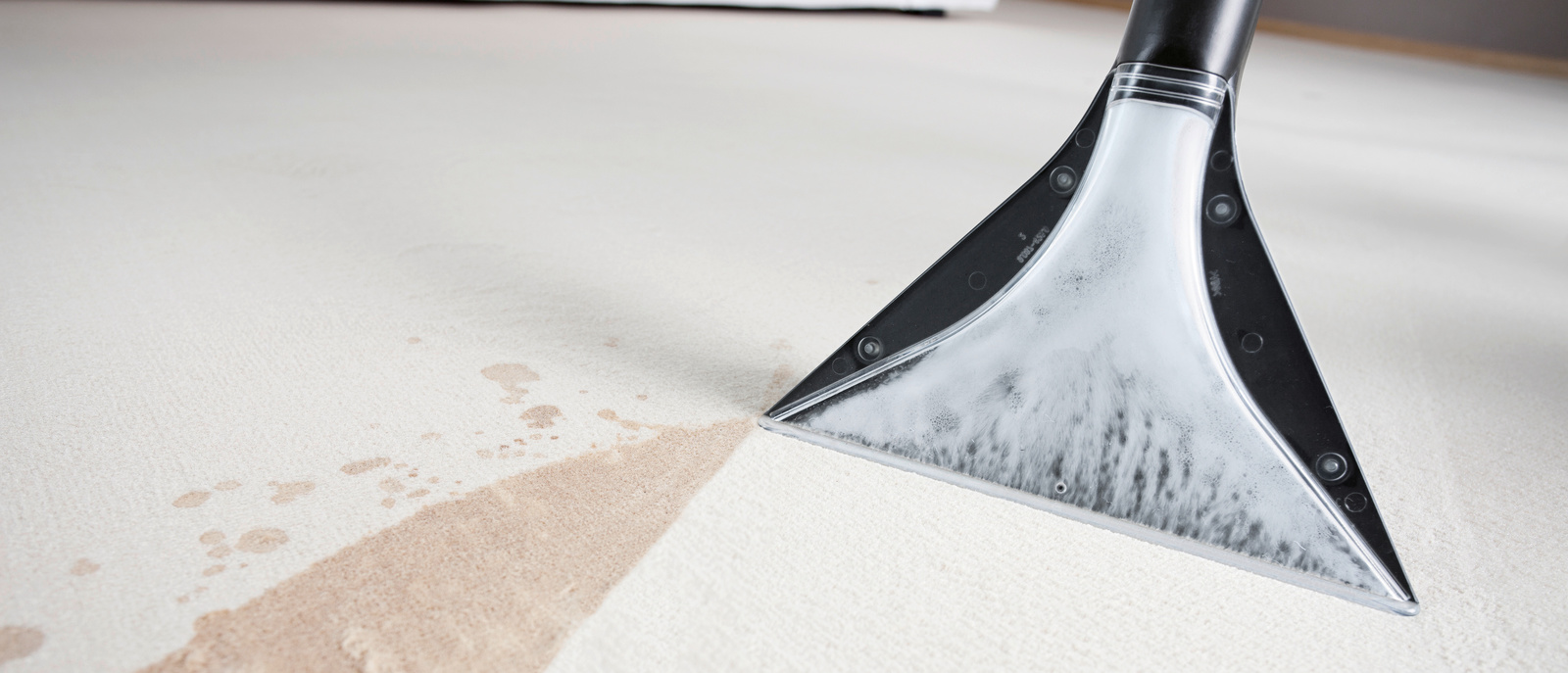 This is how it works:
First remove coarse dirt from the carpet or upholstery with the vacuum cleaner.
Fill water into the tank of the spray extraction cleaner and add carpet detergent in line with the dosing instructions.
Evenly spray on the water and detergent, keeping a distance of 10 cm between the floor nozzle and the carpet or upholstery, and leave the mixture to work for a few minutes.
Place the floor nozzle on the carpet or upholstery and slowly and evenly suction off the moisture.
Always wet connected upholstered surfaces or carpets completely with water and detergent to avoid water marks during drying.
Repeat the process until you can no longer extract any dirt or detergent from the fabric.
If you need to, rinse once or twice with clear water (temperature depends on material).
Allow ample time for carpets and upholstery to dry and make sure you ventilate the room well in the meantime.
Thoroughly vacuum carpets and upholstery again once dry.
Tip:
You can also use a spray extraction cleaner to remove detergent residue from textile floor coverings and upholstery – for example if stains have already been treated manually or there is still some detergent in the fibres from the last time they were cleaned.
Caution: You should always check the water resistance of upholstery and carpets, ideally in an inconspicuous spot, before a spray extraction.