Clearing leaves: Five tips for every season
In autumn, most trees and bushes shed their colourful leaves. When is it necessary to clear leaves on pavements, drives, lawns and in the garden? Particularly as sweeping leaves with rakes and brooms is often very laborious when dealing with larger areas. With these tips, garden owners can clear leaves in various areas quickly and efficiently.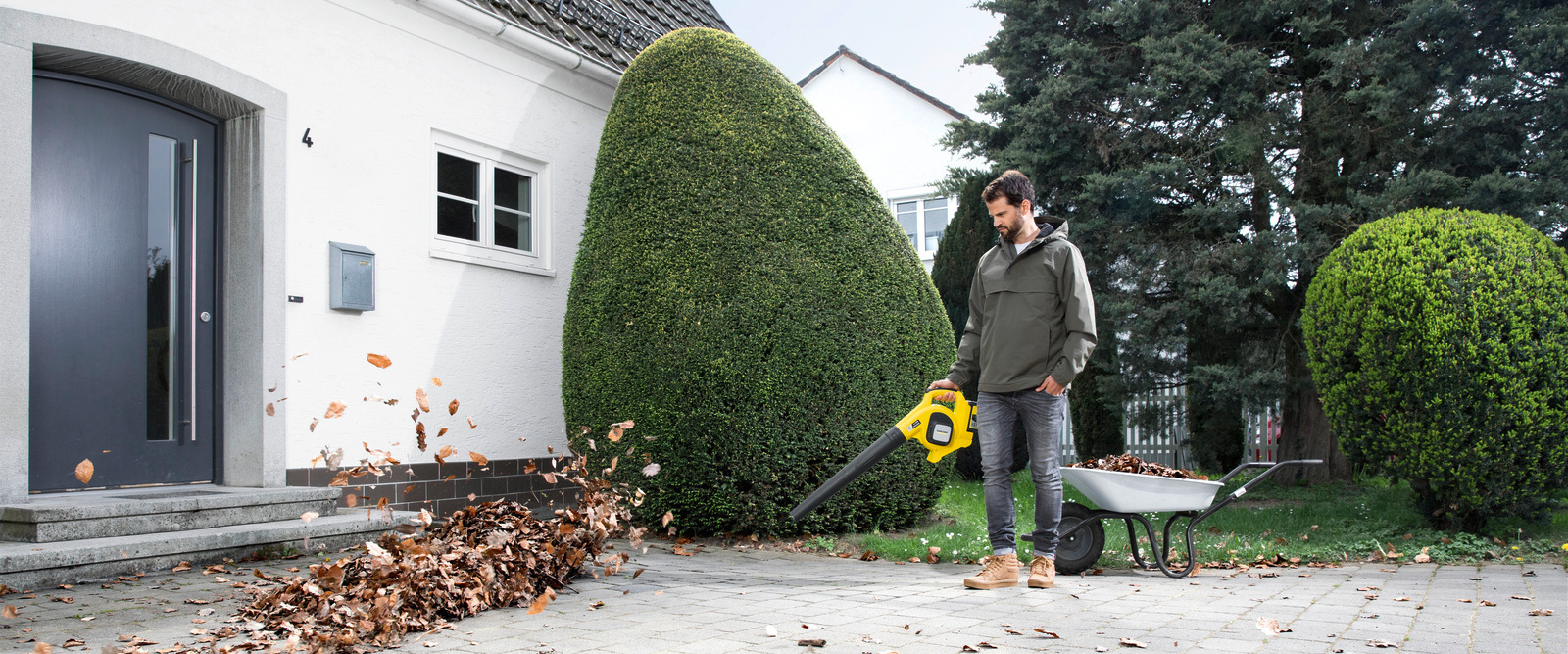 Tip 1: When and where do you have to clear leaves?
Why do you have to clear leaves at all? In certain areas around the house, there is an obligation to remove leaves in many regions, similar to the obligation to clear snow and ice. Owners of plots of ground adjacent to pavements must remove the leaves, and can also pass on this obligation to their tenants. You should clear the leaves often enough to ensure that passers-by cannot slip. It is sensible to clear leaves from drives in autumn for the same reason, so that braking distances are not affected.
In contrast, you don't necessarily have to clear leaves in the garden under trees and hedges. Here you can wait until spring in order to offer protection for smaller animals such as hedgehogs and insects. In addition, the leaves can act as frost protection and natural fertiliser for garden plants. The leaves should, however, not be placed thickly enough on beds that no more air gets to the ground. Anyone who fears that autumn storms will blow away the leaves can additionally cover them with branches, for example with softwoods. In spring, you can then remove the cover and the leaves from March/April.
The exceptions in a garden are lawn areas. Anyone who values a well-maintained lawn should remove the leaves, because otherwise yellow spots will form where the grass is not getting any sunlight. Theoretically you can do this with a lawn mower – depending on the thickness of the leaf layer. But clearing leaves with a lawn mower is not especially animal-friendly. A rake is more suitable, or, if you want to save energy, a leaf blower or blower vac.

Tip 2: Clearing leaves with the leaf blower
Sweeping leaves with a rake or broom takes strength and time. Anyone who wants to remove leaves from pavements, drives and on the lawn faster and more easily should switch to a leaf blower. The strong air flow of the device manages to sweep leaves almost by itself, and also helps to remove leaves in difficult-to-access places and on flowerbeds or bark mulch.
With the Kärcher battery leaf blowers, leaves can be swept in a targeted manner onto a heap. An additional scraper edge also loosens wet leaves or compacted dirt. The LBL 4 leaf blower has two speed levels. Leaves can hereby be carefully removed from gravel, and you can get started on the pavement and lawn with greater power. Thanks to the removable blow tube, Kärcher leaf blowers can be stowed so that they save space.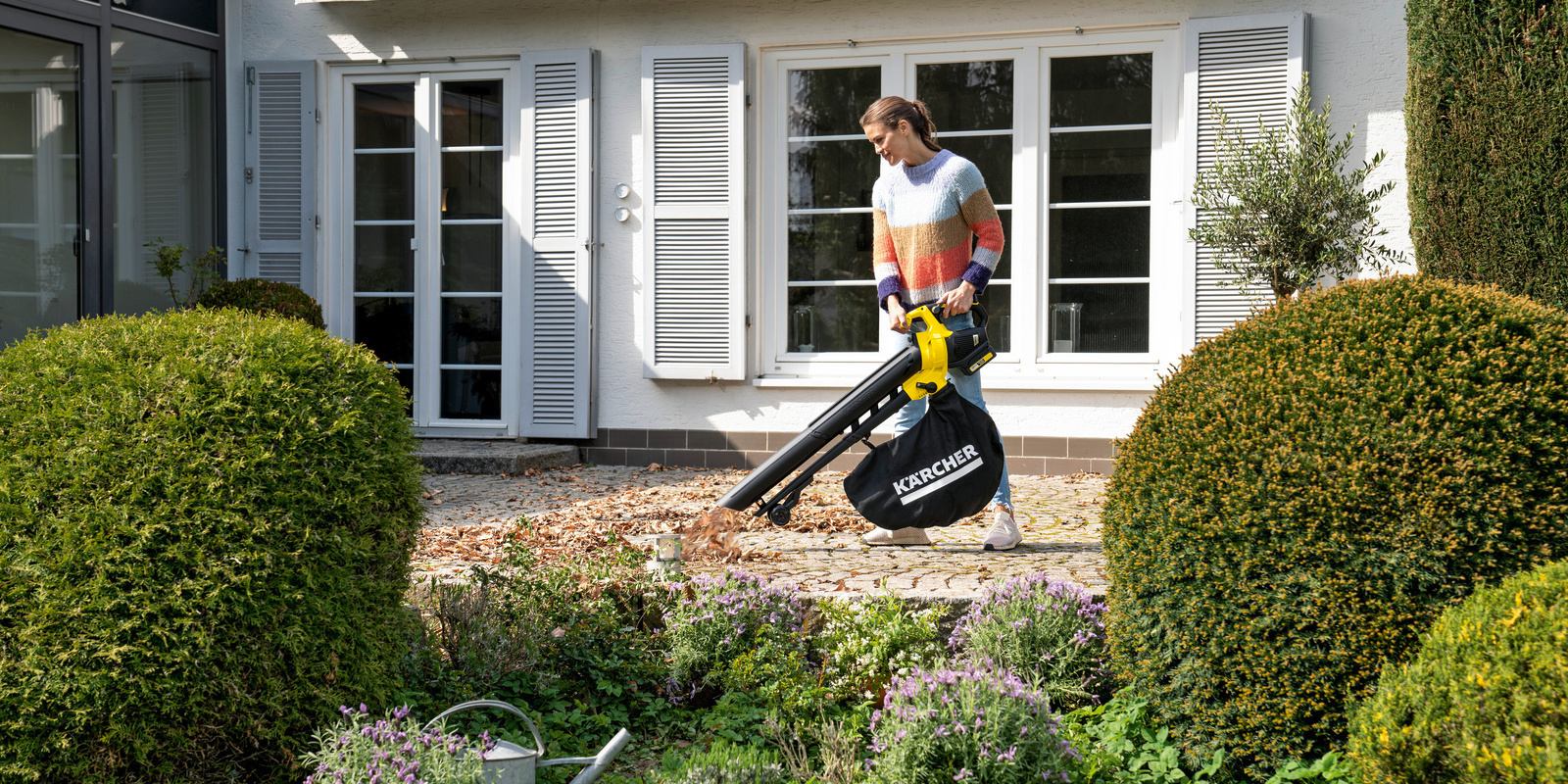 Clever combination: Leaf blowers and blower vacs
Anyone who wants to remove leaves from larger areas and otherwise values an active aid for clearing up the yard and garden is ideally equipped with a Kärcher battery leaf blower and blower vac. With its suction function and high collection sack volume, it also helps to collect leaves. If needed, removable accessory parts ensure a reduced device weight, for example with the BLV 36-240 Battery leaf blower and blower vac. The speed in blowing and suction mode can be continuously regulated, for example in order to carefully remove leaves from gravel or from a rock garden. Removable guide rollers are helpful in larger areas, and you can chop the leaves with a chopping wheel if required.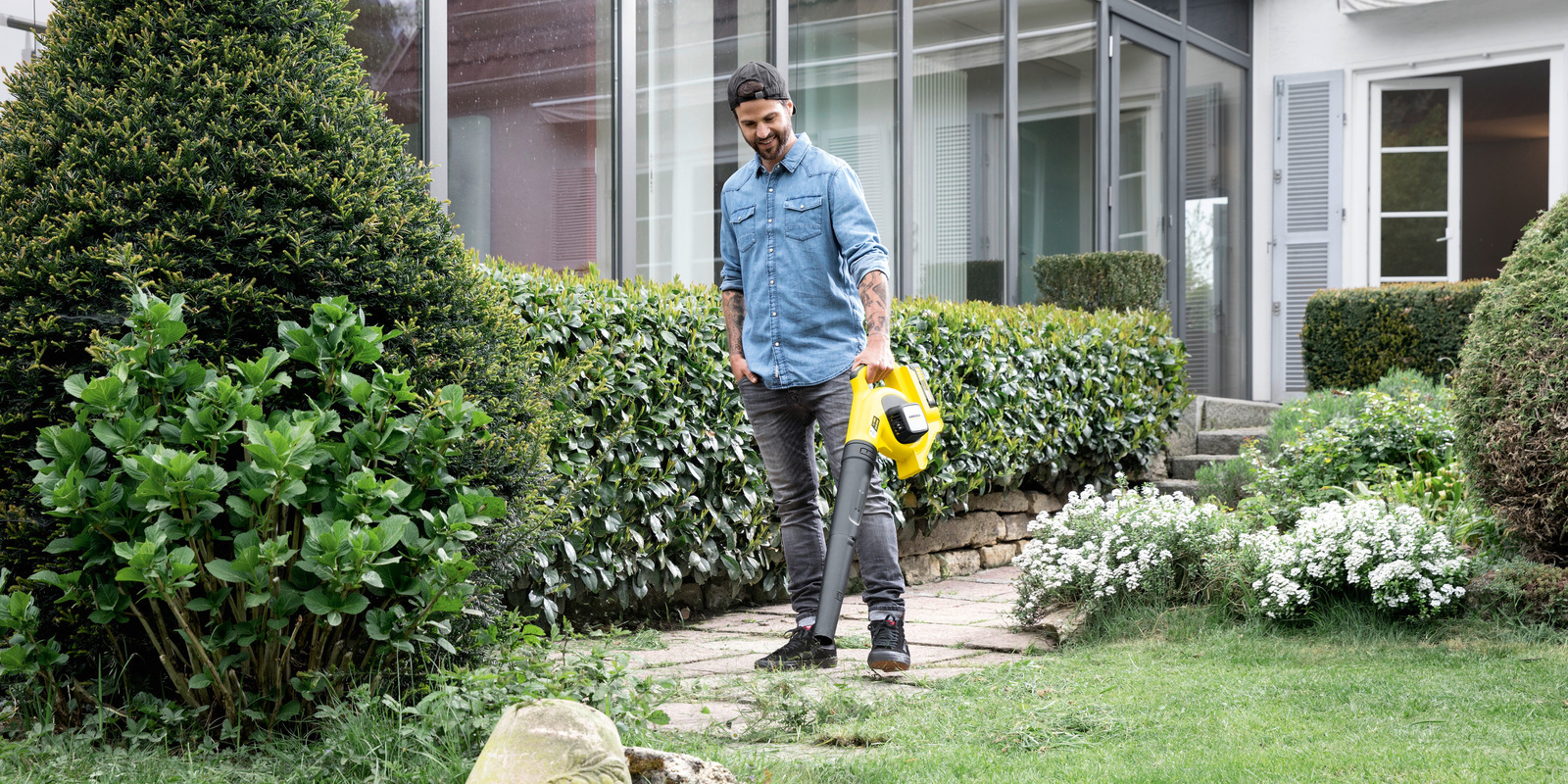 More than sweeping leaves: Multi-talented leaf blower and blower vac
If leaf removal is achieved in autumn, leaf blowers and blower vacs are far from calling it a day. They can be used the whole year round on top of the house, in the yard and in the garden. A few examples:
Blowing together and sucking up bush and hedge cuttings
When weeding, collecting the removed weeds
Picking up the cuttings left behind from mowing the lawn
Blowing together and sucking up dirt on patios and in garages
Removing wilted leaves and blossoms from beds
Important information
So as not to annoy the neighbours, you should find out about any regional noise protection regulations before using leaf blowers.

Sucking in coarse twigs, soil from flowerbeds or wet leaves can block or even damage the device.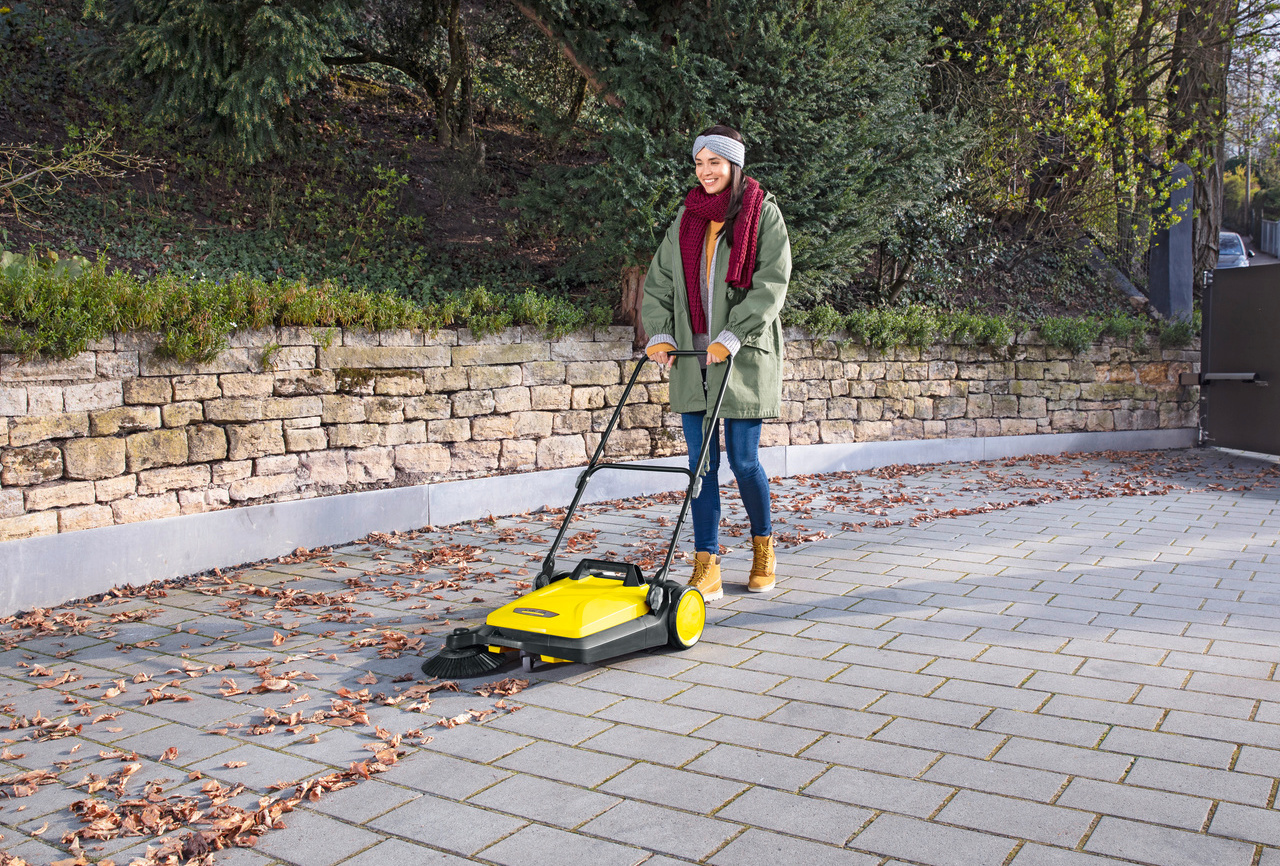 Tip 3: Sweeping leaves in larger areas with the sweeper 
Sweeping leaves with brushes and rakes means that they also have to be collected later. But in the meantime, the autumn wind gets into the heaps of leaves and scatters the leaves again. Ideally, therefore, you should do both in one operation, i.e. sweep and collect leaves with one device, a sweeper. 
Sweepers are especially suitable for paved areas such as pavements, drives or streets, and remove leaves and dirt without bending over thanks to the height-adjustable push handle and simply by moving the device. The waste container offers lots of space and can be emptied in just a few steps. Depending on the model, one or two side brushes can be installed with no tools required. This allows edges, crevices and corners to be cleaned too. With the S 4 Twin 2-in-1 manual sweeper, even wet leaves are no problem. The side brushes are fitted with harder bristles and so sweep without difficulty even in damp areas.
Sweepers are used the whole year round – sweeping leaves, removing grit from the winter, sweeping pollen and blossoms together. And after the work's been done? Simply push the foldable push handle forwards and stow the sweeper upright in a shed, garage or basement so as to save space.
Tip 4: Removing leaves from guttering and pipes
Anyone who has trees near their house knows that leaves, small branches and dirt collect in gutters and downpipes, especially in the autumn. Here too, you should regularly remove dirt and leaves, so that rain water drains in the desired manner and so that water damage can be avoided. If dirt has settled in the first place, removing it is a time-consuming and laborious matter. In many cases, the work is done on a ladder that frequently has to be moved in order to reach across the full length of the gutter. Roof gutters and downpipes can be effortlessly cleaned with Kärcher's Roof Gutter and Pipe Cleaning Kit, suitable for Kärcher high-pressure cleaners. 
The roof gutter cleaning nozzle of the set is moved on a carriage through the roof gutter almost by itself, thanks to high pressure from the cleaning device. Two high-pressure nozzles are attached to the underside of the cleaning carriage so that the water streams backwards. The recoil effect drives the carriage forwards, lifts off the dirt and rinses it backwards. With a hose length of 20 metres, you can get far without having to stand on the ladder in the direct vicinity. After brief retrofitting, downpipes and waste water pipes can also be relieved of blockages with this accessory. The high-pressure hose without the carriage is used here. A special pipe cleaning nozzle is used instead, which uses the recoil of the water stream directed backwards to penetrate into the blockage from leaves and other dirt, and rinses the downpipe clear again. Tip: The hose of the pipe cleaning kit has a red safety marking. The hose should always be guided into the pipe at least up to this marking and the cleaning process stopped as soon as the marking can be seen again when pulling the hose out. This way, you are protected from water spraying backwards, as well as from potential dangers due to a high-pressure hose spinning around.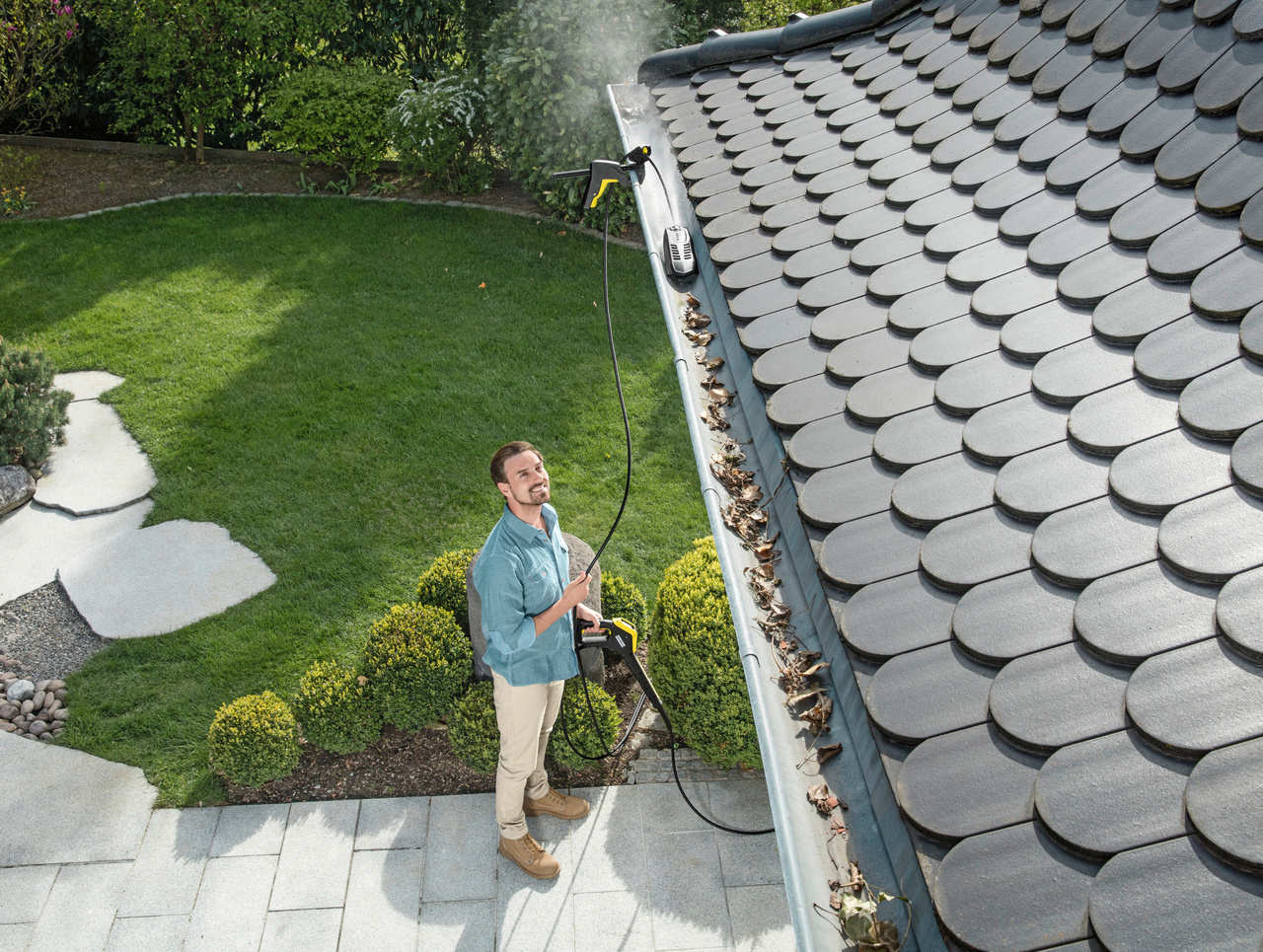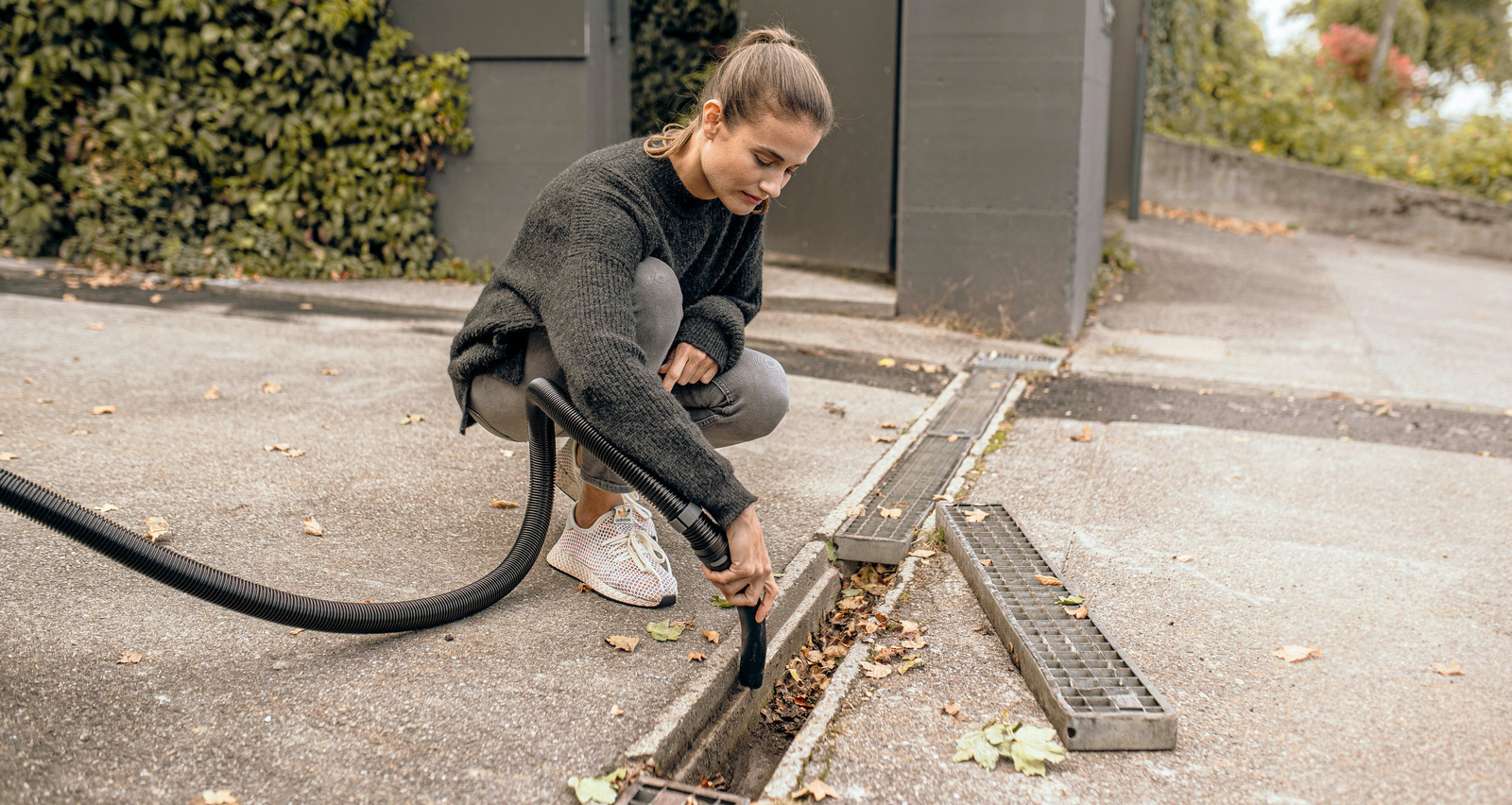 Tip: Cleaning light shafts and drainage channels
Over time, leaves and loose dirt also settle in light shafts and drainage channels around the house, and should likewise be removed at regular intervals. Both wet and dry dirt can be quickly and effortlessly sucked in with a wet and dry vacuum cleaner. Many devices also have a blower function, which turns out to be especially practical, particularly in places that are difficult to access.
Tip 5: Where should the leaves go? Exemplary disposal
Thanks to leaf blowers, blower vacs and sweepers, it is easy to sweep and pick up leaves. But where should they go if you don't have your own compost heap? You can dispose of smaller quantities of leaves and green waste in your organic waste bin, but they fill up quickly in autumn on plots of ground with many trees. In some regions, municipalities offer special sacks or baskets that are placed on the roadside when full and then disposed of. Otherwise, you need to make the journey to the garden cuttings collection point of the nearest recycling centre.
Sweeping leaves for the autumn bonfire? Burning leaves and garden cuttings is prohibited in many municipalities or greatly restricted in terms of the time of year. Justifiably, as even withered leaves still contain enough water that smoke and unwelcome odours can develop when they are burned. Fine dust can likewise be released. So remove leaves in the household waste? Just not in rubbish bins and recycling bins – these may not be emptied if they are filled incorrectly. So – leaf bag, recycling centre or compost. Anyone who has enough space in their garden can also create a pile of leaves as a winter home for hedgehogs, etc.

Suitable products for leaves
This might also interest you: