Hot water high-pressure cleaner for cleaning and disinfecting large surfaces
The intensive and meticulous cleaning with high pressure cleaners offers the possibility to achieve a high standard of hygiene. They can be used to reach places that are difficult to access manually, such as crevices and cracks. They are especially helpful when cleaning and disinfecting large surfaces such as ceilings, walls and floors and can effectively combat germs, bacteria and viruses.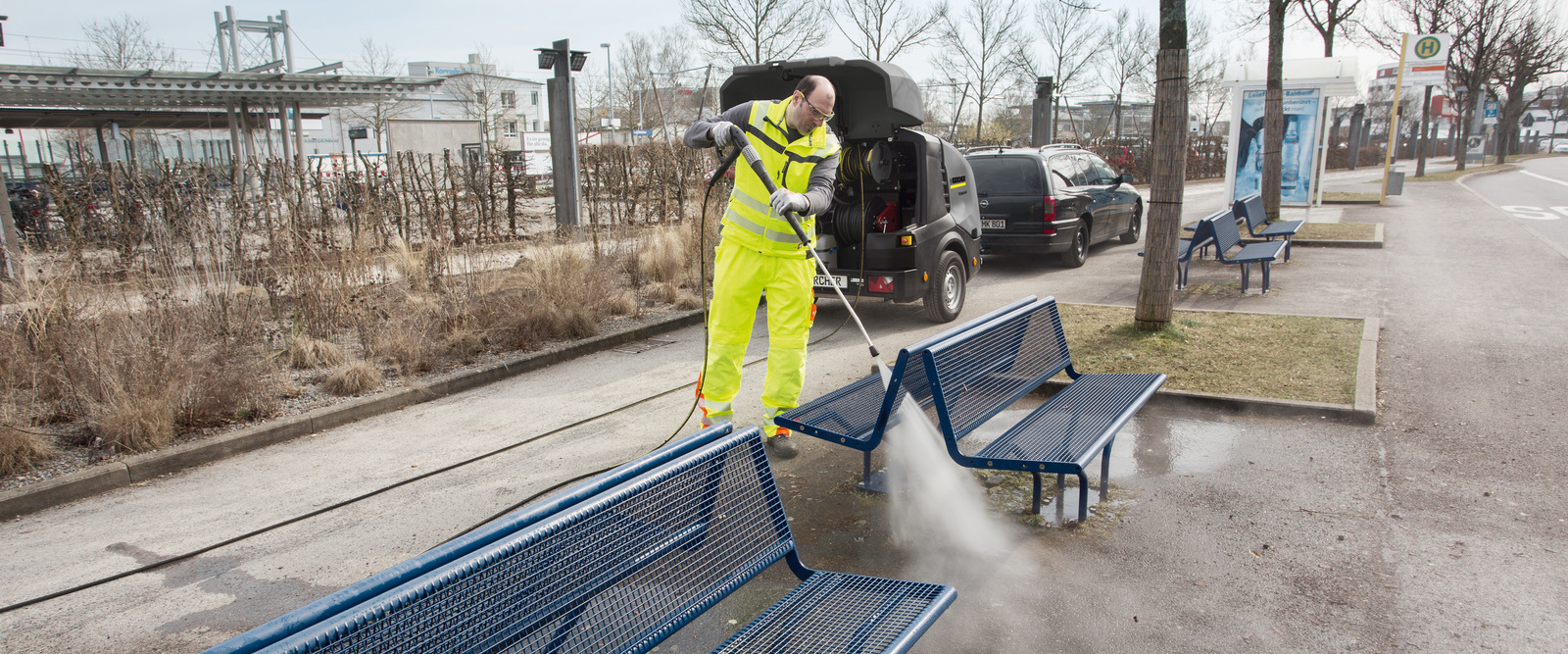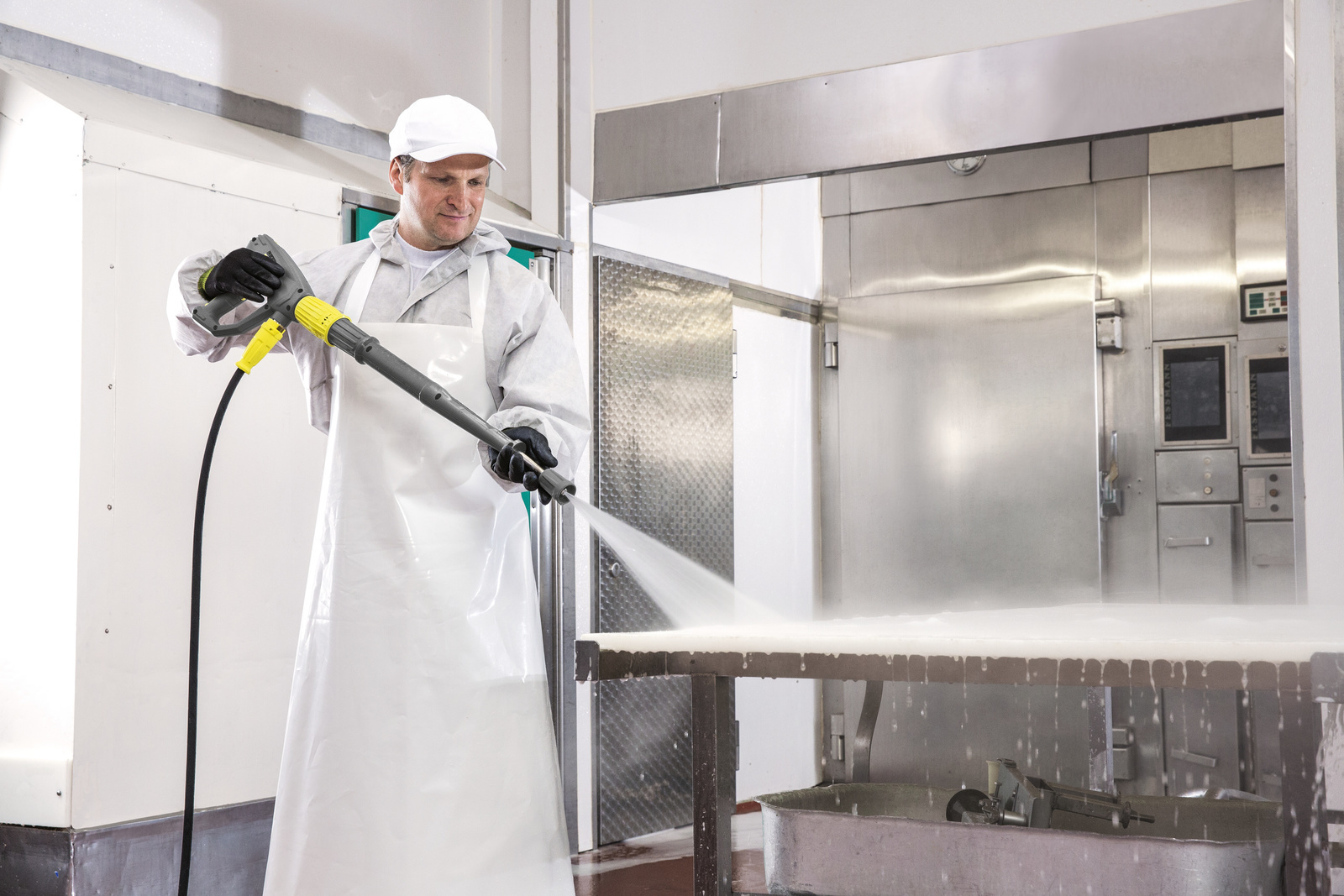 Hot water high-pressure cleaner
The use of hot water high-pressure cleaners speeds up cleaning by up to 40 percent compared to cold-water units, especially due to the faster drying process of the clean surfaces. In addition to better results and a faster cleaning and drying time, a measurable reduction of germs can be achieved when using hot water high-pressure cleaners and a water temperature of at least 85°C. Not only dirt, but also bacteria and viruses can be effectively fought. With the help of the steam stage it is even possible to clean at temperatures of up to 155°C.
Depending on the area of application, high-pressure cleaners are required in which the water pressure and quantity can be regulated at the high-pressure gun. This makes it possible to work with the appropriate combination in each case without the dirt splashing back and coming towards the user.
Heat is a key factor for more hygiene
The use of detergents and disinfectants plays an important role in cleaning processes. What many do not know: Hot water and steam also make a significant contribution and can therefore also help to combat germs, bacteria and viruses.
A study by the Thuringian State Office for Agriculture* showed that water temperature has a major impact on reducing germs and bacterial colonies. At 60˚C water temperature the number of bacterial colonies is already reduced by up to 90%. Under steam stage (155˚C) even an almost complete reduction could be achieved under the test conditions.
In order to support the contribution of hot water, the addition of disinfectant by the high-pressure cleaner is recommended.
* [Agrarmanager March 2015]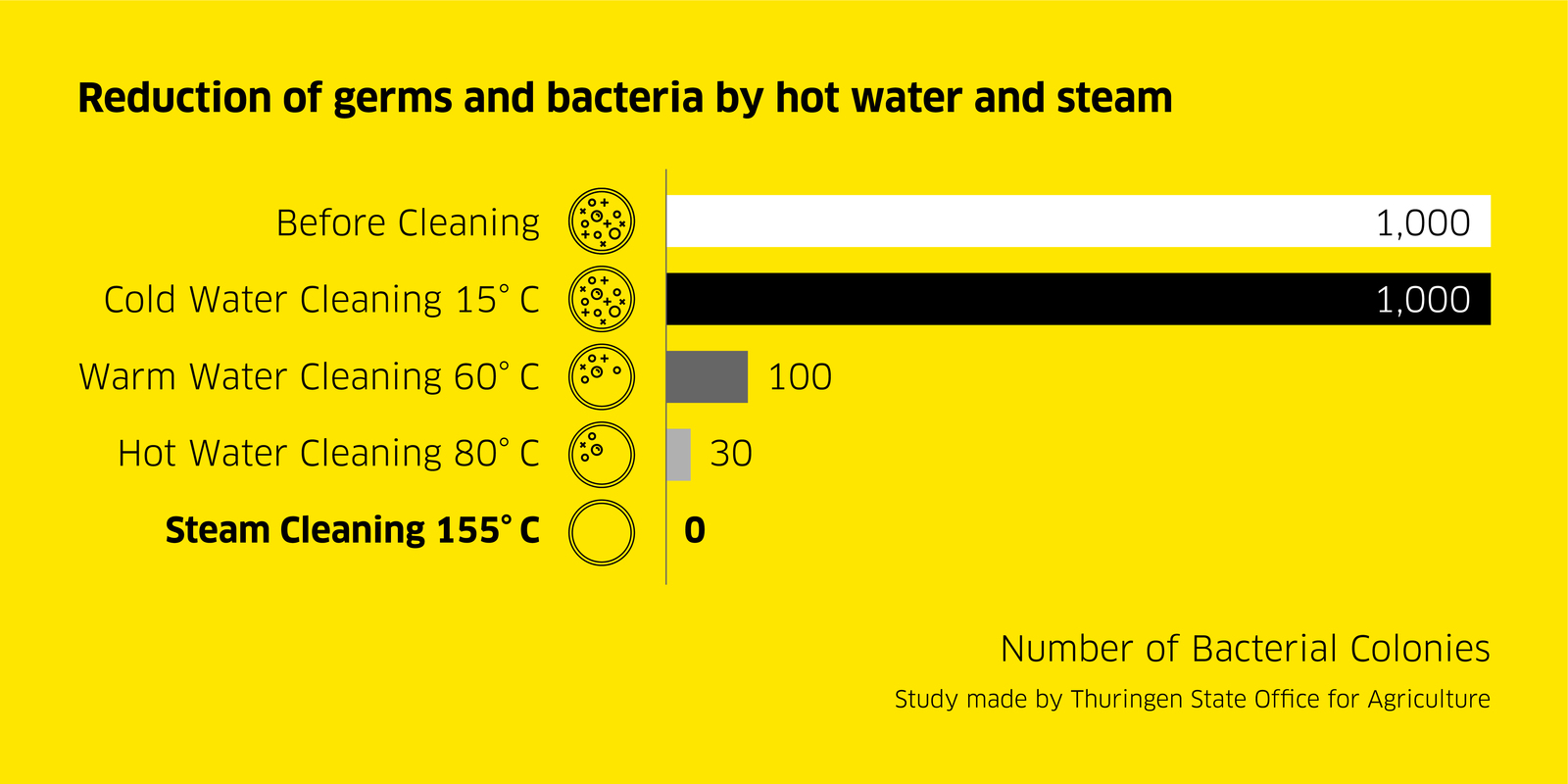 Using cleaning agents to interrupt infection chains
When cleaning with high-pressure cleaners, suitable cleaning agents should also be applied with the cup foam lance to interrupt infection chains and remove all dirt residues. An advantage of cleaning foam: It is so stable that it adheres to surfaces and increases the time and cleaning effect. The subsequent rinsing with water helps to remove the dirt in a controlled manner and to prevent renewed contamination. Biodegradable cleaning agents can also support the process. A change of acidic and alkaline foam cleaning products is also necessary to reliably remove the basis of life from microorganisms.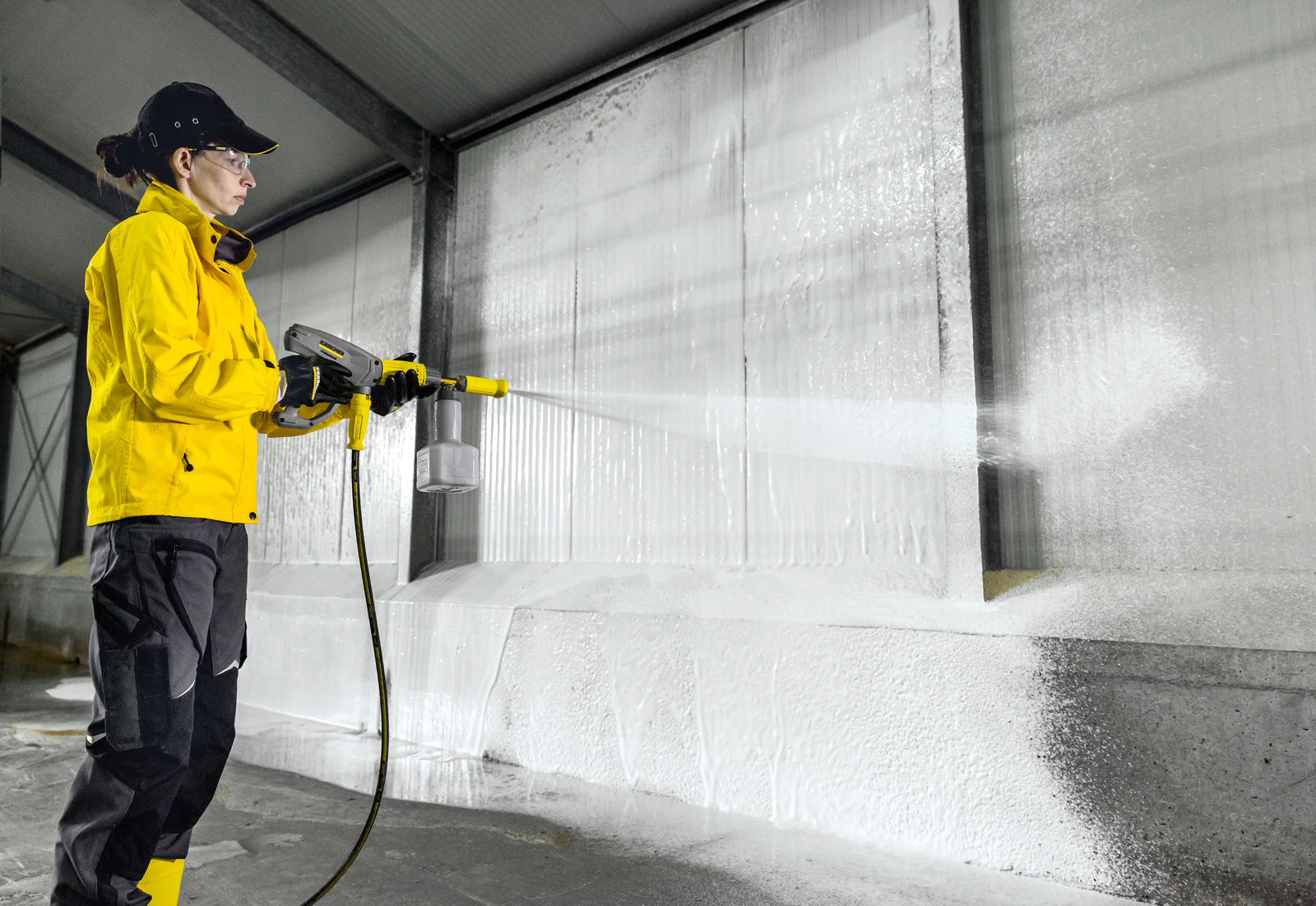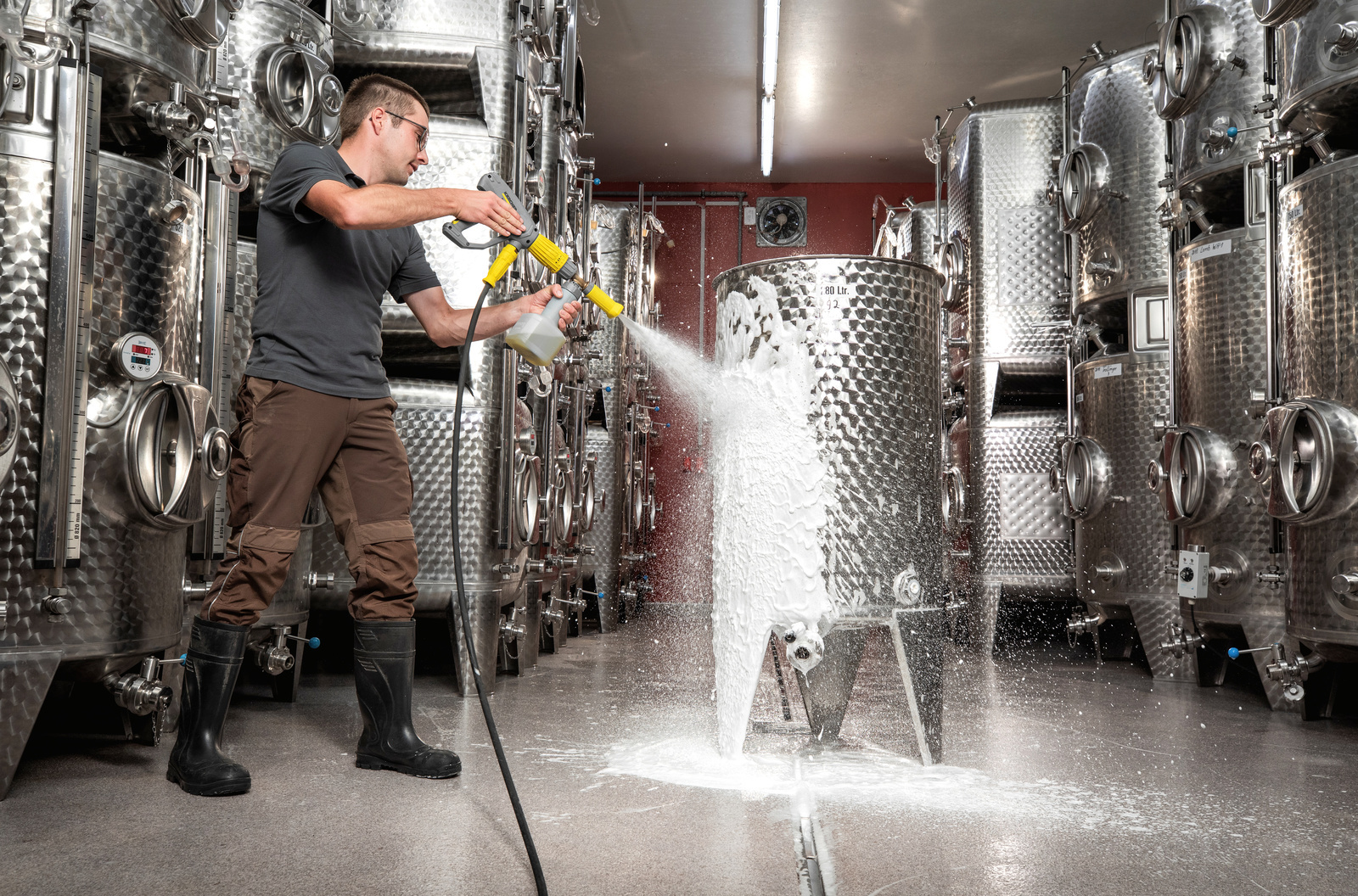 After cleaning with high pressure
After meticulous cleaning with high-pressure cleaners, a subsequent disinfection rounds off the cleaning process (see instructions for disinfection with high-pressure cleaners): Soak, clean, allow to dry and finally disinfect surfaces.
To remove dirt and residual water, a wet and dry vacuum cleaner can effectively support the work of the high-pressure cleaner.