Men after work
The EASY!Force high-pressure gun uses the recoil force of the high-pressure jet to reduce the holding force for the operator to zero. Thanks to this new-found convenience, no one wants to put their high-pressure gun down, even after work.
After the work is done:
What do men do when they do not want to put down their appliances, even after work? They devise new applications and make it into a sporting contest. From playing basketball without touching the ball to skateboarding without pushing – the water pressure creates many possibilities.

Join our colleagues as they discover the sporting possibilities offered by the high-pressure cleaner. And discover how the EASY!Force high-pressure gun uses the recoil force of the high-pressure jet for a new dimension in ergonomic high-pressure cleaning.
coming soon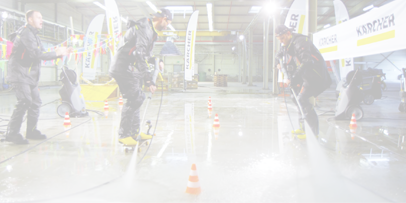 coming soon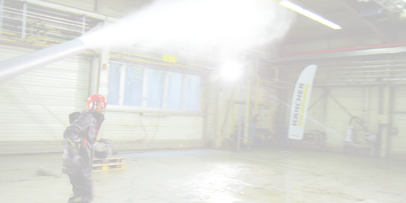 coming soon
coming soon
EASY!Force

: It has never been so easy to control pressure.

Experience the new dimension of ergonomics in high-pressure cleaning: with the new EASY!Force HD trigger gun, you need zero holding force and can clean effortlessly with less stress.
A question of ergonomics.
Working with high-pressure cleaners is physically demanding. That is why ergonomics are important. Constantly holding the trigger of conventional HD trigger guns soon leads to tiredness, painful hands and a cramped working posture. Extensive cleaning is difficult without taking frequent breaks or even changing operators. Our EASY!Force technology changes this once and for all. No more holding force. It has never been so easy to clean with high pressure.
Full ceramic valve for a longer lifetime.
When high-pressure guns fail, this is largely due to faulty valves damaged by particles. Our EASY!Force also puts an end to this: the valve consists of a ceramic ball with ceramic sealing seat that is resistant to any particles liable to cause potential damage. And this gives it a lifetime 5 times longer than trigger guns with conventional valve.
Intuitive for safe working.
The trigger safety of the new EASY!Force trigger gun prevents unintentional operation and offers maximum safety during use – without compromising on ease of use. You only need to press the trigger once to release the high-pressure jet – intuitive and simple. The EASY!Force trigger gun remains open as long as the trigger is pressed. When you release the trigger, the trigger gun immediately switches off.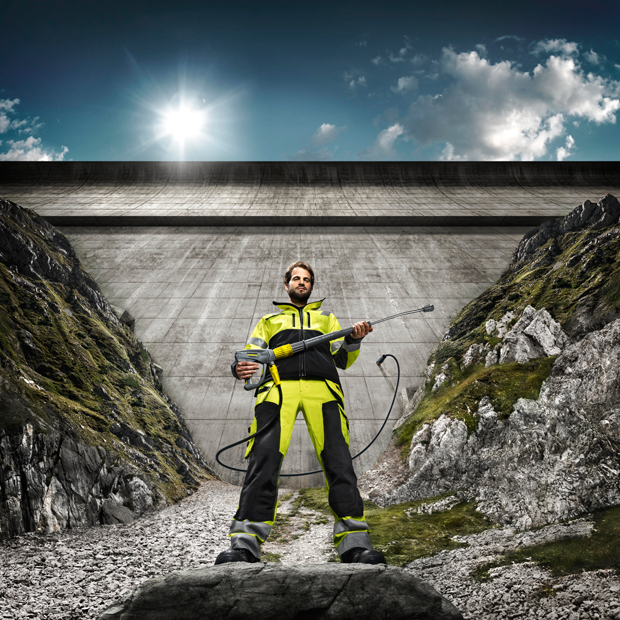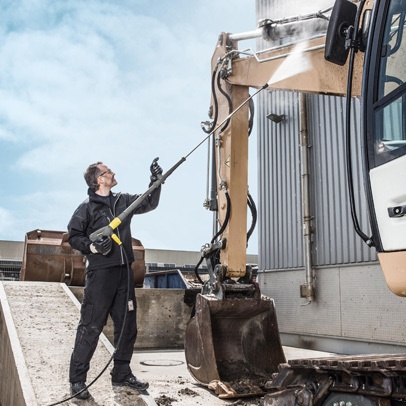 Comfortable in any situation
We take care of the ergonomics so that you are comfortable in any situation. Our EASY!Force HD trigger gun offers optimal ergonomics for ease of use in any working position. In certain situations, in particular when working overhead or at different working angles, an extra handle can be used.
Getting a handle on your tasks.
An optional handle for the spray lance of our new EASY!Lock generation makes work easier by allowing you to adjust your posture to suit the particular task. Regularly changing your posture allows you to work longer and in a more relaxed way.
The extra handle can be fixed on the spray lance. The handle can be adjusted to suit the height of the operator and ideal working angle. This is quick and convenient with a simple adjusting screw. The ergonomic design of the handle offers 2 additional gripping zones, whether you are right or left-handed. Thanks to the 360° rotatable spray lance, the extra handle can simply be turned whilst working for greater flexibility.
EASY!Lock

: Quick and easy connection

With our patented EASY!Lock quick locks, connection is quick and easy. Unbelievably 5 times faster compared with conventional screw connections. Our EASY!Lock quick lock is just as durable and robust. At least.
Ready quicker – finished quicker.
Until now, setting up a high-pressure cleaner was very time-consuming. It involved connecting or disconnecting different interfaces. And the same was true when changing accessories. But that's a thing of the past. Our EASY!Lock system combines the advantages of a quick coupling with those of a screw connection. And this is a time saving of about 80 %. Time needed for the actual work. Or for other important things.
Unique, quick, safe and robust.
Nothing is safer, more reliable and long-lasting than a screw connection. Nothing is as time-saving as a quick lock. But one thing is as good as the two combined: our EASY!Lock is as strong as a conventional screw connection and as flexible as a quick lock. The thread is locked via a cone. A simple 360° turn is all it takes to connect all accessories from high-pressure cleaners to nozzles – via a multiple thread with insertion aid. Quick and safe. Time and time again.
Progress is this easy.
With our innovative EASY!Lock system, weight is not an issue – it weighs no more than conventional screw connections. A small improvement with a big effect – the nozzle seal on the spray lance. This now sits radially directly in front of the retaining thread, which makes the seal far more durable and captive.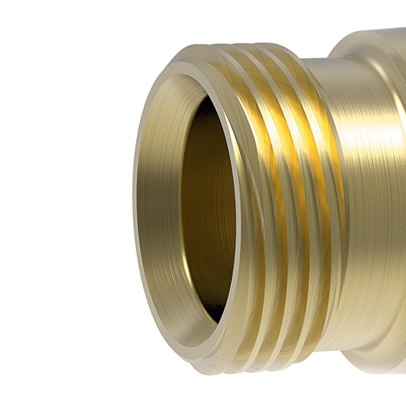 What perfect connections look like
In order to cover the various interfaces, from the highpressure cleaner to the nozzle, as well as forward and backward compatibility, a total of 8 different adaptors are available. This ensures that all existing machines and accessories can continue to be used together with the new machines and accessories with EASY!Lock connections. In our adaptor finder there are all adaptors listed with their respective application. For example, any high-pressure cleaner with M 22 × 1.5 connection can quickly be converted to the new EASY!Lock system with adaptor 2.