Cleaning wash halls
Whoever sells cleanliness should lead by example. This also applies to owners and operators of vehicle wash systems. Regular cleaning and maintenance of the wash hall, vehicle wash system and wash brushes preserves the value, improves the appearance and cleaning results and can be a decisive factor for car dealerships, workshops and service stations when it comes to customer loyalty. With the right washers and implements, nothing else can stand in the way of cleanliness.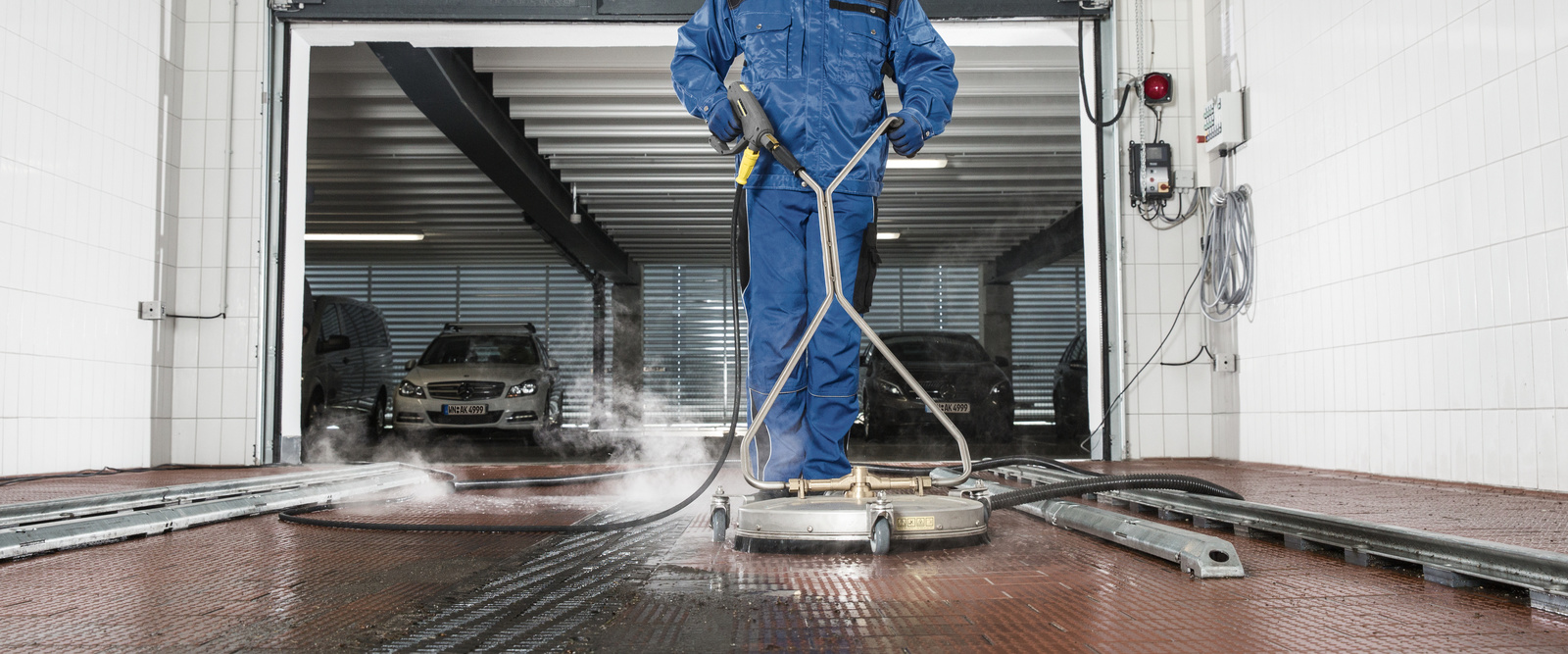 Customer loyalty thanks to a well-kept appearance
Vehicle wash systems or wash bays in workshops become unsightly over time if they are not cleaned regularly. The dirt that gets into vehicles is responsible in this case. If a system is operated for contract washes and thus accessible to customers, it plays an essential role in the public perception of the company. Whether customers return to a car wash depends largely on its condition. 

Even if a neglected wash hall does not initially have any direct effects on the result of the vehicle wash, it can be assumed that the appearance impacts the confidence in the performance of the system – and thus ultimately the sales. Regular cleaning of the wash hall is therefore imperative. This is because it contributes not only to a better visual impression, but also prevents an increase in maintenance costs.

Tip:
The cleaning intervals of the wash hall are based on the washing volumes. Seasonal peaks also have an impact on how often the hall should be cleaned. However, cleaning is generally recommended every four to eight weeks.
The positive effect of hot water and high pressure when cleaning wash halls
Dirt on floors, walls, gates, panels and windows: Professional machines can effectively assist efforts towards a well-kept cleaning hall. High-pressure cleaners play an important role in the maintenance of gantry car washes and wash halls. Compared with methods without pressure, they are characterised by lower water consumption and higher cleaning power. Heated high-pressure cleaners which generate hot water and tackle stubborn dirt even faster and more effectively offer even more benefits. Hot water high-pressure cleaners are particularly advantageous when it comes to removing oils, greases or soot particles. 

Advantages of hot water high-pressure cleaners
Cleaning with hot water: High-pressure cleaners clean even better at a constant pressure. Alongside improved results and faster cleaning and drying times, the use of hot water high-pressure cleaners also have a measurable germ-reducing effect. When the steam stage is used, even delicate surfaces can be gently cleaned with temperatures of up to 155 °C. Furthermore, the machines allow for a reduction in the working pressure, the time required and the volume of cleaning agent that is used. This means that cleaning with hot water offers a number of advantages and various possibilities for optimising the cleaning process.
Cleaning floors and walls in wash halls using a surface cleaner

A surface cleaner is recommended for cleaning floors and walls. It is connected to the spray lance of the high-pressure cleaner. It comprises a stainless steel or plastic casing which can be easily moved by castors. Surface cleaners are equipped with, e.g., a ceramic-mounted, rotating spray arm, where two flat jet nozzles are located.
Walls
For work on walls, the high-pressure gun can also be connected to accessories, such as a surface cleaner, without a spray lance. Cleaning walls and floors can be done up to 10 times faster and more uniformly this way than with a freely guided spray lance.
Floor
In order to drain the dirty water in a controlled manner, there are surface cleaners that work according to the Venturi principle. A jet nozzle that generates a vacuum in the rear part of the cover is used. The dirty water is absorbed again immediately via an extraction nozzle. Using a long hose the user can guide it into a drain, container or a tank. The cleaned areas are accessible again quickly. The dirty water no longer has to be rinsed away, which not only saves time, but also reduces water and energy consumption.
Wash hall cleaners: Effective when used correctly
In tiled wash halls an acidic cleaning agent is suitable for cleaning and maintenance, which removes grease, wax residue, rust traces and calcification quickly and effectively. In order to combat this dirt, manufacturers offer special wash hall and tile cleaners, which are suitable both for deep and maintenance cleaning. Crevices and joints containing cement must be soaked with water beforehand when using acidic cleaning agents. In wash halls with concrete floors or walls, alkaline cleaners should be used as they are less aggressive on the material. The following motto applies here: Better to clean regularly than use acidic cleaning agents.

When using high-pressure cleaners, the temperature and dosing for the application are adjusted to the dirty areas and then the floor and walls are moistened. After a short contact time, depending on the degree of contamination, the surfaces are rinsed with clean water at high pressure. Care should be taken to ensure that the cleaning concentrate does not dry as otherwise smudges can form. Therefore, it is recommended to clean the wash hall step by step.

When selecting the cleaning agent, owners/operators should ensure that it is suitable for all surfaces and materials that are installed in a vehicle wash system. With regard to the environment it is necessary to use cleaning agents for wash halls that are biodegradable, NTA-free and easily separable, i.e. oil and water can be quickly separated in the oil separator.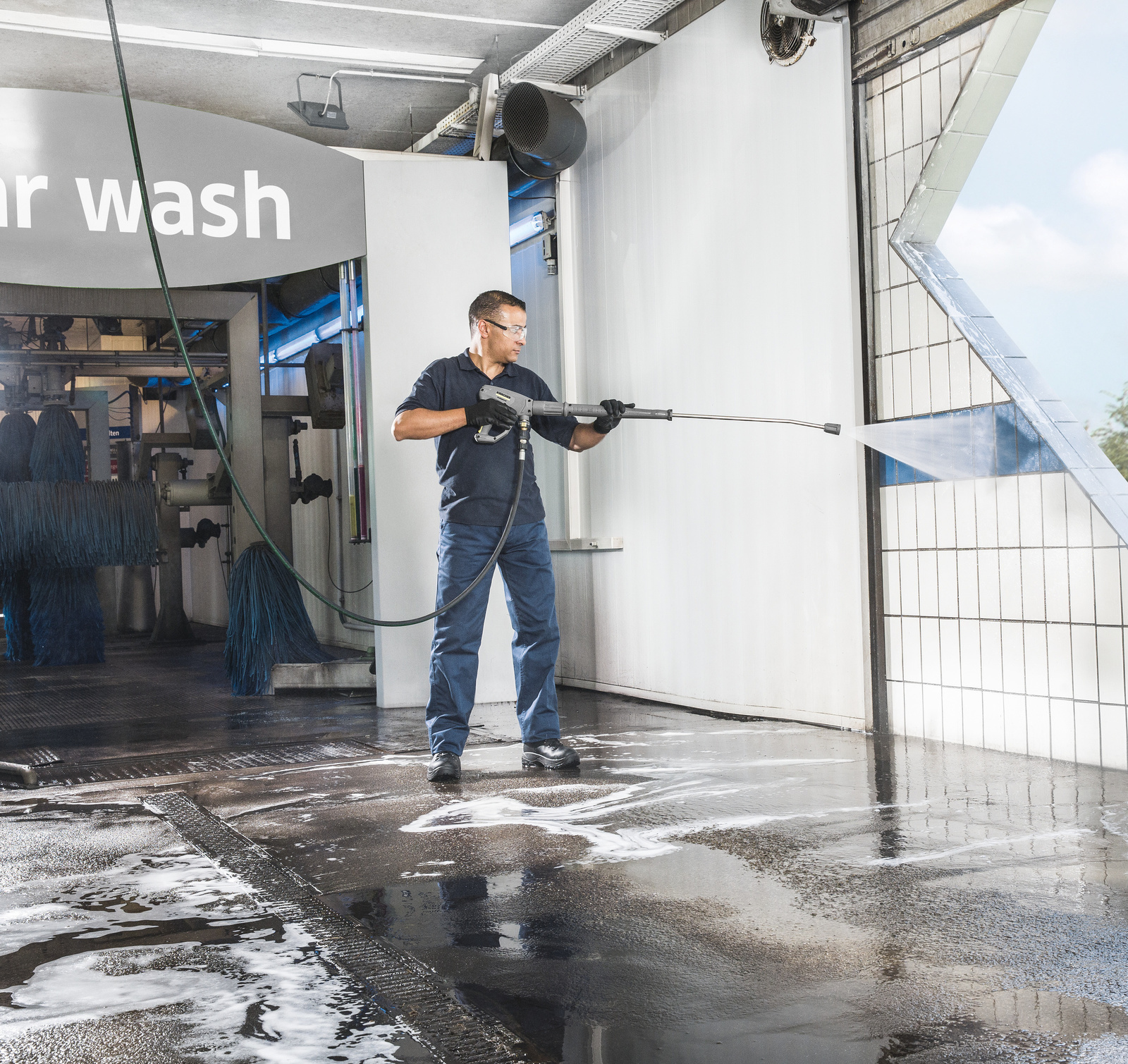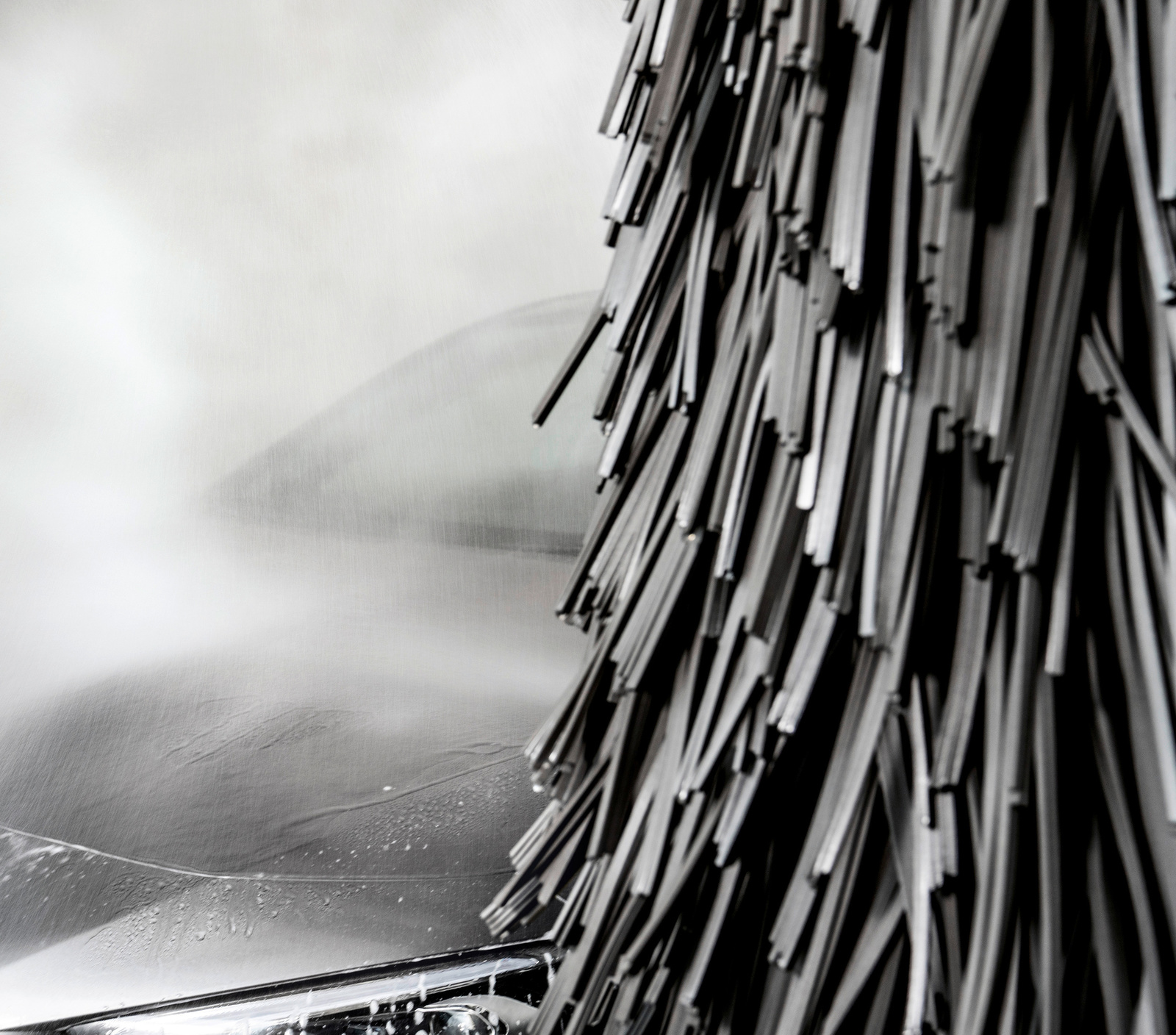 Regular wash brush cleaning in gantry car washes
Attention should not only be devoted to the wash hall itself; the gantry car wash is also crucial. The focus here is on the wash brushes. If the system is set to the corresponding brush bristles and the amount of cleaning agent is dosed correctly, the substances largely clean themselves.

Depending on the type of contamination or with water containing lime, a cleaning agent that complies with the legal requirements should also be used. The following method is recommended:
1. Spray the wash brush with cleaning agent 
2. Rinse off with water after a short contact time 

Most manufacturers also recommend having the system and the brushes maintained and cleaned by professionals once or twice a year.

The maintenance of the wash brushes makes sense not only to preserve the value, but also with a view to customers and their expectations of the appearance of a wash system. When a wash brush needs to be exchanged, its condition and decreasing cleaning power are visible. The service is generally carried out by the customer services department of the system manufacturer. The exchange takes a few hours and is often combined with upcoming maintenance work.
Guaranteeing the functionality of the wash hall
Critical points: Light barriers, sensors and rails
Dirt should be removed regularly in order to guarantee the proper functioning of the technical equipment. Light barriers are one such example. They detect if there is an obstacle, e.g., a person, in the system and ensure the machine is stopped. Furthermore, they also detect the length of the vehicle to be washed and its contours and projections. Light barriers are therefore an important instrument for the safety of people and the vehicle.

Regular cleaning of the sensors is more than a simple matter of appearance. It prevents the risk of accidents. If a system is not cleaned regularly, oil, mud or other contaminants may settle on the mechanical components and impair their function.

One critical area is, for example, rails, which can become clogged with a build-up of mud and thus affect the work processes.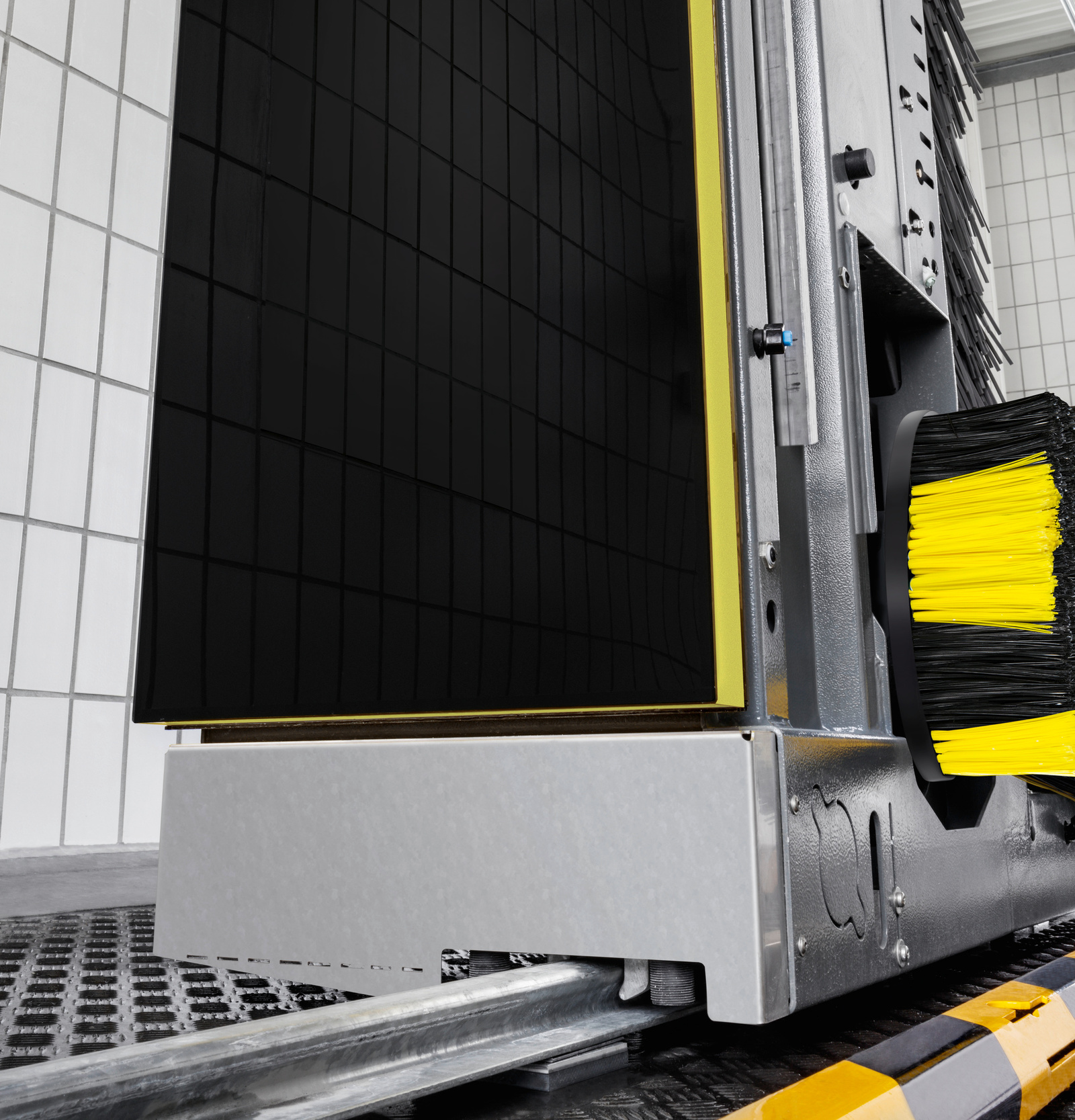 Keeping an eye on the details
In addition to cleaning the wash hall, operators should also keep other important areas in mind. The exchange of faded films in the entrance area, the repainting of areas where the paint has flaked off or worn away, a new fragrance in conjunction with the washing chemicals, as well as clean glass surfaces and a swept entrance area, have an impact on drivers. Because wherever it is clean, the customer has confidence in a good wash result.