Cleaning shops
Healthy eating for a healthy life – more and more people are seeing the importance of what's on their plates. Whether using fresh products from a farm shop to make dinner or grabbing a quick lunchtime snack on the go from a kiosk, one thing is vital – there must be scrupulous hygiene standards. Cleanliness and excellent hygiene in sales rooms are key to this and deep cleaning must always be performed.
Deep cleaning is proven to remove over 90 per cent of the microorganisms and germs from surfaces. Those working in areas where food is sold must know how to carry out cleaning tasks properly and efficiently. Moreover, when it comes to "touch points" (i.e. surfaces that are regularly touched by many people), there are additional issues which need to be considered, such as disinfection and sanitation, to not only stop dirt but also to prevent the spread of viruses and bacteria.
First impressions matter: Sweeping and cleaning in the entrance area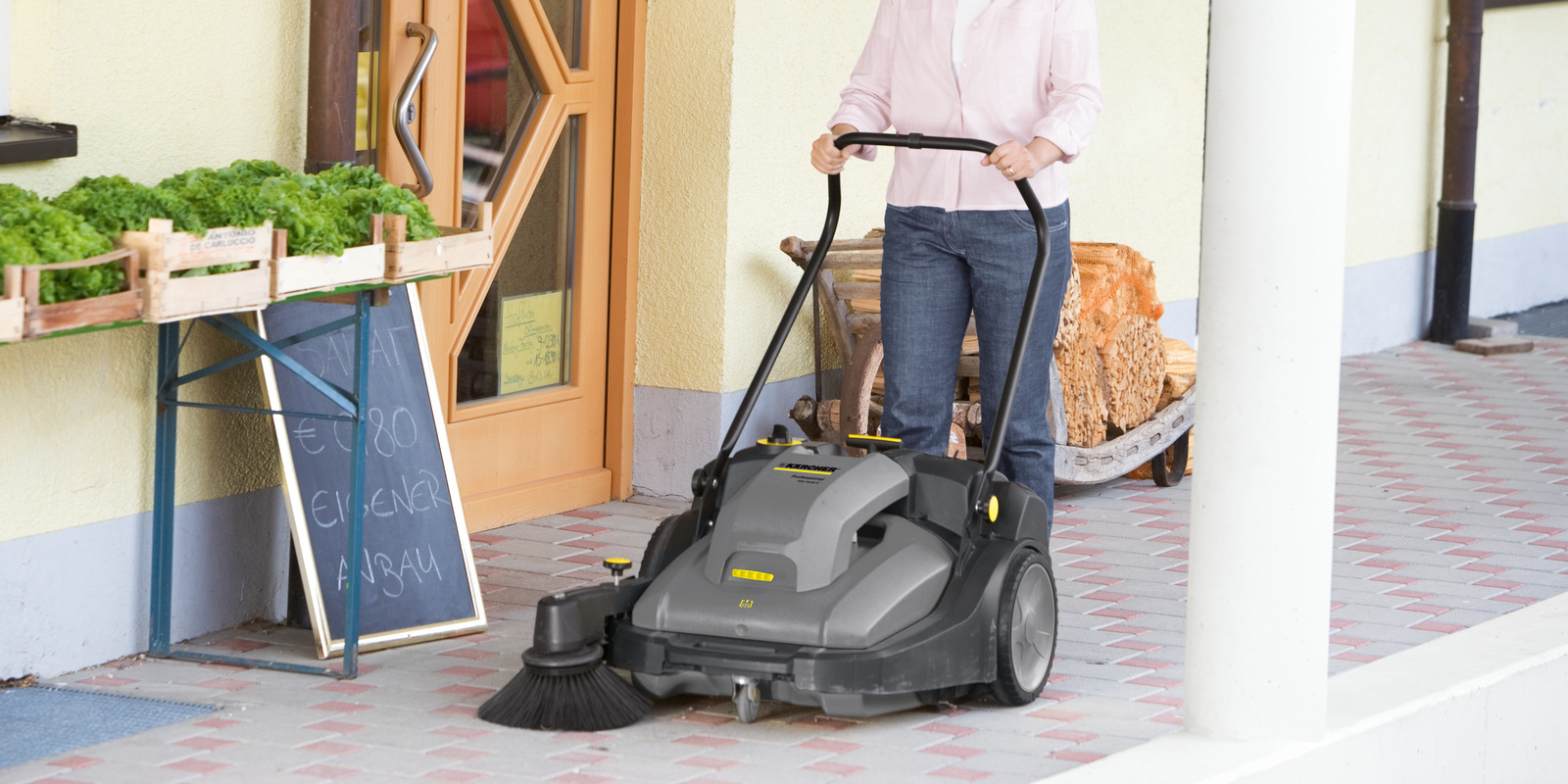 First impressions matter: Customers entering the store don't want to feel uncomfortable. It is quick and convenient to ensure that car parks and entrances to shopfloors are clean using a sweeper or vacuum sweeper. For smaller areas of up to 300 square metres, a manually operated model is ideal, with the operator providing necessary pushing force. These sweepers are easy to handle and ergonomic for users. They also sweep areas thoroughly and ensure a low-dust environment. For larger areas in car parks or entrance areas, a push machine powered by an electric motor or petrol engine is the best choice.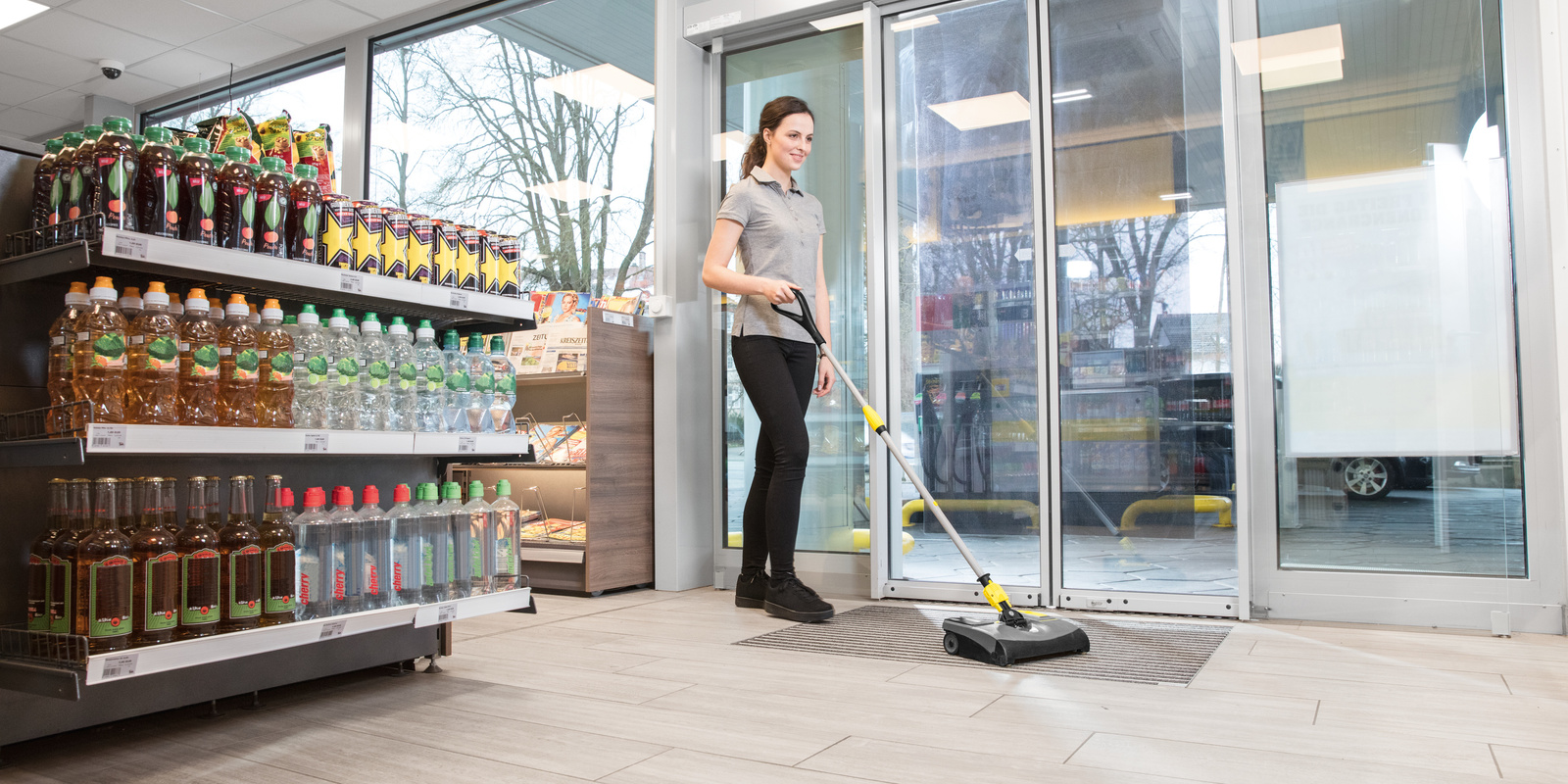 It is advisable to install a dirt trap in the form of a mat or grille close to the entrance door. This will prevent coarse particles, such as small stones, sand and mud, from reaching the shopfloor. This mat or grille should be between about four and six paces in length to ensure that a sufficient amount of dirt is removed from customers' footwear. In order to extend the lifetime of the mat, it should be regularly cleaned with a wet and dry vacuum cleaner, dry vacuum cleaner or cordless electric broom, depending on the level of dirt.
Areas inside stores: Bread shelves, deli counters, checkouts, etc.
Whether at farm shops, petrol stations or small kiosks – fresh bread and rolls are sold virtually everywhere. When it comes to regularly vacuuming crumbs from display units, consisting of plastic shelves and often wooden baskets, a small dry vacuum cleaner is a suitable choice. This machine can be conveniently stored under the display case so that it is quickly ready for use when needed.
Cleaning with a steam cleaner
If a shop also offers fresh products such as cheese, sausages and sandwiches, special attention should be given to the display – because it's not just a matter of making the display visually appealing, but also of ensuring cleanliness and hygiene so that the fresh products really do stay fresh. We recommend using a steam cleaner for daily, thorough intermediate cleaning to ensure that entire counter areas are hygienically cleaned without the use of chemicals. The steam emerges from the nozzle in very fine drops at a temperature of around 100 °C, a pressure of 3 to 4 bar, and at a speed of around 170 km/h. This means that the steam gets into every crevice and rubber fold that a brush or cloth would struggle to reach. For cleaning the glass covers on counters, it is recommended that you use a cloth and glass cleaner to tackle small stains and finger prints that occasionally need to be removed.
The types of dirt that can be left on counters are just as varied and may include dust, coarse dirt particles and liquids that need to be removed. This is where the jack-of-all-trades for vacuuming, the wet and dry vacuum cleaner, comes into play. This machine can remove both dry and liquid dirt with numerous suction nozzles available for every model, meaning that a brush head can collect both dust and liquids, for instance. In addition, when cleaning larger, smooth surfaces (such as those made of plastic or glass), a steam cleaner is an ideal choice for regular intermediate cleaning.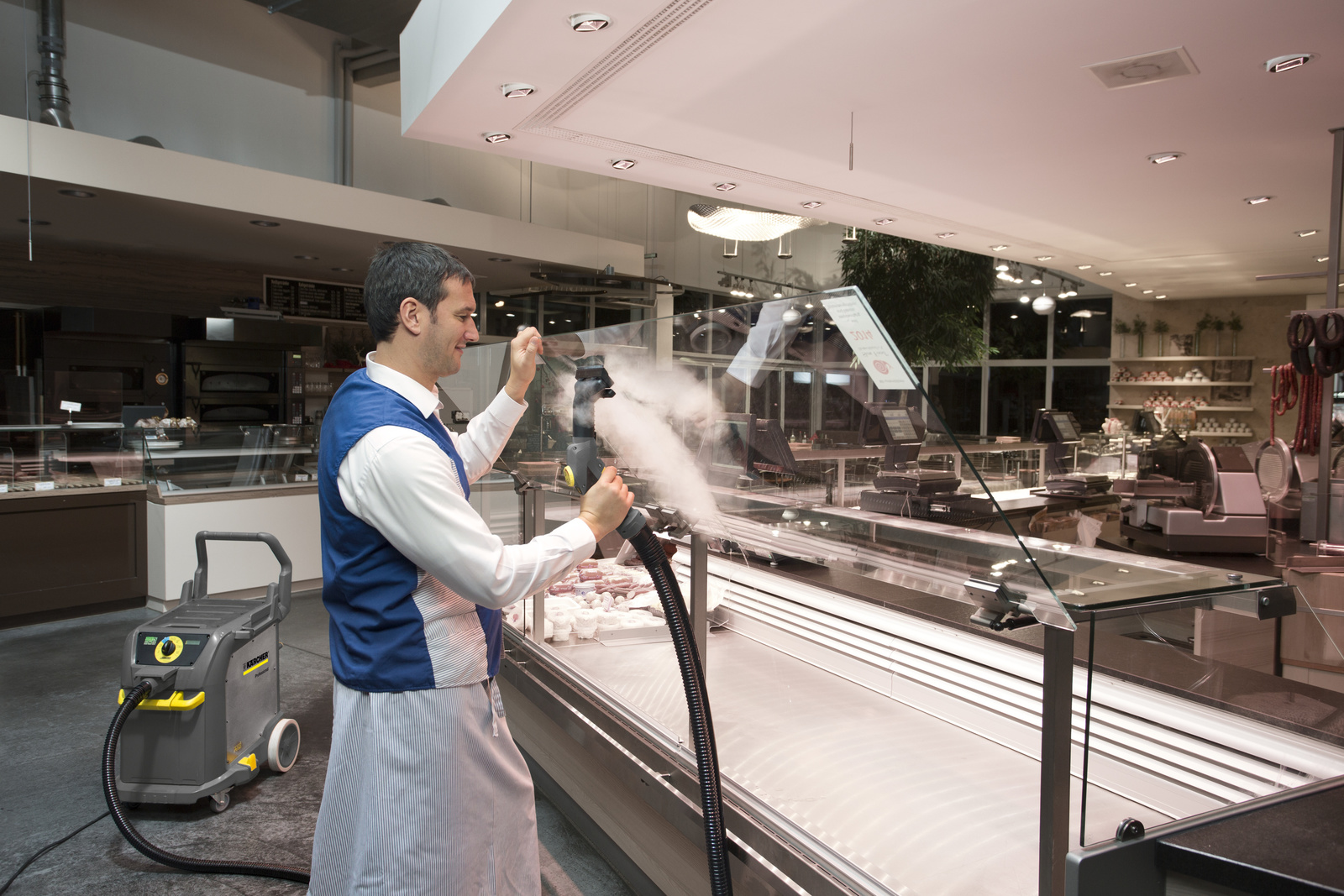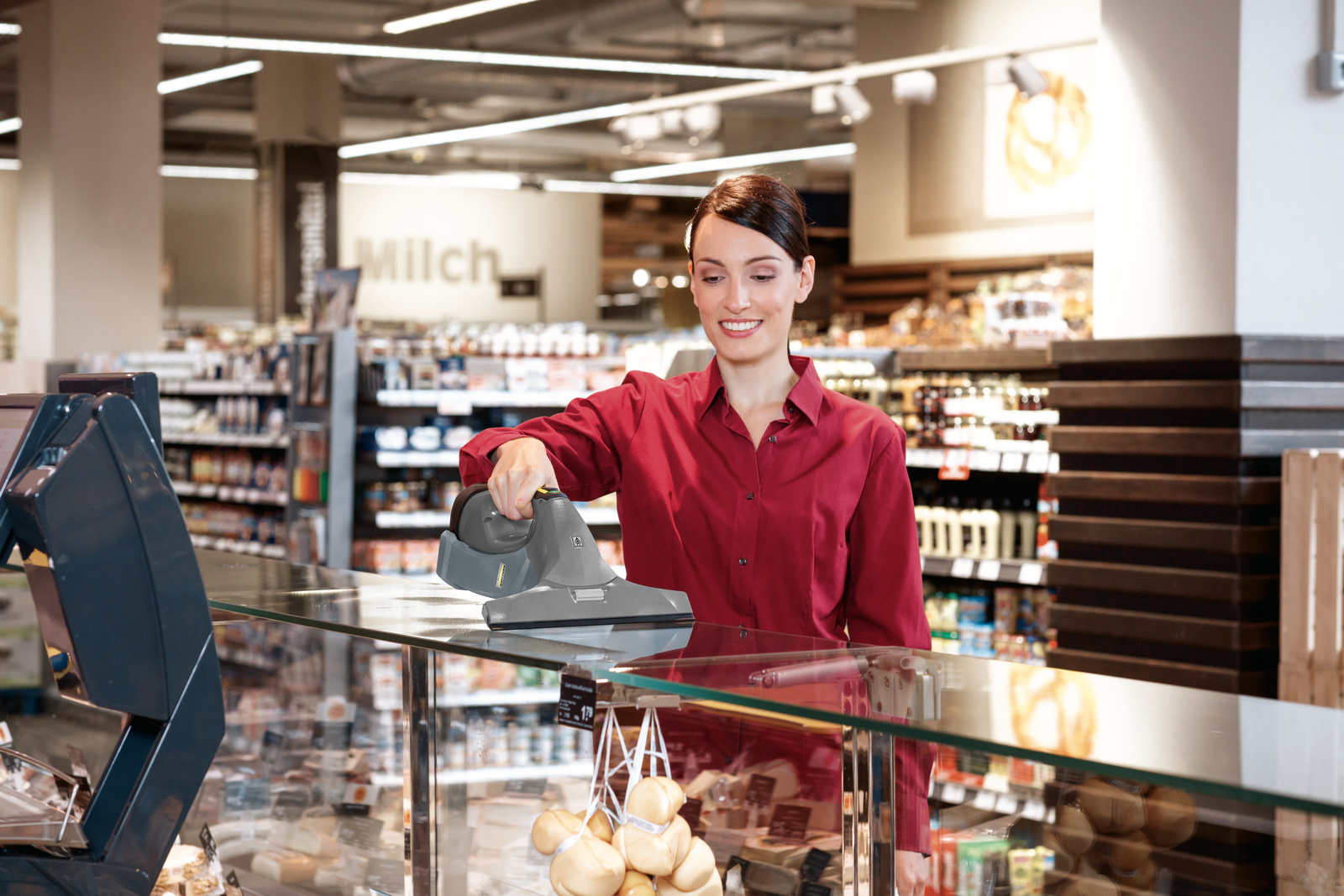 Sparkling clean: Efficient cleaning of glass surfaces and windows
Using the right equipment allows you to efficiently clean every type of window – from small lattice windows in farm shops to large glass façades at petrol stations. While the quickest way of tackling small windows with a large number of lattices is to manually clean them with chamois leather, for larger surfaces it's worth using a window washer with a squeegee or a battery-powered window and surface vacuum cleaner. These machines are lightweight, convenient and produce a streak-free result. What's more, this vacuum cleaner can also be used for all other smooth surfaces, such as mirrors, tables, tiles and display cases.
Floors: Clean and safe to walk on
Natural floor coverings such as wooden floorboards, linoleum and hard coverings made of artificial stone like (fine stone) tiles are all commonly used in small retail shops. The methods for achieving clean, slip-resistant retail spaces are as varied as the floor coverings themselves. For occasional spot cleaning of coarse dirt on any floor covering, we recommend using an electric broom, a mop with the relevant microfibre cloth or a wet and dry vacuum cleaner.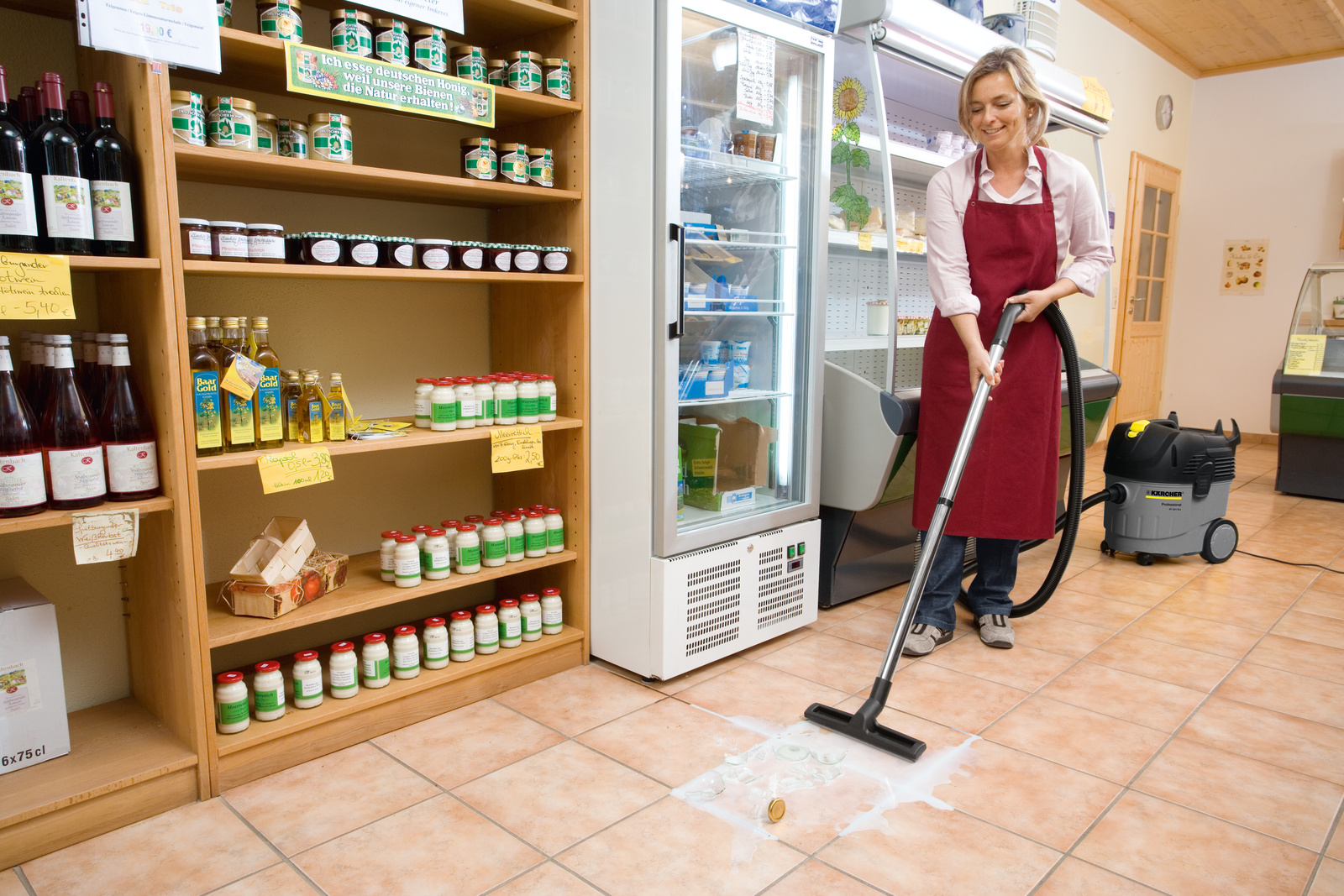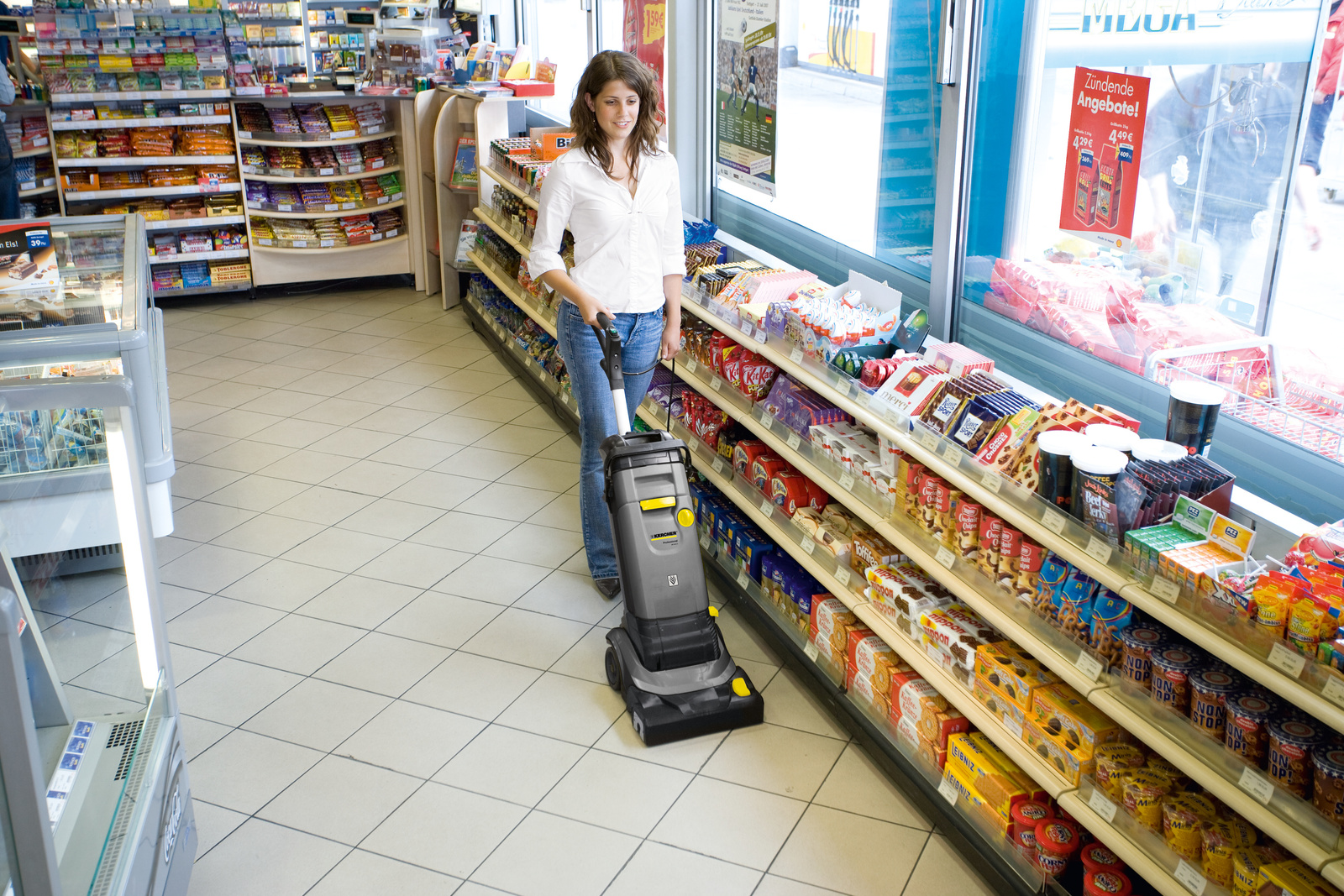 For daily, thorough maintenance cleaning, we recommend using a small scrubber drier designed for shop areas of up to 200 square metres.
This machine has a compact design, is easy to manoeuvre and applies much higher contact pressure than simply wiping surfaces. As a result, it cleans much more effectively and always operates with fresh water, meaning that users do not come into contact with the dirty water. The fact that the dirty water is directly vacuumed up means that the floor dries immediately after cleaning and can be walked on again because of its non-slip properties. This model even allows users to comfortably reach areas below low furniture and radiators. For larger shop areas spanning more than 200 square metres, it's worth considering a manoeuvrable, push scrubber drier of a larger size. Particularly when cleaning wooden floors, we recommend using a model with an extraction system directly behind the roller so that the wood is not exposed to moisture for too long. Moreover, when cleaning wood, linoleum or synthetic floor coverings (such as those made of PVC or rubber), you must use suitable cleaning agents for delicate floor coverings with a neutral pH value. Likewise, when tackling fine stoneware tiles and ceramic surfaces, it's worth using a cleaner with a neutral pH value and reduced foaming. Meanwhile, a surfactant-free cleaning agent is a good choice for cleaning fine stone tiles.
Scrubber driers of an appropriate size are useful in small shops, as thorough cleaning is performed quickly – often in the evening after closing time or in the morning before the store opens – and is not always carried out by cleaning staff specifically employed for this purpose but by members of staff as an additional task.

Cleaning ceramic tiles
Cleaning and maintaining ceramic tiles – how does it work? They are fired at a temperature of 1000 to 1400 °C and made of inorganic materials. Terracotta, clinker brick, fine stone, earthenware and stoneware are widely used nowadays. Although there are many different variations, the cleaning steps are always similar. Only a few types of tile require maintenance.
An extra note: Kitchens – pay attention to disinfection, protein errors and appropriate cleaning agents
Whether you are enjoying some home-made goulash soup, fresh stuffed pasta from a farm shop, a grilled sausage from a kiosk or sandwiches from a petrol station, when you buy food, you want to be sure that it's not only good quality but also meets hygiene standards. To ensure that this is the case, companies that handle food in any way must work in accordance with the HACCP ("Hazard Analysis Critical Control Points") guidelines. 
These regulations cover areas from thorough cleaning to safe disinfection in order to make sure that the basic food hygiene requirements are met. In these environments, it is particularly important to consider which cleaning agents are used. This is because the cleaning agents must not only effectively remove dirt and be gentle on the surfaces, they must also not be harmful to health as they will come into contact with surfaces on which food is processed.

When it comes to disinfection, i.e. the killing or inactivation of undesirable microorganisms, it is also essential to vital to understand terms such as "protein, soap and cold errors".
A "protein error" means that chemical disinfectants (may) have a reduced effect in the presence of protein-containing material. This is because certain disinfecting agents react not only with the proteins of the microorganisms but also with those of the food – in other words, they compete with each other. You should therefore vary the concentration of the disinfectant and use acidic and alkaline cleaning agents alternately.

In addition, surfactant residues from cleaning agents may react with some disinfecting agents, rendering them ineffective – which is known as a "soap error". Meanwhile, in the case of "cold errors", if the disinfection solutions are too low in temperature, they can have a negative effect since chemical and physical processes (may) slow down and the disinfection effect is therefore reduced.

What can we take away from this? This overview demonstrates that while deep cleaning and reliable disinfection in the food industry can take many forms and is extensive, it is absolutely necessary to ensure that every customer can be certain that the food that they consume is not harmful to health.

Kitchen cleaning
Wherever food is cooked, there will be stubborn stains. Grease and food residues must be systematically removed in accordance with the HACCP guidelines in order to eliminate breeding grounds for microorganisms. What can high-pressure cleaners, surface cleaners, steam cleaners, scrubbers or scrubber driers do? What specifics need to be considered when using them? And what should disinfection look like? Here is an overview.
Suitable products for your area of application