Wash systems and wash bays
Keeping vehicles clean – whether cars or commercial vehicles – not only leave a positive impression, they also play an important role in safety and value preservation. Gantry and self-service wash systems are profitable contract cleaning solutions for car dealerships, car wash parks, workshops and service stations. Commercial vehicle gantry car washes and mobile single brush vehicle washes ensures that forwarding agencies and bus companies have a shiny fleet.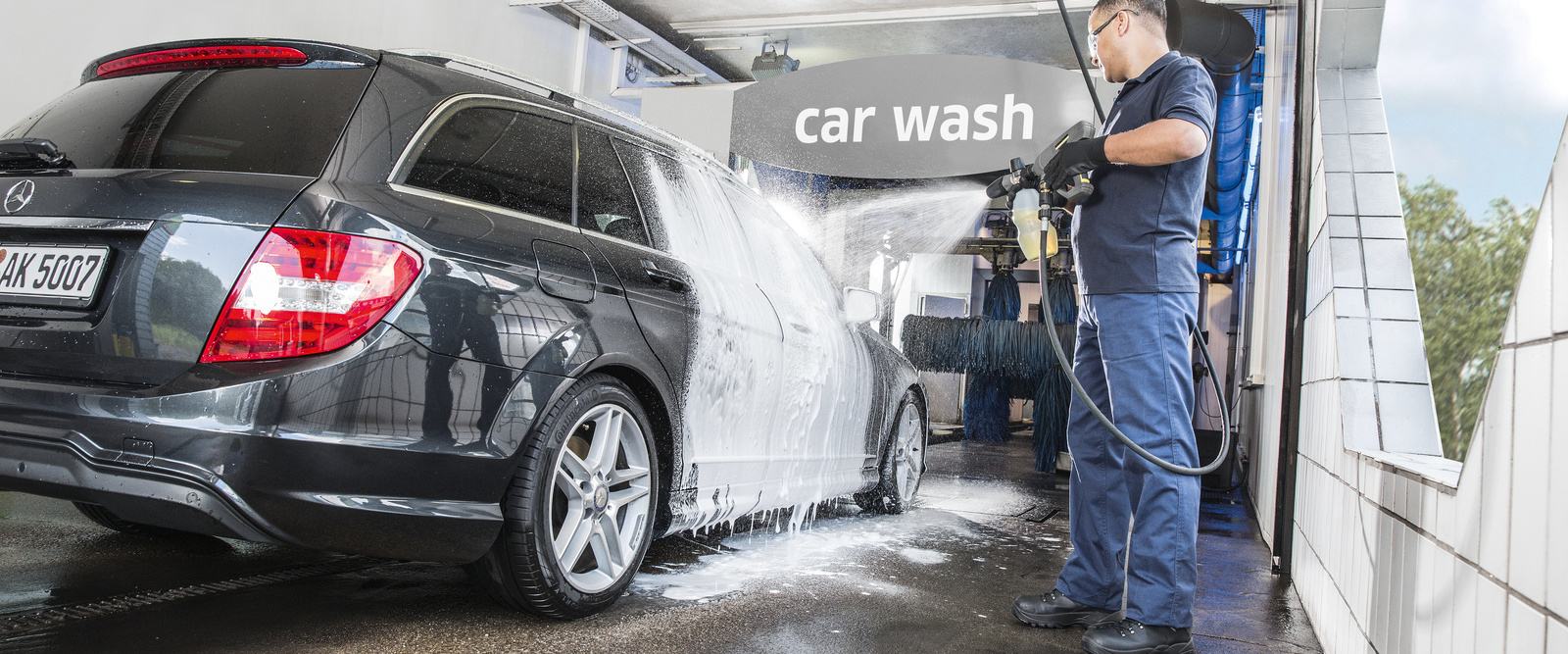 Profitable side business for workshops, service stations and car dealerships
Many car owners take great pride in the condition of the vehicle. They ensure their vehicle is clean and well-maintained not only because of the visual appearance, safety reasons and the value preservation of the vehicle also play an important role. They therefore regularly visit sites where they can wash and carry out maintenance work on their vehicle. Consequently, gantry car washes and self-service wash systems can constitute a profitable side business for car workshops, service stations and car dealerships. Wash centres also benefit from the installation of cost-effective and environmentally-friendly systems. It is important that the wash system's size and equipment are optimally adjusted to the target group and the number of vehicles being washed on a daily basis in order to be profitable. If vehicle owners are impressed by the washing results, operators can look forward to returning customers.  
Cost-effective cleaning for forwarding agencies and bus companies
For many years, buses and lorries have become increasingly important in the transportation of people and goods. Cleanliness also plays a key role in maintaining supply chains and having processes work seamlessly.
Efficient washing processes save time and money
In order to save both labour costs and time, the demands on washing quality and speed are especially high for commercial vehicle cleaning: This is because the more efficient the cleaning process, the quicker commercial vehicles can be used again for transportation. It is also important to have a flexible wash programme to meet the requirements for different vehicles types and materials, as well as for different types of dirt. The size and design of commercial vehicles, however, not only require a special technology for the wash – the washing chemicals must also be right in order to clean vehicles cost-effectively.
Cleanliness preserves the value of vehicle fleets
Where for rental cars, lorries, bus fleets or municipal fleets: If you always keep your vehicles clean, they will have a longer lifetime and be easier to maintain, depending on the level of dirt. It is only possible to keep vehicles in good working order if they are clean since this makes any damage more easily visible.
Cleaning tasks around the vehicle wash systems and wash bays
Suitable products for your area of application