Vehicle interior preparation and cleaning
Be it traditional vehicle preparation, vehicle cleaning in car dealerships, rental cars and company fleets or maintenance of exclusive classic cars and sports cars: Vehicles which are continuously cleaned and maintained benefit from a longer lifetime and a preservation of value that is ensured. Using the right technology and working methods helps to achieve this goal quickly and sustainably.
Maintenance cleaning in vehicle preparation: Dry cleaning is best
Treating interior surfaces: Keeping an eye on every detail
There are many aspects to consider when preparing and cleaning vehicle interiors. Dust-binding cloths can be used to remove loose dust from surfaces. For materials such as Plexiglas, not much pressure should be used when wiping in order to avoid scratches caused by caught dust particles. If cloths have adhesive on them, clean them thoroughly and leave no residue of any kind. Alternatively, microfibre gloves can be used for dust-binding wiping. To help deal with stubborn dirt, surface cleaner is recommended, which is applied to the microfibre cloth before cleaning.
Tip – Cleaning ventilation slots:
A screwdriver can be used to clean ventilation slots more easily and thoroughly. This makes it easier to get into the gaps with the microfibre cloth.
Conditioning textile surfaces: From seat to boot to floor mat
For cleaning textile surfaces, vacuum cleaners with turbo nozzles are very well suited for removing loose and stubborn dirt, such as stuck crumbs or pet hair. A crevice nozzle can be used for the slits between the seats. If a light, even layer has formed on the seat upholstery over time, the look can be refreshed with a damp microfibre cloth.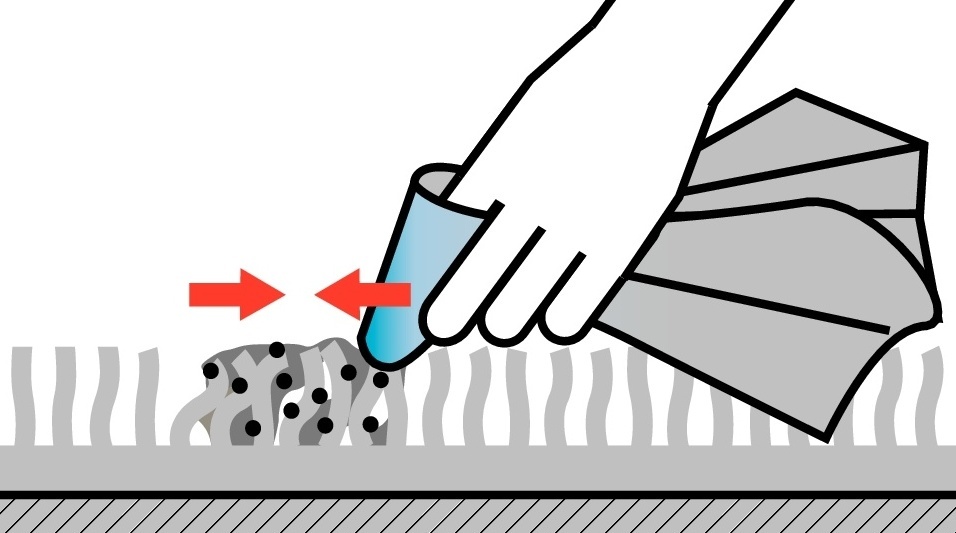 If there are spots of stubborn stains to be removed, a universal stain remover can help. First of all, the stain remover should be checked for material compatibility on an inconspicuous spot. If the material is compatible, the stain remover is applied using a microfibre cloth and then dabbed away in circular movements. It is important not to rub the stain firmly under any circumstances because this will spread the dirt.
Tip – Vacuuming surfaces:
1. For large vehicle fleets, cordless vacuum cleaners with an extension hose are a helpful solution to remove dirt efficiently and quickly from an entire vehicle.
2. Leather or synthetic leather seats must be vacuumed carefully so that no streaks or scratches remain. A suction brush is a good way to clean delicate surfaces.
Cleaning glass surfaces: Avoiding resoiling
Cleaning agents with a high alcohol content and few surfactants should be used to clean glass surfaces and mirrors. The reason for this is that it is very difficult to wipe off surfactants without leaving residues. Dust particles that are blown onto the pane by the air conditioning or ventilation system adhere well to it, causing it to become dirty again quickly.

Microfibre cloths with 16x fold help to remove dirt and do not transport it any further. Here, the cleaning cloth is folded in half three times (once downwards and twice to the side) so that there are a total of 16 sides. In one bucket, a precisely defined quantity of folded cloths are soaked with a specified quantity of cleaning agent. They are fully soaked and are then ready for use. Each surface is now wiped with a fresh side. Once all the sides have been used, the employee throws away the cloth and uses a new one.
Tip – Steam cleaner for window cleaning
Investing in a steam cleaner provides you with an excellent, chemical-free option for cleaning windows when it comes to vehicle preparation. If you run a 10 cm hand nozzle with a microfibre or cotton cover over the pane, you can remove dirt and polish it at the same time. This way, no residue or wipe marks remain and resoiling takes significantly longer.
Deep cleaning in vehicle preparation: When water is a must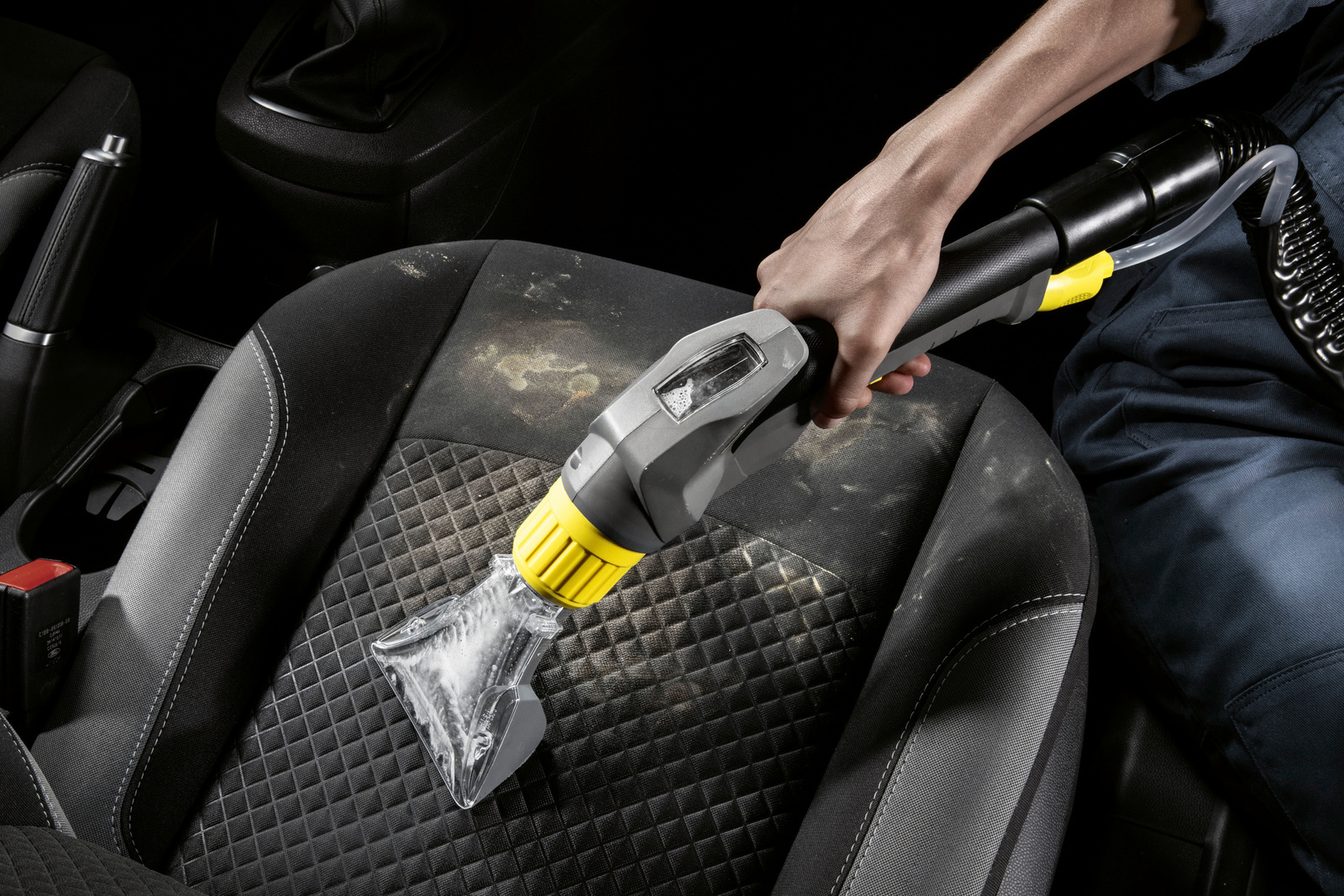 Wet cleaning of vehicles, especially upholstery, is necessary at some point in the vehicle preparation process. However, delaying the deep cleaning for as long as possible makes sense. The reason for this is that drying times are lengthy, and microbial growths and mould may occur if drying is carried out incorrectly.
If dirt – for example drink stains or food leftovers – has become encrusted over time, the spray extraction machine is the right solution to remove it. It sprays water mixed with cleaning agent and vacuums the upholstery. Old upholstery or upholstery that has not been cleaned for a long time generally needs to be vacuumed several times, since the procedure draws the dirt a few centimetres closer to the surface with each step.
When selecting the cleaning agent, make sure it is free of surfactants, provides a good performance and does not leave any residues. Often, fragrance-free cleaning agents are also used in spray extraction – if the customer wants, a textile freshener can be used subsequently to create a pleasant atmosphere.
If unpleasant odours, for example smoke, are to be removed, ozone treatment to neutralise them is recommended after cleaning. Thorough airing is necessary afterwards, as well as after the spray extraction. For deep cleaning of plastic surfaces such as fittings or gear levers, use of a cockpit cleaner in combination with a clean microfibre cloth is advisable.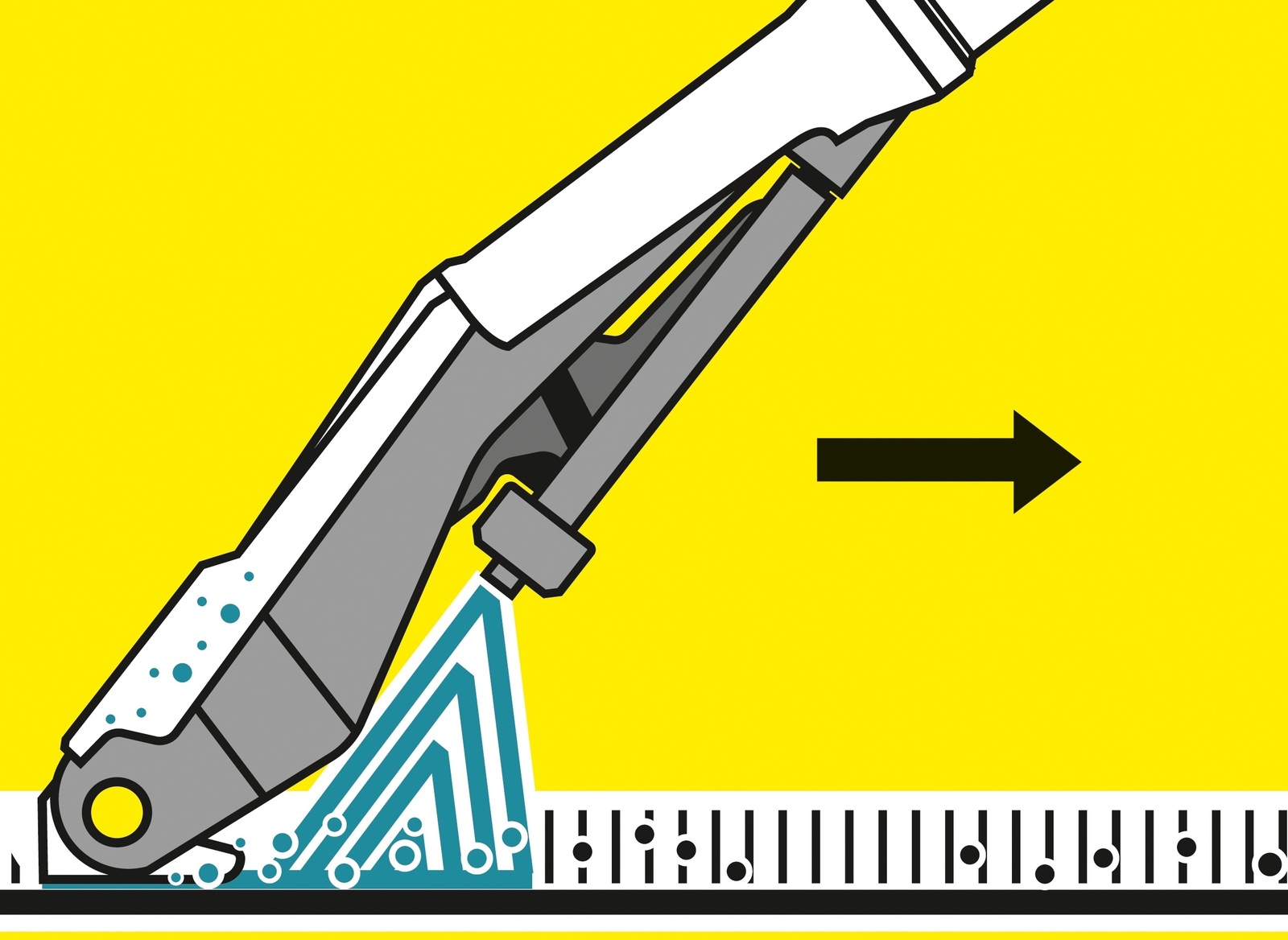 Tip – Deep cleaning:
1. Ideally, wet cleaning for vehicle preparation is carried out when the weather means that the air is dry – i.e. in winter. This reduces the drying time. In the summer, you can turn on the air conditioning to help dehumidify the air.
2. To delay deep cleaning, surfaces can be wiped evenly with a microfibre cloth and a surfactant-free cleaning agent – this method also achieves a good effect on the roof liner.
3. If there are leather seats or steering wheels, stains should be removed immediately with a damp cloth and the leather should be regularly treated with a leather care product during vehicle preparation.
Key points for cleaning vehicle exteriors in vehicle preparation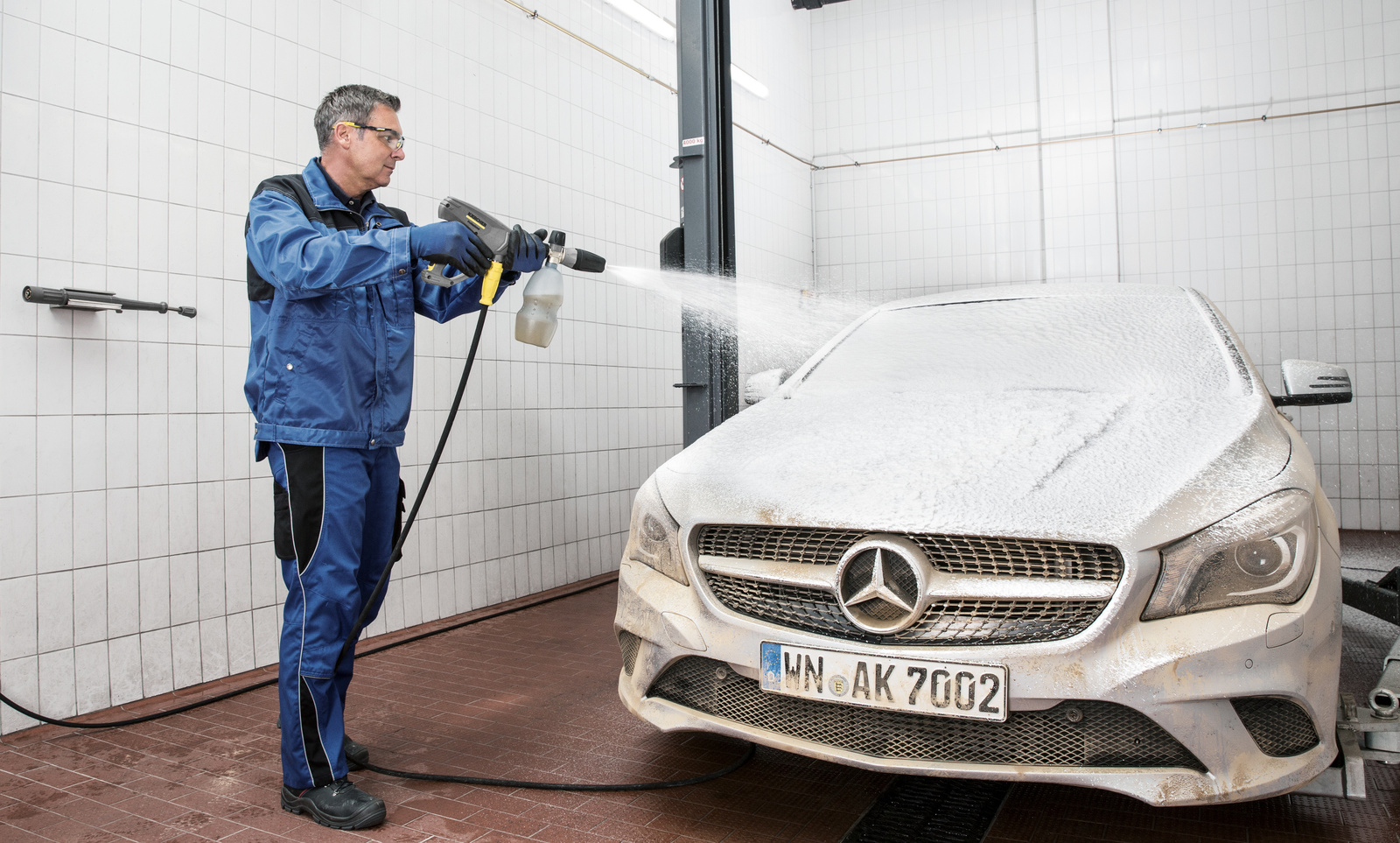 High-pressure cleaners are particularly suited to cleaning vehicle exteriors. In order to work efficiently, after the initial spraying with clean water, an additional foam cleaner can be applied with a cup foam lance. We recommend products that are economical, have a high pH value in concentrate and are nonetheless gentle on paintwork. A good soaking effect against dried dirt is also recommended. To prevent the cleaning foam from drying out, the vehicle should be foamed one side at a time, from bottom to top, and the foam and dirt rinsed off with clean water.
Acidic and alkaline cleaning agents are suitable for cleaning the rims, which are rinsed off after the specified contact time. If the wash bay has a concrete floor, alkaline agents should be used, as acid attacks the concrete. It should be noted that in the case of damaged aluminium surfaces or delicate vintage car rims, acids and alkalis will attack the surface – in this case, a special cleaning agent should be used.
If you have a high vehicle throughput, investing in a gantry car wash may be worthwhile for vehicle preparation in car dealerships or rental car stations in order to carry out exterior cleaning quickly and efficiently.

Tip – Exterior cleaning
1. Cleaning agents should never be applied in bright sunshine, as otherwise the agent dries out and the contact time cannot be ensured.
2. Hot water machines work more efficiently because the temperature factor increases performance. Greases and oils can be removed better, and drying is quicker.
3. Adhesive residues and stickers can be removed with a universal stain remover containing a gentle solvent. Before use, check an inconspicuous spot to ensure that the paint remains undamaged.
An investment that may be worthwhile: When dry ice cleaning is a sensible solution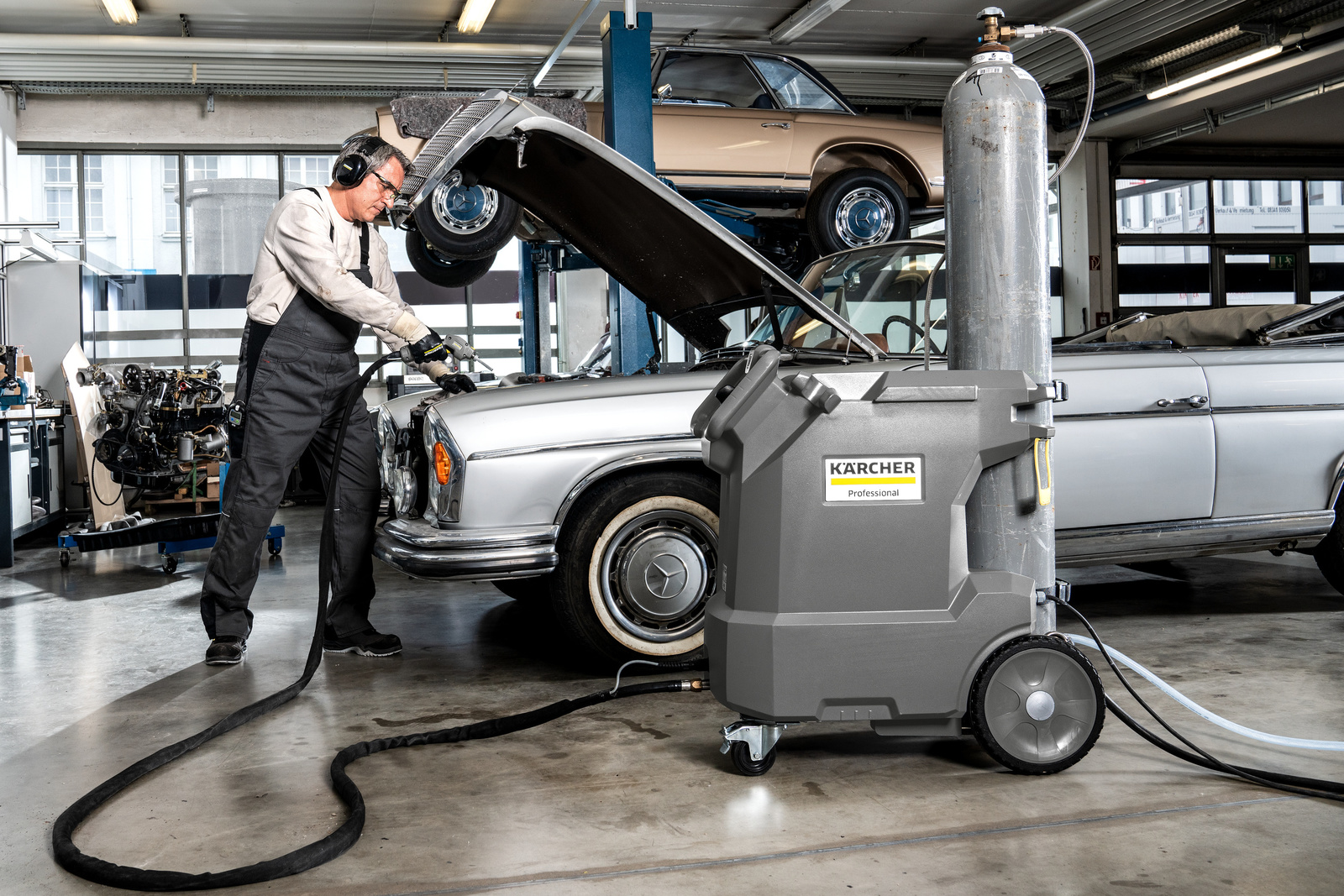 Dry ice blasting is a very gentle, efficient process. In the case of large vehicle fleets or exclusive vehicles with delicate surfaces, it is worth investing in the appropriate technology to prepare and clean vehicles efficiently and gently.
In exterior cleaning, the dry ice process is suitable for cleaning seams and rubber seals, removing stickers or adhesive residues on company/new cars, or removing streak marks from rubber folds under the mirror or on the vehicle doors at the bottom. Gentle, effective dry ice blasting is also very well suited for cleaning the rims of exclusive vehicles or classic cars.
Dry ice blasting is also recommended for interior cleaning; fittings, knobs, seat upholstery, box covers, air vents, carpets or roof liners can be cleaned gently, efficiently and without moisture. Just make sure that a small amount of spray agent is used at low pressure and that a scrambler is used to turn the 3 mm dry ice pellets into powder when needed.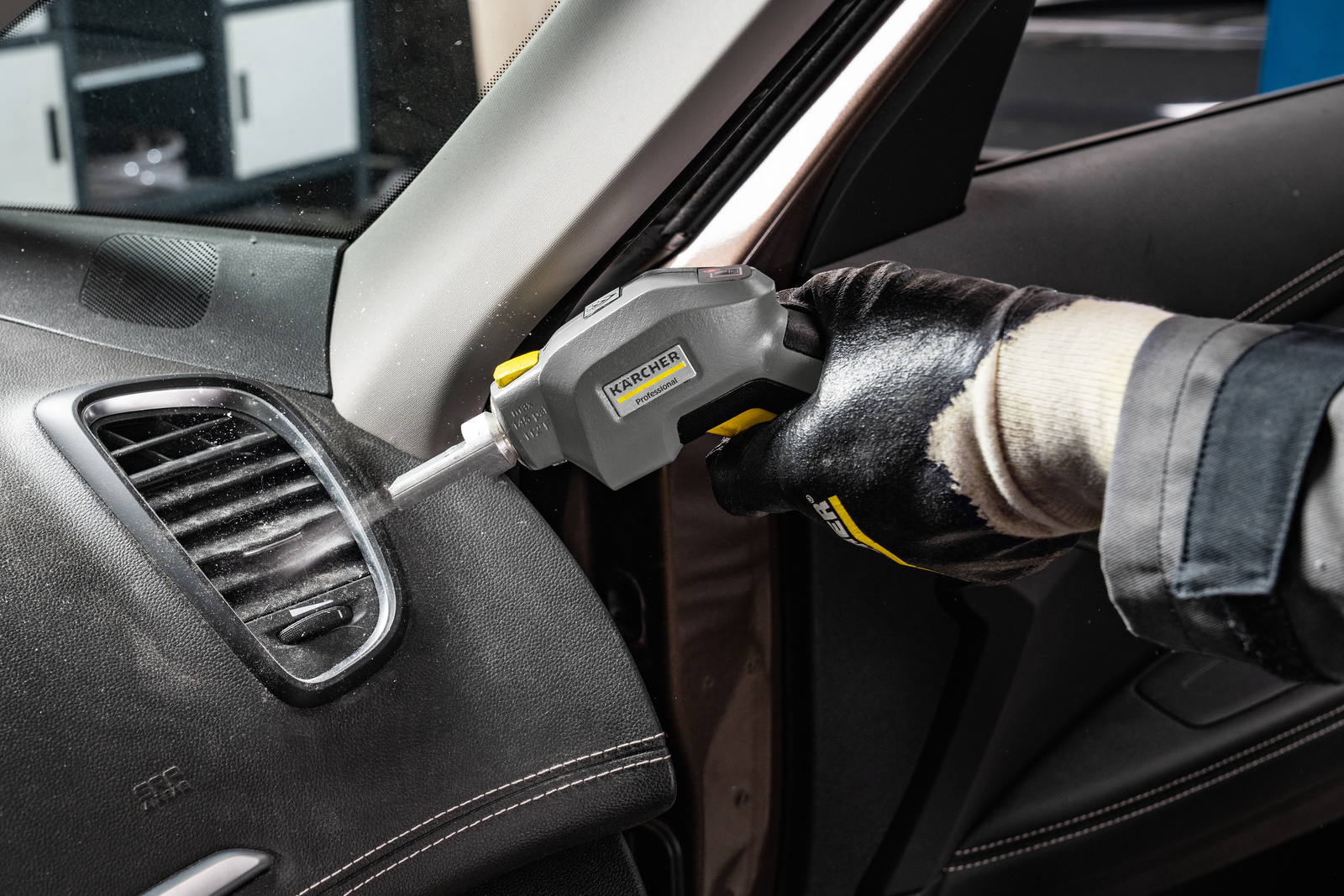 Dry ice blasting
Dry ice blasting is an effective particle spray process for removing stubborn dirt coatings from a range of supporting materials. Dry ice cleaning has also proven its worth in automotive workshops or reconditioning shops, especially on complex and delicate surfaces – from upholstery cleaning in cars to cleaning engine compartments and restoration work on classic cars. The main advantage of this technology is that it cleans without leaving any residues, such as waste water, chemicals or spray agent residues.
Suitable products for your area of application