Industry solutions
Products for professional use. Finding the best solution for cleaning tasks is of growing importance for businesses of all kinds. This is why we have tailored our extensive range of products precisely to your requirements, reducing time, costs and resource consumption without compromising performance. We understand the demands of your business, whatever market sector you operate in.
Kärcher Services – you can count on us.
If the word service is a promise and not an empty word, it must be based on trust - because you must be able to rely on your professional cleaning machines at all times. Day after day. Night after night. Anywhere. This is our aim. And we do our best to ensure this. Reliable machines and cleaning agents. Advanced technology. Competent advice. and much more. In a nutshell: Kärcher service. A name you can trust. And a service that gives you security. That's our promise.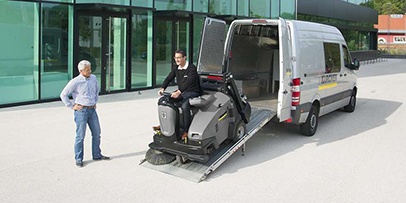 We come to you
The Kärcher service management system saves you time and money and ensures that we are with you as quickly as possible. With regular service package, always, whenever you need us. (Applicable only for certain professional unit).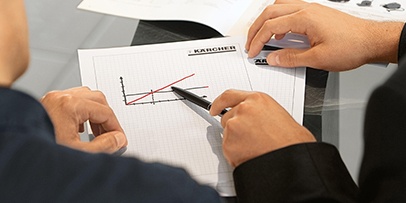 Leasing and rental machines
Control your cash flow and remain productive with low leasing fees instead of major investments. Or with rental machines for maximum flexibility: always the right machine at the time when it's actually needed. Leasing and on-request rental also include a maintenance or full service contract. Contact us to discuss your options (Applicable on selected model only).
Service packages.
You work with professional cleaning machines? Then you have to be able to trust that your fleet of machines is fully ready for use at all times. That's why you need a partner who offers you more than just machines. Who gives you confidence that you can concentrate on your core business. We are your partner in the world of cleaning and machines. All the way from the analysis of needs and financing, through inspection and servicing, to the acquisition and sale of used machines. With a level of service that will inspire you. And with service packages for every need.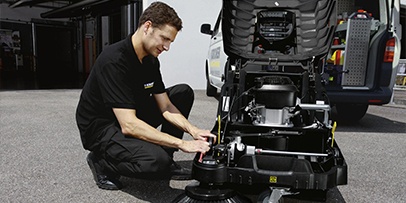 Classic
Included in the Kärcher Classic service package are machine inspection and the legally prescribed safety checks together with inspection plates and test records showing the condition of the machine.