Making the garden winter-proof – what must be done
In autumn, garden owners should start preparing their gardens for the winter. So the question of when you should make your garden winter-proof is easy to answer – ideally during the period from the middle of October to the start of November. Then a few measures must be taken for lawns, beds, bushes, trees and hedges. It is also important to store garden tools correctly during the cold season. Kärcher tells you how to do this.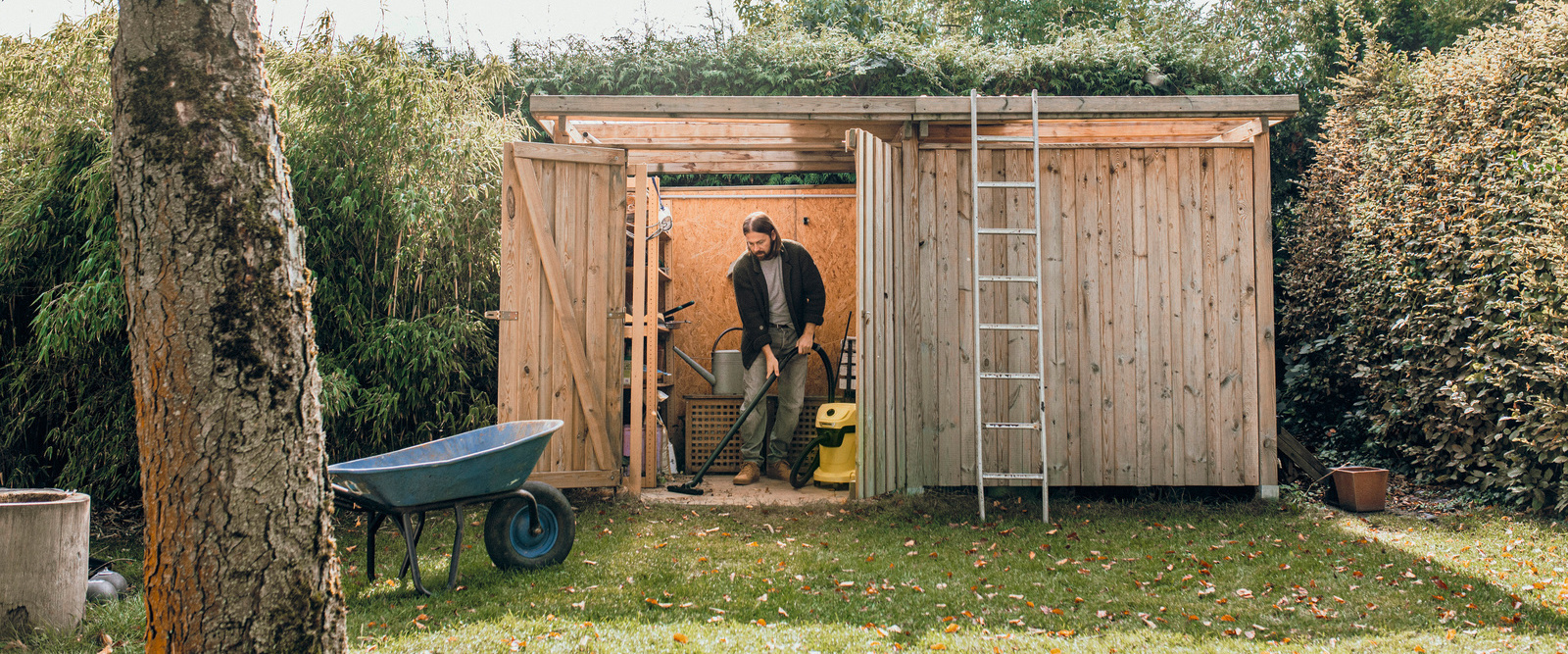 Making the lawn winter-proof
Anyone who is concerned about the lawn being safe and sound over the winter can be glad of lush, green grass in spring. Mowing the lawn is important for this, namely to a height of five to six centimetres. You should also collect loose leaves, small branches, moss and lawn cuttings. This prevents it from decaying and getting mouldy. It also allows the lawn to get more light and to thrive better. A rake is the best choice for this. Finally, the lawn should be fertilised for one last time that year – this provides it with important nutrients over the winter.

Monitoring potted plants and bringing them into the house
When garden owners are preparing the garden for the winter, they should bring the majority of their potted plants into the house so that these can stay there over the winter. Some plants such as lavender, Christmas rose, scarlet fuchsia and horned violet are hardy and can remain in the garden during the winter. But not just anywhere – rather in a place in which they are protected against weathering. Any potted plants that need to spend the winter in the house must first be checked for diseases and pests. If they are diseased or infested, there is the risk that the disease or the vermin will spread to other plants – especially if these are standing close together.
Cutting back bushes, hedges and trees
As the next step in making the garden winter-proof, hedge trimmers or pruning shears are pulled out. This step involves supporting long sprouts and cutting back diseased and dead limbs from trees. It's important here to anticipate the first frost, as the resulting cut surfaces must be able to seal themselves off again. Anyone cutting their hedge should otherwise make sure to cut it in a trapezoidal shape – getting narrower and narrower from the ground up. This allows the sprouts close to the ground to also get enough light; moreover – and this is decisive in winter – the hedge also remains the same shape even if there's lots of snow on it.
Maintaining beds
It is also important to prepare flowerbeds and vegetable beds. Wilted and dead garden plants should be cut back before the winter with gardening shears. In order to enrich the plant soil with nutrients, its chopped cutting material and leaves can be added. Thoroughly practical: Mulch and leaves protect the plants against frost.
Further fields of application for garden waste
Before winter enters the garden, you can form one or several piles made of garden waste such as leaves, brushwood and branches, which can then act as a refuge for various animals such as hedgehogs, mice and various insects. There is also the possibility of creating a compost heap with lawn cuttings and leaves. Micro-organisms and worms then convert this over the course of time into humus, which is rich in nutrients. However, you must be aware that a successful compost heap depends on the mixture. Not all types of trees are suitable, and many leaves have a very low nutritional content. The site of the compost heap should be half-shaded, and it must be on open – i.e. not sealed off – ground. If you bear this information in mind when making your garden winter-proof, you can be glad of fresh humus at the start of the spring.

Storing garden tools correctly
Correctly storing garden tools such as rakes, scythes, hoses and shears as well as electrical garden tools is important to ensure that these retain their functionality. Anyone who notes the following tips will be able to make good use of their tools in spring too.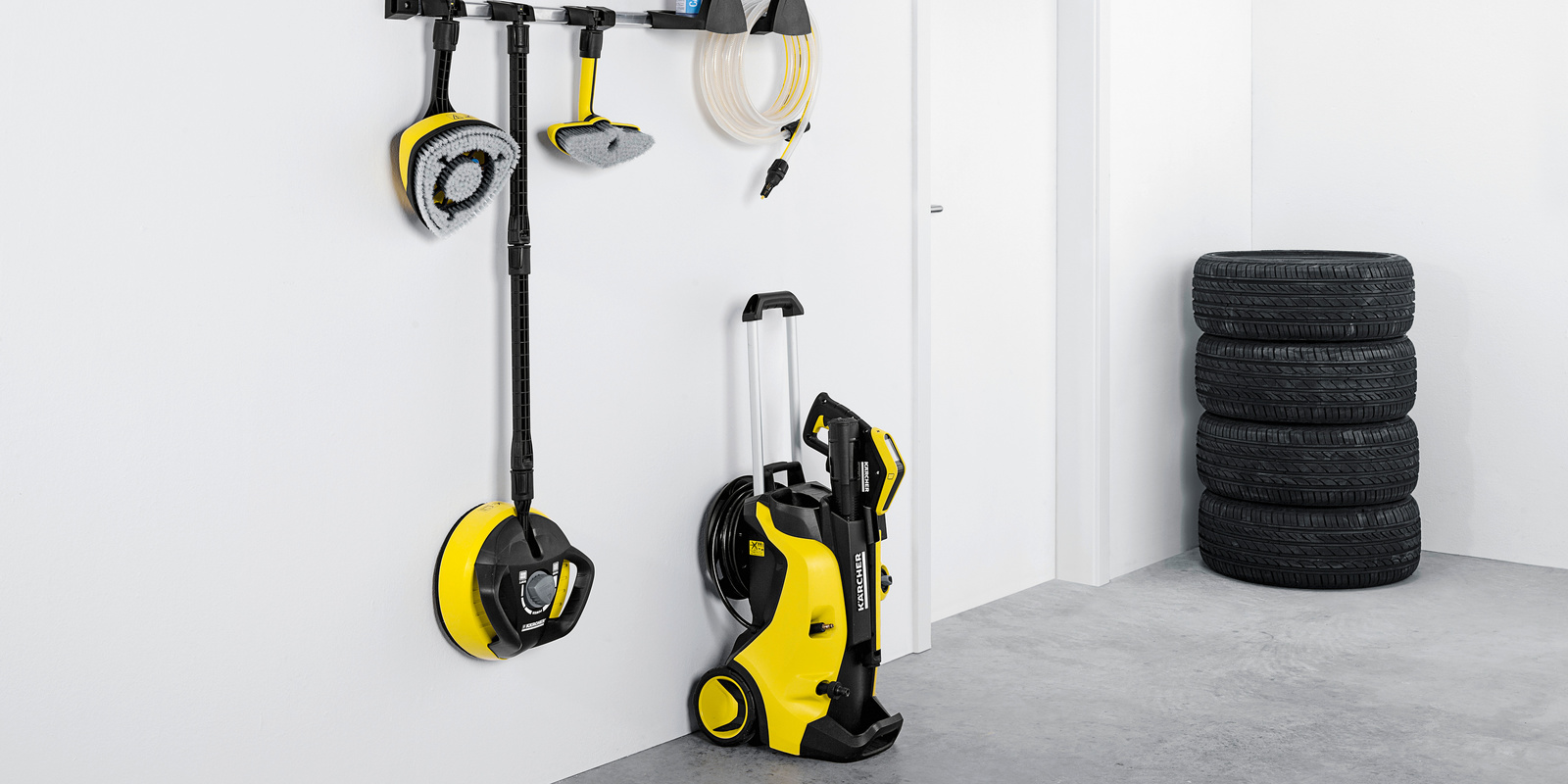 The right preparation
What is of fundamental importance when storing small garden devices is that they are stored in a clean condition. Therefore, dirt from shovels, rakes and spades should be removed with steel wool, a wire brush, a nozzle or a high-pressure cleaner. Coarse dirt is first removed from motorised or battery-powered devices with a brush and then cleaned with a damp cleaning cloth. High-pressure cleaners and other devices with a water inlet should be emptied of water before storage. It is important to note that a little water always remains in these devices, which is why devices that carry water must be stored so they are protected against frost. The hoses should also be completely emptied, dried off and then rolled up, without causing any kinks.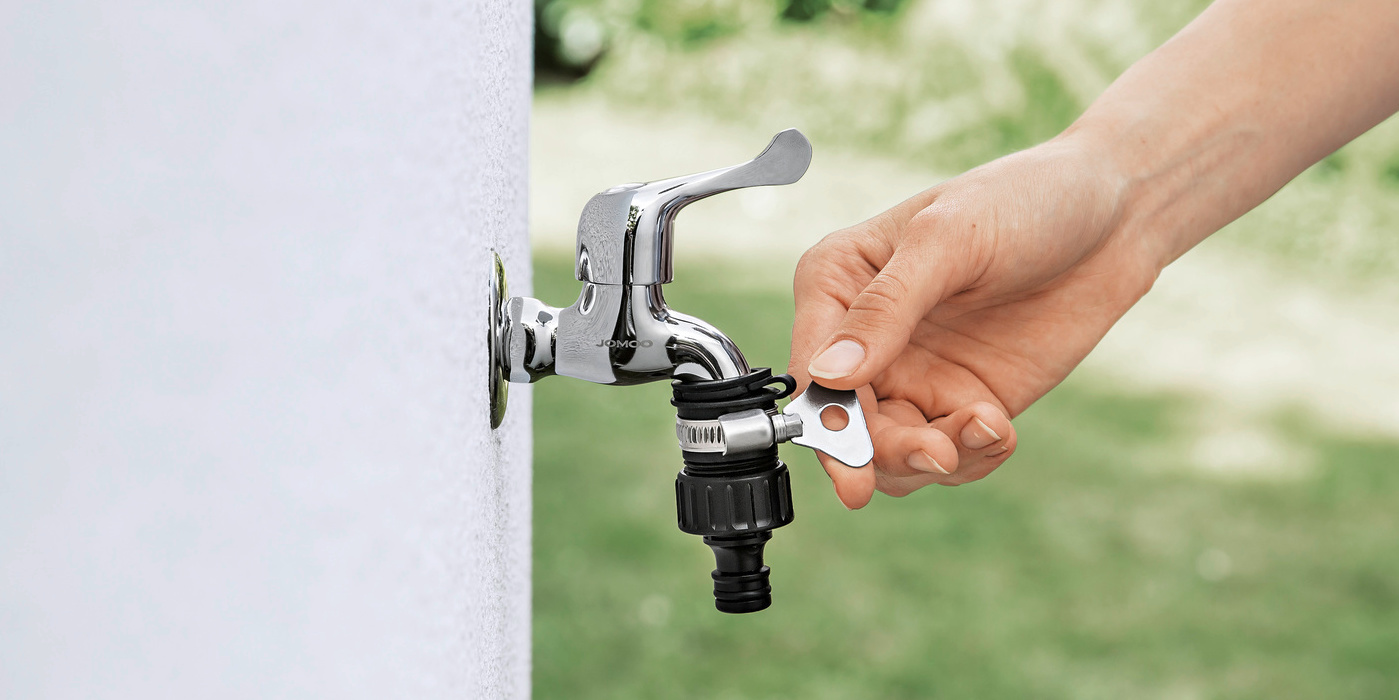 Making the outside water tap winter-proof
And while we're on the topic of water, the outside water tap should also be made winter-proof. In order to prevent any water remaining in the pipes from freezing and consequently to prevent pipes from leaking, the water line to the outside water tap is shut off and the tap opened. Water butts and watering cans are also completely emptied. The former are allowed to remain outside with the drain taps opened, the latter are ideally stored inside. Pond pumps are switched off and their inlets and outlets emptied. Then they are stored frost-free over the winter.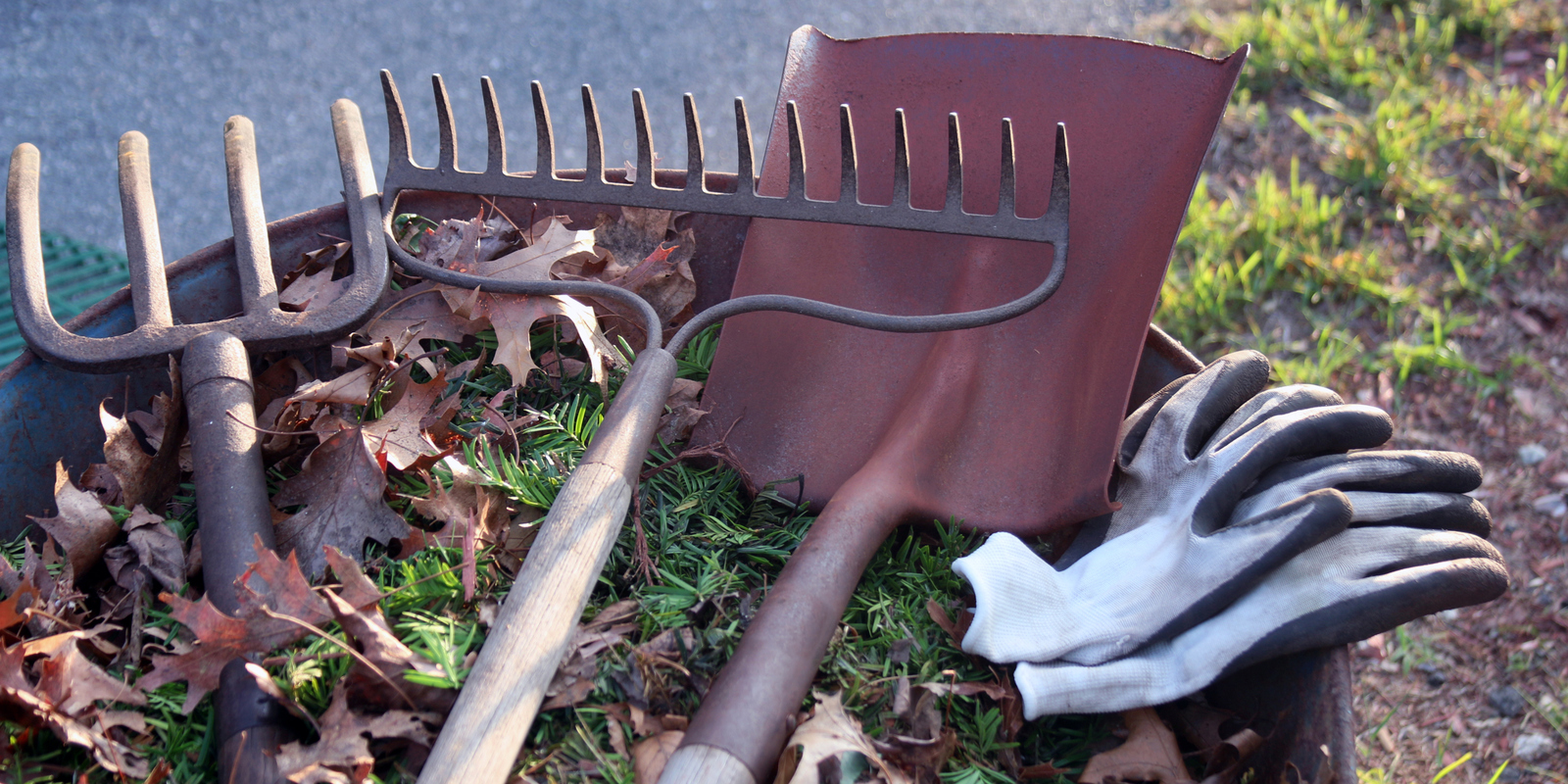 Removing rust
It's no secret that devices frequently under stress stay functional for longer if they are regularly cleaned. This is all the more true before winter reaches the garden. To protect devices from rust, follow the following steps:
First clean them of dirt with water and a brush.
Then they are dried well.
If rust has already formed, remove this with steel wool or steel/scrubbing brushes. 
Finally, protective oil is used. It is applied to the roughened surfaces and protects against initial or reoccurring rust.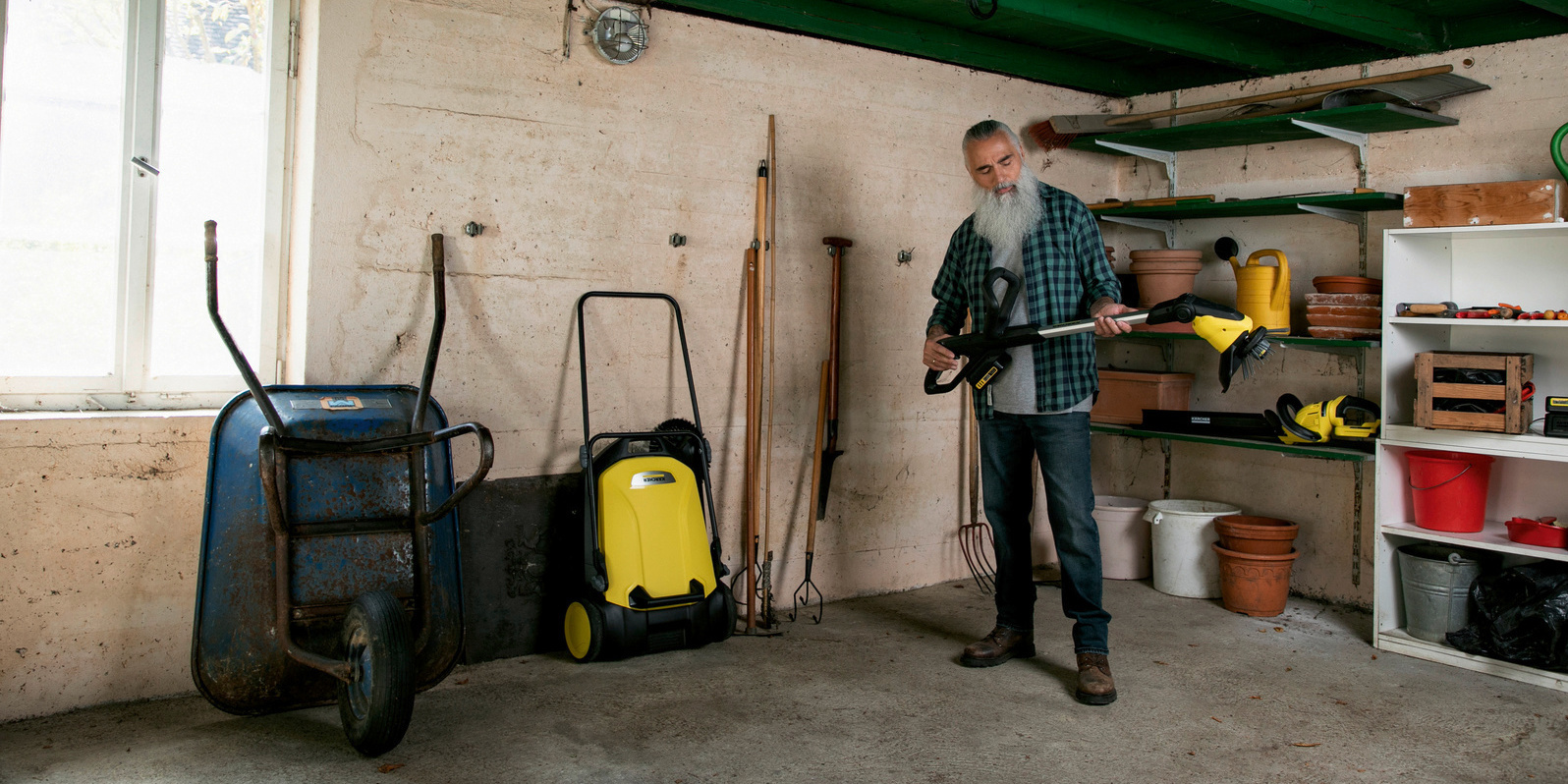 Where to store devices
Ideally, devices should be stored in a garden shed or tool shed. But the garage or the basement are also options, especially if you have obtained special mounting solutions and shelving systems from a specialist retailer for professional safekeeping. Garden tools should never be left outside in winter. Rubber can become porous at a low temperature and materials can become deformed – not to mention the delicate electronics in devices like battery lawn mowers, battery hedge trimmers and not least battery robotic lawn mowers. If these are put away for the winter, you should also consider a few more things.
Instructions: Storing high-pressure cleaners so as to be frost-proof
A high-pressure cleaner should always be protected from frost in the winter. But storage in heated spaces is not always an option. In the event of heavy frost, the temperatures in the garden shed or in the garage may also fall below freezing point. Then there is the risk that small quantities of residual water in the high-pressure cleaner will freeze. Because water expands when frozen, seals and, in the worst-case scenario, pump engineering can be destroyed. In order to prevent frost damage, it is advisable to discharge any existing residual water from the device, the accessories and the hoses. Our recommendation: Dismantle the accessory and switch on the high-pressure cleaner without a water connection for approximately half a minute until it has run totally dry. If the device is equipped with a detergent tank, this should also be emptied and rinsed out before storage. In order to remove residual amounts of cleaning chemicals from the system, the tank can simply be filled with approx. 0.2 litres of fresh water. Then switch on the device briefly in cleaning mode. The water is now conveyed from the tank. Once a year, you should also check and clean the water filter at the high-pressure cleaner supply. You can perform these tasks at the same time.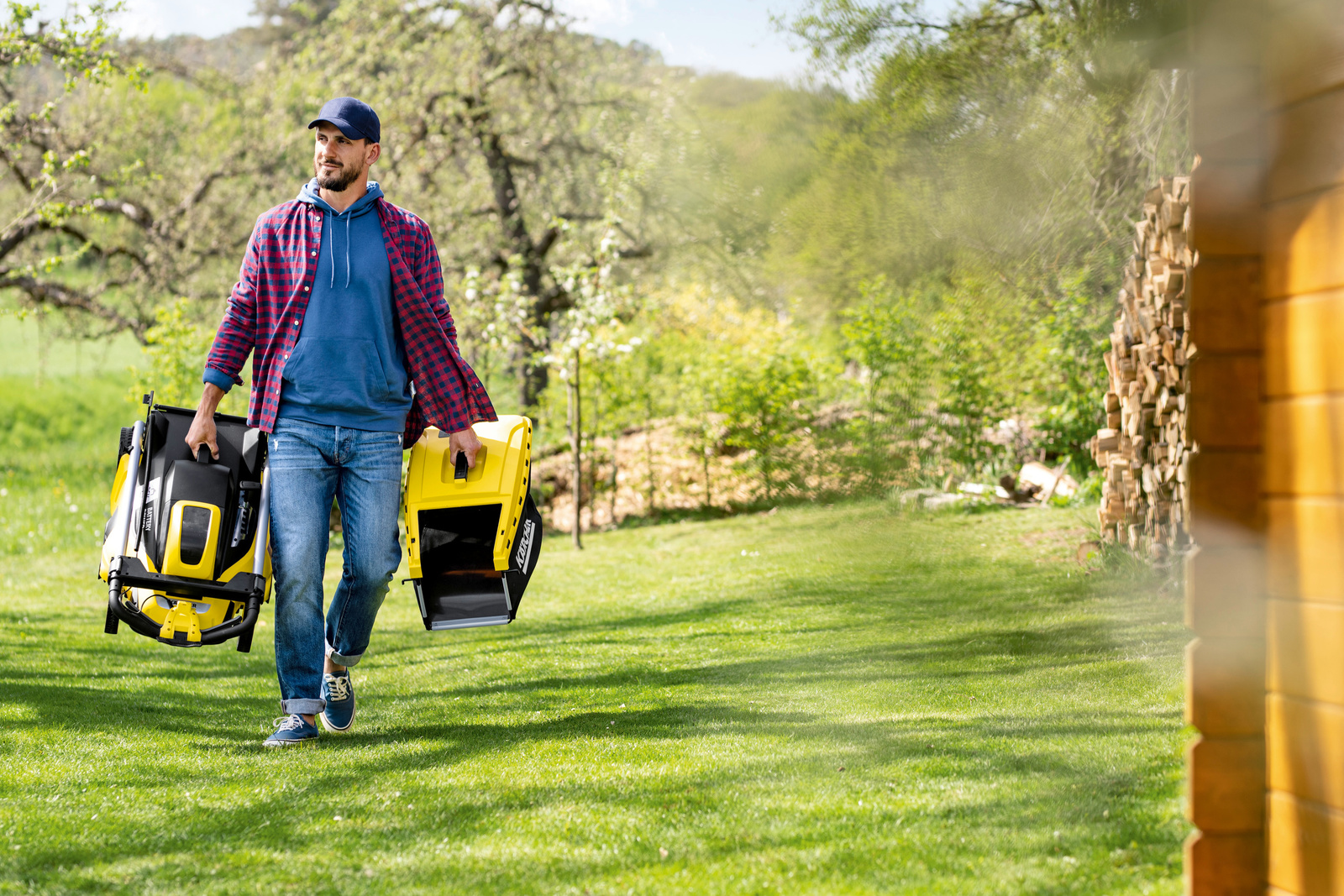 How and when to put battery lawn mowers and robotic lawn mowers away for the winter
Battery lawn mowers and robotic lawn mowers should never be left outside in the garden in winter. Otherwise the electronics could be damaged. The same applies to battery storage in the winter and to the charging station. The end of October at the latest is the time for bringing devices into a dry space – so ideally once the lawn has been mown for the last time that year. In order to put the battery lawn mower or robotic lawn mower away for the winter, the battery should be charged to around 75 per cent. Background: Completely discharging lithium-ion batteries reduces their lifetime. Ideally, batteries are stored at temperatures between 10 and 20 °C. So you should ideally store them in the house over the winter, while the robotic lawn mower or the battery lawn mower itself can be stored in a shed, basement or garage without any problems. If the battery is permanently installed in the robotic lawn mower, the device should be stored in a dry place over the winter. 
Exactly the same also applies to robotic lawn mowers as to the storage of small devices for the garden. They should be cleaned – neither with a hose nor with a high-pressure cleaner, but rather ideally with a damp cloth. Otherwise the electronics in the device could suffer. In order to dismantle the charging station, all cords must first be removed and the ends of the cords protected against moisture and frost with a film. If the contacts of the charging station are soiled, they should be cleaned with fine-grained sandpaper. 
Putting garden furniture away for the winter
No matter whether the garden tables and chairs are made of winter-proof materials such as polyrattan, out of aluminium or out of wood, they should be stored over the cold season if you're making the garden winter-proof, as should table covers and seat cushions. Dry, cool spaces such as basements, garages or garden sheds are particularly suitable for this. Only steel furniture can remain in the garden over the winter. If you don't have enough space to stow your furniture indoors, you can make use of special protective covers. These steps should be followed:
Clean the garden furniture and allow it to dry.
Secure protective covers well, factoring in wind when doing so.
To prevent mould from forming, ensure that air can get to the furniture.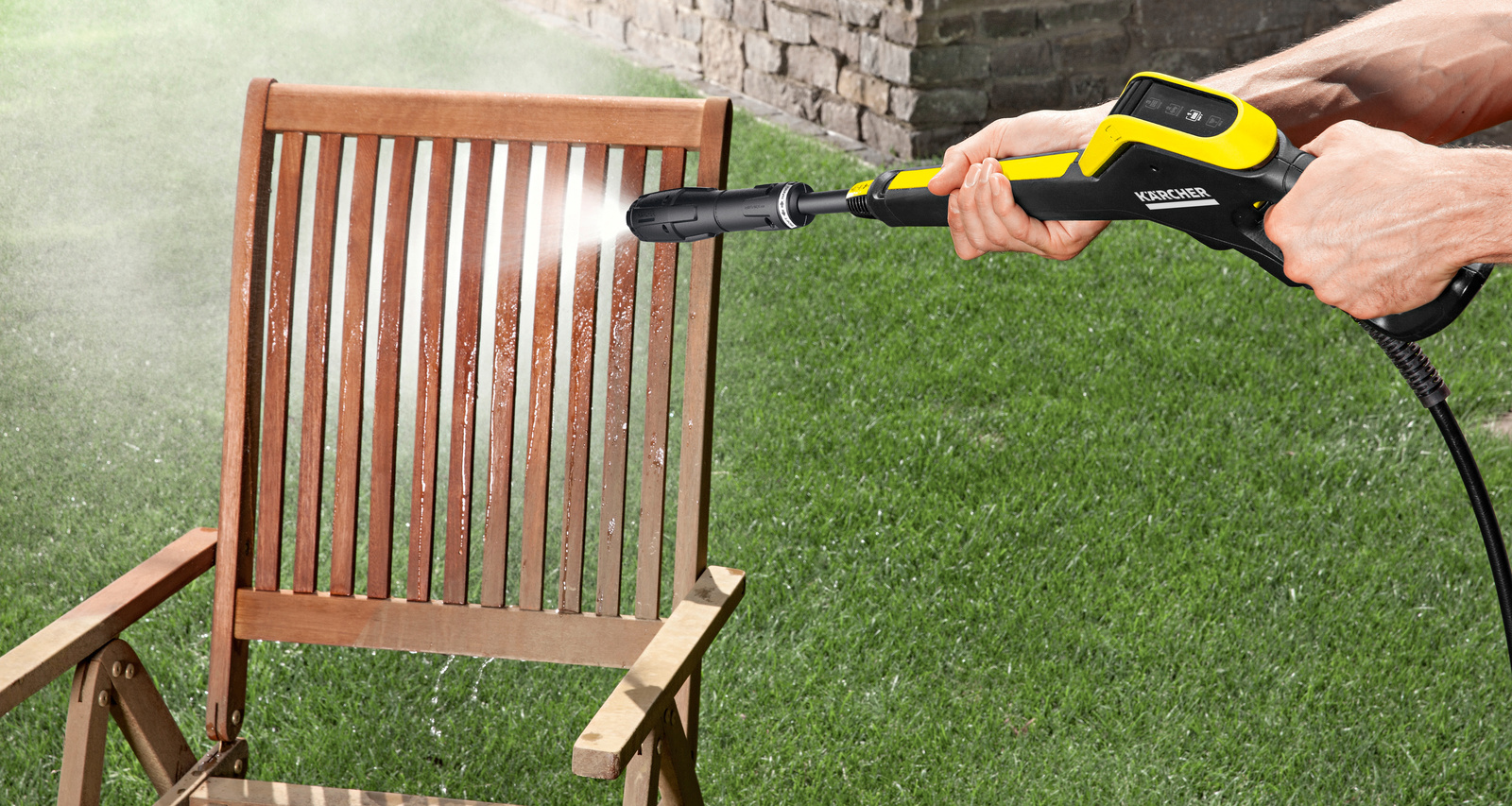 Suitable products for the garden
This might also interest you: