Multifunctional spray gun set Plus
Made for a variety of garden watering applications: the multifunctional spray gun includes tap adaptor and 2 connectors with grip (one with Aqua Stop).
One kit for many watering tasks. The multifunctional spray gun adapts to the different requirements of different plants. The model multifunctional spray gun Plus (no. 2.645-269.0) waters drip-free and features 4 spraying patterns: Shower, point and flat stream, as well as fine spray mist. This allows the multi-functional spray gun to master not only watering tasks, but also light cleaning tasks. The rotatable handle with a lockable trigger can be pointed forwards or backwards, allowing the individual operating comfort which is typical for Kärcher. In addition, the set contains 2 high-quality Plus universal couplings with grip – one including Aqua Stop – as well as a G3/4" tap connection piece with G1/2" reducer. Thanks to the practical Aqua Stop, there is no water flow when the nozzle is removed and the tap is open. The connectors can also be used for all conventional garden hose diameters. By the way: Nozzles and connectors from Kärcher are compatible will all available click systems and can be connected to your garden hose without any problems.
Features and benefits
Special membrane technology
Ensures drip-proof use also during spraying pattern change and after water cutout.
Rotatable handle
Individual operability with trigger handle pointed forward or backwards.
Ergonomic control valve
Regulation of the flow rate on the nozzle with just one hand.
Easy locking of the trigger handle
For convenient and continuous watering.
Four selectable spraying patterns with locking function: Shower, flat stream, aerator jet, spray mist
The right spraying pattern for every application area.
Soft plastic elements
For slip resistance, greater comfort and for protection against damage.
Removable shower disc
For cleaning the membrane of blocked nozzles.
Aqua Stop
For securely detaching accessories from the hose without splashing.
Universal couplings (1/2", 5/8", 3/4")
Suitable for all standard garden hoses.
Hook-and-loop system
Works with all well-known brands.
Specifications
Technical data
| | |
| --- | --- |
| Weight (kg) | 0.2 |
| Weight incl. packaging (kg) | 0.3 |
| Dimensions (L x W x H) (mm) | 192 x 70 x 162 |
Equipment
Number of spray patterns, 4
Rotatable handle
Locking at handle
Water flow regulation
Self-draining function
Soft plastic elements
Spray mist
Horizontal flat jet
Point jet
Sprinkler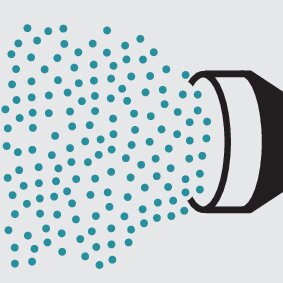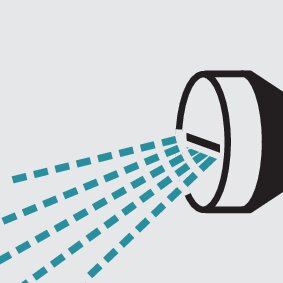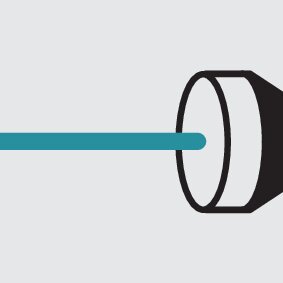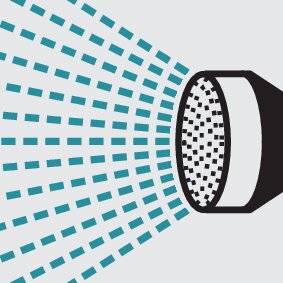 Application areas
Suitable for demanding watering tasks
Suitable for watering many different types of plant in the garden
For watering plants and flowerbeds
For cleaning lightly soiled surfaces
For cleaning leaves
For gentle watering of sensitive plants, e.g. seedlings
For watering hedges and close to plant roots