How to Clean Fabric Car Seats
Your Karcher's household cleaners can be used to clean car interiors as well, making the Karcher's vacuum cleaner your best household item purchase ever!
You just have to attach the right accessories to the same vacuum cleaner, and transform it into the ultimate car seat cleaner machine you have ever seen.
With Karcher, you can clean your car seats by yourself without having to pay professionals to do it for you. This saves you money!
Fabric Car Seat Cleaners from Karcher
All you need is one or more Karcher's products:
● Multipurpose Vacuum Cleaner for regular car seat surface cleaning;
● Steam cleaner to sanitise car seat;
● Upholstery cleaner to deep clean car seat stains;
Below, we will provide a detailed explanation on how to wash, clean and remove stains from fabric car seats using these amazing Karcher cleaning appliances.
Step 1: Remove Dust and Dirt with a Car Vacuum Cleaner
Any of the Karcher vacuum cleaners that you already have at home can be transformed into a car vacuum cleaner with the right accessories. You can also consider getting the comprehensive car interior cleaning kit for a more thorough cleaning.
Handy Car Seat Vacuum Cleaner Accessories
Car interior cleaning kit is equipped with comprehensive car interior cleaning tools for the best cleaning results on sensitive surfaces, large surfaces and in narrow gaps.
For example, the crevice nozzle will be great for picking up crumbs from small car storage compartments situated around the dashboard and side doors. Car suction nozzle will be ideal to clean a bigger surface, like car boot. Suction brush with soft bristles will come in handy to get rid of stains that could be easily removed while suction brush with hard bristles will be your best choice to remove tough stains.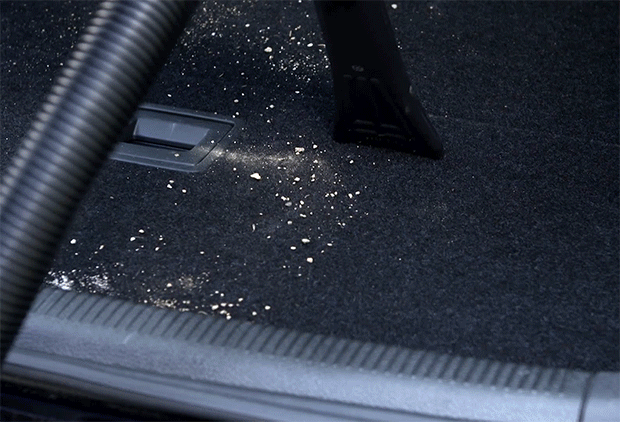 Practical blower function of a Car Seat Vacuum Cleaner
Where vacuuming is not possible, the practical blower function of Karcher's Wet and Dry Vacuum Cleaner would come in handy. Dirt can be effortlessly blown and later vacuumed from even in the smallest nooks and crannies.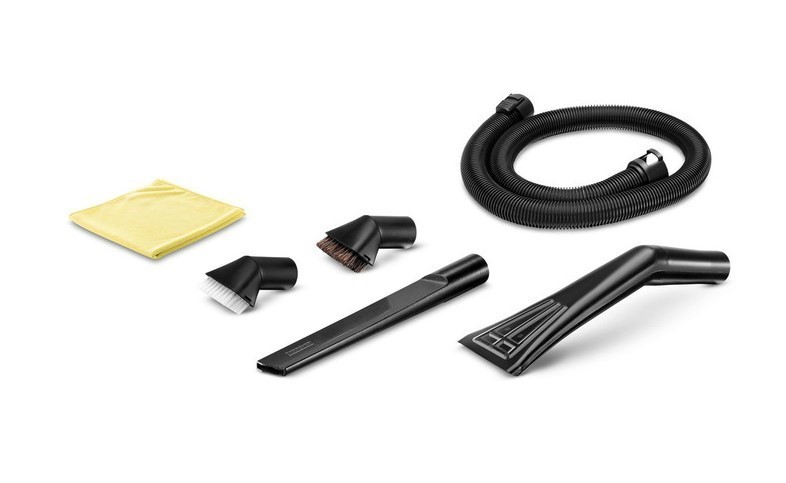 Step 2: Scrub Your Car Seat Clean
You have two options available for deep cleaning fabric car seats.
Option #1: Scrub car seat with sponge using household cleaning products such as detergents and stain remover. Then, soak up as much liquid as possible from the car seat with a microfibre cloth. Rinse dirty liquid from your cloth. Repeat this process until your seat is fully cleaned.
Option #2: Deep clean car seats with Karcher Spray Extraction Cleaner by spraying both water and detergent to the surface of car seat upholstery and then the dirt stained on the surface combined with detergent-water solution will be vacuumed up immediately after.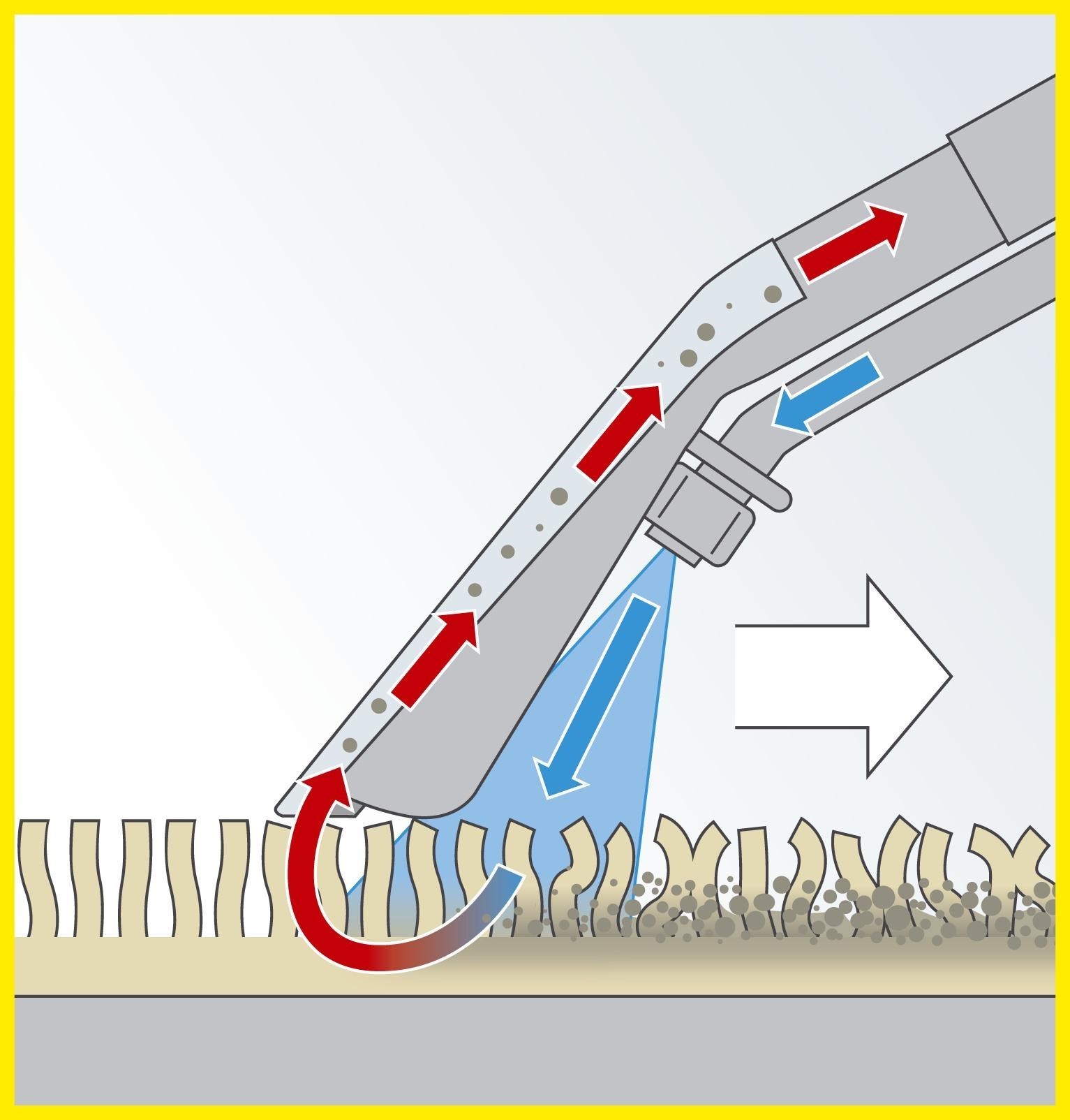 The biggest distinction between option #1 and option #2 is that you would need to put more effort cleaning the surface of fabric car seat with option #1, while option #2 is painless and highly efficient! You almost do not have to spend much effort in cleaning, just plug in the power source and go through the stained area with your Karcher Spray Extraction Cleaner, and the job is basically already done for you.
Most importantly, the cleaning effect of Karcher Spray Extraction Cleaner will be much more effective compared to manual cleaning.
How to Clean and Remove Car Seat Stains
For immediate stains like mud, urine, food or beverage spills, it is best to try to remove them from your car seat fabric as soon as it occurs because older stains usually tend to get hardened and hence are much more difficult to remove.
For immediate spot cleaning, you can use Karcher Universal Stain Removal by dabbing it to the stained area with a clean, dry cloth. Then clean the area with Karcher Spray Extraction Cleaner to get rid of any residue.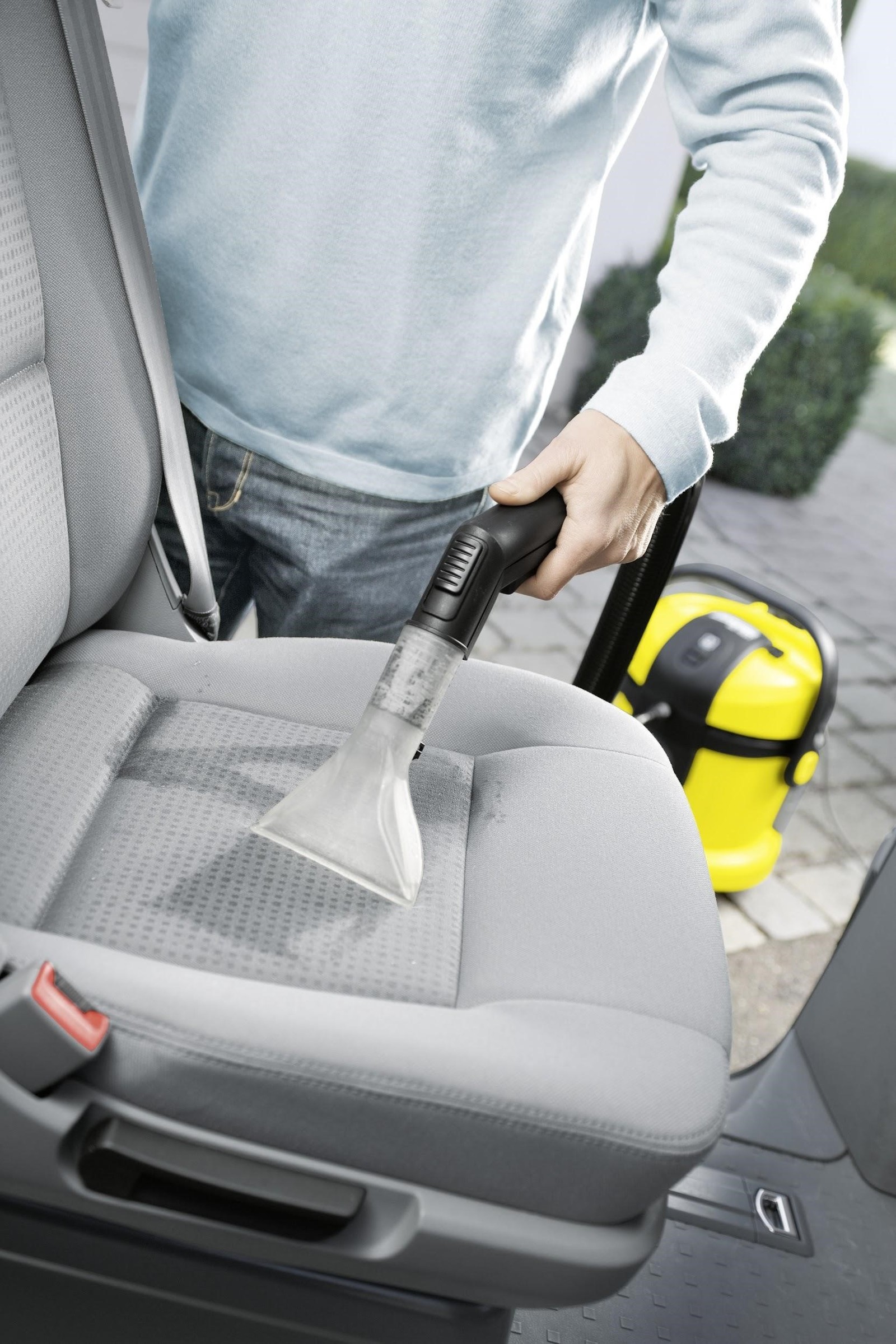 Can You Steam Clean Car Seats?
Yes, you definitely can, much like how you can steam clean a couch. A car seat steam cleaner is very effective in removing mould and killing bacteria, especially when you have to clean vomit or pet urine from your car seat.
We recommend that you thoroughly pre-clean the car seat surface before steam cleaning.
Conclusion
It is always better if you do the car interior cleaning job by yourself as you are the one that knows and cares about your vehicle the most. Lucky for you, Karcher makes fabric car seat cleaning so easy to manage that you could just do it at your leisure with the most appropriate car seat cleaner machine.
Visit the nearest Kärcher store near you to test out the best car seat vacuum cleaner, spray extraction cleaner and steam cleaner for the ultimate car seat cleaning solution!