Food industry
Countless cleaning tasks. One system. The name Kärcher is synonymous with power, quality and innovation worldwide. It also stands for cleaning expertise that sets the standards. As the inventor of high-pressure cleaning, Kärcher is today a world market leader and one of the driving forces behind technological developments in cleaning technology and other fields. As an industry supplier, especially in the food processing sector, Kärcher offers outstanding solutions, in terms of both technical performance and cost-effectiveness, for every area of production, as well as office areas and outdoor facilities. From standard machines to complete custom-made solutions. From consulting and planning to initial start-up and full service. Expect more from Kärcher and we will deliver. Greater performance. Greater durability. Greater sustainability. Greater collaboration. Expect more from Kärcher and see the difference we can make. Kärcher makes a difference.

Certified systems for dry cleaning.
Production systems for dry products require, above all, dry cleaning procedures for floors and walls, containers and installations. Dusts not only cause hygiene and health problems, they can also often create a risk of explosion. Therefore, investing in high-quality cleaning machines is above all about investing in value retention, safety and efficiency.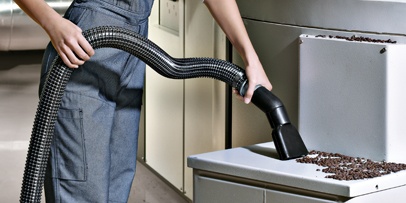 Quick vacuuming
Dirt is continually created at filling stations and during goods handling as a result of goods spillages, which must be cleared up immediately. Kärcher industrial vacuums are ideally suited to this area of use thanks to their suction power and equally powerful filter technology.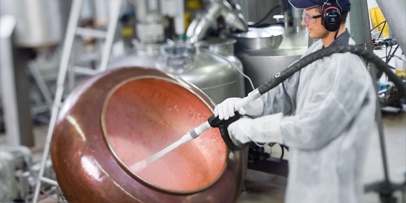 Ice-cold professional machine – for gentle cleaning
The Ice Blaster can remove stubborn residues like grease, starch, encrustations and carbon residues from filling and mixing plants, production lines and handling systems, as well as tanks and furnaces – without the use of chemicals.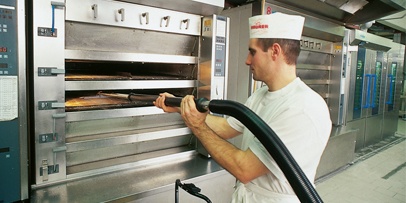 Clean while hot
Ovens must be vacuumed out regularly. Thanks to Kärcher's special accessories made from heat-resistant materials – from the vacuum nozzle to the filter fleece – you no longer have to wait for the oven to cool down.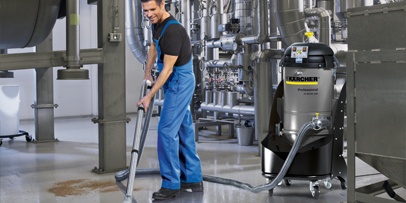 Vacuuming – made for you
With the right accessory, you can tackle any cleaning task quickly and effectively. The Kärcher system offers a variety of accessories, including suction nozzles, hoses and filter inlays, for any requirement and any individual task.
Our products for dry cleaning
Certified systems for wet cleaning.
Production facilities, the logistics industry and all sectors that deal with animal and plant oils and fats, and in particular meat, place extremely high demands on hygiene and safety. The Kärcher system is ideally equipped to meet these requirements: modern cleaning agents work reliably and effectively, while the DOSE system ensures optimum dosing and economical use of cleaning agents. Maintenance and uninterrupted work processes are also extremely important factors. Depending on the size of the business, stationary high-pressure units are the technology of choice; not only do these offer a central water, hot water and cleaning agent supply, they can also expertly separate, process and dispose of the cleaning media.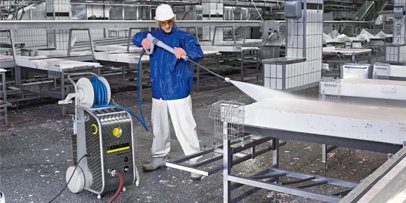 Hygiene for tables, floors and walls
Day-to-day cleaning as well as periodic deep cleaning in the food processing industry ensure that high standards of hygiene and work safety are maintained. Cleaning also contributes to value retention. Kärcher offers a range of highly efficient stationary high-pressure units as well as special mobile machines. Special features include the blue food-design high-pressure hoses with non-discolouring outer layer for the meat processing industry, which are resistant to animal fats. These are also available as longlife equipment and are conductive for explosion-proof areas.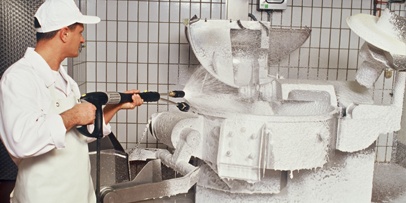 Spray once for twice the effect
Cleaning and disinfection with just one lance. Kärcher has everything you need, from the Inno Foam system to a wide range of foam lances and listed cleaning agents.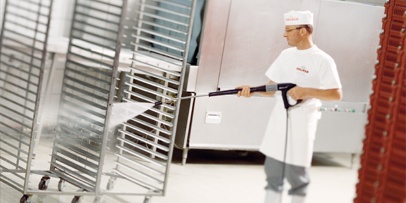 Deep into every nook and cranny
Dirt and germs are hiding everywhere. With high pressure, hot or cold water and specially formulated cleaning agents, all-round cleanliness and hygiene are guaranteed.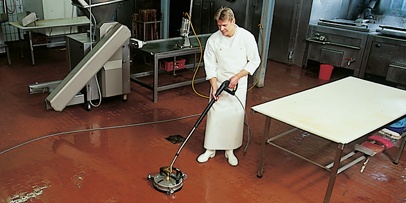 Apply, clean, vacuum – done
Kärcher surface cleaners can achieve an area performance up to 10 times higher than a high-pressure jet. Very practical thanks to the splash guard, which prevents cross-contamination. Also available with dirty water suction.
Our products for wet cleaning
An effective and efficient office clean.
Cleanliness and hygiene are all that matters when it comes to the food processing industry. Administration rooms located close to production, such as offices, computer rooms for line control or sanitary facilities, are particularly sensitive areas. Here the task is to minimise the transfer of dirt and dust from the production area into these rooms and vice versa.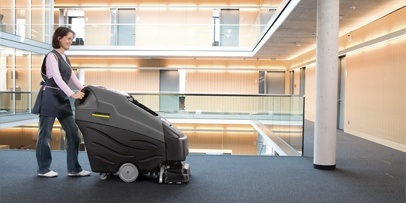 Top performance on large areas
The innovative BRC range combines the advantages of spray extraction with the mechanical cleaning power of a brush, making it perfect for cleaning large areas in a short space of time.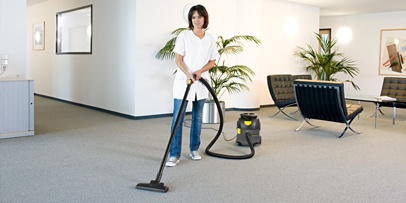 Professional-quality dry vacuum cleaners
The innovative T 10/1 Adv was developed together with contract cleaners and impresses with its high suction power combined with a 5-stage filter system which includes a 3-ply fleece filter bag, a permanent main filter and a motor protection filter. A HEPA filter cartridge can be retrofitted.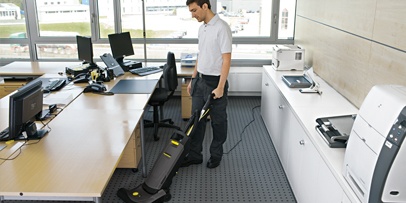 Removes dirt deep in the pile
Carpeted corridors and offices require regular deep cleaning, ideally with a Kärcher upright brush-type vacuum cleaner.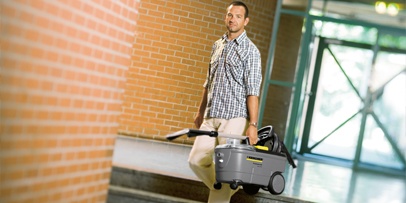 Mobile cleaners
Kärcher spray extraction cleaners are suitable for use on all types of textile surfaces: floor coverings, upholstered furniture, office chairs and vehicle seats. The handy, mobile Puzzi range of spray extraction cleaners, which are as powerful as they are robust, feature an extensive range of accessories and can be used for many applications.
Our products for office cleaning
The perfect outdoor cleaner.
The first impression is crucial. This is particularly true for the outside areas of companies which serve to both advertise and represent your business to the outside world. There is also the need to keep dirt levels near entrances to a minimum to prevent it from being carried in and to keep loading areas and driveways clean: from leaves and road dirt to bits of broken pallet and coarse dirt, both wet and dry.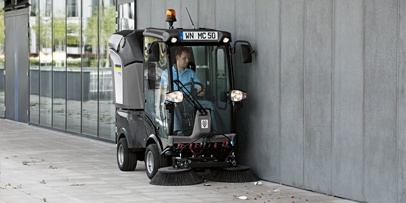 Clean large areas in no time
In order to clean large outside areas efficiently and in a short space of time, you will require powerful and extremely agile sweepers with low energy consumption, high container storage and a range of accessories.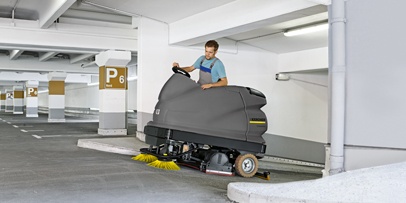 Tough on dirt – easy to operate
Kärcher's extremely robust scrubber driers and sweepers, with their outstanding climbing ability, can be used in underground car parks, transport routes, connecting tunnels and ramps. They are capable of cleaning both uphill and downhill.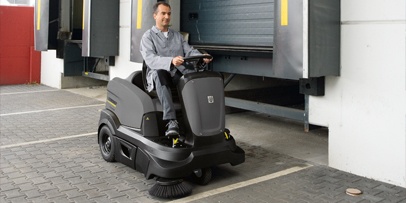 Constant performance without cutting corners
Kärcher's fully hydraulic ride-on sweepers are well-equipped and get into every corner. They feature various drive types which can be adjusted for the specific use: diesel, gas or battery.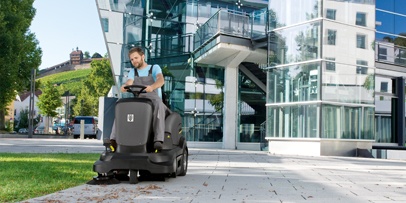 Sweep to create a smart impression
Sweeping outdoor areas and entrances creates a good impression. Kärcher sweepers are available for any requirement in the optimum performance class to keep outdoor areas looking tidy and to create the right impression.
Our products for cleaning outdoor areas