STEAM CLEANERS
Kärcher steam cleaners remove up to 99.9%* of enveloped viruses and up to 99.9%** of household bacteria, ensuring maximum hygiene and a healthy living environment. Whether in the kitchen, the bathroom or even on floors, it's full steam ahead with Kärcher! Made in Germany.
Kills up to 99.999% of enveloped viruses.* And bacteria.**
Kärcher arranged to have the effectiveness of its steam cleaners in fighting viruses tested in an independent laboratory. The result: if used properly, the machines remove up to 99.999% of enveloped viruses*, such as the coronavirus or influenza, and 99.99% of common household bacteria** from hard surfaces. As at the present time disinfectants are to be reserved primarily for outpatient and inpatient care, steam cleaners can make a valuable contribution to general hygiene – both in private households and in commercial and industrial use.
Enveloped viruses*, such as the coronavirus or influenza, can be neutralised with high temperatures. As viruses are not germs or living organisms, experts also talk about virus inactivation. In the laboratory a certified test virus (Modified-Vaccinia-Ankara-Virus), which is representative for enveloped viruses, was distributed on a hard surface. This area was then cleaned with the hand nozzle of a steam cleaner and the appropriate microfibre pad. It was demonstrated that a significant reduction of up to 99.999% of the viruses could be achieved at maximum steam pressure and with a cleaning duration of 30 seconds on one area.
Full steam ahead when cleaning the house
Kitchen cleaning
Whether it is fixtures and fittings, wall tiles, glass or plastic surfaces, the extraction hood, hob or sink: the steam cleaner leaves the kitchen hygienically clean – without huge physical effort and without chemical residues.
Floor cleaning
When cleaning hard floor coverings such as stone, tiles, PVC, laminate or sealed parquet, the steam cleaner ensures maximum cleanliness and hygiene - without any chemical residues.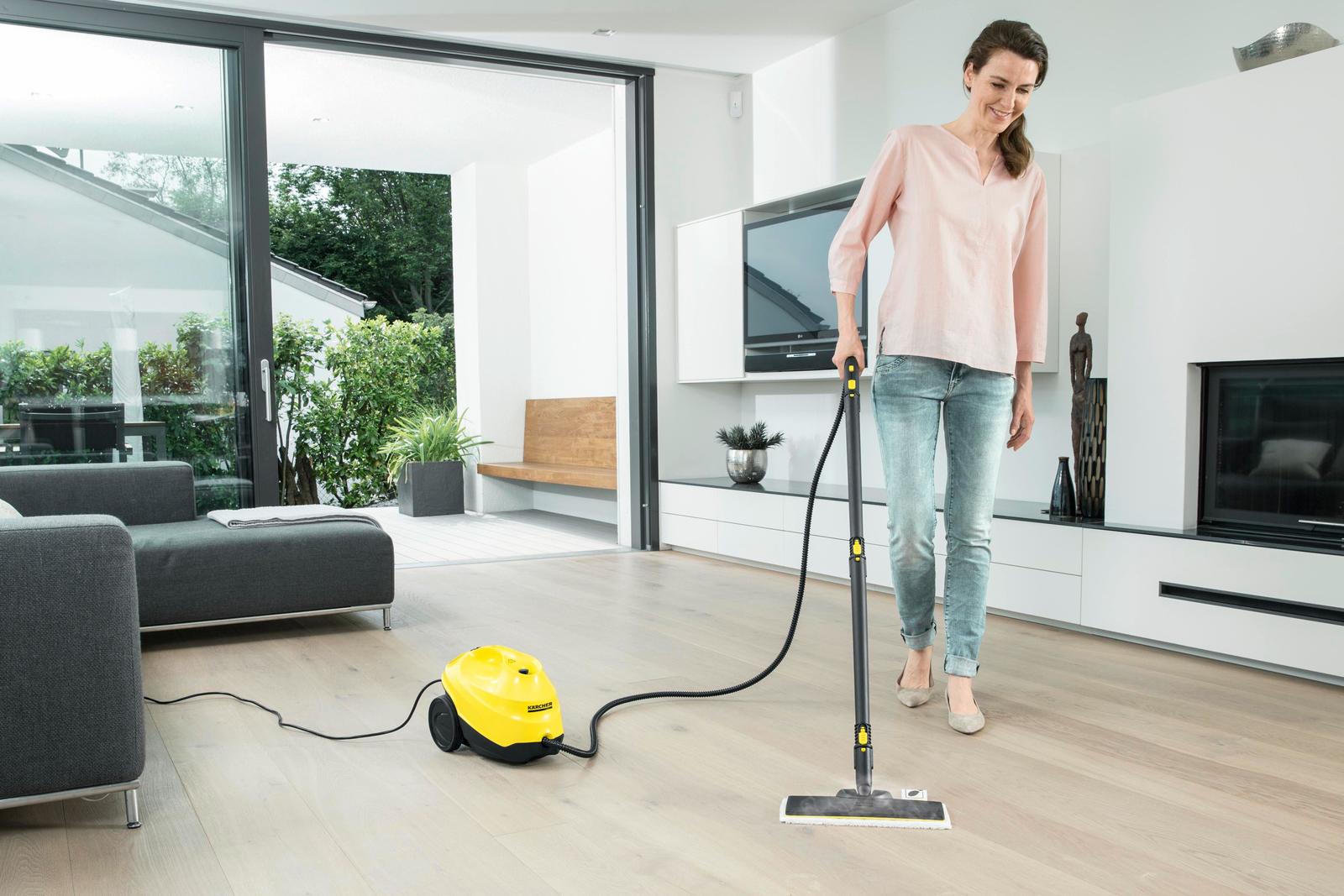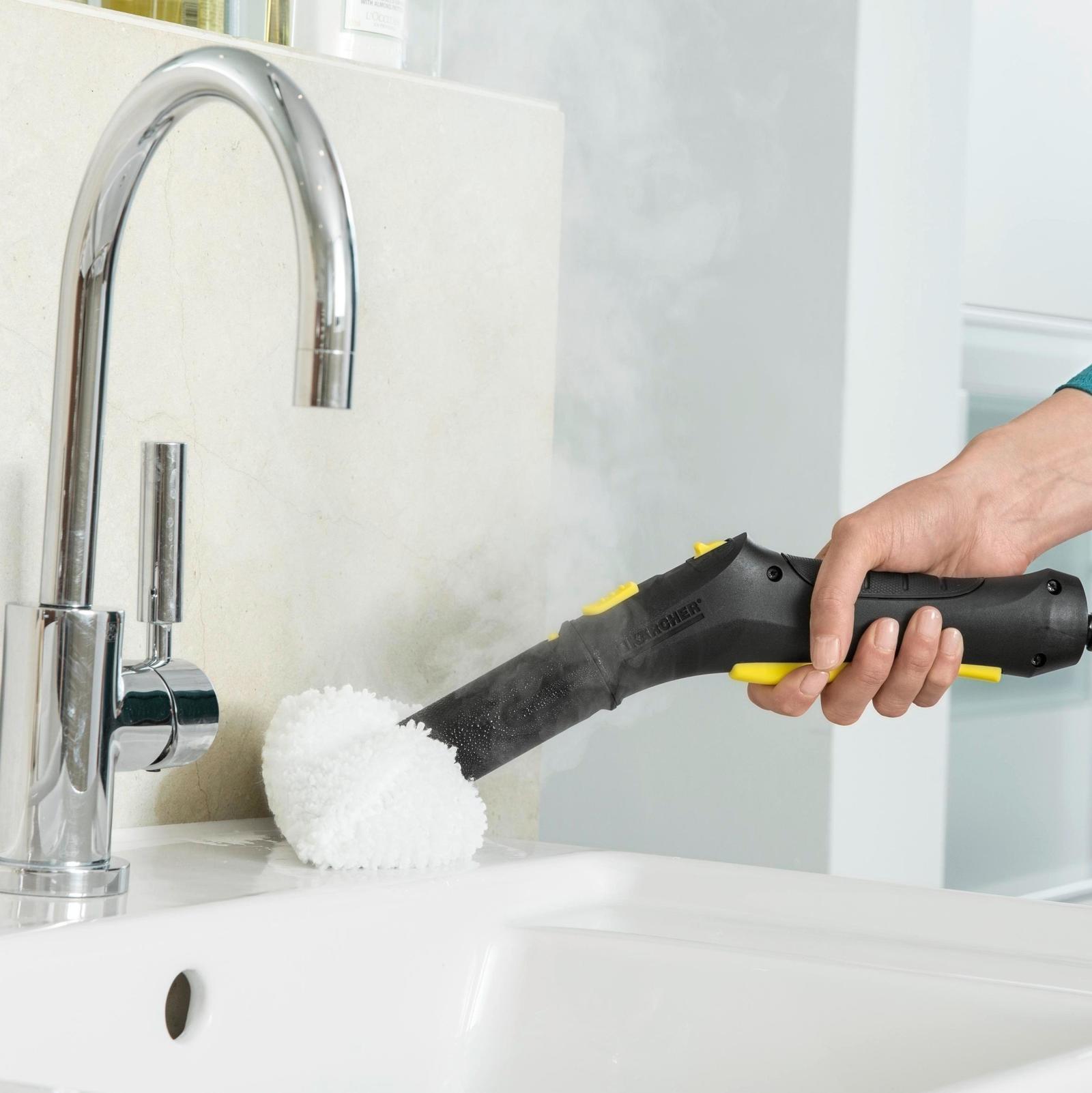 Bathroom cleaning
Also when cleaning wall tiles, glass and mirror surfaces, windows, fixtures and fittings, shower cubicles, crevices and joints or cracks, the steam cleaners do a perfect job and ensure absolute hygienic cleanliness.
An all-rounder – thanks to the comprehensive accessories
The extensive array of accessories for the Kärcher steam cleaners ensures a wide range of possible applications throughout the home.
* When spot cleaning with the Kärcher steam cleaner, i.e. a steaming duration of 30 seconds at the maximum steam level, 99.999% of enveloped viruses, such as coronavirus or influenza (with the exception of the hepatitis B virus), are removed from smooth, hard household surfaces (test germs: Modified Vaccinia Ankara virus) upon direct contact with the surface to be cleaned.
** When cleaning at a cleaning speed of 30 cm/s and maximum steam pressure, 99.99% of all typical household bacteria on smooth, hard household surfaces are killed (test germs: Enterococcus hirae) upon direct contact with the surface to be cleaned.
*** Thorough cleaning with the Kärcher steam cleaner results in a better cleaning performance than cleaning manually with a mop and detergent. Tested according to international performance standards.