PATIO CLEANER
Versatile for various outdoor surfaces
Thanks to its rotating roller brushes and integrated water distribution, the patio cleaner from Kärcher removes dirt carefully yet thoroughly from patios, no matter whether they are made from wood, WPC or smooth stone tiles.

Your wingman for patio cleaning.
Let's put an end to energy-sapping scrubbing: thanks to the patio cleaner, you'll never again have to manually clean wooden floors in outside areas. You can also clean remote sites in next to no time and without the need for a power connection: for the cordless patio cleaner, you do not need a separate power source, and you can enjoy maximum flexibility and freedom of movement. Rotating roller brushes and water clean evenly, removing even stubborn and ingrained dirt from the wood. The water volume can be adjusted easily, meaning you only use as much water as you actually need. Dirt is loosened and washed away in a single step. In combination with the compatible roller brushes, the patio cleaner also cleans dirt off stone tiles in outside areas optimally and effortlessly.
Thorough and even cleaning
Innovative, reverse-rotating roller brushes ensure thorough and even cleaning of wooden patios.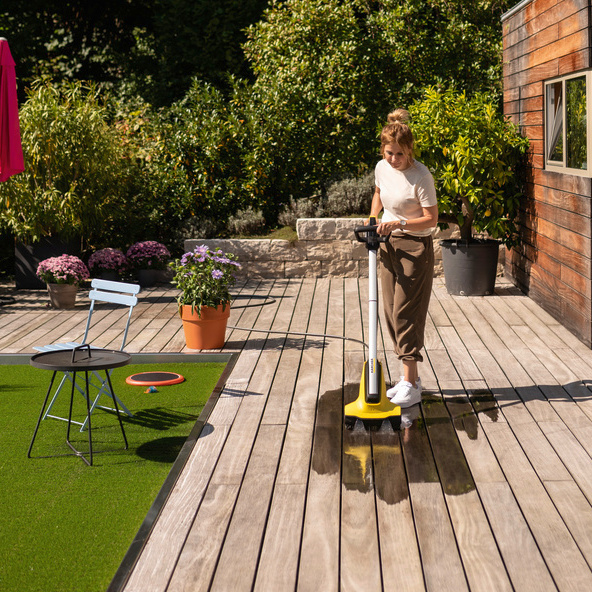 2-in-1 function
The two integrated water nozzles loosen and rinse away the dirt in one step.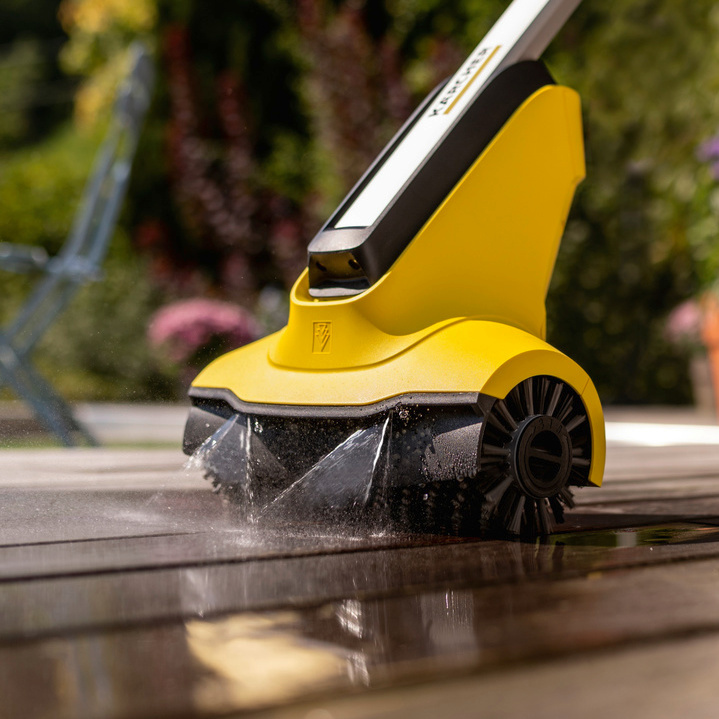 Can be used on a variety of different outdoor surfaces
Thanks to the option of tool-free changes, the wood brushes included in the scope of supply can be replaced with brushes for cleaning smooth stone tiles in no time at all.