Steam cleaners & steam vacuum cleaners
Hygienic cleaning without cleaning agents Kärcher steam cleaners & steam vacuum cleaners clean economically and hygienically - without chemicals. The wide range of accessories make these machines suitable for diverse use on all hard floors, glass and tiled surfaces. Fittings and textile surfaces are also thoroughly cleaned.


-
Hygienic, cost-effective and environmentally friendly: Kärcher steam cleaners clean all hard surfaces without chemical cleaning agents.
-
Kärcher steam vacuum cleaners feature high operating comfort and effective cleaning performance on all hard surfaces. The extensive range of accessories ensures targeted cleaning.
Hygienic and thorough cleaning with professional steam cleaners and vacuum cleaners
Viruses such as the SARS-CoV-2 virus or the norovirus may remain infectious for a very long time on hard surfaces such as metal, stone, wood, ceramic, plastic or paper if they are not deactivated. The viruses can be deactivated by high temperatures, among other things, for example with the use of steam cleaners.
When cleaning walls, floors or furniture, germs, bacteria and viruses can be effectively fought with professional steam cleaners. In this application, the steam emerges from the nozzle in very fine droplets and, depending on the type of appliance, at a maximum temperature of 100 °C and a maximum pressure of 3 to 4 bar. The acceleration is about 170 km/h. Therefore, the steam reaches all cracks or rubber folds where brushes or cloths can hardly reach. In this way, hard-to-reach areas can be cleaned hygienically and thoroughly.
In order to combat viruses effectively, the nozzle must be guided over the surface. Before use, other dirt should be removed from the surface. Furthermore, the correct cleaning speed (30cm/s) at the maximum steam stage must be ensured.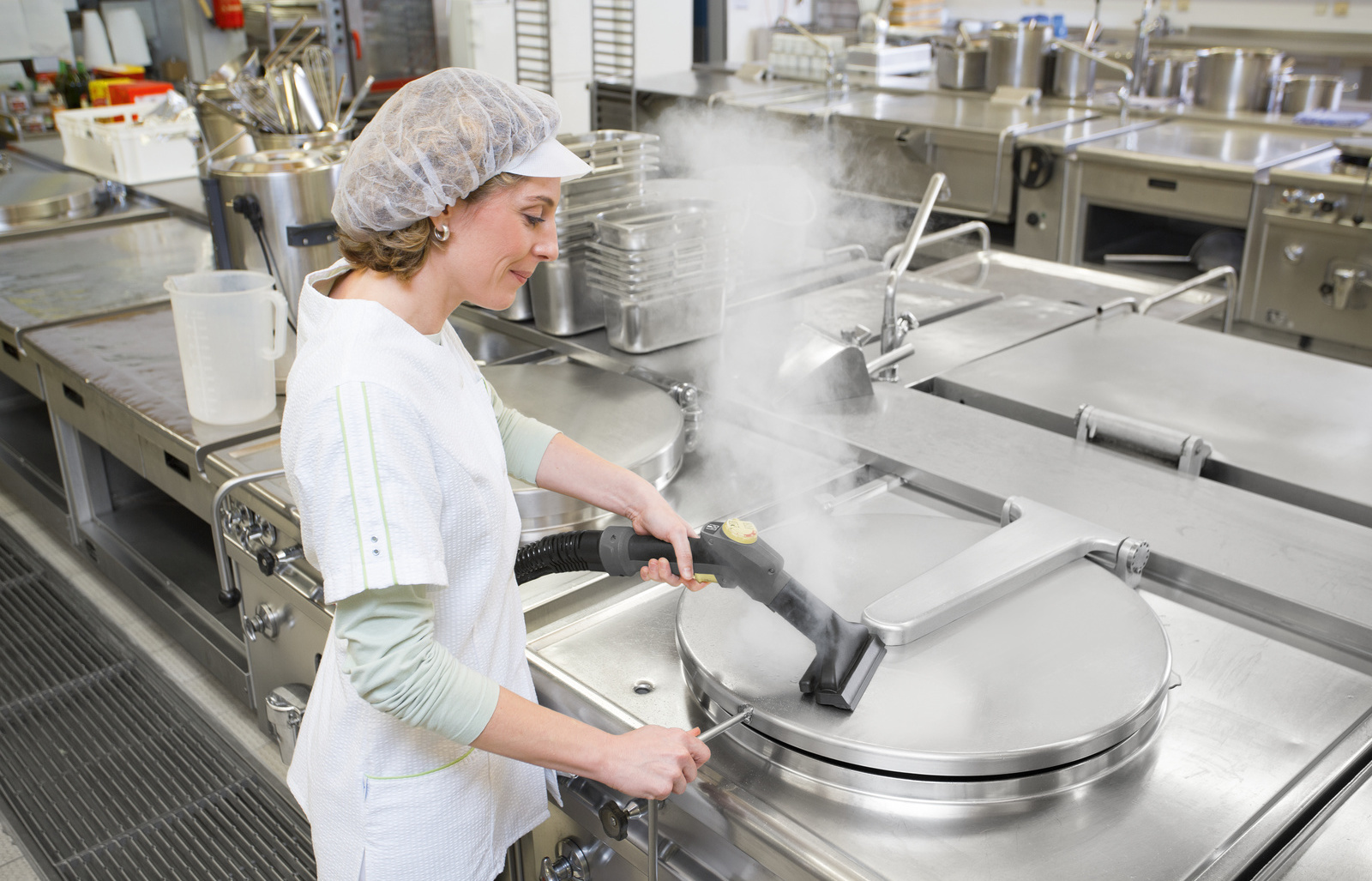 Virus deactivation with high temperatures

When used properly, the machines effectively eliminate, in addition to enveloped ** viruses such as coronavirus, influenza viruses or HI viruses, also up to 99.99 %* of non-enveloped adeno-, rota- and noroviruses on contaminated surfaces.
An independent laboratory confirms the disinfectant effect and the machines are classified as "limited virucidal PLUS" in accordance with the effective range defined by the Robert Koch Institute. This designation applies to products that can deactivate all enveloped viruses as well as the non-enveloped adeno-, rota- and noroviruses. The effectiveness thus covers the viruses that are particularly often responsible for hospital outbreaks.
Not only in times of corona can steam cleaners/steam vacuum cleaners thus ensure the necessary hygiene in the food industry, hotels, supermarkets, care homes, hospitals, offices and public facilities – completely without the use of any chemicals.
* As per EN 16615, PVC surface, test machines SG 4/4 and SGV 6/5 (SGV 8/5 by analogy), test germ: MVA, murines norovirus, adenovirus (except hepatitis B), under low organic strain.
** With selective cleaning, i.e. with a steaming duration of 30 seconds at the maximum steam stage with direct contact with the surface being cleaned, 99.999 % of the enveloped viruses, such as coronavirus or influenza viruses (except the hepatitis B virus) can be eliminated on smooth, hard surfaces (test germ: modified vaccinia virus Ankara). **When cleaning at a cleaning speed of 30 cm/s at the maximum steam stage and with direct contact with the surface to be cleaned, 99.99 % of all common household bacteria on smooth, hard household surfaces are killed (test germ: Enterococcus hirae).
Highly effective even without chemicals
Steam cleaners need only electricity and water. As they work without chemical cleaning agents, their use does not harm the respiratory tract of the users. At the same time, potential allergic reactions or changes to the material surface being treated caused by cleaning agent residues are prevented.