Pressure Washers
Remember that feeling you had when your car was new and your driveway was freshly paved? When your garden furniture first saw the light of day and your garden walls were still free of moss? That was a real WOW moment! But hey, dust, dirt and uncontrolled growth have got nothing on you and your Kärcher pressure washer. The WOW is still there. Get it back! You and your Kärcher – combat dirt with some serious power and have fun doing it. Turn a dirty job into sheer pleasure. Bring back the WOW.
The first app-connected pressure washer ever.
BRING BACK THE WOW LIKE AN EXPERT.
With the first app-connected pressure washers ever, you're in the big league now. Master the Kärcher Smart Control range directly from your smartphone and, with the application consultant right at your fingertips, explore the ideal pressure for everything you clean and the various accessories that will always get you the optimal cleaning result.
Clean like an expert with the application consultant
Simply connect the Smart Control pressure washer to the Kärcher Home & Garden app on the smartphone – and already cleaning becomes easier and more efficient. Because the application consultant in the app gives practical tips and tricks on many cleaning situations and cleaning objects, such as the optimal pressure level for the object to be cleaned.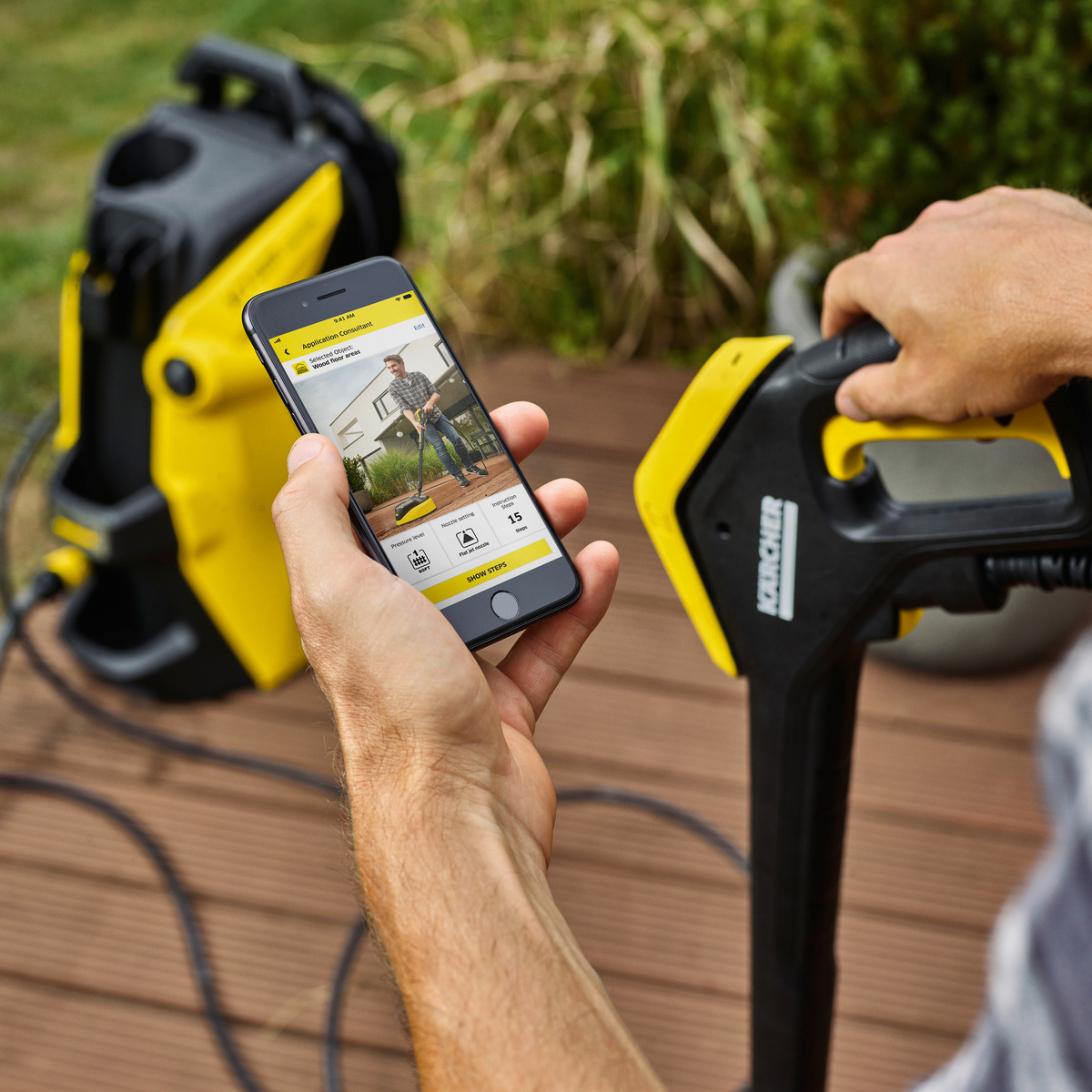 Boost Mode
The Smart Control devices have a Boost mode for extra power. So that even more stubborn dirt is no longer a problem, greater pressure is applied for 30 seconds. Boost mode can be activated via the spray gun or the app.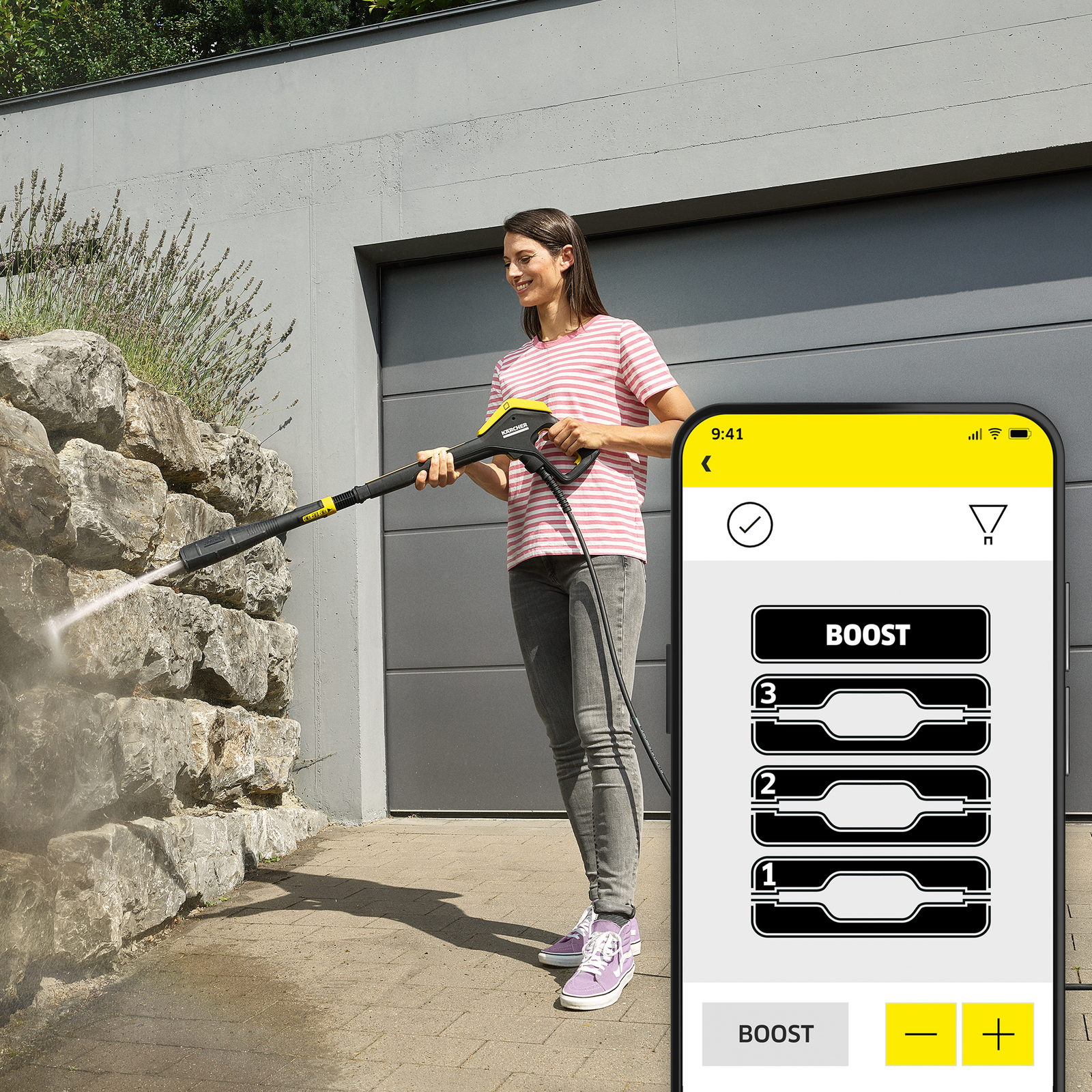 Everything you need
With clever equipment details such as the Smart Control spray gun, the 3-in-1 Multi Jet spray lance and the Plug 'n' Clean detergent system, you face any cleaning challenge calmly.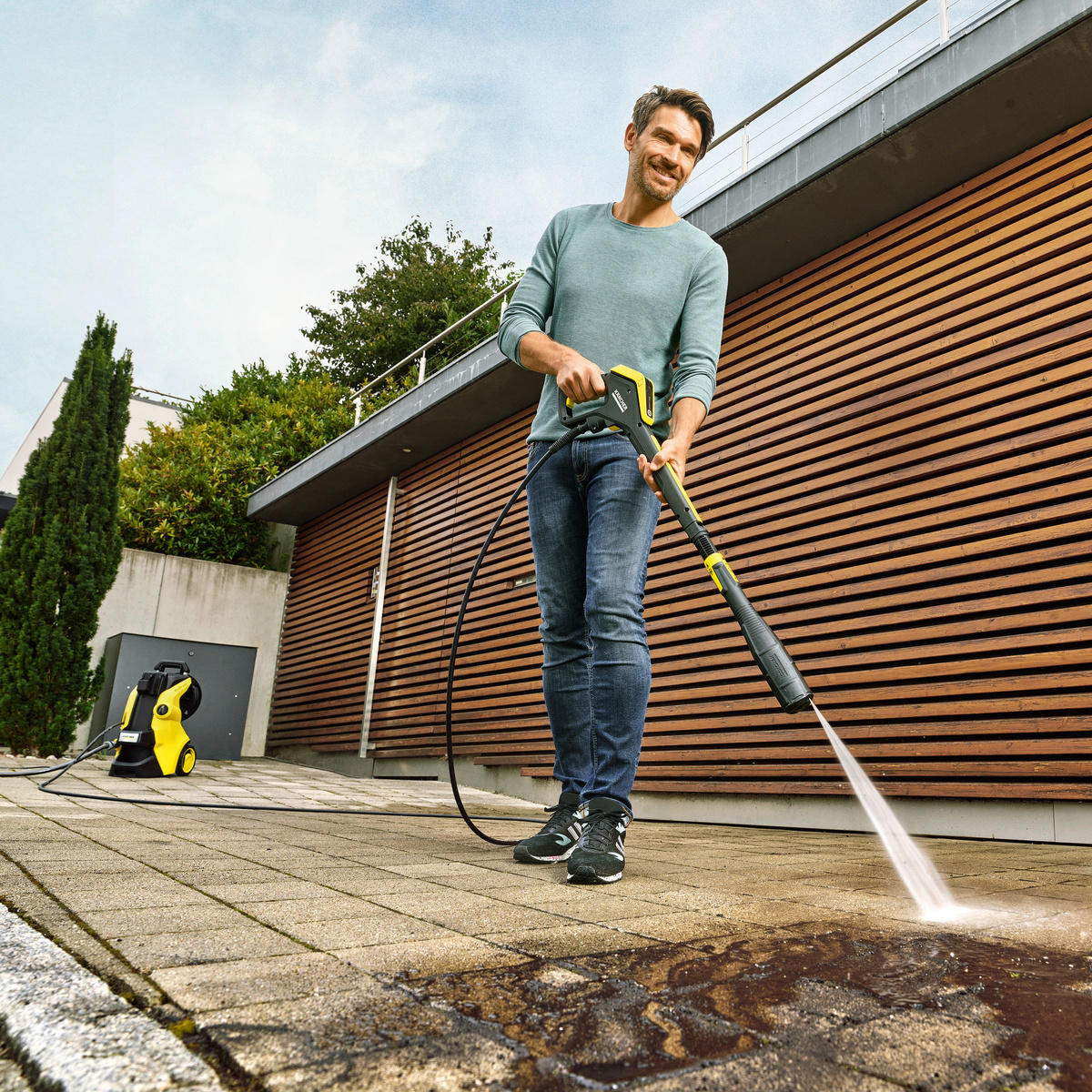 The Home & Garden App
What good is power if it is not smart? None at all! This is why the Smart Control range's devices are not just really powerful, but also come with a huge amount of Kärcher expertise. Via Bluetooth you can easily connect your Smart Control pressure washer with your smartphone using the Home & Garden app. And with tips from our experts, you can bring back the WOW to things you rarely clean or are cleaning for the first time – just like an expert.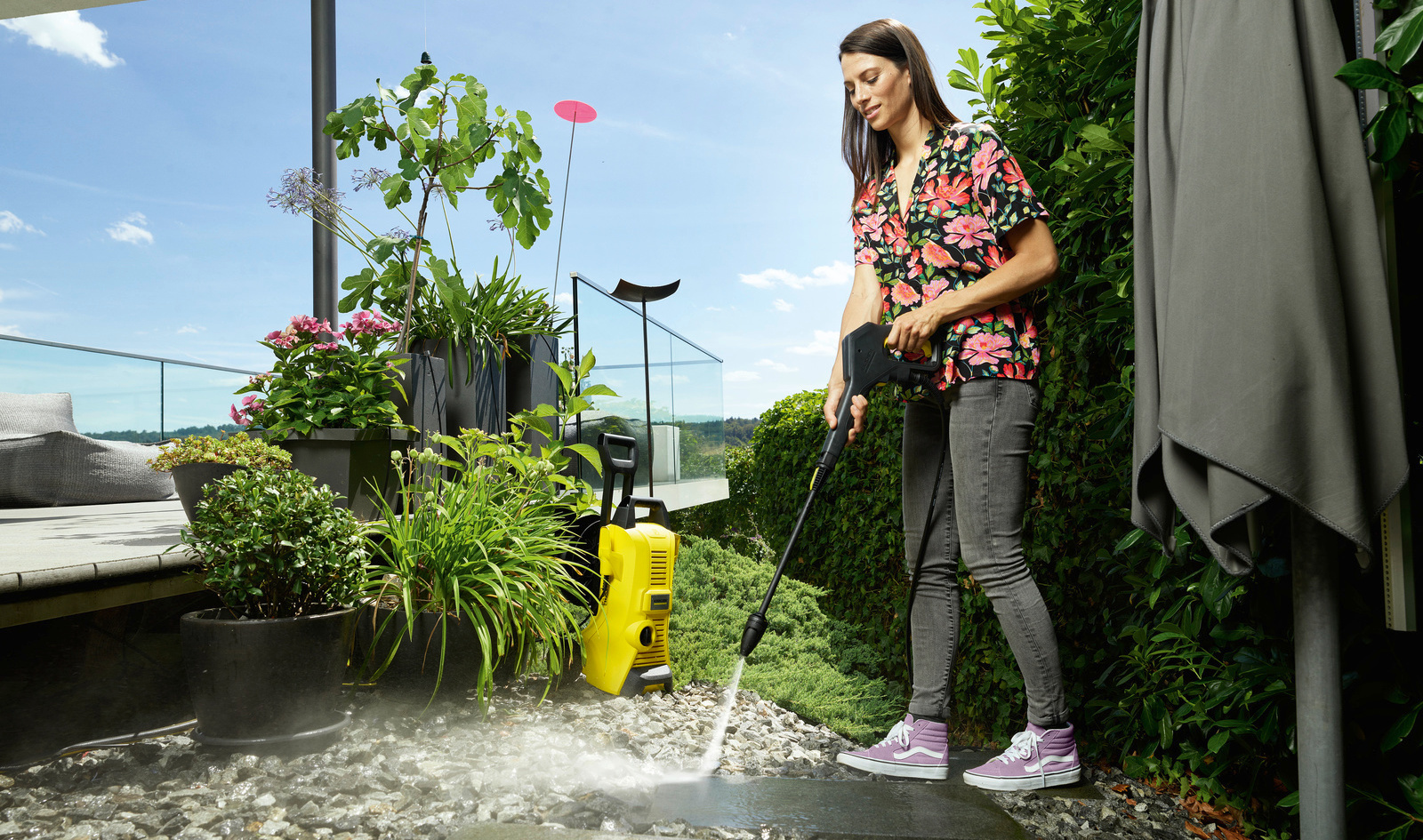 The Power Control range
When cleaning, you need the right technology. And that is just what the Power Control range can offer. Full power, smart tips and powerful accessories. Like the Power Control trigger gun, for example, which shows you the set pressure directly on the display and can be easily switched from pressure mode to detergent mode. Or the Home & Garden app that shows you which technology will make your pressure washer even gentler and more efficient. Other equipment details include the Plug 'n' Clean detergent system for the fast and clean change of the detergent, the high-quality aluminium telescopic handle for pleasant transport and space-saving storage, the Quick Connect system for effortless and time-saving connection and disconnection of the high-pressure hose to and from the device and spray gun, as well as the park position for accessories that are always close at hand.
Three powerful types
When it comes to cleaning and maintenance, our pressure washers can always be relied upon. But that's not all they can offer. An exceptionally compact design? Or a lightweight, comfortable, portable and cordless design? Every product range has its own strengths. Perfectly tuned for individual requirements.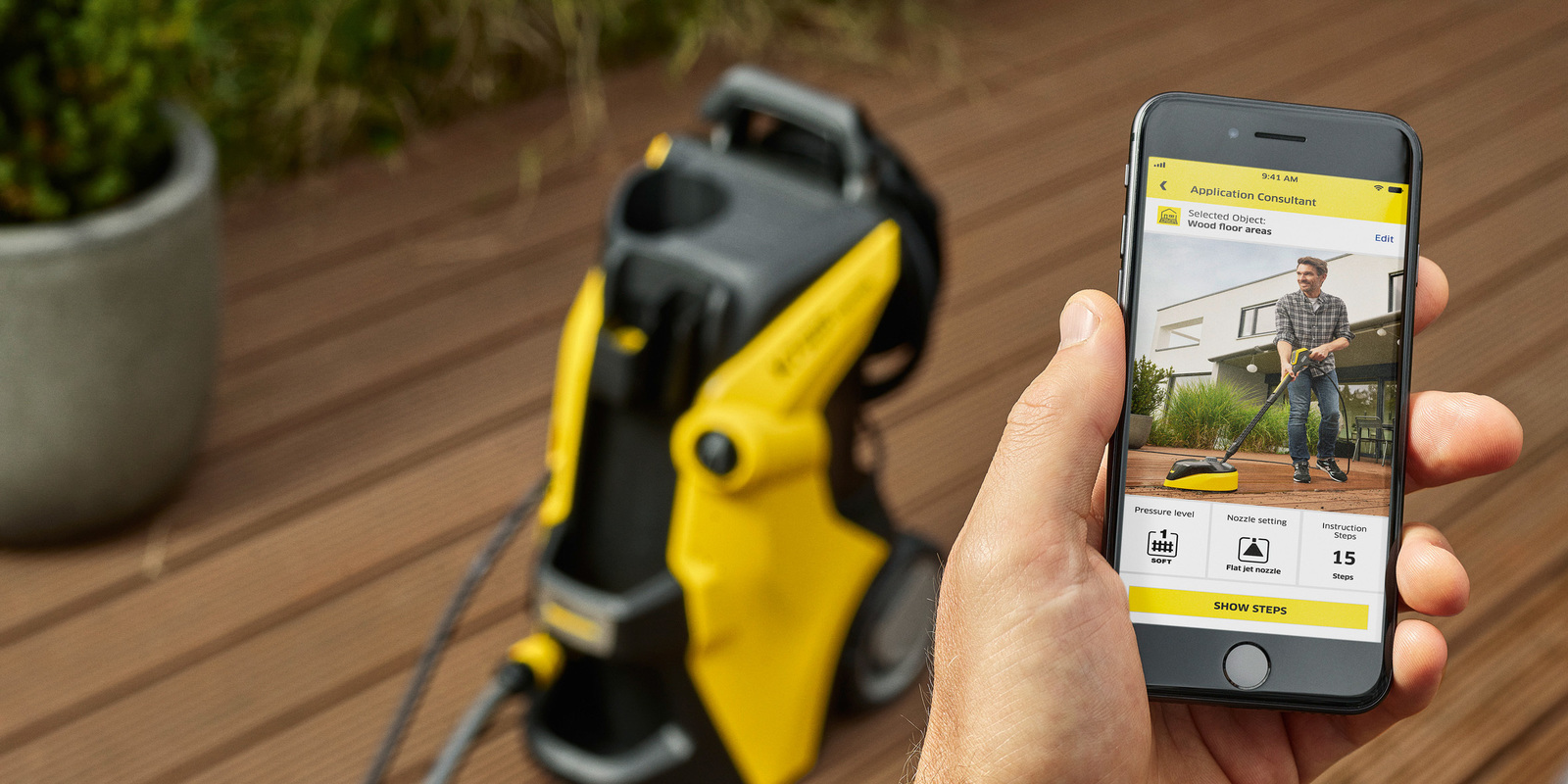 Smart Control
These high-tech pressure washers can tackle anything. With the integrated Home & Garden app, Bluetooth and clever equipment details, such as the Smart Control trigger gun and the 3-in-1 multi-jet spray lance.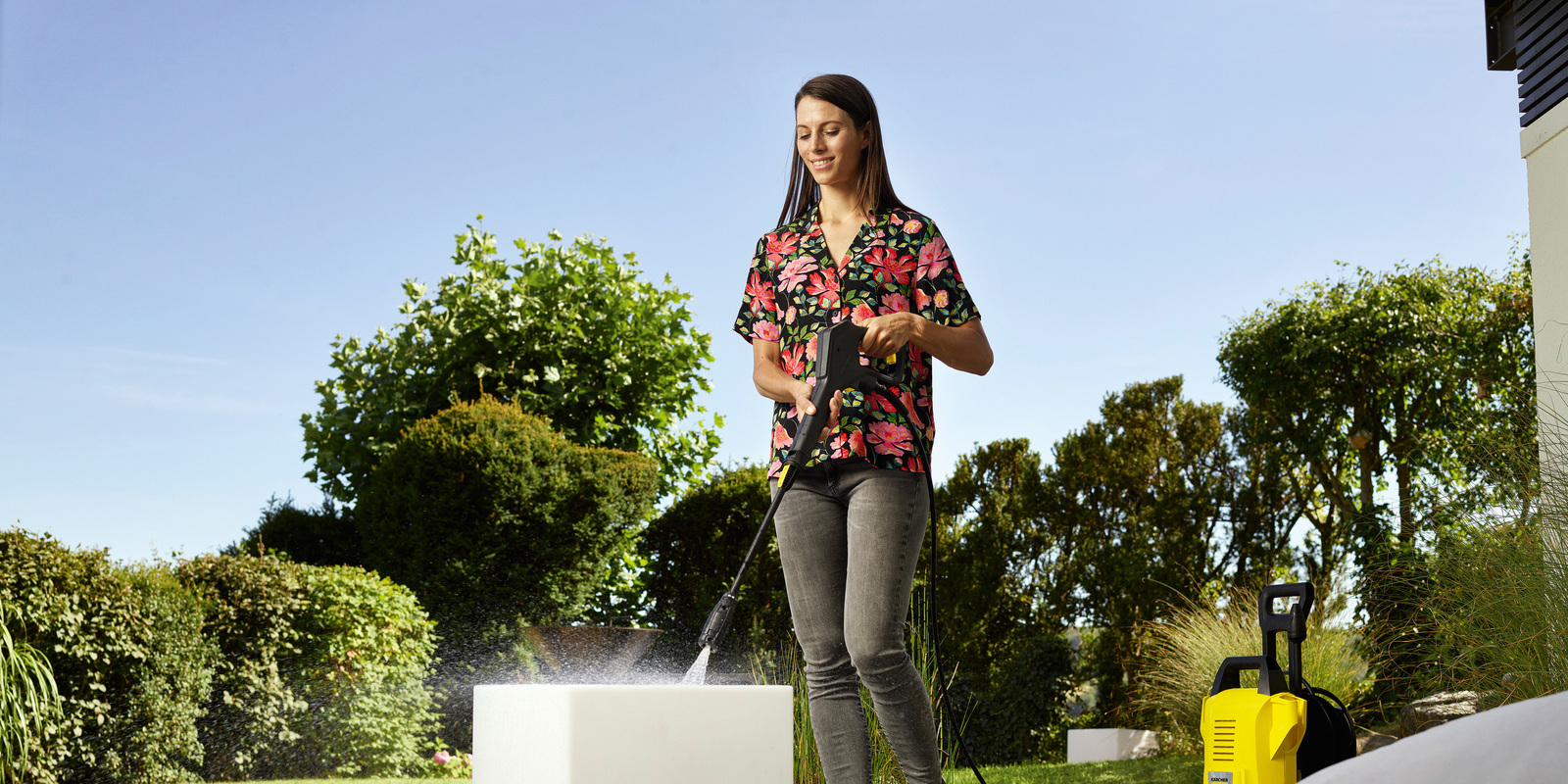 Power Control
Gentle and effective cleaning has never been easier, thanks to a good Dose of power, the support given by the Home & Garden app and powerful devices, such as the Power Control trigger gun with display or the Vario Power spray lance.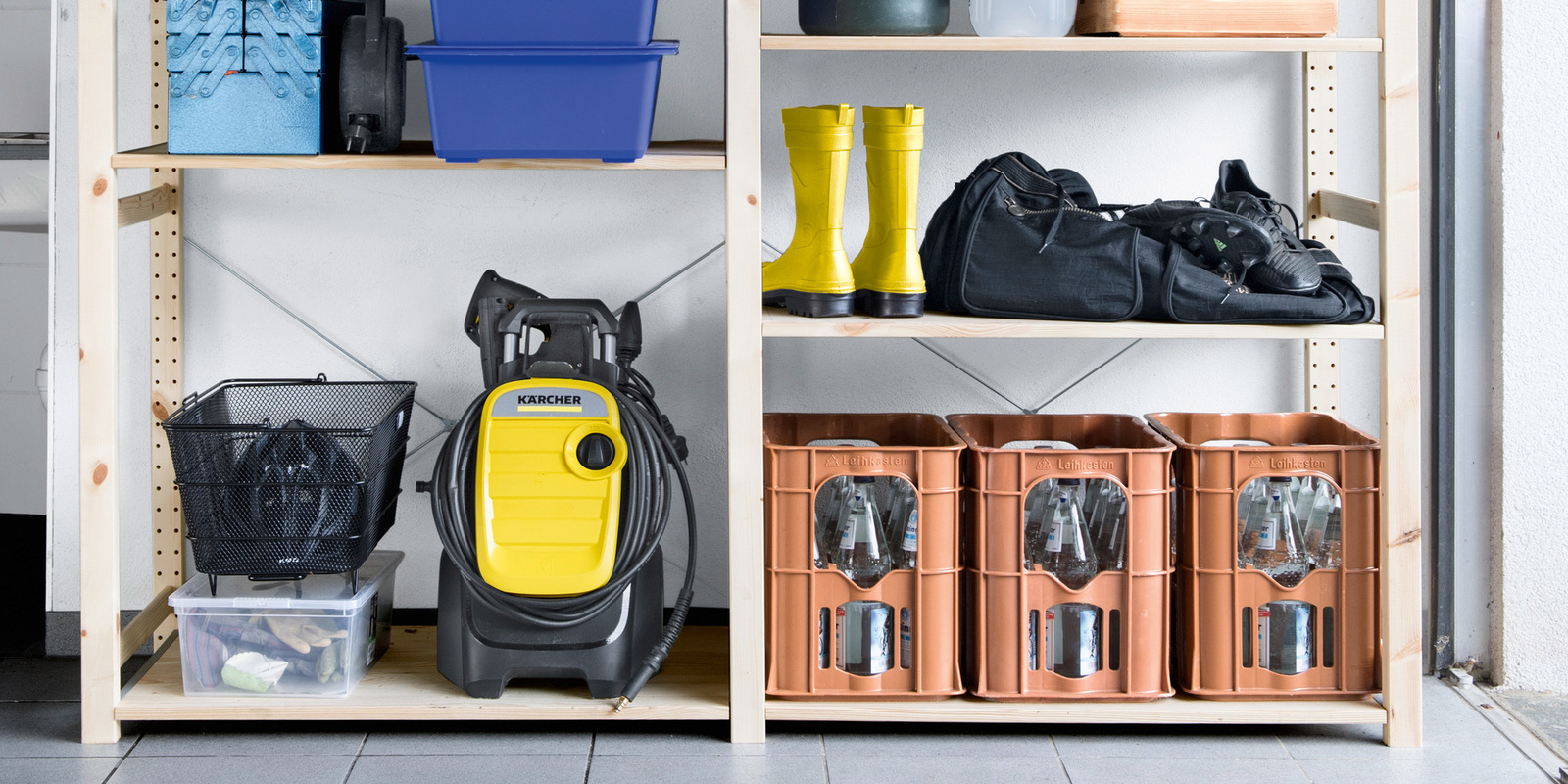 Compact
Those looking for portability and a compact design will find the perfect helper here. Minimal space requirements, easy to store and always quick to get to work. With clever, integrated hose storage.
Performance classes
It's easy to see that more water and more pressure mean more area cleaning power. But not everyone needs maximum power. This is why we have defined a variety of performance classes. The result: the right pressure washer for every job.
Application areas for pressure washers
Pressure washing is the most effective way to clean outdoors and is extremely easy: connect your device to the water supply and power outlet, turn on the tap, switch on the pressure washer, and let the cleaning fun begin! With matching special accessories, the devices are transformed into real all-rounders: whether for patio or decking, car cleaning, clearing the guttering or even cleaing the bins, the application possibilities are virtually unlimited. The pressure is always greatest at the nozzle and the distance of the nozzle to the surface being cleaned should be adjusted accordingly to get the perfect cleaning result. Our practical examples show how you can achieve the best results with your pressure washer.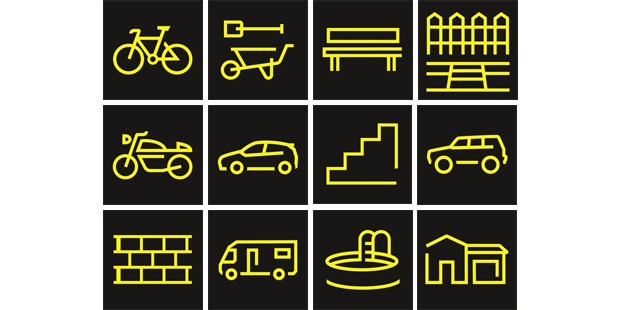 Pressure washers offer the right solution for every cleaning task!
Our research shows that some of the more common outdoor cleaning projects include:
bicycles
lawn and garden tools/machines
patio furniture
fences and walkways
motorcycles and scooters
small cars
steps and entrances
mid-size cars, trucks and SUV's
brick and stone walls
RV's and off-road vehicles
swimming pools and large patio areas
home exteriors and driveways
See below for some examples of possible applications: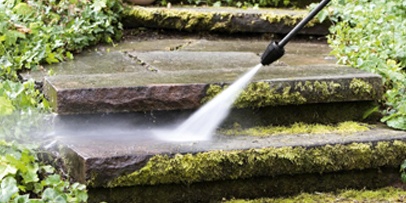 Mossy stones and brick
Since moss not only forms a thick layer on stones and brick, but also gets into the pores, a Dirtblaster is recommended to remove it. The Dirtblaster nozzle produces a concentrated spray that rotates at high speed. Hold the trigger gun vertical to the mossy surface and slowly clean from one edge to the other at a distance of around 8 to 12 inches.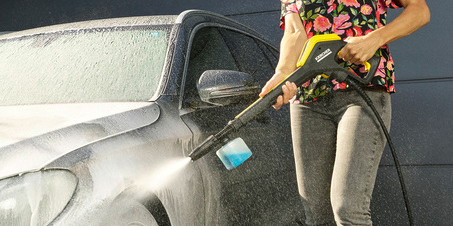 Vehicles
Kärcher special accessories and cleaning agents ensure thorough and gentle vehicle care. To make your vehicle sparkle in just a few simple steps, and ensure that it stays that way, first use the Vario Power Spray Wand to rinse off loose dirt. Then apply detergent using either the low pressure setting on the Vario Power Spray wand, or for an even more luxurious car wash-style foam, an optional Foam Nozzle. Apply the foam from top to bottom, making sure not to let it dry. Increase the pressure on the Vario Power Spray Wand to rinse away the foam and all dirt/debris. For areas that require more attention, an optional brush can be attached to the spray wand to help loosen up bugs and dried on dirt/mud.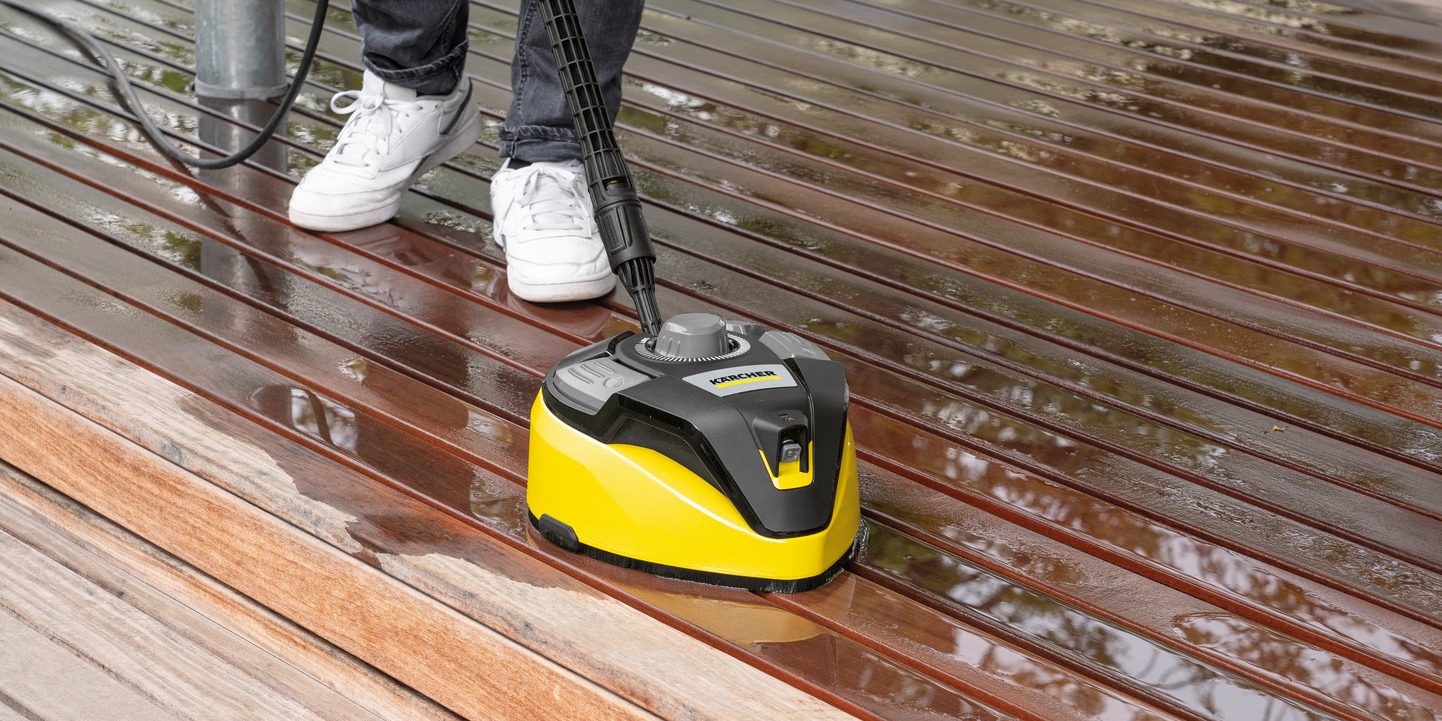 Patios and Decks
Our T-Racer Surface Cleaners are the optimal solution for the fast and efficient cleaning of large outside areas, 50 percent faster than cleaning with a spray lance. They also offer the option of individually adapting the distance of the nozzles to the cleaning surface. Hard surfaces such as stone or concrete, for example, can be cleaned as needed, just like sensitive surfaces. The rotating arm with two high-pressure nozzles generates a so-called Hovercraft effect, which allows the surface cleaner to hover over the floor. This means that the T-Racer is particularly easy to manoeuvre when cleaning. Thanks to the ergonomic handle, even vertical surfaces, like among others garage doors, can also be optimally cleaned. Another advantage: The casing protects the user and walls against spray water.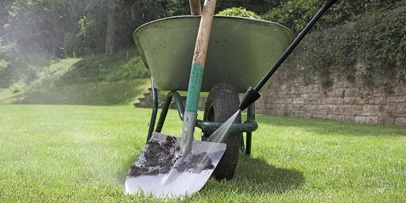 Garden machines
Say goodbye to scrubbing! Dirt and soil can be removed efficiently from plant and flower pots, spades, shovels, rakes, wheelbarrows, etc. in next to no time using a Kärcher pressure washer. The Vario Power Spray Wand and Dirtblaster Spray Wand are particularly suited to this task. Working in the garden has never been easier or less dirty!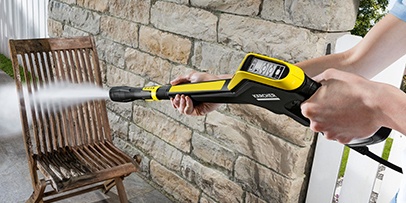 Garden furniture
Tackle unsightly stains on garden furniture caused by pollution or from last winter with the appropriate pressure washer accessories. For heavy dirt we recommend using the Kärcher wash brush together with the Kärcher detergent.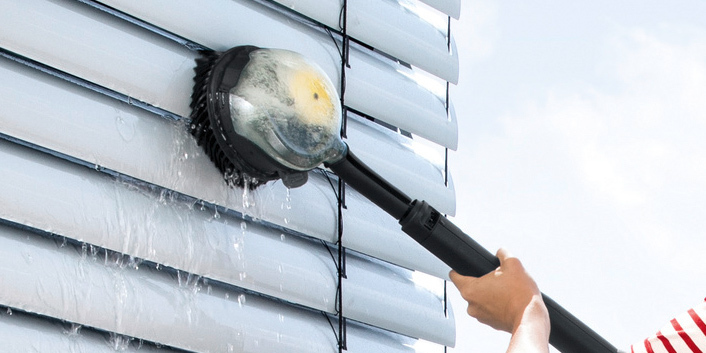 Shutters
Before cleaning close the shutters. Set the spray lance to low pressure and apply Karcher Multipurpose Cleaner. Start at the lowest section of the shutters. Allow the detergent to work in for a few minutes so that the dirt is loosened completely, but don't allow it to dry. Finally, remove the dissolved dirt with the Soft Bristle Wash Brush and rinse the detergent and dirt away with the Vario Power Spray Wand.
How does a pressure washer work?
Pressure in a normal household water supply can be up to 4 bar. Water supplied into the pressure sprayer via a garden hose, passes through a booster pump which generates water pressure of up to 160 bar. The water is ejected through a small high-pressure nozzle as a concentrated jet with a high cleaning effect.

Easy on the environment, and your pocket
K4 – K7 class power washers can also be operated using an alternative water source. The device simply draws the water from any available water reservoir (e.g. a water butt). This allows the pressure washers to be used during a hose-pipe ban and makes them environmentally friendly. A further advantage is that independence from the water mains affords greater flexibility and increases the working radius.

Why buy a Kärcher pressure washer?
Kärcher makes the difference
Kärcher invented the high-pressure washer – and continues to reinvent it again and again. In 1950 Kärcher developed the first European hot water high-pressure washer for professional cleaning. In 1984 Kärcher then launched the first portable pressure washer, the HD 555, for private households – a milestone in the history of cleaning.
As the inventor of high-pressure cleaning, Kärcher has unique specialist knowledge, the breadth and depth of which is unrivalled on the market. We use regular surveys to conscientiously determine what our customers want and need and any findings are incorporated directly into product development. This is how we ensure that each new development meets the needs of our customers.
Exceptionally powerful – 50% time saving
The patented Kärcher nozzle technology suited to each individual model makes it possible to save upto 50% cleaning time. Compared with the competition, the Kärcher devices are distinguished by a greater cleaning performance and efficiency.
In short: cleaning takes place faster with time savings of up to 50% and thus also energy and water savings of up to 50% – remarkable advantages which have been scientifically tested by the renowned and independent Fraunhofer Institute.
Designed for maximum efficiency.
For over 60 years, Kärcher has been perfecting the art of high-pressure cleaning and is constantly in the spotlight with industry leading innovations. More than 1,300 patents are evidence of the company's inventive spirit and position Kärcher as the world's cleaning technology leader. Our focus is always on the needs of our customers.
Particularly powerful
Thanks to their patented nozzle technology, Kärcher's Dirtblaster rotary nozzle outperforms the competition and enables faster and more efficient cleaning. Lab tests prove the Kärcher Dirtblaster cleans more quickly and delivers a more thorough cleaning than competing rotary nozzles!

Reliable brand quality
As the global market leader we offer the most reliable pressure washers on the market. For over 75 years, Kärcher has stood for quality and innovation that is "Made in Germany". We manufacture all of our devices in our own factories to the highest production standards. Before the products leave the factory, they are fully tested for their functionality and performance. That is why we can always guarantee to our customers that they are purchasing perfect products, which speak for themselves in terms of their performance capabilities and long service life.

Accessories and cleaning agents.
The whole package counts. With the right combination of accessories and cleaning agents, even the most stubborn dirt won't stand a chance. Genuine Kärcher accessories increase the cleaning performance, reduce the time required to complete a project and reduce the overall effort needed to achieve the desired results.
Pressure washer accessories
Kärcher offers a wider range of pressure washer accessories than any other brand. This allows us to solve every cleaning problem, no matter how specific.
Pressure washer detergents
The new generation of Kärcher detergents are creating quite a stir with their 3-in-1 active principle. As well as perfect cleaning effect, these new multi-talented products provide gentle care and reliable protection, saving both time and effort. By using renewable and natural resources, Kärcher places an even stronger emphasis on sustainability. What's more, the smart bottle design is a winner too. Whether it is for connection (Plug 'n' Clean), for filling the detergent tank or as a container to be used via the detergent suction hose, the new detergents are universally suitable for all Kärcher pressure washers.
In our detergent finder you will find the right cleaning agent for your Kärcher pressure washer.