WATER PUMPS
The right pump for every application
Whether you supply your home and garden with service water from alternative water sources or wish to pump away unwanted water quickly and easily, Kärcher offers a pump for every requirement and area of use. The Booster Pumps from Kärcher deliver rainwater and groundwater from rain barrels, cisterns and deep wells with sufficient pressure to where it is needed. The submersible pumps, on the other hand, remove unwanted water or water that is no longer needed: before spring cleaning in the pool or after a flood in the basement.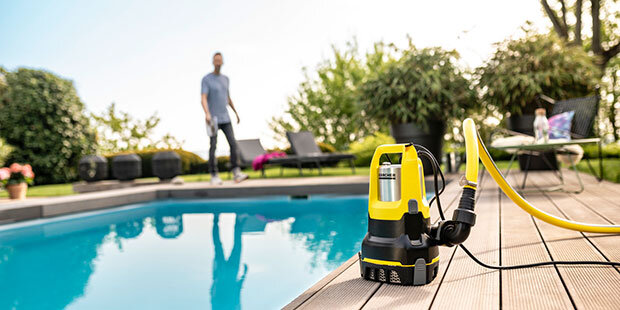 Kärcher's submersible pumps pump water quickly and easily, either to recirculate water or pump it out. You can choose between Kärcher models for dirty water and models for clear or only slightly dirty water.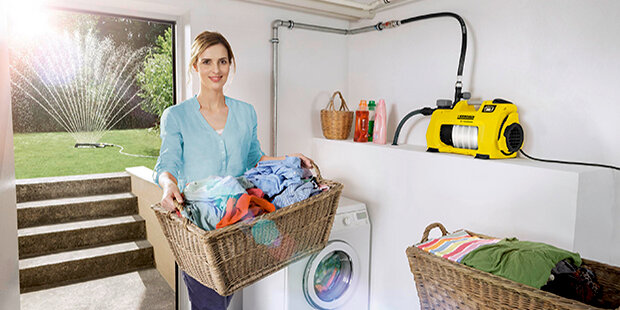 These products can be used in very versatile ways, for example for watering the garden, or indoors for supplying the washing machine and toilet with clean well water, groundwater, rainwater or spring water.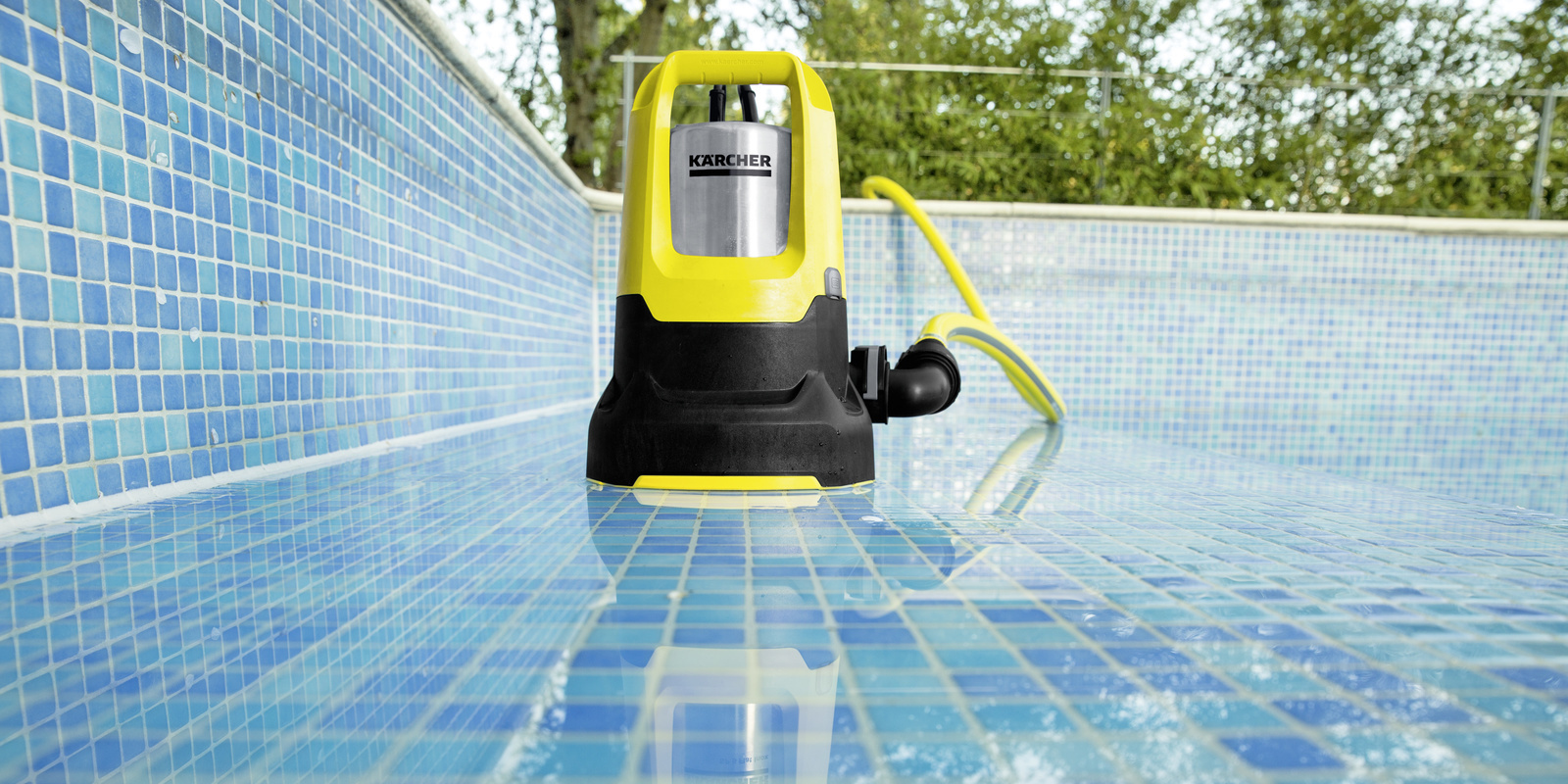 Submersible pumps: draining clear water
Using flat-suction water pumps, clear water can be pumped out of pools, water butts or from floors after washing machine leaks down to a level of 1 mm.
• Flat-suction pumps
• Dual submersible pumps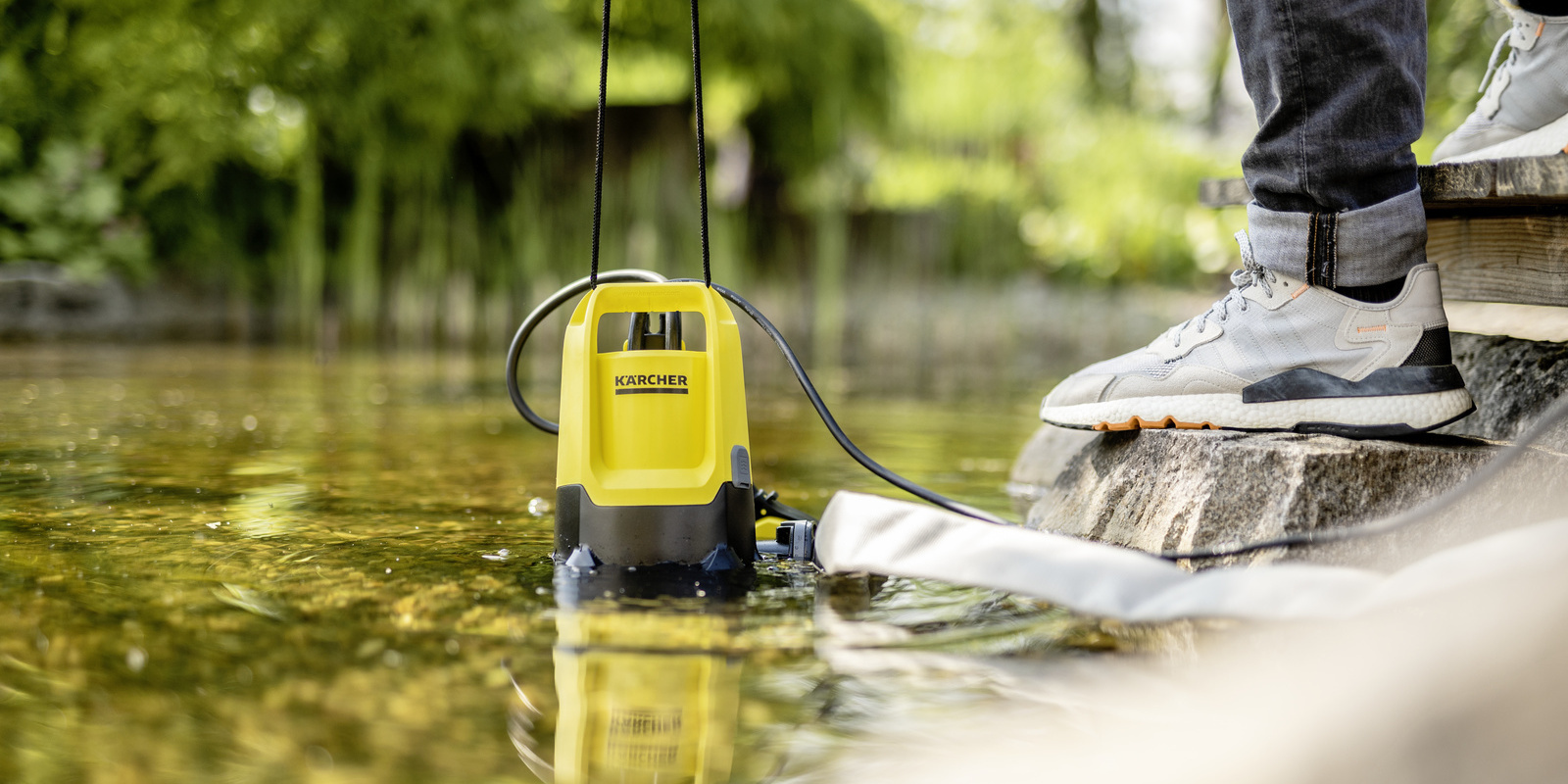 Submersible pumps: draining dirty water
Dirty water pumps are suitable for quickly pumping out floodwater or water from garden water butts or excavation pits.
• Dirty water pumps
• Dual submersible pumps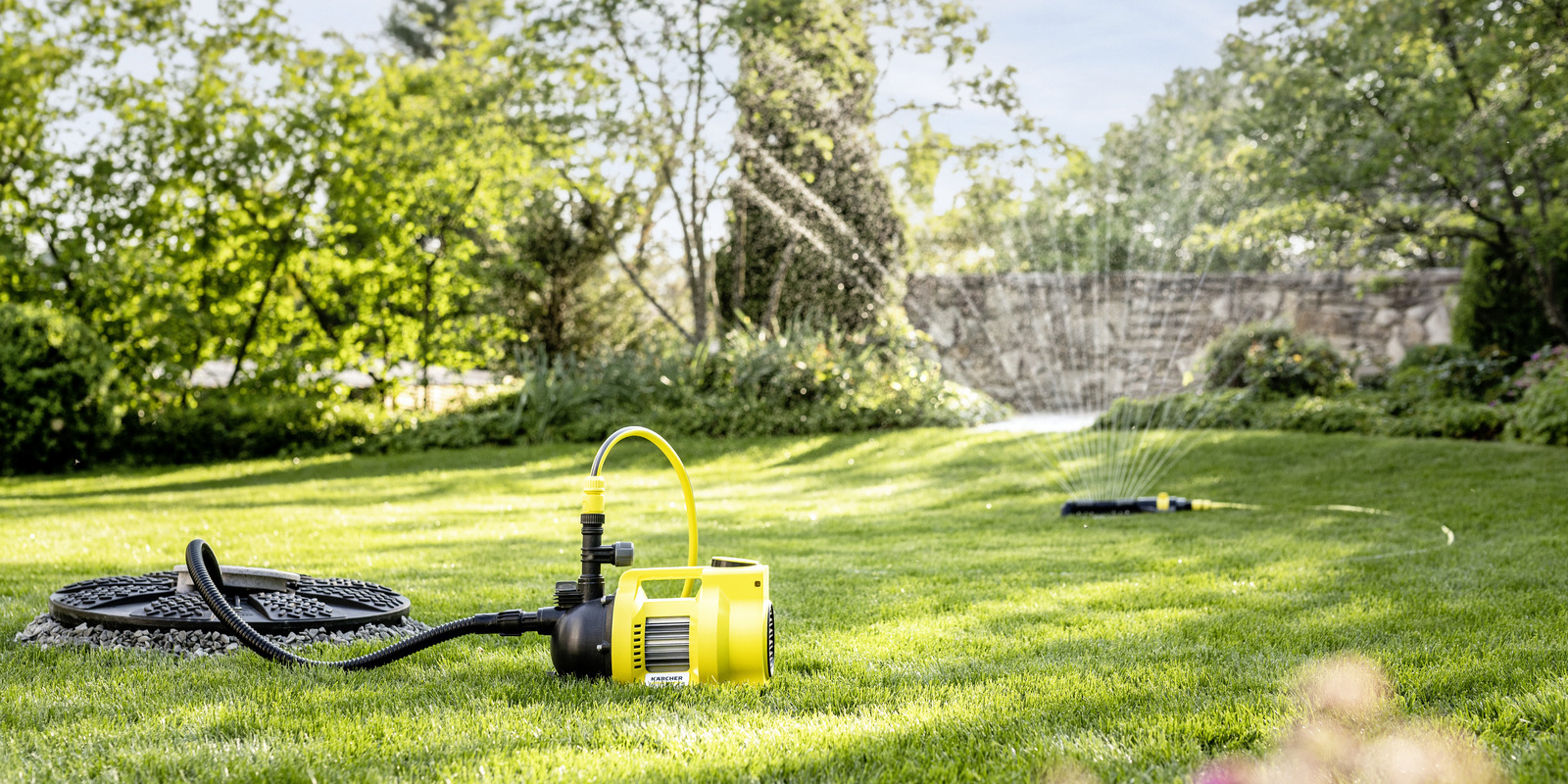 Booster pumps: garden watering
Watering pumps are designed for using water from wells, cisterns and water butts to water plants and lawns.
Garden pumps
Home and garden pumps
Barrel pumps
Deep well pump
Cistern pumps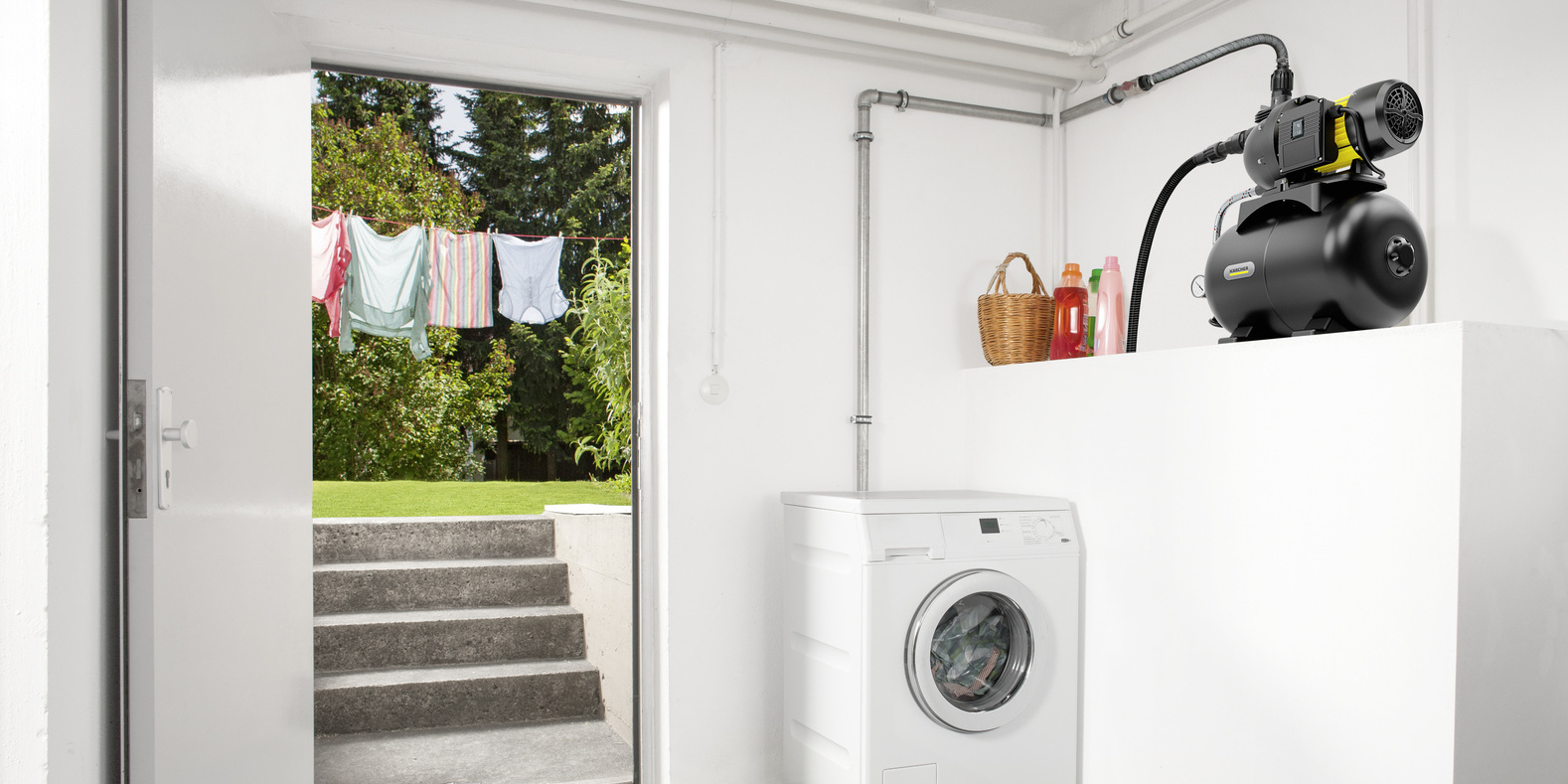 Booster pumps: household
Household pumps convey water from alternative sources for use in the household (e.g., toilet flushing and washing machines).
• Home pumps
• Home and garden pumps
BRING BACK THE WOW TO YOUR OASIS
We have the right solution for every requirement, and our innovative pumps can help you to water your green oasis effortlessly and in a sustainable manner. The booster pumps convey rainwater and groundwater to where it is needed, in the garden and in the home. Submersible pumps, by contrast, are for removing water that is unwanted or no longer needed. And your job? Simply sit back and relax!
Submersible pumps
Powerful Kärcher submersible pumps offer quick, reliable help if you want to pump out clear or dirty water. Kärcher submersible pumps contain the tried-and-trusted ceramic slide ring sealing used in professional applications. This high-quality sealing makes the pumps more robust, prolongs their service life and means they are perfect for demanding use in and around the home.
Even if you need to act fast in a flood situation, a submersible pump is the perfect solution. Whether there's been a washing machine leak, heavy rain or a blocked drain, a Kärcher submersible pump safely and reliably helps to remove water in an instant.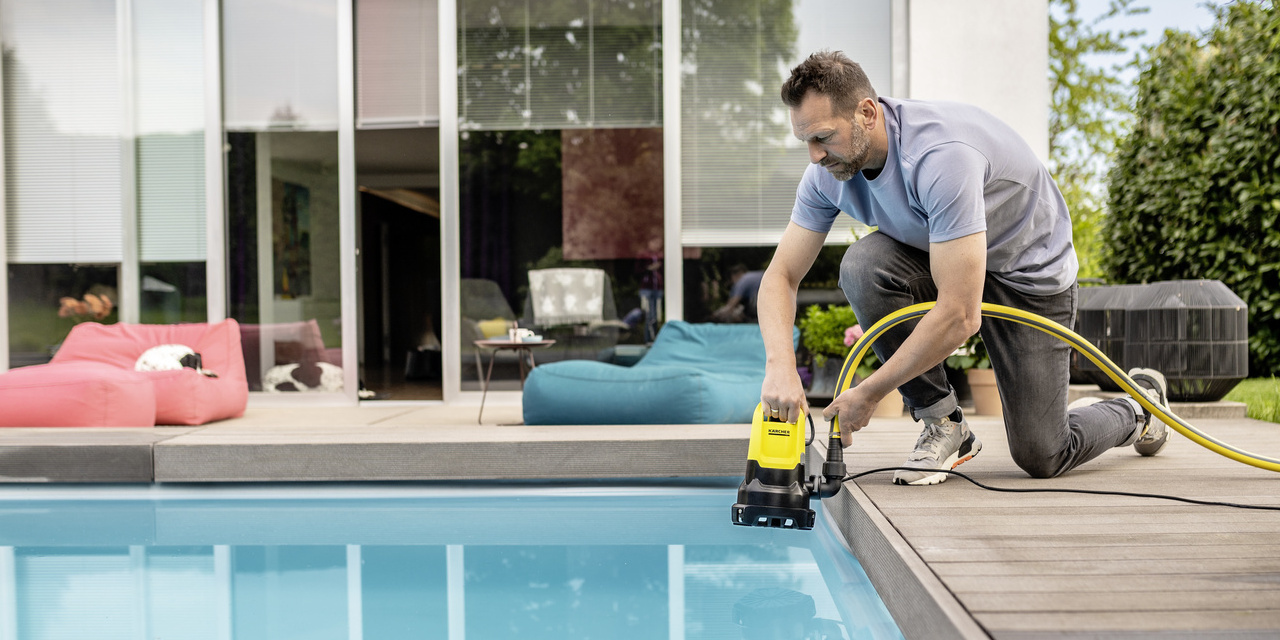 SP Flat
Flat-suction submersible pumps from the SP Flat series suction slightly dirty or clear water to a level of just 1 mm. This type of water pump is used, for example, to pump out water from a pool before a restorative clean or to quickly remove water in the home after a washing machine leak.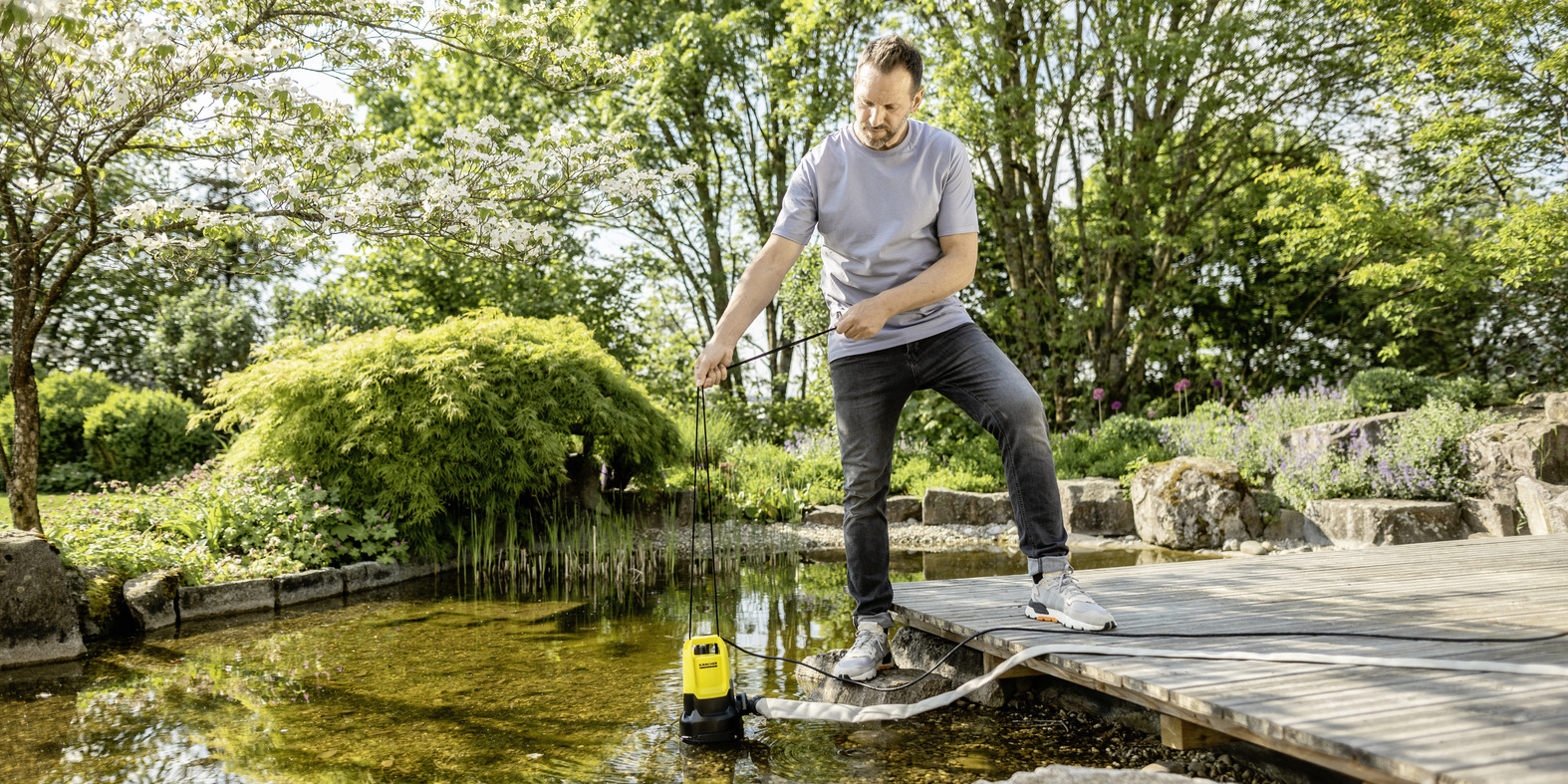 SP Dirt
Dirty water pumps enable very dirty, sludgy waste water to be pumped out. Even larger particles with a grain size of up to 30 mm are no problem. This means that these products are recommended for pumping out garden ponds or to provide quick help with floods or if excavation pits fill up.
SP Dual
Versatile with a 2-in-1 function: SP Dual pumps combine flat suction down to 1 mm with the option of pumping out dirty water with particle sizes of up to 20 mm. The filter basket in the base of the casing can be adapted to any application quickly and easily. The SP Dual is perfect for pumping out water from flooded cellars, garden ponds and pools.
Booster pumps
Tap water is precious and costly. So in many ways, it is worth using water from alternative sources. Garden owners can select the right pump type to collect rainwater from cisterns and water butts and use it to water plants and lawns.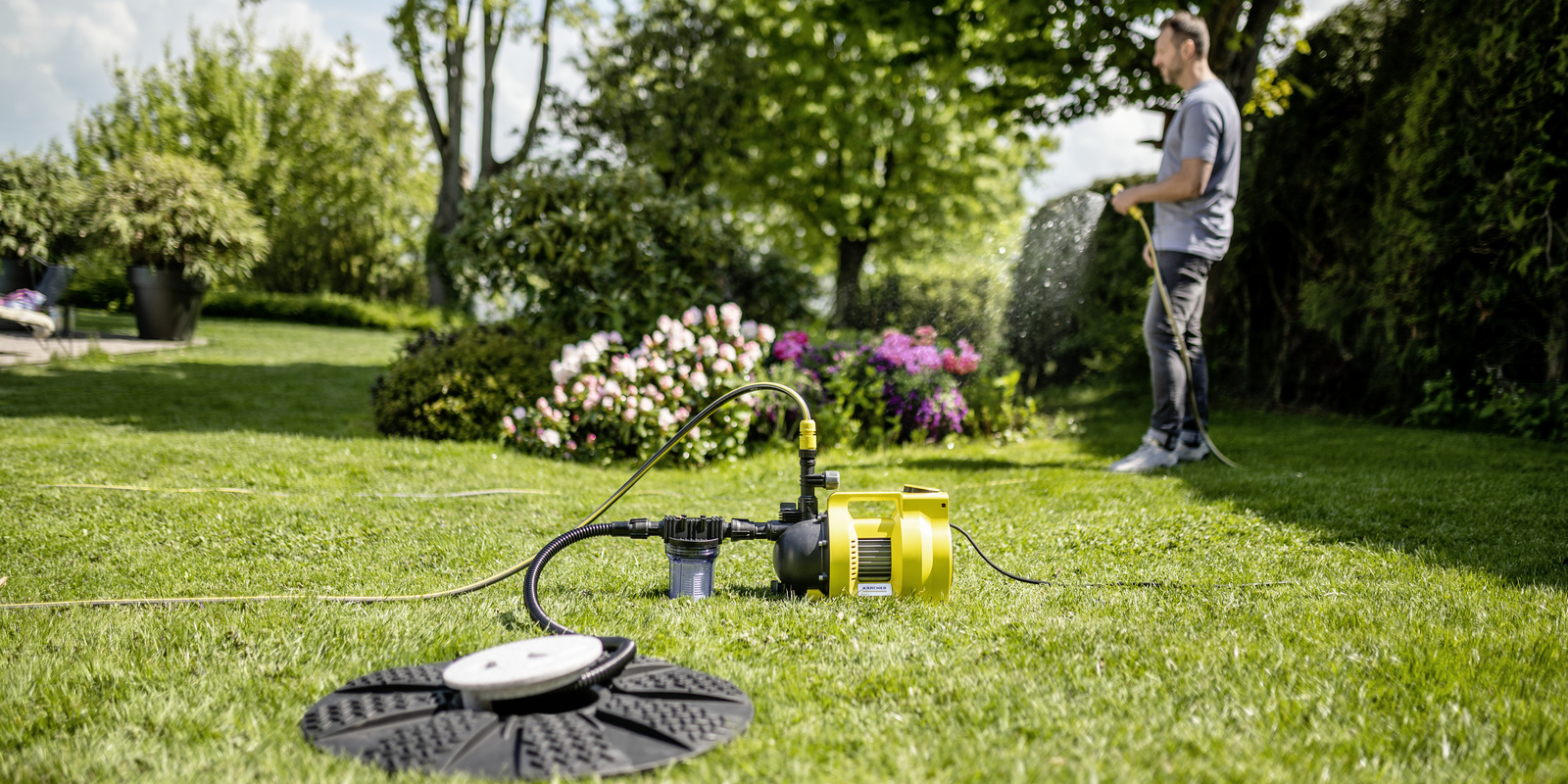 BP Garden
These pumps are designed for watering lawns with sprinklers and plants with nozzles or spray lances. Reclaimed water from alternative sources such as water butts and cisterns can be used for this. The ergonomic on/off switch is foot-operated for convenience, so there is no need to bend down.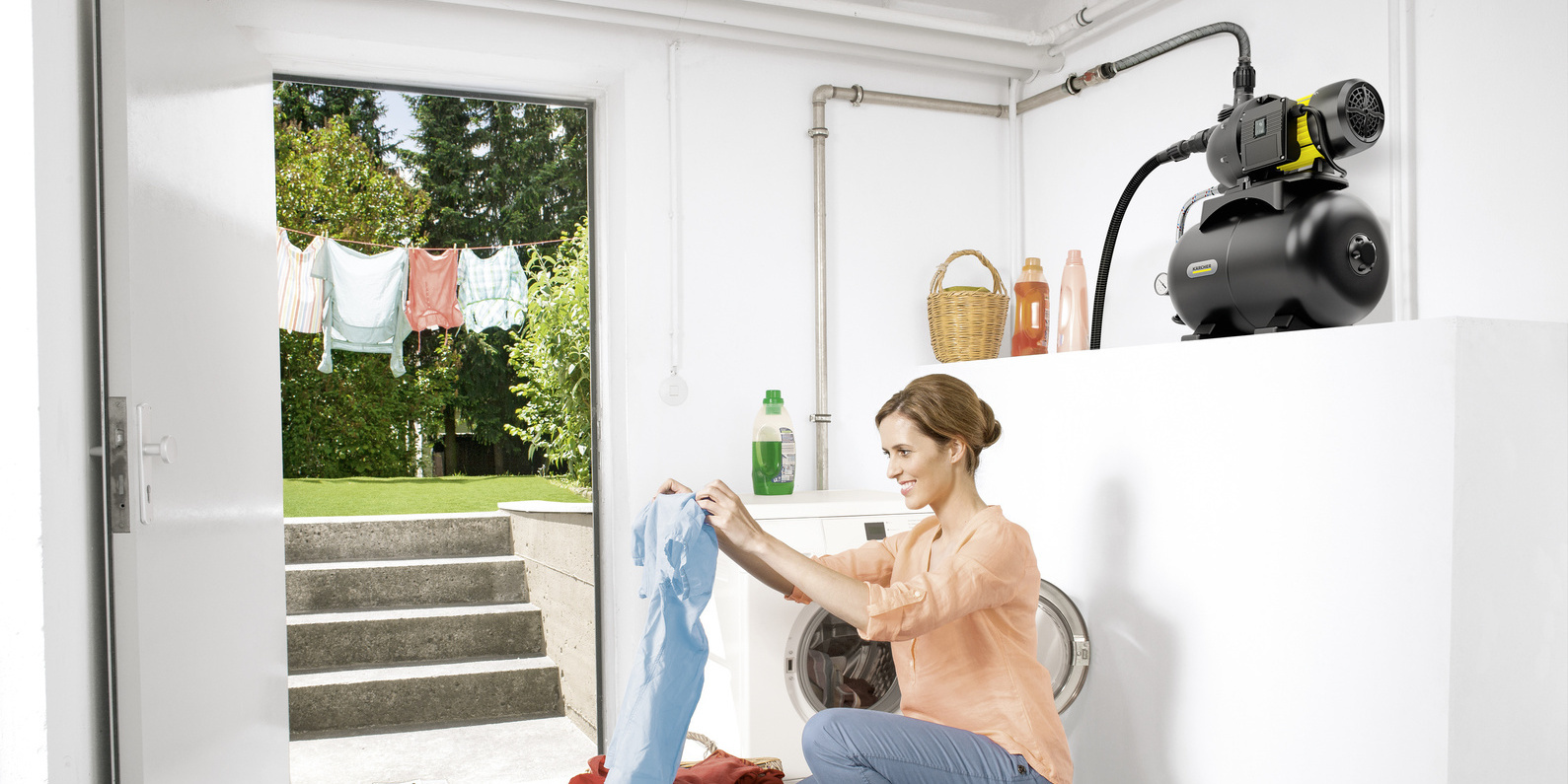 BP Home
BP Home pumps enable you to supply your home with reclaimed water from wells, cisterns and similar sources, for example for flushing the toilet or supplying your washing machine.
The pumps switch on and off automatically as required.
They come with a built-in non-return valve, a pressure display on the device and a pressure compensation container.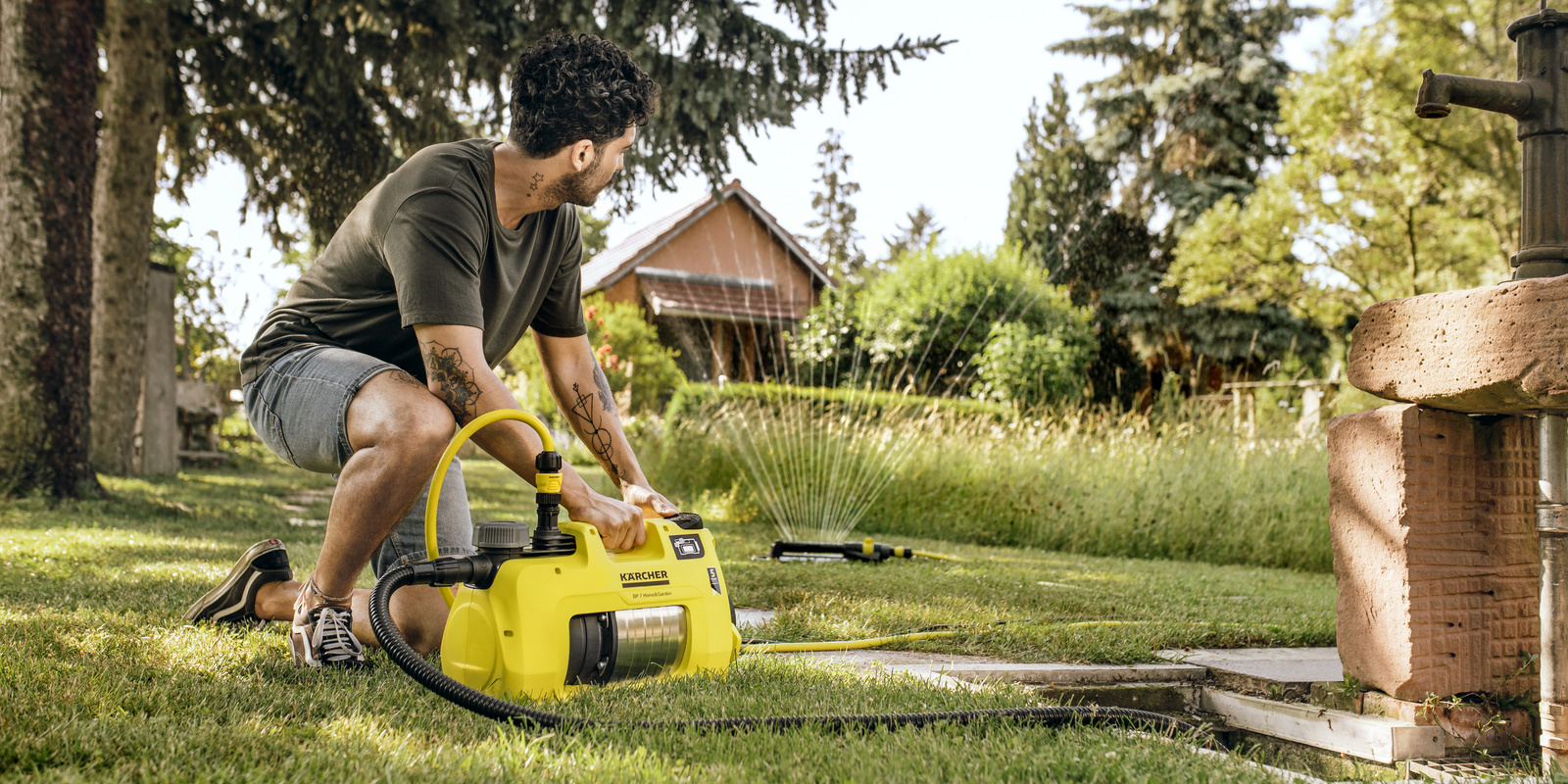 BP Home & Garden
A comprehensive solution with constant pressure for reliably supplying reclaimed water to the home and for watering the garden using alternative, natural sources.
When water is needed, these pumps turn on automatically, and then turn off again automatically afterwards.
The multi-stage pumps in the range offer even more power. With the same flow rate, they require around 30% less energy than conventional pumps. The ergonomic foot switch makes bending to switch the pump on and off a thing of the past.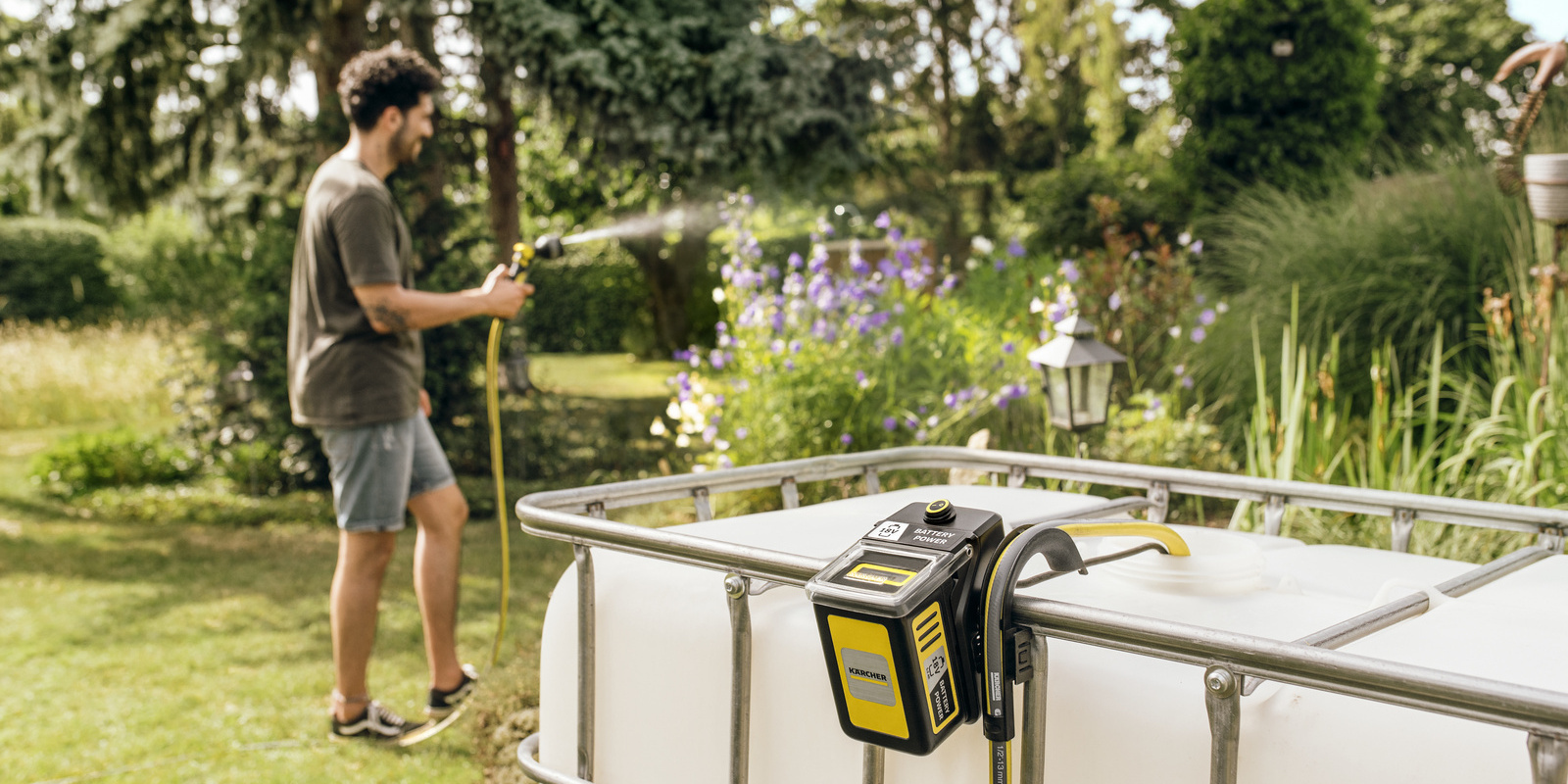 BP Barrel
BP Barrel pumps make light work of using water from a water butt to water the garden.
Operating the pumps is simple. The on/off switch is mounted directly on the edge of the butt, making it easy to use.
The cordless 18 V battery-powered version pump can be used without needing access to a power outlet. Thanks to their slim design, BP Barrel pumps fit easily in IBC containers.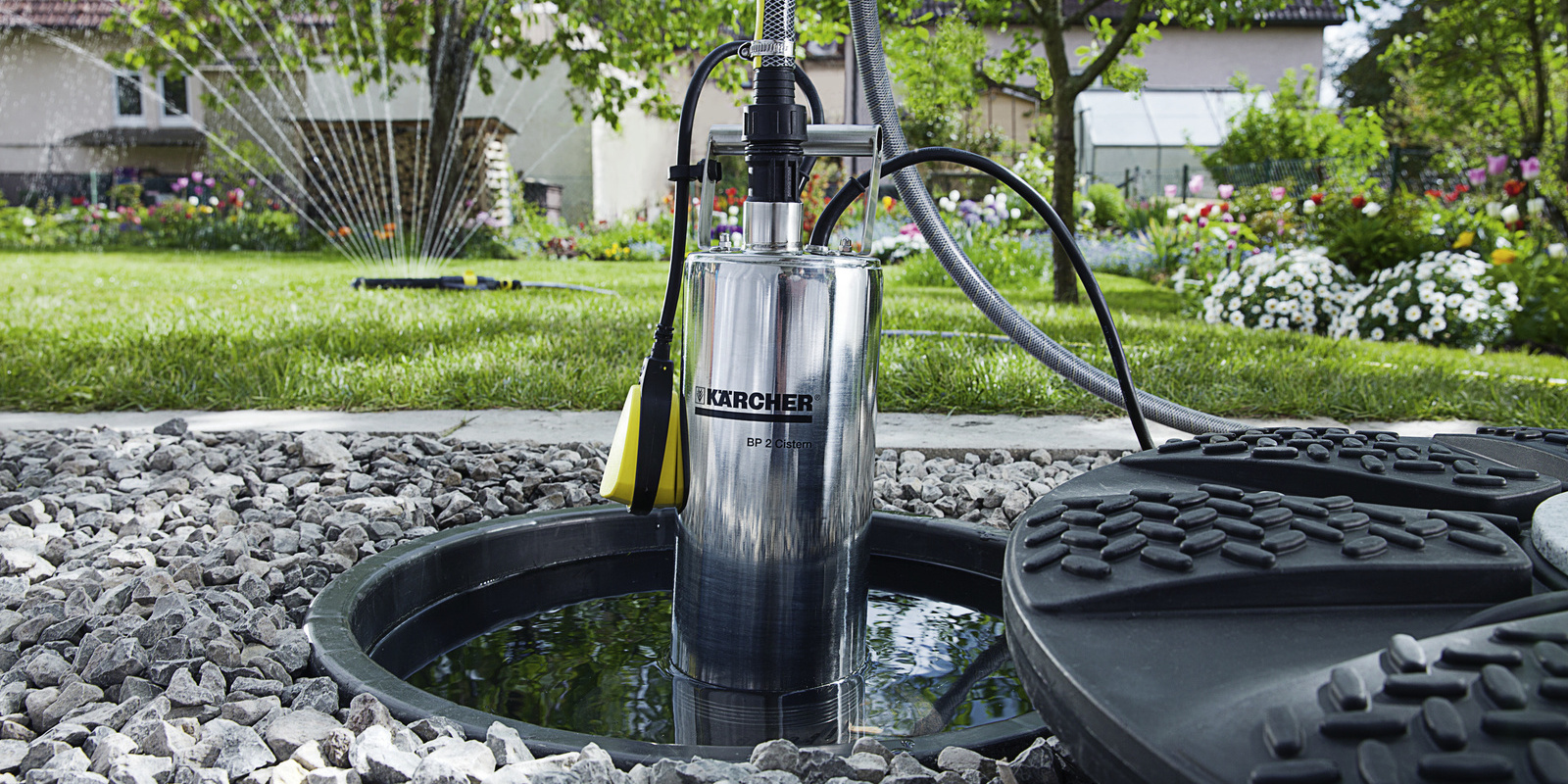 BP Cistern
These pumps are placed directly into the water in cisterns, barrels or well shafts for garden watering and meet a wide range of requirements. A corrosion-resistant stainless steel housing gives long-term protection to the pump mechanism. The pump is convenient and safe: if it cannot operate properly when the water level is low, the pump switches off automatically.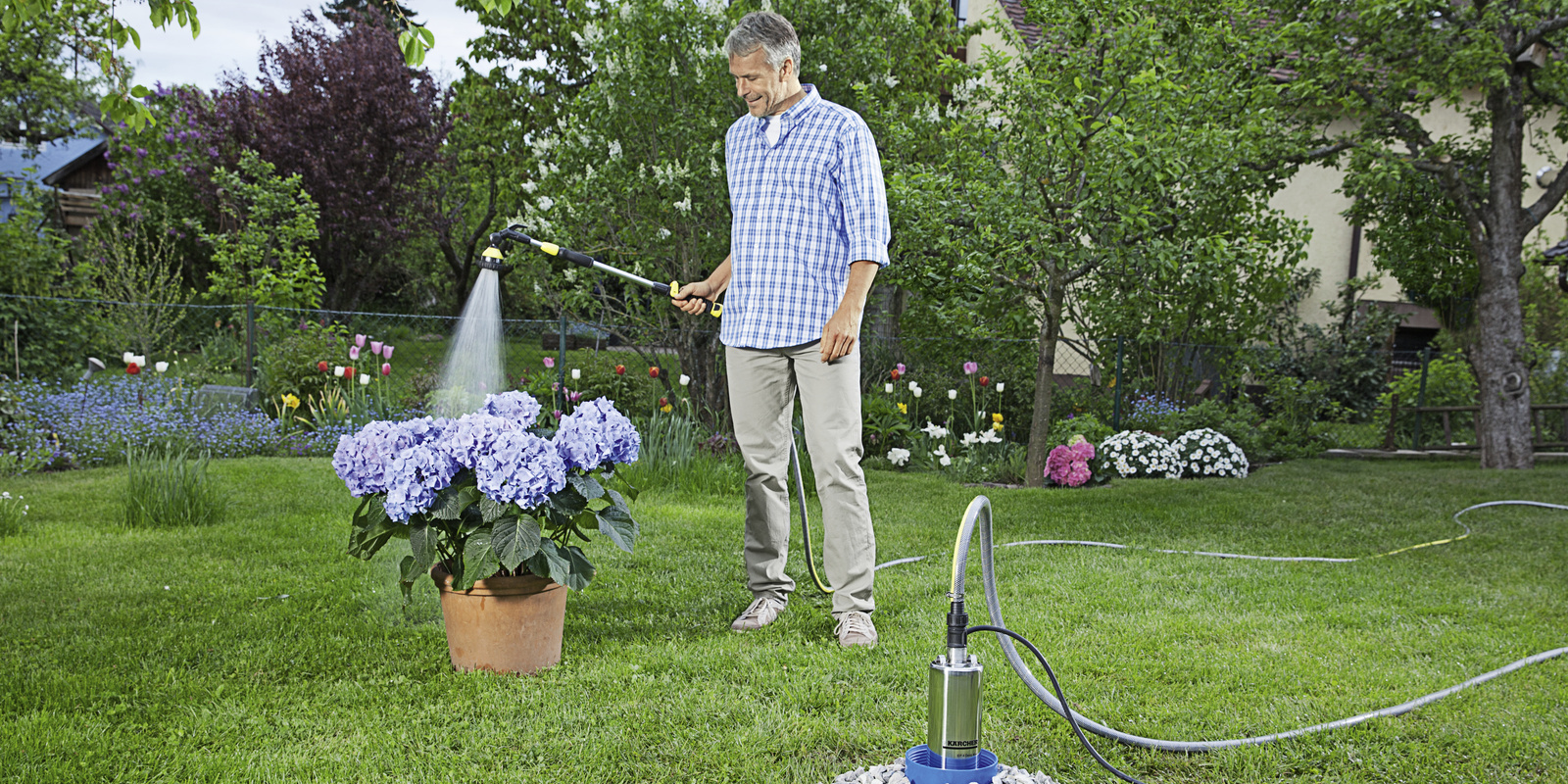 BP Deep Well
Thanks to a small cross-section, BP Deep Well pumps can be used in the narrow openings and shafts of deep wells. They are used to pump water up from deeper levels. Multi-stage hydraulics provide the required pressure.
The pumps have a stainless steel housing as they are continuously submerged when in use.
Equipped with an additional pressure switch, the pumps can also be used for the supply of household service water.