PROFESSIONAL HIGH-PRESSURE CLEANERS
Our professional high-pressure cleaners: unbeatably versatile!
As the global market leader, Kärcher impresses with a product range that meets every requirement in terms of its technical sophistication and versatility: unheated or heated, with an electric or combustion engine, mobile or stationary. Find out more about the different areas of application here.
HOT VS. COLD WATER PRESSURE WASHERS
-
Faster results and shorter drying times - hot water quickly loosens and dissolves dirt, solidified oils and fats providing a time saving of up to 35%.As well as being cost-effective and economical, surfaces that are cleaned with hot water dry faster enabling them to be used sooner.
Germ-reducing effect without cleaning agents - cleaning with hot water significantly reduces the presence of germs without the need for disinfectants. This helps to protect the environment, as well as saving money and resources.
Protection of surfaces - achieve the same cleaning effect and protect sensitive surfaces by cleaning using a lower working pressure.
-
Maximum mobility – ideal for those on the move cleaning jobs where easy transportation is essential thanks to the compact and ergonomic design. Whether loading into a vehicle or carrying up steps, it can also be easily stored when not in use. For larger cleaning jobs the new HD trailer pressure washer can even be towed by your vehicle.
Total independence - use even where there is no water or power supply, Kärcher petrol or diesel-powered pressure washers enable you to directly suction water from lakes, or water bowsers making them ideal for use in agriculture, construction or the public sector.
Industry-specific solutions - designed and tailored to your requirements, Kärcher provides machines to be used in a variety of industries, from the strict hygiene requirements of the food industry to use in potentially explosive environments.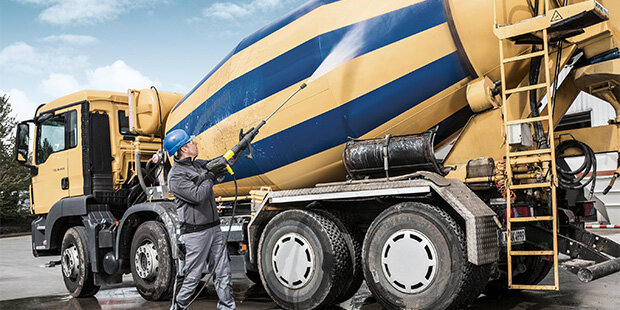 Clean machines, vehicles and buildings daily: with pressure and a high flow rate, cold water high-pressure cleaners can also remove stubborn dirt. Ideal for large surface areas.
With hot water, high-pressure cleaners clean even better with the same amount of pressure, Kärcher machines impress with the highest level of usage comfort and the most up-to-date technology.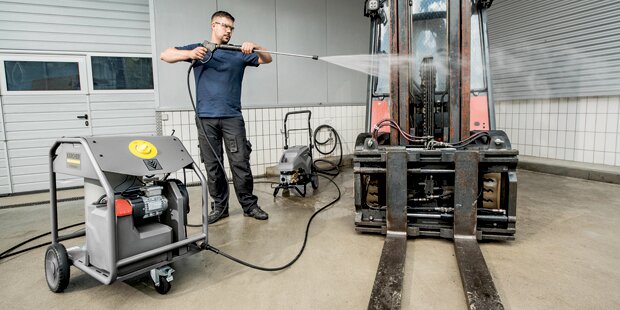 Our hot water generators offer a simple and economical way to turn your existing cold water high-pressure cleaners into hot water machines with improved cleaning performance as required.
GET THE MOST OUT OF YOUR PRESSURE WASHER
Advice, service and sales
Dealer search: Kärcher Professional high-pressure cleaners are available from all Kärcher dealers.
Contacting Kärcher: Please use our contact form or call us directly at +27 11 657 7300.
Professional newsletter: If you would like to be informed about product innovations and promotions from Kärcher in the future, register now for our commercial newsletter.