More power on every platform: Kärcher Battery Power+
Only one thing is better than lots of power: even more power. That's why we developed the Kärcher Battery Power+ batteries for the Kärcher battery platforms with 18 V and 36 V. With greater capacity for a longer runtime and enhanced productivity.
Kärcher Battery Universe: galactic power. Endless possibilities.
The world of professionals. This is the 21st century. It is all about the new star in the battery sky: welcome to the Kärcher Battery Universe. Here there are no longer any limits to compactness, performance and safety.
18 V Kärcher Battery Power+
The 18 V Kärcher Battery Power+ battery platform is the energy source for compact and easy-to-use products for cleaning in the target groups building service providers, trade and automotive. Kärcher Battery Power+ exchangeable batteries offer extra-long runtimes with a capacity of 18 V / 3.0 Ah.
Go to the 18 V Platform Devices
36 V Kärcher Battery Power+
The 36 V Kärcher Battery Power+ battery platform offers ample power for powerful devices for cleaning large areas and for professional green area maintenance. The machines in this platform are compatible with all high-performance 36 V Kärcher Battery Power+ batteries in 6.0 and 7.5 Ah, as well as the 36 V Kärcher Battery Power batteries (2.5 Ah or 5.0 Ah). With one battery you can switch between operating Kärcher battery-powered machines such as lawn trimmer, high-pressure cleaner or hedge trimmer, wet and dry vacuum cleaner and dry vacuum cleaner. For the highest requirements of flexibility, mobility and power.
Go to the 36 V platform devices
The unique Kärcher Real Time Technology offers users optimal orientation. Compared to traditional LED displays, the operating and charging states are displayed in detail.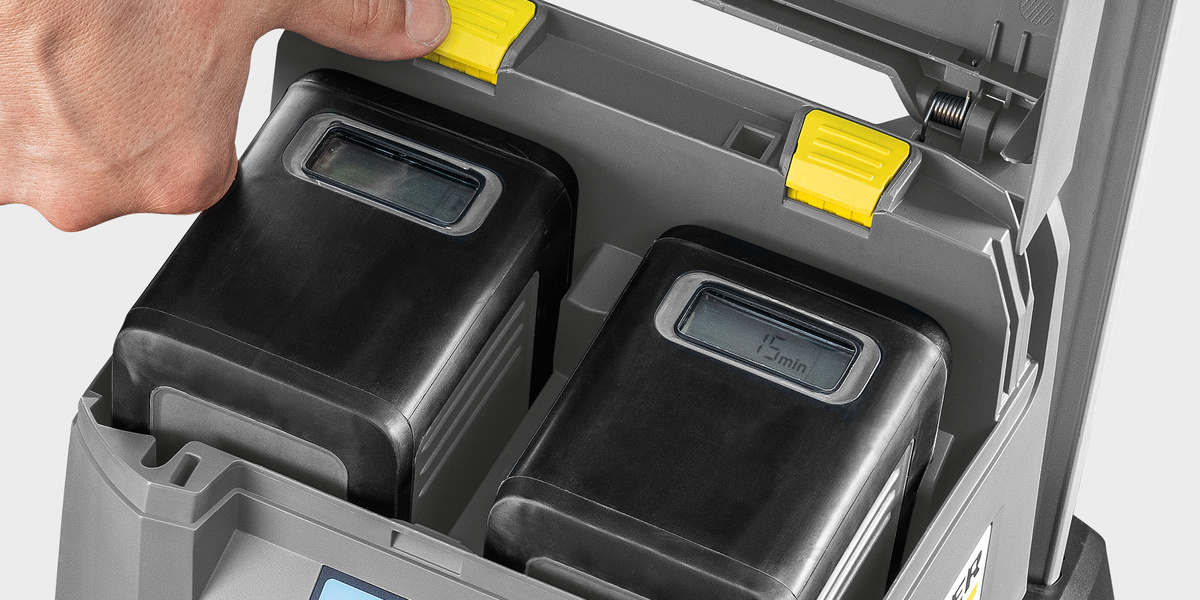 Remaining runtime in minutes
When the machine is in operation the user is constantly aware of the remaining runtime and thus knows to the exact minute when the battery has to be changed or charged. The runtime is adapted depending on the machine.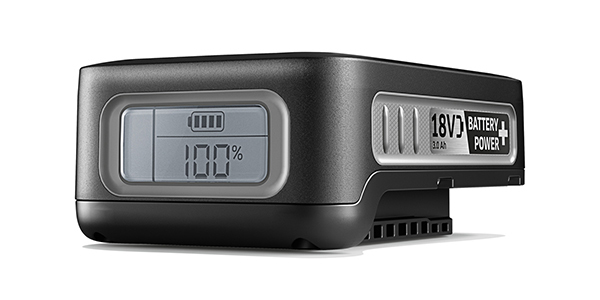 Battery capacity as a percentage
The battery capacity can be read at a glance.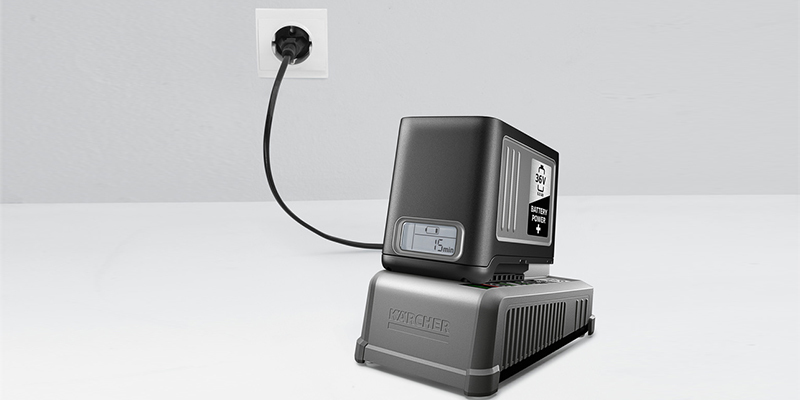 Remaining charging time in minutes
During the charging process the remaining charging time is shown on the display. This means the user knows exactly when he can start working again.
Kärcher Battery Power+ – super intelligent and perfectly safe
High-performance lithium-ion cells, as well as perfectly coordinated electronics, make Kärcher batteries especially powerful.
Without any annoying cable, battery-powered machines offer maximum freedom of movement and are ready for use in an instant. Thanks to the innovative Kärcher Real Time Technology, the battery state can be checked at any time at a glance: the integrated LC display shows how many minutes of work can still be carried out with the current battery. And in the battery charger the battery display shows exactly how long the remaining charging time is in minutes.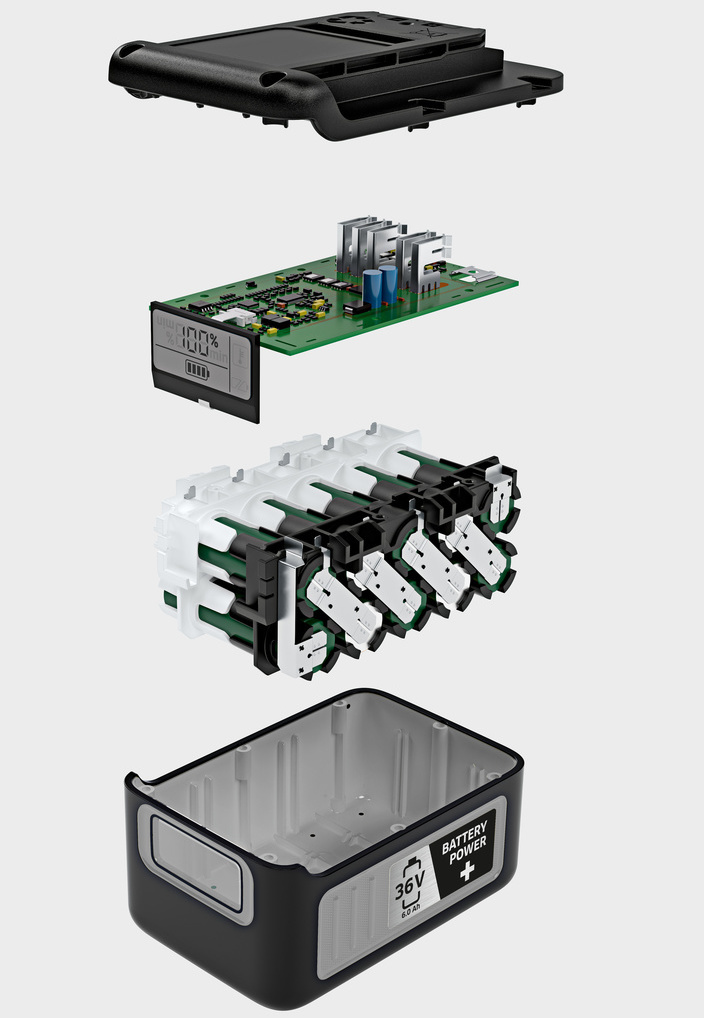 Highlights
1. Splash-proof
The battery is protected from water jets in accordance with IPX5.
2. LC display with Real Time Technology
The integrated LC display shows either the charging state, the remaining runtime or the remaining charging time.
3. Powerful lithium-ion cells
Guarantee consistent performance with low self-discharge and no memory effect.
4. Intelligent cell monitoring
Protects against overload, overheating and deep discharge.
5. Extreme robustness
The housing of the Kärcher batteries is very shock-resistant.
6. Efficient temperature management
Maximum performance is assured during high-power applications with efficient heat buffering and intelligent battery management.
When technology thinks for itself – the machine communication.
The batteries of the Kärcher Battery Power+ platform are designed so that they can communicate with the machine that they operate. This means information can be read from the battery and displayed on any interface in the machine, even if the battery is fitted at a position that is difficult to view.

Pleasant and comfortable – the handling.
It is only one detail, but it is of great importance. Soft, flexible components are integrated, which ensure easy handling and good grip. Not an important technological feature for a battery, but an obvious advantage for the professional user.
Products of the Kärcher Battery Power+ battery platforms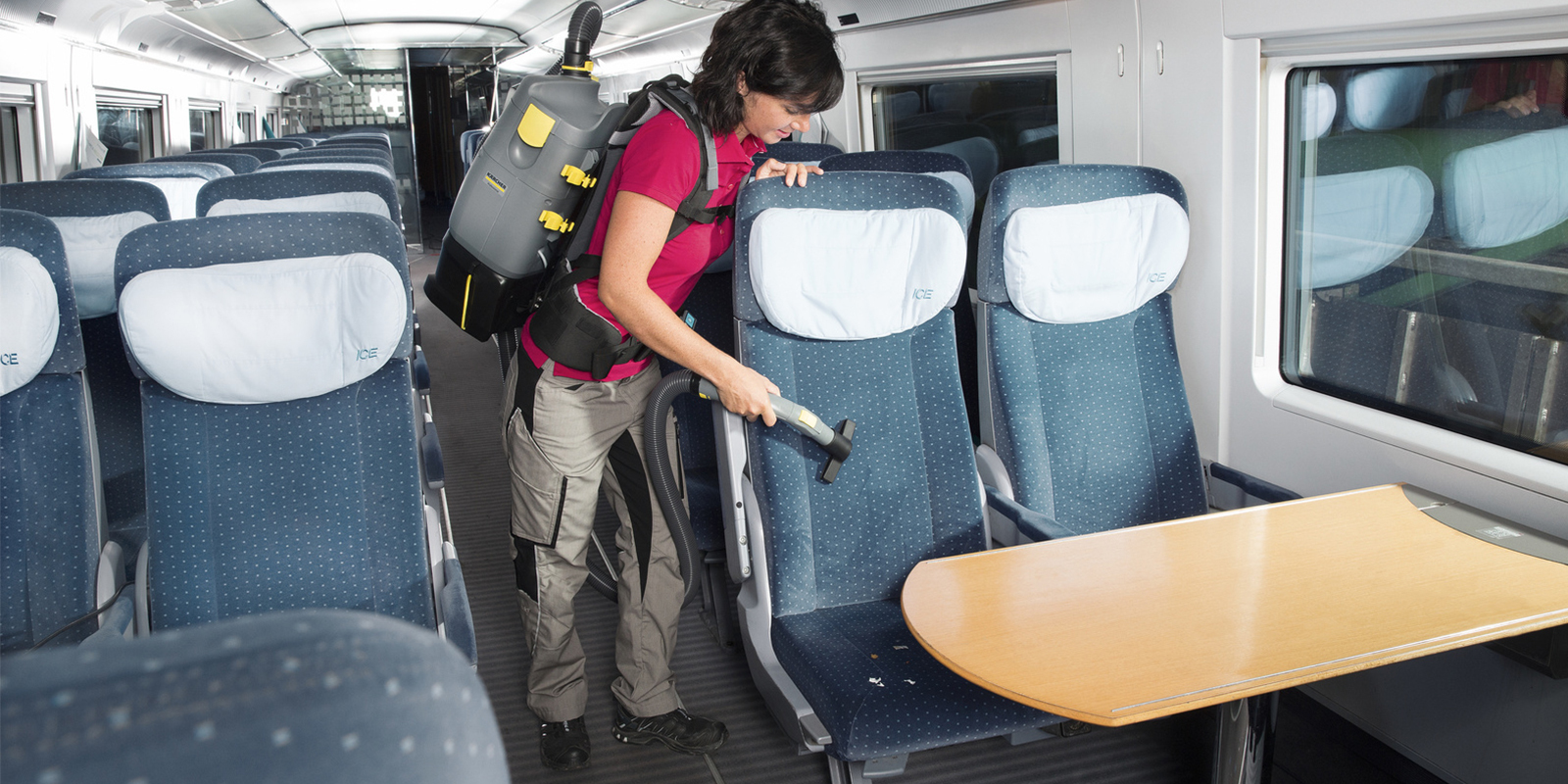 Battery-powered backpack vacuum
Our battery-powered backpack vacuum BVL 5/1 Bp allows cordless working with maximum mobility. And with eco!efficiency mode for even longer applications. Its ergonomic carrying frame offers a high level of carrying comfort in every situation.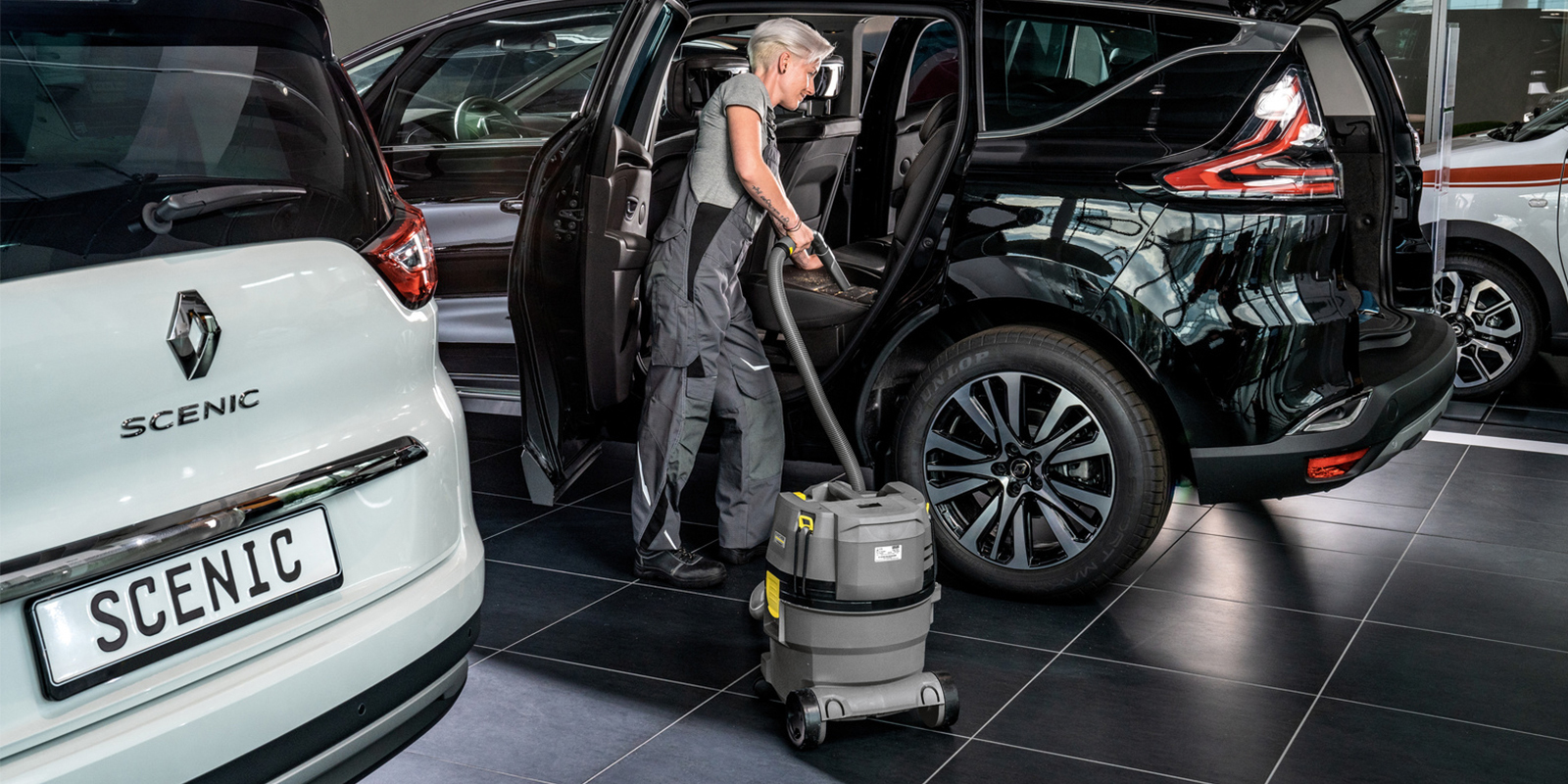 Battery-powered wet and dry vacuum cleaner
Compact, light and versatile: thanks to its powerful Kärcher Battery Power+ battery, our battery-powered wet and dry vacuum cleaner NT 22/1 Ap Bp also impresses in places without an external power supply for demanding wet and dry applications.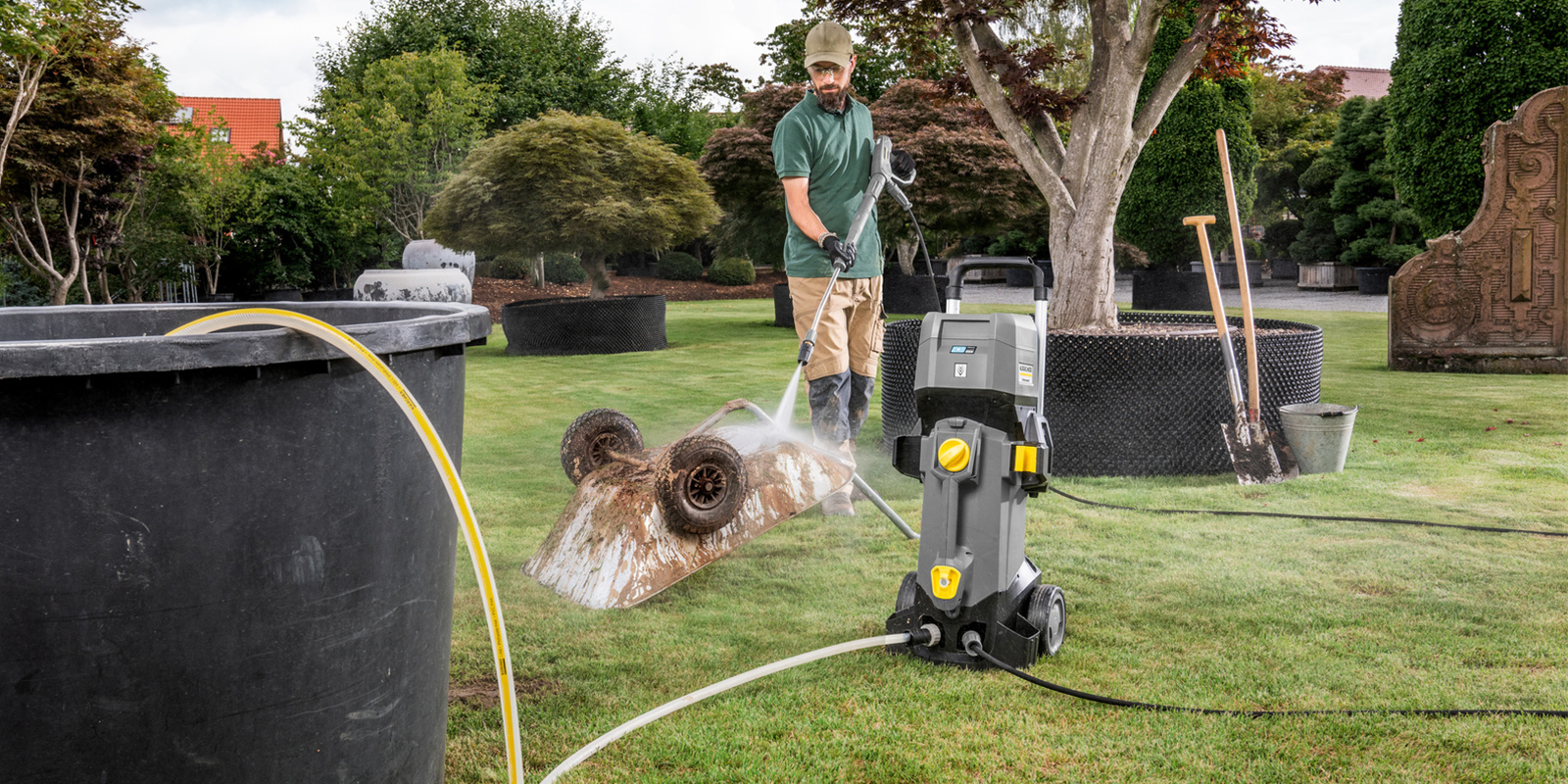 Battery-powered high-pressure cleaner
You can work independent of the power supply with the battery-powered machine. Thanks to the suction hose, completely autonomous operation is also possible when alternative water sources such as tanks are used. The cold water machine is used, for example, by building service providers, in the municipal area and in the construction sector.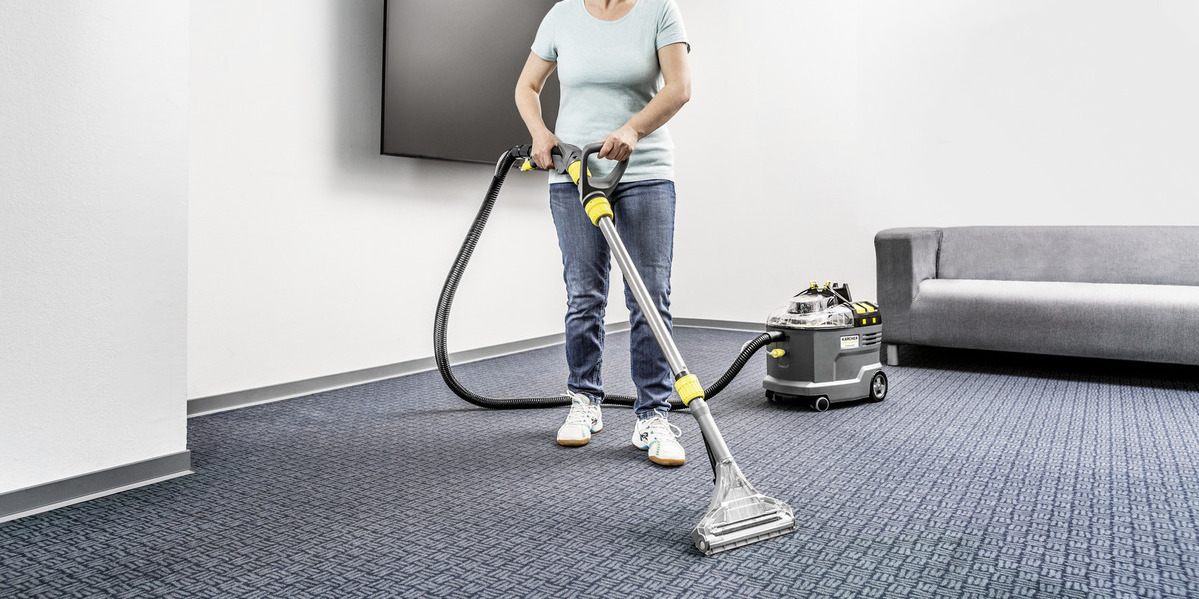 Battery-powered Spray-Extraction Cleaner
The Puzzi 9/1 Bp Pack Adv cordless spray extraction cleaner is the world's first professional battery powered spray extraction machine on the market, capable of cleaning upholstery, carpets and other textile areas anywhere and at any time, with no reliance on external power sources. Thanks to the powerful 36 V Kärcher Battery Power+ battery supplied as standard, the robust cordless spray extraction cleaner has an unlimited operating radius for cleaning.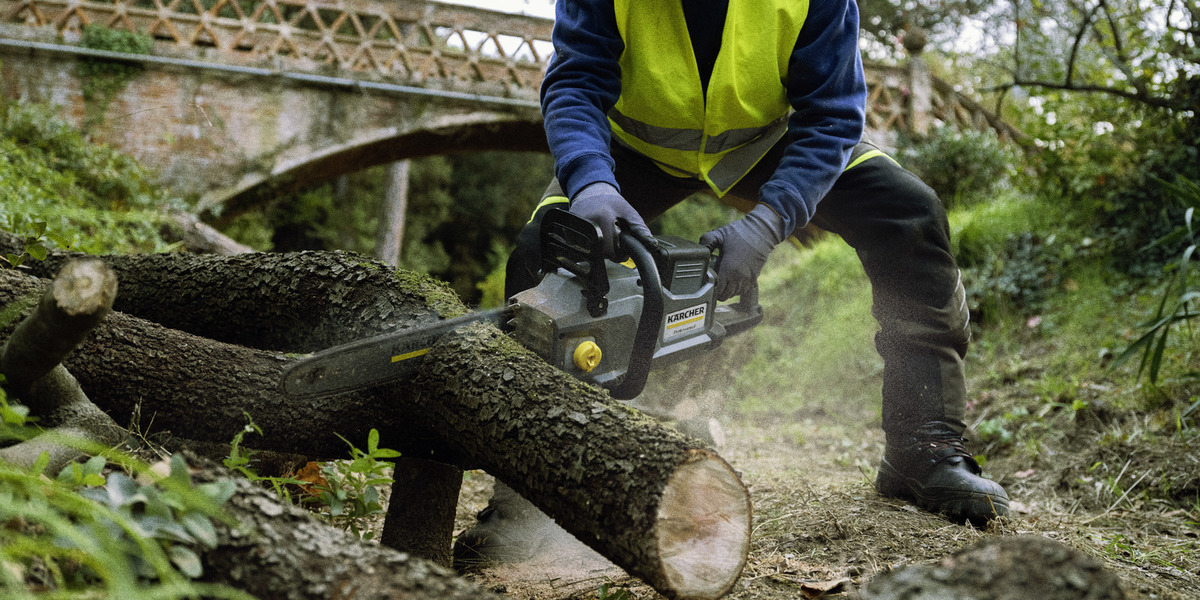 Battery-powered Chainsaw
It is more than up to the challenge of carrying out daily home maintenance, gardening work and clearing storm damage, small forestry tasks or improvement works in parks and inner-city areas: The robust CS 400/36 Bp battery chainsaw from Kärcher. The saw is perfectly balanced and feels highly ergonomic in your hand with minimal vibration and absolutely no exhaust fumes. It is less noisy than petrol-powered machines and has comparatively low operating and maintenance costs.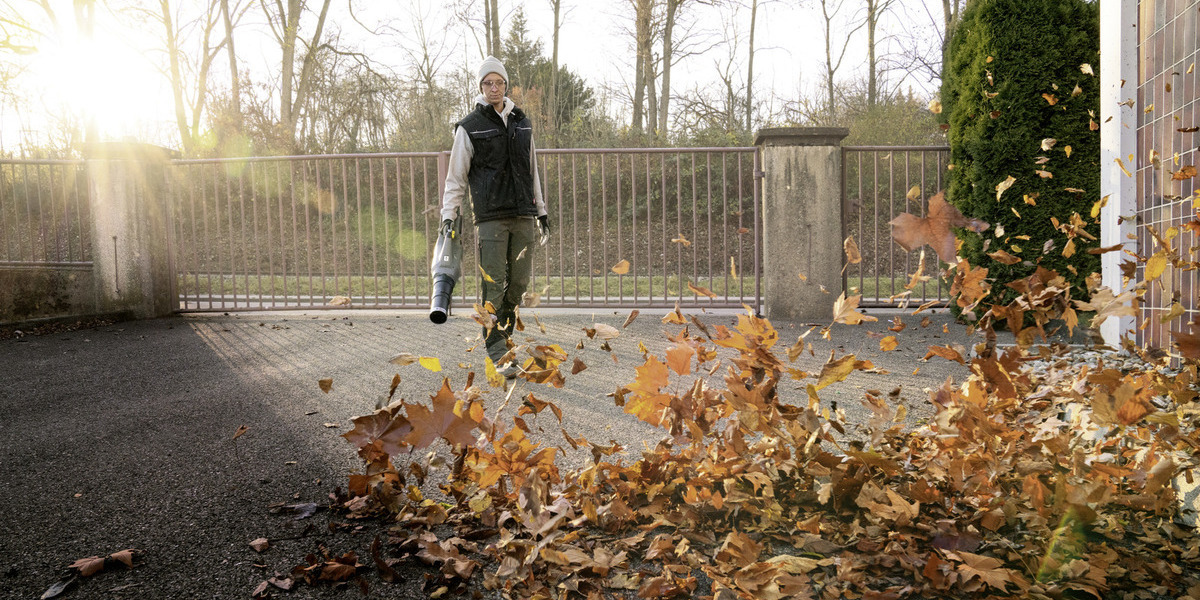 Batter-powered Leaf Blower
Powerful, economical and environmentally friendly: Our battery powered LB 930/36 Bp leaf blower impresses in every respect. It clears leaves, debris and other waste at lightning speed, particularly in hard-to-reach areas. And it's so quiet that you can easily use it in noise-sensitive areas such as residential areas, or near schools, hospitals or even at night. Moreover, it also does not emit any harmful substances or other emissions that could damage the environment, it is very comfortable to use and has impressively low operating and maintenance costs.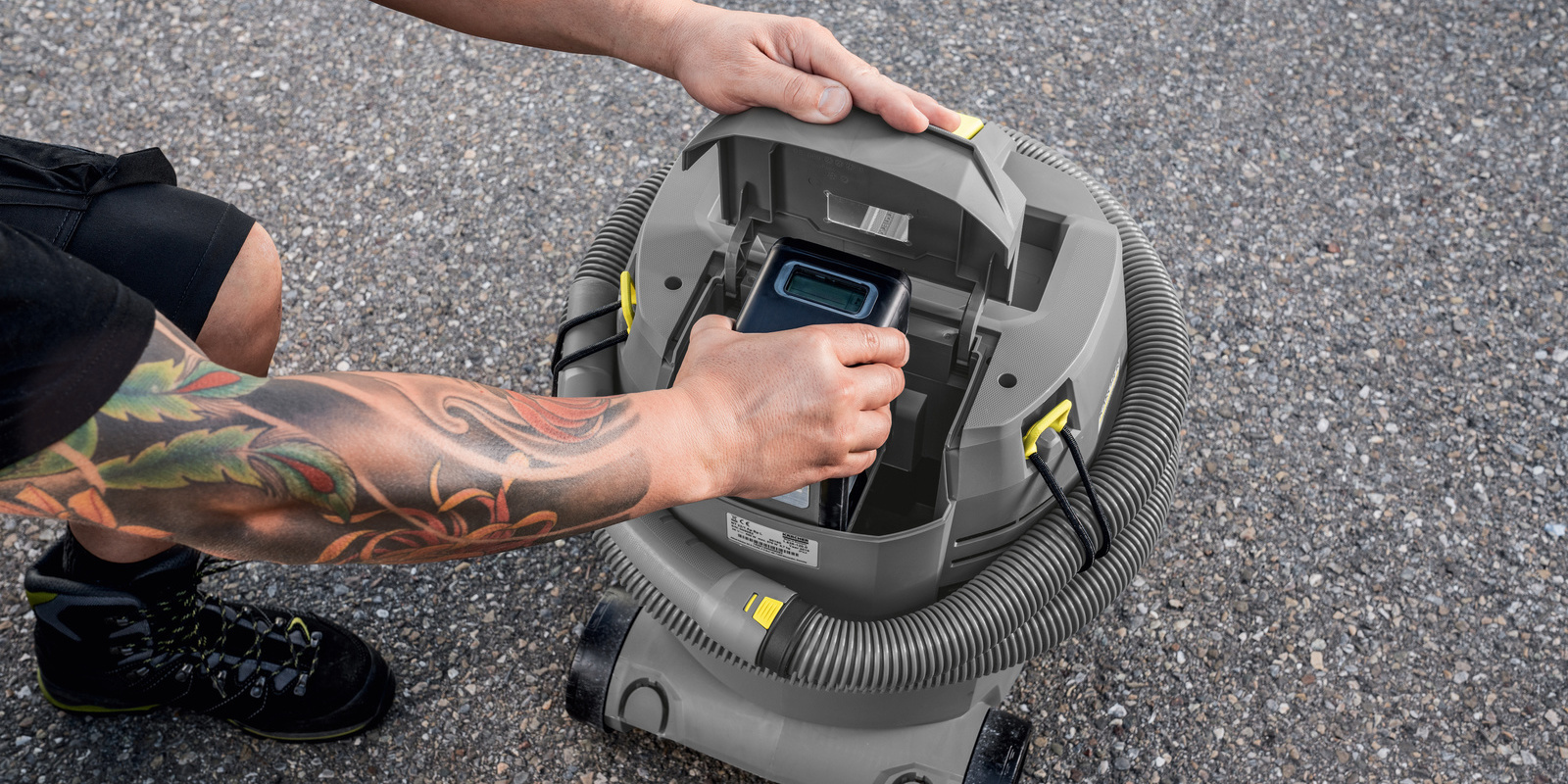 The best for you and your machines: original Kärcher accessories
The innovative Kärcher battery-powered machines open up versatile fields of application and offer maximum operating comfort. Original Kärcher accessories offer even greater versatility in applications and enhanced safety and also make your work easier. The Kärcher accessories range includes batteries in various performance classes, carrying straps, hoses, attachments and extensions, as well as personal protection equipment and safety equipment with cut protection trousers, safety shoes, gloves and protective goggles. Everything you need for successful, safe work.