Kärcher Maintain
Service packages
Manage your business. We give you the availability you need.
Prevention is better than repair. With regular professional inspections and services, you can reduce the likelihood of your machine breaking down to a minimum. Our service packages can help you with this, from high-pressure cleaners to washing bays. Each service package is tailored to specific requirements, from a straightforward safety inspection as part of those required by law, to servicing. Our service contracts are particularly suitable if your machines are in use for less than 250 hours per year.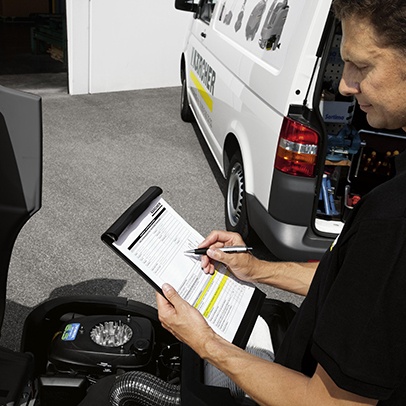 Service packages
Benefits of service packages:
Machine downtimes are minimised
Ensures highest level of reliability and operational safety of the machine
Value retention and increased service life of the machine
Regular safety inspections required by law
Original Kärcher spare parts and accessories are used
Quick response times
Trained and experienced Kärcher service technicians
Services are planned by Kärcher, meaning none of your time is taken up
Any number of inspections/services can be stipulated in the inspection/service contract
Costs can be planned and calculated
Reduced operating costs
Our service packages at a glance
Professional
Inspection
The checks that a machine needs: The Kärcher "Inspection" service package includes, in addition to the services featured in the Safety Inspection package, replacement and disposal of spare parts and fuels in accordance with the service plan. Any materials used are charged separately.
Service
The alternative to Inspection: Unlike in the Inspection service package, all of the spare parts listed in the service specifications are replaced as a preventative measure by our service technician as part of the service. Included in the package are the spare parts listed in the service specifications and a 24-month extended warranty.
Service Plus
Maximum safety as part of the service contract: in addition to servicing, the Kärcher "Service Plus" service package includes replacement of wear parts (without batteries) by our service technician as part of the service. This package is only available from Kärcher.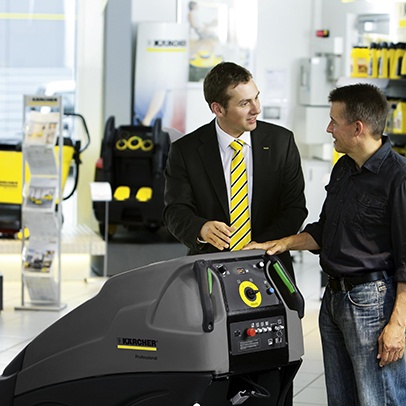 Safety, from which everyone benefits
The benefits of regular servicing go way beyond mandatory safety tests. Functional reliability and availability are important factors for the unrestricted fulfilment of contracts. Professional services, servicing and repairs together form the basis for modern safety, as required by modern cleaning service providers.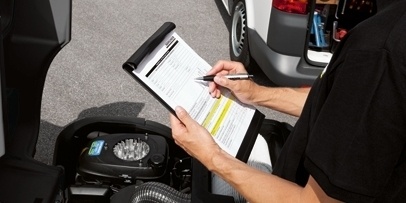 Inspection checklist
Every Kärcher machine is tested point by point using a special inspection checklist. This ensures that all parts and functions are tested. The corresponding inspection record is included in the machine documents as evidence.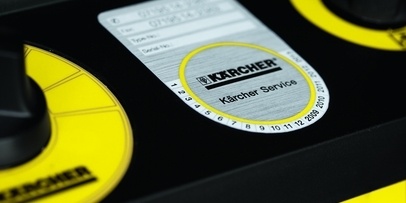 Kärcher inspection tags
Once it has undergone a safety inspection, the machine receives an official inspection tag as confirmation that the regulations for operational safety have been completely met.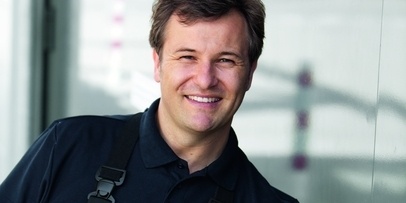 Inspections only by experts
Kärcher's service technicians are, without exception, professionally trained and skilled in using all Kärcher machines. Inspections, servicing and repairs are all carried out on-site. Regularly, carefully and reliably.