Machine construction
The best system for cleaning: Kärcher. Production can only run smoothly when every part interlocks perfectly. The same applies to cleaning processes: efficient cleaning can only be achieved if all solutions harmonise with one another. This is why Kärcher, as a system provider in all sectors, offers effective, safe, strong and customised cleaning solutions. From surface cleaning to deep cleaning. For your systems, your warehouses and your offices. So that everything continues to run smoothly.
This is where cleanliness is produced.
In production systems, cleaning not only ensures cleanliness and process safety, but also serves to maintain machines and contributes to value retention. Every type of dirt has to be quickly and effectively removed – from swarf to grease and oils and emulsions – without interrupting the production process and always with the highest degree of safety. All of these requirements are met by the innovative cleaning solutions from Kärcher.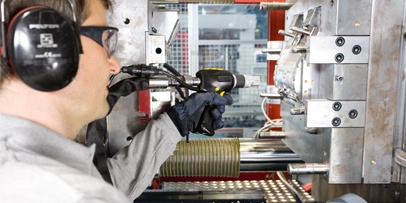 Gentle cleaning
Don't worry about your machines – innovative ice blasting helps to remove dirt from surfaces gently. Silicone, oil, grease, adhesives, dyes, paints, and much more can be removed quickly and easily with dry ice pellets, with only short downtimes thanks to Cleaning in Process (CIP).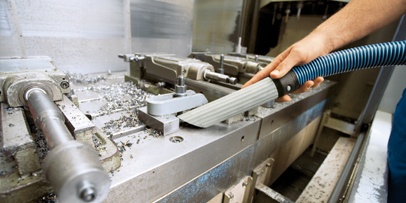 Cleanliness without interruption
Powerfully remove moist and dry dirt: Kärcher industrial vacuums. Flexible and versatile thanks to specially coordinated, robust and wear-resistant suction lances. The latest turbine technologies ensure consistently high suction power.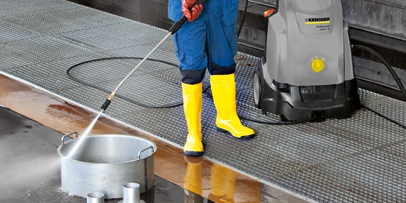 Working with high pressure
Tough, stubborn dirt on the production systems is reliably removed with Kärcher high-pressure units. Adhesives, encrustations and adhesive oils are quickly removed.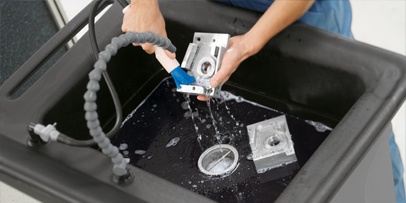 Clean every part to perfection
Parts cleaning leaves no room for compromise. Intensive cleaning is carried out with solvent-free, water-based cleaning agents that effortlessly remove grease, oils and other dirt. By using the right cleaning agents, components can be cleaned gently.
Clean systems for clean work.
Easily remove production residues, rubber wear, oils, sharp-edged swarf or transport dirt with innovative Kärcher cleaning appliances. The right solution for every need: from compact wet and dry vacuum cleaners to the ride-on scrubber drier which ensures fast drying and avoids process interruptions. A wide range of accessories increases flexibility and ensures efficient cleaning.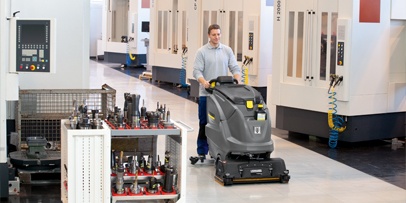 Removing vehicle track marks
Reliably remove adhesive dirt, oils or other liquids in production halls with scrubber driers. This will ensure increased safety, as Kärcher's robust machines are capable of wet cleaning and vacuuming simultaneously. Walkways can be cleaned quickly and are soon dry and accessible again.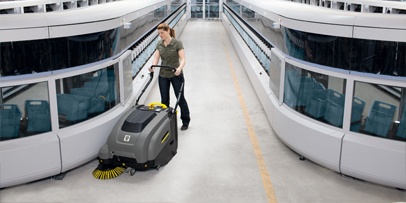 Quick interim cleaning
A simple and ideal solution for small volumes of dirt: walk-behind sweepers offer high flexibility, great convenience and powerful performance.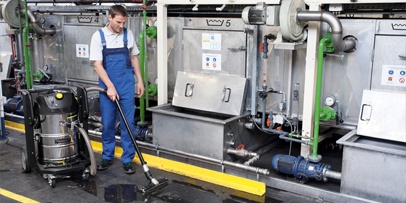 Remove loose dirt
For fine or coarse dirt, liquid or dry. For oils or hazardous dusts. With Kärcher wet and wet/dry vacuum cleaners, you are always optimally equipped for every situation, thanks to high-performance turbines, innovative filter engineering and a large variety of accessories.
Cleaning quality is another element of high-quality storage.
When material has to be transported safely, cleanliness is vital. Because dirt is a stumbling block in routine operations. Residues can be removed quickly with robust Kärcher ride-on machines, walk-behind vacuum cleaners and sweepers. Compact dimensions ensure manoeuvrability – and numerous variants and accessories are available, from gas-operated drive to a canopy.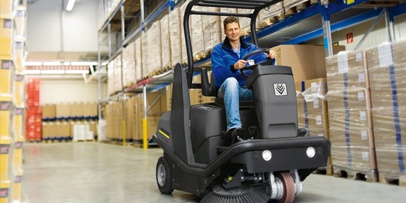 Safe in the indoor storage area
Safe cleaning in narrow aisles and between high-bay racking – not a problem for Kärcher. Compact dimensions ensure high manoeuvrability and canopies with Roll Over Protective Structure (ROPS) and Falling Object Protective Structure (FOPS) ensure the necessary level of safety. In addition, area performances of up to 7,800 m²/h and large battery capacities ensure longer work intervals.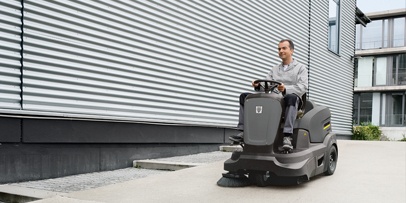 Powerful in outside areas
On large areas, cleanliness is essential for safety. Continuous material handling and environmental influences demand fast and effective cleaning solutions. With Kärcher ride-on machines and the large variety of accessories, large outdoor surfaces are easy to clean, without interrupting regulated processes.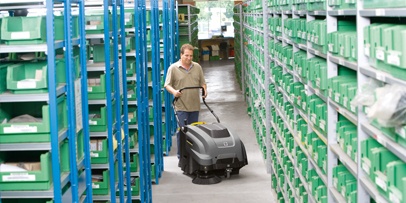 Economical in use
See how cost-effective cleaning can be. Area size, volume and cleaning frequency are decisive. Kärcher will be happy to help you determine the best options for you.
All you need for a clean impression.
Kärcher offers the perfect office cleaning solution: from deep cleaning to polishing, we offer the perfect solution for every requirement and every area size. If you are looking for a machine that is easy to use, whisper-quiet, safe and powerful, Kärcher can fulfil all of these requirements. A wide range of accessories extend the areas of application.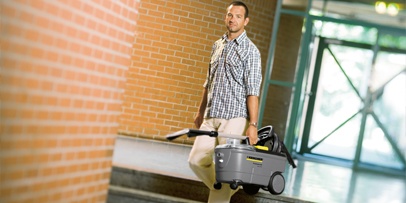 Mobile cleaners
Easy to use, robust and powerful carpet cleaners feature an extensive range of accessories for numerous tasks.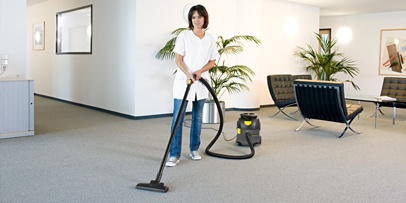 Dry vacuuming like a professional
Developed with contract cleaners, this professional range offers the benefits of high suction power and a five-stage filter system.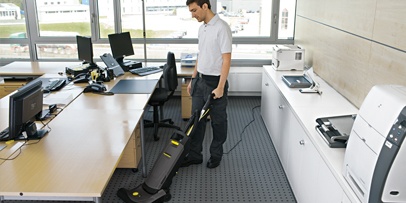 Removes dirt deep in the pile
Carpeted corridors and offices require regular deep cleaning, ideally with a Kärcher upright brush-type vacuum cleaner.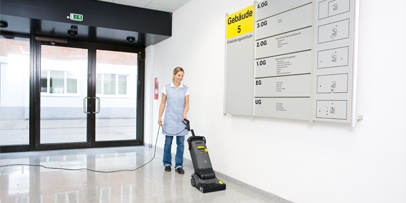 For cleaning the smallest surfaces
The BR 30/4 C cleans all small hard surfaces gently and effectively, and is just as efficient in a forwards or reverse direction.
Are you interested in our solutions specially tailored for your industry?
Please fill in the below form and one of our Sales Representative from your region will contact you to discuss your needs.