COMMERCIAL STEAM CLEANERS & STEAM VACUUM CLEANERS
Hygienic cleaning without cleaning agents
Kärcher steam cleaners & steam vacuum cleaners clean economically and hygienically - without chemicals. The wide range of accessories make these machines suitable for diverse use on all hard floors, glass and tiled surfaces. Fittings and textile surfaces are also thoroughly cleaned.
Unlock the Potential of Commercial Steam Cleaning
Embrace a new era of immaculate cleanliness with Kärcher's innovative commercial steam cleaners and steam vacuum cleaners. Revolutionising the way businesses maintain their spaces, these advanced machines harness the natural power of steam to effortlessly eliminate dirt, grime, and contaminants. From robust hard floors to delicate glass surfaces and intricate tiles, our commercial steam cleaners cater to diverse cleaning demands.
Hygienic, cost-effective and environmentally friendly: Kärcher steam cleaners clean all hard surfaces without chemical cleaning agents.
Kärcher steam vacuum cleaners feature high operating comfort and effective cleaning performance on all hard surfaces. The extensive range of accessories ensures targeted cleaning.
Heat is a key factor for more hygiene
The use of detergents and disinfectants plays an important role in cleaning processes. What many do not know: Hot water and steam also make a significant contribution and can therefore also help to combat germs, bacteria and viruses.
A study by the Thuringian State Office for Agriculture* showed that water temperature has a major impact on reducing germs and bacterial colonies. At 60˚C water temperature the number of bacterial colonies is already reduced by up to 90%. Under steam stage (155˚C) even an almost complete reduction could be achieved under the test conditions.
In order to support the contribution of hot water, the addition of disinfectant by the high-pressure cleaner is recommended.
* [Agricultural Manager March 2015]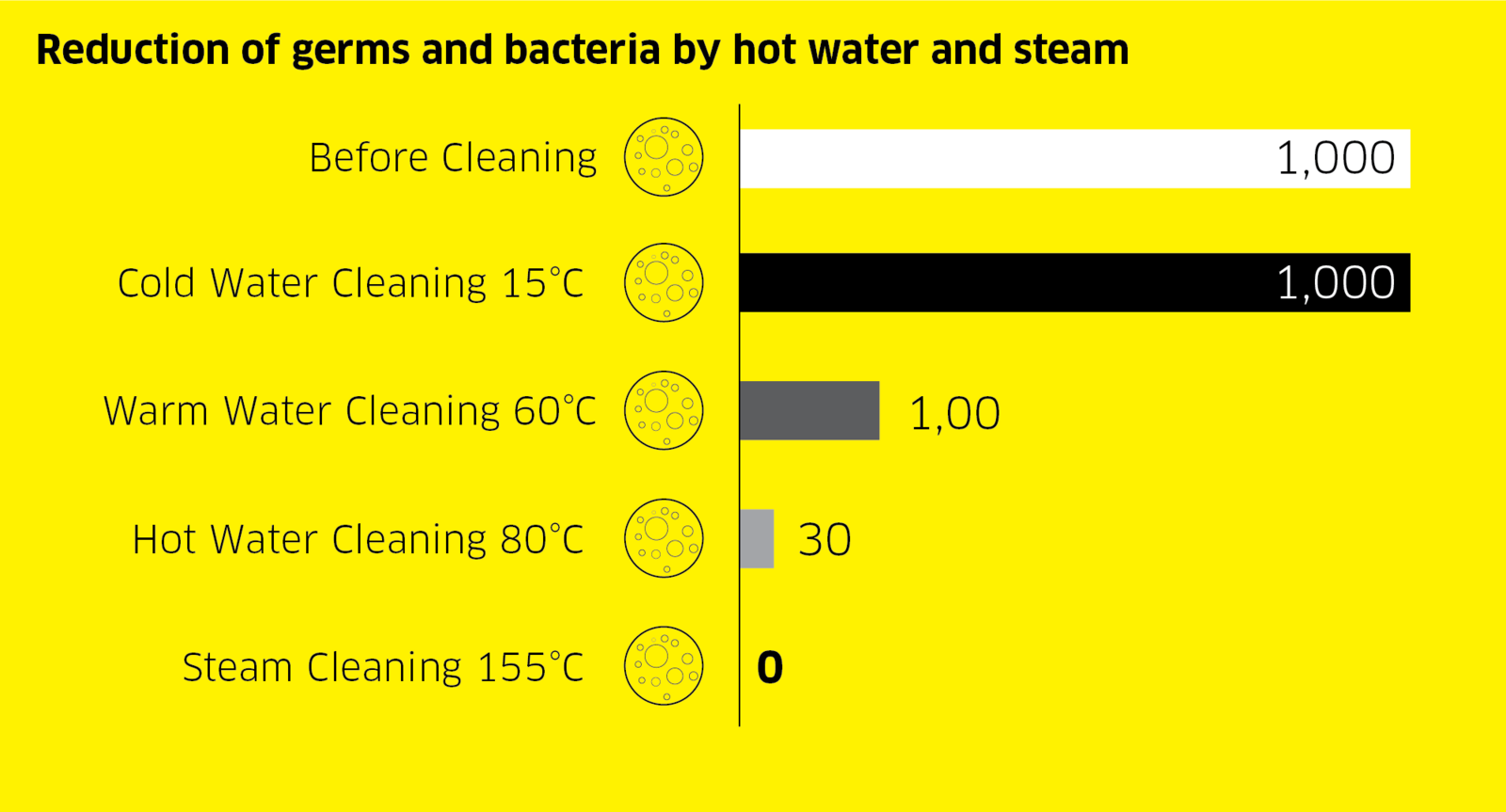 Personalised Approach for Optimal Solutions
Kärcher understands that every business is distinct, facing its own set of challenges and requirements. That's why our commercial steam cleaner solutions are not just one-size-fits-all, but carefully designed to meet the specific needs of your industry and workspace. Whether you run a bustling restaurant, manage a healthcare facility, or operate a retail establishment, Kärcher has the expertise to tailor a cleaning solution that ensures exceptional results. Our team of experts collaborates with you to identify key areas of focus, allowing you to achieve the highest standards of cleanliness that leave a lasting impression on your clientele and staff.
Steam Mops: Harnessing Precision for Impeccable Cleanliness
In addition to our advanced commercial steam cleaners and steam vacuum cleaners, Kärcher also offers cutting-edge steam mops that bring a new level of precision to your cleaning routine. These innovative steam mops are designed to tackle a wide range of surfaces, from hard floors to carpets, with unparalleled efficiency. With the power of steam at your fingertips, Kärcher steam mops effortlessly lift dirt, grime, and stains, leaving surfaces spotless and sanitized. Experience the convenience and effectiveness of Kärcher's steam mops, perfectly complementing your commercial cleaning arsenal and contributing to the impeccable standards your business deserves.
A Cleaner Environment, a Better well-being
Investing in Kärcher's commercial steam cleaners and steam vacuum cleaners is not just a commitment to cleanliness; it's an investment in the health and well-being of your business ecosystem. Traditional cleaning methods often introduce chemical residues and pollutants into the air and surfaces, posing risks to occupants and the environment. Kärcher's chemical-free approach not only ensures an impeccably clean environment but also contributes to a healthier indoor atmosphere. Breathe easier, knowing that your workspace is free from harmful toxins and allergens, creating a more productive and inviting atmosphere for everyone who enters.
Videos Of Our Range In Action
SGV 8/5 - Steam Vacuum Cleaner
Hygienic Excellence, Chemical-Free Solution
Experience exceptional hygiene without harsh chemicals. Kärcher's commercial steam cleaners harness steam's sanitising power, effectively eradicating bacteria, viruses, and allergens. Prioritise the well-being of your employees and customers while reducing your ecological footprint. Choose Kärcher for a pristine, eco-conscious commercial environment.
Versatility with Wide-ranging Accessories
Recognising the unique needs of every business, Kärcher equips its commercial steam cleaners and steam vacuum cleaners with an array of accessories. Effortlessly tackle various cleaning tasks, from restaurant floors to retail glass and office tiles. Achieve flawless results that leave your premises impeccable and inviting.
Efficiency Meets Cost-effectiveness
In the fast-paced realm of commercial operations, efficiency and cost-effectiveness reign supreme. Kärcher's commercial steam cleaners not only deliver exceptional results but also yield significant long-term savings by eliminating the need for chemical agents. Protect your budget and the environment in one stride, embodying Kärcher's dedication to innovative, responsible cleaning solutions.
* As per EN 16615, PVC surface, test machines SG 4/4 and SGV 6/5 (SGV 8/5 by analogy), test germ: MVA, murines norovirus, adenovirus (except hepatitis B), under low organic strain
** With selective cleaning, i.e. with a steaming duration of 30 seconds at the maximum steam stage with direct contact with the surface being cleaned, 99.999 % of the enveloped viruses, such as coronavirus or influenza viruses (except the hepatitis B virus) can be eliminated on smooth, hard surfaces (test germ: modified vaccinia virus Ankara). **When cleaning at a cleaning speed of 30 cm/s at the maximum steam stage and with direct contact with the surface to be cleaned, 99.99 % of all common household bacteria on smooth, hard household surfaces are killed (test germ: Enterococcus hirae).
For more information, click here.