HARD FLOOR CLEANERS
Our Hard Floor Cleaners use continuous fresh water whilst cleaning through their twin tank system - making them the perfect replacement for the mop & bucket!
Suitable for ALL hard floor types, including tiles, laminate & timber.
Twin-tank technology - no more spreading dirty water around the floors.
Perfect for pet hair and food & drink spills.
Two-in-one! Mop and sweep at the same time.
Up to 50% time saving!
Available in most Mitre 10 and/or Bunnings stores. Or shop online from karcher.co.nz below!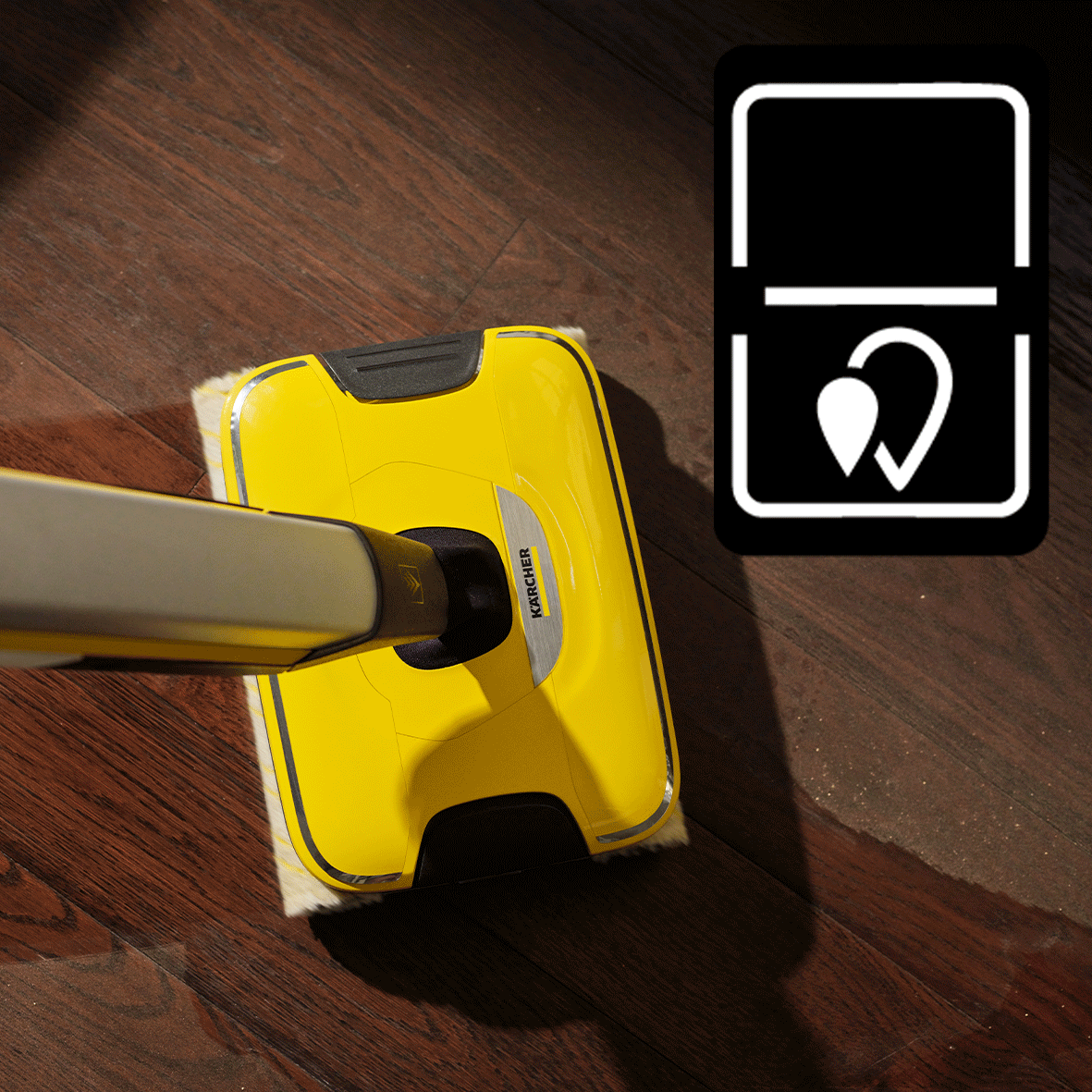 Your new bestie for everyday cleaning
Your new bestie for everyday cleaning, the Kärcher FC 7 Cordless hard floor cleaner removes all types of dry and wet everyday dirt in a single step, with no need to vacuum before wiping the floor – genius! Forget old-school cleaning, the battery-powered clean freak not only saves time, but also achieves epic results for all your hard floors on everyday dirt such as food spills, dust, pet hair and more.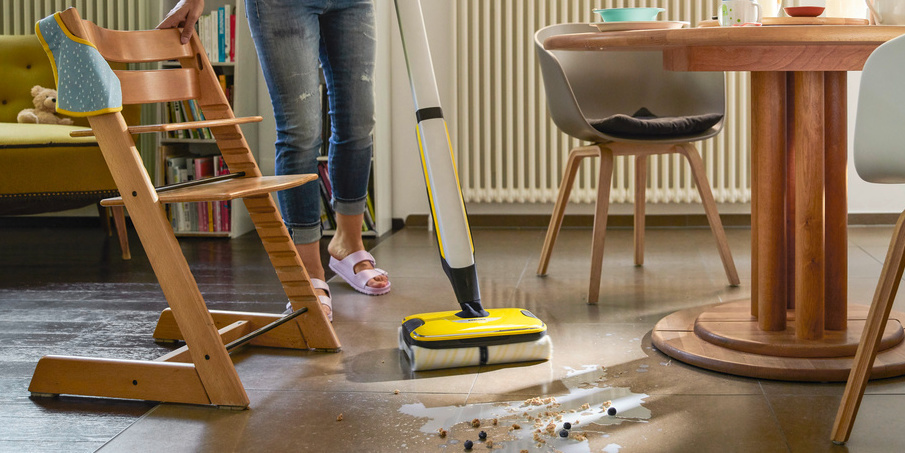 ALL-IN-ONE DEVICE
Removes all kinds of everyday wet & dry dirt including pet hair, spaghetti and soggy cereal.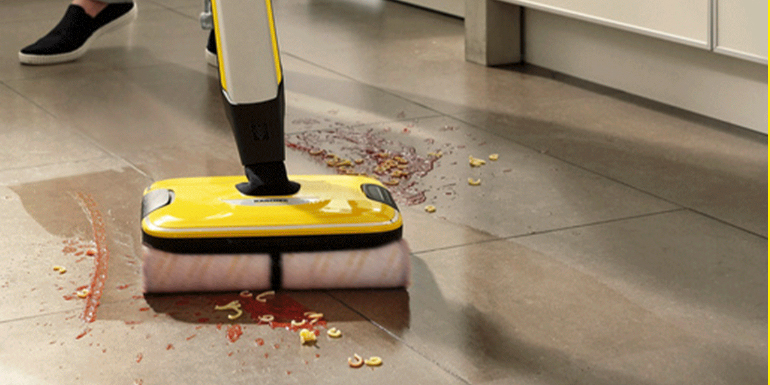 TWO CLEANING LEVELS & A BOOST FUNCTION
Adjustable water flow on handle and a boost roller rotation for cleaning stubborn dirt.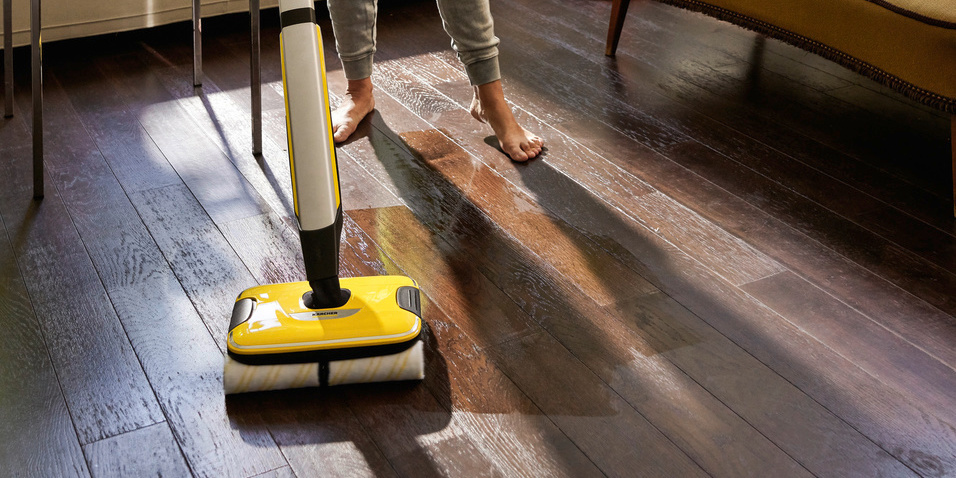 TWO TANK SYSTEM
Continuous fresh water cleaning with a separate clean water tank (where you can add detergent) and a dirty water tanks (where you collect dirty water & debris).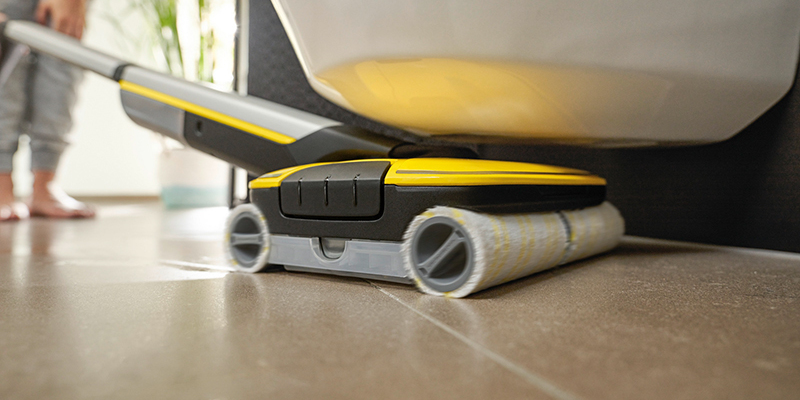 FORWARDS AND BACKWARDS CLEANING
Features four counter-rotating cleaning rollers, work to pick up household dirt and mop the floor both in the forward and reverse movement.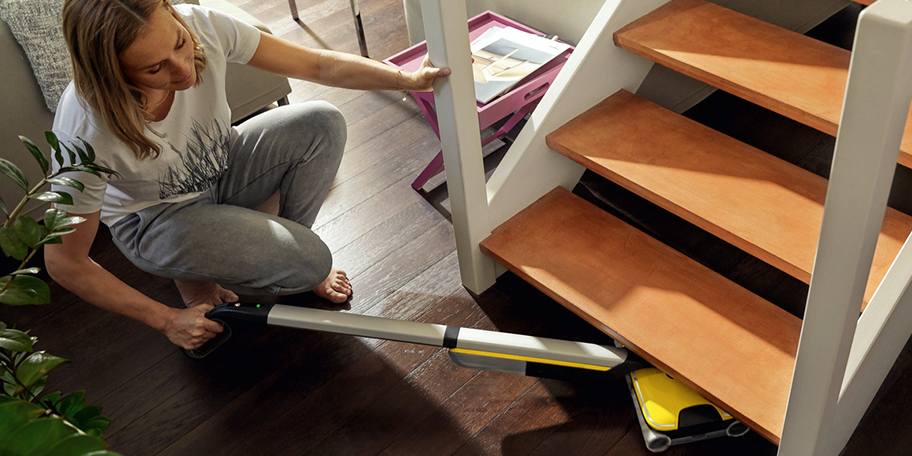 HORIZONTAL CLEANING
A 90˚ flexible swivel joint allows easy cleaning under low profile furniture and stairs.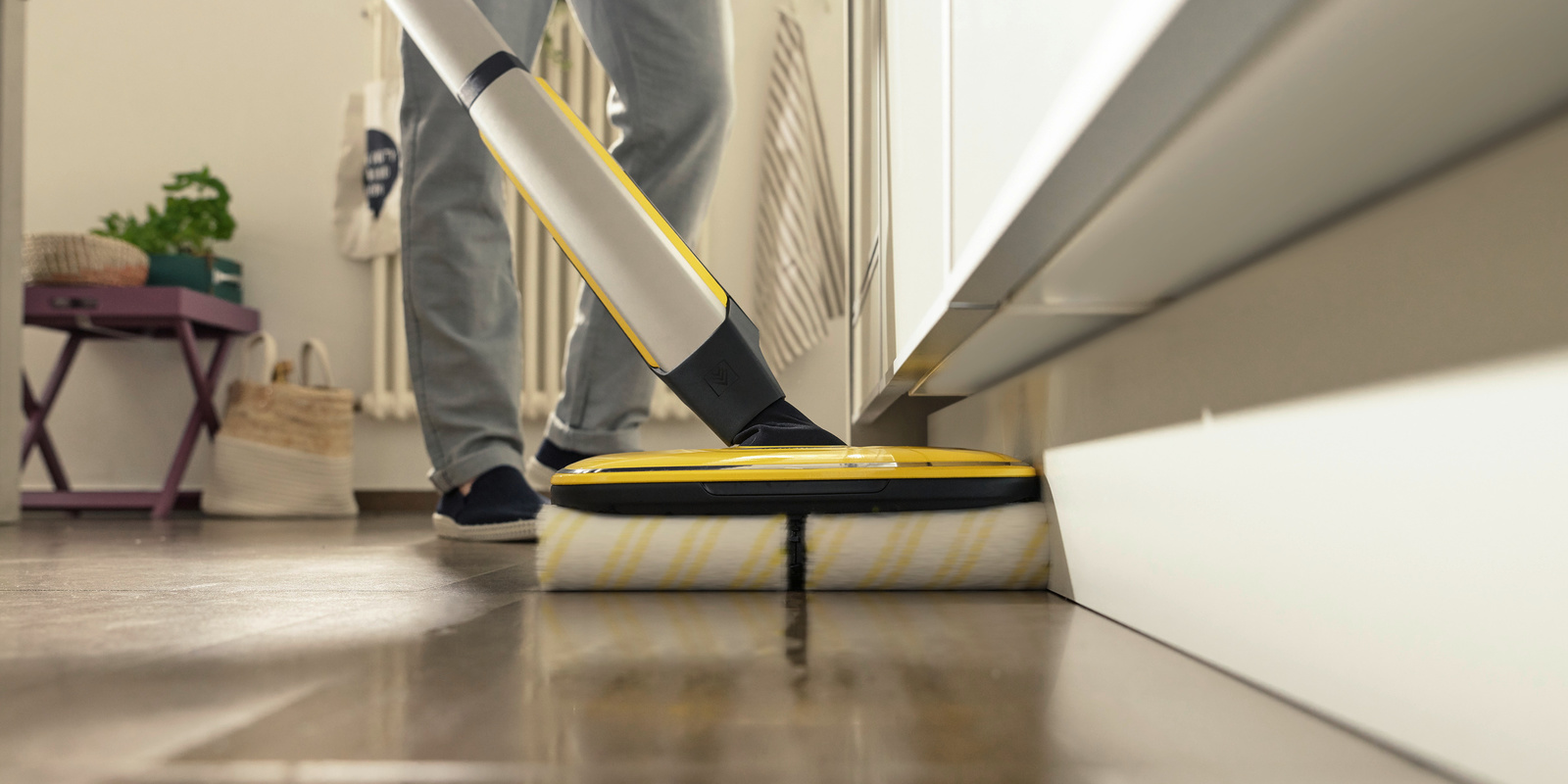 PERFECT EDGE TO EDGE CLEANING
Reaches right up to skirting boards and cupboards for a full clean.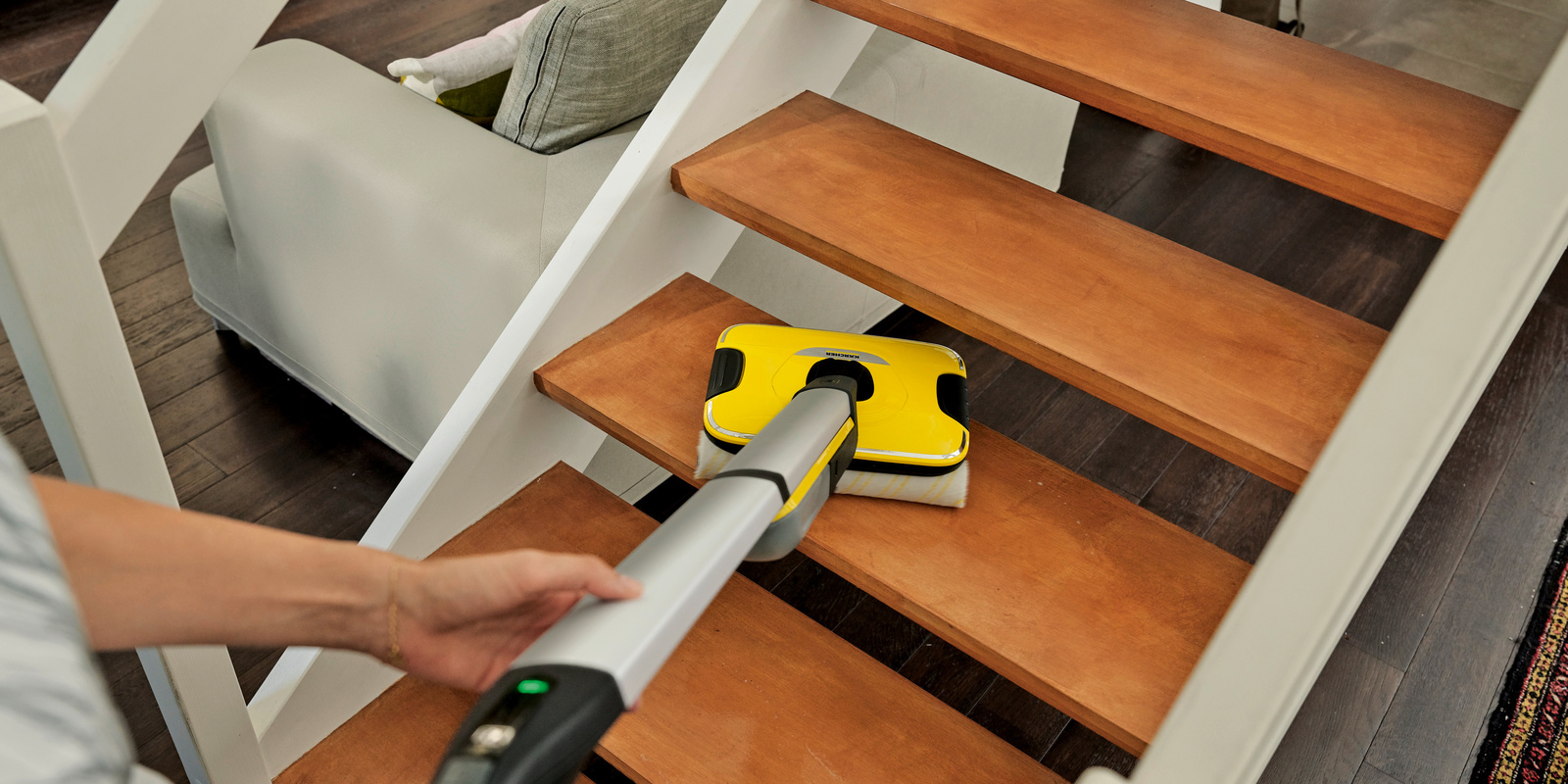 EASY CLEANING ON ALL FLOOR SURFACES
Timber, laminate, tiles, concrete - you name it! Thanks for machine-washable microfibre rollers.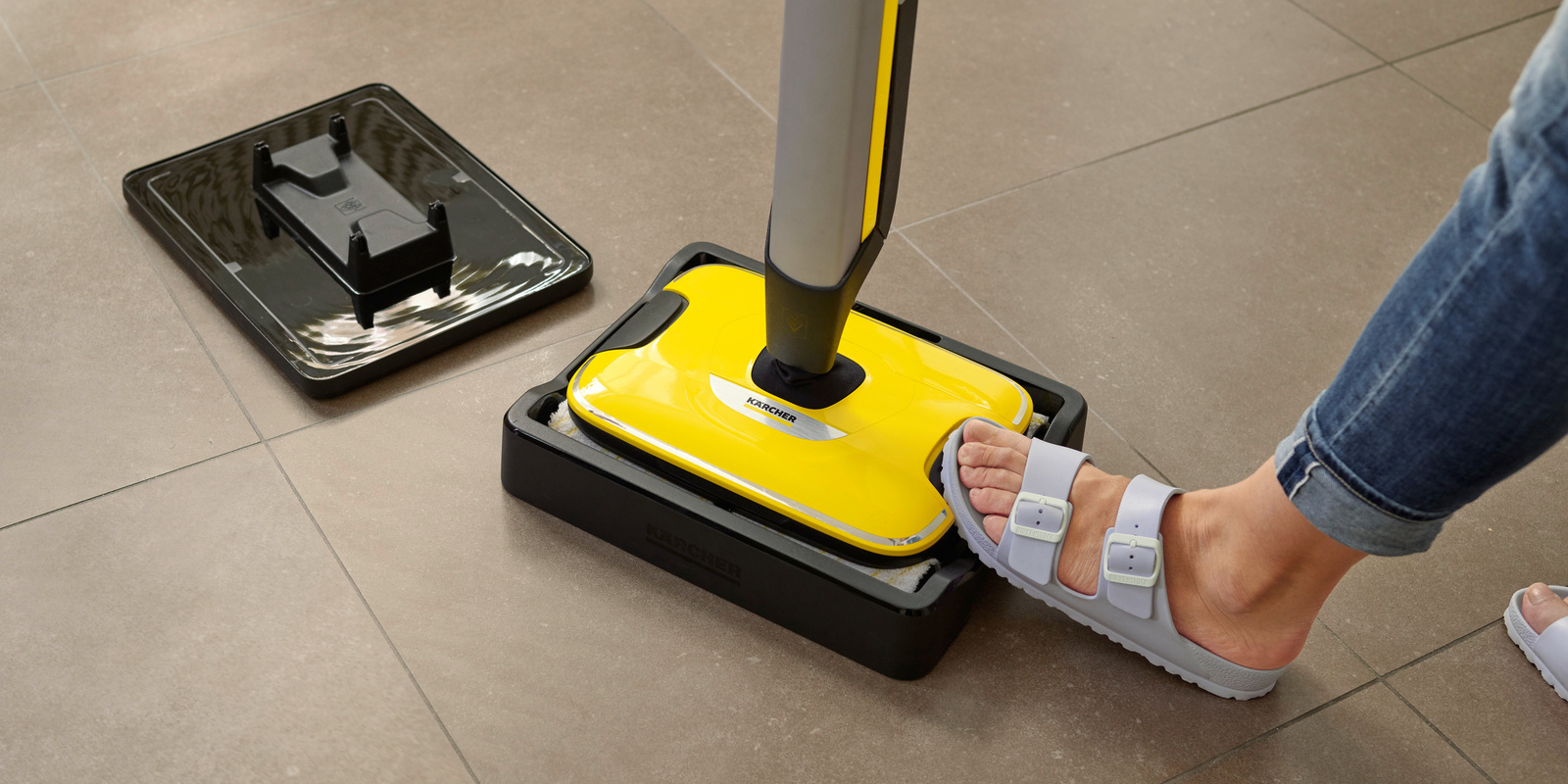 SELF CLEANING FUNCTION
Self-cleaning function and machine washable microfibre rollers make cleaning the FC 7 easy.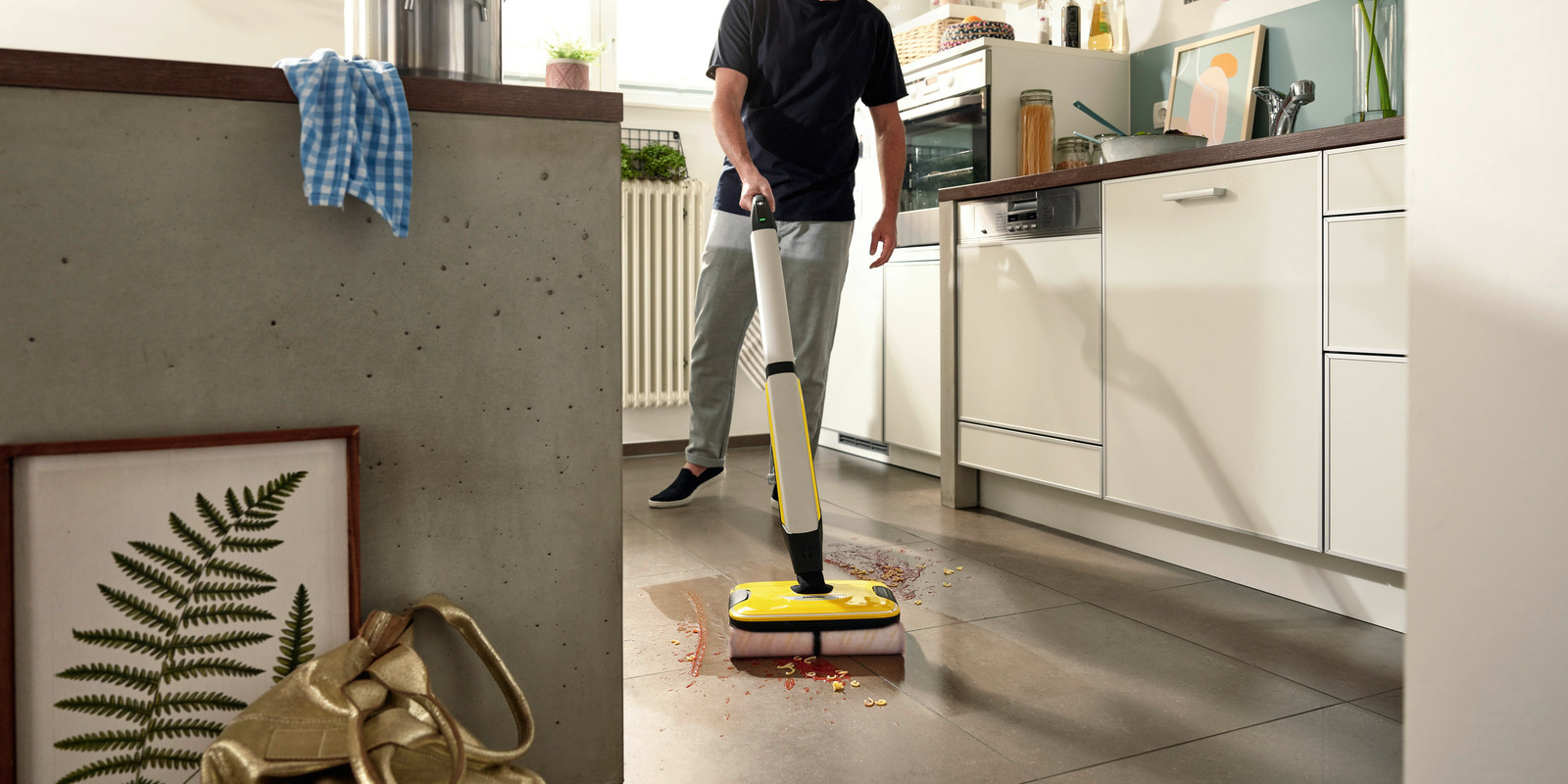 45 MINUTES RUNTIME
Clean approx. 130m² of hard floors per charge.
Parents & pet owners - can you relate?
For all the parents & pet owners out there, we know how hard it can be to keep the floors clean. Our Hard Floor Cleaner range can help!
They are perfect for cleaning:
Drink spills on the floor
Small food scraps
Pet hair
Dirt and mud brought inside by the kids or your pets
Puppy wee on the floor
How to clean your hard floors with a Kärcher FC 7 Cordless Hard Floor Cleaner
Watch this short guide on how to effectively clean your floors with the FC 7 Hard Floor Cleaner.
Be sure to watch until the end to see how it goes againt cleaning up egg, blueberries and chocolate powder on the ground!
Always clean with fresh water - no more pushing dirty water with a mop
Unlike traditional floor cleaning methods such as mopping, the Kärcher Hard Floor Cleaner range cleans with continuous fresh water - so you no longer need to push dirty water around your floors whilst cleaning.
The dirty water is collected into the dirty water tanks as you clean, whilst the rollers stay moist with water and detergent from a separate clean water tank, ensuring your floors are always being cleaned properly.
Suitable for all hard floor types
Whether wood, stone or synthetic: combined with Kärcher cleaning and care products, the Kärcher Hard Floor Cleaners clean well on all hard floors – thanks to high-quality microfibre rollers and low residual moisture, even on sensitive parquet.
You can find a large selection of special detergents for optimal protection here.
Right to the edge cleaning
The entire Kärcher Hard Floor Cleaner range are designed so that the rollers go right to the edge of the machine.
This ensures cleaning of your entire floor, so none of your hard floors are missed!
Clean those hard to reach areas
With the super light frame and maneuverability of the head, you can clean all those areas that often get missed!
Accessories and Detergents
With the range of accessories for Kärcher hard floor cleaner, you can tailor cleaning and care perfectly to the requirements of your floors. The standard detergent, for example, is suitable for any hard floor, while special detergents for wood and stone provide these floors with additional care and protection.