Water Blasters For Commercial Use
Kärcher invented the high-pressure cleaner (water blaster) in 1950 and has been refining the principle of high pressure cleaning ever since. More performance with less consumption. Longer service life with shorter cleaning times. As a world market leader, Kärcher offers a range of products that leaves nothing to be desired in terms of technical refinement and versatility – operating with heated or unheated water, powered by electric motors or internal combustion engines, mobile or stationary.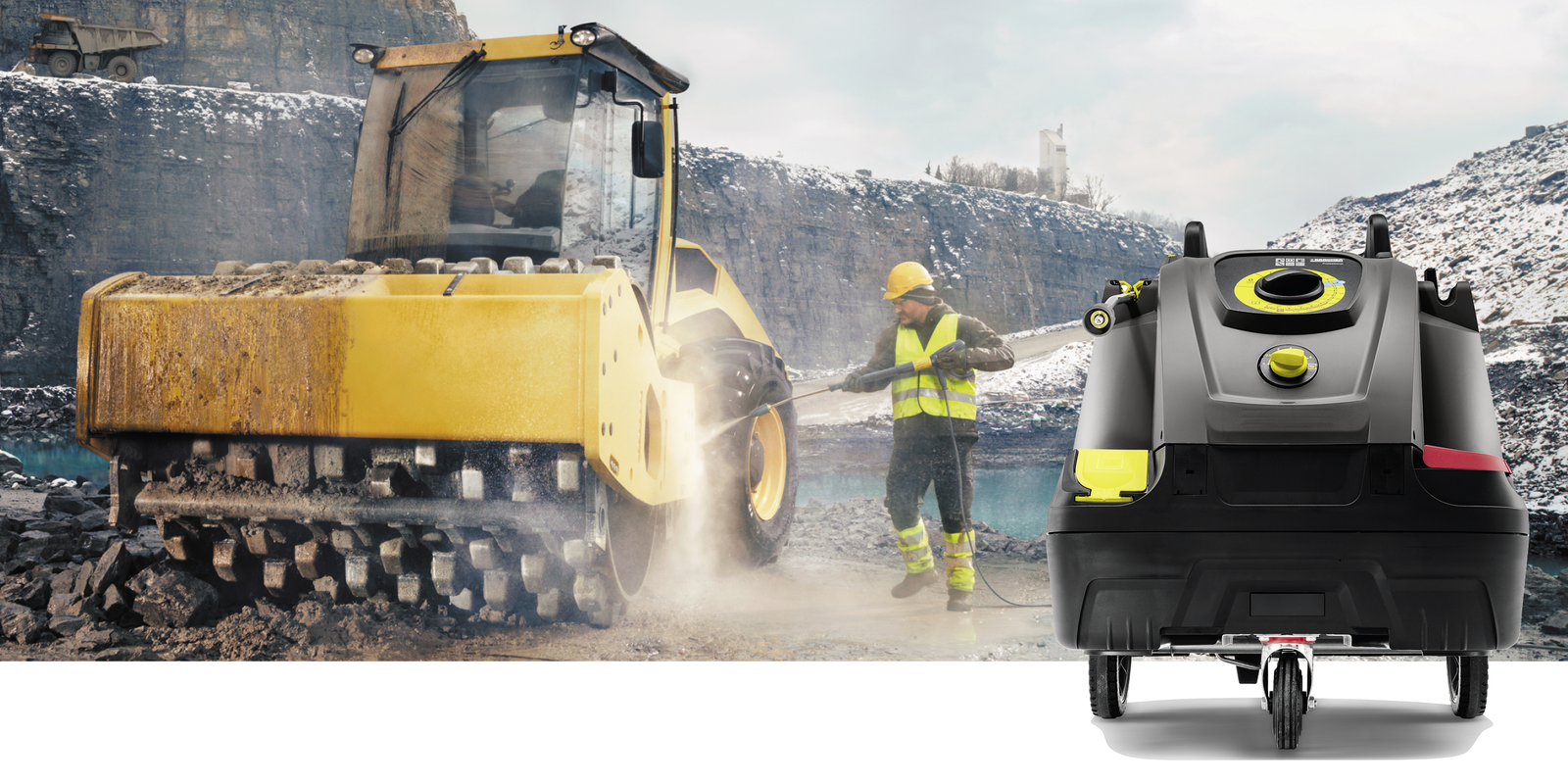 Hot Water Blaster
Faster results and shorter drying times - hot water quickly loosens and dissolves dirt, solidified oils and fats providing a time saving of up to 35%. As well as being cost-effective and economical, surfaces that are cleaned with hot water dry faster enabling them to be used sooner.
Germ-reducing effect without cleaning agents - cleaning with hot water significantly reduces the presence of germs without the need for disinfectants. This helps to protect the environment, as well as saving money and resources.
Protection of surfaces - achieve the same cleaning effect and protect sensitive surfaces by cleaning using a lower working pressure.
VIEW THE RANGE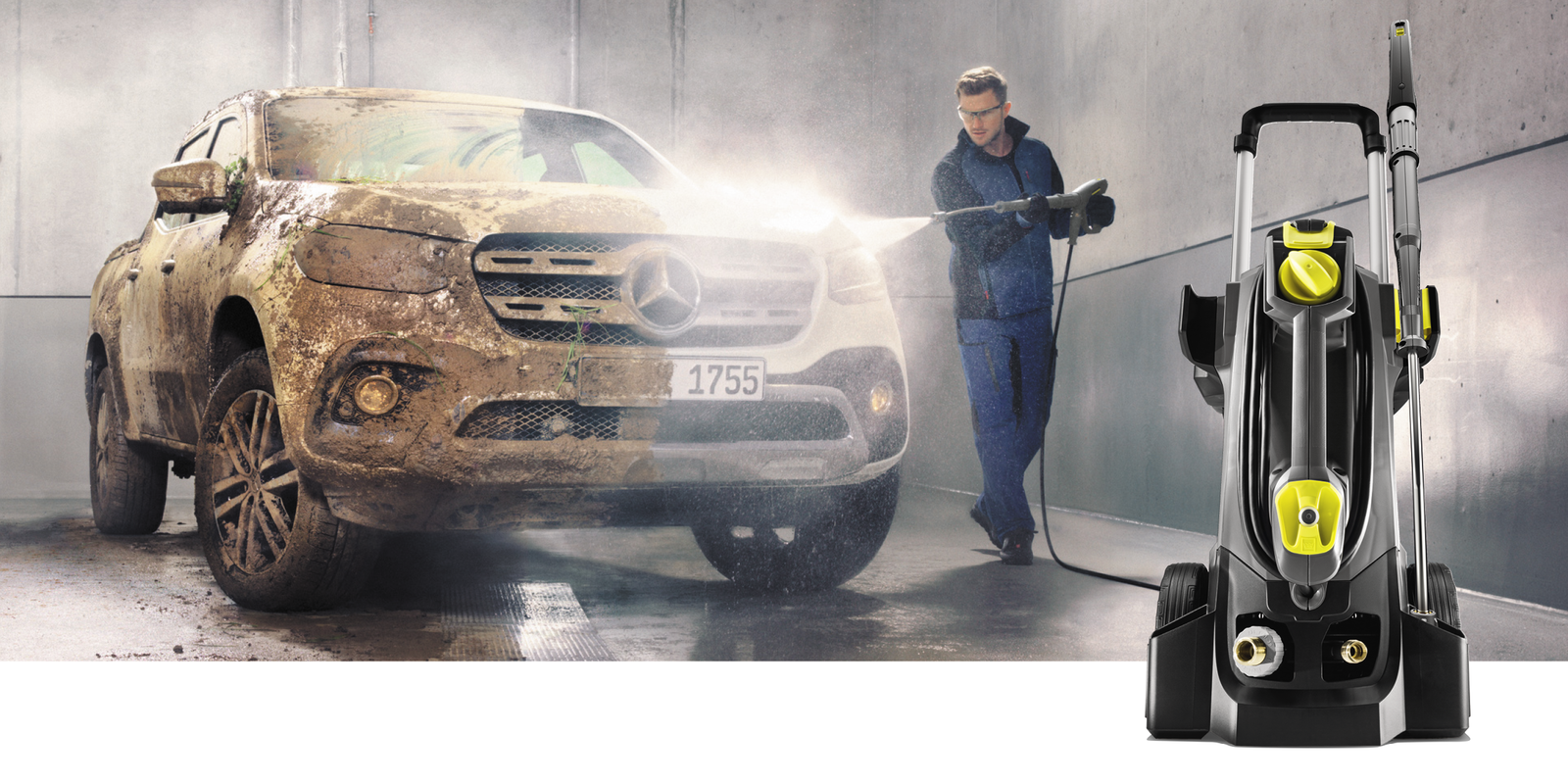 Cold Water Blaster
Maximum mobility – ideal for those on the move cleaning jobs where easy transportation is essential thanks to the compact and ergonomic design. Whether loading into a vehicle or carrying up steps, it can also be easily stored when not in use. For larger cleaning jobs the new HD trailer pressure washer can even be towed by your vehicle.
Total independence - use even where there is no water or power supply, Kärcher petrol or diesel-powered pressure washers enable you to directly suction water from lakes, or water bowsers making them ideal for use in agriculture, construction or the public sector.
Industry-specific solutions - designed and tailored to your requirements, Kärcher provides machines to be used in a variety of industries, from the strict hygiene requirements of the food industry to use in potentially explosive environments.
VIEW THE RANGE
Cleaning agents for high-pressure cleaning
Kärcher's detergents and care agents for water blasters are designed to achieve maximum cleaning results with the minimum of energy and time. At the same time, they reduce the level of waste water pollution caused by mineral oil residues thanks to their special formulas that are easy to filter and separate.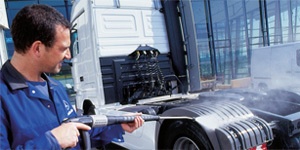 Cleaning and protecting commercial vehicles
High-performance cleaning agents for powerful cleaning of stubborn dirt on roads and building sites - can be used with cold and hot water water blasters.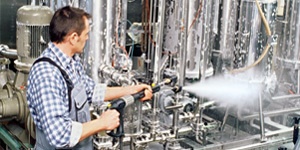 Versatility for industrial applications
Fast-acting, gentle cleaning agents which also remove stubborn dirt such as oils, grease and rust.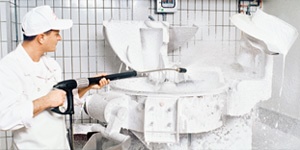 Cleanliness and hygiene in the food industry
Effective cleaning agents and disinfectants with approval for use with foodstuffs in accordance with the DGHM (German Society for Hygiene and Microbiology) and DVG (German Association of Gas and Water) disinfectant lists.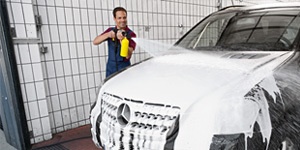 Polished surfaces for the entrance to your car dealership
Showroom sheen and value retention on any car, even under the hood, thanks to gentle cleaners for all kinds of surfaces and materials.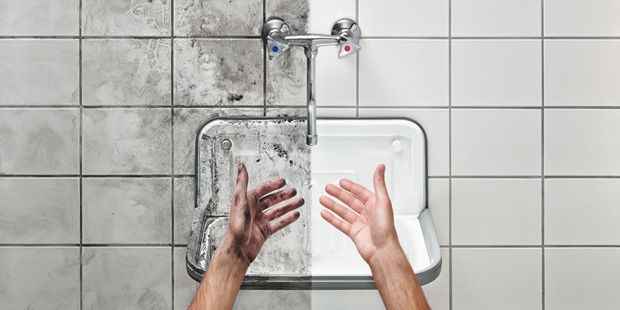 Benefits of hot water water blasters
High water temperatures produced by hot water water blasters allow a reduction in working pressure, cleaning time and the amount of cleaning agent required. Benefits of hot water water blasters compared to cold water water blasters:
Reduced cleaning agent consumption
Using hot water offers a significant time saving of up to 35% with improved cleaning results.