Kärcher Service
Customer service
The power of innovation
The name Kärcher is synonymous worldwide with quality and innovation. We have been setting the standard in cleaning expertise for 75 years. As the inventor of the high-pressure cleaner, Kärcher is today a world market leader and one of the driving forces behind technological developments in the field of cleaning technology. Every day our employees in research, development, production and sales ensure that you find the right solution for your cleaning task.
You will be supported by our customer service over the entire service life of your Kärcher machine. Wherever you need us, we or one of our service partners will be there to assist you on-site.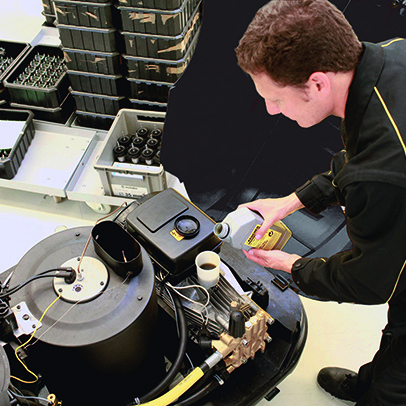 The Kärcher Service range
Do you work with professional cleaning machines? Then you have to be able to trust that your fleet of machines is fully ready for use at all times. That's why you need a partner who offers you more than just machines: reliable cleaning machines and cleaning agents, advanced technologies, expert consulting and training are essential. Moreover, you need a service range that leaves no stone unturned: with fast, reliable operational service on-site; with all of the necessary tools, spare parts and wear parts; and with ideally tailored packages for inspection, servicing and full service. In a word: Kärcher service. A service that gives you security. That's our promise!
Our service is unique
A team of local service engineers with fully equipped service vehicles
60 service partners in New Zealand
Servicing on all different unit models
A full check list with each service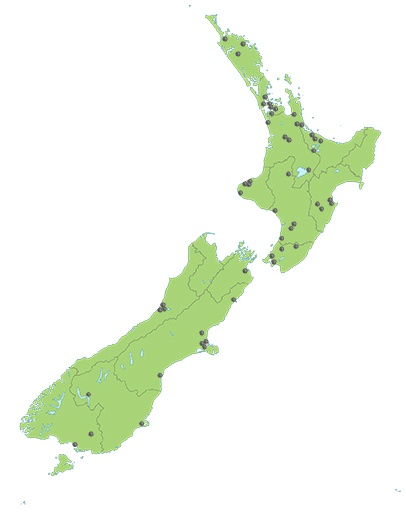 The Kärcher Service network
For us, customer closeness means that we are there for you when you need us – throughout New Zealand, wherever, whenever. For malfunctions or acute application problems, we will be there as soon as we can. Regular servicing tasks are arranged by appointment. Thanks to our service team's quick response times, we are able to keep machine downtimes to an absolute minimum.

Kärcher service engineers: after-sales service
Over 60 service dealers with fully equipped workshops
New Zealand wide
Experts in cleaning technology
Qualified electricians/EST A and B for certain tasks
Regular training ensures expertise is up to date
Kärcher service partners: your top choice


Around 60 authorised service partners so that you will always find one in your local area
Equipment and training are certified
Expertise kept up to date with regular prescribed training
Expert technical and sales contact partners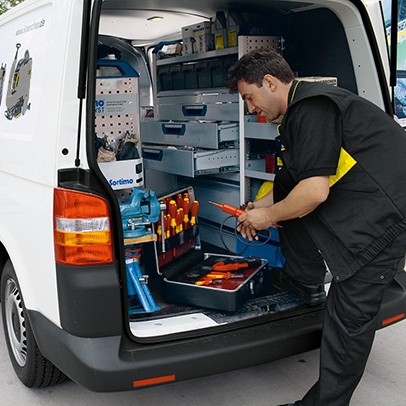 On-site repairs for professional machines
If you require a repair on a commercial machine, we offer a fast, efficient, top-quality service. Our aim is to provide the fastest possible service to your utmost satisfaction. The service process described explains how efficient our service system is in the event of a machine fault. Customer service really can be that simple and inspired.
Repairs process
Does your Kärcher machine require a Professional repair?
No problem! Simply get in touch by phone or email.


We will keep you up to date shortly after your request has been accepted.


We will arrange an appointment together with you.


Straightforward repair
A specially trained service engineer will come to you directly to carry out the repair. Using the description of the fault that you have provided, we can ensure that any spare parts that are likely to be needed can be brought to the appointment. For a Kärcher-quality repair.


Immediate service report
As soon as our service engineer has resolved your issue, you will be sent a service report via email. This report will tell you what spare parts have been fitted and what has been repaired on your machine.


Simple process
Provided your repair is not covered by a Kärcher Service package or is not being carried out free of charge as part of the warranty, we will send you an invoice by post. Outstanding service for you.
Your direct contact to customer service/Kärcher operational planning:
T: 0800 KARCHER
F: 0800 111 527
Email: info@karcher.co.nz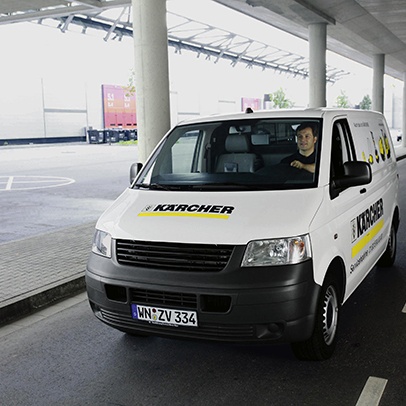 Ideally equipped – our vehicles and workshops
Our vehicles – a travelling workshop!
Kärcher vehicles have everything on board that service technicians need for inspections, services and repairs. In addition to all of the necessary measuring instruments, standard tools and Kärcher-specific tools, our vehicles are also equipped with the most important spare parts and wear parts, as well as accessories and cleaning agents. Not only do our service engineers have access to all of this equipment, they also have their own tablets through which the entire repair is processed. The tablets can also be used to access technical documents relating to any available Kärcher machine. We ensure that all of the essential requirements to carry out your repair – which are for us a given – can be met as quickly as possible.
Our workshops
Repairs on large machines and machine overhauls are carried out in our workshops as well as repairs to opposition machines.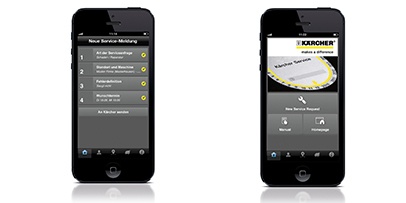 The Kärcher Service App.
The Kärcher Service App provides support quickly for commercial customers everywhere.