Stick Vacuums
Kärcher's brand new range of cordless stick vacuums provide high cleaning standards coupled with effortless manoeuvrability. Whether you need to vacuum the whole house switching from hard floors to carpets or you simply just need to spot clean, Kärcher has the perfect vacuum for you.
MEET THE NEW KÄRCHER STICK VACUUM RANGE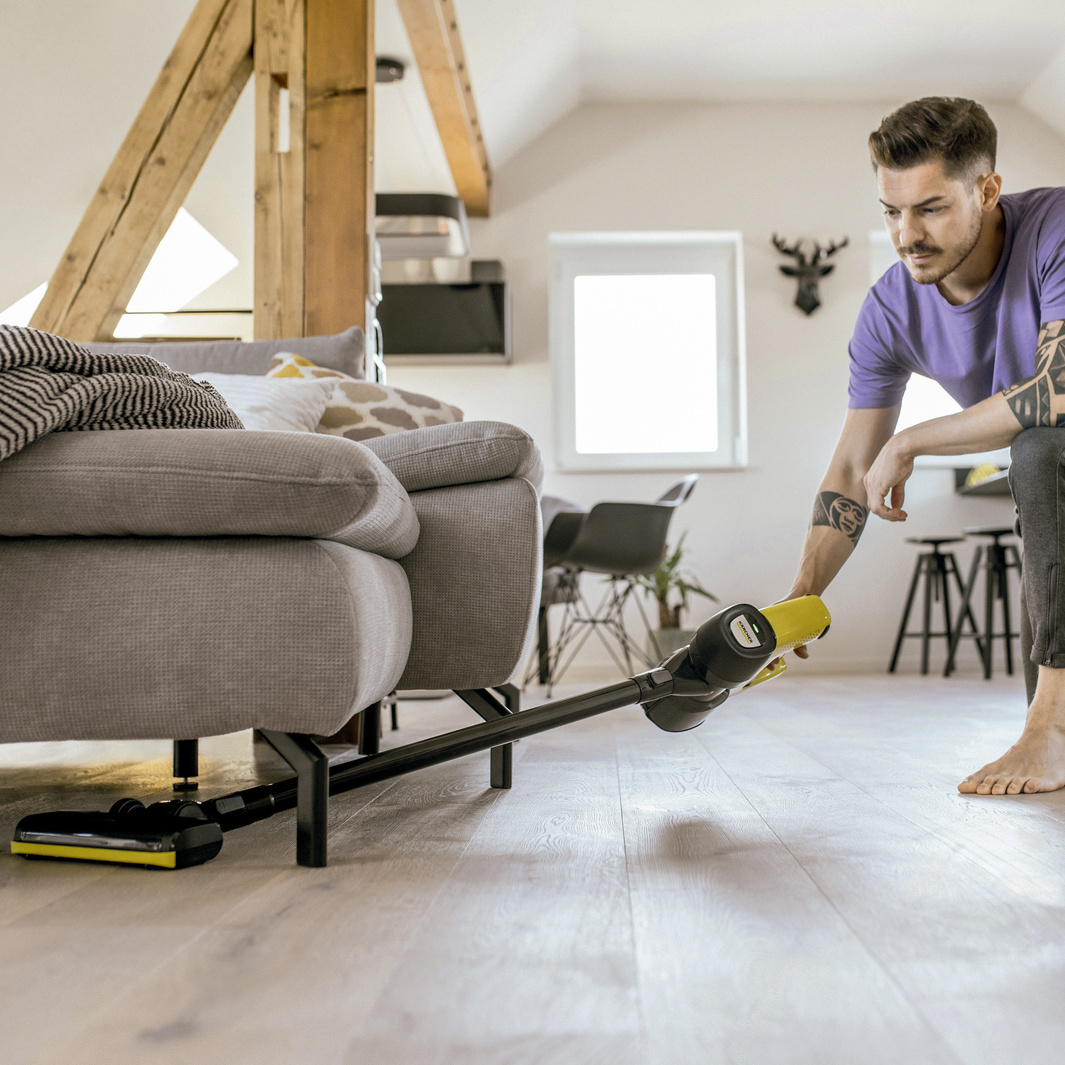 Cordless freedom with the lithium-ion battery
Our VC cordless vacuum cleaner range boasts effortless manoeuvrability thanks to its powerful lithium-ion battery. With our VC range, you'll never be constrained by a power cable meaning you can get to all those hard to reach areas whilst vacuuming around your home, with a battery life of up to 50 minutes* available from a single charge.
*Available on VC 6 models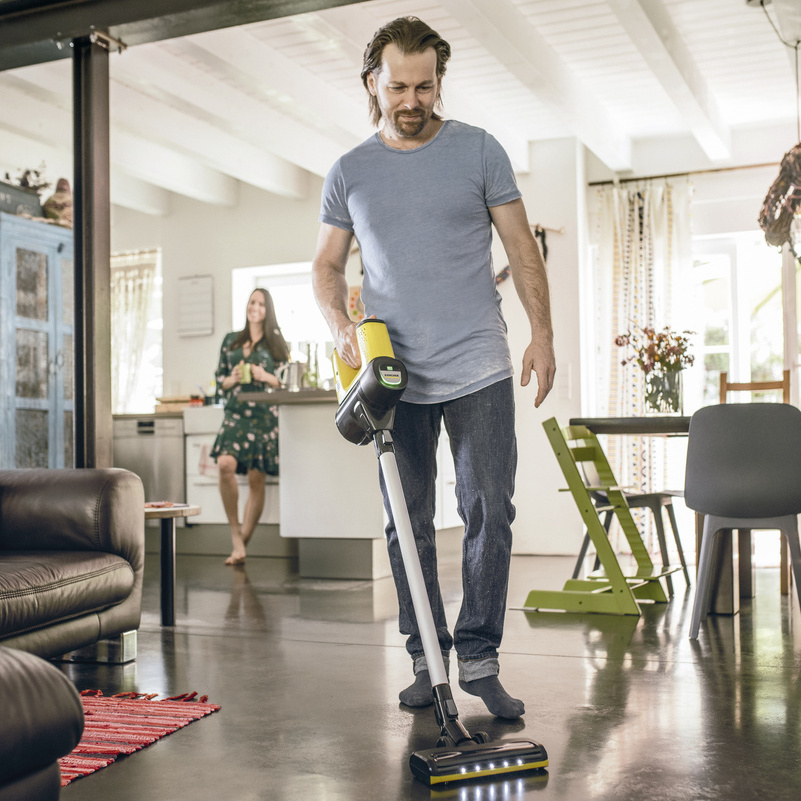 Easy to use
Designed to be uncomplicated and practical, our VC range is more than easy to use. An on-off switch, an accompanying switch lock that allows for continuous cleaning and Boost Mode button are integrated onto the handle. Our vacuum cleaners boast painless simplicity meaning you can get the job in hand done, without unnecessary stress.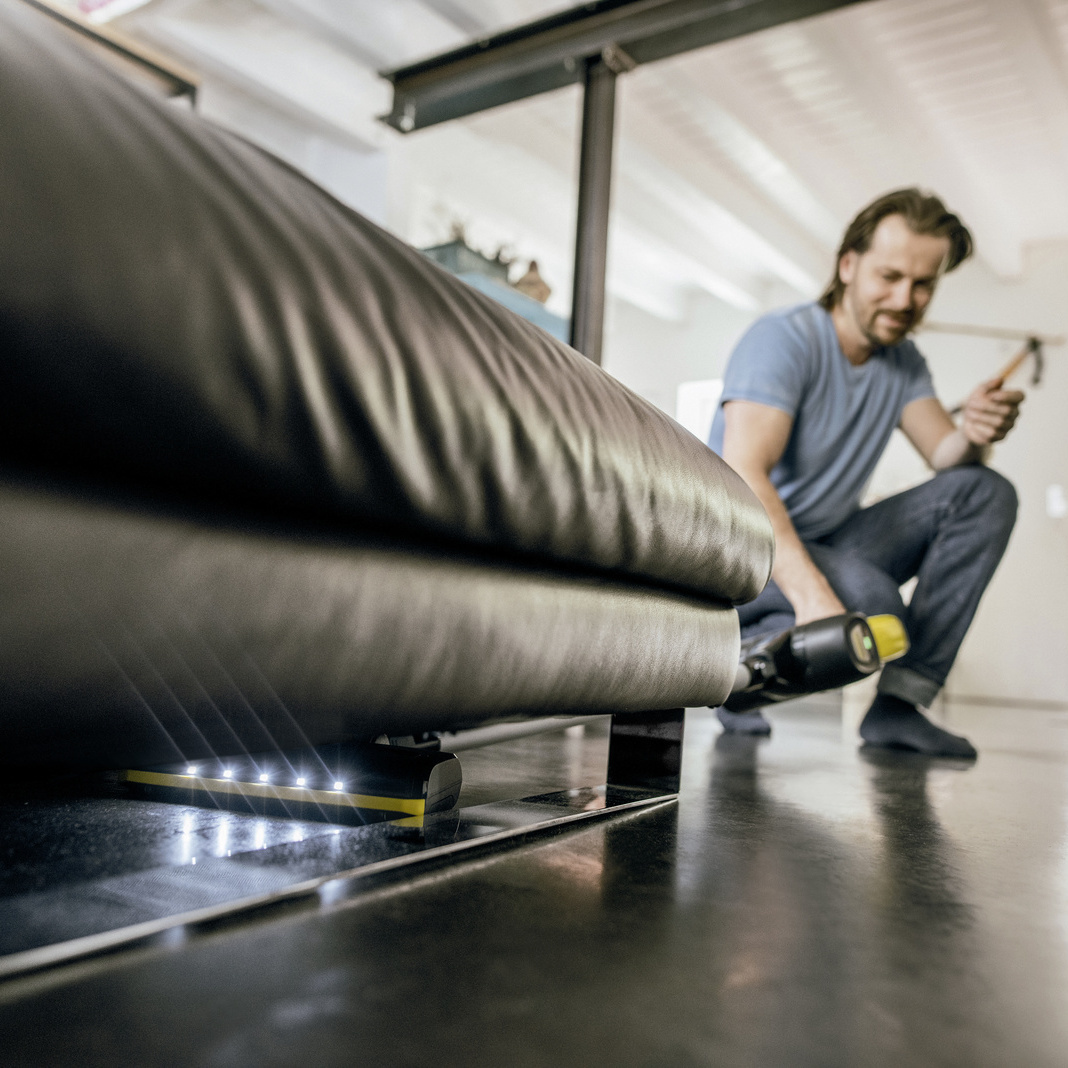 Active floor nozzle
The floor nozzle's integrated motorised roller brushes help to dismantle any dirt & debris that has become embedded into carpets or other soft floor types. The active floor nozzle allows you to pick up dirt & debris from both hard floors & carpets – switching between them seamlessly, whilst also smoothly gliding across your home thanks to its clever design. With the VC range, you can easily clean under household furniture thanks to the flexible, twisting joint at the floor nozzle and the VC 6 also includes additional LED lighting allowing you to make hard-to-see dirt visible.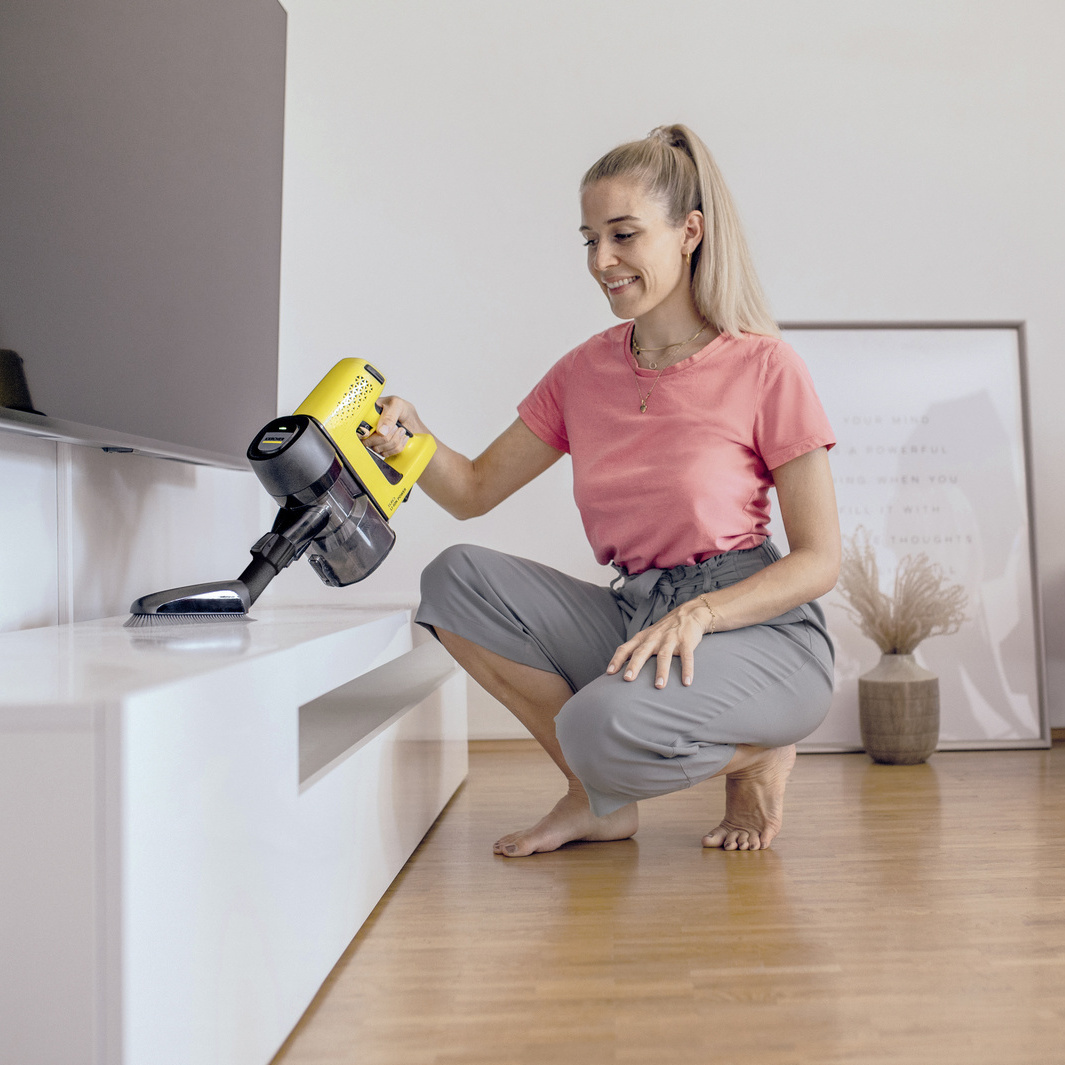 A wide range of application options
Clever mounting options for a range of accessories, making the cordless vacuum cleaners even more versatile.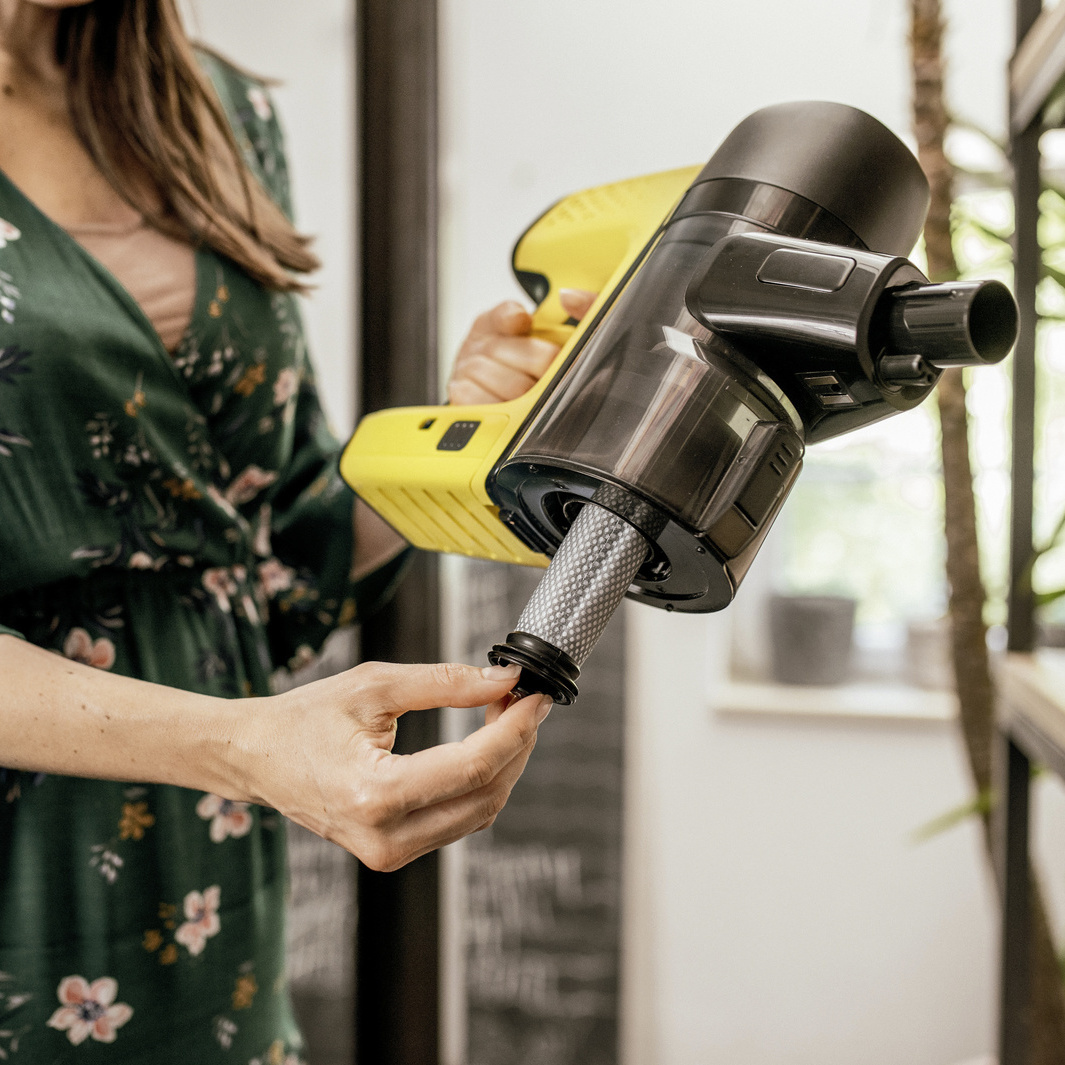 Practically designed filter system
The three-stage filter system, comprising cyclone, air inlet and HEPA hygiene filter* (VC 7 Cordless and VC 6 Cordless) ensure extra-clean exhaust air.
The filters are easy to clean and replace, extending the lifetime of the vacuum cleaner.
*EN 1822:1998.
Single-click dust container emptying
Dirt is emptied easily and hygienically at the push of a button, so you don't have to touch it.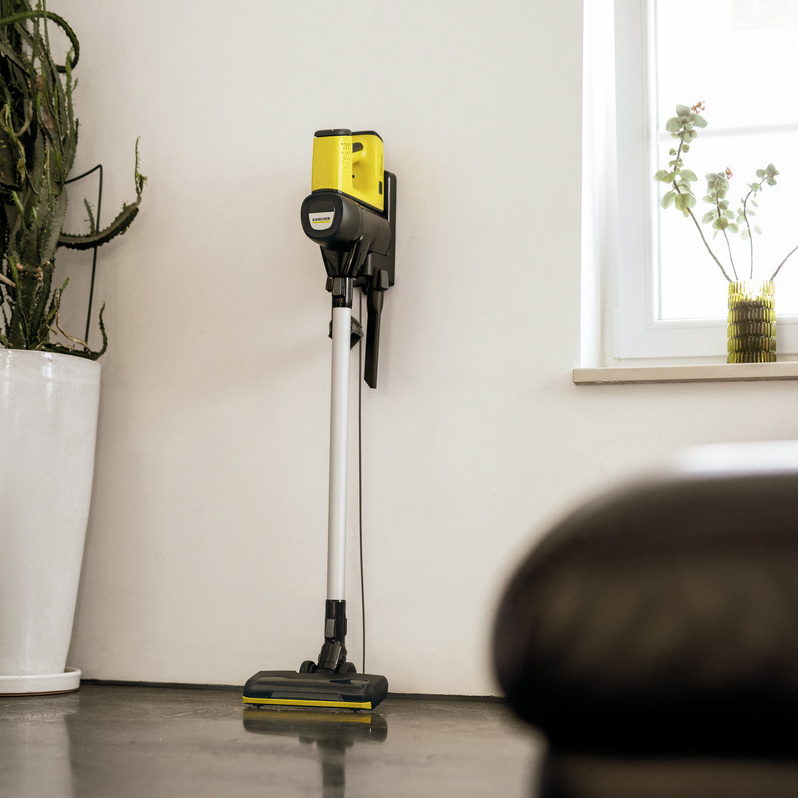 Practical wall bracket
Using the wall bracket, the device can be stowed away quickly and easily and is ready for use whenever it's needed. The wall bracket of the VC 7 Cordless yourMax and VC 6 Cordless ourFamily also acts as a convenient charger at the same time.
CHOOSE FROM THE NEW KÄRCHER RANGE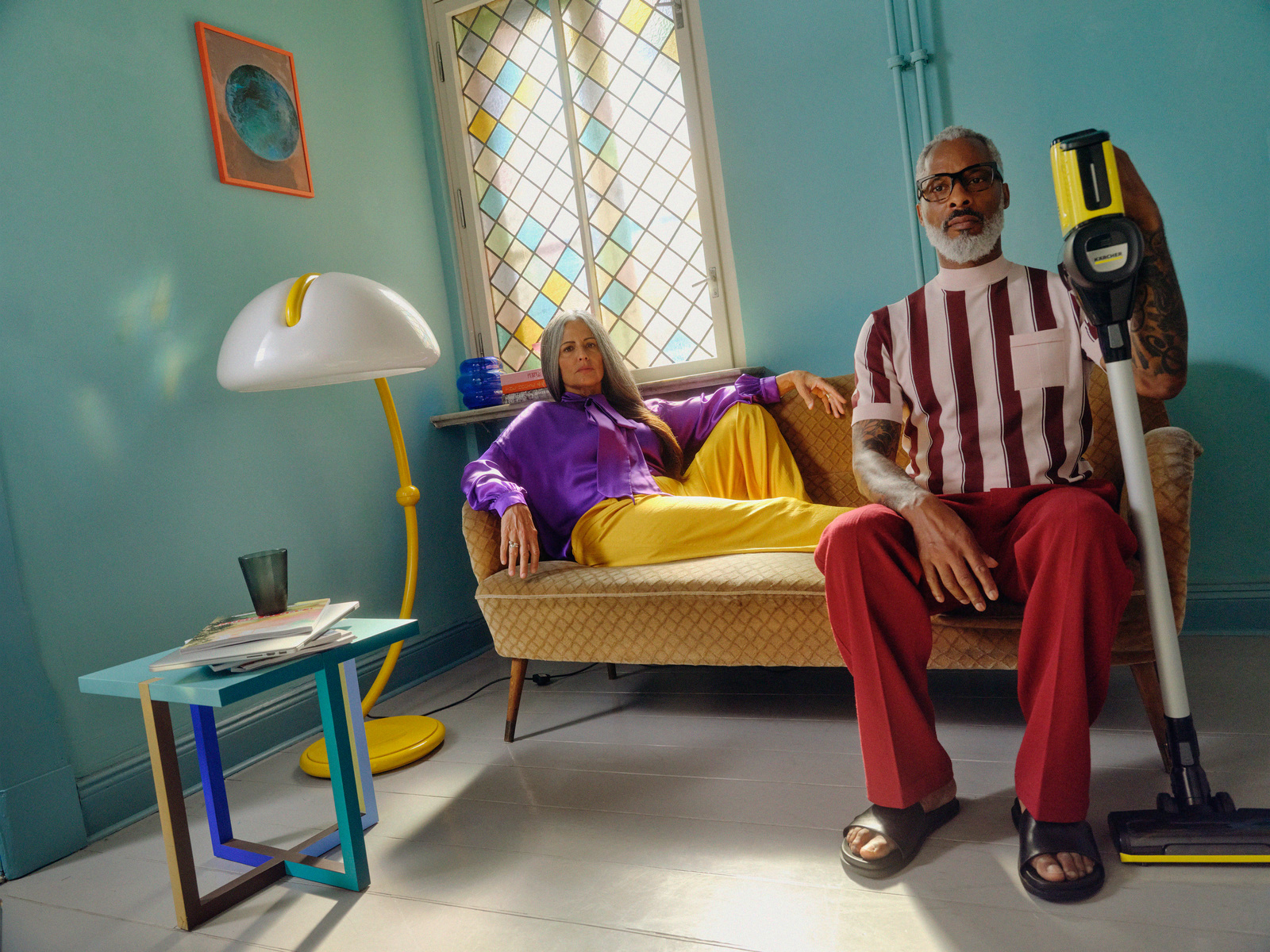 VC 7 Cordless yourMax
Turn vacuuming into a great cleaning experience: The VC 7 Cordless yourMax is impressive with cutting-edge technology and comprehensive equipment, as well as being convenient to use. The innovative dust sensor detects the dirt, adjusts the suction power accordingly, ensuring efficient use of the battery run time of up to 60 minutes. The powerful 350-watt BLDC motor and the 25.2 V battery voltage take the hard work out of vacuuming. The boost function guarantees maximum suction power at the push of a button. Other benefits include the easy 1-click dust container emptying, the ergonomic design for cleaning even hard-to-reach areas, and the LED lights on the active floor nozzle, which make the dust more visible. Cleaning the filter couldn't be simpler thanks to the supplied tool and replacement filter. Thanks to the various nozzles, cleaning is a breeze in any location: the crevice nozzle eliminates dirt from nooks and crannies, the 2-in-1 nozzle is the perfect tool for cleaning furniture and upholstery, and the soft brush is suitable for cleaning even delicate surfaces. Other handy features include the battery status indicator and the wall bracket with charging function.
VC 6 Cordless ourFamily
Cleaning really can be that simple: with the VC 6 Cordless ourFamily vacuum cleaner, vacuuming becomes a real joy. The many smart features include single-click dust container emptying, a boost function, an ergonomic design for cleaning in hard-to-reach areas and LED lights on the active floor nozzle that make the dust more visible and guarantee reliable dirt pick-up.
Other benefits include the impressive battery run time of 50 minutes, the quiet running volume, the separate filter cleaning tool and an easy-to-read battery status display that shows the battery status and relevant messages at all times.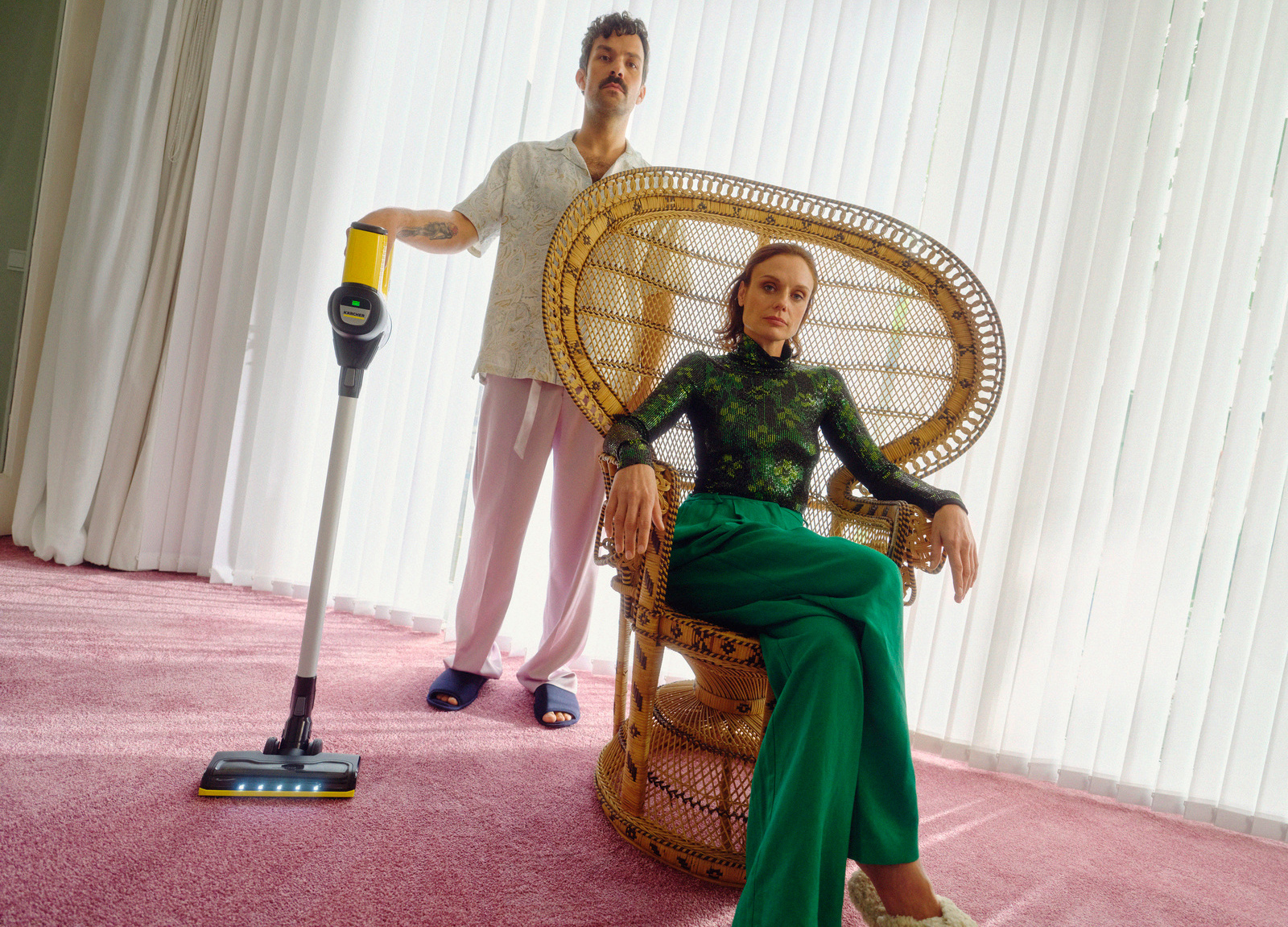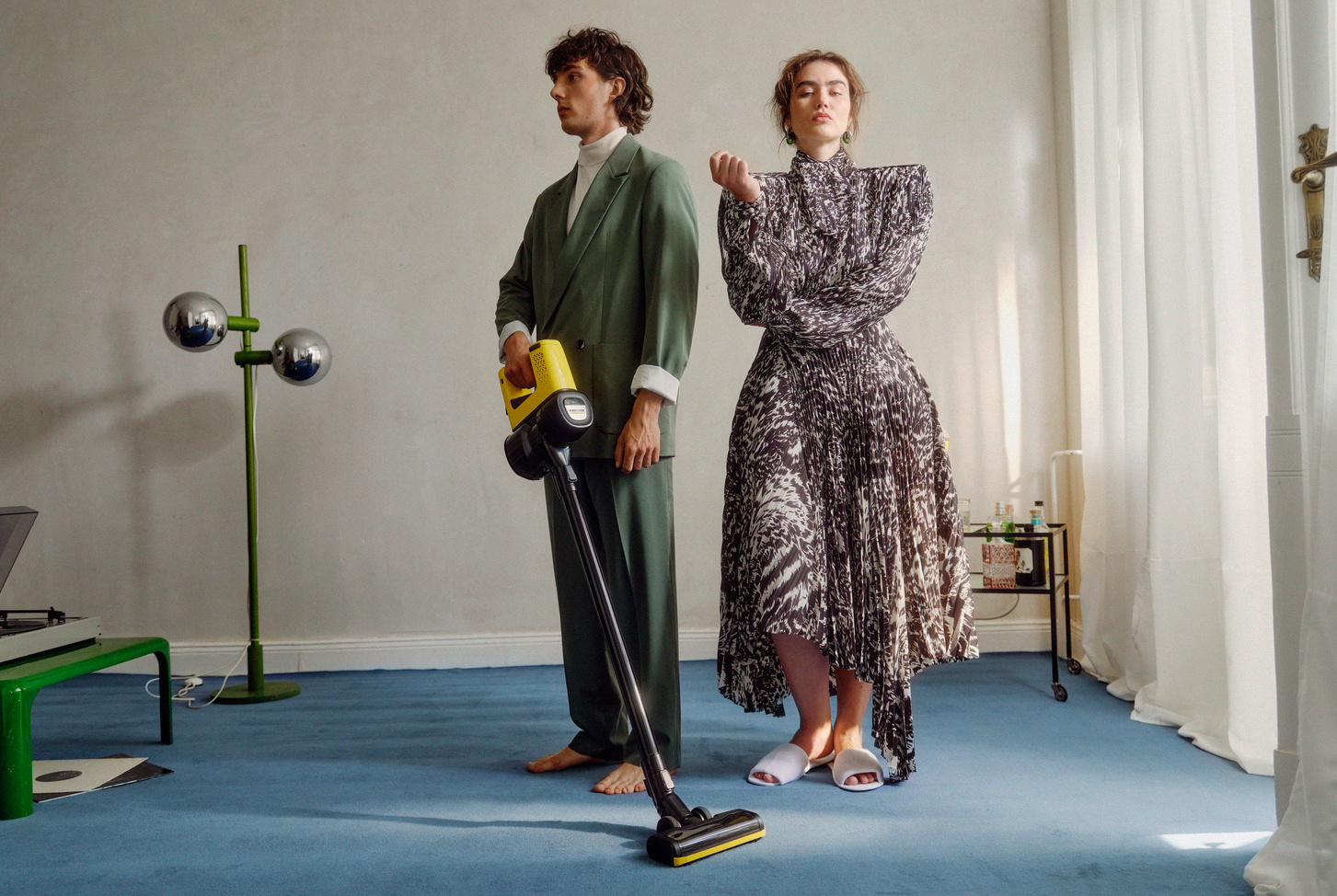 VC 4 Cordless myHome
Maximum freedom of movement meets maximum comfort: the VC 4 Cordless myHome vacuum cleaner with a run time of up to 30 minutes saves the user from having to drag around a large unit. Its many intelligent features make vacuuming a joy: single-click dust container emptying, a boost function, quiet running, an ergonomic design and an active floor nozzle to guarantee reliable dirt pick-up on hard floors and carpets.
Dust and animal hair? We've got just what you need!
What is dust actually made of?
From dead skin cells and carpet fibres to pollen and pet hair, dust is a whole mix of differently sized particles, which mingle and combine with each other. Depending on the size and weight of the particles, the dust will either be carried into every corner by the circulating air or swirl around constantly without settling anywhere.
We carry the majority of dirt into our homes on our shoes. It is therefore worthwhile having open mesh, coconut or textile mats or rubber sections to act as dirt traps, which trap the majority of dirt.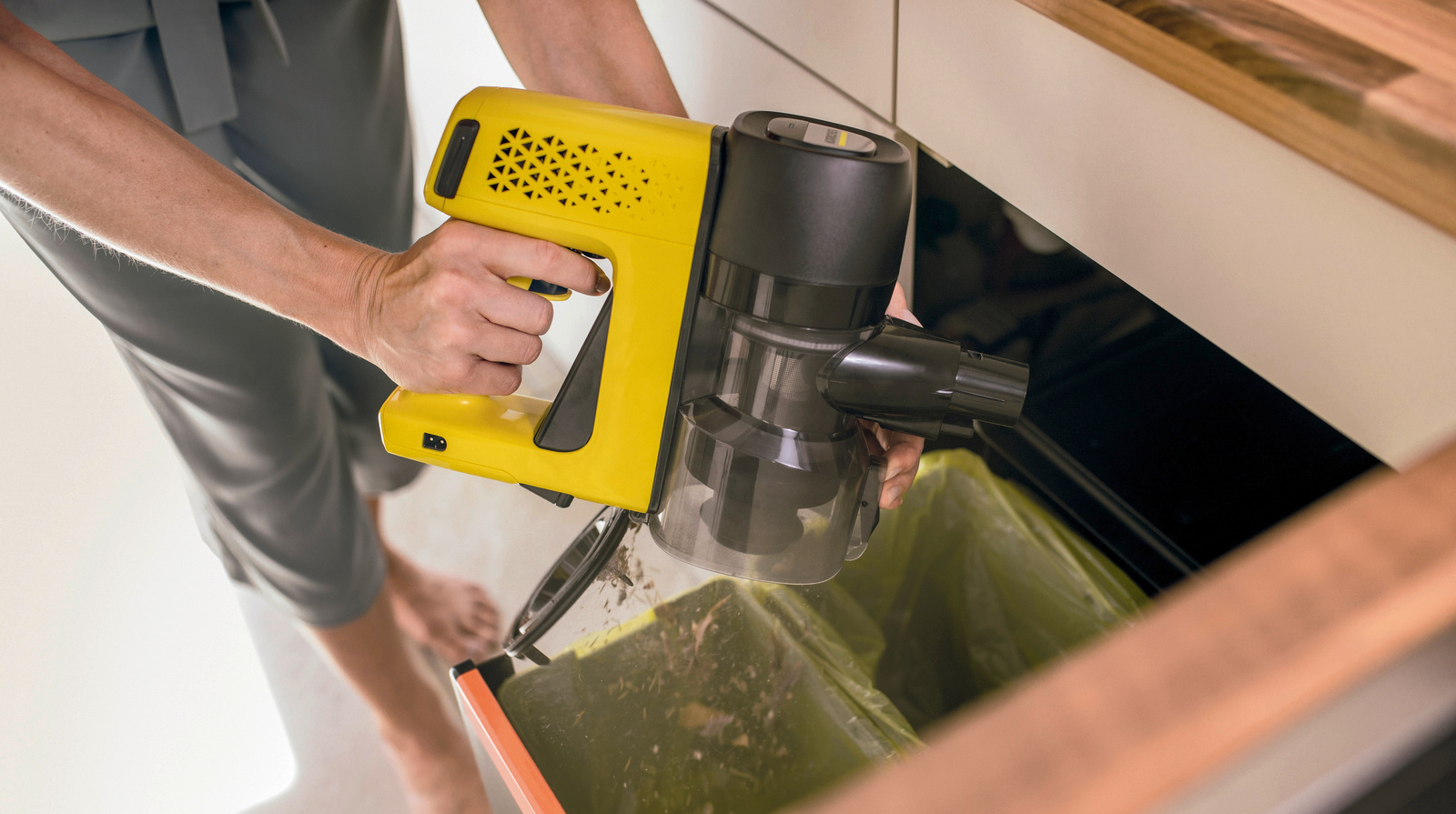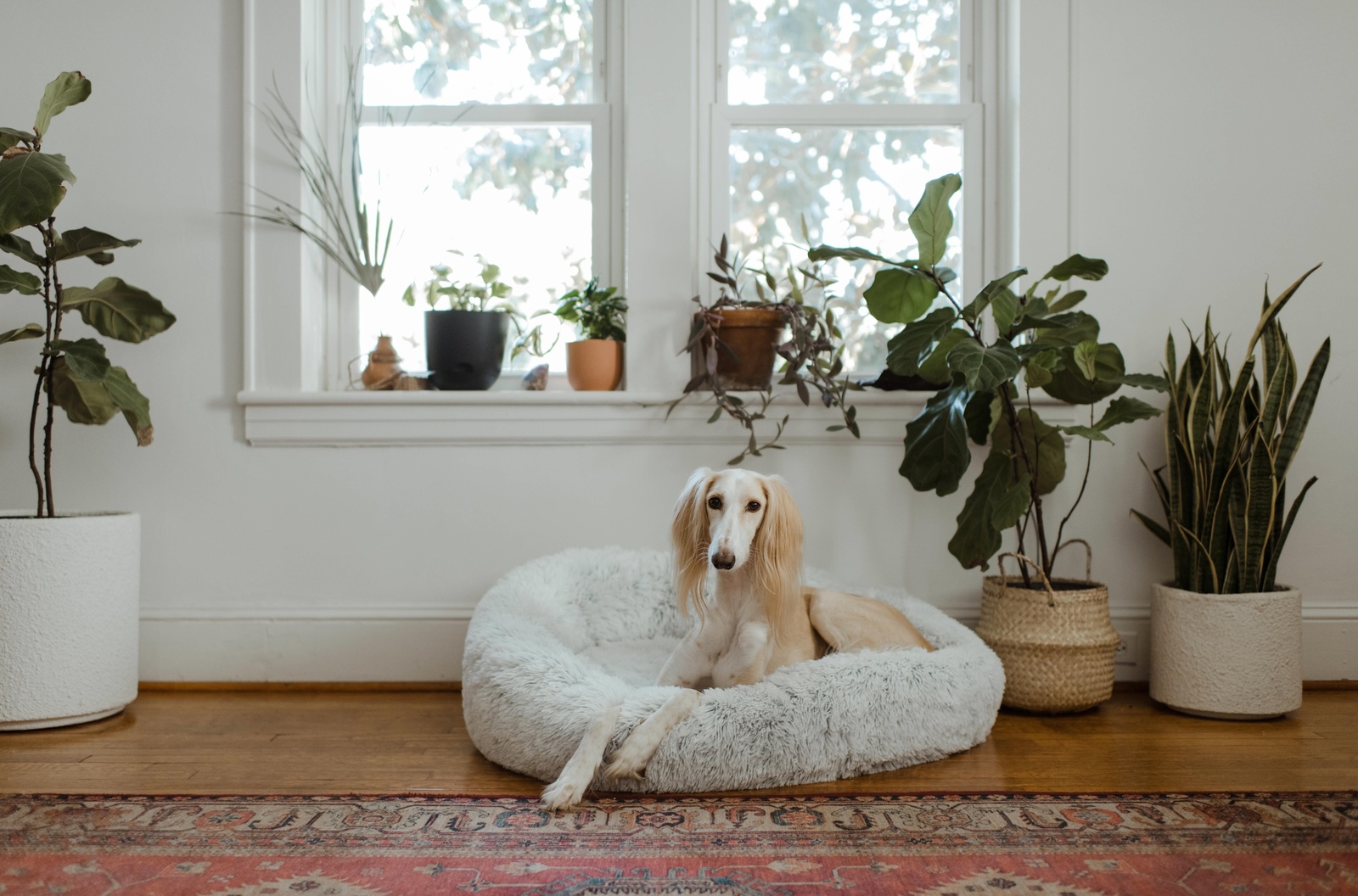 Clean more often with pets
When living with dogs, cats, guinea pigs or rabbits, one big clean of the house per week isn't enough: muddy paw prints on the floor, food around the food bowl and unpleasant pet hairs find their way all over the house. Your cleaning device needs to come out regularly, as well as quickly for intermediate cleaning, to keep the house shipshape. Our cordless vacuum cleaners are always on hand and ready to overcome any cleaning challenge, even in areas that are difficult to reach, helping you clean your home in a quick and flexible way to suit your needs.

Pet hair, begone!
If you have a pet, you'll be familiar with the problem: hair from your four-legged friend quickly spreads around the whole house – even when you've just finished sweeping and cleaning. Pet hairs are particularly stubborn in carpets and door mats. A conventional broom is no help here, since it doesn't reliably remove fine hairs. What can come to your rescue? The new Kärcher cordless vacuum cleaners. The active floor nozzle is very effective at removing pet hairs from fabric floor coverings.

Cat litter everywhere? No problem!
Cats bury their business, but that means cat litter often ends up generously spread around outside the litter box. That's a cleaning task that our vacuum cleaner can do in no time. The small granules can be vacuumed quickly and easily. This is highly recommended because the granulate can scratch floor coverings if trodden on by accident.