Steam Cleaners
Kill 99.99% of household germs and bacteria using zero chemicals.
Steam Mops – perfect for cleaning hard floor surfaces such as tiles, laminate and stone.
Barrel Steam Cleaners – Ideal for floors, bathrooms, kitchens, and carpet.
Hygienically clean using the power of steam!
SPRING CLEAN YOUR HOME THE KARCHER WAY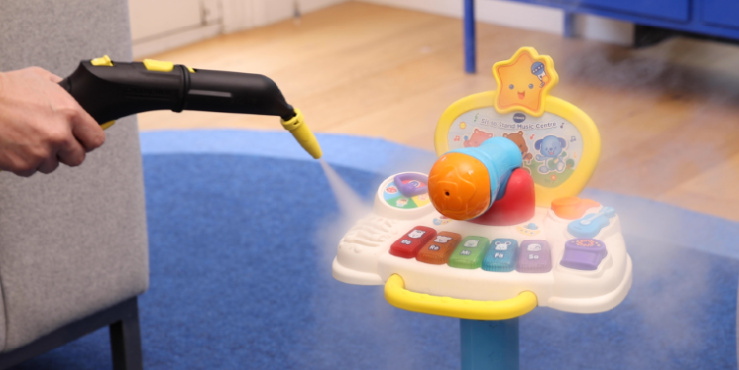 Kids Room
Attach the power nozzle set and destroy muck and bacteria from toys for a sanitising clean.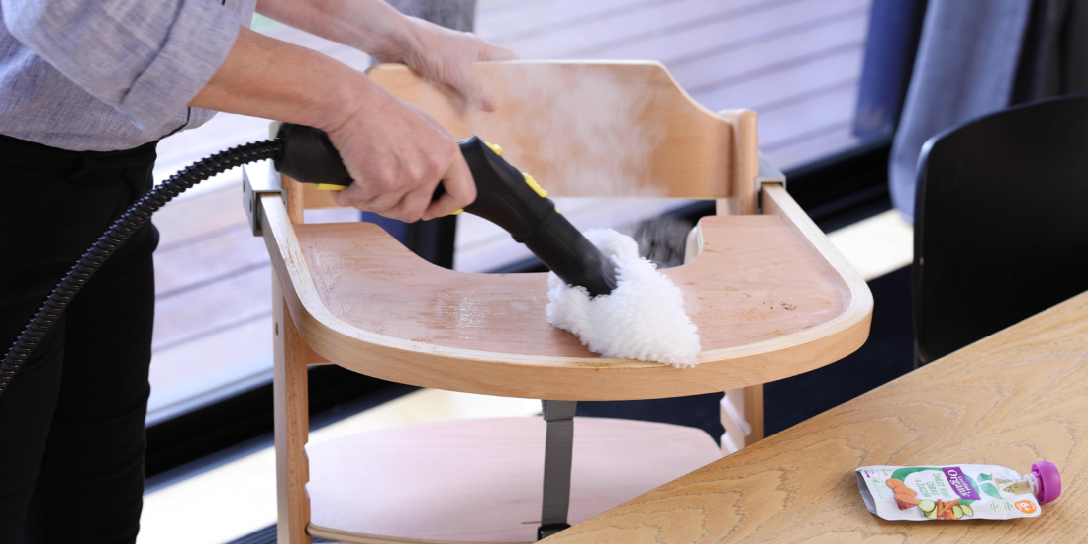 Baby Highchair
To cover a wider surface area like the highchair and cot, attach the microfibre sleeve, and you're ready to steam clean hygienically.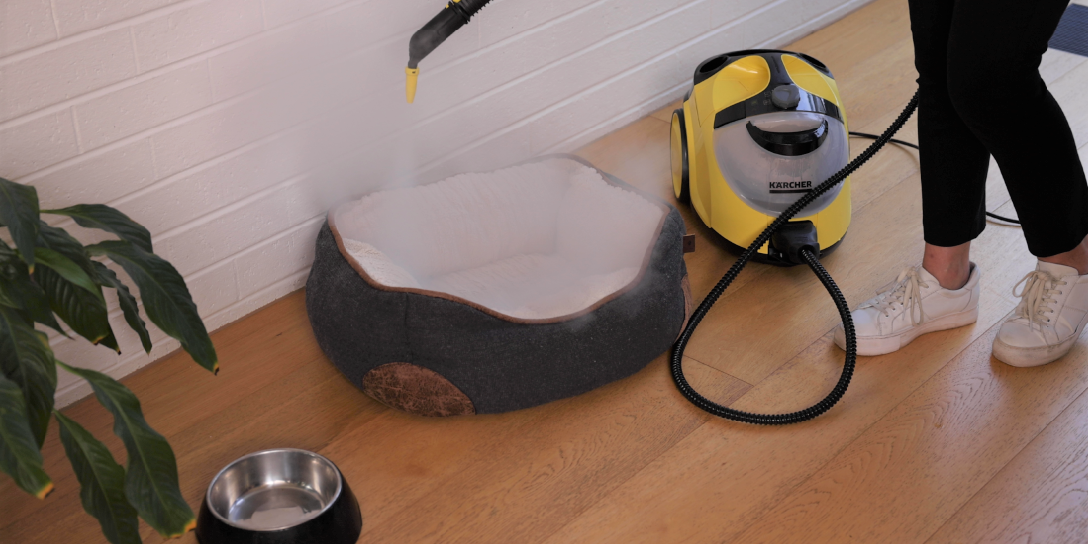 Pet Beds & Bowls
The steam cleaner is a versatile way to clean pet beds and accessories. Powerful steam busts through dirt and eliminates unwanted pet odour.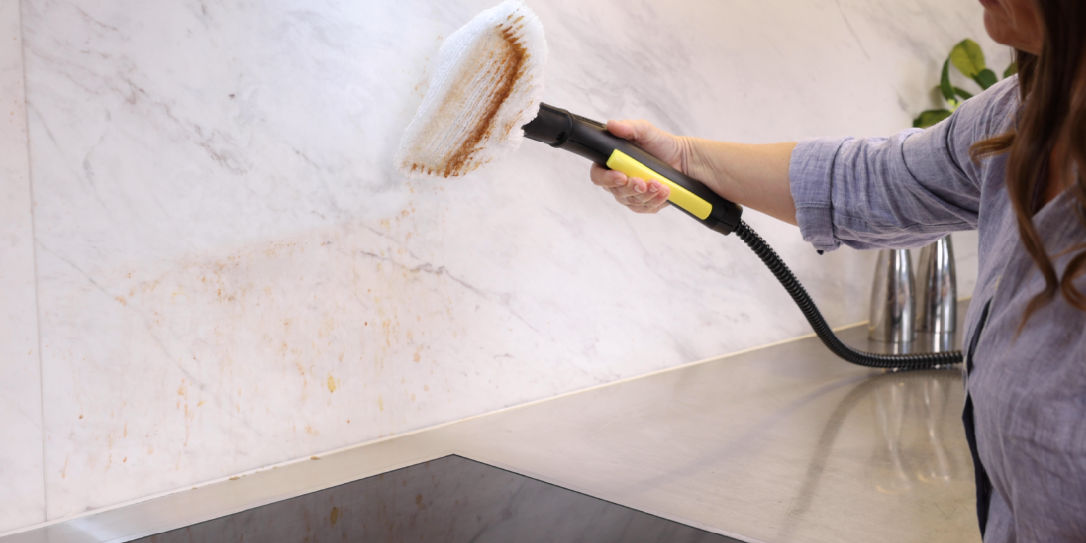 Kitchen
You can safely use the steam cleaner on all kitchen surfaces. Attach the microfibre cloth to clean your splashback and cooktops. Then, use the power nozzle to destroy built-up grime in hard-to-reach places.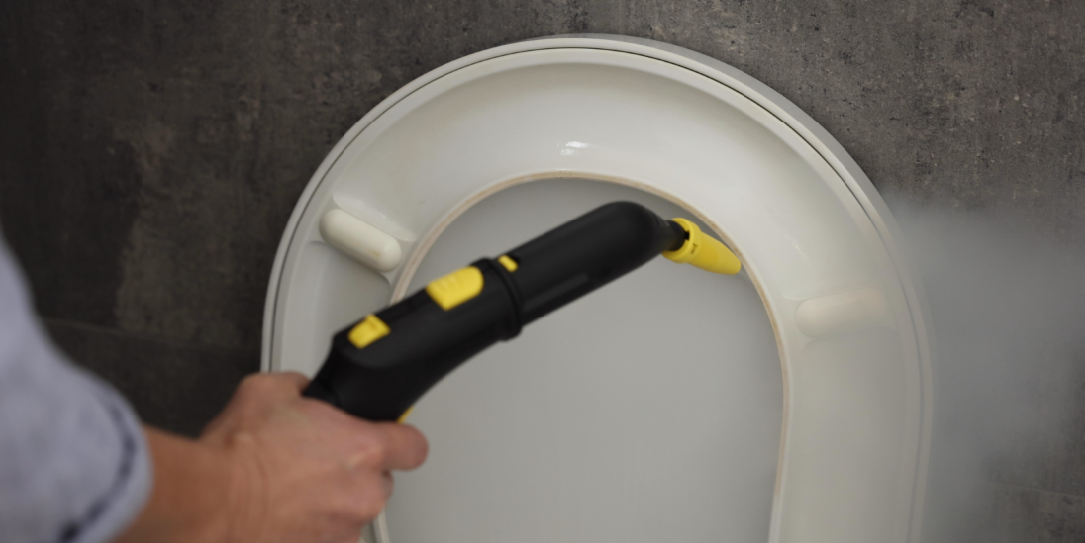 Toilet
Hygienically clean your toilet without fuss. Eliminate hidden bacteria and built-up grime using the power nozzle attachment.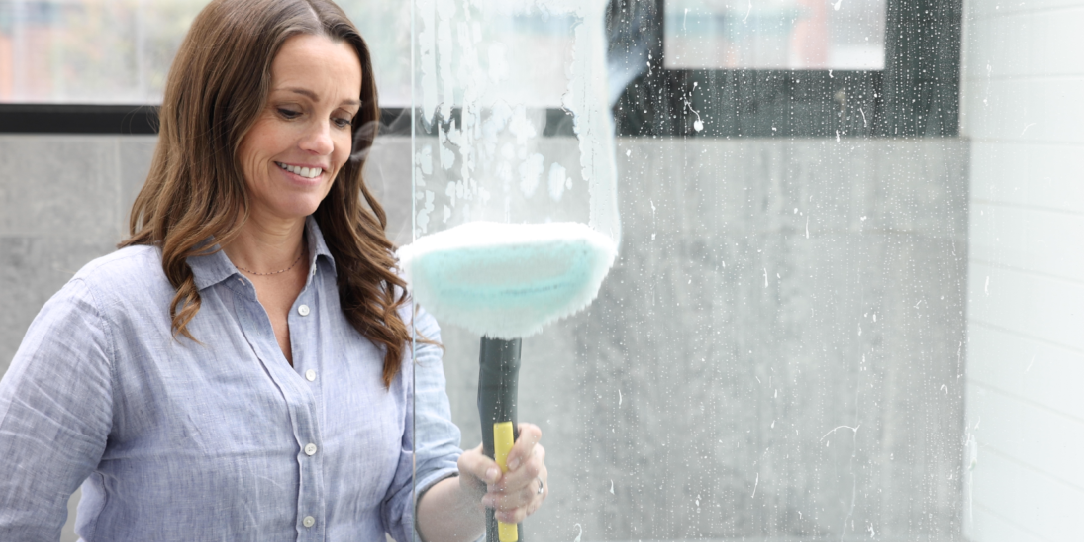 Shower
Remove water spots and soap scum with ease. Attach the microfibre cloth head to steam clean your shower glass doors, then use the power nozzle to target stubborn grouting.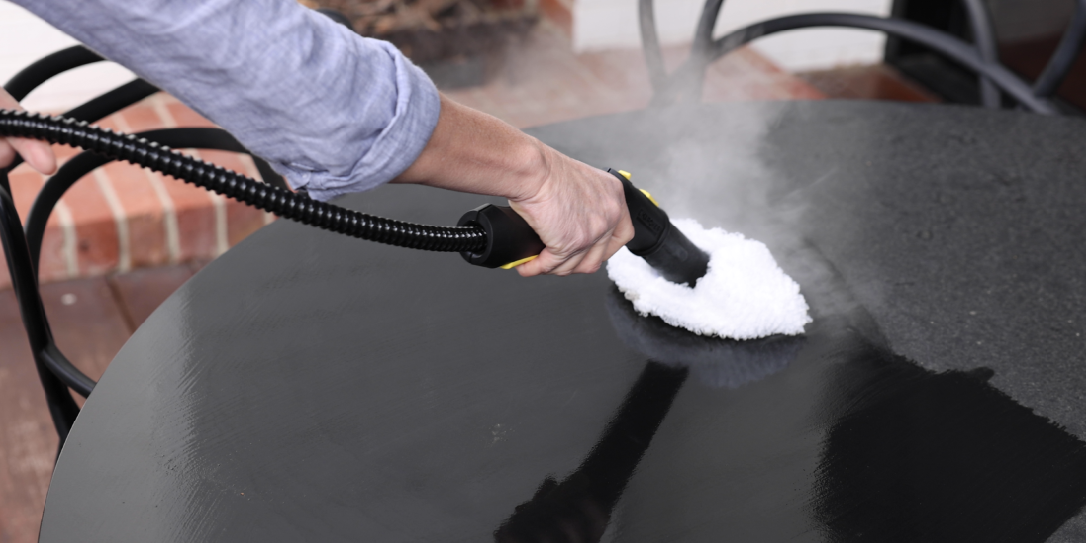 Outdoor furniture
Restore the shine to your outdoor furniture – just in time for summer. Our multifunctional accessories make it easy to tackle all surfaces.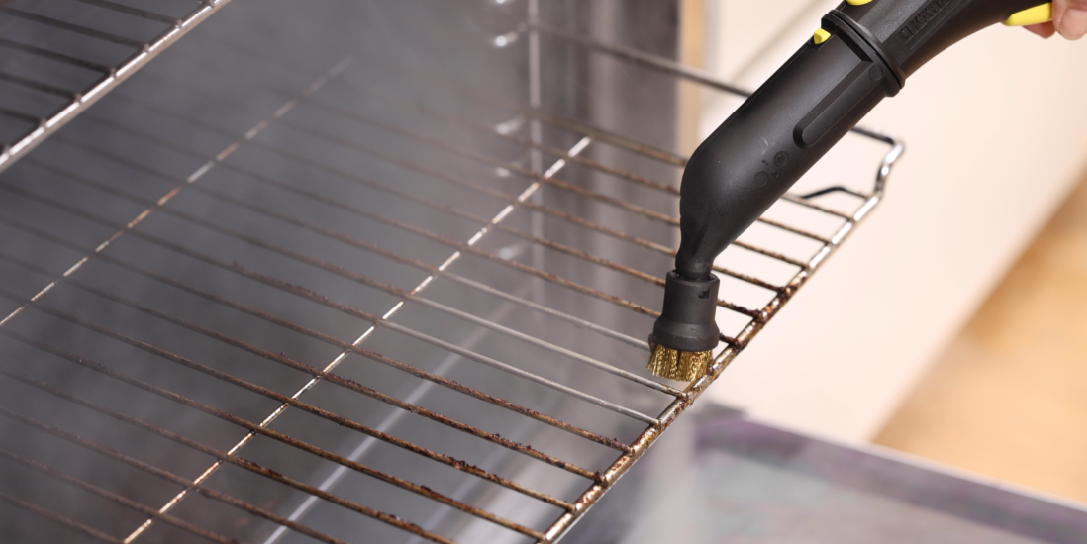 Oven Trays
You'll be amazed at how quickly the steam cleaner blasts through baked-on, stubborn oven grease. Use the round brush head set for a fast and targeted clean.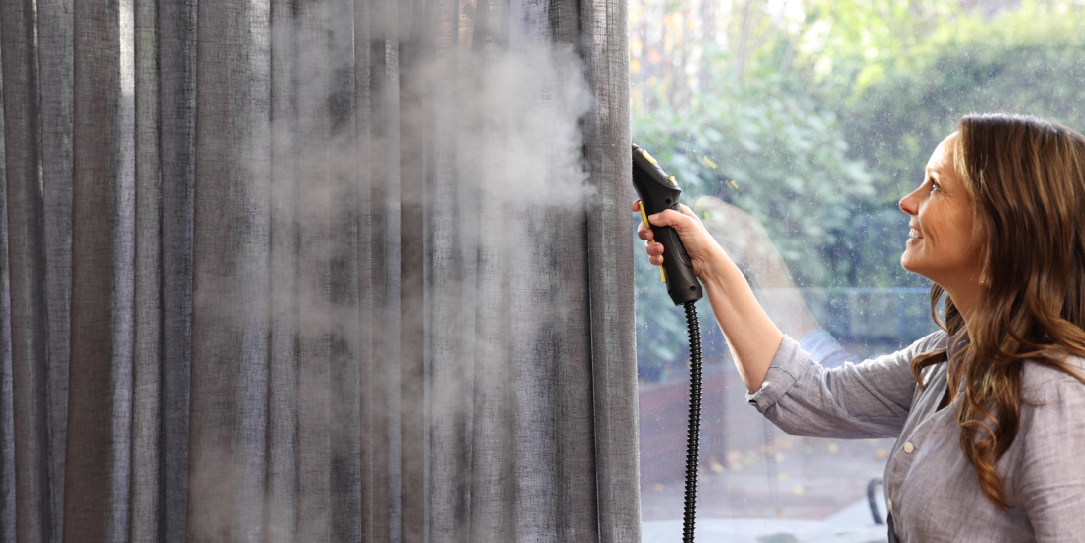 Curtains
The steam cleaner is the perfect appliance to freshen household fabrics and upholstery using the hand tool or carpet tool. Steam penetrates deeply into the fibres to remove odour and freshen up.
Read our customer reviews
Very easy to use
I bought this steam cleaner to clean my carpet as my big one was to heavy to use. It's great in my wet room, it's cleans the grouting between the tiles. Also the waste outlets
- Rosso
Handy helper
What a handy little piece of equipment. Easy to use, quickly wipes through dirt and leaves clean surfaces behind.
- SSpencer
Great item
How could anybody not be happy with this steamer. This is the best one I've had. The SC1 was too small for me as the water needed refilling, but this one has 1 litre of water and that's enough to do all my cleaning in one go. Excellent product.
Proper job. !!
So effective and simple to use.
Weightless when handling and so adaptable. Great piece of kit and also a boon when cleaning if your elderly. Don't hesitate if thinking of purchasing. I bought it as I have other Karchers tools, which have been great value
- Doug 1
Where can I use my steam cleaner?
Floor cleaning
Use either of our steam upright or barrel cleaners for maximum cleanliness and hygiene when cleaning stone, PVC, laminate or varnished parquet flooring – and all without chemical residues.
"When it comes to hygiene, I've never trusted mopping 100%. But with the steam cleaner, I don't have to worry."
Kitchen cleaning
Clean range hoods, benches, basins & even ovens with ease! Loosen dried food scraps or grease around the kitchen with steam and easily wipe them away all in one motion with our microfibres cloths!
"No matter how chaotic your kitchen – with the steam cleaner, everything can be effortlessly cleaned again in no time."
Bathroom cleaning
Easily clean all areas of the bathroom! Mirrors, shower screens and even the dirtiest of grouting can be brought back to new with the power of steam.
"When it comes to bathrooms, our motto is: chemicals are good – but steam cleaners are better. With a steam cleaner, your bathroom will be spotlessly clean in no time."
Steam ironing
Lift your ironing game with a Kärcher steam cleaner and iron set!
"For me, ironing used to be the ultimate chore. But since getting the steam pressure ironing system, even I can achieve perfect ironing results in record time."
Watch our how-to videos using Steam Cleaners
We have put together step by step guides on how to clean various sections of your home with our Steam Cleaner range - each one even features a simple instructional video!
Click below to browse the guide you are interested in.
Maximise your steam cleaner potential - Shop the extensive range of Steam Cleaner Accessories
You can also find suitable accessories for your device with our accessories finder.
Kärcher arranged to have its steam cleaners tested in an independent laboratory for effectiveness in fighting viruses.
The result: if used properly, the machines remove up to 99.999% of enveloped viruses*, such as the coronavirus or influenza, and 99.99% of common household bacteria** from hard surfaces. At the present time, disinfectants are to be reserved primarily for outpatient and inpatient care, but steam cleaners can make a valuable contribution to general hygiene – both in private households and in commercial and industrial use.
*Tests have shown that with spot cleaning of 30 secs at max. steam level with the Kärcher home steam cleaner 99.999% of enveloped viruses such as coronavirus or influenza (excluding the Hepatitis-B virus) can be removed on typical household, smooth, hard surfaces (test-germ: Modified-Vaccinia-Ankara-Virus).
**When thoroughly cleaning with the Kärcher steam cleaner 99.99% of all common household bacteria will be killed on typical household, smooth, hard surfaces, provided the cleaning speed of 30 cm/s at max. steam setting (test-germ: Enterococcus hirae). With Kärcher professional steam cleaners SG(V) this is 99.999%, according to EN 16615:2015-06, on PVC floors. (test germ: Enterococcus hirae ATCC 10541).