How to Clean a Shower | Tips & Tricks For the Taps, Tiles and Shower Screen
The various sections of the shower such as the tiles, shower screen and handles all require different ways of cleaning to achieve the best results.
See our step by step guide along with our instructional how-to video on how to clean your shower with a Kärcher SC 3 EasyFix Steam Cleaner.
Using a Kärcher Steam Cleaner also allows you to kill 99.99% of germs and bacteria and can help easily clean moulded areas!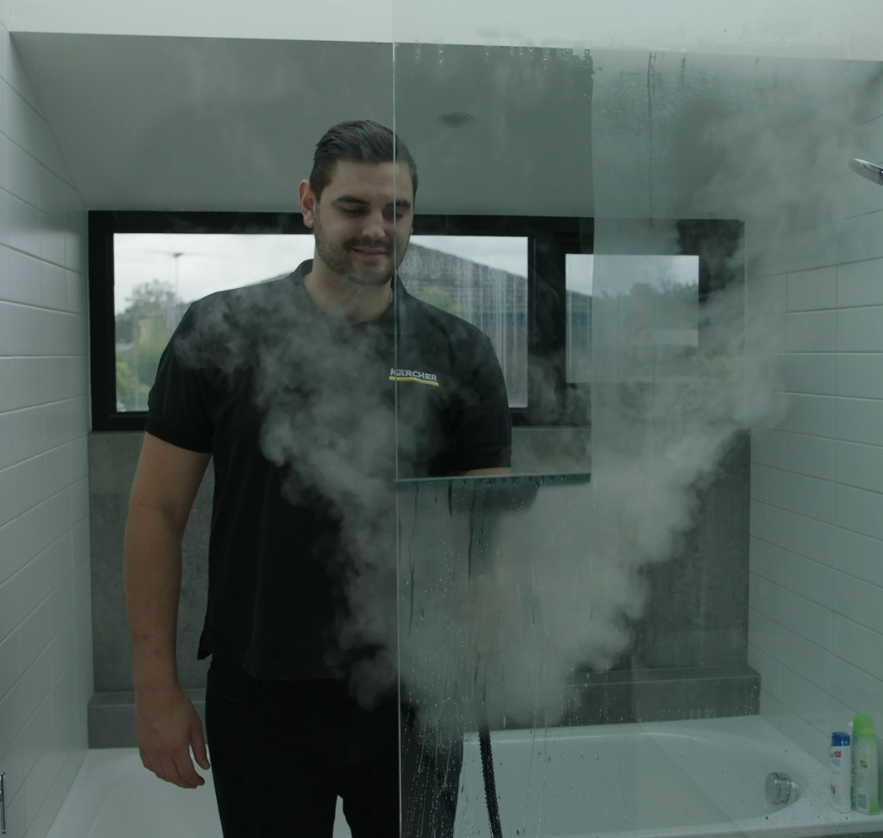 Step 1
Fill the steam cleaner with tap water through the top of the machine.
Step 2
Plug the machine's power cord into the wall and turn the machine on using the switch on the machine. (The machine will heat up in as little as 30 seconds).
Step 3
Attach the large brush head with the microfibre cloth for cleaning the large tiled areas.
Step 4
Now we can begin cleaning. Whilst steaming, gently scrub all the tiles on the walls and floor of the shower. The steam will loosen any muck stuck to the tiles and the microfibre cloth will wipe it away at the same time. Continue this until all tiles are clean.
Step 5
Now attach the small brush head with the bristles to the steam cleaner. This brush head is ideal for cleaning the grouting and also the tap handles and shower head.
The bristles will allow for extra abrasion which is often required for cleaning the tough grime that has built up in the grouting. The small brush head will also allow you to clean every corner around the taps and shower head.
Step 6
For the shower screen, the best way to clean this is using our Window Nozzle accessory that can be attached to the any of our Steam Cleaners.
Use nice long strokes down your shower screen with the window nozzle whilst steaming. The steam will loosen any grime on the screen and the window nozzle will scrape it all away, leaving a nice streak free result.
Then you're done! A nice clean shower that has been entirely disinfected.
Watch our "How to Clean an Shower" instructional video below.