Container cleaning
Innovative And Advanced Solutions For All Requirements
Kärcher has been synonymous with reliable and powerful systems for container interior cleaning for over 40 years. As a market leader in professional cleaning systems, we offer tailor-made solutions for all requirements based on modular components. Our high-quality systems are efficient, cost-effective and energy-saving - the result of our years of experience. From consulting and planning to construction, delivery and servicing of the systems, we are there for our customers. We offer innovative concepts and extensive service.
Contact
If you would like to find out more about our innovative solution, please do not hesitate to contact us:

Systems for all container cleaning needs.
Reliable tank and container cleaning systems are needed in transport/logistics as well as the chemical industry. The increasing flow of goods as a consequence of globalisation has resulted in higher cleaning quality requirements. In addition to stringent quality standards such as HACCP (Hazard Analysis Critical Control Point) and SQAS (Safety and Quality Assessment System), harmonised cleaning certificates such as the ECD (European Cleaning Document) must be complied with. With a total of about 200,000 substances, this is a task that requires years of expertise. Every Kärcher cleaning system is specifically designed for the relevant substances. Specially developed Kärcher cleaning agents are an essential part of this system. Ensuring work safety is a vital part of tank interior cleaning. This includes safeguards against explosion hazards (ATEX) as well as exhaust air and wastewater treatment measures. Kärcher's modular system solutions are designed to meet diverse cleaning system requirements with maximum customer benefits. The modular system allows modification and expansion as required.
Applications
From vehicle tank interior cleaning to polysilicon cleaning, Kärcher offers a wide range of application possibilities.
Components
The use of high-quality components is an essential core competence in tank interior cleaning.
Reference systems
On this page you will find a selection of our systems, of which over 250 have already been planned and installed worldwide.
Target groups – always the right solution.
Freight logistics is a service provided in virtually all areas of industry worldwide. This service involves the movement of an enormous amount of goods and materials. Liquid, pasty, powdery or solid materials. Filled in tanks, containers, barrels and all types of containers for storage, handling or transport. Kärcher provides cleaning systems for companies of any size in all industries and for all types of container.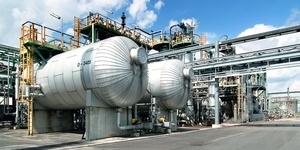 Chemicals industry and trade
Drugs/pharmaceuticals, paints and dyes, metal, wood, mineral oils, plastics, adhesives, building materials, concrete.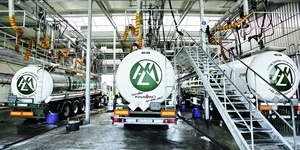 Transport and logistics
Forwarding agencies, warehousing and consignment companies, silo transport, transport of general cargo and bulk materials, concrete, cement, asphalt and refuse as well as special transports.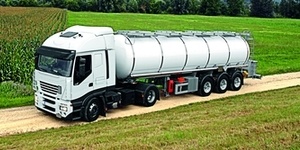 Food industry
Dairies and breweries, raw material manufacturers, producers of oils and fats, glucose and starch, chocolate, sugar, protein and food supplements, beverages and juices, ready-made food products and pet food.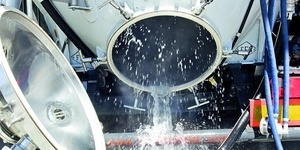 Types of contamination:
Liquid products (such as food, oils and chemical products)
Bulk materials
Gases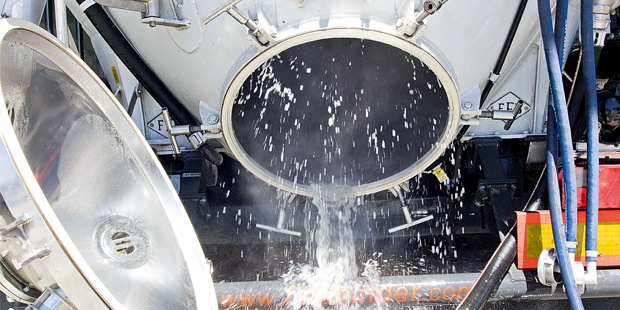 Types of contamination
Liquid products (such as food, oils and chemical products)
Bulk materials
Gases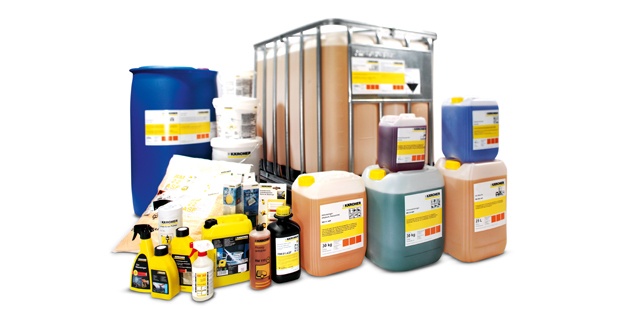 Cleaning media
Water, aqueous solutions (alkaline, acidic)
Osmosis water
Alkaline solutions, acids, solvents
Tailor-made solutions from modular to turn-key.
Kärcher tank and container cleaning systems are modular system solutions customised to suit the particular type of contamination and cleaning frequency. Needs assessment focusing on quality, operational safety and efficiency is the first step towards a well planned system. Engineering – made in Germany.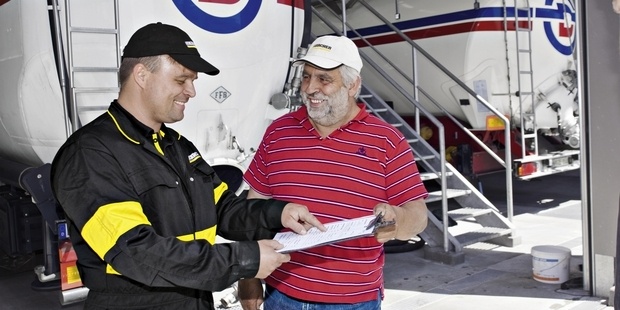 Idea, planning, initial start-up
The demands that Kärcher is tasked with are as diverse as the customers for whom we provide optimal solutions. We accompany our customers from the idea, planning and construction phase through to initial start-up and continuous operation of the system.
The numerous projects we have completed in all conceivable tank and container cleaning sectors are the basis for the trust our customers place in us. And the benefit of having Kärcher, the global leader in high-pressure cleaning technology, as a reliable partner. Companies worldwide and in diverse branches of industry profit from this solution concept.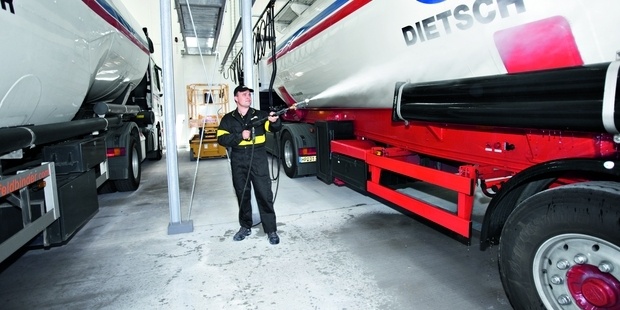 Compliant, turn-key and efficient
The majority of our customers prefer a complete solution - a turn-key system. For this purpose, we offer in addition to modern, tried-and-tested efficient system concepts, also operating permits compliant with applicable standards. For example, in the form of explosion protection according to ATEX 94/9 or wastewater and exhaust air treatment systems compliant with the Federal Control of Pollution Act.
Kärcher provides the necessary hot water generation, drying, fall protection, exhaust air and wastewater purification systems.
We meet the demands for reducing energy costs and CO2 emissions with innovative, tried-and-tested process technologies that ensure reliable operation. Special Kärcher cleaning agents for container cleaning offer better cleaning results, greater efficiency and also reduce the impact on the environment.
"Plug & Play" – the ingenious container concept.
Kärcher container concepts are turn-key, tried-and-tested complete solutions. A particular feature of the concept is the fully integrated container design. This enables use in virtually any location with minimum installation and maximum mobility – worldwide. Immediately ready to use when the container is installed. Kärcher container cleaning systems can be expanded with additional modules as required using the "Plug & Play" principle.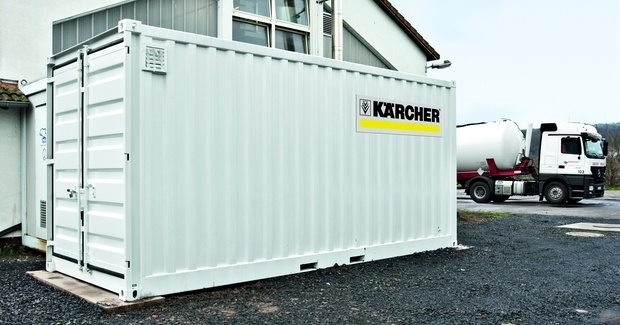 Efficient solutions
Kärcher container concepts are tried and tested: all necessary electrical and pipe connections are easily accessible on the container wall.
Components from entry-level to premium class
Stationary hot water high-pressure components for interior and exterior cleaning of containers and tanks are fully tried and tested with a range of accessories for diverse applications.
TSC concept advantages:
Reduced installation
High planning and cost security
Maximum versatility and mobility
Modular design with tried-and-tested components
Contact
If you would like to find out more about our innovative solution, please do not hesitate to contact us: