Kärcher Battery Power battery platform
Freedom to clean anywhere, maximum flexibility with proven Kärcher quality.
Whether it's your couch, patio, driveway, or garden, our battery-powered solution ensures you have the flexibility to tackle any cleaning project.
Discover our Real Time Technology that will never leave you in the lurch
Bring back the WOW to your kingdom. Here, outside the gates of your castle, you're the sovereign – ruler of your kingdom, conqueror of weeds. You reign masterfully over your little kingdom, shoring up the splendour of your garden with the help of powerful, battery-powered Kärcher garden tools and cleaning devices. Thanks to Real Time Technology, an overview of the remaining run time in minutes is available at any time. Make your lawn, hedge or tree maintenance your crowning glory. Bring back the WOW. With Kärcher battery power.
The unparalleled Kärcher Real Time Technology provides users with the best possible information. Unlike conventional LED displays, this technology provides a detailed display of the operating status and charge level.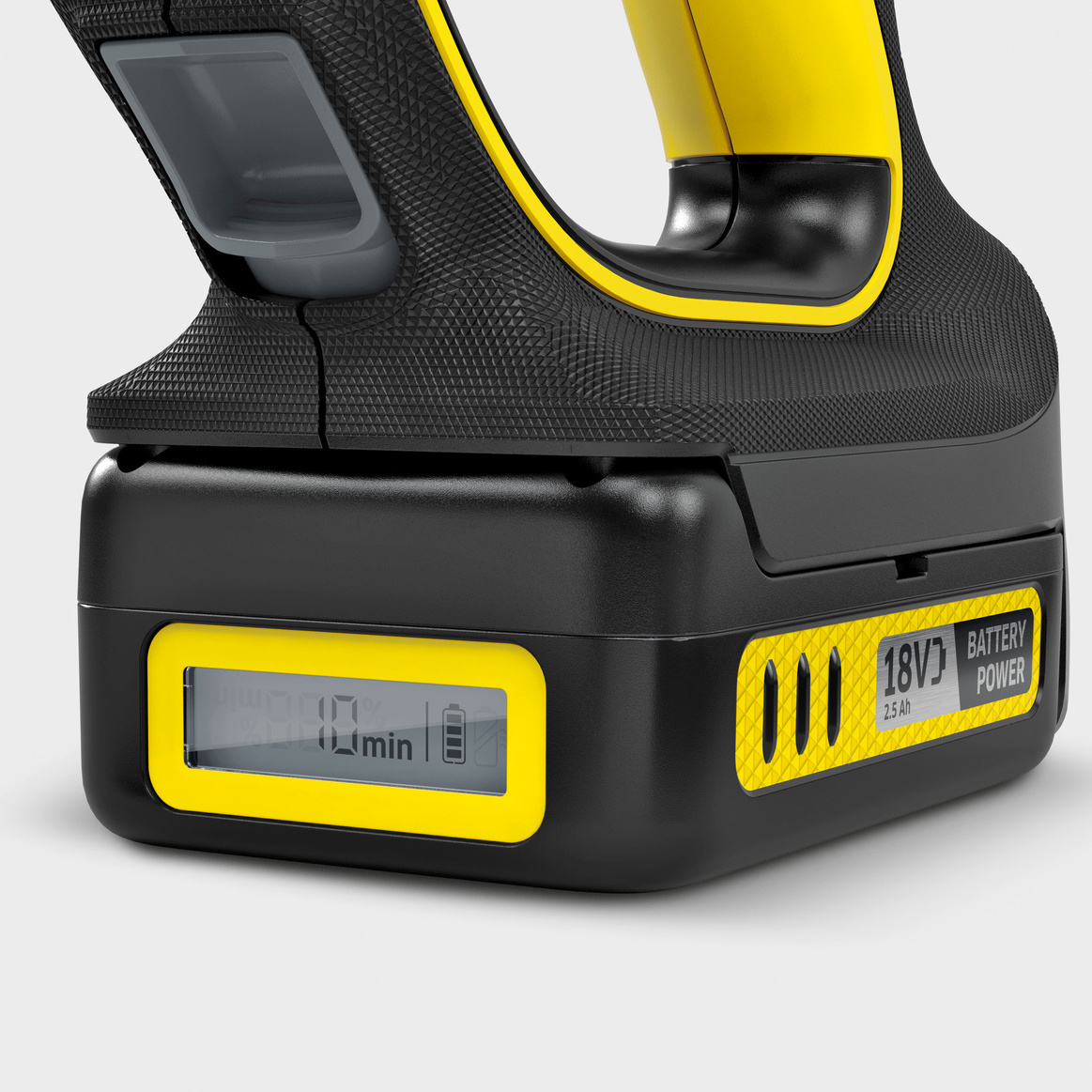 Remaining run time in minutes
Users are provided with continuously updated information regarding the remaining run time during use and therefore know when the battery needs to be changed or charged down to the minute. The run time is adjusted to match the specific device.
Kärcher Battery Power features
Spray water protection, automatic storage mode, intelligent cell monitoring, efficient temperature management: these are just some of the many features that set apart all Kärcher Battery Power batteries on the 18 V and 36 V battery platforms. Find out about the particular features and advantages of Kärcher high-performance lithium-ion batteries.