SUBMERSIBLE PUMPS
Kärcher pumps joy into your garden. Whether you supply your home and garden with service water from alternative water sources or wish to pump away unwanted water quickly and easily, Kärcher offers a pump for every requirement and area of use. The submersible pumps are capable of removing unwanted water or water that is no longer needed: before spring cleaning in the pool or after a flood in the basement.
BRING BACK THE WOW TO YOUR OASIS.
We have the right solution for every requirement and application and help you with our innovative pumps to water your green oasis effortlessly and in a sustainable manner. The booster pumps convey rainwater and groundwater to where it is needed, in the garden and in the home. Submersible pumps, by contrast, are for removing water that is unwanted or no longer needed. And your job? Simply sit back and relax!
Kärcher submersible pumps for demanding tasks
Submersible dirty water pumps
Robust through and through and particularly long-lasting, our submersible dirty water pumps do their job perfectly wherever they are needed. They are the first choice if quick action is required in a flood situation, but are also ideal for pumping out ornamental garden ponds before a restorative clean, for example. The dirty water can contain particles with a grain size of up to 30 mm.
Flat-suction submersible pump
Our flat-suction submersible pumps can transport clear or slightly dirty water with particles of up to 5 mm. Flat suction means that, thanks to the folding stand, water can be pumped out right down to a level of 1 mm for mop-dry results. Perfect for when a garden pool needs to be emptied or water needs to be cleared from the cellar.
Features and advantages of Kärcher submersible pumps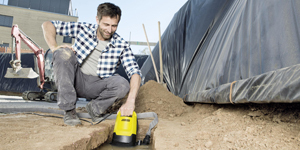 Extremely long-lasting
Protected by an oil chamber, the ceramic slide ring sealing increases the lifetime of the submersible pumps.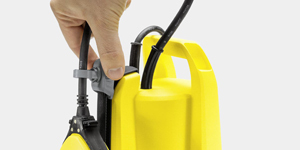 Flexible switching level adjustment
Setting the switching level is particularly easy thanks to the height-adjustable float switch.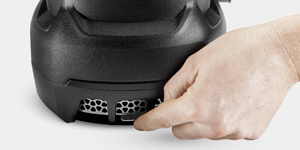 Perfect protection
The prefilter, available in integrated form or as an optional accessory, reliably protects the pump against blockages.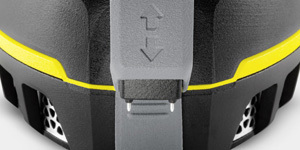 Automatic pump start
The level sensor reacts immediately – even at a low water level.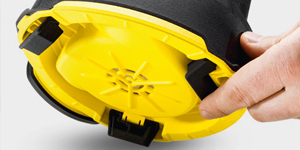 Mop-dry pumping results
Once the stand has been folded away, the flat-suction submersible pumps can remove water to a depth of 1 mm for mop-dry results.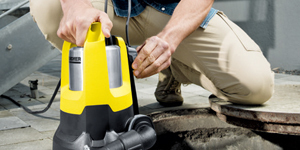 Individual switching level
The switching level can be infinitely adjusted – simply by moving the level sensor.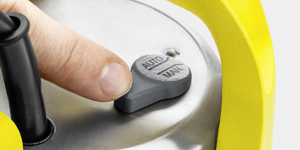 Manual or automatic
Easy switching from manual on and off to automatic mode.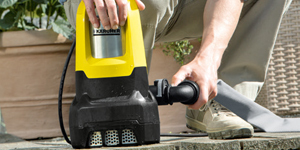 Practical, quick connection
Fast and convenient hose operation thanks to Quick Connect.
Product Function
SP 3 Dirt
Draining Dirty Water
SP 5 Dual
2-in-1: Draining Dirty & Clean Water

SP 7 Dirt
Draining Dirty Water
---
Water Level Detector
SP 3 Dirt
Float Switch
SP 5 Dual
Height Adjustable Float Switch
SP 7 Dirt
Level Sensor
---
Flat Pick Up
SP 3 Dirt
No
SP 5 Dual
Yes
SP 7 Dirt
No
---
Ceramic Ring Seal
SP 3 Dirt
Yes
SP 5 Dual
Yes
SP 7 Dirt
Yes
---
Max Dirt Grain Size (mm)

SP 3 Dirt
20
SP 5 Dual
20
SP 7 Dirt
30
---
Max Flow Rate (l/hr)

SP 3 Dirt
7,000
SP 5 Dual
9,500
SP 7 Dirt
15,500
---
Pressure (bar)

SP 3 Dirt
0.6
SP 5 Dual
0.7
SP 7 Dirt
0.8
---
Weight (kg)

SP 3 Dirt
4.2
SP 5 Dual
4.9
SP 7 Dirt
6.7
---
Max. Depth of Immersion (m)

SP 3 Dirt
7
SP 5 Dual
7
SP 7 Dirt
7
---
Min. residual water, manual (mm)
SP 3 Dirt
25
SP 5 Dual
1
SP 7 Dirt
35
---
Typical application areas of battery barrel pumps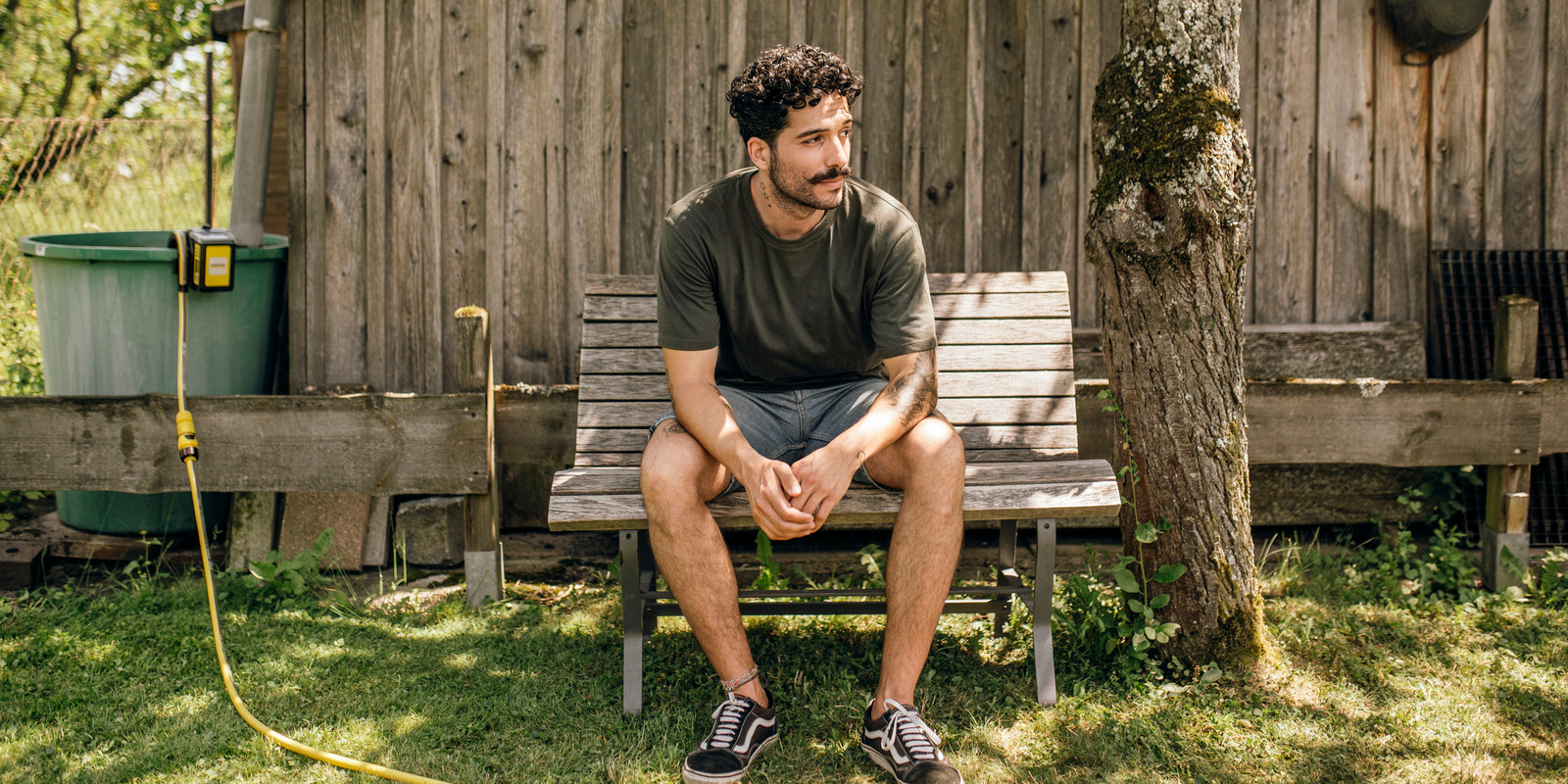 Allotment garden
Older plots in particular often do not have electricity. Those who need to water regularly can make garden watering much easier with a battery-powered rain barrel pump.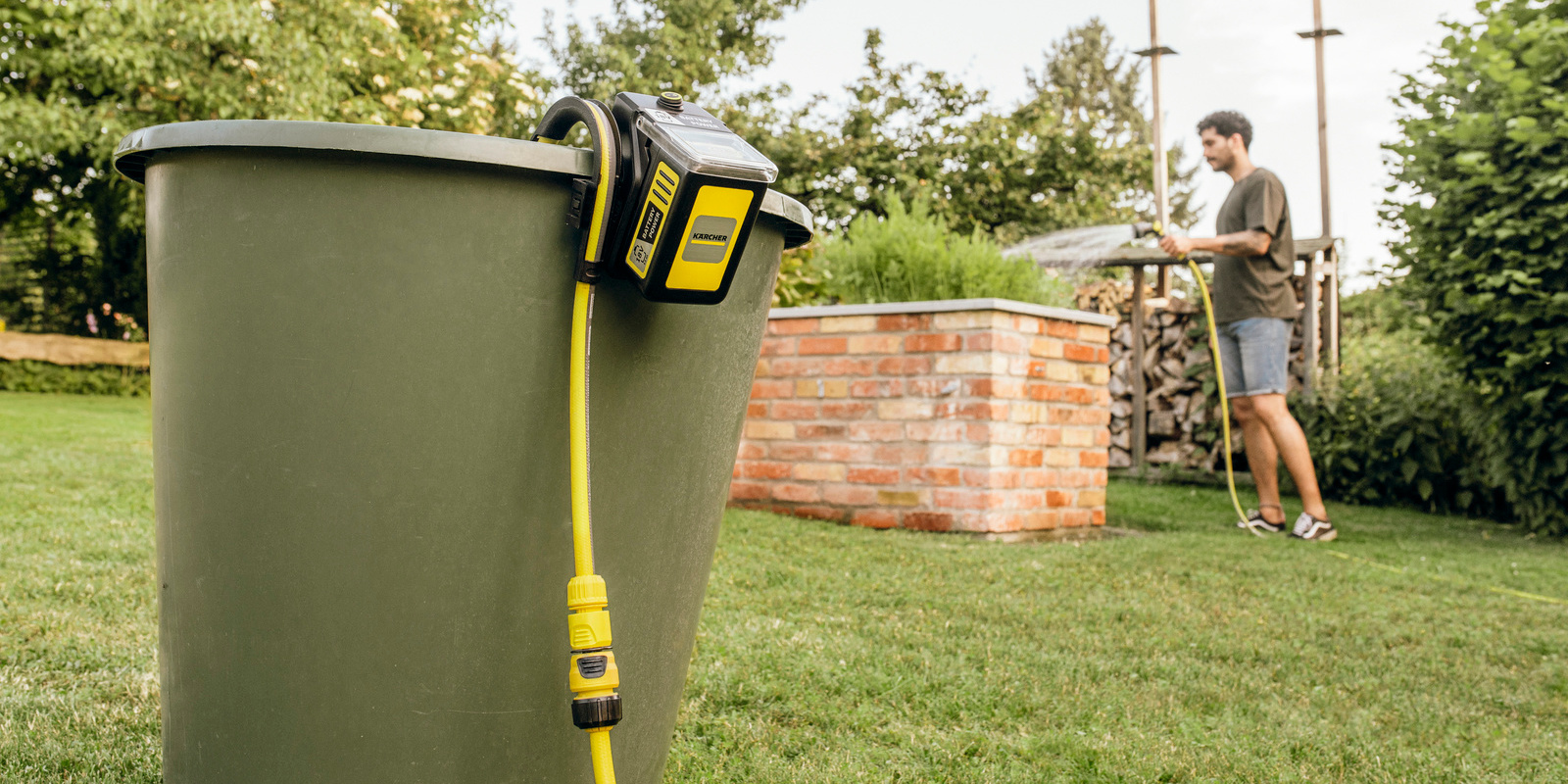 Vegetable and herb garden
To ensure that the vegetable patch and herb spiral next to the terrace or in the garden behind the house thrive, they can be watered in a plant-friendly manner with limescale-free rainwater using a rain barrel pump.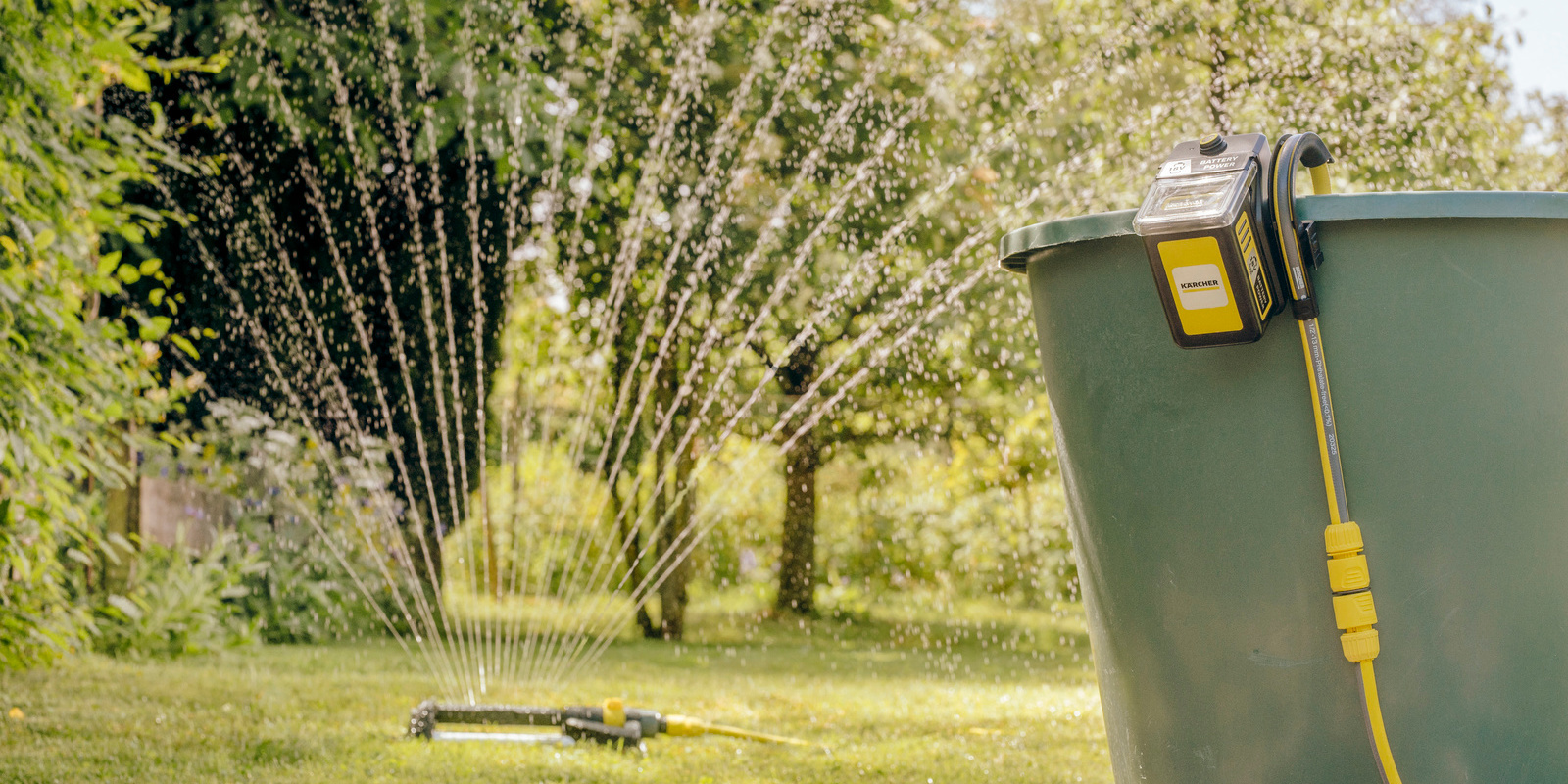 Lawn watering
The cordless barrel pump is also suitable for watering larger areas such as lawns. The water from the rain barrel offers a resource-saving alternative to tap water.
Highlights
For garden owners that are sick of hauling a heavy watering can up and down the garden but don't have a power outlet, the BP 2.000-18 Cordless Barrel Pump was made for you. It can be operated with any Kärcher 18 V Battery Power battery, so you can use alternative water sources wherever you wish, even if there is no power connection available in the garden. This not only saves valuable drinking water, but also saves you from straining your back and wallet – ideal for small gardens, cottage gardens, allotments, and anywhere where there is water and thirsty plants, but no power supply.
Battery barrel pump features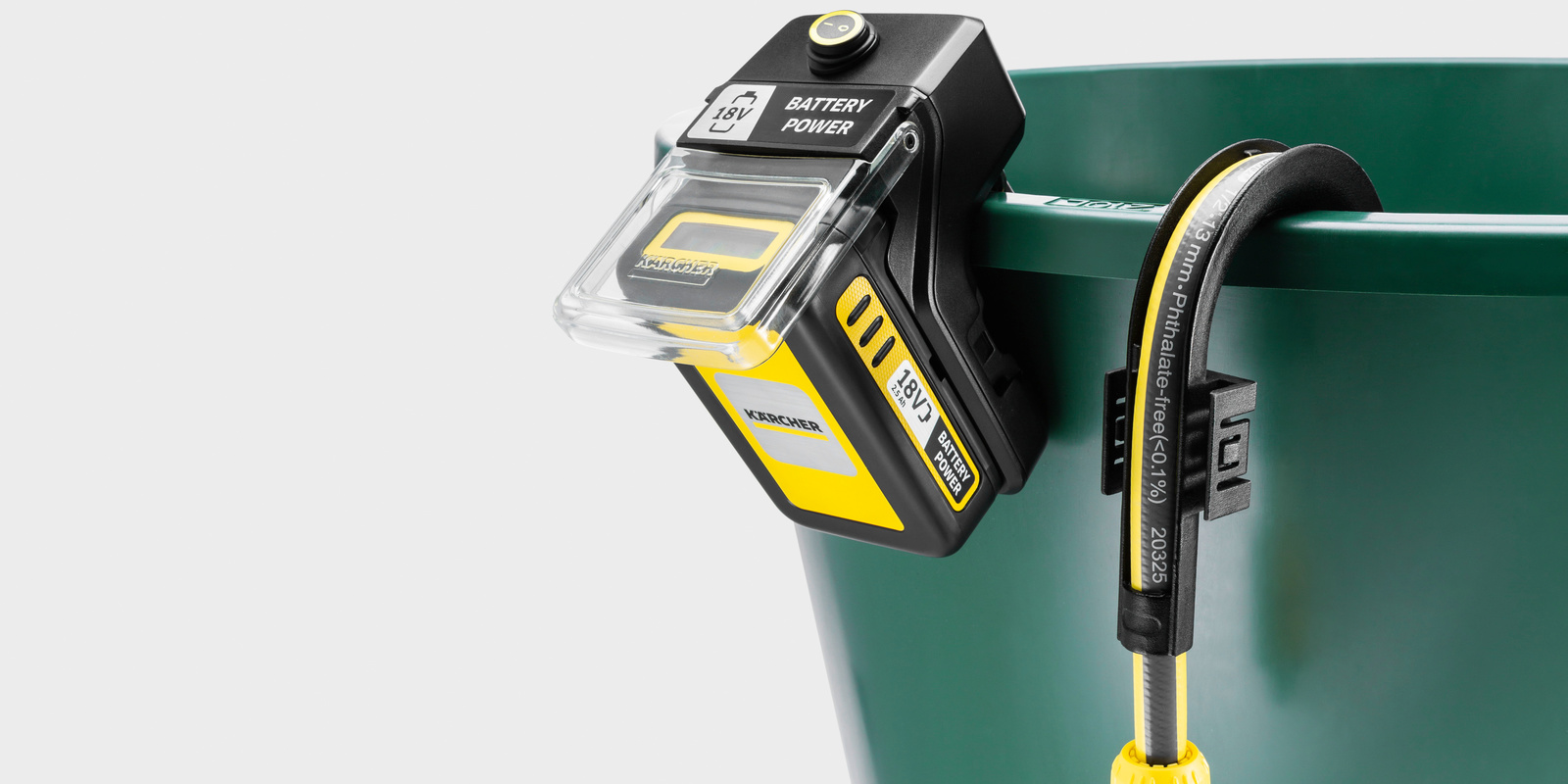 Immediately ready for use
The cordless barrel pump is the convenient alternative to the watering can and is ready to use in just a few steps.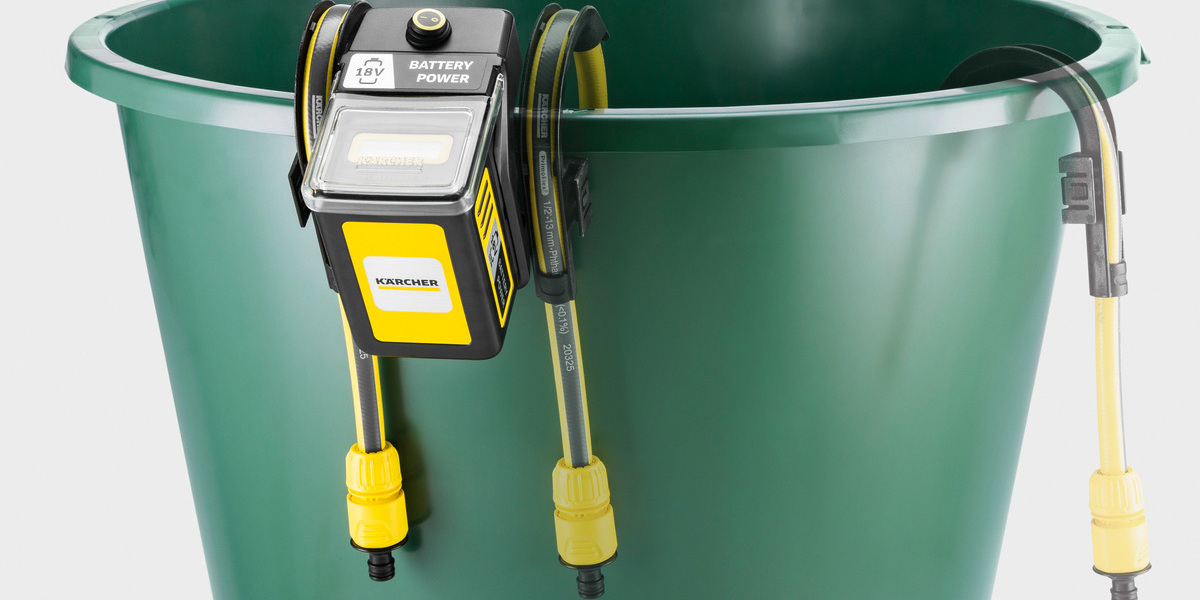 Variable hose position
The hose system can be attached to the water source in three positions.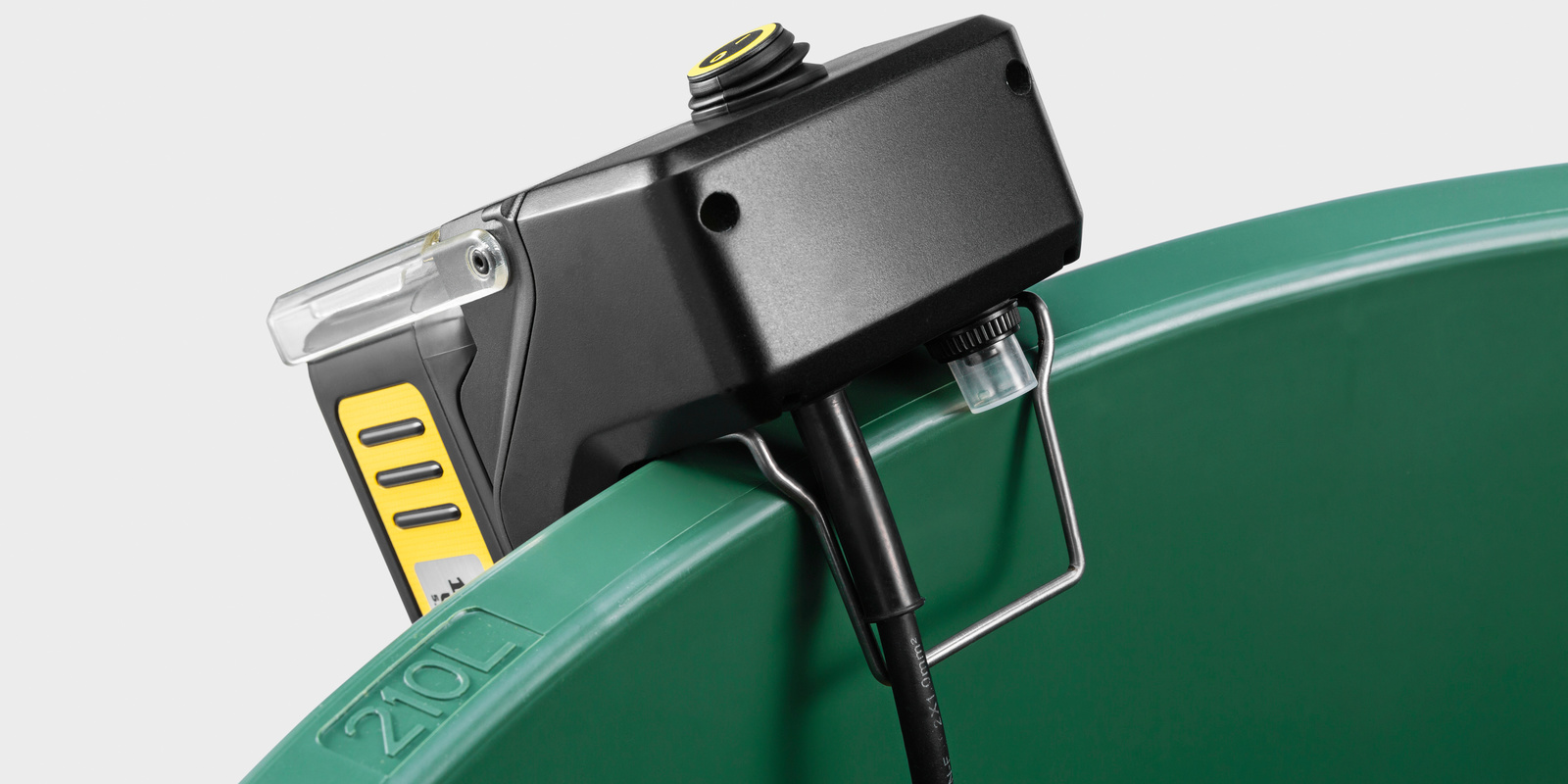 Safety and comfort
The battery unit bracket is placed at the top of the rain barrel so that it cannot come into contact with water. The barrel pump has flexible barrel rim mounting to ensure a secure hold.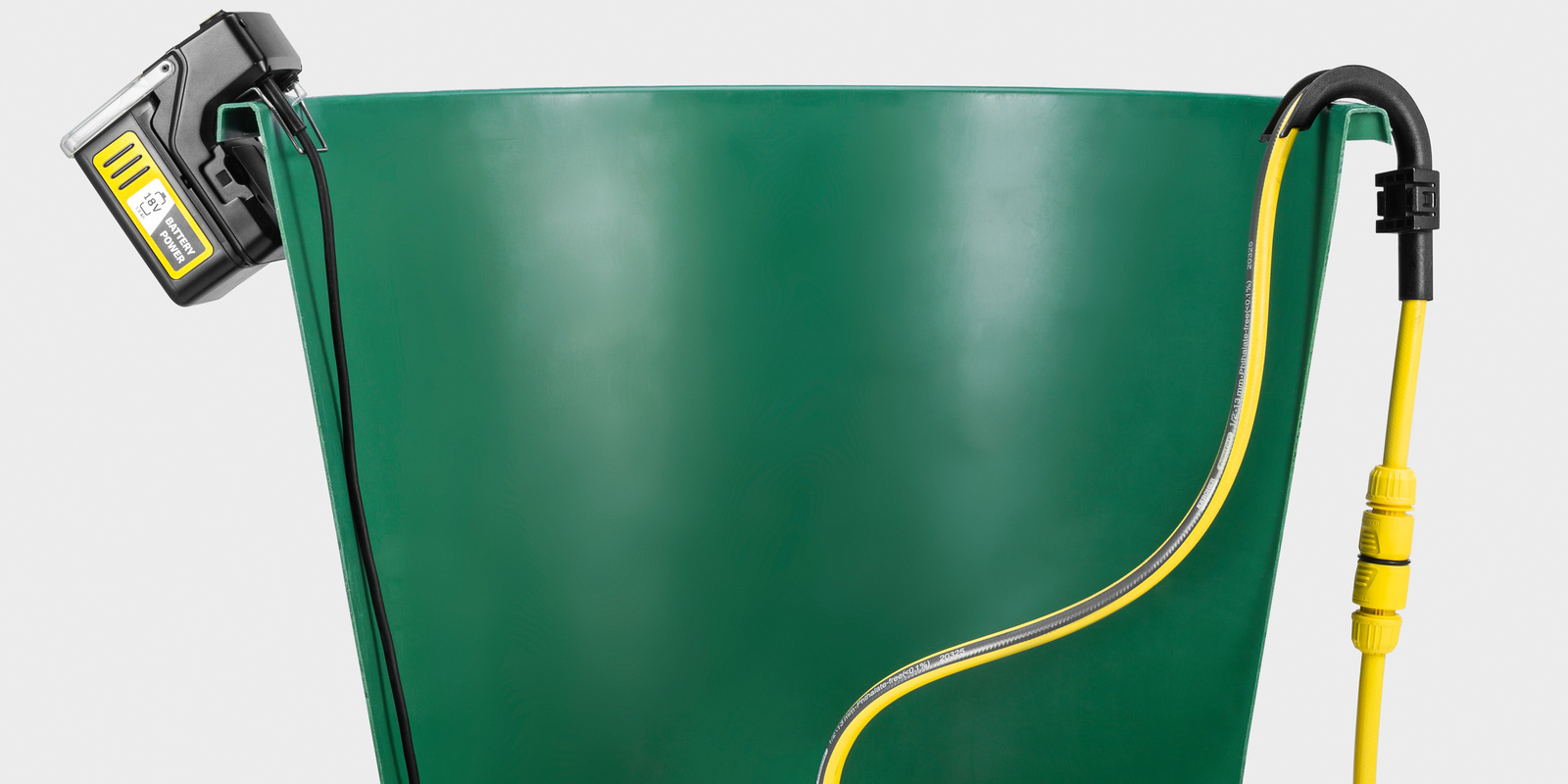 Hose guide
The hose guide on the edge of the barrel ensures that the garden hose is not kinked or damaged by any edges.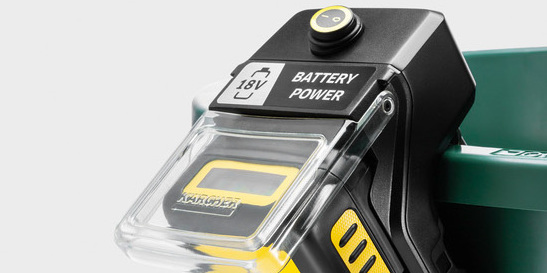 Practical and energy-saving
Thanks to the integrated switch on the barrel rim attachment, the cordless barrel pump can be switched on and off at any time. This saves energy.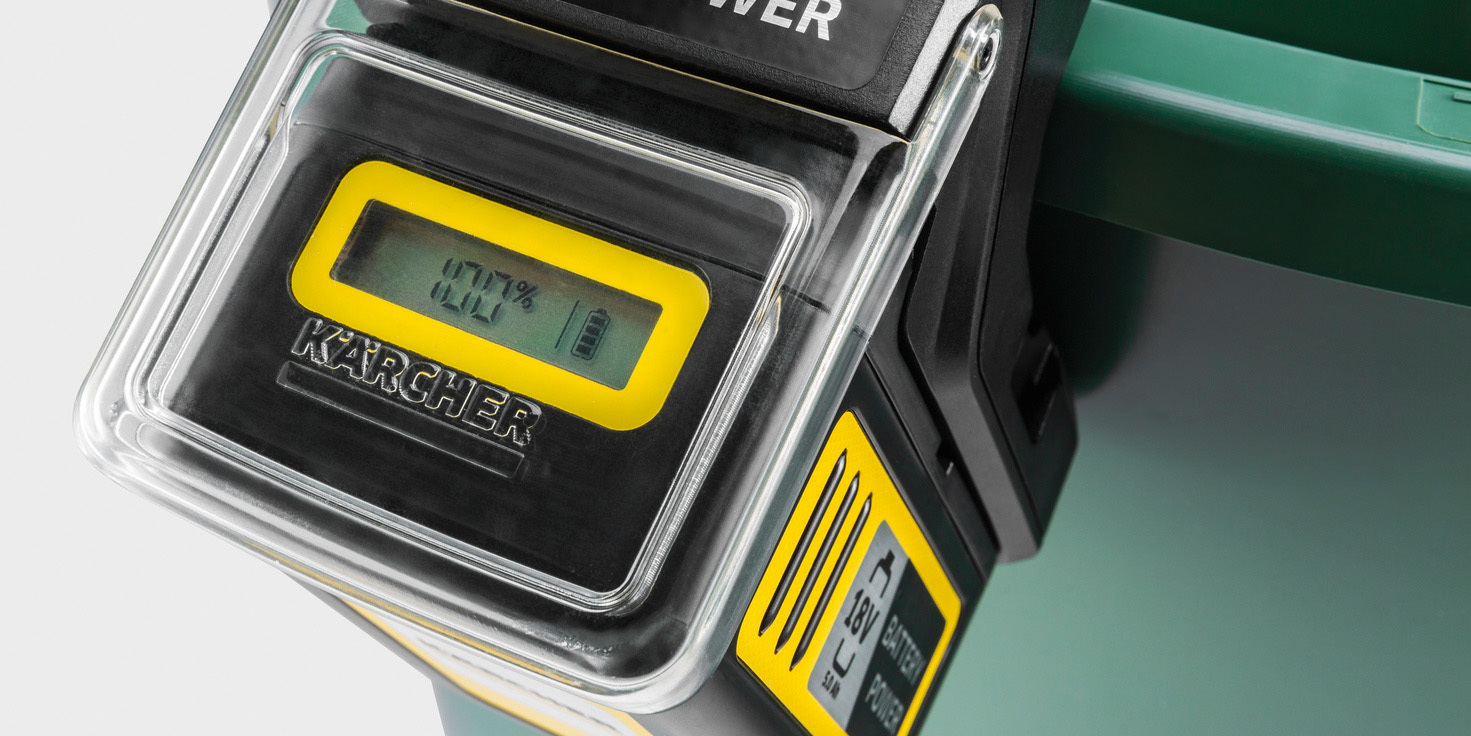 Transparency is important!
The transparent cover over the display means that the battery level can be read at any time.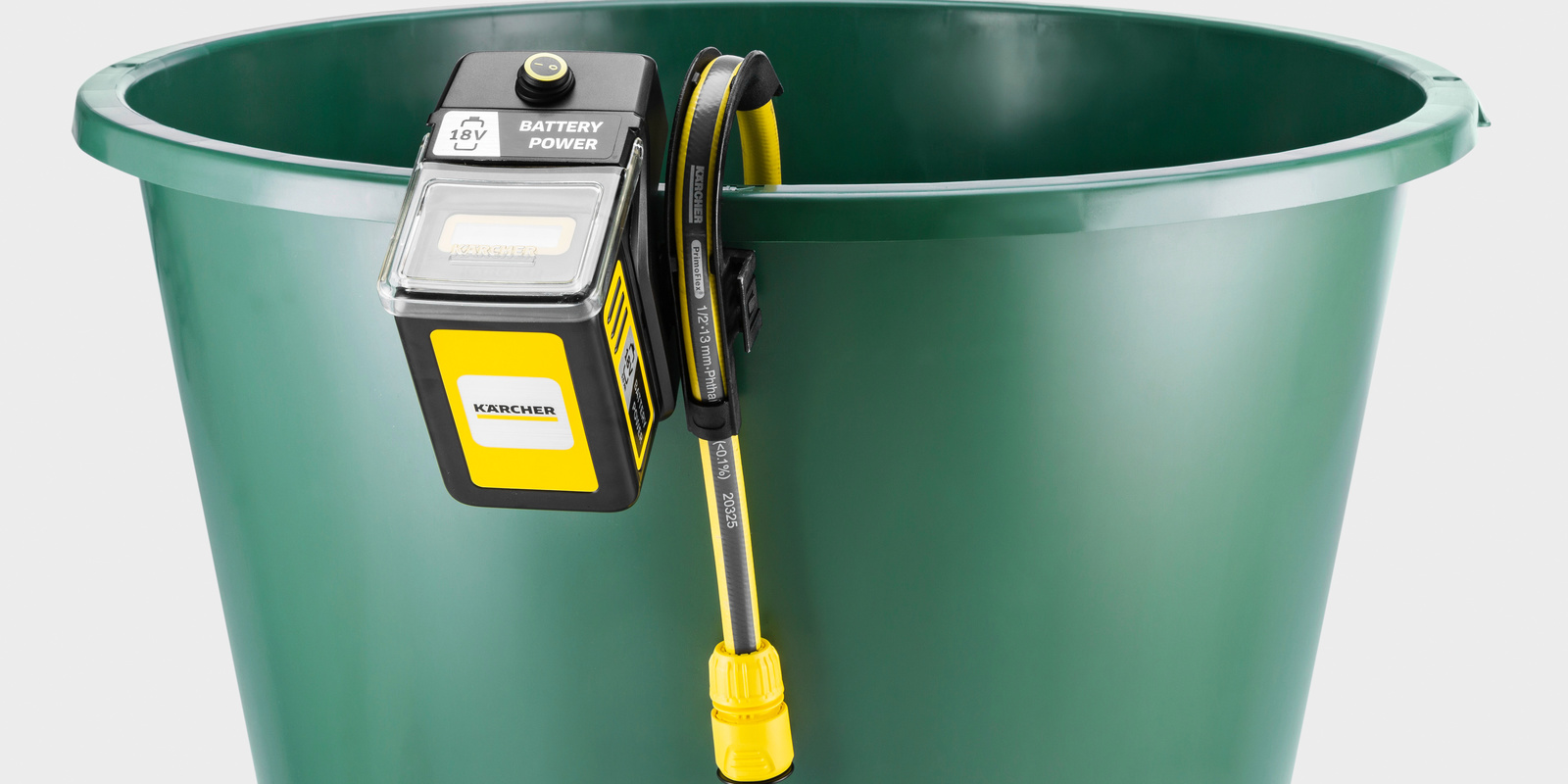 Innovative and convenient
Kärcher cordless barrel pumps are equipped with a hose whose length can be adjustable and a pre-filter.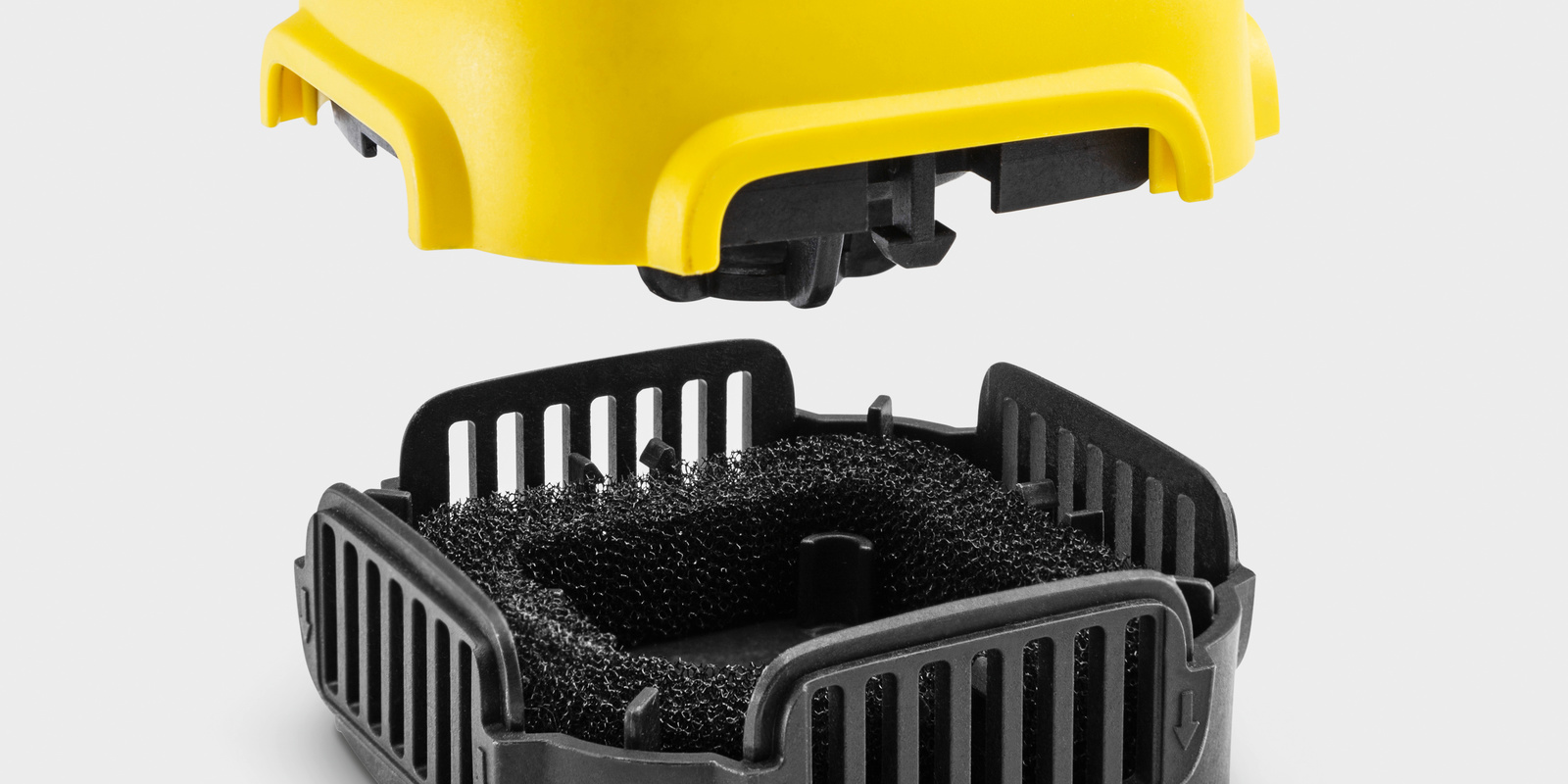 Removable filter system
The pre-filter prevents dirt particles from being sucked in, ensuring trouble-free operation. If the pre-filter gets dirty, it can be cleaned in a few simple steps.
Guarantee
Here you can extend the warranty for your BP Home & Garden and SP Dirt, SP Dual and SP Flat to 5 years!